This complete collection of keto coconut flour recipes is full of delicious keto recipes that use only coconut flour in one convenient place. Featuring tons of cookies, cakes, pies, bread and so much more!
Perfect for those who can't have almond, or nut flour but still want to enjoy the benefits of the keto diet.
Just because you're on a keto diet and have a nut allergy doesn't mean you can't have baked goods. Coconut flour is a perfect option for those who can't have almonds but are allowed to enjoy coconut, and want to make keto cookies, cakes, and more!
I've made countless keto recipes but these have been made specifically to work with coconut flour only. Unfortunately, when baking you can't simply swap almond flour for coconut flour without careful adjustments to the recipe.
You can understand this better by learning more about my keto baking tips.
But no fear, I've done the work for you! No need to worry about wasted ingredients because these coconut flour keto recipes are tried and true favorites!
Keto Coconut Flour Recipes
Coconut flour is actually a by-product of making coconut milk When the coconut milk has been extracted, what's left is the coconut meat. The coconut meat is then dried and finely ground into a powder.
This process creates a fine powder that looks a lot like your traditional wheat flour.
Now, it's important to note that not everyone who has a nut allergy can have coconut and it's why you need to know what you can tolerate.
If you have the green light to use coconut flour it becomes a great option for many, not just those who are allergic to nuts.
Once you learn to work with coconut flour it's a great choice since it's gluten-free and keto-friendly! It also costs less than almond flour making it a more economical choice.
Does Coconut Flour Work Like Regular Flour?
The biggest difference between regular wheat flour and coconut flour is how dry it is. Coconut flour is known as a "thirsty flour" which means it needs lots of moisture in the form of liquids and/or eggs in order for it to function as a wheat flour alternative.
Because coconut flour is a "thirsty" flour it cannot be substituted cup for cup. This is not only true with substituting with wheat flour but also other alternative keto-friendly flours such as almond flour.
It's why sourcing keto recipes with coconut flour should be done so carefully. Once you have a few recipes that work well you can experiment with your own variations.
Coconut Flour Recipes
Finding the right balance of moisture when using coconut flour can be a little tricky. If you use too much liquid or eggs you end up with a soggy mess, and too little results in a batter that won't come together properly.
This means it will require extra tweaking to swap for coconut flour but don't worry I've done the work for you! You can check out my tips for keto baking to find out more.
Just because baking with coconut flour isn't as easy as other low-carb flours, doesn't mean you shouldn't attempt to do so. For those who are allergic to tree nuts, coconut flour can be a great option.
What about flavor? Will all my coconut flour recipes have a pronounced coconut taste? What I have found that it really depends on the recipe.
Personally, I feel that the recipes that I share with only coconut flour, do not have too much of a coconut flavor. I think this is in part because of the other ingredients I choose to add to the recipe as well as the brand of coconut flour I employ.
Keto Baking With Coconut Flour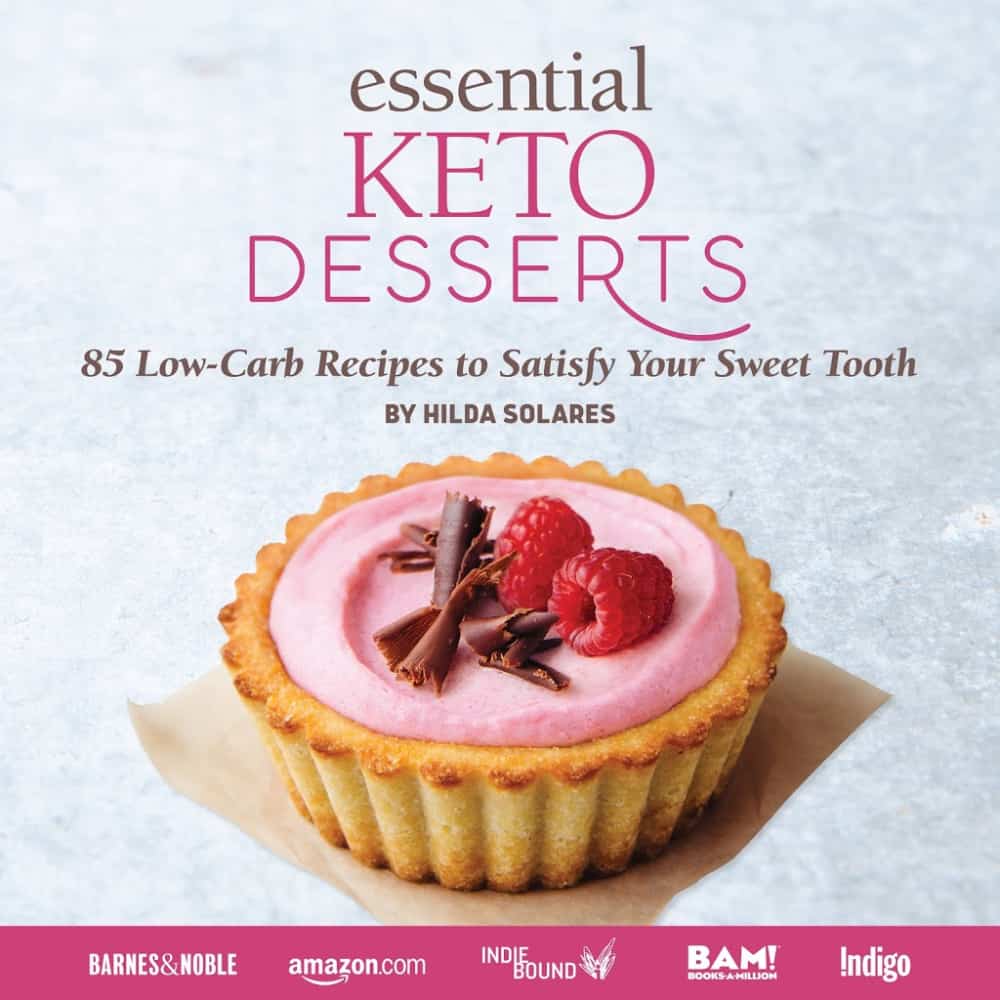 Disclosure: Some of the links below are affiliate links, meaning at no additional cost to you, I will earn a commission if you click through and make a purchase.
As with anything in keto baking the quality of coconut flour is very important and also varies depending on the brand. My favorite brands for coconut flour brands are Anthony's and Bob Mills which are always great to work with and fresh.
This is important because coconut flour, like most gluten-free flours, tends to spoil rather quickly. I recommend that you always store them in airtight containers and don't plan on keeping them for very long.
If you don't think you'll use your coconut flour fast enough, you can store it in the fridge to extend its life a little longer. If storing in the fridge do make sure that it's in an airtight container to avoid moisture and smells penetrating into the flour.
Tag Us
I sure hope you will give these recipes a try and will help us share them. If you give it a try, make sure you remember to tag us on Instagram, Facebook, and Pinterest. It's what keeps this girl encouraged to keep sharing and perfecting her recipes.
Also, check out our Amazon Store for our recommendations. You might be surprised by how many great keto options are at your disposal.
Grab Our Books!
In case you don't know we have authored two books for you, Essential Keto Bread and Essential Keto Desserts both inspired by your requests over the years. It's my prayer these keto cookbooks will help make keto a delicious breeze for you.
Join Our Jesus And Keto Movement!
If there is one thing I particularly proud of sharing it's how we combined our Christian faith with the keto diet.
In case you don't know, Randy and I came to the keto diet looking at it from a Christian perspective. As believers, we live our entire lives supported by God's grace.

So when the Holy Spirit led us to combine our Christian faith and the keto diet, we did so in hopes of finding lasting transformation.
To say we needed God's intervention is putting it mildly. When we followed the Holy Spirit's prompting to we got on the path to real transformation.
Knowing firsthand the benefits of this decision we have created a closed Christian group that is using the keto diet to transform their lives. I love how supportive and encouraging this group of believers is. It's exciting to see how people are transforming their lives by combining this lifestyle with the Christian faith.
The testimonies coming out of our Fittoservegroup are what motivates us to continue to share what we've learned.
We invite you to join our Private Facebook Group and see if it's not the key you have been missing.
Keto Coconut Flour Recipes
This complete collection of keto coconut flour recipes is full of delicious keto recipes that use only coconut flour in one convenient place. Featuring tons of cookies, cakes, pies, bread and so much more! Perfect for those who can't have almond flour but still want to enjoy the benefits of the keto diet.