Easy Keto Quiche Lorraine – Quick and Easy Recipe!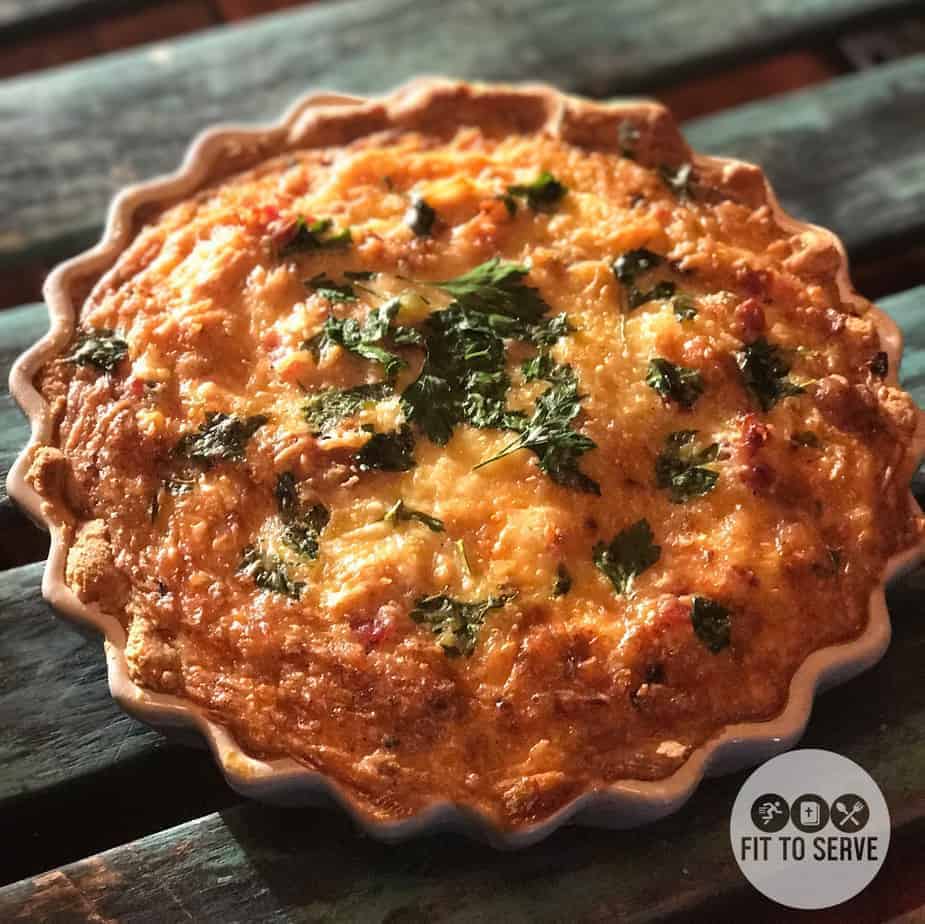 Easy Keto Quiche, a delicious low carb quiche Lorraine recipe that is sure to please your entire family.
It's loaded with the rich flavors of Swiss cheese, egg mixture, and bacon for one perfect brunch recipe. What's more this ketogenic quiche features a flaky crust that fools your tastebuds into thinking it's the traditional high carb version.
Although I enjoy a good keto frittata, sometimes I crave the crust that only a quiche can provide. With that in mind, I created an easy recipe for quiche Lorraine that is keto-friendly.
I wanted all the flavor of regular quiche minus the carbs that a wheat crust recipe has. So if you are looking for a fast and easy keto quiche, then this recipe won't disappoint.
Imagine a keto or low carb quiche Lorraine that can be put together quickly and enjoyed often?
Easy Keto Quiche


There is something about the word quiche that somehow always reminds me of brunch. Although you can certainly enjoy this dish any time of day,
I personally love to serve my ketogenic quiche to family and friends for brunch.
This girl enjoys cooking for the company. And frankly, if I had more time, I would have people over more frequently. Would you agree that sharing a meal with family and friends is a great way to bond?
And what better way than to invite your guests to brunch and greet them with an easy quiche Lorraine? It's always fun to invite friends and family over for a keto meal.
It allows me to share my keto recipes and educate them on this lifestyle in a relaxed way.
What amuses me is how stunned they are to realize how delicious keto food actually is. I don't know why they are surprised, after all if you leave all the fat and remove the bad carbs, what you're left with is very tasty food.
In the end, it's all about educating people to make better choices. So why not start with healthy keto quiches for breakfast?
Limited time can prevent us from the time-honored tradition of coming together over a meal. So if you're like me, you'll really appreciate recipes that are easy to create and customize, like this easy quiche recipe.
Easy Low Carb Quiche Lorraine – Keto
Have you ever wondered how quiche Lorraine got its name?
I must admit that for the longest time I thought Quiche Lorraine was named after some genius little lady who whipped up a great meal for her family back in the 1950s.
But I was wrong. Quiche Lorraine got its name after the Lorraine region in France. The first Quiche Lorraine was an open pie that featured a filling of eggs, cream, and smoked bacon.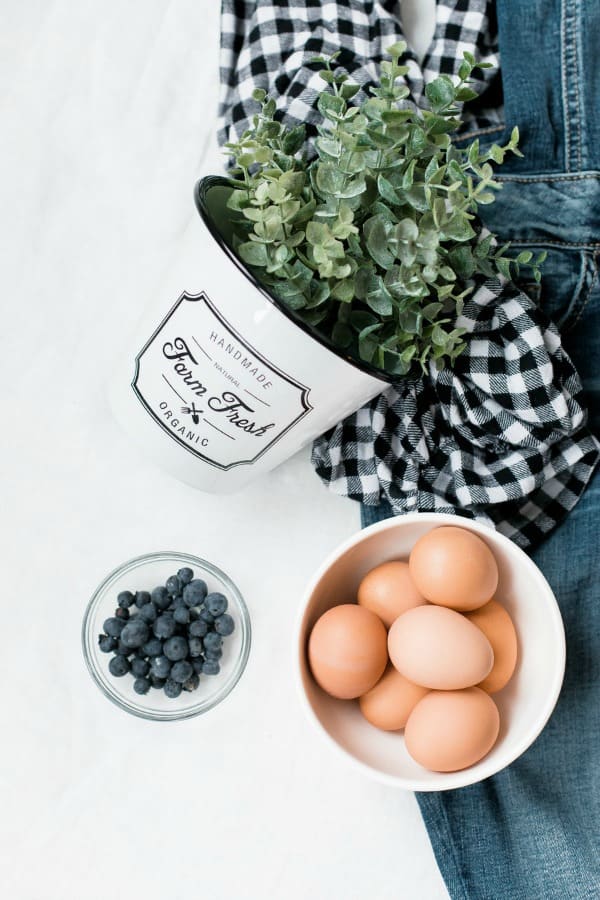 In the original recipe the crust was made with bread dough, today it's usually made with a shortcrust or puff pastry.
Quiche first became popular in England shortly after WWII, and then later in the 1950s in the USA. Today, there are many variations on this classic French dish including low carb crustless quiche.
However, this girl would consider a crustless quiche more of a frittata and not necessarily a quiche.
Keto Low Carb Quiche Crust Coconut Flour
I decided to make the crust for this easy keto, low carb quiche out of coconut flour. I am quite partial to the texture coconut flour provides in a keto crust.
In fact, I have a few keto pies on our site that employ my coconut crust. Like my Keto Apple Pie, Keto Berry Pie, Keto Blueberry Pie, and my Keto Fudge Pie.
I also made my crust for this keto quiche with coconut flour so that individuals that have nut allergies could also enjoy this quiche Lorraine.
Additionally, using coconut flour instead of a nut flour means that this easy keto quiche has the added benefit of being even lower in carbs. Win! Win! Win!
Disclosure: Some of the links below are affiliate links, meaning at no additional cost to you, I will earn a commission if you click through and make a purchase.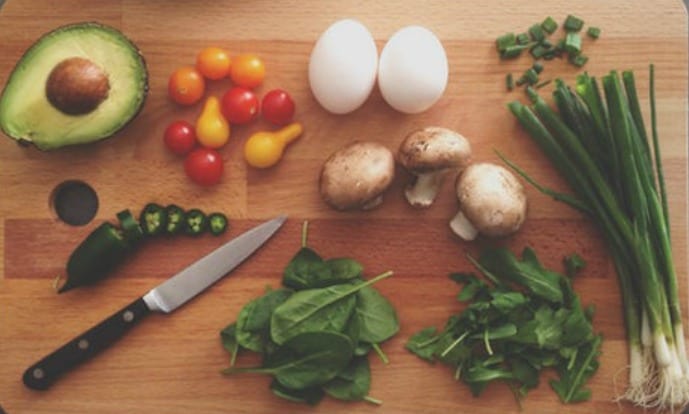 Customize Your Low Carb Quiches Recipe
Surprisingly you can readily customize this easy keto quiche to make it your own. Add or substitute any of the filling items as long as you remember to keep the eggs and water amounts the same.
Some good options would be to add some asparagus tips, spinach leaves, or change the cheese to something like a sharp cheddar.
If you are looking for an easy and delicious healthy quiche option that you will be proud to serve, I am sure you will enjoy my easy low carb quiche.
Above all, it is my desire that my quiche recipe will inspire you to roll up your sleeves and start creating delicious keto recipes for you and your loved ones.
I sure hope you will give this recipe a try. Once you do, make sure you remember to tag us on Instagram and Facebook. It's what keeps this girl encouraged to keep sharing and perfecting her recipes.
Als,o check out our Amazon Store for our recommendations. You might be surprised by how many great keto options are at your disposal.
Favorite Keto Hack To Stay On Track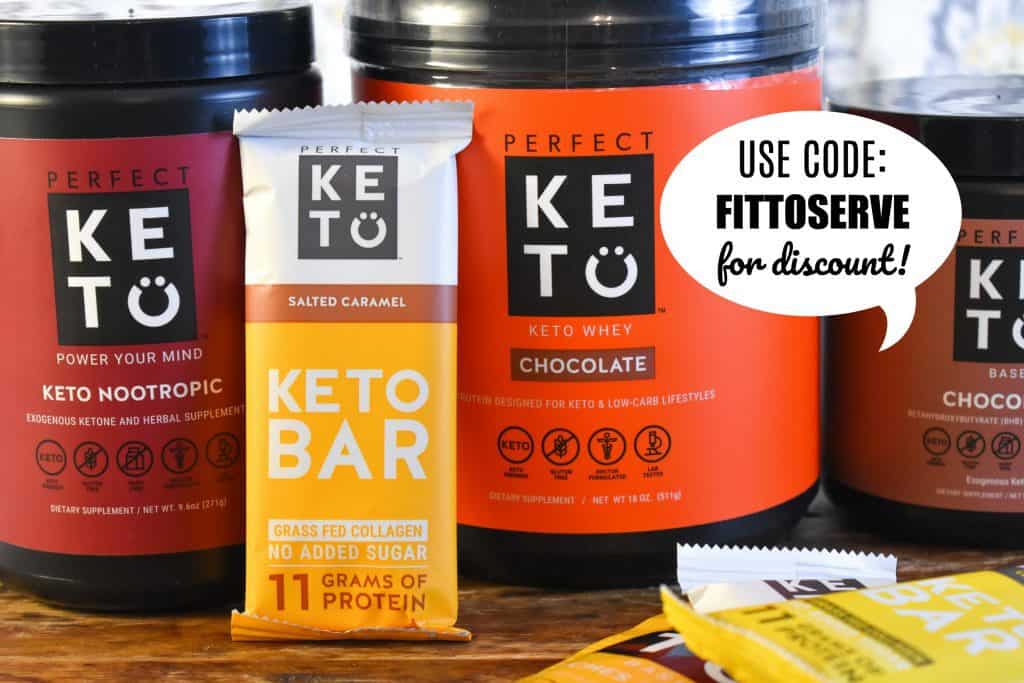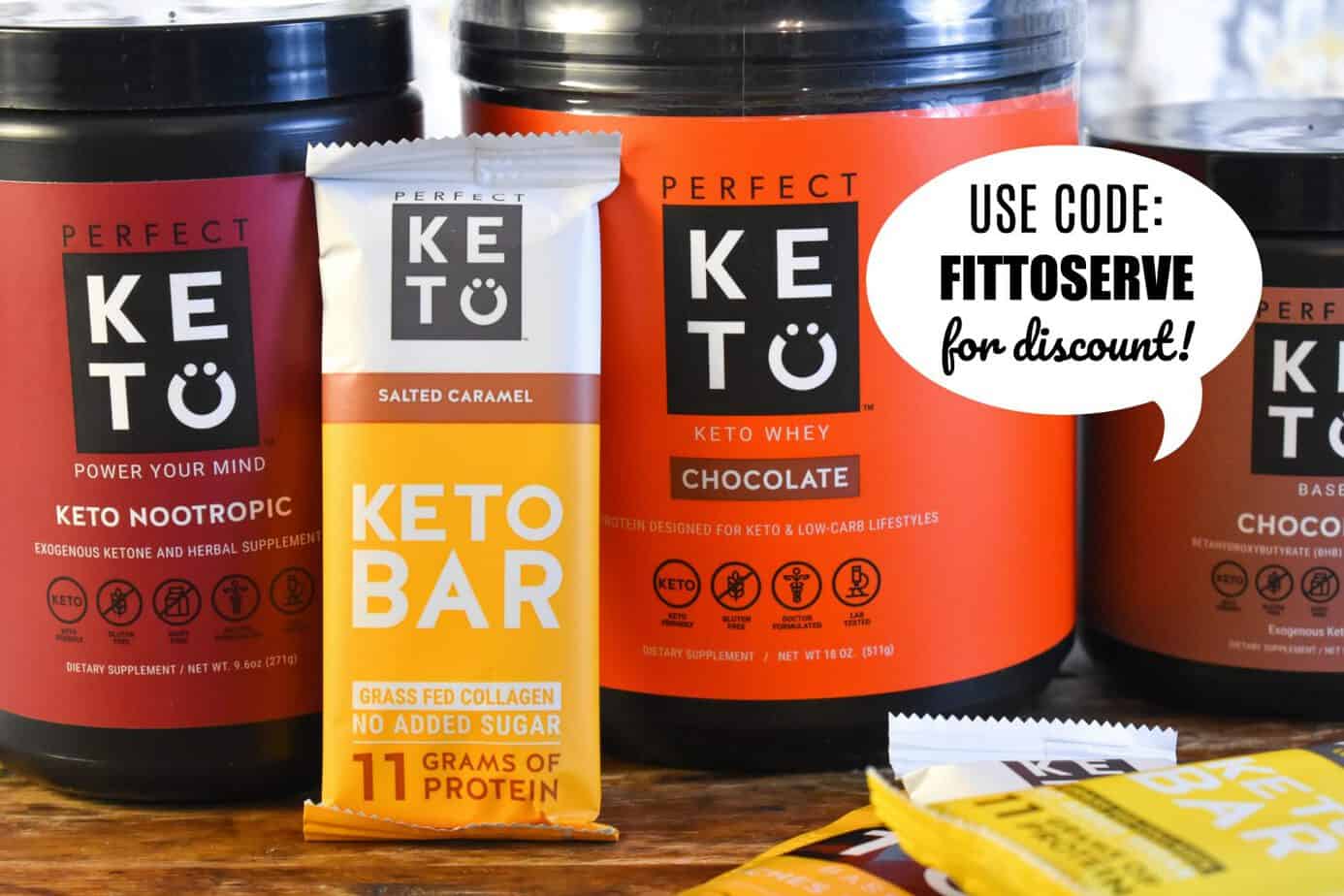 Perhaps, you've struggled to get into ketosis consistently on your low carb keto diet, or you've hit a plateau that doesn't seem to budge, consider using Perfect KETO's exogenous ketones.
By using exogenous ketones you will naturally elevate your ketones allowing you to enter into ketosis more quickly.
Being at a deeper level of ketosis will help reduce your appetite, carb cravings, and give you lasting energy. It's been our experience that the use of exogenous ketones helps make the low carb keto lifestyle a viable sustainable option.
Honestly, it's like having willpower in a cup. Learn more about the science behind both exogenous and endogenous ketones and have your questions answered from a doctor's perspective.
Apart from making this amazing keto quiches recipe, wondering which foods you should avoid when doing Keto? This Keto Food Guide will assist you in doing the Keto Diet correctly.
Don't start the Keto Diet until you calculate your Keto Macros easily Using this calculator will customize the diet according to your goals and help you do the Keto Diet properly.
Take advantage of the great 15% discount that as a reader of this blog you can enjoy with any Perfect Keto Supplement.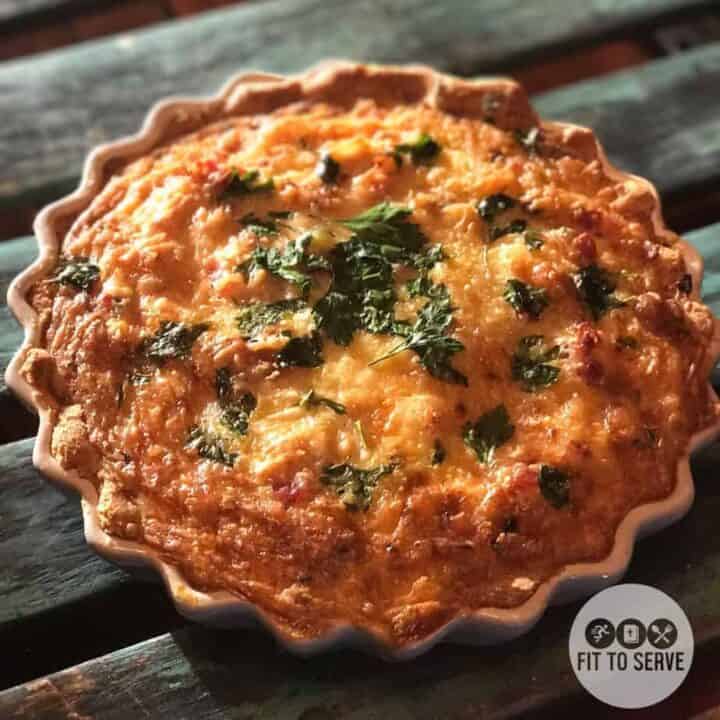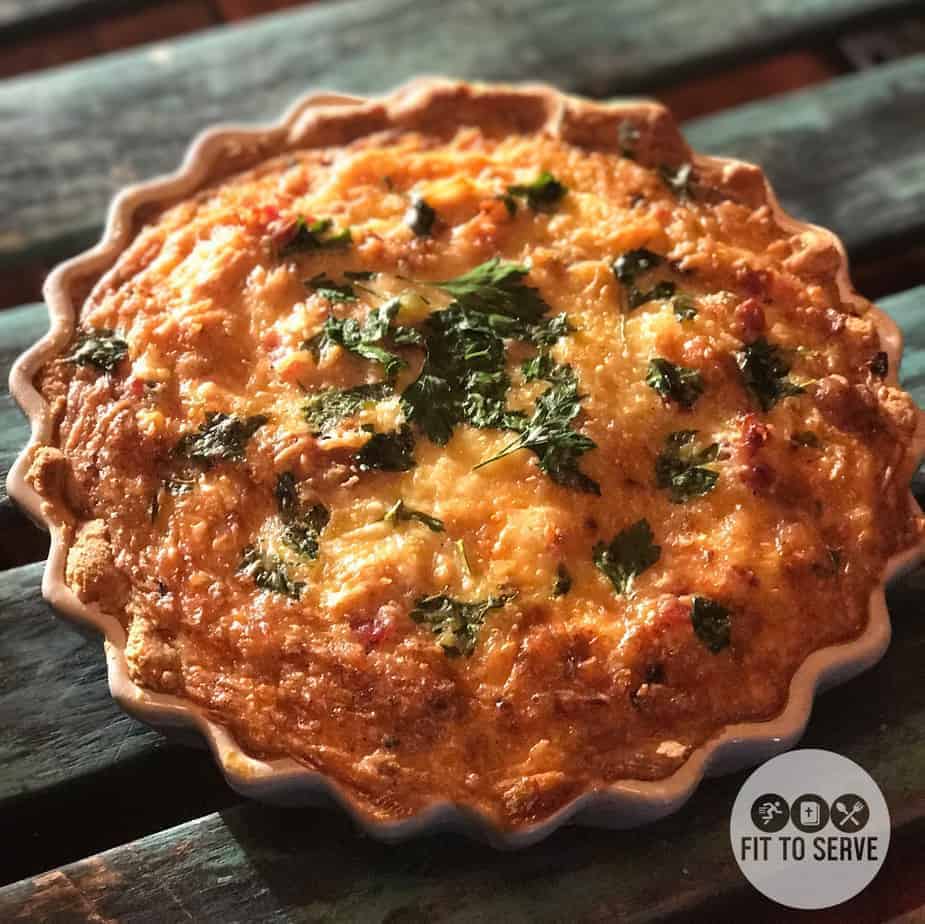 Easy Keto Low Carb Quiche Lorraine
Yield: 10

Prep Time: 15 minutes

Cook Time: 20 minutes

Additional Time: 5 minutes

Total Time: 40 minutes

An easy keto quiche recipe. It's made with a coconut flour crust allowing it to be low in carbs and keto-friendly.
Ingredients
Crust
½ cup unsalted butter melted and cooled
2 large eggs
½ teaspoon sea salt
[¾ cup coconut flour
]
Low Carb Quiche Filling
 6 whole large eggs
2 tablespoons of water
1 ½ ounces of Swiss cheese thinly sliced
2 teaspoons of fresh parsley finely minced
6 slices of cooked bacon roughly chopped
1 teaspoon of sea salt
½ teaspoon of black pepper
1/4 cup of chopped yellow onion, cook the onions in the bacon fat
Instructions
Crust
Mix all the ingredients of the low carb crust just until dough forms.
Roll out dough between two sheets of parchment or wax paper. Set aside.
Transfer crust into a 9 inch, pie pan. Being careful to smooth out any cracks.
Bake at 350 degrees in a pre-heated oven for 15- 20 minutes and set aside to cool.
Quiche Filling
Cook the bacon and allow cool and then roughly chop. Reserve the fat from the bacon.
Cook the chopped onions until translucent. Set aside and allow to cool.
In a medium-sized bowl combine the eggs, water, salt, pepper, shredded Swiss cheese, parsley, onions, and cooked bacon.
Add the quiche filling into the baked pie crust.
Bake at 350 for 25- 30 minutes until the quiche is fully cooked.
Allow the quiche cool slightly before slicing and serving.
The quiche is best eaten hot or at room temperature.
Store any leftovers in the refrigerator for up to 3 days.
Recommended Products
As an Amazon Associate and member of other affiliate programs, I earn from qualifying purchases.
Nutrition Information:
Yield: 10 Serving Size: 1
Amount Per Serving: Calories: 294Total Fat: 24.8gSaturated Fat: 11.6gCholesterol: 205mgSodium: 942mgCarbohydrates: 2gFiber: 0.5gSugar: 0.6gProtein: 15.6g

SaveSave
SaveSave
SaveSave
SaveSave
SaveSave
SaveSave
SaveSave