Low Carb Pumpkin Bread Perfected!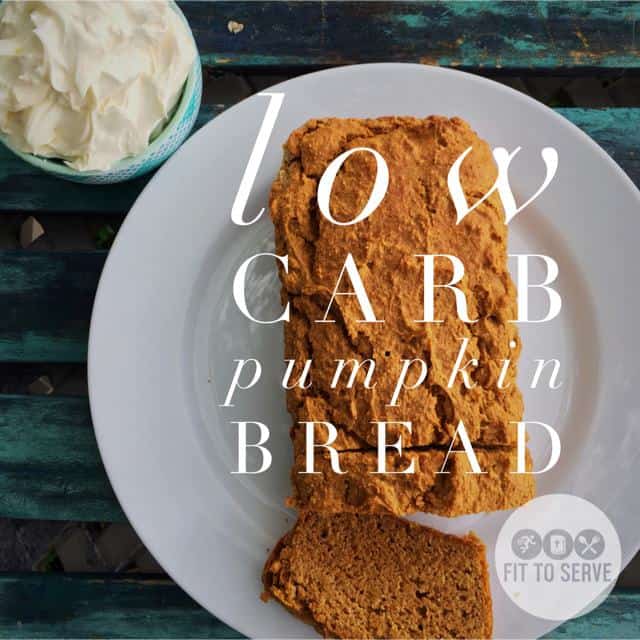 When it comes to pumpkin season nothing beats the flavor of pumpkin bread for this girl. My recipe for low carb pumpkin bread is loaded with the spices we love in the fall without the worry of too many carbs. 
This recipe for keto pumpkin bread makes two 8X4 loaves. You can, however, cut the recipe in half for just one. However, I love the fact that it makes two allowing you to enjoy one and freeze the other. 

Sometimes only the very best will be good enough. This is what happened when I was determined to create a low carb pumpkin bread that would be as tasty as my traditional high carb version was.
You should know that I have been trying to perfect my low in carb pumpkin bread for a couple of years now. It wasn't an easy feat to duplicate the pumpkin bread my family considered a favorite. 
I have so many lovely memories baking loaf after loaf of pumpkin bread every pumpkin season. But after I removed gluten from my diet, a new gluten-free pumpkin bread recipe was in order. 
Low Carb Pumpkin Bread

The lack of gluten in the low carb keto flours does not make baking a pumpkin bread easy. For more on how to bake with low carb flours, I encourage you to read my favorite low carb baking tips.
What I found on my quest to make a perfect a low carb pumpkin bread was that using a combination of low carb flours worked best in duplicating the flavor and texture of traditional pumpkin bread. 
My recipe calls for both almond and flax flour and a generous amount of pumpkin pie spice. As far as I am concerned there is no such thing as too much pumpkin pie spice. But if you want a milder option simply reduce the about of spices. 
I love how the combo of flour alternatives produces a moist yet dense quick bread that holds up to slicing, toasting and slathering with butter or the cream cheese frosting I included. 
Disclosure: Some of the links below are affiliate links, meaning at no additional cost to you, I will earn a commission if you click through and make a purchase. 
You need to understand that this girl was determined to bring back pumpkin bread safely back into her diet. This meant that my low carb pumpkin bread couldn't be just a pretty good option, but a great one.
This kind of determination is how I was able to create a fantastic option for pound cake with our low carb cream cheese pound cake.
If there is one thing I am, it's relentless. I just won't give up on a recipe without a good fight. Fortunate for you, I finally won this battle and what we have here is a real winner.
In addition to the two generous loaves this recipe offers, I included my low carb cream cheese frosting for you to also enjoy.
Can't wait for you to try my perfected low carb pumpkin bread recipe. 
I am also including a few of my low carb keto-friendly pumpkin recipes for you to also enjoy. 
Keto Pumpkin Streusel Cupcakes
Keto Pumpkin Cranberry Skillet Cake
Keto Pumpkin Cream Cheese Pound Cake
Keto Pumpkin Streusel Coffee Cake
Keto Pumpkin Cream Cheese Donuts 
Keto Pumpkin Coconut Flour Coffee Cake
I sure hope you will give this recipe a try. Once you do, make sure you remember to tag us on Instagram and Facebook. It's what keeps this girl encouraged to keep sharing and perfecting her recipes.
Favorite Keto Hack To Stay On Track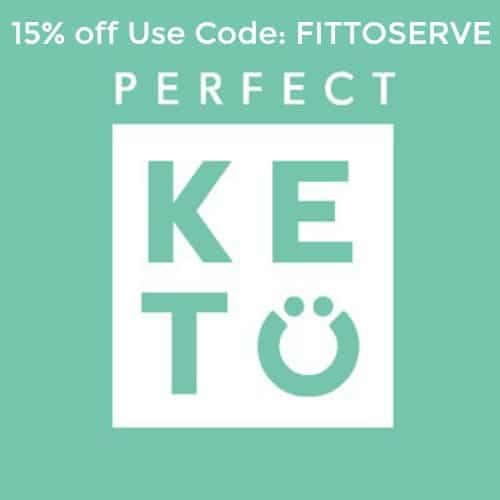 Perhaps, you've struggled to get into ketosis consistently on your low carb keto diet, or you've hit a plateau that doesn't seem to budge, consider using Perfect KETO exogenous ketones.
Use this link and get a 15% off discount when you place your order for any of Perfect Keto's products. Then add the code FITTOSERVE at checkout.
By using exogenous ketones you will naturally elevate your ketones allowing you to enter into ketosis more quickly.
Being in a deeper level of ketosis will help reduce your appetite, carb cravings, and give you lasting energy.  It's been our experience that the use of exogenous ketones helps make the low carb keto lifestyle a viable sustainable option.
Honestly, it's like having willpower in a cup.  Learn more about the science behind both exogenous and endogenous ketones and have your questions answered from a doctor's perspective.
Make sure you also pick up your free and complete guide to understanding ketosis. Then begin the ketosis diet easily with this Start-up Guide to the Ketosis Diet.
Wondering which foods you should avoid when doing Keto? This Keto Food Guide will assist you in doing the Keto Diet correctly.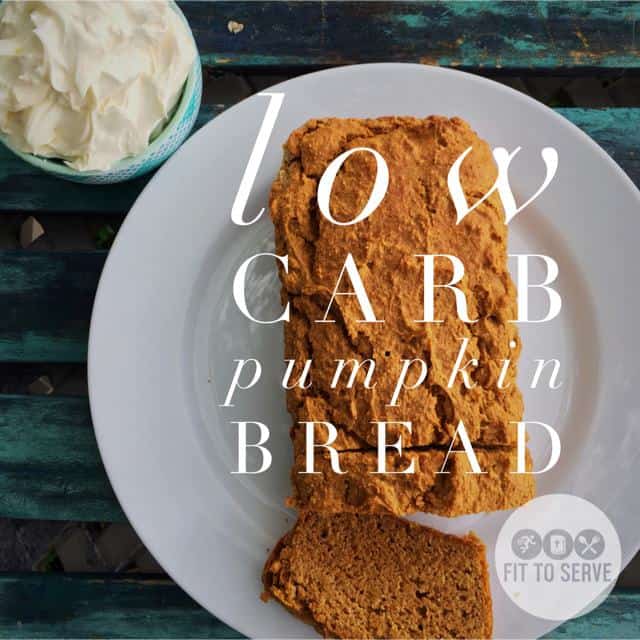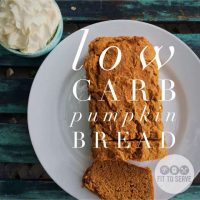 Low Carb Pumpkin Bread
Ingredients
15 oz. can of pumpkin puree
3 teaspoons of baking powder
2 teaspoon vanilla extract
3 tablespoons of pumpkin pie spice
3 tablespoons of cinnamon powder
1/4 teaspoon sea salt
10 large eggs
1 cup of golden flax meal
Optional
Cream Cheese Frosting
 8 oz package of softened cream cheese
4 tablespoons of heavy whipping cream
Instructions
Preheat oven to 350 degrees.
Grease two 8x4 inch loaf pans well.
Using an electric mixer, beat the pumpkin puree, sugar substitute, and vanilla extract until well blended.
Next add in the eggs one at time making sure to beat until fully combined.
To the wet batter add the almond flour, flax meal, baking powder, spices and salt.
Note that batter will be thick. Pour the batter into the two prepared pans and bake at 350 degrees for 45 minutes, or until an inserted toothpick comes out clean.
Notes
This recipe makes two large low carb pumpkin bread loaves and freezes well.
Recommended Products
As an Amazon Associate and member of other affiliate programs, I earn from qualifying purchases.
Nutrition Information:
Yield:

20
Serving Size:

1
Amount Per Serving:
Calories:

200
Total Fat:

15.8g
Saturated Fat:

5.5g
Cholesterol:

59mg
Sodium:

60mg
Carbohydrates:

4.8g
Fiber:

2.9g
Sugar:

0.8g
Protein:

6.4g
SaveSave
SaveSave
SaveSave
SaveSave
SaveSave