Low Carb Pumpkin Bread Perfected!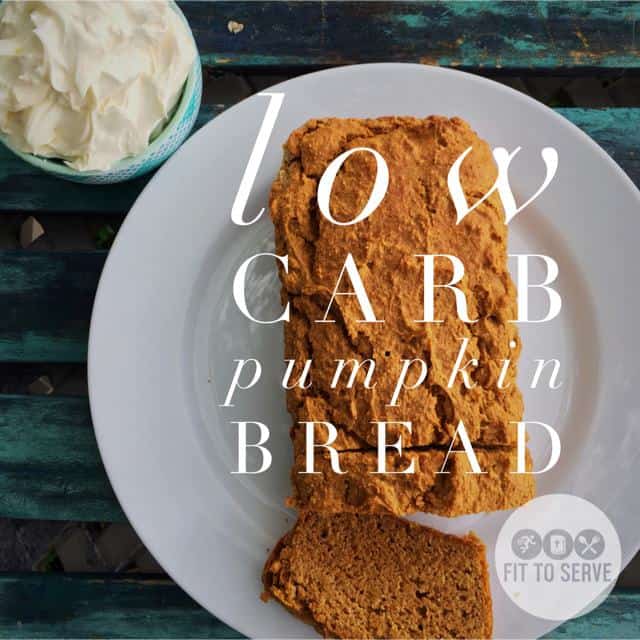 Can you agree that sometimes only the very best option is going to be good enough? This is what happened when I was determined to create a low carb pumpkin bread that would be as tasty as my traditional high carb version was.
I know what you're thinking, another low carb keto pumpkin recipe Hilda? Well, here's the thing, I have been trying to perfect my low carb pumpkin bread for a couple of years now.
It's been a real quest to create a low carb pumpkin bread similar to the regular version our family once considered a favorite.
Because working with pumpkin puree can be tricky with low carb flours, I wasn't quite satisfied with my prior attempts.
The lack of gluten in the low carb keto flours does not make baking a pumpkin bread easy. For more on how to bake with low carb flours I encourage you to read my favorite low carb baking tips.
Disclosure: Some of the links below are affiliate links, meaning at no additional cost to you, I will earn a commission if you click through and make a purchase.
You need to understand that this girl was determined. This meant that my low carb pumpkin bread couldn't by just a pretty good option, but a great one.
This kind of thinking is how I was able to create a fantastic option for pound cake with our low carb cream cheese pound cake.
If there is one thing I am, it's relentless. I just won't give up on a recipe without a good fight. Fortunate for you, I finally won this battle and what we have here is a real winner.
You'll notice that this recipe makes two generous loaves, making it easy to freeze one for later. For an added treat I am including my low carb cream cheese frosting for you to also enjoy.
Can't wait for you to try my perfected low carb pumpkin bread recipe. For more great low carb keto recipes make sure you sign up for our newsletter.
Low Carb Pumpkin Bread
Low Carb Pumpkin Bread
---
Hilda Solares
Yields 30
15 minPrep Time
45 minCook Time
1 hrTotal Time
Ingredients
1 15 oz. can of pumpkin puree
2 cups granulated of sugar substitute (I use Swerve)
1 table spoons of baking powder
2 teaspoon vanilla extract
3 tablespoons of pumpkin pie spice
3 tablespoons of cinnamon powder
1/4 teaspoon sea salt
10 large eggs
3 cups of almond flour
1 cup of golden flax meal
Optional
Cream Cheese Frosting
1  8 0z package of softened cream cheese
4 tablespoons of heavy whipping cream
1 cup of Swerve powdered sugar substitute
Instructions
Grease two 8x4 inch loaf pans well.
In a large stand up mixer, beat the pumpkin puree, sugar substitute, and vanilla extract until well blended.
Beat in the eggs one at time until fully combined. Next add the almond, flax meal, baking powder, spices and salt.
Note that batter will be thick. Pour into the prepared pans and bake at 350 degrees for 45 minutes, or until an inserted toothpick comes out clean.
Notes
This recipe makes two large low carb pumpkin bread loaves
7.8.1.2
52
https://www.fittoservegroup.com/low-carb-pumpkin-bread/
Nutrition Facts
Serving Size 1 slice
Servings Per Container 30
---
Amount Per Serving
Calories 108
Calories from Fat 75.6
% Daily Value*
---
*Percent Daily Values are based on a 2,000 calorie diet. Your daily values may be higher or lower depending on your calorie needs.
Favorite Keto Tip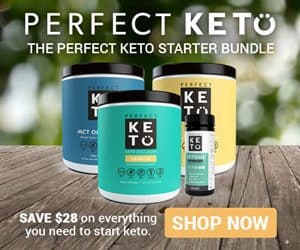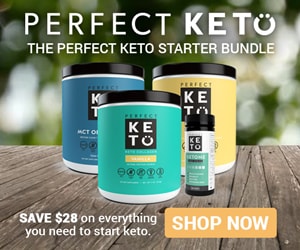 Are you looking for a way to jump-start your low carb keto journey?
Can I share with you the number one tip our Fittoserve Group Community Group is using and seeing consistent results with?
The use of Perfect Keto's exogenous ketones supplement.
Exogenous ketones allow you to drink your ketones and put's you into a state of ketosis in under 59 minutes.
Until now to get into a state of ketosis required days, perhaps weeks of very strict keto dieting.
However, with the ability to now drink ketones you can see the results you want to accomplish consistently. Quickly, you can experience what it feels to be in ketosis.
Why is ketosis the goal? Because once you are in ketosis you don't have as many cravings and your appetite diminishes significantly. In addition, you have more energy and focus helping you to stay committed to the plan.
In the long run, having a tool like this makes the lifestyle easier. Meanwhile, I invite you to read more about the success we are seeing in our community group here. and to consider giving it a try.
SaveSave
SaveSave
SaveSave
SaveSave
SaveSave