Festive Keto Cranberry Orange Cookies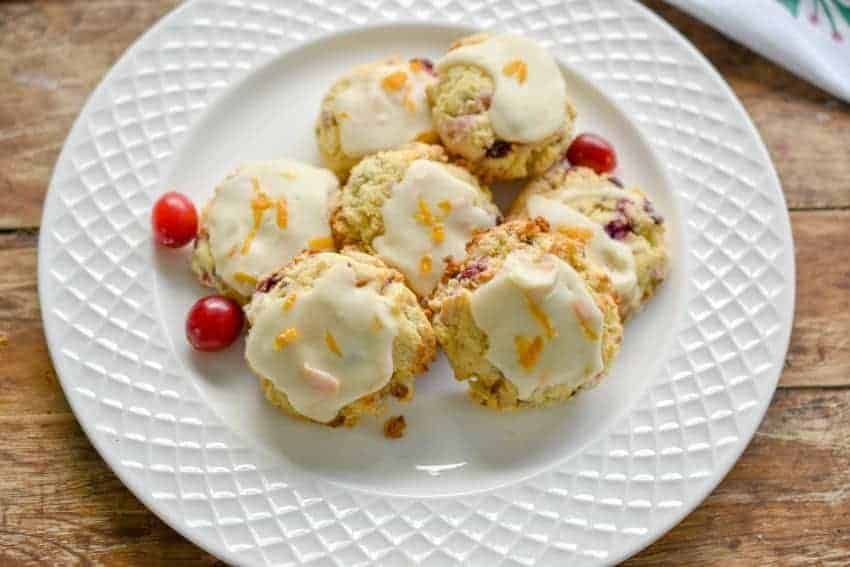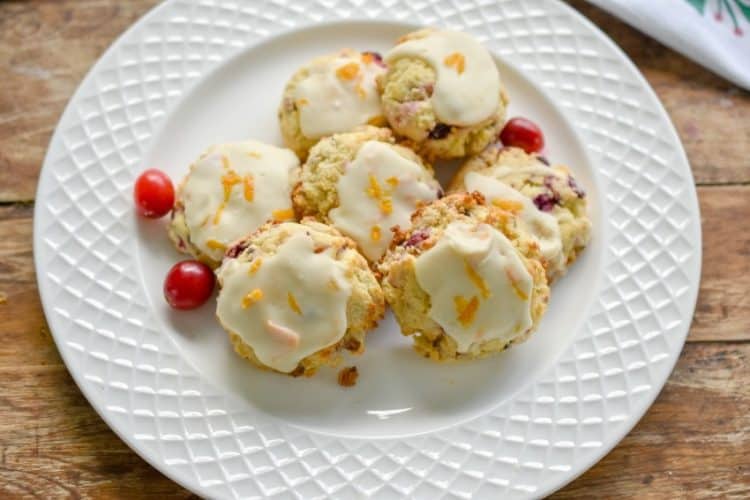 It's a recipe for keto cranberry orange cookies and it features the flavors of fresh cranberries, cream cheese, and orange for one great low carb holiday cookie.
Christmas celebrations in my book should include as many easy low carb cookie recipes as possible. Which is why I added these keto cranberry orange cookies to my growing collection. These keto cream cheese cranberry orange cookies are going to look stunning on your cookie platter, more importantly, your guests will love the bright flavors of fresh cranberries and orange.
I promise that if you've never tried the combination of cranberry and orange before, you're going to be surprised by how amazingly well these flavors go together.  And you'll be thrilled that these low carb cranberry orange cookies can be shared as a healthy option.
If you love the combination of cranberry and orange then make sure you try our Keto Cranberry Orange Bread it's the perfect keto treat. Also, make sure you remember to check out our Keto Cream Cheese Recipes for other delicious recipes that feature cream cheese like these cookies. And if that's not enough I have a complete list of Keto Cookies that as a fan of cookies I encourage you to also visit.

Disclosure: Some of the links below are affiliate links, meaning at no additional cost to you, I will earn a commission if you click through and make a purchase.
Products from Amazon.com
‹
›
Keto Cranberry Orange Cookies
My keto cranberry orange cookies were partly inspired by my Keto tangy cream cheese lemon cookies. If you haven't tried my lemon cookies, I encourage you to do so ASAP. Because these should also be included in your Keto Christmas cookie roundup.
I really try my best to listen to my reader's suggestions. Which is why when they ask for more low-carb, keto-friendly recipes, that are also nut-free, I do my best to deliver. I truly hope that my nut-free friends will give my keto cranberry orange cookies a try.
During the Holidays, we all tend to indulge at least a little. Because of this, you might want to arm yourself with enough Keto Recipes to keep you compliant.
One way we can get off track during the holidays on a keto diet, is over consuming nuts, in the way of nut flours. Because of this, even individuals who do not have a nut allergy can appreciate these keto cranberry orange cookies.
Coconut Flour Keto Cookies
But why coconut flour as a flour alternative? Well, coconut flour is not actually a flour in the traditional sense. Do you know that coconut flour actually has no grains, no nuts, and is made completely of pure coconut? This makes for a great nut-free low carb baking flour.
The Process of Making Coconut Flour
In order to make a coconut into a flour-like consistency, there are some important steps that need to be had. First, you have to separate the coconut milk from the coconut meat, and then bake the coconut that is extracted until it completely dries out.
At that point, you can mill the dry coconut meat and be left with a powder that resembles flour. Although you cannot substitute coconut flour cup for cup for regular flour, it is a viable solution once you learn how to bake with it.
Coconut Flour, A Favorite In The Health Community
Coconut flour is a favorite in the low carb, keto, paleo community as well as those who need to eat a gluten-free diet.  Coconut flour is easy to digest which is why anyone with a nut-allergy can appreciate this nut-free flour option.
If all that isn't enough to convince you, how about the added benefit that coconut flour is also less expensive than nut-flours? During the holidays, we can all appreciate some added savings, which is why these Keto Cranberry Orange Cookies will make a great addition to your Christmas cookie platter.
My Favorite Keto Hack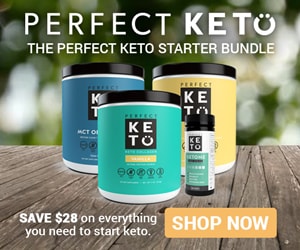 If you have been struggling to get into ketosis and it has been a challenge to stay on a low carb keto diet. Can I introduce you to the use of exogenous ketone?
Do you know that you can now drink ketones and enter into ketosis?
Using exogenous ketone supplementation can place you in a state of ketosis. 
You can actually test your ketones in less than an hour after drinking and see your ketone levels rise.
Why is this powerful? Elevated ketones mean you will see a major reduction in appetite, carb cravings, and sustained energy. This makes the low carb keto lifestyle a viable sustainable option.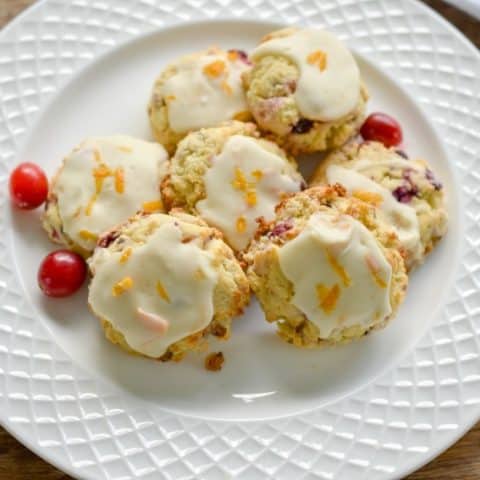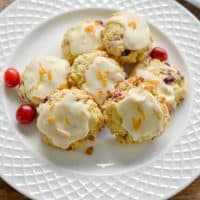 Keto Cranberry Orange Cookies
A nut-free keto cranberry orange cookie recipe. It uses coconut flour, and fresh cranberries for a delicious low carb treat.
Ingredients
½ cup finely chopped fresh or cranberries (measure after chopping) If cranberries are frozen use a food processor to chop easily.
1 ½ teaspoons of baking powder
¼ teaspoon salt
½ cup butter softened
4 ounces of cream cheese
4 eggs
2 teaspoons of grated orange peel
Keto Orange Glaze:
2 tablespoons of lemon juice
2 tablespoon of heavy whipping cream
1 teaspoon of orange peel
Instructions
Pre-heat oven 350 degrees
Stir together coconut flour, baking powder, salt and set aside the dry ingredients.
In a separate bowl, beat together butter, cream cheese, sugar substitute, orange peel, extract, until fully combined.
Add the eggs, and beat well after each addition.
Stir in the 1/2 cup of finely chopped cranberries
Add dry ingredients to wet mixture, beat until fully combined.
Chill the dough for ½ hour
Measure a tablespoon at a time of cookie dough and roll them into balls.
Flatten slightly each ball onto a lightly greased cookie sheet.
Bake for 15 minutes or until lightly brown around the edges.
Allow cookies to cool for 30 minutes before drizzling the low carb orange glaze.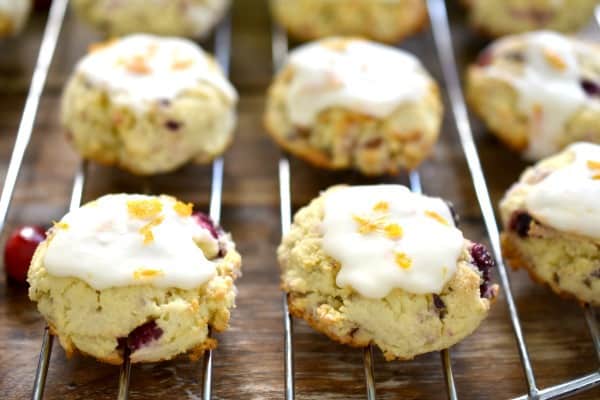 Notes
Use CODE: FITTOSERVE when placing any orders for Lakanto sugar substitute and receive a 20% off discount. 
Confectioners
Recommended Products
As an Amazon Associate and member of other affiliate programs, I earn from qualifying purchases.
Nutrition Information:
Yield:

24
Serving Size:

1
Amount Per Serving:
Calories:

65
Total Fat:

6.3g
Saturated Fat:

3.8g
Cholesterol:

43mg
Carbohydrates:

.7g
Fiber:

0.3g
Sugar:

0.2g
Protein:

1.4g