Holiday Keto Pecan Glazed Pumpkin Pie!
I've created yet another low carb recipe to help you stay on track. Do you know why? Because I want you to have absolutely no excuses for cheating during the holidays. My keto pecan glazed pumpkin pie can grace any holiday table and offer a delicious and healthy treat for all your guests.
Long gone are the days when I used to load my holiday table with high carb sugar overflowing desserts. If you join us for the holidays, you'll find options for dessert like my low carb pecan pumpkin pie instead. It's my sneaky way of introducing you to the keto lifestyle that has blessed our family's health.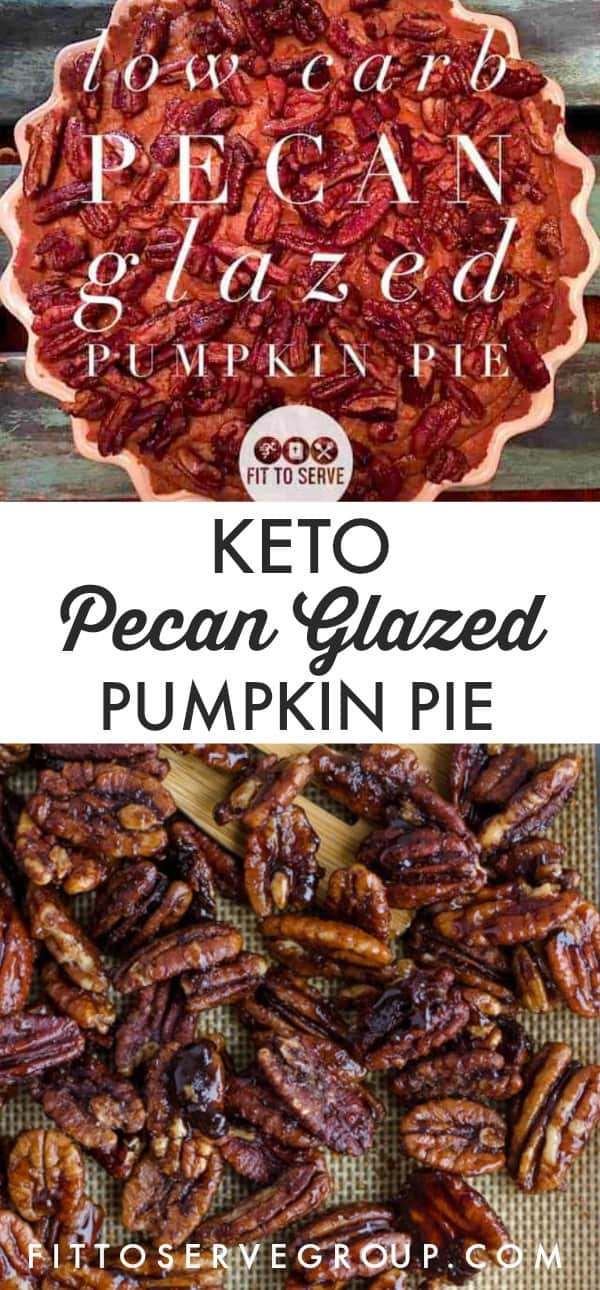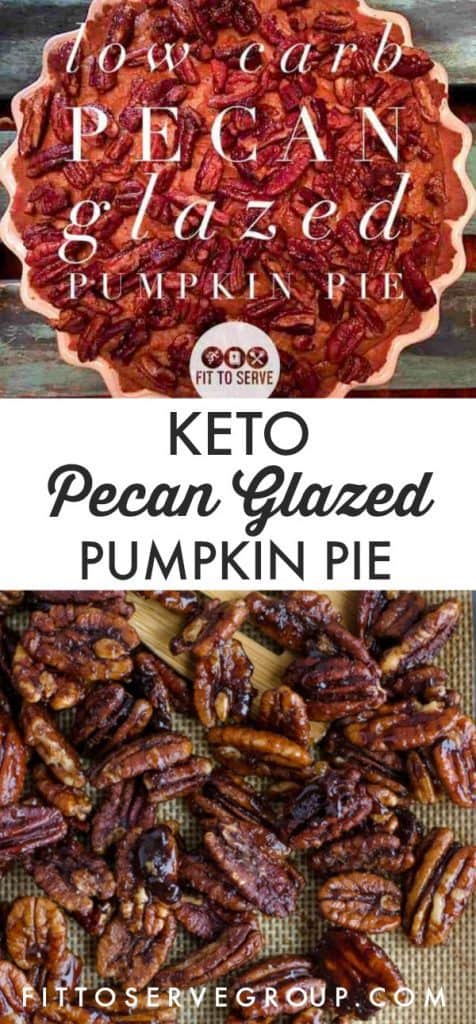 A Keto Pecan Glazed Pumpkin Pie
In order to successfully make your keto pecan glazed pumpkin pie, you will need to keep in mind a few key things. For one you want to make sure that you are using pumpkin puree and not pumpkin pie filling for the keto pumpkin pie.
Pumpkin puree does not have any sugar or spices added. This is vital because if you inadvertently use the pumpkin pie filling you will end up with a very high in carb pie instead. A mishap that will kick you out of ketosis rather quickly. So make sure you chose wisely.
My keto pecan glazed pumpkin pie features a crust made out of coconut flour and butter that has been browned and allowed to cool. Browning your butter for this crust really elevates the flavor and goes really nicely with pumpkin spice flavors.
Choosing The Best Sugar Substitute For Your Keto Holiday Baking
Disclosure: Some of the links below are affiliate links, meaning at no additional cost to you, I will earn a commission if you click through and make a purchase. 
I wanted to create a keto pumpkin pie that featured a topping of glazed pecans. Of course, the pecans are glazed with my sugar-substitute of choice Swerve, it's an erythritol blend. If you're not familiar with this sugar alternative you're in for a real treat.
Erythritol's, unlike other sugar alcohols, has a 0 % impact on blood sugar. (unlike Xylitol and Malitol) It is completely safe to eat on a keto diet and you do not need to count the carbs in your Net carb count for the day. Because erythritol is a sugar alcohol that is 90% processed in the small intestine. The human body cannot derive energy from erythritol (hence the low-calorie count), and it has 0 glycemic impacts and load (no insulin response).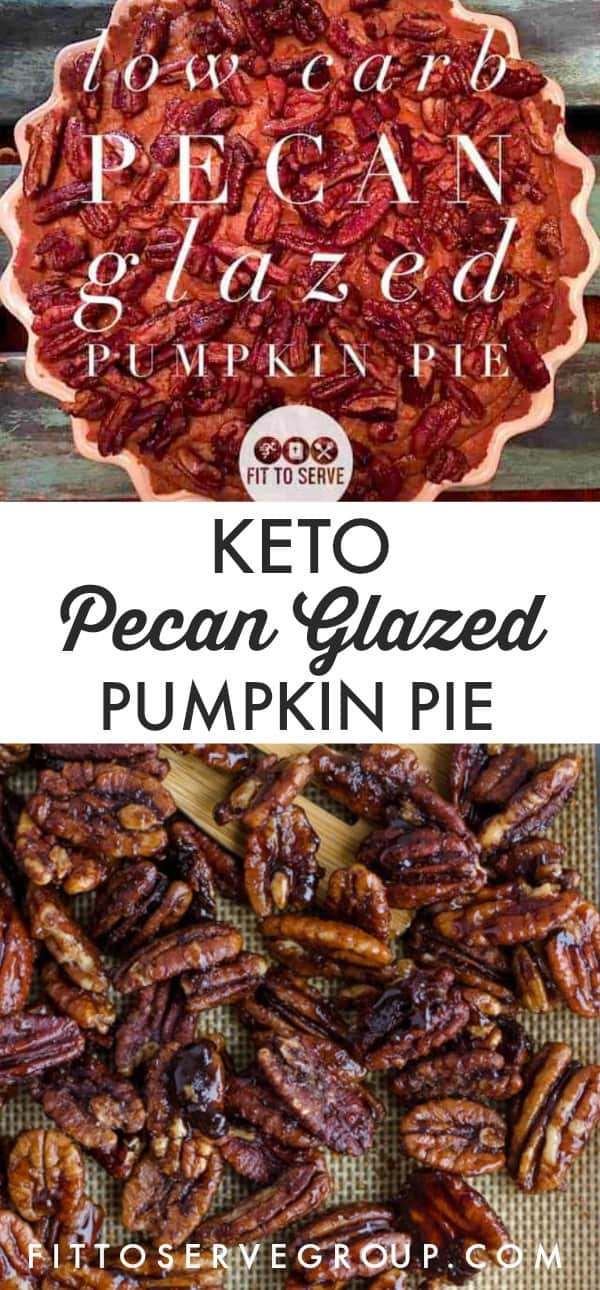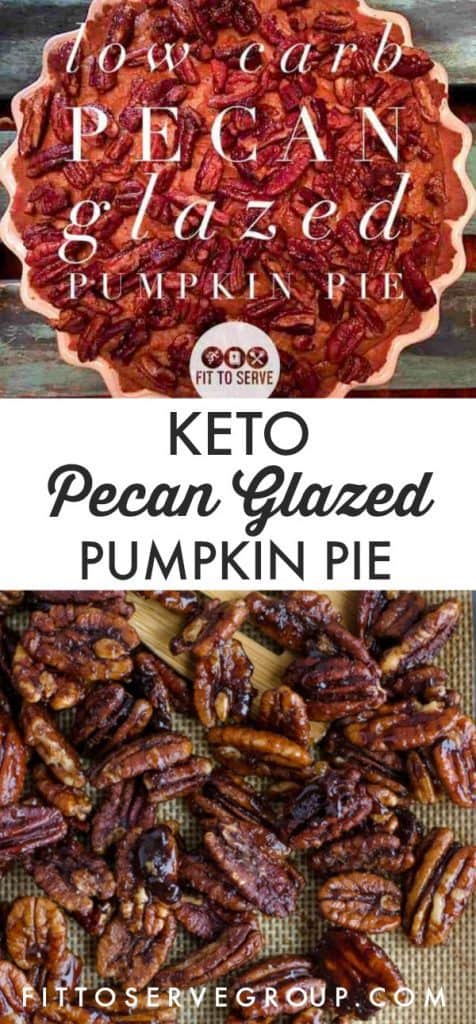 Keto Pecan Pumpkin Pie List Of Items
Responding To Holiday Food Temptations
Without a doubt, the temptation to cheat on your low carb ketogenic diet is higher around the holidays. Especially because it's the time of year when family favorites make their annual appearance. But can we agree that although we all love a great gathering around the table, the food should not be the main focus?
Don't get me wrong we can all get excited about tasty treats, let's just not make the holidays solely about the foods. Make up your mind that you will not use the holidays as an excuse to get off track.
I've mentioned on previous Thanksgiving posts how this is my favorite holiday. It's because it's not as commercialized as others. With that in mind, I encourage you to take advantage of this and spend quality time with loved ones and make the act of giving God thanks together with the emphasis instead of the food.
While you're enjoying each others company use this as an opportunity to educate them on your keto lifestyle and consider bringing a healthy option to the table like my keto pecan glazed pumpkin pie.
What better way to express your love to your guests, than by sharing a meal that is not only delicious but good for them? This year surprise them with a healthy, low carb option that rival any sugar-laden, junk-filled treat.
I sure hope you will give this recipe a try and that it graces your holiday table. If you do, make sure you remember to tag us on Instagram and Facebook. It's what keeps this girl encouraged to keep sharing and perfecting her recipes.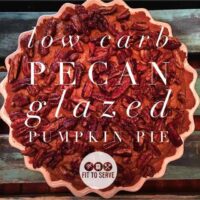 Keto Pecan Glazed Pumpkin Pie
A Keto Glazed Pecan Pumpkin Pie Recipe. It features a low carb pumpkin pie that is made with a browned butter coconut flour crust and covered in glazed pecans.
Ingredients
Keto Pumpkin Pie Filling
1 cup heavy cream
4 large eggs
1 cup sugar substitute ( I use Swerve)
1 15 ounce can of pumpkin puree
1 tsp ground cinnamon
¼ tsp ground nutmeg
¼ tsp ground allspice
¼ tsp of ground ginger
1 tsp of vanilla
¼ teaspoon of sea salt
Keto Brown Butter Crust
½ cup (of cooled browned butter)
2 large eggs
¼ teaspoon sea salt
¾ cup of coconut flour
2 teaspoon of sugar substitute
Keto Candied Pecan Topping
1 1/4 cups pecan pieces
3 Tbsp butter, melted
4 Tbsp sugar substitute (I use Swerve) an erythritol blend is necessary for the glaze.
Instructions
Crust
Cook the butter in medium heat until lightly brown. Allow to cool to room temperature
Mix the coconut flour, eggs, sea salt, sugar substitute and cooled butter until dough forms.
Flatten the crust between two parchment papers with a rolling pin. Place the crust on the bottom and up the sides of a pie pan crimping the edges.
Bake in a preheated 350 degrees' oven for 25 minutes or until lightly brown.
Pie Filling
Mix all the pie filling ingredients together until fully combined.
Pour into cooked and cooled pie crust.
Bake pie for 30-35 in 350 degrees' oven until pie sets.
Allow to cool.
Keto "Candied" Pecans
In a hot skillet add the butter.
Add the pecans and combine well with butter
Add the sugar substitute and sea salt
Cook the pecans until toasted and glazed.
Allow to fully cool
Add candied pecans on top of cooked pie.
Nutrition Information:
Yield:

10
Serving Size:

1
Amount Per Serving:
Calories:

238
Total Fat:

22.8g
Saturated Fat:

12.8g
Cholesterol:

165mg
Sodium:

132mg
Carbohydrates:

4.9g
Net Carbohydrates:

3.1g
Fiber:

1.8g
Sugar:

1.9g
Protein:

5.3g
Favorite Holiday Keto Tip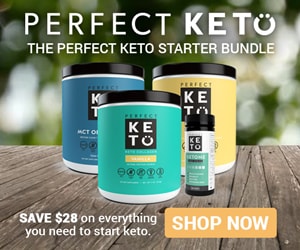 The holidays can be loaded with all sorts of food temptation. Which is why using a tool to help you stay on course can be very beneficial.
Perhaps, you've struggled to get into ketosis consistently on your low carb keto diet, or you've hit a plateau that doesn't seem to budge, consider using Perfect KETO's exogenous ketones.
Use this link and get a 15% off discount when you place your order for any of Perfect Keto's products. The discount will be added automatically at checkout.
By using exogenous ketones you will naturally elevate your ketones allowing you to enter into ketosis more quickly.
Being at a deeper level of ketosis will help reduce your appetite, carb cravings, and give you lasting energy.  It's been our experience that the use of exogenous ketones helps make the low carb keto lifestyle a viable sustainable option.
Honestly, it's like having willpower in a cup.  Learn more about the science behind both exogenous and endogenous ketones and have your questions answered from a doctor's perspective.
Make sure you also pick up your free and complete guide to understanding ketosis. Then begin the ketosis diet easily with this Start-Up Guide to the Ketosis Diet.
Wondering which foods you should avoid when doing Keto? This Keto Food Guide will assist you in doing the Keto Diet correctly.
SaveSave
SaveSave
SaveSave
SaveSave
SaveSave
SaveSave
SaveSave