This delicious keto pumpkin pecan glazed pie is a tasty cross between a pumpkin and a pecan pie. It's one low-carb pie that allows you to enjoy the best of two flavor profiles.
Rather than make two keto pies during the holidays, why not create one pie that lets you satisfy more cravings without the added work?
Family and friends will be thoroughly impressed when you bring this pie to the table and tell them that it's a keto pumpkin pecan pie.
I love sharing my keto recipes with non-keto folks and using them as an opportunity to teach them our lifestyle.
And if I can keep the holidays stress-free by making one pie that combines these two seasonal favorites why not? Plus it makes a tasty teaching moment.
As a pumpkin fan, I invite you to also check out our recipe for keto pumpkin cheesecake with pecan crust; it's one our readers love. And while you're at it you might also want to visit our collection of Keto Pumpkin Recipes.
Don't forget to also check out my other keto pie recipes that include traditional pies, tarts, and cobblers!
Keto Pumpkin Pecan Pie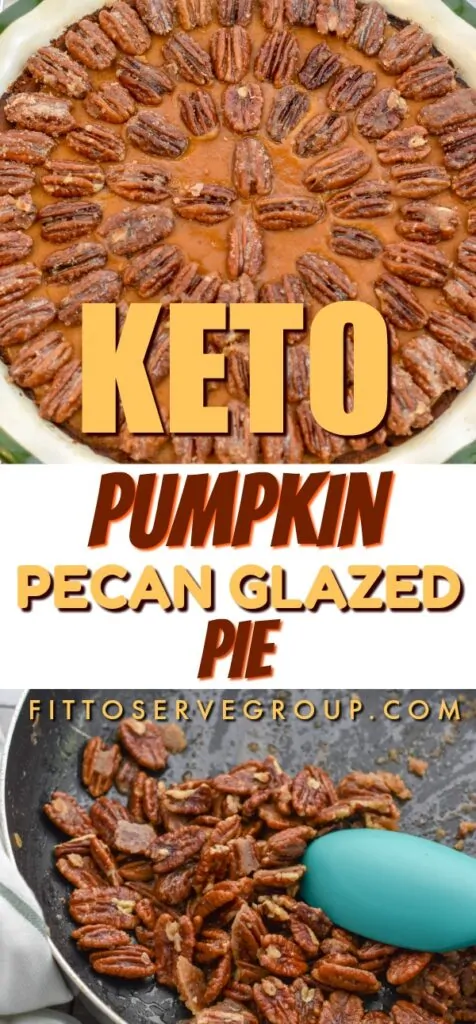 The combination of creamy pumpkin with the crunch of the glazed pecans makes it an irresistible keto dessert. It's a nice departure from the more traditional pie recipe.
However, if you're wanting a more classic pumpkin pie, you should still put this pecan version on your list of low-carb fall recipes to try.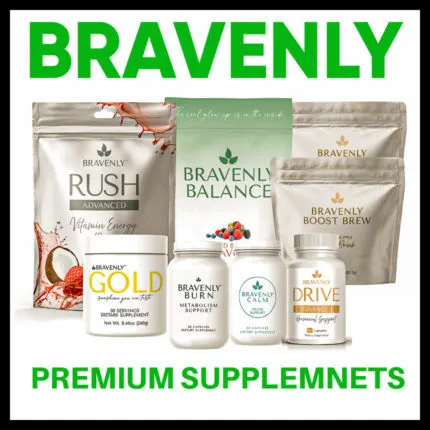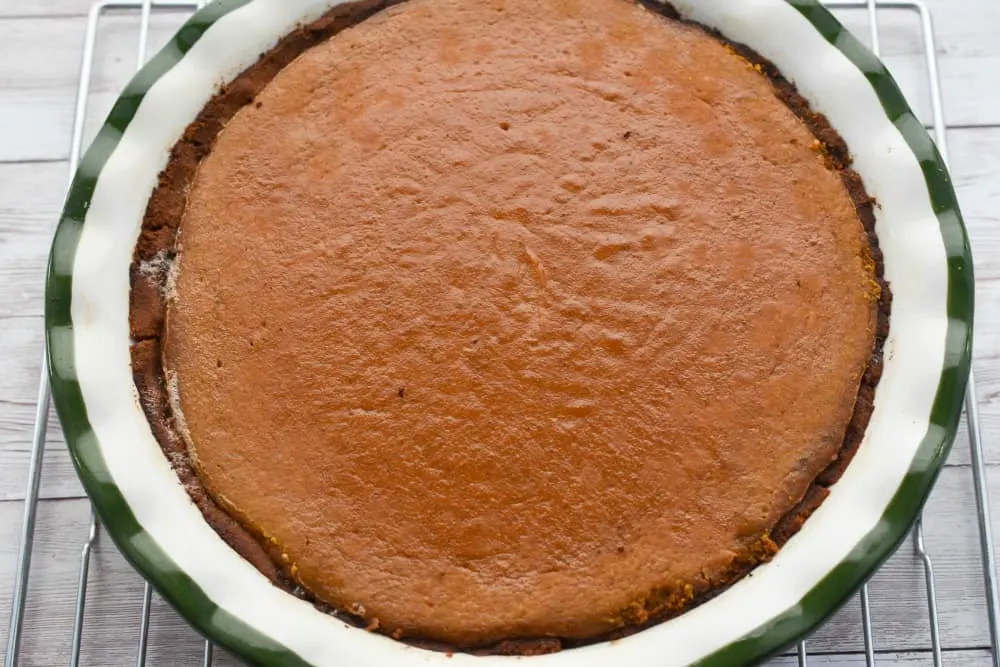 Then for a traditional keto pumpkin pie, just leave out the pecan topping.
But for those who are fans of pecan pie and are wanting a keto-friendly recipe, you'll appreciate this lovely pecan topping.
The best way I can describe the pecan topping of this pumpkin pie is that it has sort of a praline quality.
And as far as the crust goes, the use of coconut flour is what comes closest to a wheat crust. It has the perfect texture making your taste buds think you are cheating. But thankfully, you're not.
How To Make A Keto Pumpkin Pecan Glazed Pie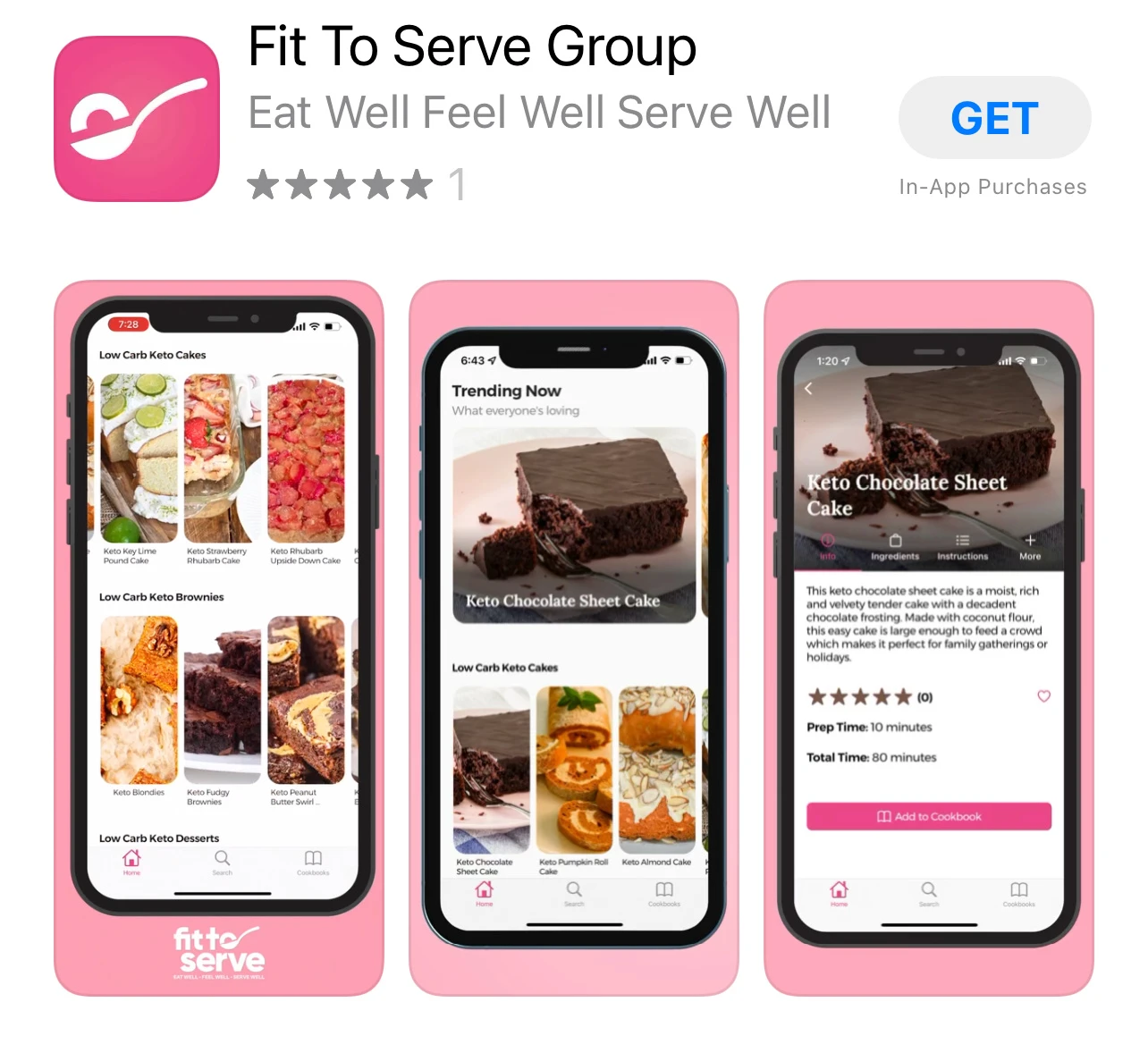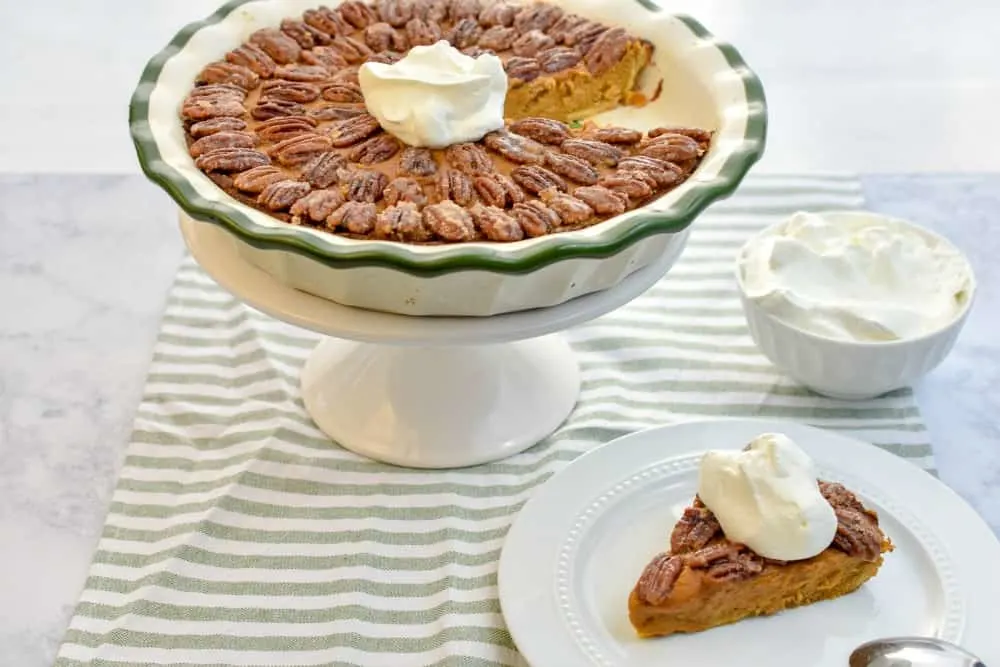 Disclosure: Some of the links below are affiliate links, meaning at no additional cost to you, I will earn a commission if you click through and make a purchase
The tools you'll need are:
The following are the ingredients you'll need:
Do note that the full printable recipe is at the bottom of the post. But I hope you stick around and get all the tips to ensure you get the same results
Eggs, room temperature
Heavy Cream
Pecan halves
Unsalted butter
Cinnamon powder
Ground nutmeg
Allspice powder
Ground ginger
In order to successfully make your sugar-free pecan glazed pumpkin pie, you will need to keep in mind a few key things.
For one, you'll want to make sure that you are using pumpkin puree and not pumpkin pie filling.
Pumpkin puree does not have any sugar or spices added. This is vital because if you inadvertently use the pumpkin pie filling you will end up with a very high in carb pie instead.
A mishap like that will kick you out of ketosis rather quickly. So choose wisely.
The pecans are glazed with my sugar substitute of choice Lakanto Classic, it's an erythritol monk fruit blend. If you're not familiar with this sugar alternative you're in for a real treat.
Erythritol, unlike other sugar alcohols, has a 0 % impact on blood sugar. It is completely safe to eat on a keto diet and you do not need to count the carbs in your net carb count for the day.
Because erythritol is a sugar alcohol that is 90% processed in the small intestine, the human body cannot derive energy from erythritol (hence the low-calorie count), and it has 0 glycemic impacts and load (no insulin response).
Sugar Substitute Options
When it comes to choosing which sugar substitute to use for this pie, I have several for you to choose from.
Like I mentioned earlier my go-to choice is Lakanto Monk Fruit because the texture is spot on and since there is barely any aftertaste.
I'm also partial to Swerve an erythritol blend. Similar to Lakanto it uses sugar alcohols and has a 0 % impact on blood sugar.
You could also use the stevia and erythritol-based brand Pyure for this pumpkin pie. But if using Pyure you will want to use 1/2 the amount called for in this recipe since it's way sweeter.
Lastly, if you can't easily find a more natural sugar substitute you can also use Splenda with great success.
You will want to use the Splenda that has a bulking agent. It's the one that comes in larger bags.
I don't recommend Splenda Bake because it's actually half sugar half sucralose product and will be too high in carbs to be considered keto-friendly.
However, you'll need either Lakanto , Swerve, or Pyure which are all erythritol blends for the keto praline topping. Splenda just won't work.
Tips On How To Get A Perfect Keto Pumpkin Pecan Pie
You'll need to bake the crust first to ensure it has the perfect texture. After all, no one likes soggy pie crust. That said, I don't find the need to add baking beans, etc. to the pie crust but you can if you so choose to.
After the crust is baked and you add the pie filling shield the crust with foil so that it does not brown too much.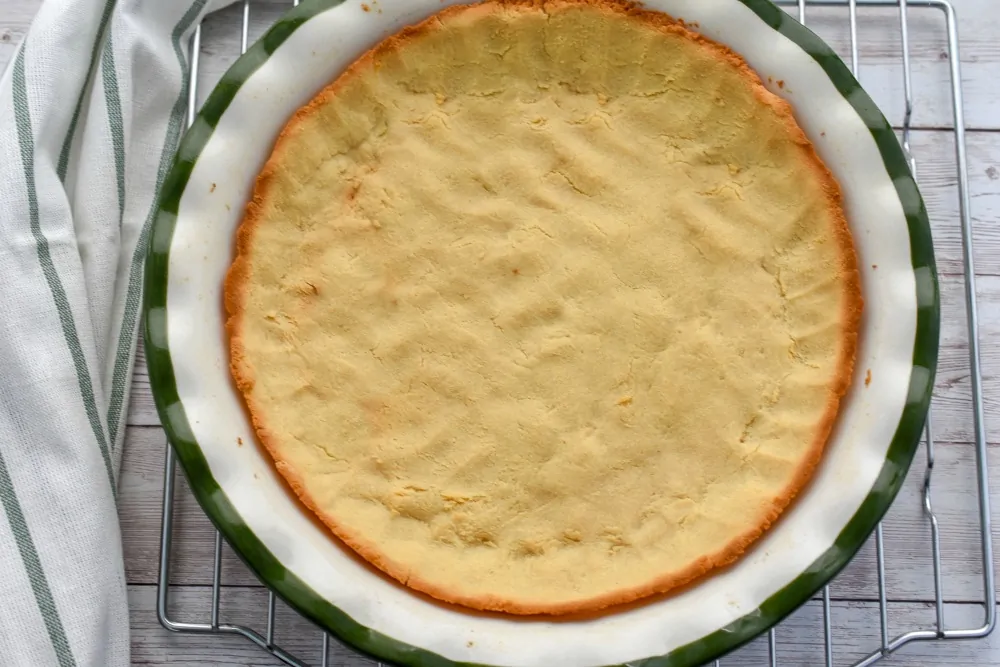 Note that the crust does not go all the way to the top so no crimping is necessary.
Instead of foil, you can alternatively use an adjustable pie crust shield.
Similar to traditional pumpkin pies I first bake the pie at 425 degrees for the first 15 minutes and then lower the temperature to 350 and bake the pie for an additional 30-35 minutes until the pie fully bakes.
While the pie bakes you can make the glazed pecans. Once the pie has fully cooled you can add the topping.
Tag Us
Long gone are the days when I used to load my holiday table with high-carb sugar overflowing desserts. If you join us for the holidays, you'll find options for dessert like this low-carb pecan pumpkin pie instead.
I sure hope you will give this recipe a try. Once you do, make sure you remember to tag us on Instagram and Facebook. It's what keeps this girl encouraged to keep sharing and perfecting her recipes.
Also, check out our Amazon Store for our recommendations. You might be surprised by how many great keto options are at your disposal.
Grab Our Books!
In case you don't know we have authored two books for you, Essential Keto Bread and Essential Keto Desserts both inspired by your requests over the years. It's my prayer these keto cookbooks will help make keto a delicious breeze for you.
Join Our Jesus And Keto Movement
Looking for an online support system to help you stay the course on keto? As a family, we came to the keto diet looking at it from a Christian perspective. As believers, we live our lives supported by God's grace.
So when the Holy Spirit led us to combine our Christian faith and the keto diet, we did so in hopes of finding lasting transformation. When we followed the Holy Spirit's prompting to we got on the path to real transformation.
Knowing firsthand the benefits of this decision we have created a closed Christian group that is using the keto diet to transform their lives. We invite you to join our Private Facebook Group and see if it's not the key you have been missing.
Be sure to request our FREE Jesus and Keto E-Book (First 7 Days) We hope it blesses you.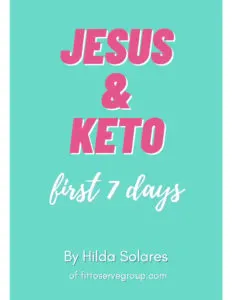 Fittoservegroup Keto App
Looking for a fast way to access our keto recipes? We got you covered. There's an app for that. Yup, there's a Fit To Serve Group App and it's going to make your keto diet a delicious breeze!
Access hundreds of recipes that are all sugar-free, gluten-free, and keto-friendly.
Enjoy early access to recipes before they go live on the website. Plus, bonus recipes that are exclusive to the app. Make your own personal cookbooks that you can use to organize your favorite recipes.
Search recipes by title, ingredients, keywords, and categories, and of course every recipe shows complete nutritional facts. Get the Fit to Serve Group App for easy-to-follow keto recipes made with easy-to-source ingredients.
The app is loaded with hundreds of yummy recipes for breakfast, lunch, dinner, snacks, and even desserts!
Learn more by visiting our Fit To Serve Group App Page.
Keto Pumpkin Pecan Glazed Pie
This Keto Pumpkin Pecan Glazed Pie combines pumpkin and pecan pie for one easy seasonal option.
Ingredients
Keto Pumpkin Pie Filling
3/4 cup heavy cream
3 large eggs
1 teaspoon of ground cinnamon
¼ teaspoon of ground nutmeg
¼ teaspoon of ground allspice
1/2 teaspoon of ground ginger
1 teaspoon of vanilla extract
1/4 teaspoon of sea salt
Keto Crust
½ cup unsalted butter ( melted and allowed to cool )
2 large eggs, room temperature
¼ teaspoon sea salt
Keto Candied Pecan Topping
1 1/2 cups pecan pieces
1/4 cup of unsalted butter
2 tablespoons of heavy whipping cream
Instructions
Crust
Preheat the oven to 350 degrees.
Melt the butter in a pan or microwave and allow it to cool to room temperature.
Once the butter has cooled in a medium-sized bowl combine the coconut flour, eggs, sea salt, and cooled butter until the dough forms.
Press the crust to the bottom and sides of a 9-inch pie pan.
Bake in a preheated 350 degrees oven for 25 minutes or until lightly brown.
Place pie crust on a baking rack to cool.
Pie Filling
Raise the oven to 450 degrees.
In a large mixing bowl using an electric mixer set to medium speed, combine the pumpkin puree, heavy whipping cream, eggs, sugar substitute, vanilla extract, and spices. Mix all the ingredients together until fully combined.
Pour the pie filling into the cooked and cooled pie crust.
Add foil to the edges of the pie or use an adjustable pie crust shield.
Bake pumpkin pie for 15 minutes at 450 degrees then reduce the temperature to 350 degrees and bake the pie for 30-35 until the pie fully cooks.
Allow the pie to cool on a baking rack.
Keto "Candied" Pecans
In a hot skillet set to medium-high melt the unsalted butter.
Using a silicone spatula stir in the granulated sugar substitute and combine well making sure to dissolve the sugar in the butter.
Next, stir in the pecan halves and sea salt.
Once the pecans are coved in the glaze add the 2 tablespoons of heavy cream and quickly stir.
Then when the heavy cream bubbles up and evaporates pour the candied pecans into a baking sheet lined with parchment paper and allow it to fully cool.
Lastly, garnish the top of the baked pie with candied pecans. I choose to add the pecans in a circular pattern.
Serve the pie with a dollop of whip cream.
Store leftovers in the refrigerator for up to 5 days.
Nutrition Information:
Yield:

10
Serving Size:

1
Amount Per Serving:
Calories:

350
Total Fat:

22.8g
Saturated Fat:

12.8g
Cholesterol:

165mg
Sodium:

132mg
Carbohydrates:

5.9g
Net Carbohydrates:

4.1g
Fiber:

1.8g
Sugar:

1.9g
Protein:

5.3g