This recipe for keto cream cheese pound cake is a favorite in the ketogenic community, and dare I say; it's for good reason.
It's a keto cake recipe, an almond flour pound cake that replaces wheat flour for low in carbs almond flour.
My recipe for keto pound cake is not only the most popular recipe on our blog, but it's also the number one pinned low-carb pound cake!
How cool is that? Rich, dense, buttery pound cake that just happens to also be keto-friendly.
This low-carb cream cheese pound cake was birthed out of our need to replace our family's traditional favorite.
I wanted the best keto pound cake recipe that could pass for the real thing, and that was also easy to make.
Isn't this what everyone wants, though? In my book, a recipe for sugar-free pound cake was not a mere desire, it became a must.
I knew that having a basic keto-friendly pound cake would make staying on track so much easier.
This is why a gluten-free pound cake recipe needed to make an entrance if I wanted to give the keto diet a fair chance.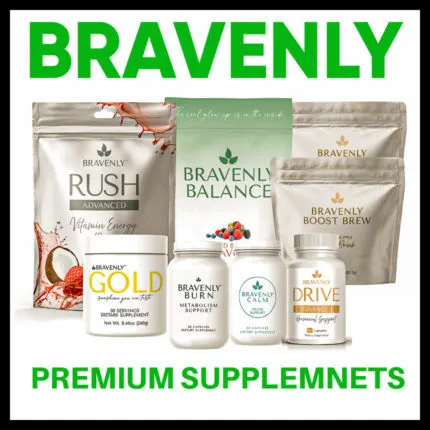 Although we consider ours to be the best keto pound cake recipe since it's quite loved, you should know we have a complete list of other Keto Pound Cakes and Keto Cakes.
If you want a keto pound cake that is a nut-free option, try our keto cream cheese coconut-flour pound cake.
That keto pound cake recipe was inspired by this one, and it has the correct substitutions for a coconut flour version.
This is important because you cannot just swap almond flour for coconut flour.
The great news is that keto coconut flour pound cake is just as delicious as this one and it's even lower in carbs.
At only .9 grams net of carbs per serving, it's great for anyone on a low-carb diet.
Oh, and make sure you remember to also check out our Keto Cream Cheese Recipes, where you are sure to find some more tasty options.
Keto Pound Cake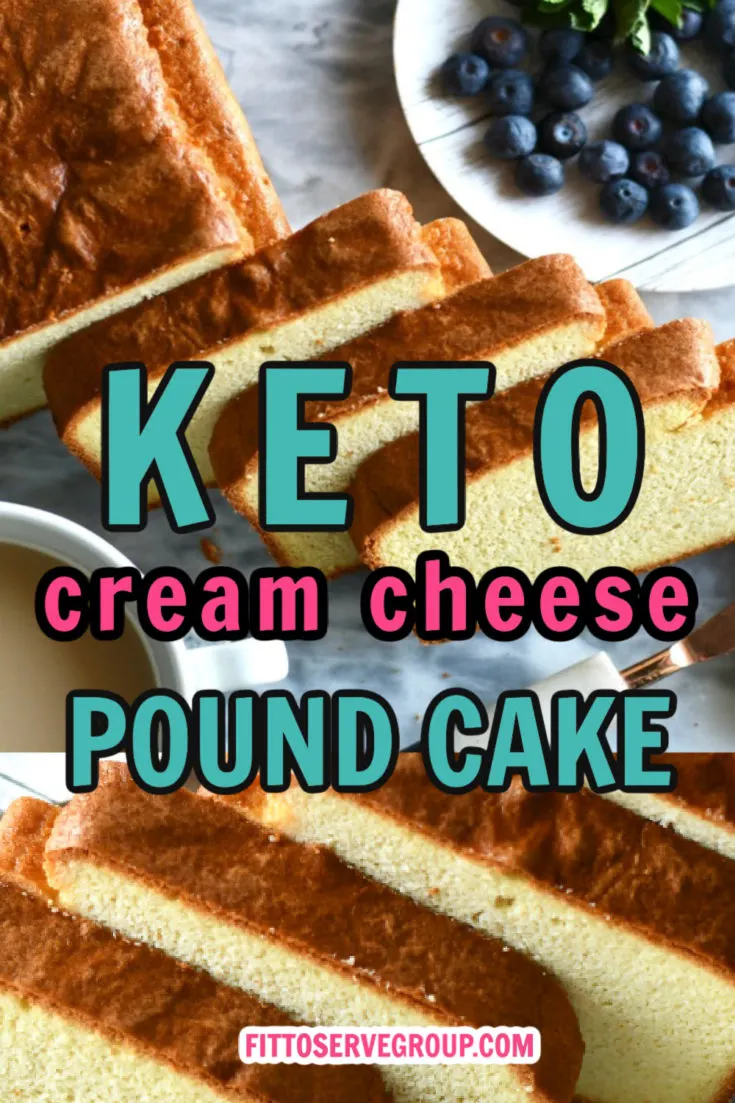 Back when I used to bake with regular high-carb flour, I made a mean cream cheese pound cake. In fact, it was a favorite with our family and friends.
In fact, I still remember how my brother-in-law Paul, almost single-handedly ate my first cream cheese pound cake. He kept raving about how it was the best cake he had ever eaten.
However, you should know that Paul is a type 2 diabetic, and eating that much cake was the last thing he needed.
The truth is we all loved that regular cream cheese pound cake. Perhaps even a little too much.
So the time had come for me to give my family and friends a healthy low-carb option that was not only delicious but wouldn't cause unnecessary sugar spikes.
Keto Cream Cheese Pound Cake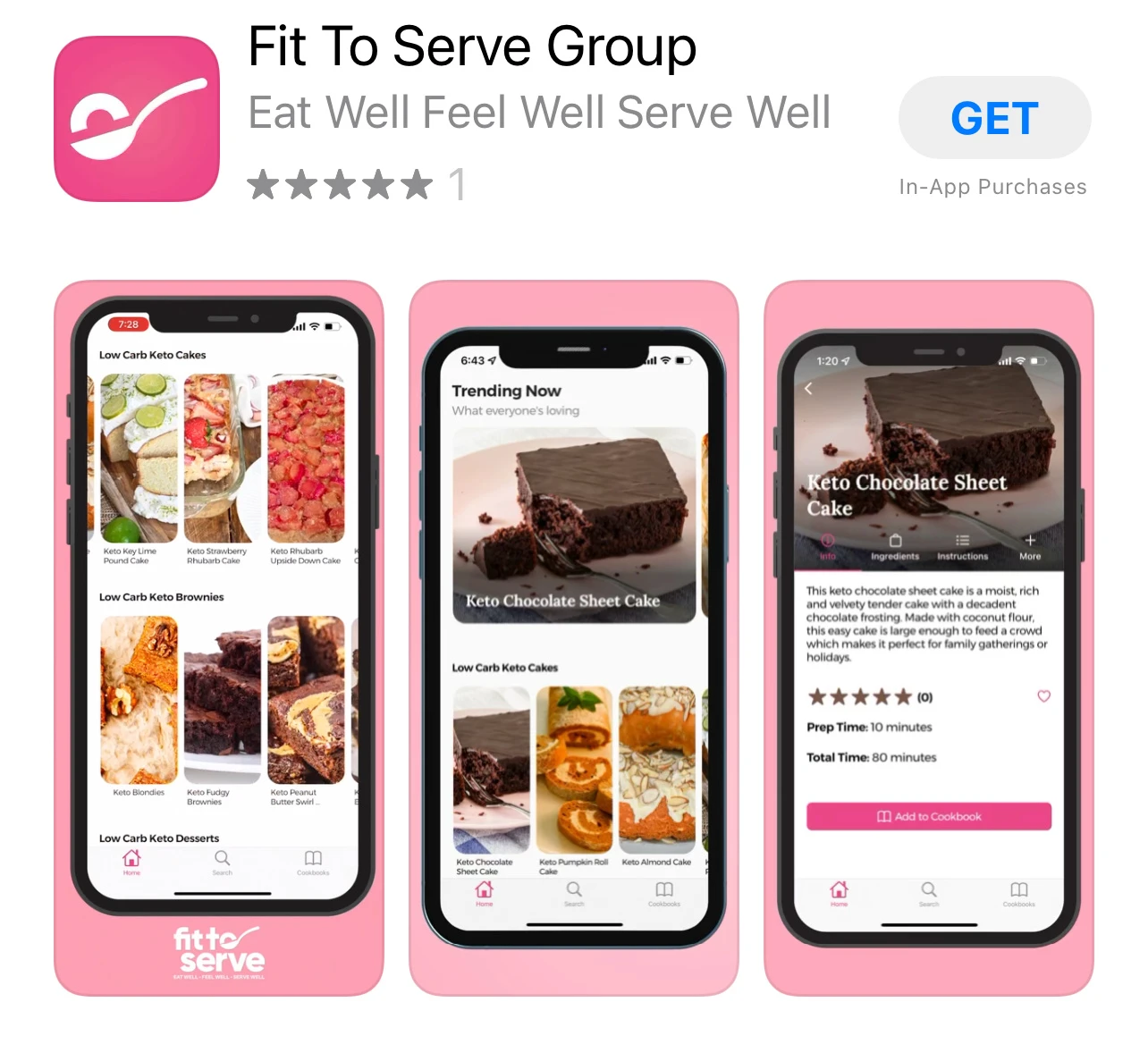 With lots of practice came more confidence, and the reason why I finally decided to convert my traditional high-carb pound cake. I wanted my keto cream cheese pound cake to be good enough to share with ALL my friends and family.
I also wanted it to be made with simple ingredients, making it a great addition for anyone looking to reduce their sugar and carb intake.
Even if they were not doing a ketogenic diet, as I began to understand how keto baking worked I decided it was time to recreate a true pound cake experience, you know that rich buttery flavor we all crave? There was no way I would be denied.
Well, my stubborn streak truly paid off this time. What's so great about this keto vanilla pound cake is that it's easy to customize. The favorite for our followers is to make a keto lemon pound cake.
Just take a moment to read through some of the pages of comments. See for yourself how so many people are enjoying this recipe and adding their own personal twists.
This keto-friendly cream cheese pound cake recipe not only produces a moist, pound cake, but it's also super low in carbs. If that's not a win, I don't know what is.
Do you know that this recipe also inspired a Keto Cream Cheese Almond Flour Bread? It makes the perfect white loaf bread option.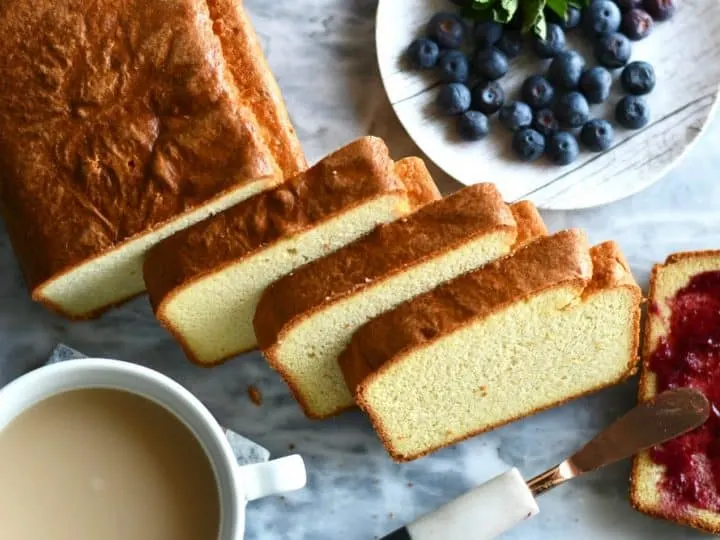 Keto Pound Cake Recipe
Keto baking was a bit of a nightmare at the beginning. More than a few times, I would have my dear hubby walk into the kitchen and say "I thought I smelled something baking"?
To which I would quickly reply," trust me it was NOT edible", as I wiped my tears of frustration. Let's just say that my first attempts at converting my high-carb family favorites into keto-friendly ones were a complete and epic fail.
They were so bad that I made sure to toss the evidence before anyone could request a taste.
To say this was heartbreaking for this experienced baker would be an understatement. I think every family has a least one person who you can count on to bake homemade treats.
Well, in our family, that was me. And it was a badge I wore proudly. I say that to say that I wasn't going to risk the scorn of the family by not rising to the occasion now that keto had become a lifestyle for us.
LOL, I know this sounds dramatic, but you don't know how spoiled I had my family with my baking.
I must admit that I still craved the oohs and aahs that my traditional baking used to bring.
In the end, it was the catalyst to getting this keto baking thing right. My family mourned the loss of my traditional baking.
And I remember at the beginning being begged to bring back my old family favorites. Tia (auntie) can you just make us one last regular batch of your chocolate chip cookies?
But I decided pretty early on that I could not in good faith share high carb options after understanding the ramifications of a carb-filled diet.
How To Make A Keto Pound Cake
Disclosure: Some of the links below are affiliate links, meaning at no additional cost to you, I will earn a commission if you click through and make a purchase.
This keto cake recipe uses a lot of the same basic ingredients as traditional pound cake. Like regular pound cake, it does not rise very high.
Pound cakes are a bit denser, so you should keep that in mind as you make this low-carb pound cake.
The batter can be baked in an 8-inch loaf pan, 8-inch bundt pan, or 12-capacity muffin tin. What's great is that this recipe doubles quite easily.
NOTE The pictures show this recipe doubled and baked in a 10-inch loaf pan. Below find the list of ingredients. The full recipe card is at the bottom of this post.
Best Sugar Substitutes
I have several options when it comes to which sweetener you can use in this keto pound cake. I really like Lakanto Monk Fruit because the texture and flavor mimic sugar quite well.
I'm also partial to granulated Swerve an erythritol blend. However, it does have a cooling aftertaste that some people dislike. Personally, it's not an issue for me, and it's why I am a fan.
You could also use the stevia and erythritol-based brand Pyure for this pound cake recipe. If you do use Pyure, you will need to use half the amount of sweetener since it is a much sweeter option.
If the pound cake just needs to be grain-free and regular sugar is not an issue, then you could, of course, use granulated sugar. But keep in mind that it will no longer be a keto option.
This pound cake can also be made with coconut sugar, but here again, it will not be as low in carbs. Lastly, if you can't easily find a more natural sugar substitute, you can also use Splenda with great success.
Unsalted Butter
Grass-fed butter is best for flavor and nutrition. However, regular unsalted butter also works in this recipe. I always recommend the use of unsalted butter in my recipes.
The butter should be allowed to soften at room temperature before baking.
Full-Fat Cream Cheese
You want to use only full-fat cream cheese. The kind that comes in a brick and not what comes in a tub. You should not use whipped cream cheese because it will not behave the same.
Let me also add that it needs to be at room temperature before baking. In fact, all your wet ingredients should be at room temperature for the best results.
Almond Flour
In order to make this a keto-friendly pound cake, I swapped wheat flour for almond flour. It goes without saying that regular flour is just way too high in carbs to ever be considered keto-friendly.
While I am mentioning almond flour, let me add that it needs to be finely milled almond flour. Although almond meal will work, the texture will make the cake a bit heavier, and it will not rise as well.
That being said, if you don't have finely milled almond flour, go ahead and use almond meal and just increase the baking powder by 1/2 teaspoon.
A few favorite almond flour brands that are my go-to choices are, Anthony's blanched or Bob Mills superfine and Nature's Eat's blanched. I also like to measure and then sift my almond flour, even if I am using a finely milled option.
Sifting may sound like a bother, but this is an extra step that helps mimic regular flour a little better. Although it's not a must in this keto pound cake recipe, it is a step I now recommend for the best results.
It will take you less than 30 seconds to sift your almond flour, and it's totally worth it.
Large Eggs
Unless otherwise stated, all my recipes call for the use of large eggs. Using smaller or jumbo eggs will not produce the same results. This is pretty standard with both regular and keto baking. So make sure you are using the correct size of eggs.
It's also important to use room-temperature eggs for the best results. You can quickly bring them to room temperature by placing the eggs in medium-hot water for five minutes.
Baking Powder
I prefer to use aluminum-free baking powder for health reasons, but regular baking powder equally works in this keto pound cake recipe.
Flavor Variations
This keto cream cheese pound cake uses a little vanilla extract. However, you can have fun customizing it. I have people tag me all the time mentioning the use of almond extract a lemon extract, or any number of Oooflavors extracts.
I encourage you to make the recipe at least once as is and then have fun experimenting with other extracts. Really the sky is the limit with this basic recipe.
If you're a fan of pound cakes, make sure you check out our other keto cream cheese pound cakes that were inspired by this one.
How To Store Keto Pound Cake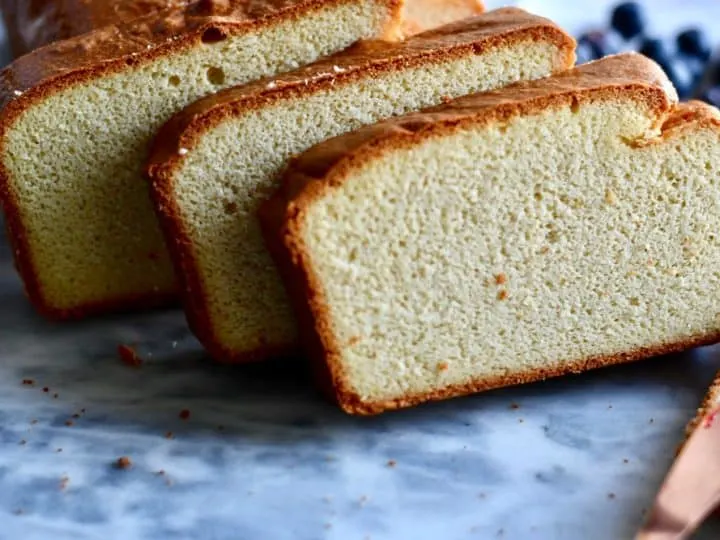 It's important that you store any leftovers in the refrigerator. Basically, I recommend storing any of my keto baked goods in the refrigerator because they tend to spoil rather quickly.
That's because they don't have all the typical preservatives. In the fridge, this pound cake will keep well for about 7 days. What's great about this keto pound cake is that it freezes beautifully.
I've frozen the whole cake, cupcakes, or already sliced for better portion control. Store in your freezer for up to three weeks. Then thaw it in the fridge.
You can also opt to defrost by reheating your pound cake in the oven. That's right, this cream cheese pound cake also happens to freeze like a dream. In fact, you can slice and freeze individually for ease.
Keto Pound Cake Recipe Tips
Before baking, I always recommend you take out your wet ingredients and allow them to come to room temperature; in this case, that would mean cream cheese, butter, and eggs. I also measure out all the dry ingredients to help speed up the process.
Although not required, lining the pan with parchment paper will make it easier to remove the cake and add it to a cooling rack.
You'll want to use an electric mixer or stand mixer in order to fully incorporate your ingredients. Also, be sure to scrape the bowl several times in the process to make sure all the ingredients are mixed properly.
Your baking time will depend on the size pan you use and whether you have opted to double the recipe. For an 8-inch loaf, bake for approximately 35-40 minutes.
If you double the recipe, you will need to bake it for anywhere between 50-70 minutes, depending on your oven, and use at least a 10-inch loaf pan. This recipe also makes keto pound cake muffins. It makes 12 regular-sized cupcakes.
When making cupcakes, bake them for 20-25 minutes. And if you opt for a bundt pan, it will need to be a small one unless you are doubling the recipe.
For a small bundt cake (8 cup capacity), bake for 35-40 minutes, and for a large one (12 cup capacity), bake for 60-70 minutes. Be sure to check out my keto baking tips for more of my proven advice.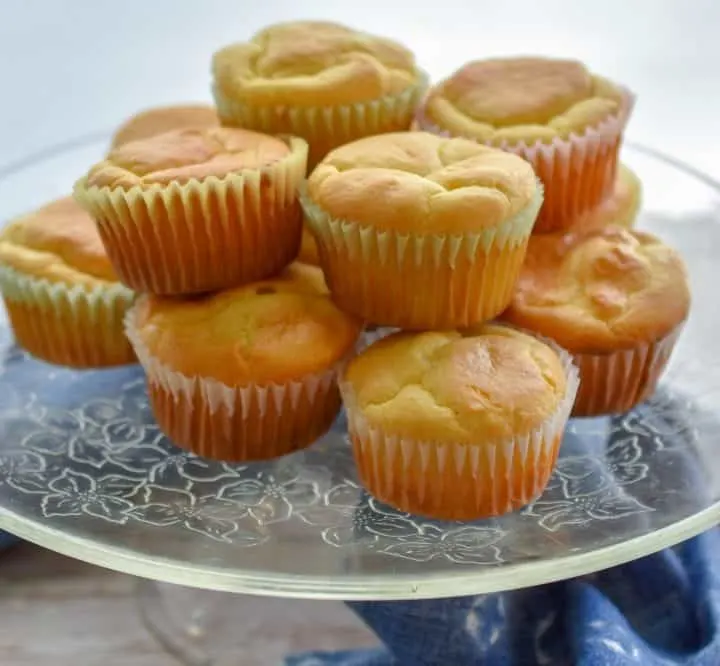 Can Coconut Flour Be Substituted For Almond Flour?
So the short answer is no. You see, these two flours behave very differently from one another and cannot be swapped 1:1.
However, I have great news for you because, after many requests, I did, in fact, create a keto coconut flour pound cake that is just as delicious as this one.
Tag Us
This keto cream cheese pound cake will always have a special place in my heart since it was my first recipe to go viral, a true sign of God's grace over my life.
At the time, I had little to no clue what blogging entailed, and it's
kept me encouraged to keep sharing my recipes.
Although I think it's safe to say that our low-carb cream cheese pound cake is a keeper, it's humbling to see how much it's been shared.
I am so grateful that the community has embraced my little recipe and that it's helping people stay on course.
I desire to help you avoid the struggles that we encountered in the beginning, making healthy keto recipes easy.
I sure hope you will give this easy keto pound cake recipe a try. Once you do, make sure you remember to tag us on Instagram and Facebook.
It's what keeps this girl encouraged to keep sharing and perfecting her recipes for you.
Grab Our Books!
In case you don't know, we have authored two books for you, Essential Keto Bread and Essential Keto Desserts, both inspired by your requests over the years.
I pray these keto cookbooks will help make keto a delicious breeze for you.
Since this recipe is made with almond flour and it's what you prefer to use, I recommend you visit our keto almond flour recipes or more delicious options.
Join Our Jesus And Keto Movement
Looking for an online support system to help you stay the course on keto? As a family, we came to the keto diet looking at it from a Christian perspective. As believers, we live our lives supported by God's grace.
So when the Holy Spirit led us to combine our Christian faith and the keto diet, we did so in hopes of finding lasting transformation. When we followed the Holy Spirit's prompting, we got on the path to real transformation.
Knowing firsthand the benefits of this decision, we have created a closed Christian group that is using the keto diet to transform their lives.
We invite you to join our Private Facebook Group and see if it's not the key you have been missing.
Be sure to request our FREE Jesus and Keto E-Book (First 7 Days) We hope it blesses you.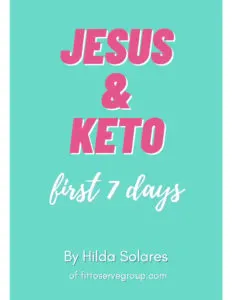 Fittoservegroup Keto App
Looking for a fast way to access our keto recipes? We got you covered. There's an app for that. Yup, there's a Fit To Serve Group App, and it's going to make your keto diet a delicious breeze!
Access hundreds of recipes that are all sugar-free, gluten-free, and keto-friendly.
Enjoy early access to recipes before they go live on the website. Plus, bonus recipes that are exclusive to the app. Make your own personal cookbooks that you can use to organize your favorite recipes.
Search recipes by title, ingredients, keywords, and categories, and of course, every recipe shows complete nutritional facts. Get the Fit to Serve Group App for easy-to-follow keto recipes made with easy-to-source ingredients.
The app is loaded with hundreds of yummy recipes for breakfast, lunch, dinner, snacks, and even desserts!
Learn more by visiting our Fit To Serve Group App Page.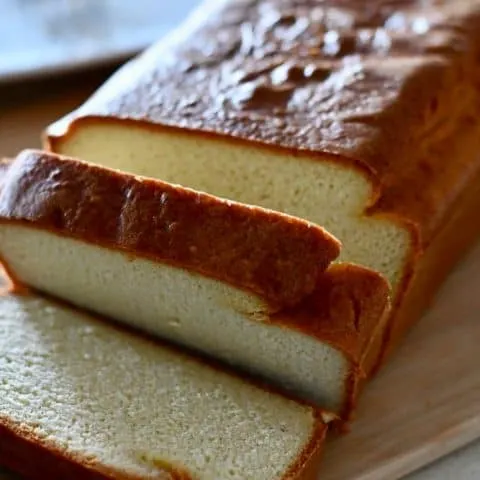 Low Carb Keto Cream Cheese Pound Cake
Additional Time:
5 minutes
It's a recipe for low carb keto cream cheese pound cake. It's uses with almond flour allowing it to stay low in carbs and keto-friendly. This recipe is favorite in the low carb keto community.
Ingredients
1 teaspoon of baking powder
¼ teaspoon of salt
4 tablespoons unsalted butter room temperature
3 ½ oz full-fat cream cheese room temperature
1 teaspoon of vanilla extract
4 eggs, room temperature
Instructions
Preheat oven to 350 degrees
In a medium-sized bowl combine the almond flour, baking powder, salt. Set aside
In a large bowl using an electric mixer blend on high the butter with the sugar substitute until the mixture is light and fluffy and well incorporated.
Next, add the room temperature cream cheese and vanilla extract and mix well.
Add the eggs one at a time making sure to mix well after each addition.
Lastly, add the dry ingredients: the almond flour, baking powder, salt, and mix well until the batter is fully combined.
In a well-greased 8-inch cake pan or 8-inch loaf pan bake 30 to 40 minutes until golden brown on top. The cake will be done once an inserted toothpick comes out clean.
If making cupcakes bake for 20-25 minutes. This makes 12 cupcakes
Notes
This recipe doubles easily and freezes well.
Nutrition Information:
Yield:

12
Serving Size:

1
Amount Per Serving:
Calories:

102
Total Fat:

9.6g
Saturated Fat:

4.8g
Cholesterol:

74mg
Sodium:

124mg
Carbohydrates:

1.2g
Net Carbohydrates:

.9g
Fiber:

0.3g
Sugar:

0.3g
Protein:

3.1g