These keto cream cheese chocolate cookies make the perfect low-carb chocolate treat. They are low in carbs, gluten-free, sugar-free, and nut-free.
This chocolate keto cream cheese cookie recipe uses simple ingredients, making it a great way to enjoy a sweet treat while on a low carb diet.
What makes these keto chocolate cookies extra special is the rich chocolate glaze that tops them.
And because these cookies are so decadent, one cookie will satisfy your chocolate craving. If that's not a winning low-carb cookie recipe, I don't know what else is.
Clocking in at only 3.1 grams of net carbs per serving, these delicious cookies can be enjoyed while on a ketogenic diet since they won't raise your blood sugar levels.
As a fan of low carb cookies, be sure you check out our entire collection of keto cookie recipes for more tasty options.
And make sure you remember to also check out our Keto Cream Cheese Recipes for other delicious recipes that feature cream cheese.
Keto Cream Cheese Chocolate Cookies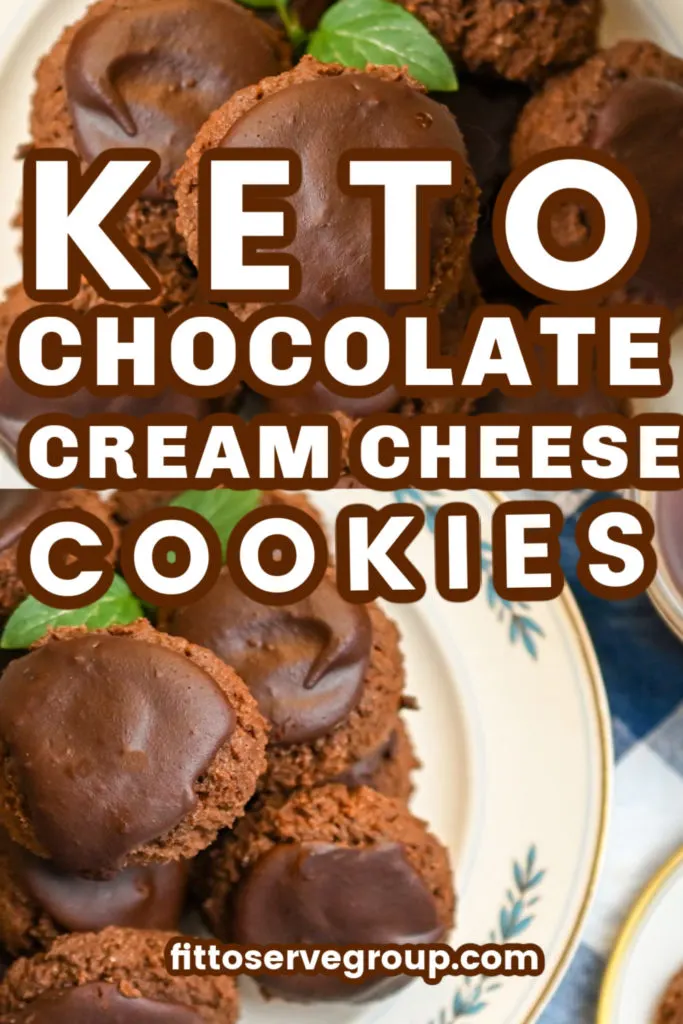 BUT…can I tell you that I didn't start adding cream cheese to my cookie recipes until I made eating low-carb a lifestyle?
I began to use cream cheese in my keto baked goods to test a theory I kept toying with.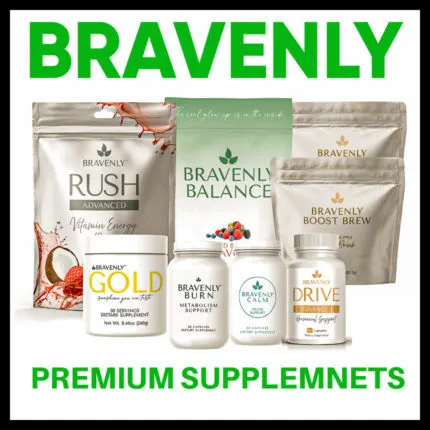 I wanted to see if adding it to recipes like these keto cream cheese chocolate cookies would add structure and moisture to my low-carb recipes.
I am so grateful my theory proved to be right, and thus began my love affair by adding cream cheese to my keto baking strategy.
Of course, without a doubt, the star on the blog regarding cream cheese is my recipe for keto cream cheese pound cake. It's a favorite not only on our site but in the keto community.
You wouldn't think that cream cheese would add such a great impact when baking with low-carb keto flour.
BUT… I've personally found that it really does help a lot with giving gluten-free items structure and flavor.
Learning this firsthand has come in handy when keto baking. Although not a must per se, it is a great option for those who have no problem with dairy.
The end result of these keto cream cheese chocolate cookies is a recipe for soft-batch buttery cookies.
Ingredients Needed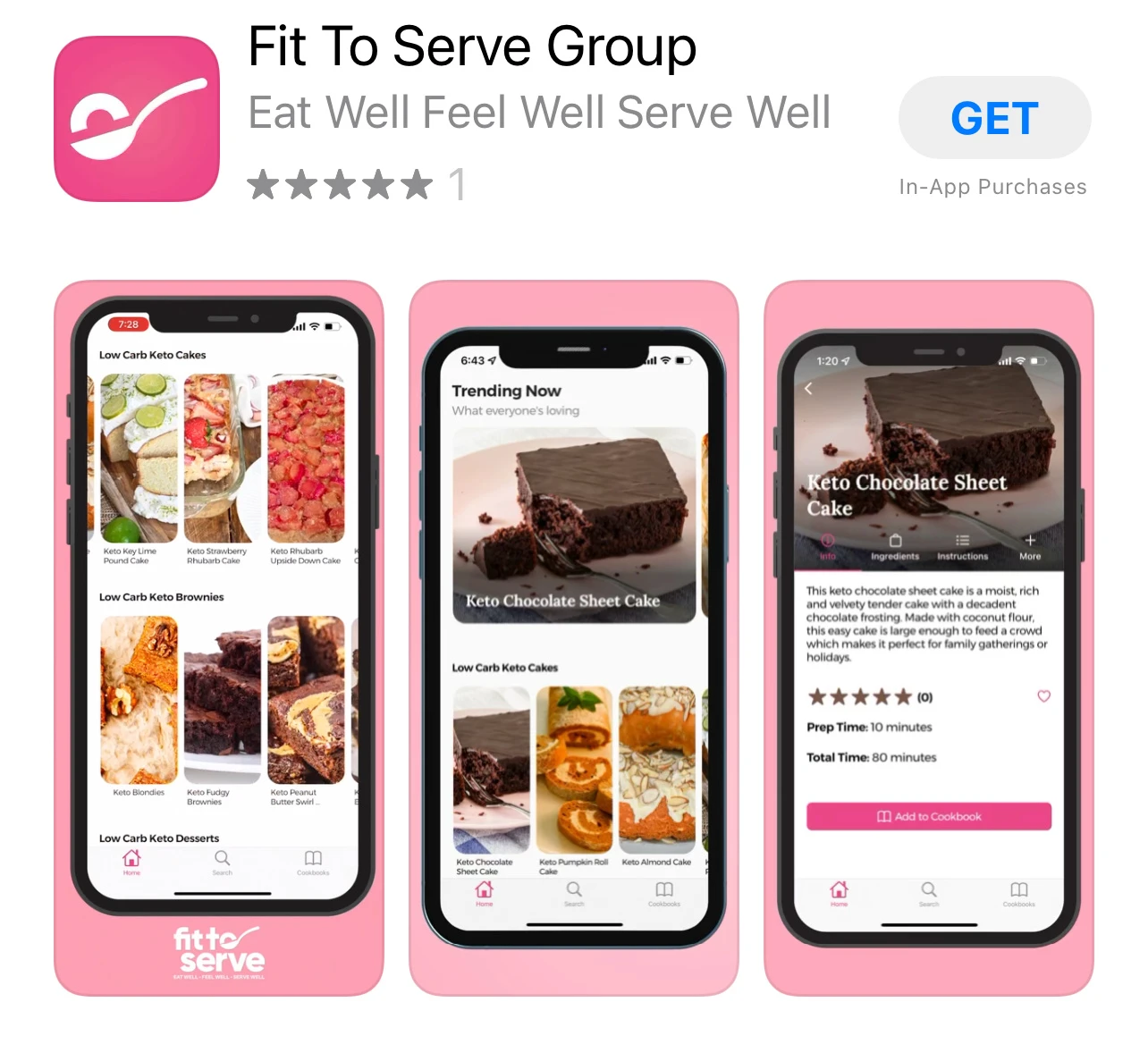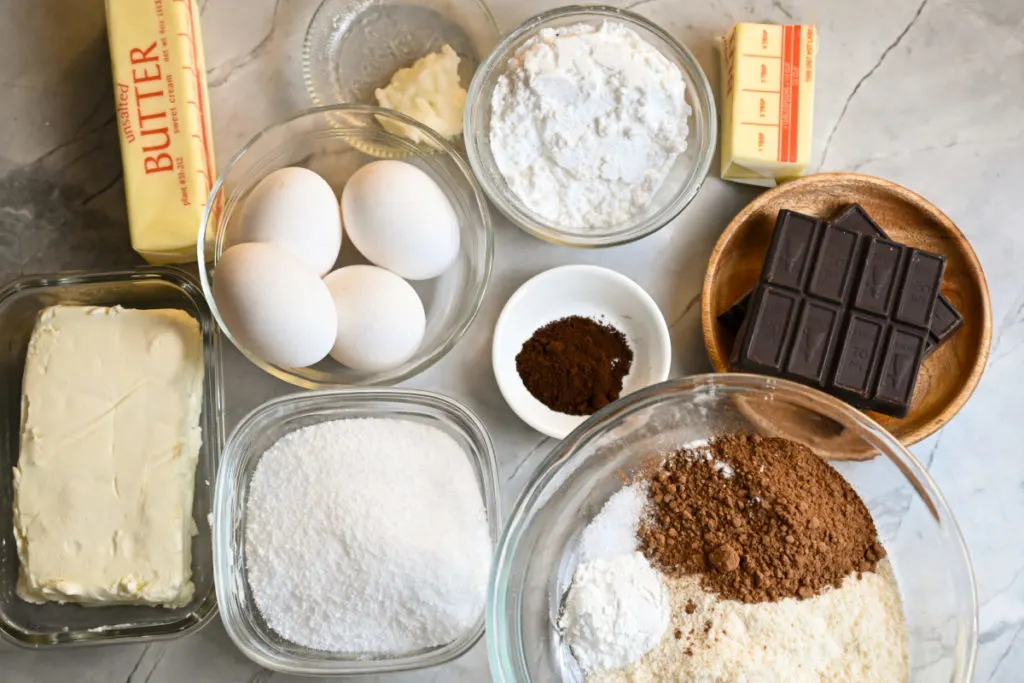 Disclosure: Some of the links below are affiliate links, meaning at no additional cost to you, I will earn a commission if you click through and make a purchase.
Note that the full printable recipe card, as well as nutritional information, is at the bottom of the page.
These are rich chocolate cookies that melt in your mouth but that you can somehow still sink your teeth into. I hope that describes this cookie adequately.
The addition of cream cheese to low-carb cookies gives a deep richness to the cookie dough and frankly intensifies the buttery flavor.
The keto lifestyle just got easier with this keto cookie recipe. You're welcome.
Full Full Cream Cheese, you'll want regular cream cheese, not whipped and softened at room temperature
Baking Powder
Instant Espresso Coffee (optional) it's used to amplify the chocolate flavor
Vanilla Extract
Sea Salt
Unsalted butter, room temperature
Eggs, room temperature
Tools You'll Need
Baking sheets
Parchment paper
Cooling rack
Electric mixer, hand mixer, or stand-up mixer
Large mixing bowl for the cookie dough
Separate bowl for the icing
How To Make Keto Cream Cheese Chocolate Cookies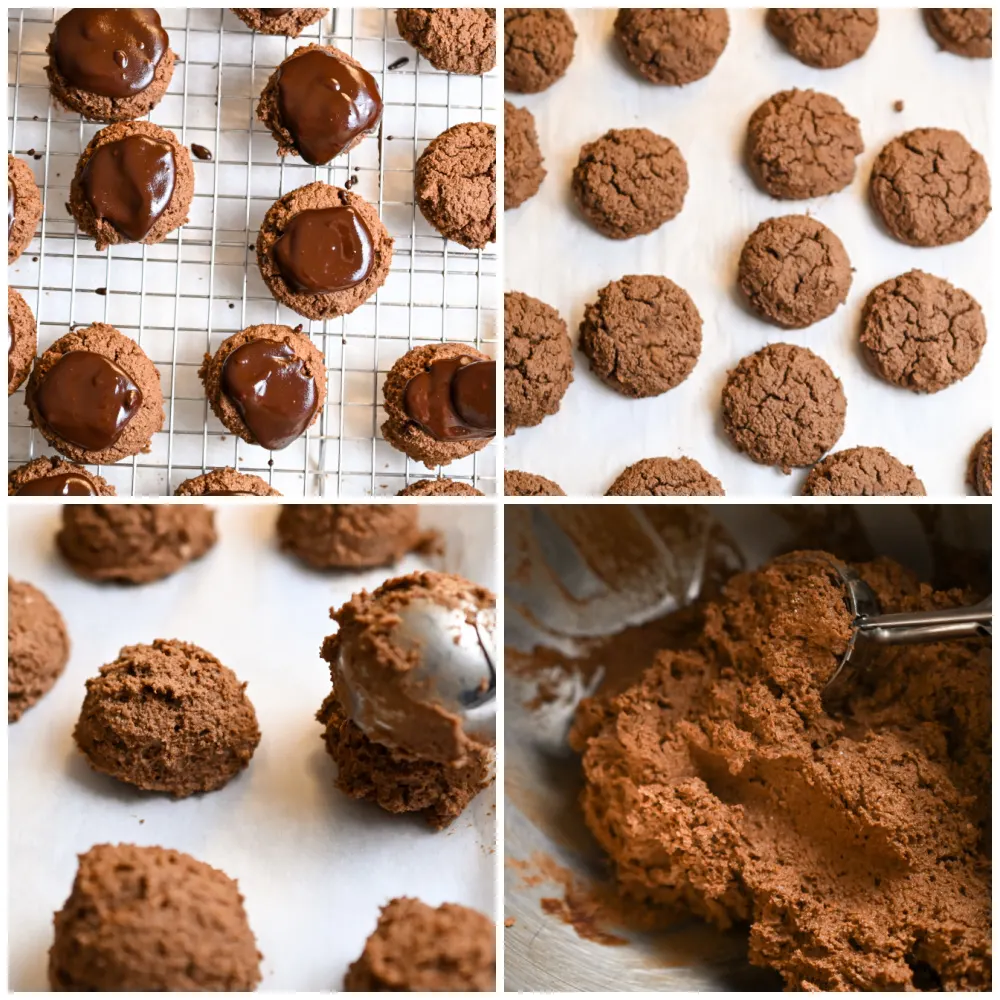 Making these delicious low carb chocolate cookies are pretty straightforward. The following are the steps you need to get the best results.
Begin by allowing your eggs, cream cheese, and butter to come to room temperature.
Then preheat the oven to 350 degrees and line a large cookie sheet with parchment paper or lightly butter the cookie sheet.
Melt the baking chocolate in a double boiler or the microwave using 20-second intervals, being sure to stir each time. Then set it aside.
Next, in a large bowl or stand-up mixer, using an electric mixer, beat the butter, cream cheese, vanilla extract, instant coffee, and granulated sugar substitute on the high setting for 3–4 minutes, until light and fluffy.
Be sure to scrape the bowl with a spatula a couple of times to ensure the mixture is fully incorporated.
Once well combined, add the eggs one at a time, beating well after each addition.
To the cookie dough, add the melted chocolate and beat the dough until well-mixed.
Next, carefully measure the dry ingredients; the coconut flour, cocoa powder, baking powder, and salt, and add them to the wet ingredients being sure to combine well.
It's essential when measuring coconut flour that you do not pack the flour into a measuring cup.
I like to add it by tablespoons into the measuring cup to ensure it's the correct measurement. Once the coconut flour is measured, add the baking powder and salt to the bowl and combine.
Then, using a small cookie scoop or tablespoon, add the chocolate cookie dough balls onto the parchment-lined baking sheet about an inch apart, and gently press down on each cookie with your fingers to flatten slightly.
Bake the cookies for about 15–20 minutes. Transfer to a wire rack and allow the cookies to cool before adding the icing.
I recommend making the sugar-free chocolate icing while the cookies cool. Do not make the icing before to ensure it doesn't begin to set and make it challenging to add the icing to the cookies.
To make the keto-friendly chocolate icing, melt the baking chocolate as you did for the cookie dough.
Then melt the coconut oil and butter and add the melted chocolate and mix well.
To this mixture, add the powdered sugar-free sweetener and salt.
Store the cookies in the refrigerator in an airtight container or for up to five days or three weeks in the freezer.
Best Sugar Substitutes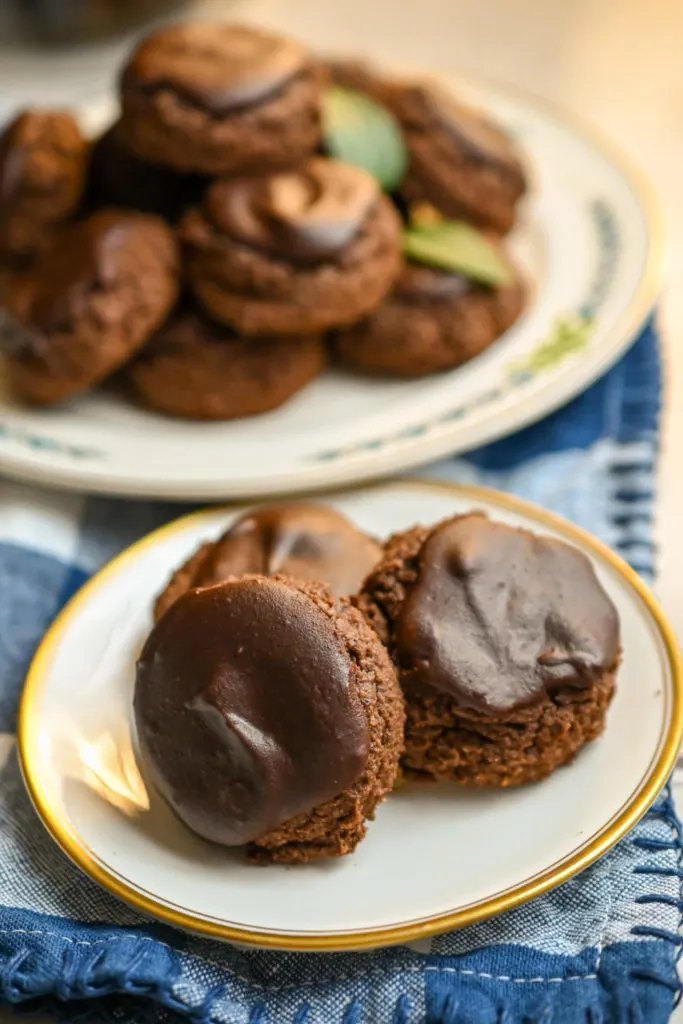 As far as sweeteners are concerned, I recommend the use of Lakanto's granulated sugar substitute. It's their erythritol and monk fruit sweetener that is as close to sugar as it gets.
I'm also partial to the brand Swerve which is an erythritol blend. Like Lakanto, it uses sugar alcohols and has a 0 % impact on blood sugar.
You could also use the stevia and erythritol-based brand Pyure if you prefer to use a stevia-based sweetener.
I will add that we are not sure why but chocolate and stevia do not always place nice and can intensify the aftertaste of stevia.
Note that if this is your pick, reduce the amount called for in the recipe by half since it's a much sweeter option.
Lastly, if you can't easily find a more natural sugar substitute, you can also use Splenda successfully.
I know not everyone would agree with me here, and I respect that, but in my book, it's still better than regular sugar.
However, when it comes to icing, you must use a confectioner's sugar substitute. Both Lakanto and Swerve have great ones.
Embrace Healthy Fats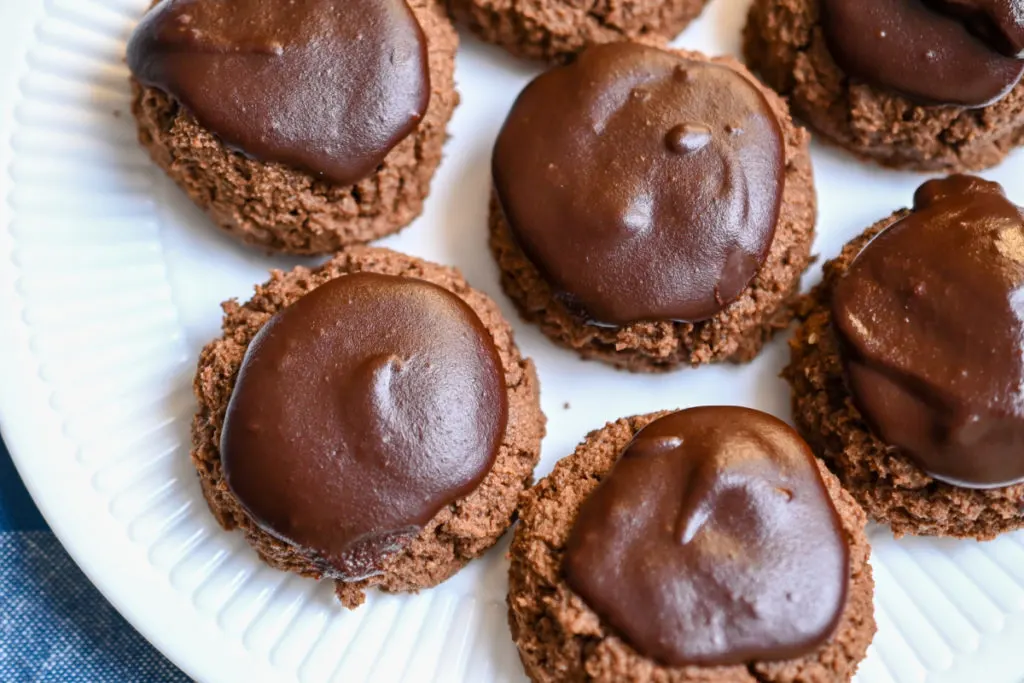 Keep in mind that you must use the cream cheese that comes in a block and not the one that is spreadable.
This is key to getting the right results with this keto cream cheese (chocolate) cookie recipe or any of my other recipes that use cream cheese.
AND… for goodness sake, use full-fat cream cheese. This is, after all, a keto recipe blog.
Do take full advantage of the rich ingredients that you can have on a low-carb keto plan instead of focusing on what you can't have.
I think that's a mistake people make when they first embark on a keto diet. Instead of looking longingly at the list of not-permitted ingredients, enjoy the rich list of keto foods you can have.
You do know that all the flavor is in the fat, right? It's why when our country went low-fat, they loaded up the food with sugar to compensate for the lack of flavor.
How on earth did we fall for this big fat lie?
So, do yourself a favor and enjoy every bite of these keto cream cheese chocolate cookies knowing that the added healthy fats will help put you into a state of ketosis.
And have the cookie in front of your non-keto friends to help spread the news of this wonderful life-giving lifestyle.
Tag Us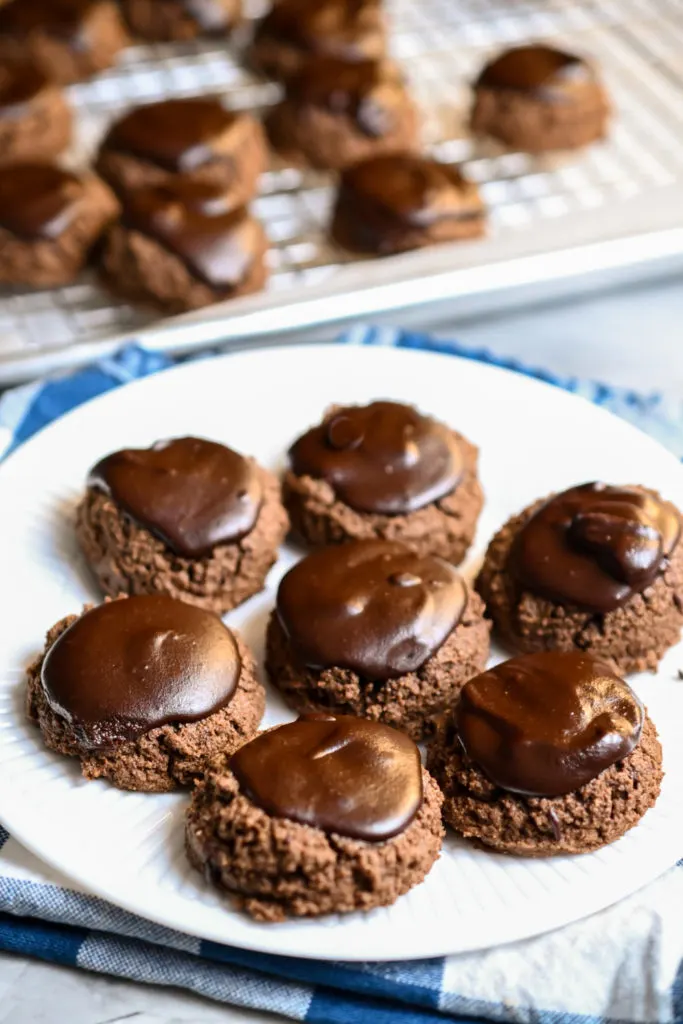 I created these low-carb cream cheese chocolate cookies after so many of you loved my keto lemon cream cheese cookies, my keto orange cranberry cream cheese cookies, and my nut-free, egg-less keto cream cheese cookies.
I figured if you loved those other cream cheese cookies, you would embrace a chocolate one too. Thankfully, I was correct, and today it's helping people stay faithful to the ketogenic diet.
I sure hope you will give this recipe a try. Once you do, remember to tag us on Instagram and Facebook.
It's what keeps this girl encouraged to keep sharing and perfecting her recipes.
Do you know what goes fabulously with this recipe? My favorite nootropic coffee supplement.
Also, check out our Amazon Store for recommendations. You might be surprised by how many great keto options are at your disposal.
Grab Our Books & Keto App
In case you don't know, we have authored two books for you, Essential Keto Bread and Essential Keto Desserts, both inspired by your requests over the years.
It's my prayer these keto cookbooks will help make keto a delicious breeze for you.
Gain access to simple and delicious recipes for breakfast, lunch, dinner, snacks, and even desserts with our FITTOSERVEGROUP APP.
Join Our Jesus And Keto Movement
Looking for an online support system to help you stay the course on keto? As a family, we came to the keto diet looking at it from a Christian perspective. As believers, we live our lives supported by God's grace.
Knowing firsthand the benefits of this decision, we have created a closed Christian group using the keto diet to transform their lives.
We invite you to join our Private Facebook Group and see if it's not the key you have been missing.
Be sure to request our FREE Jesus and Keto E-Book (First 7 Days). We hope it blesses you.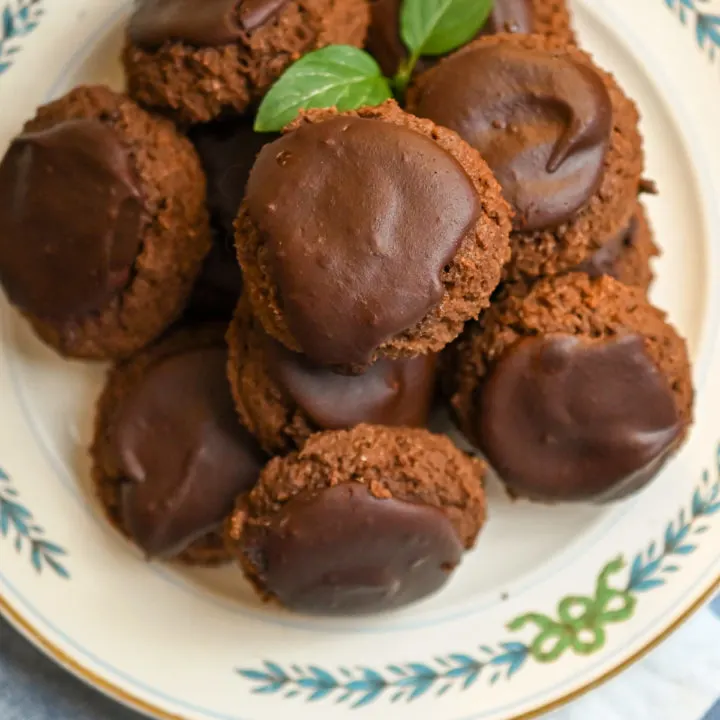 Keto Cream Cheese Chocolate Cookies
Additional Time:
5 minutes
A rich and decadent recipe for Keto cream cheese chocolate cookies. The addition of cream cheese makes it a soft-batch cookie and a perfect keto treat.
Ingredients
1 teaspoon of vanilla extract
2 teaspoons of baking powder
1/4 teaspoon sea salt
½ cup unsalted butter, softened
8 ounces of full fat cream cheese, softened
4 eggs, room temperature
1 teaspoon of instant espresso coffee (optional)
Keto Chocolate Icing
¼ cup of unsalted butter
1 teaspoon of MCT oil or coconut oil
Pinch of sea salt
2 ounces of baking chocolate, melted
Instructions
Keto Cream Cheese Chocolate Cookie Dough
Preheat oven to 350 degrees
Melt the baking chocolate in a double boiler or the microwave using 20 seconds increments, being sure to stir each time. Then set it aside.
Using a mixer on high, combine the cream cheese, butter, sugar substitute, instant coffee, and vanilla extract.
Once thoroughly combined, add the four eggs one at a time, ensuring that the batter is fully incorporated.
To the cookie dough, add the melted chocolate and beat the dough until it's perfectly mixed.
Next, stir in the coconut flour, cocoa powder, baking powder, and salt and mix well.
Add the cookie dough in spoonfuls to a parchment-lined cookie sheet.
Flatten the cookies slightly.
Bake cookies in the preheated 350-degree oven for 15-20 minutes (Do not over-bake)
Allow cookies to cool fully before adding the icing.
Spread about a teaspoon of icing onto each cookie.
Allow the icing to set for about 5 minutes.
Store leftovers in the refrigerator for up to 5 days in an airtight container or freeze for up to 3 weeks.
Keto Chocolate Icing
Melt the baking chocolate in a double boiler or the microwave using 20 seconds increments, being sure to stir each time. Then set it aside.
Melt the butter and coconut oil in a saucepan or microwave, stir in the melted baking chocolate and combine well.
Add the powdered sugar substitute and a pinch of salt and combine well.
Recommended Products
As an Amazon Associate and member of other affiliate programs, I earn from qualifying purchases.
Nutrition Information:
Yield:

24
Serving Size:

1
Amount Per Serving:
Calories:

160
Total Fat:

15.9g
Saturated Fat:

9g
Cholesterol:

69mg
Sodium:

110mg
Carbohydrates:

4.2g
Net Carbohydrates:

3.1g
Fiber:

1.1g
Sugar:

2.9g
Protein:

3g