Keto Chocolate Coconut Flour Pound Cake it's the nut-free version of my Keto Cream Cheese Chocolate Pound Cake. After a few requests for a keto coconut flour cake, I am thrilled to be able to share this keto cake recipe for those who need a nut-free option due to dietary restrictions.
This recipe for keto chocolate coconut flour cake has all the qualities that people love about our keto cream cheese coconut flour pound cake but instead of vanilla, it's chocolate.
It's an incredibly rich, moist chocolate cake that also happens to be low in carbs and keto-friendly. In case you don't know I have a complete list of Keto Pound Cakes and Keto Cakes that any cake lover doing keto would enjoy exploring.
Be sure to check out our entire collection of keto coconut flour recipes for more delicious options!
Keto Chocolate Coconut Flour Pound Cake
I decided to bake this low carb chocolate coconut flour cake in two round 8-inch pans so that it could be a layer cake. Layer cakes always make for a nicer presentation and beg to be frosted.
I also included a decadent keto chocolate buttercream frosting that made this into a classic, all-American chocolate layer cake, you know the kind that birthday memories are made of?
With that being said, you can, however, bake this keto pound cake with coconut flour in a 10-inch bundt pan, or a 10-inch loaf pan. If you opt to use a bundt pan you will need to bake the cake for about 60 minutes. While if you bake in a large loaf pan, it will need to bake anywhere from 1 1/4-1 1/2 hours.
Although the buttercream frosting is optional in this recipe, it certainly makes it a little more special. And It's why I decided to use this recipe to make my son-in-love a Keto Chocolate Birthday Cake that would prove to be memorable.
I am happy to report that everyone who had a slice of Peter's cake raved about how good it was and that included our son Matthew who still hasn't joined the keto ranks. You know you have a winner when it pleases the entire crowd including the pickiest of the bunch.
Disclosure: Some of the links below are affiliate links, meaning at no additional cost to you, I will earn a commission if you click through and make a purchase.
How To Make A Keto Chocolate Coconut Flour Cake
There are some key factors that make this keto Hershey's cocoa coconut flour cake rich and moist. Although baking with coconut flour can be tricky, I've managed to crack the code. Do make sure you check out my keto baking tips for more of my tried and true suggestions.
When making a keto pound cake with coconut flour I like to add both cream cheese and sour cream to the batter of my coconut flour cakes. The addition of those two ingredients always produces moist keto cakes, this despite the fact that coconut flour is a much drier alternative.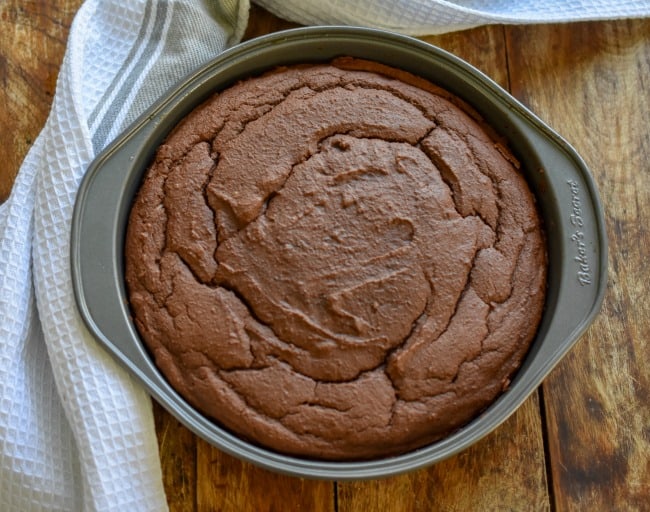 You'll notice that 99% of the time my recipes call for easy to find ingredients and that's on purpose. I never want you to feel like you can't recreate a keto recipe simply because you can't access the necessary items.
It's also why I make it a point to always share the brands I like to use. This is because it too can play a role in the final outcome of the recipe.
Sugar Substitute
I have several options when it comes to which sweetener you can use in my recipes. I really like Lakanto Monk Fruit because the texture is spot on and because there is barely any aftertaste. It's the one sweetener that never gives me an issue.
I'm also partial to Swerve an erythritol blend. Although it does have a cooling aftertaste that some people dislike. Personally, it's not an issue for me and it's why I am a fan.
You could also use the stevia and erythritol-based brand Pyure for most of my baked goods. But for some reason, I find that chocolate and stevia do not play well together and generally produce a greater aftertaste.
So in the case of this recipe, I wouldn't recommend it unless you're familiar with it and it's not an issue for you.
Lastly, if you can't easily find a more natural sugar substitute you can also use Splenda with great success. I know not everyone would agree with me here and I respect that but in my book, it's still better than regular sugar.
However, when it comes to keto buttercream frosting recipe you will have to use a confectioner's sugar substitute. Both Lakanto and Swerve have great ones.
Flour
There are a couple of coconut flour brands that I recommend when it comes to this recipe. The first is Anthony's and the second is Bob Mills. That's because they consistently perform well in keto baking.
I know from experience that not all coconut flours are created equal so quality does matter. Thankfully, when it comes to alternative flours, coconut flour is one of your most economical choices. So not only is it lower in carbs than nut flours but it's less expensive.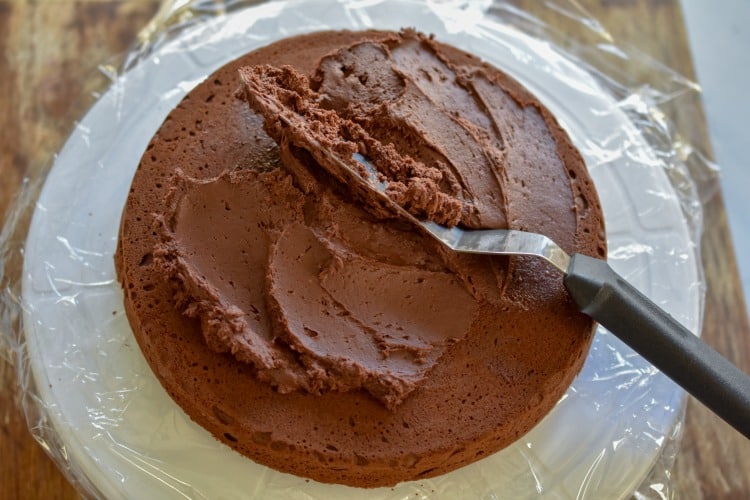 Chocolate
My go-to brand for keto cocoa powder recipes is always Hershey's Cocoa and in the case of this keto chocolate cake I used Hershey's Dark Cocoa but either one works well here.
Is Hershey's cocoa powder keto-friendly? The good news is yes. As long as you are dealing with cocoa powder that has no sweeteners you can safely enjoy.
You can also, of course, use a fancier brand like Valrhona or Ghirardelli if that's your preference.
I did decide to decorate Peter's B-day cake by adding a couple of ounces of 88% dark chocolate to the topping. This was totally optional and was not figured into the carb count.
I sure hope you will give this recipe a try. Once you do, make sure you remember to tag us on Instagram and Facebook. It's what keeps this girl encouraged to keep sharing and perfecting her recipes.
Also, check out our Amazon Store for recommendations. You might be surprised by how many great keto options are at your disposal.
Peter's Keto Transformation Story
I invited Peter to share his keto transformation story to further encourage you. It's been our honor to come alongside him to help him meet the goals he set out to accomplish.
I pray his testimony will remind you that part of the journey is the inner battle that must be fought consistently if we want to see a true lasting transformation. This momma is extremely proud of the hard work Peter put forth and it's why after making him this cake I kinda twisted his arm to share his story. I didn't bribe him, I just kinda nudged him LOL.
Peter's Keto Progress
The Beginning 2012 – 2017 (My Yo-Yo Cycle)
I first started Keto for our wedding in 2012. And I made decent progress but was very "dirty keto". I had more McDonald's bunless double cheeseburgers than I'd like to admit. Doing keto this way made it harder to stay compliant.
On/Off for the next 4-5 years
For about 4-5 years I had no real mindset change and I just saw it as a short-term diet and not a lifestyle. My weight would flux up and down depending on stress, celebrations, etc. Needless to say, I didn't see a lot of success with keto during that time period.
2017 (Growing Pains)
2017 was the turning point I needed, in the worst possible way. The stress of moving back to my old hometown, looking and starting a new job, adjusting to the Miami cost of living and taking over two people's responsibilities at work with only two months of experience took a toll on my health.
December 2017 (Revelation)
In December of 2017, I went to my first annual checkup in probably 2-3 years. I was now weighing 235 lbs and my blood pressure was hovering around 130/90. According to the new guidelines, this was already Stage 1 High Blood Pressure. Having high blood pressure at the age of 26 was a scary thought and the wake-up call I needed.
The only thing I could think of was "I'm way too young for this" "Michelle and I want to have children soon and I can't keep this yo-yo/stress-induced lifestyle going for my family's sake".
January 2018 (Resolution)
It was in January of 2018 that the mindset change I needed finally happened. I knew that if I wanted to be everything I wanted to be for my wife and future children, REAL change needed to occur. It was time to get serious.
I was encouraged by my mother-in-love, yes I'm stealing this saying from her, to make a more conscious effort to follow the lifestyle.
I started to follow the Keto diet seriously and dropped 15 lbs in the first month. I knew it was mostly water weight and if I wanted to sustain this kind of success I needed to continue improving my methods.
Hilda further informed and encouraged me to try adding the practice of intermittent fasting. I began with the standard 16/8 fasting window format. Where I would only eat between 12 pm and 8 pm every day. After a couple of successful months of steady weight loss, I started to do a 20/4 fasting format most weekdays.
I then started to play around with a few fasting strategies as it was the second half of the year which brought summer, holidays, etc. I wanted to maintain the rate at which I was losing weight and didn't want to have a setback.
This is when I adopted, in no particular order the following fasting strategies; one meal a day, 20/4 during the week and no fasting on weekends, and the one day on one day off fasting protocol.
My personal favorite and the one I'm still currently doing is 18/6 window which I do most weeknights. I do no fasting on weekends, which makes it more sustainable for me. I like not having to worry about food while I am at work and then looking forward to eating once I get home.
I should also mention that all my intermittent fasting strategies were in conjunction with keto, not in replace of. Doing IF with keto has become a way of life for me and oddly enough it really helped reign in my appetite.
Presently (2019)
I've lost a total of 50 lbs in a year's time. Currently, my weight is fluctuating between 183-187. I have no idea how many total inches I've lost but I've had to basically buy a new wardrobe as nothing I owned fits me anymore.
The best part is that my last blood pressure test was 118/80 which is a big improvement. I hope my story encourages you to stay committed to the keto lifestyle. It's a way of life I am proud to share with others.

Keto Hack To Stay On Track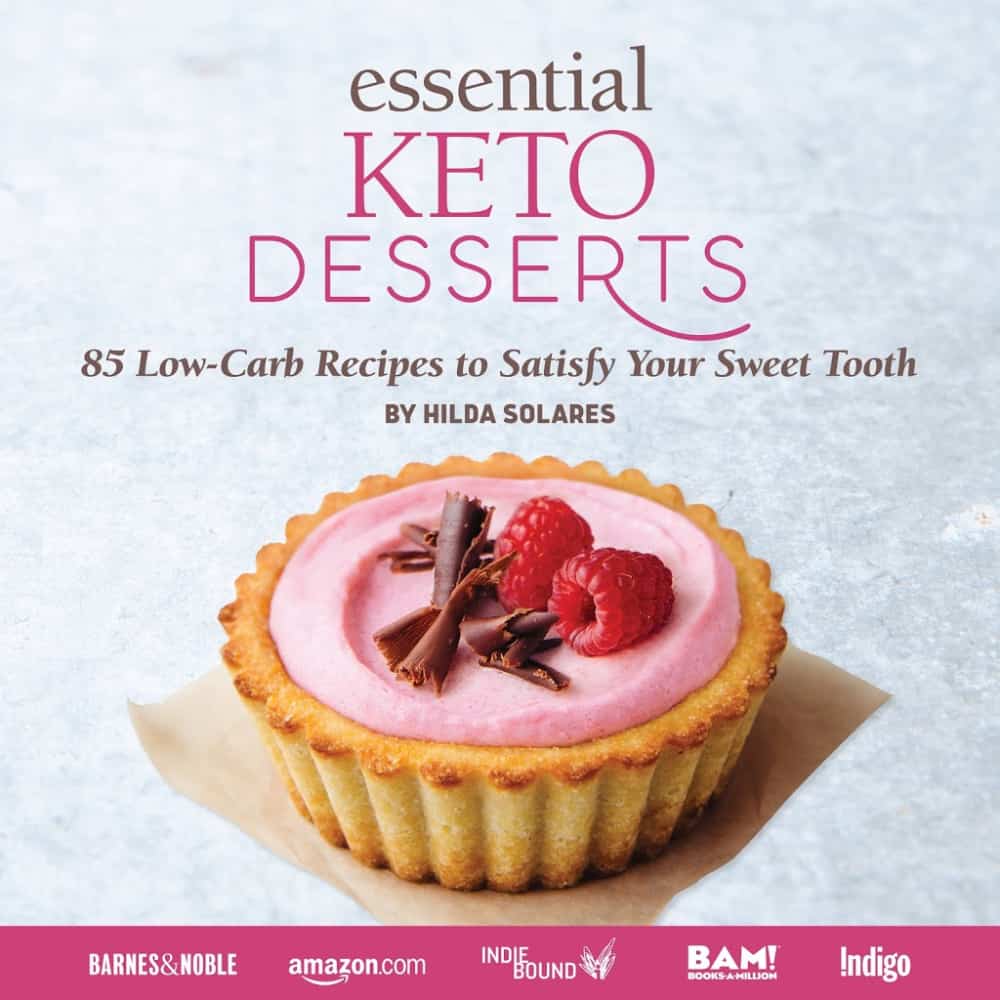 Perhaps, you've struggled to get into ketosis consistently on your low carb keto diet, or you've hit a plateau that doesn't seem to budge, consider using Perfect KETO exogenous ketones.
By using exogenous ketones you will naturally elevate your ketones allowing you to enter into ketosis more quickly.
Being in a deeper level of ketosis will help reduce your appetite, carb cravings, and give you lasting energy. It's been our experience that the use of exogenous ketones helps make the low carb keto lifestyle a viable sustainable option.
Honestly, it's like having willpower in a cup. Learn more about the science behind both exogenous and endogenous ketones and have your questions answered from a doctor's perspective.
Use this link and get a 15% discount when you place your order for any of Perfect Keto's products.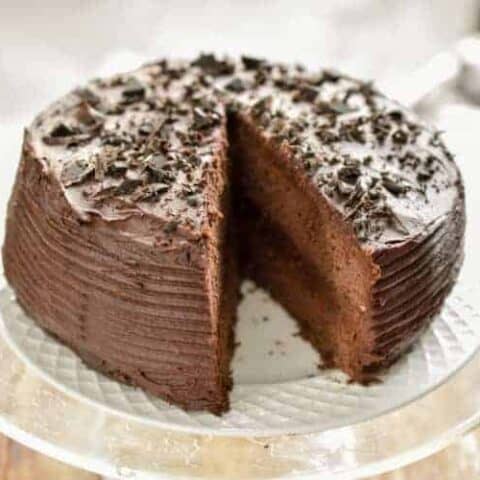 Keto Chocolate Coconut Flour Pound Cake
It's a keto chocolate pound cake made with coconut flour. This makes the cake not only low in carbs but nut-free. It's a rich chocolate cake that is sugar-free, gluten-free, low carb and keto-friendly.
Ingredients
8 large eggs, room temperature
8 ounces cream cheese (room temperature)
½ cup of unsalted butter (room temperature)
2 ounces of melted baking chocolate
½ cup of full-fat sour cream
3 1/2 teaspoons of baking powder
½ teaspoon of sea salt
1/4 teaspoon of baking soda
2 teaspoons of vanilla extract
Instructions
1. Allow your eggs, cream cheese, butter to come to room temperature.
2. Pre-heat your oven to 350 degrees.
3. Melt the two ounces of baking chocolate and set aside.
4. Grease two 8-inch cake pans generously with butter. Or the 10 inch bundt pan, or loaf pan.
5. In a medium-sized bowl combine your coconut flour, dark cocoa powder baking powder, baking soda, sea salt. Set aside.
6. In a large bowl using a handheld electric mixer or a standup mixer beat together the room temperature butter, cream cheese, sugar substitute, vanilla extract until light and fluffy.
7. Add the 2 ounces of melted baking chocolate.
8. To this butter and cream cheese mixture add the 8 eggs one at a time. Making sure to scrape the bowl several times. Note that due to a large number of eggs the mixture will not fully combine, this is normal once you add the dry ingredients to this wet mixture, the ingredients will come together perfectly.
9. To the wet ingredients slowly add all the dry ingredients on a low mixing setting. Making sure to scrape the bowl a couple of times.
10. Once the two mixtures are fully combined stop using the electric mixture and fold in the 1/2 cup of sour cream gently. Making sure the sour cream gets fully incorporated into the batter but being careful to not over mix.
11. Note that the batter will be very thick and fluffy. This is the normal texture when using coconut flour exclusively in a recipe.
12. Spread the cake batter into the greased cake pans.
13. Bake the cake for 30- 35 minutes. At the 25 minute mark check your cake for doneness with a toothpick. If not done allow the cakes to bake for the necessary additional time. Check for doneness by inserting a toothpick and if it comes out clean with just a tiny amount of cake crumb your cake will be completely baked.
14. Allow your cooked cakes to cool in the pans for about 10 minutes before unmolding. Once your cake is unmolded allow the cake to cool on a baking rake for 20 minutes.
15. Frost your cake (optional)
Notes
Keto Chocolate Frosting is optional and is not added to the nutritional stats of this cake.
Recommended Products
As an Amazon Associate and member of other affiliate programs, I earn from qualifying purchases.
Nutrition Information:
Yield:

12
Serving Size:

1
Amount Per Serving:
Calories:

232
Total Fat:

21g
Saturated Fat:

12.5g
Cholesterol:

156mg
Sodium:

164mg
Carbohydrates:

5.8g
Fiber:

1.2g
Sugar:

2.9g
Protein:

6.4g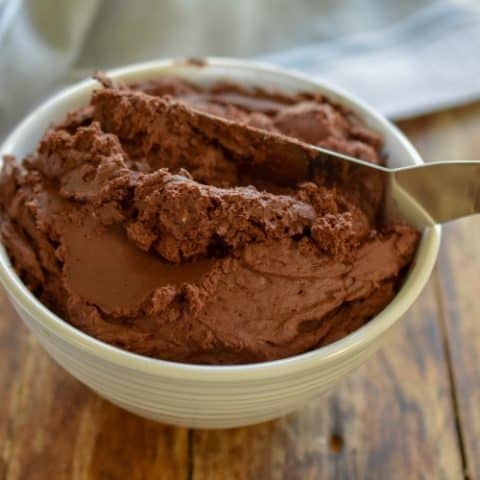 Keto Chocolate Buttercream Frosting
Keto chocolate buttercream frosting is a rich creamy chocolate frosting that is low in carbs and keto friendly.
Ingredients
1 cup of unsalted butter, room temperature​ softened
2 ounces of cream cheese room temperature softened
¼ teaspoon of sea salt
1 teaspoon of vanilla extract
2/3 cup of heavy whipping cream
Instructions
Cream the butter and cream cheese using an electric mixer at a high setting.
Add 1 cup confectioners sugar substitute and 1/3 cup of dark cocoa powder to the cream cheese and butter mixture.
Next add 1/3 cup of heavy whipping cream and beat on high till fully combined.
Then add the remainder 1 cup confectioners sugar substitute and another 1/3 cup of cocoa powder. Combine well at high speed until well mixed.
Lastly, end with the remainder 1/3 cup of heavy whipping cream. Mix the frosting till fully incorporated.
Add the frosting to a fully cooled cake, cupcakes.
Refrigerate any leftovers in the fridge and allow to come to room temperature before using as frosting.
Notes
This makes enough frosting to generously frost a two 8 inch layer cake or 12- 16 cupcakes.
Recommended Products
As an Amazon Associate and member of other affiliate programs, I earn from qualifying purchases.
Nutrition Information:
Yield:

12
Serving Size:

1
Amount Per Serving:
Calories:

187
Total Fat:

20.1g
Saturated Fat:

21.7g
Cholesterol:

55mg
Sodium:

166mg
Carbohydrates:

3g
Fiber:

1.6g
Sugar:

0.2g
Protein:

1.6g