A rich keto fudge pie giving you the best of both pie and fudge in one delicious treat. It's pie and fudge wrapped up in one decadent low carb dessert.
There is something quite special about the combination of pie crust with the richness of fudge. If you've never had a fudge pie you are in for a real treat with this keto fudge pie.
Every year during the holidays my rich fudge pie made it to the table. It's important to realize that on special occasions I would always offer more than one dessert option.
Who am I kidding?
At times there were up to eight desserts laid out after the massive holiday meal. Just thinking about this makes my head spin.
You see this girl would make all the customary desserts of the season and yet always include my fudge pie as a faithful must. Sharing my fudge pie was my way of ensuring that the chocolate lovers in my life were well represented.
Keto Fudge Pie
Addressing Sugar Addiction
Of course, all these desserts meant plenty of leftovers to send home with our guests and also for me to enjoy for days.
My sugar addiction was most exposed during the holidays when I would get really carried away. Yeah, it was a real problem. Thankfully, those days are safely in the past for this girl.
Can you believe it's been over four years since real sugar has crossed my lips?
If you are wondering if you have a sugar addiction or want a way to address it? I encourage you to visit these two other posts Could I Be A Sugar Addict? & Get Free From Food Addiction where I go deeper on the subject.
What's made it easier for me to keep that sugar monster from rearing its ugly head, is that I keep transforming my traditional favorites. This keto fudge pie is just one more to my growing transformed ketofied collection.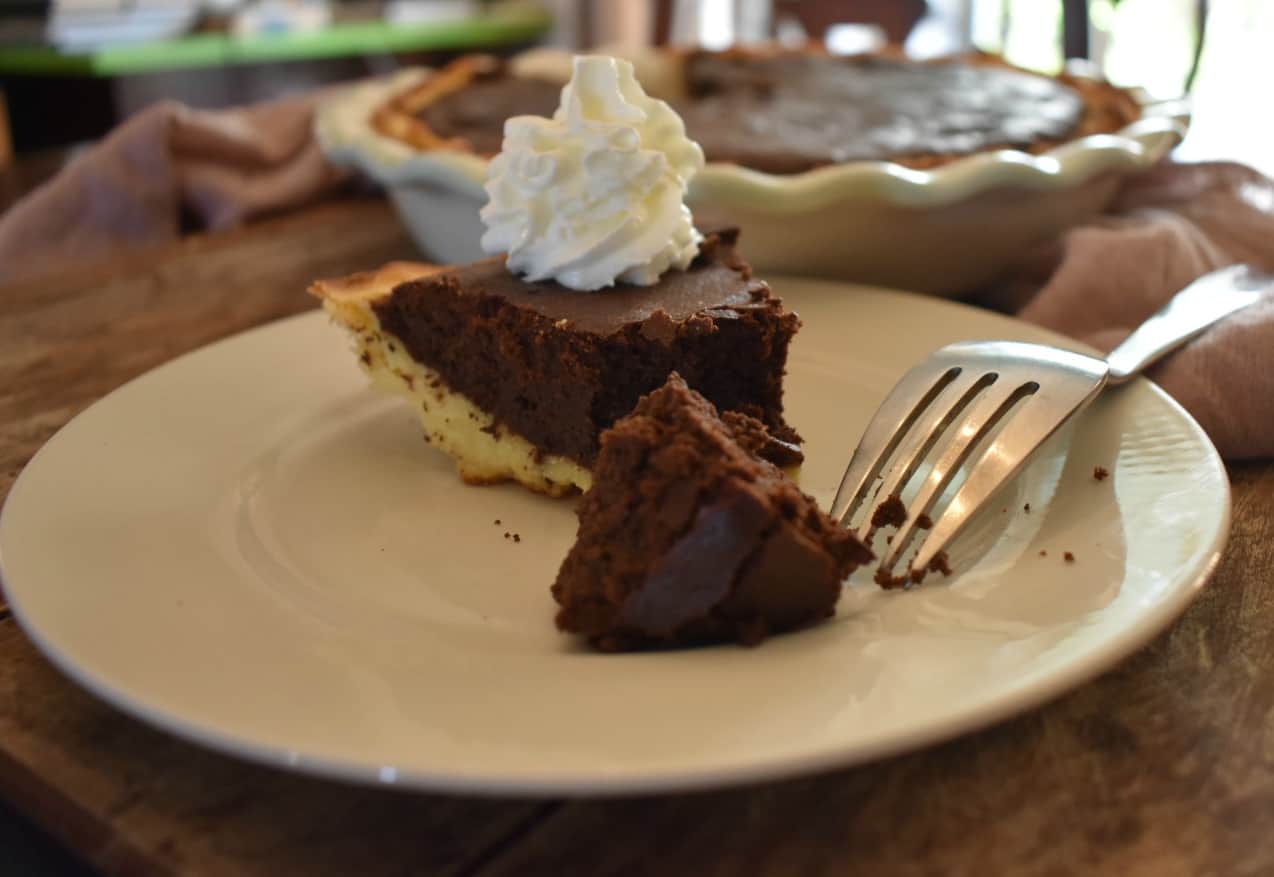 I knew it was only a matter of time that my fudge pie got a makeover. Thankfully, the transformation didn't disappoint. My keto fudge pie makes dessert a little more elevated. I don't know why but pie always feels special to me.
The Marvels Of The Keto Community
I love the low carb keto lifestyle because once you understand the basics you rarely feel deprived. It really is a sustainable way of eating.
What's more, there seems to be a low carb keto option for just about anything that is high in carbs.
Don't believe me?
Just follow the keto community and be encouraged by their genius creativity. It never ceases to amaze me the lengths this community goes to, to come up with a great low carb solution.
Disclosure: Some of the links below are affiliate links, meaning at no additional cost to you, I will earn a commission if you click through and make a purchase.
If there is something I am grateful for is the many lovely friendships I've made since going low carb keto. This community is made up of some of the most generous and encouraging people I've ever met.
If ever I need the inspiration to stay committed, all I need to do is see what my keto family is up to on social media. It immediately puts me in a good mood and reminds me that I am on the right path.
Do you know that one of my buddies from Instagram inspired me to create a truly flourless cookie based off of this recipe? Jaime decided to make this pie and omit the crust out of sheer convenience, and that me thinking if I could create Keto Fudge Flourless Cookies using this recipe filling. All I can say is you need to try those cookies too. They use zero, nada, alternative flours!
Join Our Jesus And Keto Movement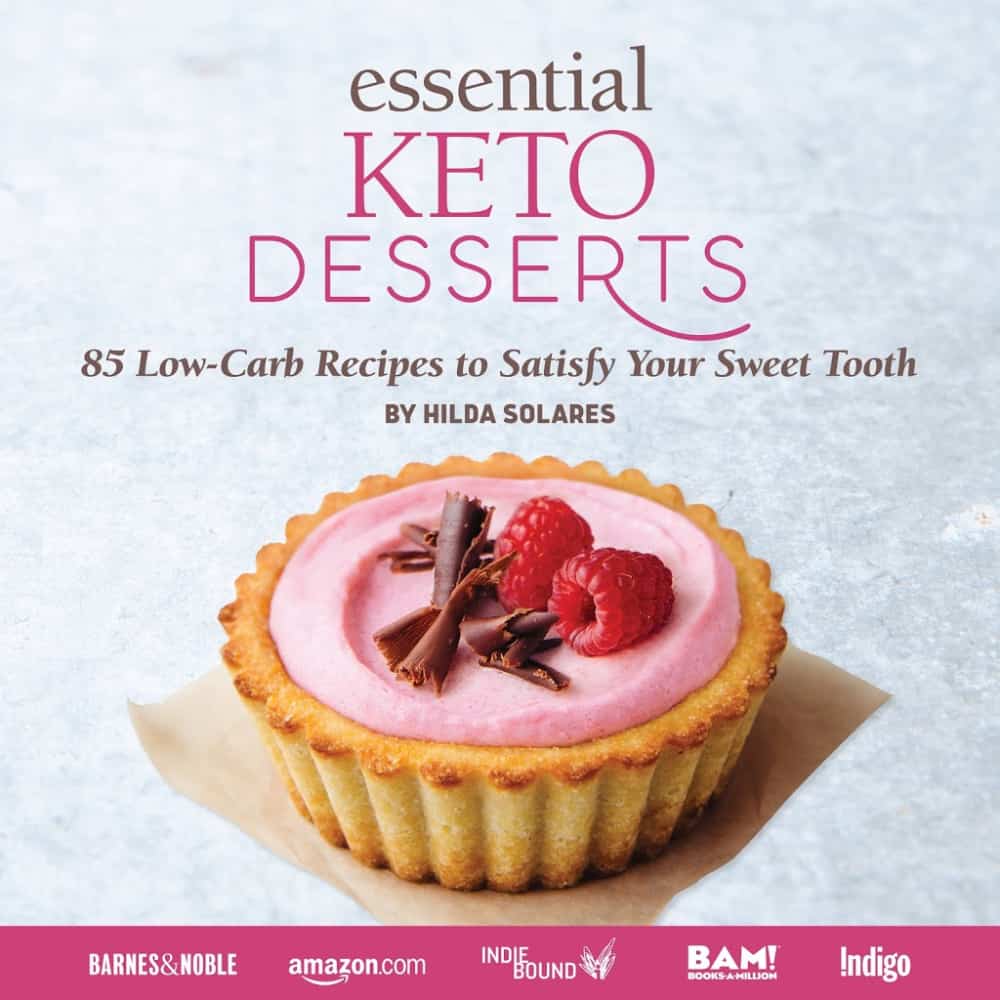 If there is one thing I particularly proud of sharing it's how we combined our Christian faith with the keto diet.
In case you don't know, Randy and I came to the keto diet looking at it from a Christian perspective. As believers, we live our entire lives supported by God's grace.
So when the Holy Spirit led us to combine our Christian faith and the keto diet, we did so in hopes of finding lasting transformation.
Randy had been a diabetic for over 15 years and he was dealing with the consequences of this disease. I was a survivor of the Guillan Barre Syndrome and was fighting fibromyalgia and chronic sciatica.
To say we needed God's intervention is putting it mildly. When we followed the Holy Spirit's prompting to we got on the path to real transformation.
Knowing firsthand the benefits of this decision we have created a closed Christian group that is using the keto diet to transform their lives. I love how supportive and encouraging this group of believers is. It's exciting to see how people are transforming their lives by combining this lifestyle with the Christian faith.
The testimonies coming out of our Fittoservegroup is what motivates us to continue to share what we've learned.
We invite you to join our Private Facebook Group and see if it's not the key you have been missing.

Note that once you click the link you will be prompted to answer a few questions that ensure that you understand what this group stands for.
Best Keto Hack To Stay On Track!
If I had to choose just one favorite keto hack to assist you on your low carb keto diet, it would be the use of Exogenous Ketones
Why am I such a big fan? It has all to do with the success we have seen with all our happy customers. It is especially useful when first adopting a low carb keto diet or when you need to get back on track after a carb slip up.
However, with the ability to now drink ketones you can see the results you want to accomplish consistently and quicker. You can now experience what it feels to be in ketosis and side pass the dreaded keto-flu. The flu-like symptoms you experience when transitioning into a ketogenic state.
Why is ketosis the goal? Because once you are in ketosis you don't have as many cravings and your appetite diminishes significantly. In addition, you have more energy and focus to help you to stay committed to the plan.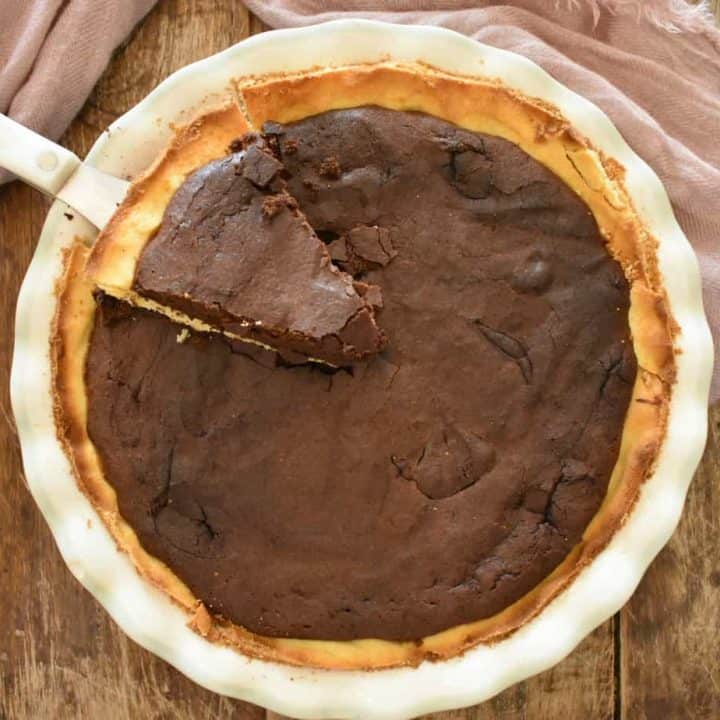 Keto Fudge Pie, A New Family Favorite
Imagine a fudge pie that is low in carbs and keto-friendly. That's what this recipe for Keto Fudge Pie delivers. It's a rich chocolate pie that will satisfy your cravings safely while doing a keto diet.
Ingredients
Crust
1 cup of unsalted butter melted and cooled.
4 large eggs
½ teaspoon sea salt
Fudge Filling
1/2 cup unsalted butter
3 large eggs , room temperature
1/4 teaspoon of sea salt
Instructions
Crust Instructions
Preheat oven to 360 degrees.
In a large bowl combine the melted butter, eggs, salt, coconut flour, and the sugar substitute.
Mix just until the dough forms.
Pat and press the crust into a 9-inch pie pan, making sure to allow the crust to come up the sides of the pie pan.
Note: Wetting your hands makes it easier to pat the crust in place.
Bake the empty pie shell for 15 minutes in a 360-degree oven.
Cover the edges of the pie with foil to prevent it from browning too much.
Your pie crust will not be fully cooked at this point since it will further bake once the fudge filling is added.
Once the pie shell is baked set aside and allow to cool before adding the fudge filling.
Filling Instructions
Melt the baking chocolate and butter in a double boiler.
Allow the chocolate mixture to cool completely.
Beat the eggs, and sugar substitute until the mixture is thick and pale yellow for about 3 minutes. Use an electric mixer for this.
Next, add the chocolate mixture to the egg mixture. On low-medium speed mix until fully blended.
Baking Instructions
Pre-heat of 360
Cover the edges pie crust with foil. To keep the crust edges from browning too much.
Add the fudge filling to the baked pie crust.
Bake the pie until the fudge filling is set and a toothpick inserted comes out with moist crumbs for about 30 minutes.
Serve the keto fudge pie warm or cold with whipped cream.
Store leftovers in the refrigerator for up to 5 days.
Recommended Products
As an Amazon Associate and member of other affiliate programs, I earn from qualifying purchases.
Nutrition Information:
Yield:

10
Serving Size:

1
Amount Per Serving:
Calories:

354
Total Fat:

36.9g
Saturated Fat:

22.4g
Cholesterol:

188mg
Sodium:

244mg
Carbohydrates:

4.8g
Net Carbohydrates:

2.2g
Fiber:

2.6g
Sugar:

0.5g
Protein:

5.9g