We were at a bleak place in our lives as far as our health was concerned. Which meant a drastic change was in order if we were going to see real transformation. Learn how we used our Christian faith and the keto diet for real change.
By the time Randy and I came to the ketogenic lifestyle and learned the benefits of being in ketosis, we had exhausted all other avenues.
In fact, we had spent thousands of dollars on every known form of medical care and amassed a great deal of debt in the process.
Going from one medical specialist to another seemed like a regular part of our lives. Looking back, it felt like our lives revolved around our doctor appointments and there was little room for much else.
Besides, the countless doctor visits, we did everything in our power to get on as many prayer lists as possible. If there was someone praying we wanted to be included on their short list.
Fasted Christian Life
In a bold step we decided to combine our Christian faith and the keto diet.  What started as a church corporate fast for the new year, turned into what we now consider a fasted lifestyle.
At the time, we knew of no one who had participated in what we now lovingly call our "Jesus and Ketones" or "Christian Keto" lifestyle.
In fact, it took us several years to learn that there was an army of others who had also felt prompted by the Holy Spirit to combine their Christian faith with the keto diet.
But Why A Keto Diet?
Do you know that a ketogenic diet mimics the benefits of fasting in the body? The major difference is that on a ketosis diet you don't abstain from food entirely. Instead you reduce your carbohydrates to levels that force your body to produce ketone bodiesfor energy instead of glucose.
It's a fantastic tool that allows you to gain the positive results of fasting easier.
What most people don't understand is that a true low carb keto diet aims to eat cleanly by stripping away the junk. It focuses on consuming real foods that are void of the processed fillers that crowd out nutrition.
Could any diet that focuses on clean eating work? Sure it could. However, what we have found and others to, is that because a keto diet is very satiating it makes staying compliant so much easier.

Faith Without Works = No Fruit
Is it any wonder that God would lead us to the discipline of prayer and fasting to see real transformation?
I don't think so.
The Bible clearly states that there are some instances that the only way we will be delivered is if we fast and pray. But this kind does not go out except by prayer and fasting. Matthew 17:21
I have numerous reasons why I believe that combining our Christian faith and the keto diet (Jesus and Ketones)was the key to our deliverance.
For one, when you are in ketosis your senses are heightened giving you the ability to hear from God more clearly.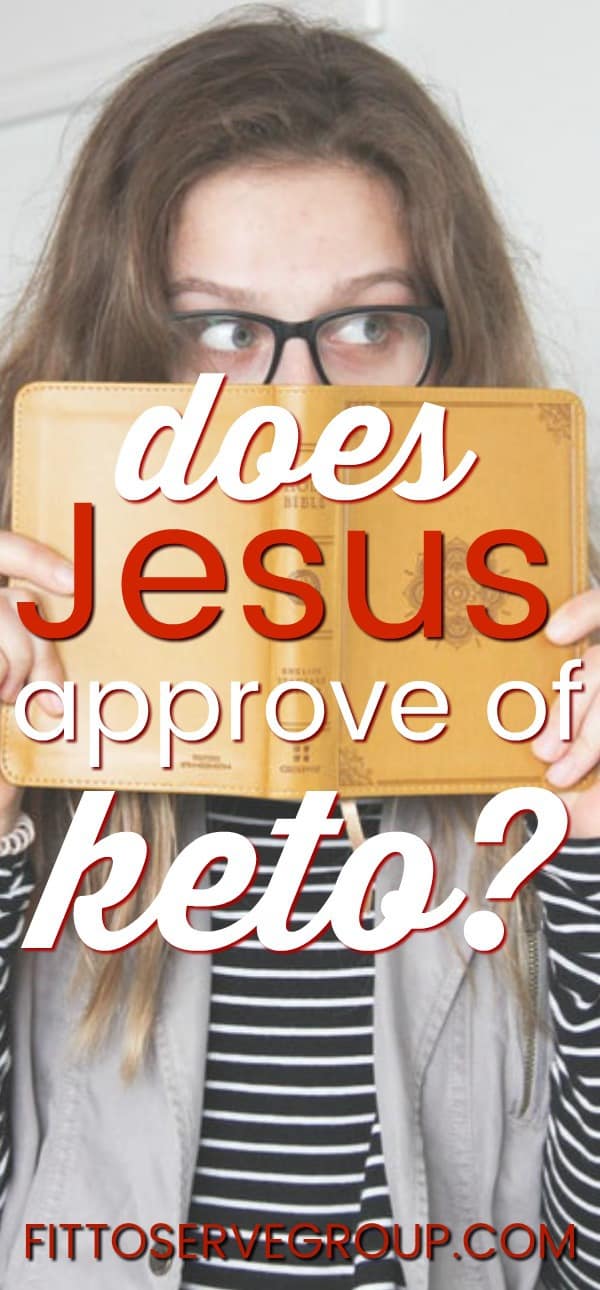 When a person does any form of fasting, guess what rises? That's right our ketones. Do you think this rise in ketones when fasting is a coincidence?
I for one don't believe this to be the case. To me it simply points to our creator's perfect craftmanship.
Being in a state of ketosis allowed us to be able to focus more clearly. When the brain fog finally lifted we were able to deal with the root problem that was affecting our health.
For the first time we were truly able to crucify our flesh and address a lifetime of food addiction. Finally, Randy and I found the answer we were looking for.
Prior to coming to the keto lifestyle, we were having little to no success. We were on this aimless path of always trying something new.
Although, we both were faithful in declaring the word of God over our lives and trusting in the power of Jesus's to heal, our faith was without works.
Why? Simply put, we didn't make any real lasting changes that would get us on the path to transformation.
We finally learned that there were no short-cuts to achieving the real health we desired. It was no longer about doing a gimmicky diet.  Instead we realized we needed a completed lifestyle change.
What if we would offer our decision to cut out the junk that was crowding our nutrition as a fast unto the Lord? What if we just considered it a fasted lifestyle?
Would God step in and honor our obedience to lay down our little, little lives in exchange for his very best for us?
Well, that one-act of obedience started us on journey to becoming whole in spirit, mind and body. Where we would aim not to neglect any of these areas. Gone would be the days where we would only focus one aspect to the detriment of the others.
Our Faith Confession Didn't Match Our Walk
What the Lord did with our decision took us by surprise. But why should it surprise us that our words need to match our actions?
If a person chooses to follow Christ, yet never takes the steps to live free from the stronghold of sin, wouldn't we know it's not God's best?
Shouldn't it be a natural flow from our hearts to want to obey God? Somehow though we fall into the trap of thinking there is an exception when it comes to our diet.
As if God cares about our choices, but doesn't mind how we feed our bodies.
Jesus Isn't Your Genie He's Your Lifeline
I've had people tell me, "Hilda this is why I pray for my food, so that God can clean it up" They say it with a chuckle and a wink, to somehow make what they just blurted out ok.
Can I tell you it's not ok? In fact, it's NEVER ok.  I know because I tried that rational and it didn't work.
Why?
Because it's the equivalent of ingesting poison and pleading with God not to let it affect us. Didn't Jesus explain this perfectly when he was in the wilderness and tempted by satan? Matthew 4:1-11  
It was Jesus who told satan "It is also written: "Do not put the Lord your God to the test."  We have to ask ourselves how often are we testing God?
How far do we stretch the envelope to see what we can get away with? Do we really think that our poor diet choices will not catch up with us eventually?
For years Randy and I walked around feeling we were the exception to the rule, by not take responsibility when it came to our dietary habits.
It was always tomorrow I will change, but tomorrow would come and we didn't budge from our position.
Because I genuinely want you to see real transformation, you need to know that there are no exceptions. There was no exception for us and there will be no exceptions for you.
You see faith without works will always, always be dead. This is the case in any area of our lives and that includes our dietary choices.
We can't expect God to be our genie in a bottle. Our confession must mirror our actions.  Facing this brutal fact was the first step to real transformation for us.
If you are desiring similar results, then I encourage you to stop pretending that you can get away with your poor lifestyle choices and make the necessary change.
A Radical Diet Change Was Needed
It wasn't until we began to combine the promises of God's word about healing and change our diet to low carb ketosis one, that we finally began to see our health turn around.
Could God have miraculously just stepped in and healed us? Sure, and trust me I have seen him do this many a time.
However, sometimes we are healed as we go. In other words, it's not an instant but gradual healing.
The bottom line is that Randy and I had some growing up to do in this area. And because God was more interested in our character than our comfort he had us on the long road.
What we've learned is that when something has the potential to change not just our lives but that of others, he usually includes us in the process.
He invites us to crucify our flesh and build our character for the blessing of many.
You see what resulted in an act of obedience on our part birthed the ministry of Fittoserve Group. Today, we are seeing thousands of lives impacted and it's humbling to see.
The ripple effect of our decision to combine our Christian faith with the keto diet is making a difference in ways we may never know this side of eternity.
Learn More About Our Journey To Transformation
Our Jesus and Ketosis Testimony 
Why We Endorse A Low Carb Keto Lifestyle 
How We Were Finally Able To Say No To Sugar Once And All
If you are wanting to combine your faith with the keto diet and would love some assistance, reach out to us today by filling out the contact card. It would be our honor to come along side you.
A Keto Tip That Works
Lastly, I leave you with our favorite tip when it comes to doing the keto lifestyle. It's the use of Prüvit's exogenous ketones.
Let me start of by saying that it's simply a tool and not a quick fix.
Sadly, all too often people just want some thing that will magically sweep away the need to responsibly choose their foods.
However, that is never a real long-term solution. What we advise is to use the exogenous ketones to raise your ketone levels naturally and therefore help you stay compliant.
We also advocate its use to prevent the keto-flu and to break a plateau.
Because of its ketone raising properties you can also take advantage of the mental clarity that comes from its use.
If you have questions about how to use Keto//OS in conjunction with a keto diet, feel free to reach out to us. We want you to maximize its benefits.
Learn More About Keto//OS
You can learn more about the science behind how it works in this 4 minute shortexplainer video
Read more about Keto//OS and our personal experience here.
For detail information on which Keto//OS plan can best suit your needs visit here. 
Ketone Testing
If you are wanting to do a keto diet effectively, don't forget to test your ketone levels. Although ketone strips work well initially, the Gold standard is the blood ketone test.This test is taken just like the glucose test that diabetics use to track their sugar levels.
After 10 seconds the ketone meter will give you an accurate reading. Testing is not necessary in order to do a ketogenic diet, but it can serve as a powerful tool to track your ketone levels and help you see your ketosis progress.
Please feel free to reach out to us to assist you in any way.  Our heart's desire is to see you succeed.