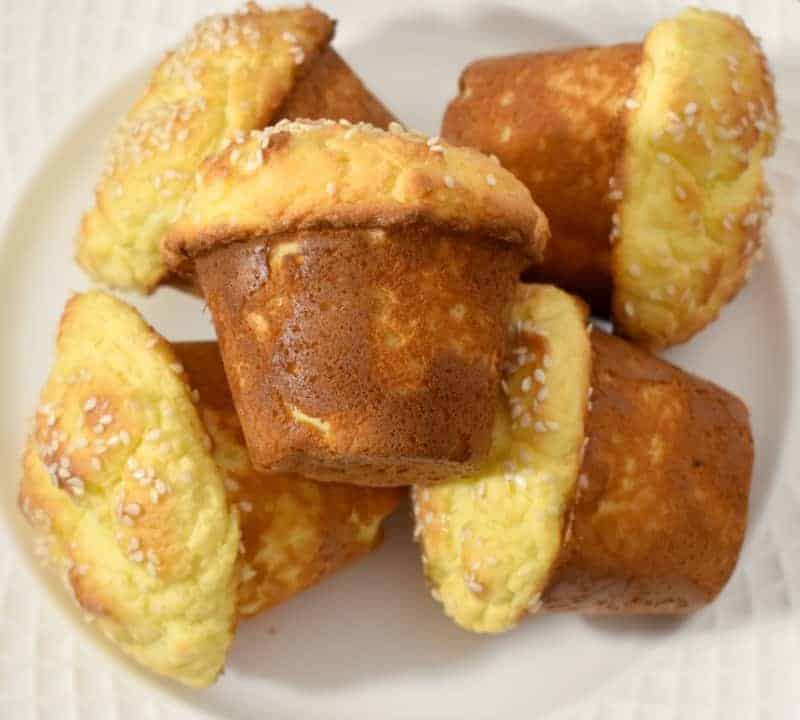 If you've been monitoring your carbs and missing bread, my recipe for keto cream cheese bread recipe is about to change that once and for all.
This recipe produces a great tasting low carb bread that is airy, light and best of all it's made with easy to come by ingredients.
Since this keto cream cheese bread uses coconut flour, not only is it grain-free, gluten-free, and sugar-free, it's also nut-free.
The use of coconut flour makes it a recipe option for individuals who have to avoid nuts due to allergies but are able to consume coconut flour. Not a fan of coconut flour?
Here is a Keto Cream Cheese Almond Flour Bread you may prefer.
I already have several keto bread recipes on the site that people are using on a regular basis. A couple of popular ones right now are both my Keto Cornbread Recipe made with almond flour and my Keto Coconut Flour Cornbread.
Also to check out my Keto Cream Cheese Recipes for more keto-friendly recipes that use cream cheese.
Keto Cream Cheese Bread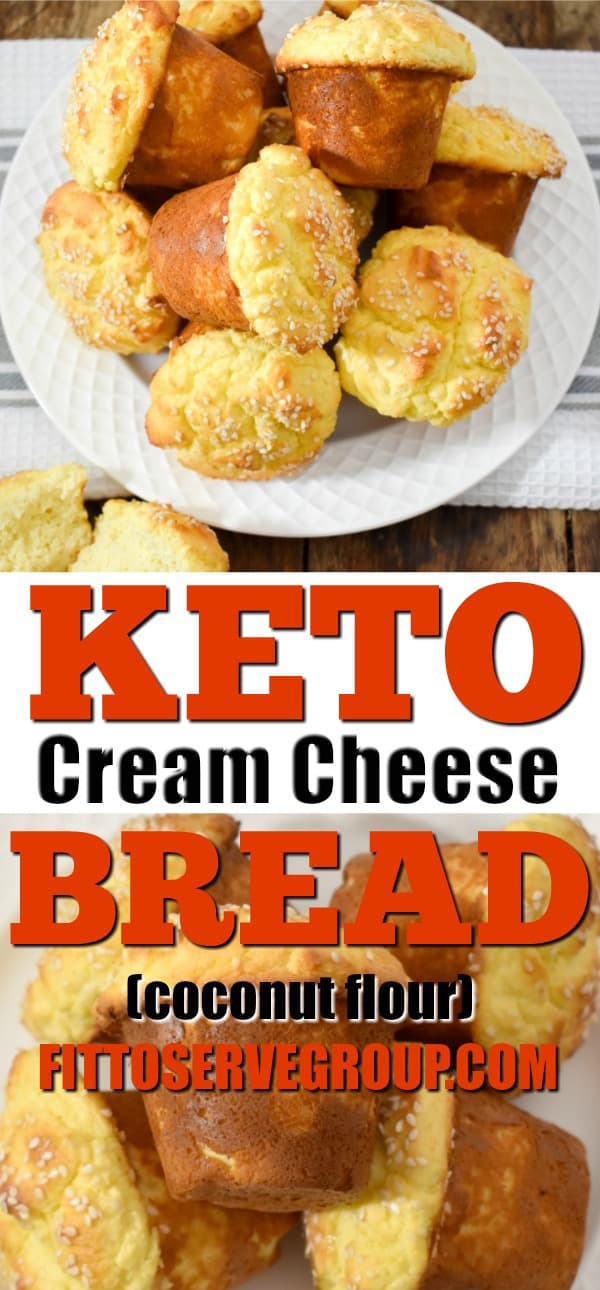 Having recipes like this keto cream cheese coconut flour bread makes it easier to stay on plan. A ketogenic diet has the potential to really improve your health, that is if you can stick with it long enough.
Randy and I made great strides in our health when we both dove into this lifestyle but that's not to say it's always been easy to stick with it.
The fact that we combine the ketogenic diet with our Christian Faith is what we attribute our long-term dedication to.
Whenever I've questioned people who've abandoned the keto diet before it had a chance to make a difference in their lives, all too often I hear the words " I missed bread too much"
Over and over people tell me they could pass up the sweets, but what they can't seem to be able to live without is bread.
That's where an easy recipe like this cream cheese coconut flour bread can really come to your aid.
Keto-friendly Cream Cheese Bread
Trust me when I tell you that I understand their pain. Because in the early years of doing keto, I too missed bread. Especially since this girl used to make homemade bread all the time.
However, it's over 5 years since I started keto and bread just doesn't tempt me the way it once did.
I say all that to say, it's worth staying the course because the benefits of a ketogenic diet go far beyond the scale.
Creating keto-friendly bread substitutes like this easy keto cream cheese bread is my way of giving back to the community. It's the very reason I started sharing my recipes, to begin with.
So if you've been on the quest to finding a keto-friendly bread substitute, today is your day.
Keto Cream Cheese Bread Recipe
I am excited to share a little backstory as to how this keto bread recipe came to be. It's a shout out to my loyal readers.
You see apparently for a good bit now people have been using my Keto Cream Cheese Pound Cake recipe and making it into a bread substitute.
How? By simply leaving out the sugar substitute in the cake recipe.
When I heard about this, I thought it was a genius idea. I mean it doesn't get easier than this to make a Keto Bread option.
The creativity of the low carb community never ceases to amaze me. They have come up with all sorts of hacks to replace the high carb foods they've missed.
From using alternative flours in keto baking to making breading from pork rinds, the keto community is known for their out of the box ideas.
Easy Keto Bread Recipe
But when I heard that many in the keto community were using our well-loved low carb pound cake to also make a Keto Bread, well if floored me.
My first reaction was wow why had I not thought of this? Thankfully, my smart followers figured it out all by themselves.
The first time I became aware of this trend was when someone tagged me on Instagram with their picture. Then I kept seeing others stating they were doing the same thing.
On Instagram, Kate was thanking her friend Tracy for the idea. The picture below is the one she tagged me on. Doesn't her Keto Cream Cheese Bread look stunning?
Well needless to say I was curious. But since I still had a list of other keto recipes I wanted to create for you all, I still had not attempted to try this myself.
But it was always in the back of my mind because I knew that it would help so many of you looking for an easy keto bread recipe.
I finally decided it was time to use this technique when I created a Keto Cream Cheese Coconut Flour Pound Cake.
I knew then that it was time to stop holding back this brilliant idea with you all.
Well, all I can say I am so glad that Kate and others let me in on their keto hack. Because both my almond and coconut flour pound cake recipes when you remove the sweetener make an excellent white bread substitute.
In both instances, it produces a light and airy keto bread that can be sliced and toasted easily. Can I hear an amen for easy keto wins?
Since my goal has always been to offer you recipes that can be created with ingredients that can be found at most grocery stores, I was thrilled with the results.
I also love that this keto cream cheese bread recipe was birthed from my readers' ingenuity. It's a lovely reminder of how generous the keto community is and why I can't do this by myself.
I truly need your input, support, and encouragement. So please don't be a stranger and let know how I can best serve you.
How To Make Keto Cream Cheese Bread
A few things to keep in mind when making this recipe is the importance of having your eggs, cream cheese and butter at room temperature before mixing. Trust me when I tell you that it makes a big difference in the final result.
I did opt to add one tablespoon of sugar substitute to the batter only because traditional white bread has a little bit of sweetness and I wanted to mimic the flavor perfectly. This, of course, is totally optional.
Keep in mind that this keto coconut flour bread recipe uses a total of 8 eggs and therefore you'll notice that when combining your eggs, butter and cream cheese that the mixture will not fully incorporate until you add your dry ingredients.
Once you add the coconut flour to the wet ingredients, the keto bread recipe comes together quickly.
Adding the ½ cup of sour cream to the batter at the end ensures that the bread is moist. It's a little trick I discovered when using coconut flour in some of my other recipes.
Cheese Bread Keto With Coconut Flour And Egg
Another name for keto bread is keto egg loaf. Traditionally this recipe uses a large number of eggs and it's therefore known for its eggy flavor.
That is NOT the case with this recipe for keto cream cheese bread. I believe that's the case because the addition of cream cheese helps balance the egg flavor as well as the coconut flour.
I encourage you to read the comments at the end of the post where readers have confirmed that this bread does not have the pronounced egg flavor that is typical in a keto egg loaf.
Keto Bread Muffins
I thought I would bake my keto cream cheese bread in a well-greased muffin tin. But you can easily bake this recipe in a 10-inch loaf pan if what you wanting is a bread you can slice.
If you opt to make it in a loaf pan you will have to bake the keto coconut bread for up to 90 minutes in a 350-degree oven.
What's nice about a recipe batter that uses coconut flour is that it makes a thick batter. This allowed me to overfill my tin pan just a tad allowing for a lovely muffin top to form as the bread baked.
Before placing the bread in the oven, I brushed the tops of the keto muffins with a simple egg wash and sprinkled them with sesame seeds.
By no means are the sesame seeds necessary. But what it did do is give me a license to continue to make other keto bread recipes with all sorts of yummy add-ins. So stay tuned for those.
Once again I want to thank Kate and Tracy for bringing this fabulous idea to my attention. It's readers like them that keep me motivated to keep creating.
If you've been secretly making a Keto Bread out of my pound cake recipe, do take a moment to leave a comment. I would love to hear all about it.
I sure hope you will give this keto cream cheese bread recipe a try. Once you do, make sure you remember to tag us on Instagram and Facebook. It's what keeps this girl encouraged to keep sharing and perfecting her recipes.
Also, check out our Amazon Store for recommendations. You might be surprised by how many great keto options are at your disposal.
We invite you to join Fittoservegroup's Private Facebook group to see how others are joining their Christian Faith with the Keto Lifestyle for maximum transformation.
Perfect Keto Hack To Stay On Track!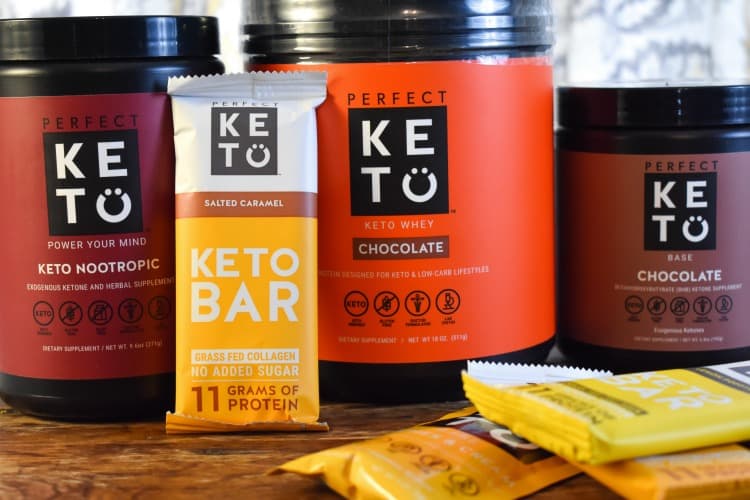 Perhaps, you've struggled to get into ketosis consistently on your low carb keto diet, or you've hit a plateau that doesn't seem to budge, consider using Perfect KETO exogenous ketones.
Did you know that by using exogenous ketones you will naturally elevate your ketones allowing you to enter into ketosis more quickly?
It's true and what great is that being in a deeper level of ketosis will help reduce your appetite, carb cravings, and give you lasting energy.
We are fans of exogenous ketones because our experience is what helps make the low carb keto lifestyle a more viable sustainable option.
Honestly, it's like having willpower in a cup. Learn more about the science behind both exogenous and endogenous ketones and have your questions answered from a doctor's perspective.
Make sure you also pick up your free and complete guide to understanding ketosis. Then begin the ketosis diet easily with this Start-Up Guide to the Ketosis Diet.
Wondering which foods you should avoid when doing Keto? This Keto Food Guide will assist you in doing the Keto Diet correctly.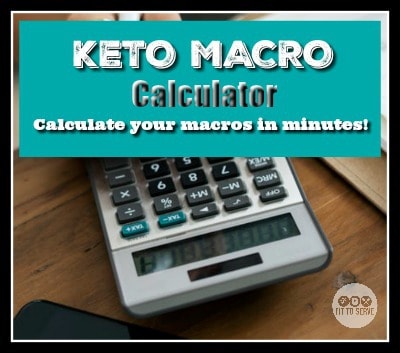 Don't start the Keto Diet until you calculate your Keto Macros easily Using this calculator will customize the diet according to your goals and help you do the Keto Diet properly.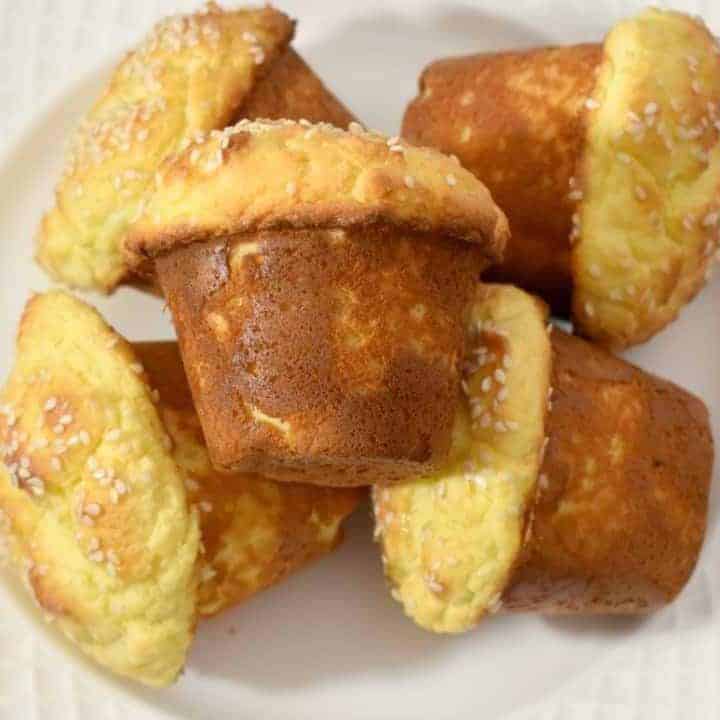 Keto Cream Cheese Bread
Additional Time:
5 minutes
Keto cream cheese bread is a low carb bread recipe that is made with coconut flour making it keto-friendly as well as nut-free.
Ingredients
8 large eggs
8 ounces of full-fat cream cheese (room temperature)
½ cup of unsalted butter (room temperature)
½ cup of full-fat sour cream
4 teaspoons of baking powder
1 teaspoon of sea salt
2 tablespoons of sesame seeds (optional )
Instructions
Allow your eggs, cream cheese, butter to come to room temperature.
Pre-heat your oven to 350 degrees.
Grease a 12 cavity muffin pan generously with butter or a 10 inch loaf pan.
In a medium-sized bowl combine your coconut flour, baking powder, sea salt, sugar substitute and set aside.
In a large bowl using a hand mixer, handheld electric mixer or a standup mixer beat together the room temperature butter, cream cheese until light and fluffy. Be sure to scrape the sides of bowl several times to make sure the mixture is well blended.
To this butter and cream cheese mixture add the 8 eggs one at a time. Making sure to scrape the sides of the bowl several times. Note that due to the large number of eggs the mixture will not fully combine, this is normal. Once you add the dry ingredients to this wet mixture, the ingredients will come together perfectly. 
To the wet ingredients slowly add all the dry ingredients on a low mixing setting. Making sure to scrape the bowl a couple of times. 
Once the two mixtures are fully combined stop using the electric mixture and fold in the 1/2 cup of sour cream gently. Making sure the sour cream gets fully incorporated into the batter but being careful to not over mix.Note that the batter will be very thick and fluffy. This is the normal texture when using coconut flour exclusively in a recipe. 
Overfill the muffin pan just slightly. The thick batter will not cause the muffins to spread. Slightly overfilling your muffin tins will create a nice muffin top.
With one additional whole egg and a tablespoon of water create an egg wash. Baste the top of each muffin with the egg wash and then sprinkle the sesame seeds on top of each muffin. This step is optional.
Bake the muffins for 25-30 minutes until lightly brown on the top and when an inserted toothpick comes out clean.
If you are baking your keto cream cheese bread in a 10 inch loaf, bake the bread for up to 90 minutes. Check your bread at 60 minutes for doneness and allow to cook longer if necessary.
Recommended Products
As an Amazon Associate and member of other affiliate programs, I earn from qualifying purchases.
Nutrition Information:
Yield:

12
Serving Size:

1
Amount Per Serving:
Calories:

204
Total Fat:

19.4g
Saturated Fat:

11.4g
Cholesterol:

154mg
Sodium:

160mg
Carbohydrates:

2.2g
Fiber:

0.6g
Sugar:

0.4g
Protein:

5.8g