What if I told you that there was a way to enjoy the flavor of apples while doing a low carb keto diet? Well, my recipe for keto apple cobbler uses chayote squash as a fantastic apple substitute. It's not only delicious but it's keto-friendly.
This keto apple crumble cleverly swaps high-carb apples that do not make the list for permitted fruits for low in carbs chayote.
It's the perfect keto apple crisp that allows you to enjoy all the flavor of apples minus the extra carbs.
My friend, I have somehow managed to crack the code by creating a low-carb apple cobbler that will effectively fool your taste buds into thinking you are having the real thing.
Since coming up with a recipe for this keto apple crisp, I've also used chayote squash in a flat-out delicious keto apple pie recipe. So make sure you also check that recipe out too.
Don't forget to also check out my other keto pie recipes that include traditional pies, tarts, and cobblers!
Keto Apple Cobbler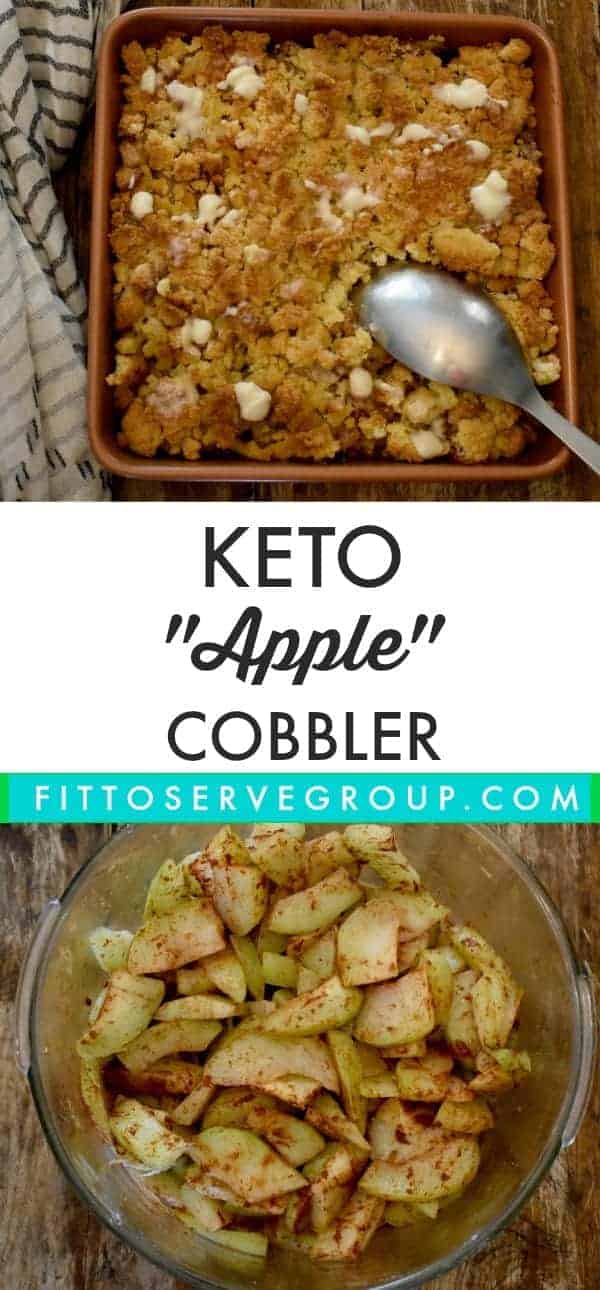 This keto-friendly apple crisp like so many of the recipes I create came out of a real need. You see I was after the perfect substitute for apples, I wanted to enjoy the flavor of cooked cinnamon apples but keep still stay safely in ketosis.
As much as I was dreading not being able to have this seasonal treat, I wasn't willing to risk ruining all my hard work and success for it either.
With the holidays fast approaching I was on the hunt to figure out a mock apple option that would allow me to create a keto apple crisp without the insulin spike of fructose. I needed something that would impersonate an apple perfectly in the dish.
Frankly, the thought of not being able to have an apple dessert during the holiday season was beginning to stress me out. And the holidays are stressful enough already so this was something I needed to figure out real quick for my sanity's sake.
I was beginning to think the possibility of sticking to the diet during the holidays would be nearly impossible for this girl. If I went another season without a decent apple substitute, the temptation was going to win this battle.
I know that sounds just a bit dramatic but unfortunately, with so many holiday memories wrapped around food, I wouldn't be totally honest with you if I told you otherwise.
The struggle can be real at times and for me, holiday foods can be a major trigger if I don't plan accordingly.
Can I tell you that apples are the one fruit I've missed the most doing keto? Probably because there was a period that I had up to two large apples a day.
I know, I know a complete fructose bomb for my liver. Not exactly the best thing for someone who was already pre-diabetic. But I had no idea back then and actually thought I was doing a good thing.
Are Apples Keto?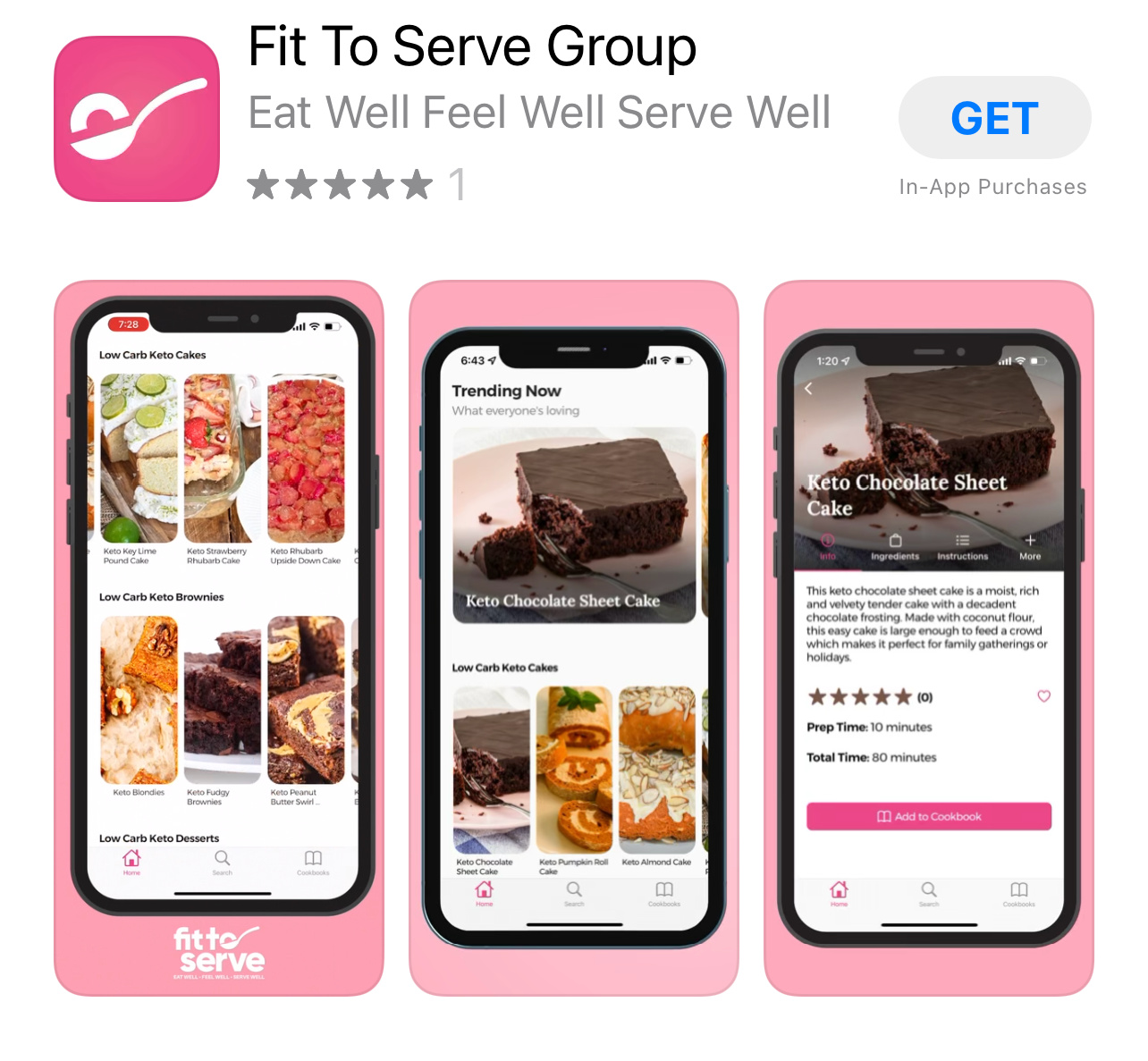 In case you are new to the keto diet, apples are too high in carbs and all that natural sugar will be a problem for those of us who are insulin resistant.
Apples are not keto because if you take into account the average medium apple has 20 net carbs, which is way too high to be allowed on a keto diet. Just one apple will kick you out of ketosis real quick.
Chayote "Apple" Crisp Recipe
The question was if there was at least something that I could use in my baking to mimic the texture of apples? I knew that if I could get the texture right, half the battle was won.
Well, I had this thought running in my head over and over, when I stumbled upon a solution. It was pure happenstance that got me to consider using chayote squash as an apple substitute for a keto apple cobbler.
At the time I was boiling some chayote to use in a side dish when I thought about how much it reminded me of apples. This probably only happened because I was dreaming about cinnamon-spiced apples.
Thankfully, the idea actually worked like a charm. My first attempt was to sauté the cooked chayote with a little bit of sugar substitute, cinnamon, and butter.
The result was good, but it was missing the tartness of apples. So I added some lemon juice and cream of tartar and bingo it was a home run! I could use chayote to create keto apple recipes.
Since then I've learned that apparently using chayote squash as an apple substitute isn't a new thing in the low carb community. It's funny how much the ingenuity of this community never ceases to amaze me.
I may have not been the first girl to figure this out but I will tell you that my keto apple dessert is hands down a great option.
Background Of Chayote Squash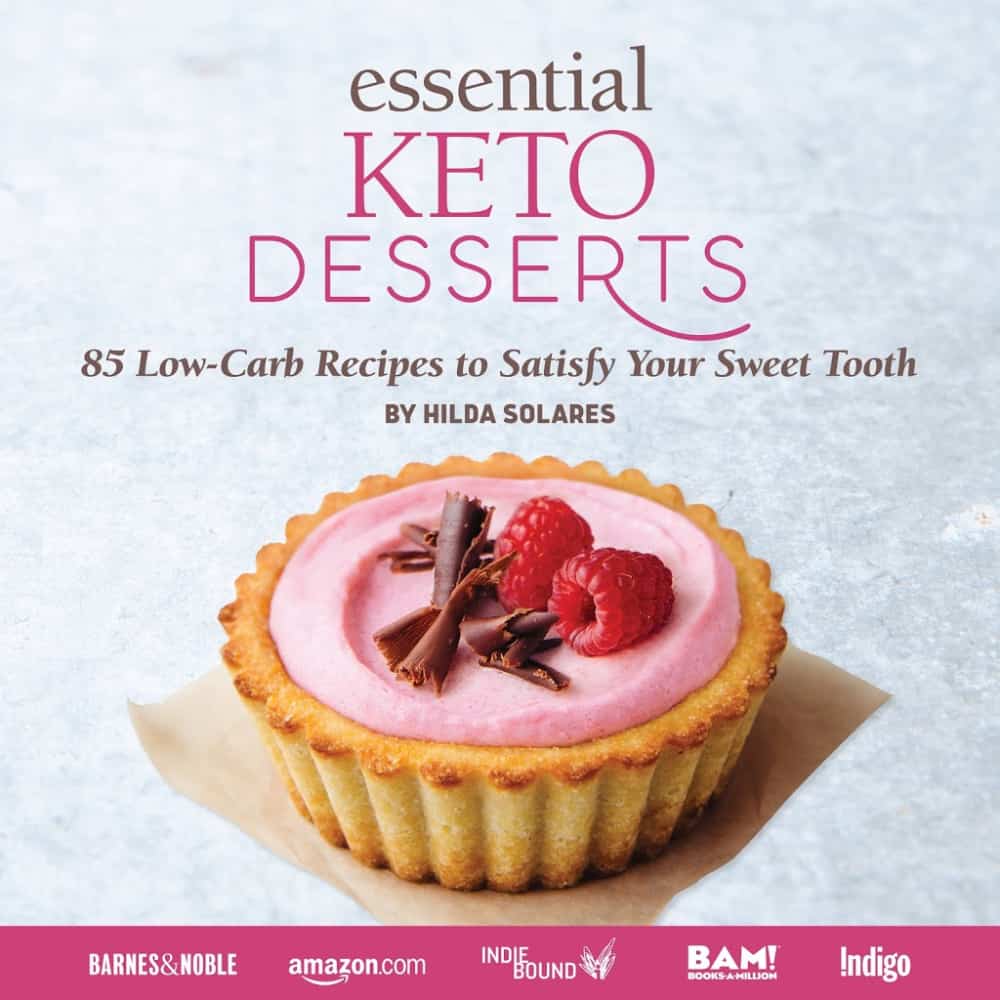 If you are not familiar with chayote let me share with you some of its characteristics. Chayote is a light green firm vegetable that is part of the gourd family. It's a Cucurbitaceae, along with melons, cucumbers, and squash.
The chayote squash is native to central Mexico, where it's seen as a Mexican version of zucchini. It grows rather abundantly and is therefore not uncommon to see it used in various Mexican dishes.
Chayote is quite versatile and can be eaten raw, steamed, baked, and boiled. When eaten raw it tastes similar to jicama.
The fact that they are so mild makes it a great candidate for a recipe like my keto apple cobbler.
Chayote Nutrition
Chayote not only mimics the texture of apples but is quite low in carbs. One cup of chayote has only 4 net carbs so it fits well with your keto macros. It's also low in calories with only 25 calories per cup.
It is certainly a low glycemic food and it's rich in folate, vitamin c, and minerals like manganese. What's more, chayote is high in fiber making it a perfect choice while doing keto.
Chayote Squash As An Apple Substitute
The flavor of chayote reminds me of a very, very mild pear with the mouthfeel of an apple once cooked. A winner for my low carb, keto fall recipes!
Honestly, I really didn't know a lot about the origins of chayote or its nutritional benefits until I thought of using it as an apple substitute.
Disclosure: Some of the links below are affiliate links, meaning at no additional cost to you, I will earn a commission if you click through and make a purchase.
I will tell you that although the chayote worked perfectly in my keto apple cobbler and then in my keto apple pie. It may not have enough of an apple taste for some.
This is because chayote is pretty bland and what reminds you of apples is more the cinnamon and sugar substitute combo. For a more intense apple flavor, you can add a teaspoon of apple extract.
The best part is that they are low in carbs, and high in potassium, manganese, iron, folate, zinc, copper, fiber, and vitamins C, B1, B2, B6. Plus it is loaded with antioxidants.
All I can say is that I am thrilled that I went with my instincts and attempted to use chayote in my low-carb mock apple cobbler.
Tag Us
My failed attempts when I first went keto is what caused me to be very intentional with my Keto Baking recipes. I threw away so many ingredients in the beginning and I never want anyone to be so frustrated that they give up on the diet before they can see long-lasting results.
Even though those early days were not fun, the fact that I stayed the course has made this journey very rewarding. Besides, if I had quit at the first sign of struggle, I would not have had the opportunity to engage with you all.
I sure hope you will give this recipe a try. Once you do, make sure you remember to tag us on Instagram and Facebook. It's what keeps this girl encouraged to keep sharing and perfecting her recipes.
Also, check out our Amazon Store for our recommendations. You might be surprised by how many great keto options are at your disposal.
Grab Our Books!
In case you don't know I have authored two books for you, Essential Keto Bread and Essential Keto Desserts both inspired by your requests over the years. It's my prayer these keto cookbooks will help make keto a delicious breeze for you.
Join Our Jesus And Keto Movement
Looking for an online support system to help you stay the course on keto? As a family, we came to the keto diet looking at it from a Christian perspective. As believers, we live our lives supported by God's grace.
So when the Holy Spirit led us to combine our Christian faith and the keto diet, we did so in hopes of finding lasting transformation. When we followed the Holy Spirit's prompting we got on the path to real transformation.
Knowing firsthand the benefits of this decision we have created a closed Christian group that is using the keto diet to transform their lives. We invite you to join our Private Facebook Group and see if it's not the key you have been missing.
Be sure to request our FREE Jesus and Keto E-Book (First 7 Days) We hope it blesses you.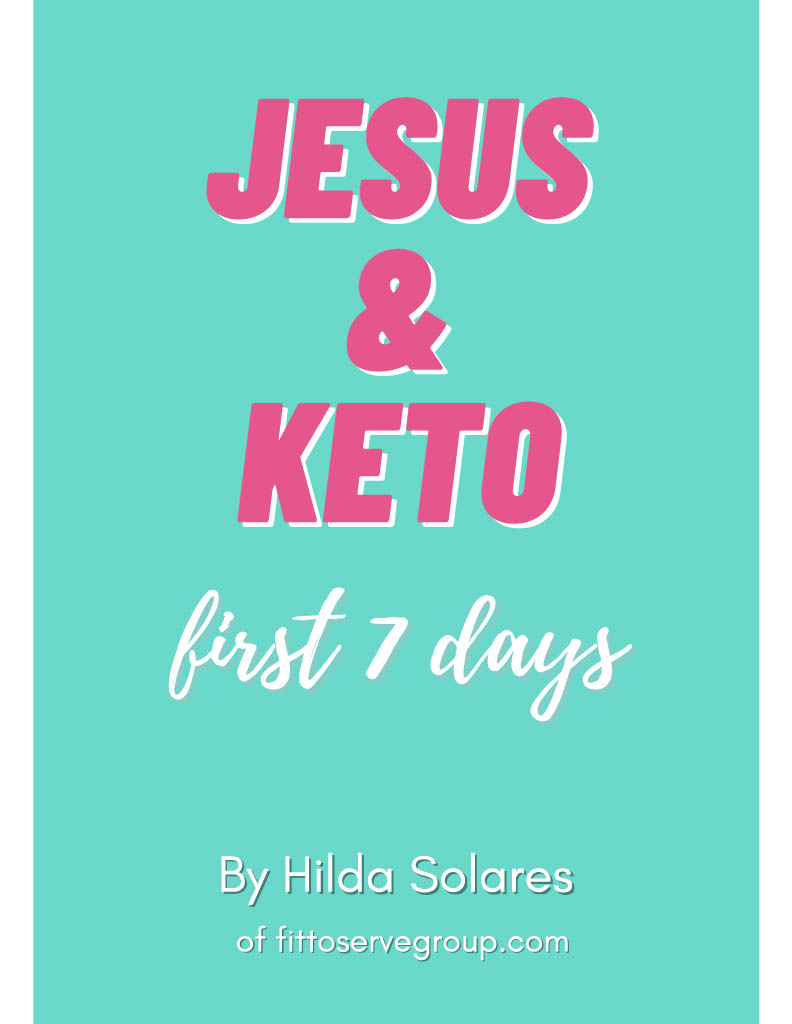 Fittoservegroup Keto App
Looking for a fast way to access our keto recipes? We got you covered. There's an app for that. Yup, there's a Fit To Serve Group App and it's going to make your keto diet a delicious breeze!
Access hundreds of recipes that are all sugar-free, gluten-free, and keto-friendly.
Enjoy early access to recipes before they go live on the website. Plus, bonus recipes that are exclusive to the app. Make your own personal cookbooks that you can use to organize your favorite recipes.
Search recipes by title, ingredients, keywords, and categories, and of course every recipe shows complete nutritional facts. Get the Fit to Serve Group App for easy-to-follow keto recipes made with easy-to-source ingredients.
The app is loaded with hundreds of yummy recipes for breakfast, lunch, dinner, snacks, and even desserts!
Learn more by visiting our Fit To Serve Group App Page.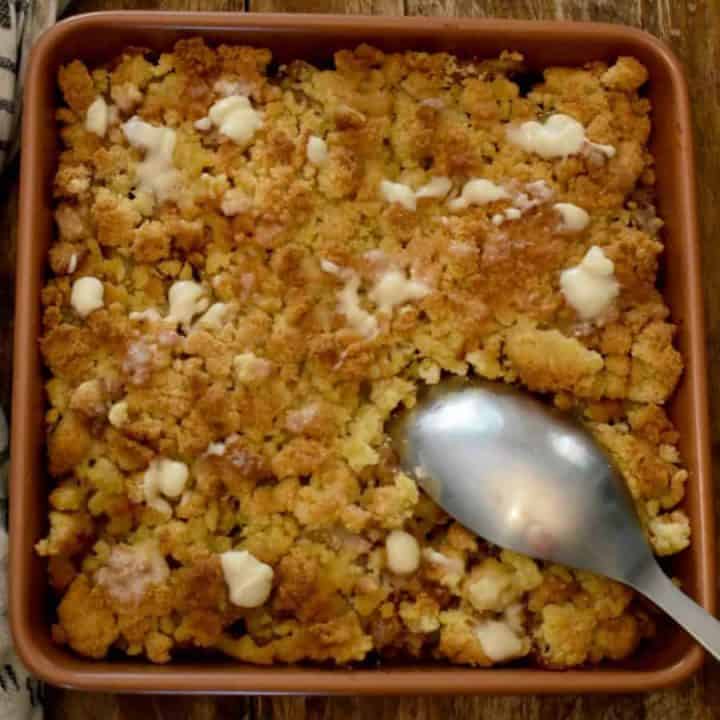 Keto Apple Cobbler
Total Time:
1 hour
10 minutes
This keto apple cobbler cleverly uses chayote squash instead of apples for a low carb keto friendly apple crisp substitute.
Ingredients
"Apple" Chayote Filling
4 Chayote Squash, cooked, peeled and sliced
2 Tablespoons of unsalted butter (cut into small pieces to dot the filling)
1/2 cup lemon juice
1/2 teaspoon of cream of tartar
Cobbler Topping
2 large eggs , room temperature
1/4 cup of cold unsalted butter (sliced into small pieces)
1 teaspoon baking powder
1/4 teaspoon of sea salt
Icing (optional)
4 tablespoons of heavy whipping cream
1/2 teaspoon of vanilla extract
pinch of sea salt
Instructions
Pre-heat 350
Filling
Boil the whole chayote with enough water to cover them.
Cook the chayote squash for about 25 30 minutes. They should still be firm but cooked through.
Allow the chayote squash to cool. Peel and slice the now cooled chayote into 1/4 inch slices.
Place the cooled chayote into a medium-size bowl.
To the chayote add the cinnamon, ginger, nutmeg, spices, sugar substitute, cream of tartar, and lemon juice. Combine well.
In a baking dish 9X9 baking dish that has been greased well with butter add the chayote filling.
Dot the filling with 2 tablespoons of sliced butter.
Cobbler Topping
Create the cobbler crust by combining almond flour, coconut flour, baking powder, salt, and 3 tablespoons of sugar substitute.
Using a pastry cutter or by hand-cut in the thinly sliced cold butter into the dry ingredients. Mix until crumbly and resembles coarse cornmeal.
Next, add the eggs and combine well but do not over mix. Set aside.
Assemble The Cobbler
Top the "apple" cobbler with the crumb crust. Make sure to break up the crust topping into small pieces and evenly distribute.
Bake in the oven at 350 degrees until hot and bubbly for 35-40 minutes.
Serve warm or cold.
Icing (Optional)
Combine the confectioner's sugar substitute, heavy whipping cream, vanilla extract, a pinch of salt.
Stir until well combined.
Drizzle on top of the warm cobbler.
Recommended Products
As an Amazon Associate and member of other affiliate programs, I earn from qualifying purchases.
Nutrition Information:
Yield:

12
Serving Size:

1
Amount Per Serving:
Calories:

113
Total Fat:

9.4g
Saturated Fat:

3.1g
Cholesterol:

41mg
Sodium:

43mg
Carbohydrates:

4.8g
Net Carbohydrates:

3.3g
Fiber:

1.5g
Sugar:

0.6g
Protein:

3.5g
SaveSave
SaveSave
SaveSave
SaveSave