Keto Pumpkin Coconut Flour Coffee Cake, a recipe that has all this season's pumpkin spice flavors minus the high carbs. This delicious keto pumpkin coffee cake is made with coconut flour making it not only keto-friendly but it's a nut-free and sugar-free option.
My recipe for keto almond flour pumpkin streusel coffee cake was quickly well-received. It encourages me so much when you all share your lovely pictures giving my recipe a thumbs up.
However, I wanted to create a low carb pumpkin coffee cake that did not use any nut flours. I have made it a point to try to add more recipes that are made with coconut flour and I am thrilled to say my collection is growing.
What's not to love about a keto pumpkin coconut flour coffee cake? After all, the use of coconut flour makes it even lower in carbs. If that doesn't inspire you to try this keto coffee cake I don't know what else will.
In case you don't know I have a complete list of Keto Cakes that any cake lover doing keto would enjoy exploring. I also have a vast list of keto pumpkin recipes that you also should check out.
My recipe for sugar-free pumpkin coffee cake is a spice-filled, moist, tender, treat. What's more, it's easy to make.
Every bite of this cake is packed with the pumpkin spices we all love during fall. Making it a great option during a season where high carb desserts run rampant.
Because I chose to make this keto pumpkin coffee cake with coconut flour instead of almond flour, now even individuals with nut allergies who are able to consume coconut have an option too.
Be sure to check out our entire collection of keto coconut flour recipes for more delicious options!
Keto Pumpkin Coconut Flour Coffee Cake
To ensure that you make the perfect keto pumpkin coconut flour coffee cake there are a few steps you want to remember.
First, make sure all your ingredients for the coffee cake are at room temperature. If you're in the habit of skipping this step, wise up and start making this step important.
Trust me it makes a world of difference when it comes to combining your ingredients if you remember to have your ingredients ready at room temperature.
Another vital tip is to make sure you are actually using pumpkin puree and not pumpkin pie filling. I can't tell you how often people make the mistake of using the wrong one.
How To Make A Keto Pumpkin Coconut Flour Coffee Cake
If that happens while doing a keto diet you will certainly be kicked out of ketosis since pumpkin pie filling is loaded with sugar.
Do make sure you melt your butter and then allow it to cool before adding it to the wet batter. You don't want to add hot butter to the mix unless what you're after is scrambled eggs with pumpkin.
Taking the time to measure and combine all your dry ingredients into a separate bowl before adding them to the wet ingredients, will ensure that everything gets incorporated well.
Disclosure: Some of the links below are affiliate links, meaning at no additional cost to you, I will earn a commission if you click through and make a purchase.
Keto Pumpkin Coffee Cake (Coconut Flour)
When baking this keto pumpkin coconut flour coffee cake, you can choose to bake it in a 9-inch springform pan or any other 9-inch baking pan.
I am really a fan of springform pans and it's why I opted to make my coconut flour version of my keto pumpkin coffee cake in it. But any baking pan including glass would work with this recipe.
I've topped my pumpkin coffee cake with a vanilla icing that takes this cake to even greater heights. It's made with Lakanto powdered sugar-substitute which if you haven't tried you want to put on your shortlist.
Because it's as close to confectioners sugar as you are going to get when going keto. It's become my go-to choice when making keto-friendly icing.
Making A Coconut Flour Keto Streusel Topping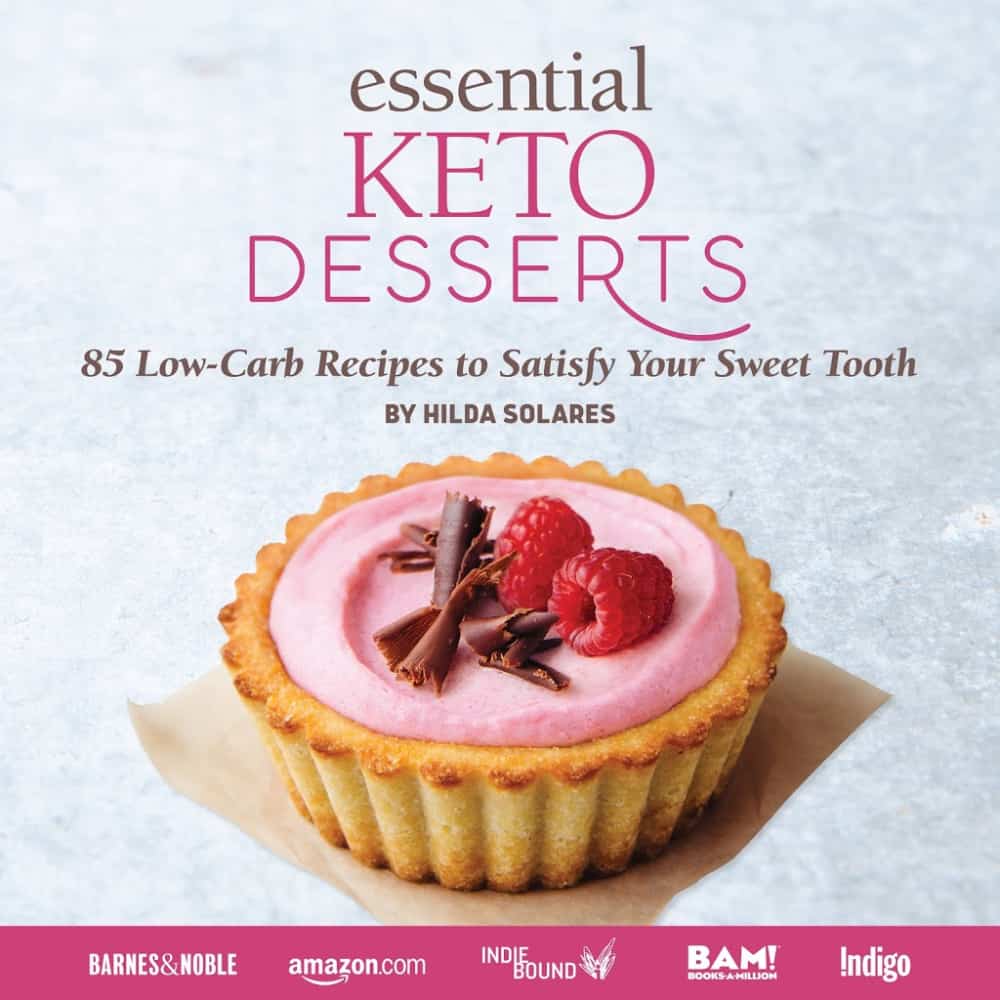 Thankfully, creating a coconut flour keto streusel topping for your pumpkin coffee cake is pretty straightforward.
You'll only need coconut flour, sugar substitute, butter, and some pumpkin-filled spices. If you can have nuts in your diet you can add a cup of your favorite chopped low-carb nuts to the topping.
Serving And Storing Keto Pumpkin Coconut Flour Coffee Cake
Your keto pumpkin coconut flour coffee cake can be served warm or at room temperature for the best flavor.
Store any leftovers covered in the refrigerator for up to 5 days. This coffee cake can be frozen for up to three weeks. I prefer freezing the cake whole and then allowing it to defrost in the refrigerator overnight.
Keto Pumpkin Recipes
If you're a fan of pumpkin make sure you also check out our other popular keto-friendly pumpkin recipes. Note that the recipe for this coconut flour pumpkin coffee cake is at the end of the page.
Tag Us
I sure hope you give this keto coconut flour pumpkin coffee cake a try. Once you do please remember to tag us with your pictures on Instagram and Facebook. It's what keeps this girl encouraged.
Be sure to also check our collection of keto coffee cakes for more delicious options!
Grab Our Books!
In case you don't know I have authored two books for you, Essential Keto Bread and Essential Keto Desserts both inspired by your requests over the years. It's my prayer these keto cookbooks will help make keto a delicious breeze for you.

Join Our Jesus And Keto Movement
In case you don't know, Randy and I came to the keto diet looking at it from a Christian perspective. As believers, we live our lives supported by God's grace.
So when the Holy Spirit led us to combine our Christian faith and the keto diet, we did so in hopes of finding lasting transformation.
To say we needed God's intervention is putting it mildly. When we followed the Holy Spirit's prompting to we got on the path to real transformation.
Knowing firsthand the benefits of this decision we have created a closed Christian group that is using the keto diet to transform their lives. We invite you to join our Private Facebook Group and see if it's not the key you have been missing.
Note that once you click the link you will be prompted to answer a few questions that ensure that you understand what this group stands for.
Favorite Keto Meal Planner
If you've been looking for an easy way to meal plan, consider checking out my review on Real Plans.
By using a keto meal planner you will free up your time by streamlining the process. I hope you agree with me that the last thing anyone needs, is to spend hours attempting to put a meal plan together.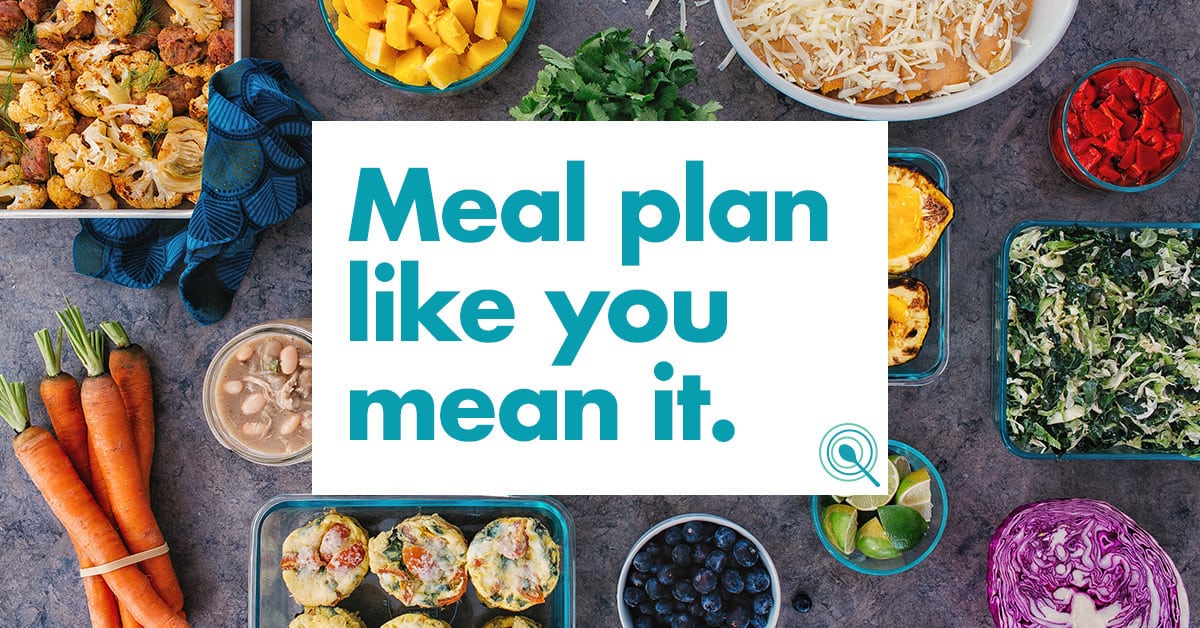 Real Plans will finally put an end to frustrating hours of trying to create healthy meals. After all, we all know how challenging it can be to meet the demands of our full lives.
I love how Real Plans understands that the average busy person has no clue how to meal plan successfully, let alone consistently. Plus you can even use our Keto Recipes to form to create your weekly meal plans.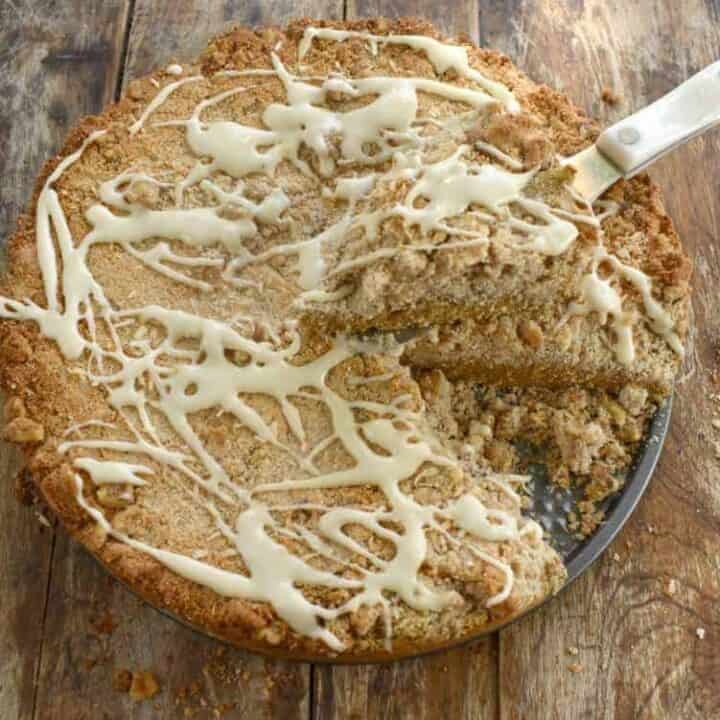 Keto Pumpkin Coconut Flour Coffee Cake
Keto Pumpkin Coconut Flour Coffee Cake is a spice filled cake that is low in carbs and keto friendly. This cake features a streusel topping that has the perfect crumb. And since it's made with coconut flour, it is also a nut-free option.
Ingredients
Keto Pumpkin Coffee Cake
2 teaspoons of baking powder
dash of clove powder
1/2 teaspoon of sea salt
1/4 teaspoon of baking soda
1/2 cup of unsalted butter melted and allowed to cool
3 large eggs
1/2 cup of sour cream
Keto Coconut Flour Streusel Topping
3/4 cup of coconut flour
1/3 cup of unsweetened coconut flakes
1/2 cup of unsalted butter (cold and thinly sliced)
1/2 teaspoon ground cinnamon
1/2 teaspoon of ground nutmeg
1/4 teaspoon sea salt
Keto Vanilla Icing
4-5 heavy whipping cream
1/2 teaspoon of vanilla extract
Instructions
Keto Pumpkin Coconut Flour Coffee Cake Batter
Pre-heat your oven to 350 degrees.
In a large mixing bowl, combine the coconut flour, sugar substitute, spices, baking powder, baking soda, sea salt and set aside.
In a medium sized bowl, stir the cooled melted butter, sour cream, and eggs until they are well combined.
Fold the butter, pumpkin puree, sour cream mixture into the dry ingredients.
Mix until well incorporated.
Spread the batter into the well 9-inch greased pan.
Keto Coconut Flour Streusel Topping
In a small bowl, combine the sugar substitute, coconut flour, coconut flakes, salt, cinnamon, ginger, and nutmeg.
To the dry ingredients add the cold thinly sliced butter and cut in the butter with a pastry cutter or two forks until the mixture resembles coarse crumbs.
Spread the coconut flour streusel to the top of the batter.
Gently tap the streusel into the surface of the cake to help it adhere to the cake batter.
Baking The Keto Pumpkin Coconut Flour Coffee Cake
Bake your keto pumpkin coconut flour coffee cake for 30 minutes in a pre-heated 350-degree oven in the center rack of your oven.
The cake will be done when an inserted toothpick comes out clean.
Keto Vanilla Icing
In a small bowl combine the confectioner's sugar substitute
Whisk in the 4 tablespoons of heavy whipping cream, the vanilla extract, and a pinch of salt. Add an additional tablespoon of cream if the icing is too thick.
Icing And Storying Your Keto Coffee Cake
Allow your cake to cool for at least 1 hour before drizzling the icing on top of the coffee cake.
Slice and serve your coffee cake warm or at room temperature.
Refrigerate any leftovers for up to 5 days.
The cake can be frozen for up to 3 weeks.
Recommended Products
As an Amazon Associate and member of other affiliate programs, I earn from qualifying purchases.
Nutrition Information:
Yield:

12
Serving Size:

1
Amount Per Serving:
Calories:

191
Total Fat:

19g
Saturated Fat:

11.7g
Cholesterol:

91mg
Sodium:

138mg
Carbohydrates:

3.6g
Net Carbohydrates:

2.2g
Fiber:

1.4g
Sugar:

1g
Protein:

2.6g