This keto banana pudding is the dessert that will singlehandedly bring back a Southern favorite in one fell swoop to your keto diet.
Before you think it's not possible to enjoy a low-carb version of banana pudding, I've got news for you, it is possible with just a few adjustments to the classic many of us loved.
If you've missed this dessert, I have a treat for you with this low-carb banana pudding recipe!
For starters, you should know that there are absolutely no bananas in this recipe. But that's ok because you'll still enjoy all the flavors without worrying about going over your keto macros.
Why are no real bananas in this recipe? Well, it's the only way it can genuinely be called keto, and that's important.
Unlike high-carb banana pudding recipes, this recipe will take a little more effort than when using boxed Nilla wafers or instant pudding.
But guess what? A homemade low-carb "banana" pudding is so worth setting time aside to make.
The first thing you'll need is half a batch of our keto vanilla wafer recipe. Trust me; you'll be glad you have leftovers because a serving of four cookies has less than 1 carb, so be sure you grab that recipe too.
Keto Banana Pudding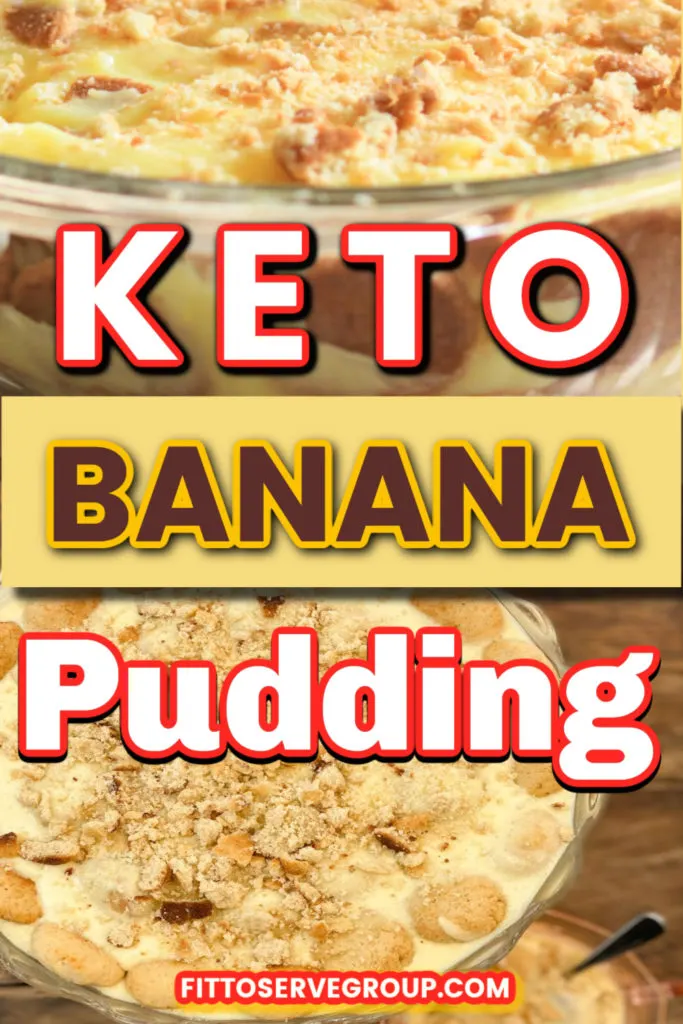 I'll confess that banana pudding being a Southern staple dessert, was a favorite in our home. I loved making a large homemade batch for when guests would come over.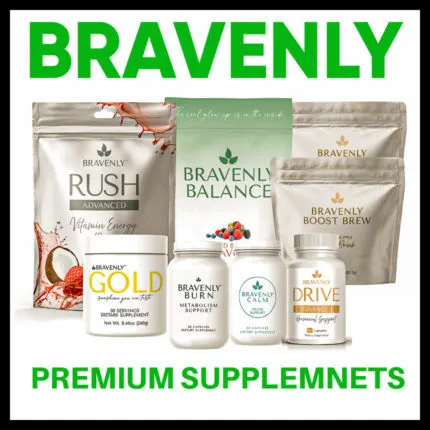 I have so many memories of when I would have the church youth group over for CONNECT and how they would devour the stuff.
However, once the ketogenic diet became a lifestyle, it was a recipe I could no longer enjoy. Look, it was hard to resist seconds of a recipe that consisted of bananas, homemade pudding, and vanilla wafers.
And therein lies the reason a sugar-free banana pudding recipe had to be birthed.
This girl hasn't tasted a banana, much less regular banana pudding, since 2013. That's a very l-o-n-g time and an achievement I'm kinda proud of.
That's not to say that every so often, I get a hankering for a sugar-laden dessert, but I quickly remind myself that it's not worth going down the path of sugar addiction again.
And it's also why I can't even add a little real banana to this recipe because it may trigger all sorts of stuff for this girl.
Are Bananas Keto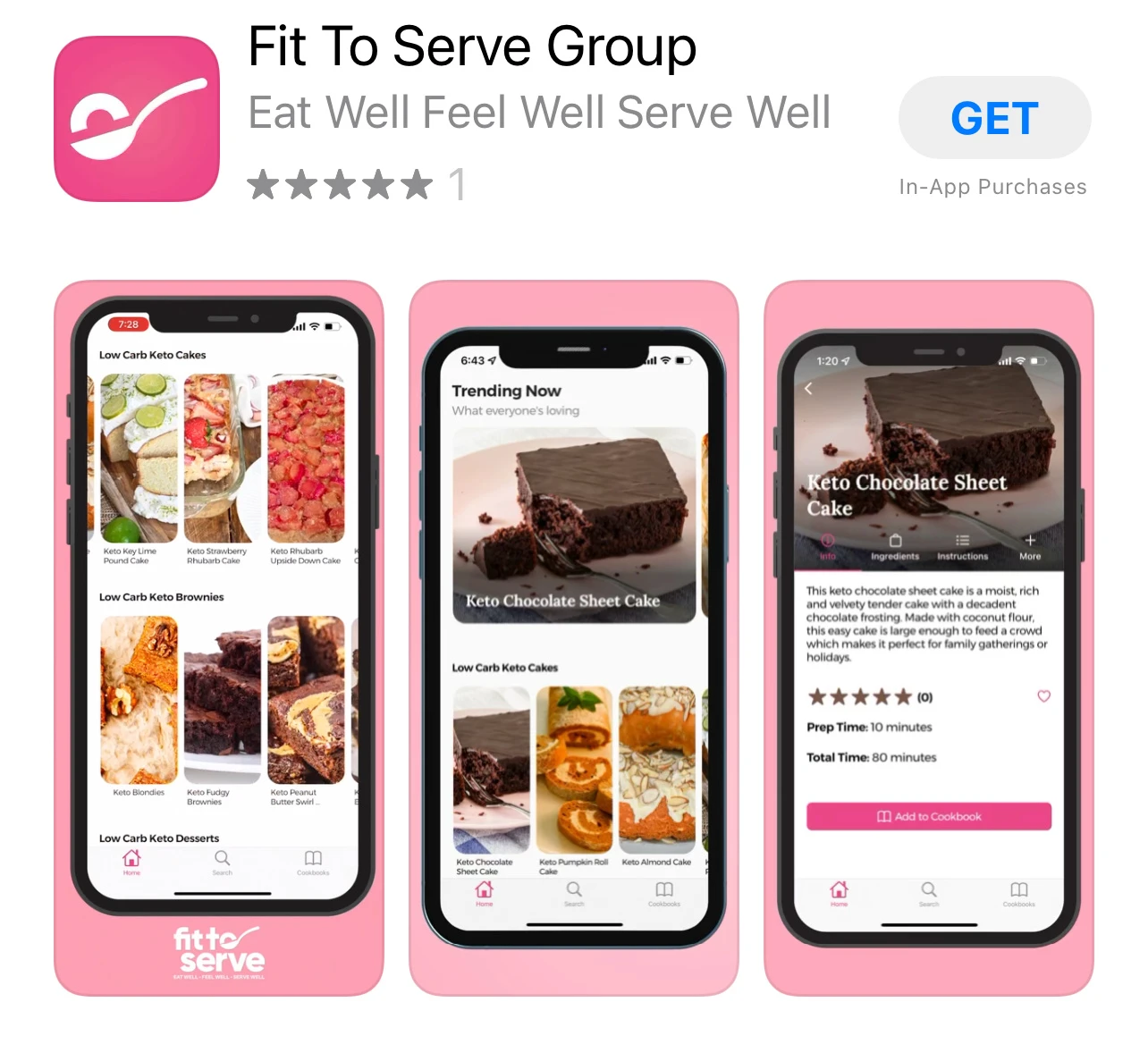 Are bananas high in carbs? Yes, bananas are quite high in carbs which is why they are not considered keto.
Look, bananas are not keto-friendly because they clock in at whopping 27 grams of carbs for a medium-sized banana. They are just too high in carbs to make the list of permissible keto-friendly fruits.
Having said this, I know some people can have a few more carbs and want to add a sliced banana to the recipe. Hey, if that's you, by all means, feel free to.
Like I tell my family and friends, I ain't the carb police, so you be you.
How To Make Low-Carb Banana Pudding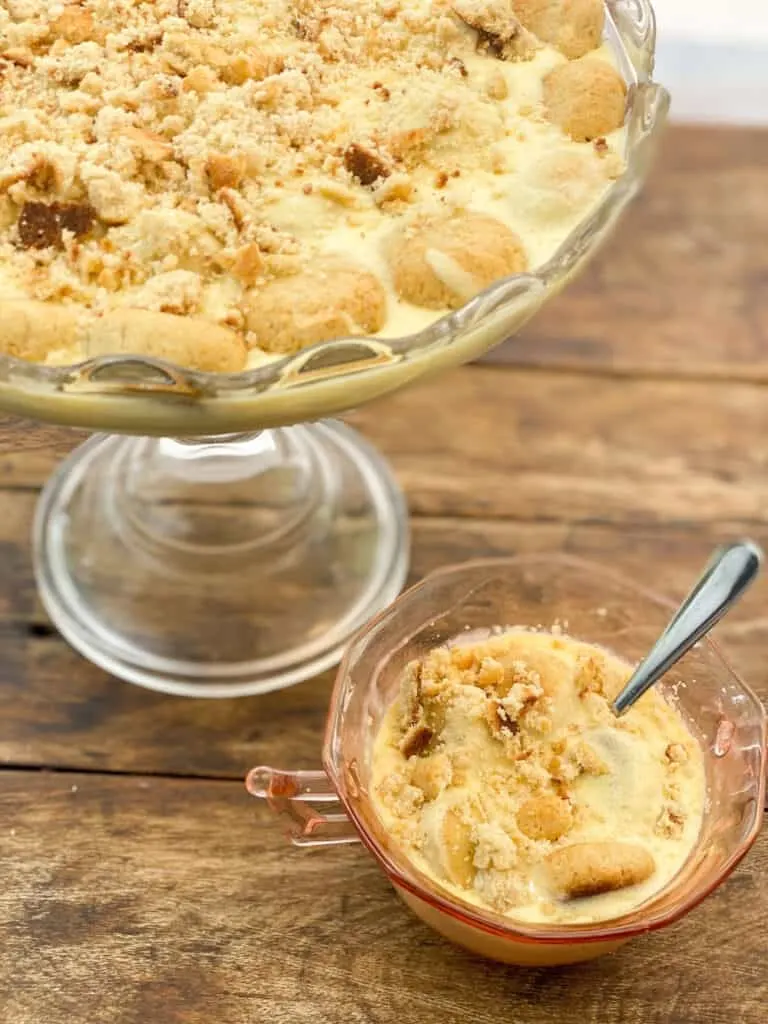 Disclosure: Some of the links below are affiliate links, meaning at no additional cost to you, I will earn a commission if you click through and make a purchase.
Trust me when I tell you that nothing is better than a made-from-scratch recipe. No way would I ever use instant banana pudding in my recipe during my high-carb days.
And now more than ever, I would never cut corners by using a sugar-free pudding. Ugh, the stuff that comes in a box is just loaded with stuff I refuse to consume.
Plus, a homemade, creamy pudding is unmatched by anything that is store-bought.
Come to my side; we have ketofied banana pudding!
Enjoying keto vanilla "Nilla" wafers on their own is pretty fabulous. But using them in an iconic Southern classic like this low-carb dessert, well, that's a whole nother level of yumminess.
The following are the ingredients and equipment you'll need. Note that the full printable recipe card is at the bottom of the post. Just scroll, my friends. It's what allows me to share my recipes for free.
Is Banana Extract Keto-Friendly?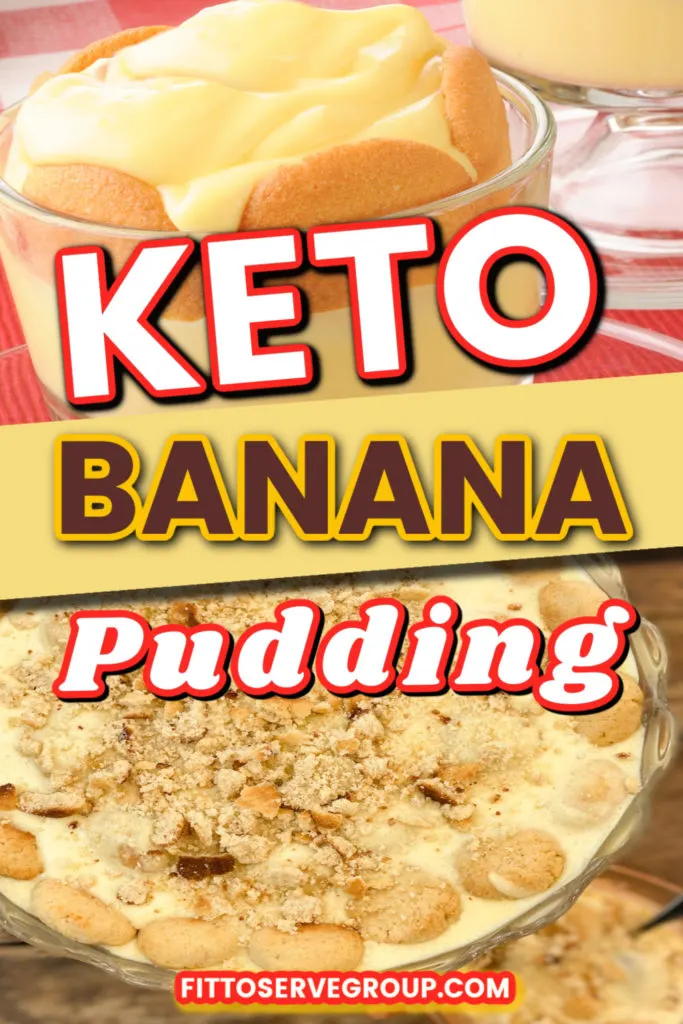 Right about you now, you may be wondering, Hilda, how on earth can you call this a banana recipe and not use any bananas?
Well, darling, that's where using a high-quality banana extract is the only way to gain flavor without the carbs.
I promise you won't miss the banana slices.
A high-quality banana extract is indeed keto-friendly and can fit into your macros easily. And since a little goes a long way, it's a great option for anyone doing a keto diet that is missing the flavor of ripe bananas.
Not all banana extracts are the same, so choose wisely. You want an extract that has a ripe banana flavor. This, of course, is my personal preference.
OliveNation Pure Banana Extract works really well in giving that rich banana taste without it tasting fake. Your tastebuds will think you've cheated, but they would be wrong.
Ingredients Needed For Keto Banana Pudding Recipe
A batch of Keto vanilla wafers (2 dozen, the entire recipe makes 4 dozen)
Heavy whipping cream (heavy cream)
Unsalted butter softened
Egg yolks, room temperature
Sea salt
Tools You'll Need For A Creamy Banana Pudding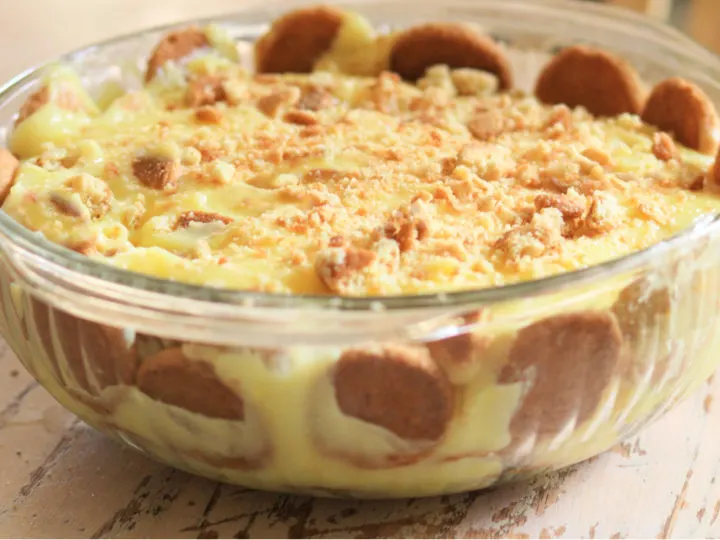 Best Sugar-Substitutes For Sugar-Free Banana Pudding
I have several options when it comes to which sweetener you can use in this homemade sugar-free banana pudding recipe. There's no denying I am partial to Lakanto Monk Fruit.
Lakanto Monk Fruit is my favorite since the texture and flavor are what I have found to be the closest to real sugar and because the flavor fools your taste buds like nothing else I've found in the market.
I'm also a fan of the brand Swerve which is an erythritol blend. Like Lakanto, it uses sugar alcohols and has a 0 % impact on blood sugar.
You could also use the stevia and erythritol-based brand Pyure if you prefer to use a stevia-based sweetener. I don't like using stevia because I am sensitive to the aftertaste.
But if that's not the case for you, you could certainly use it in this recipe. However, if you do, reduce the amount called for in the recipe by half since it's a much sweeter option.
Lastly, if you can't easily find a more natural sugar substitute, you can also use Splenda with success.
I know not everyone would agree with me here, and I respect that, but in my book, it's still better than regular sugar.
Tag Us
I sure hope you will give this keto banana dessert a try.
Once you do, make sure you remember to tag us on Instagram and Facebook. It's what keeps this girl encouraged to keep sharing and perfecting her recipes.
Also, check out our Amazon Store for our recommendations. You might be surprised by how many great keto options are at your disposal.
Other Sugar-Free Banana Desserts
Be sure to check out some other low-carb recipes with banana extract.
No-Bake Banana Split Cheesecake (Low-Carb)
Healthy Banana Cookies (Sugar-Free, Keto)
Grab Our Books & APP
In case you don't know, we have authored two books for you, Essential Keto Bread and Essential Keto Desserts, both inspired by your requests over the years.
I pray these keto cookbooks will help make keto a delicious breeze for you.
Gain access to simple and delicious recipes for breakfast, lunch, dinner, snacks, and even desserts with our FITTOSERVEGROUP APP.
Join Our Jesus And Keto Movement
Looking for an online support system to help you stay the course on keto? As a family, we came to the keto diet looking at it from a Christian perspective. As believers, we live our lives supported by God's grace.
Knowing firsthand the benefits of this decision, we have created a closed Christian group that is using the keto diet to transform their lives.
We invite you to join our Private Facebook Group and see if it's not the key you have been missing.
Be sure to request our FREE Jesus and Keto E-Book (First 7 Days) We hope it blesses you.
Keto Banana Pudding
This Keto banana pudding will bring back a classic Southern dessert. It's a delectable option for those doing keto. A mock "banana" pudding treat that is sure to fool your taste buds by using keto Nilla cookies and banana extract.
Ingredients
3 cups of heavy whipping cream
7 egg yolks
1 1/2 teaspoons of vanilla extract
2 tablespoons of unsalted butter, at room temperature
1/8 teaspoon of salt
Instructions
Prepare a batch of the keto vanilla wafers and while the cookies cool on the baking rack proceed to make the pudding.
To make the keto banana pudding, heat the heavy cream over low heat until hot using a medium-sized saucepan.
Stir in the vanilla and banana extracts and then set aside to cool.
In a medium-sized bowl, whisk the egg yolks, sugar-substitute using an electric mixer until the mixture is pale yellow.
After the cream has cooled to the touch, pour one 1/4 of the heavy cream mixture into the egg mixture, xanthan gum, salt and whisk until well combined. This is to temper the egg yolks.
Once the mixture has tempered add the remaining heavy cream and then pour the cream and egg mixture back into the saucepan and cook over low heat stirring continuously with a wooden spoon for about 7 minutes, or until the mixture begins to thicken. You'll know it's ready when the pudding is thick enough to coat the back of a wooden spoon without dripping.
Then turn off the heat and stir in the softened butter and stir until well combined.
Pour the pudding through a fine-mesh sieve into another medium-sized bowl. Place a sheet of cling wrap directly over the surface of the pudding to prevent a skin from forming.
Move the pudding into the refrigerator and allow it to cool for at least one hour.
Assemble The Dessert
To assemble the "banana" pudding dessert layer a trifle dish with half the pudding, followed by 12 cookies.
Next top with another layer of pudding and then crumble the other 12 cookies on top or just leave them whole and crumble a few.
Refrigerate the dessert to allow the flavors to meld and for the cookies to soften.
Store leftovers in the refrigerator for up to 5 days.
Nutrition Information:
Yield:

10
Serving Size:

1
Amount Per Serving:
Calories:

230
Total Fat:

23g
Saturated Fat:

13.9g
Cholesterol:

227mg
Sodium:

55mg
Carbohydrates:

2.9g
Net Carbohydrates:

2.6g
Fiber:

.3g
Sugar:

.3g
Protein:

2.8g