Keto Strawberry Rhubarb Scones because strawberries and rhubarb are true besties that were meant to live side by side. Recently I got my hands on some fresh rhubarb, apparently, that's not such an easy task here in South Florida.
Thrilled that I did, I immediately decided it was time I created another rhubarb recipe. And I thought what better than a recipe for Keto-friendly Strawberry Rhubarb Scones.
Not only did these turn out amazing but they gave me another recipe for my growing collection of keto scone recipes. After my Keto Strawberry Rhubarb Crumble recipe was well received, I kept watching for an opportunity to create another keto recipe that featured rhubarb's tang.
And if you are a fan of pies, then my recipe for Keto Strawberry Rhubarb Pie is another one you should check out.
The only problem was that finding fresh rhubarb in Florida was the equivalent of finding a magical unicorn. I'm not kidding you here.
So when I began getting requests for more keto rhubarb recipes because you had a bumper crop of rhubarb, it was hard for me not to be jealous.
Honestly, because I can't tell you how many times I would see the red stalks of swiss chard and get all excited thinking I had spotted some fresh rhubarb only to realize I was dead wrong.
I can only hope that those of you who do have fresh rhubarb easily available are not mistaken for swiss chard because, in the case of rhubarb, the leaves can be toxic.
But something tells me that kinda mistake is reserved for folks like me who do not get their hands on fresh rhubarb often enough.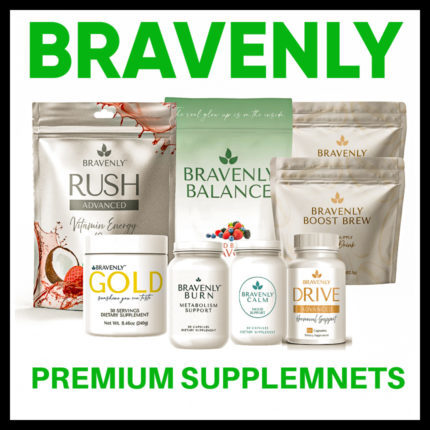 Keto Strawberry Rhubarb Scones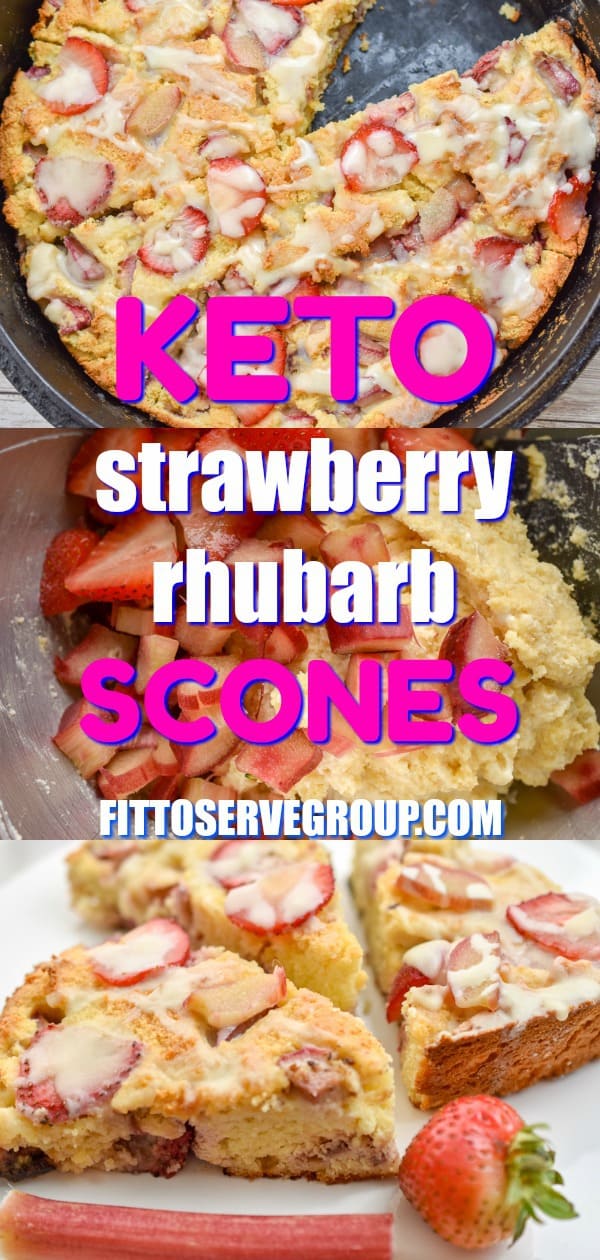 Once I realized that rhubarb comes into season for only a short window, that's April to June. I quickly ran to the only place I thought for sure I could get my hands on some, Whole Foods. Thankfully, I was not disappointed.
I was on a mission to make rhubarb scones and would not be denied.
But here's a funny story, since rhubarb is so rare in these parts that even some employees didn't know for certain if what I had in my hands was truly rhubarb or red celery.
It didn't help that the label was missing on the rhubarb stand. But red celery? Is that even a thing? My son later confirmed it was. Yup, this girl is still in need of learning a lot.
After someone finally confirmed it was indeed rhubarb I grabbed just about all the rhubarb on the stand. I left behind only three stalks, cause I felt kinda guilty taking them all.
So I left behind just enough for someone else to make a rhubarb treat. I never said I was perfect guys, just forgiven. Ha!
Moving on, it's no wonder that many recipes pair strawberries with rhubarb because they come into season at the same time.
Plus, they provide each other with the perfect balance of sweetness and tartness. They are a dynamic duo for these strawberry rhubarb scones. A match made in baking heaven as far as I'm concerned.
My scone recipe makes a fabulous addition to a springtime brunch or as an afternoon snack or even dessert.
This recipe can be made in a 9-inch round cake pan, but I love using a cast-iron skillet because doing so gives them a crisp scone edge minus the fuss of rolling out the dough and then cutting them like biscuits.
Low Carb Strawberry Rhubarb Scones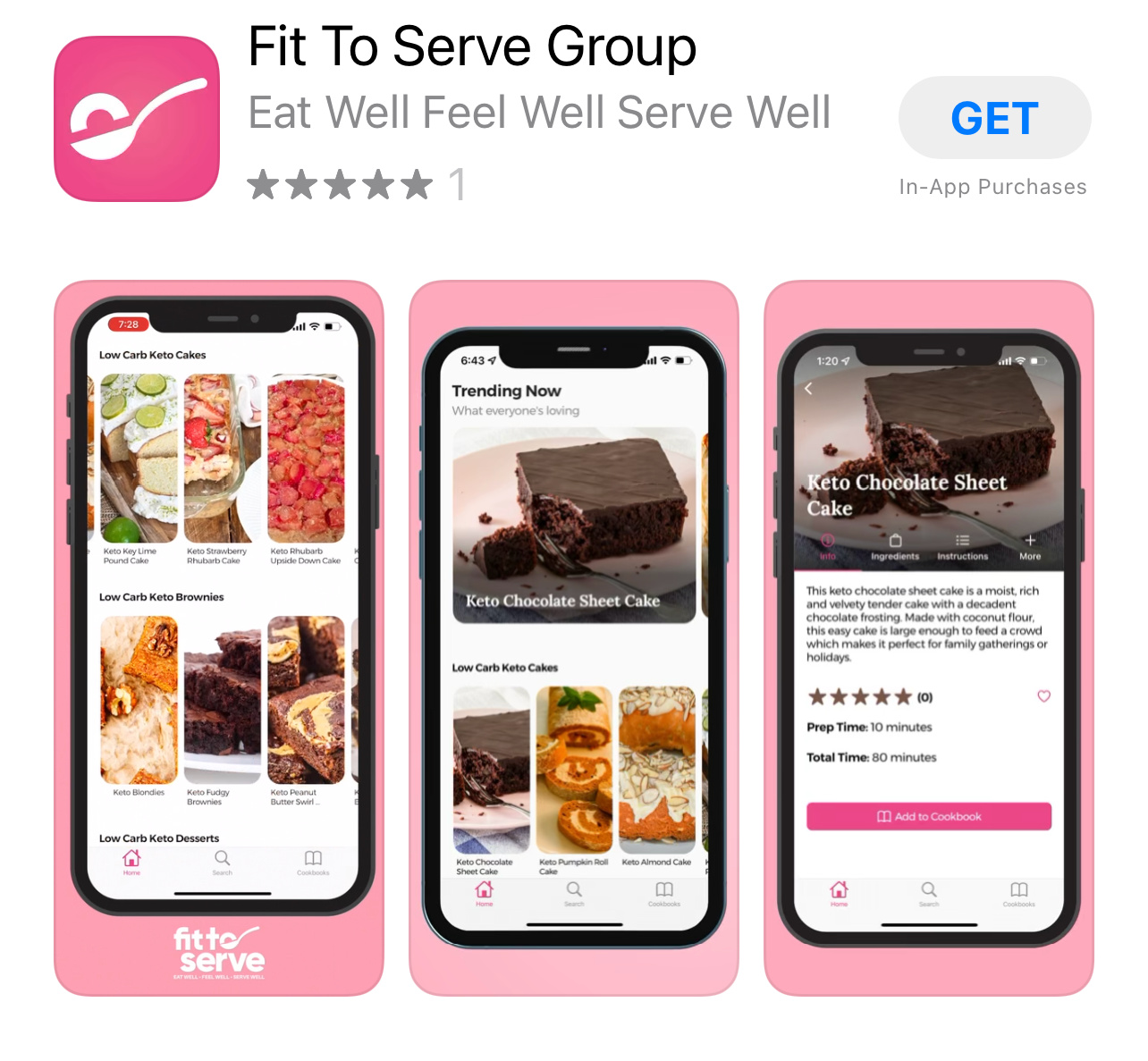 I decided on a rhubarb scones recipe because I knew the rich flavor of my basic low-carb scone recipe would be a perfect fit for these two flavors. I also added a drizzle of vanilla icing to further enhance them. All I can say is yum, yum, yum.
The good thing is that you can also make these scones using frozen rhubarb if you're hankering for some rhubarb but the small seasonal window has come to a close.
Or if you happen to grow your own rhubarb and are fortunate enough to be able to stock your freezer for future recipes. I hope you recognize just how blessed you are?!?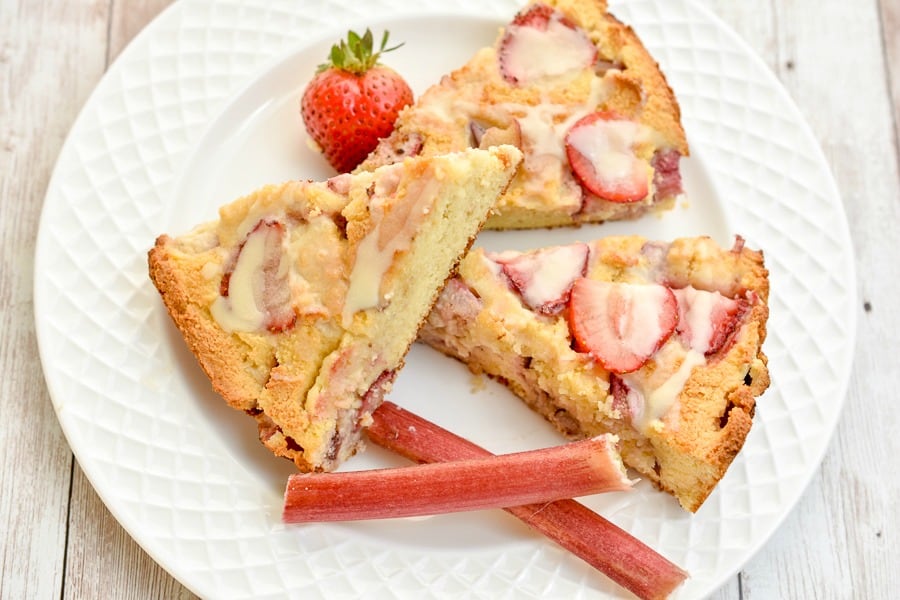 If that's the case don't worry about defrosting them. But freeze them in small thin slices.
Like I said I've used my keto base scone recipe before, seen here in my Keto Strawberry Scones, Keto Chocolate Chip Scones, and my Keto Blueberry Scones.
In the case of these low-carb strawberry rhubarb scones, I simply added some thinly sliced rhubarb and fresh strawberries then folded the batter and baked it in my cast-iron skillet.
Scones can sometimes be on the dry and crumbly side. But that's not the case with any of my Keto Scones. In fact, all my scones are moist and have the perfect tender crumb texture. And these strawberry rhubarb scones are no exception.
How To Make Keto Strawberry Rhubarb Scones
Disclosure: Some of the links below are affiliate links, meaning at no additional cost to you, I will earn a commission if you click through and make a purchase.
Plus, this recipe is just a mix-and-spread-in-the-pan kind of recipe. A serious win in my book. Because if your schedule is anything like mine, saving time in the kitchen always makes sense.
I will add that if you rather your healthy rhubarb scones not be on the sweet side, then skip the vanilla glaze. Although, you should at least try them with the glaze once, just saying.
To make these easy keto scones you'll just need the following basic ingredients:
Fresh or frozen thinly sliced rhubarb
Fresh sliced strawberries
Sour Cream
Eggs
Melted butter
Baking powder and salt.
*Note that the full recipe is at the bottom of this post.
I sure hope you will give this recipe for keto strawberry rhubarb scones a try. Once you do, make sure you remember to tag us on Instagram and Facebook. It's what keeps this girl encouraged to keep sharing and perfecting her recipes.
As a fan of strawberries, you might want to also visit this collection of keto strawberry recipes for more delicious options!
Also, check out our Amazon Store for recommendations. You might be surprised by how many great keto options are at your disposal.
Grab Our Books!
In case you don't know we have authored two books for you, Essential Keto Bread and Essential Keto Desserts both inspired by your requests over the years. It's my prayer these keto cookbooks will help make keto a delicious breeze for you.
Join Our Jesus And Keto Movement
Looking for an online support system to help you stay the course on keto? As a family, we came to the keto diet looking at it from a Christian perspective. As believers, we live our lives supported by God's grace.
So when the Holy Spirit led us to combine our Christian faith and the keto diet, we did so in hopes of finding lasting transformation. When we followed the Holy Spirit's prompting, we got on the path to real transformation.
Knowing firsthand the benefits of this decision, we have created a closed Christian group using the keto diet to transform their lives. We invite you to join our Private Facebook Group and see if it's not the key you have been missing.
Be sure to request our FREE Jesus and Keto E-Book (First 7 Days) We hope it blesses you.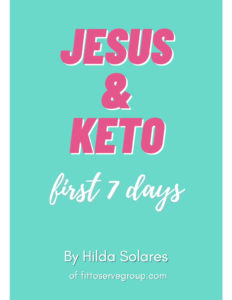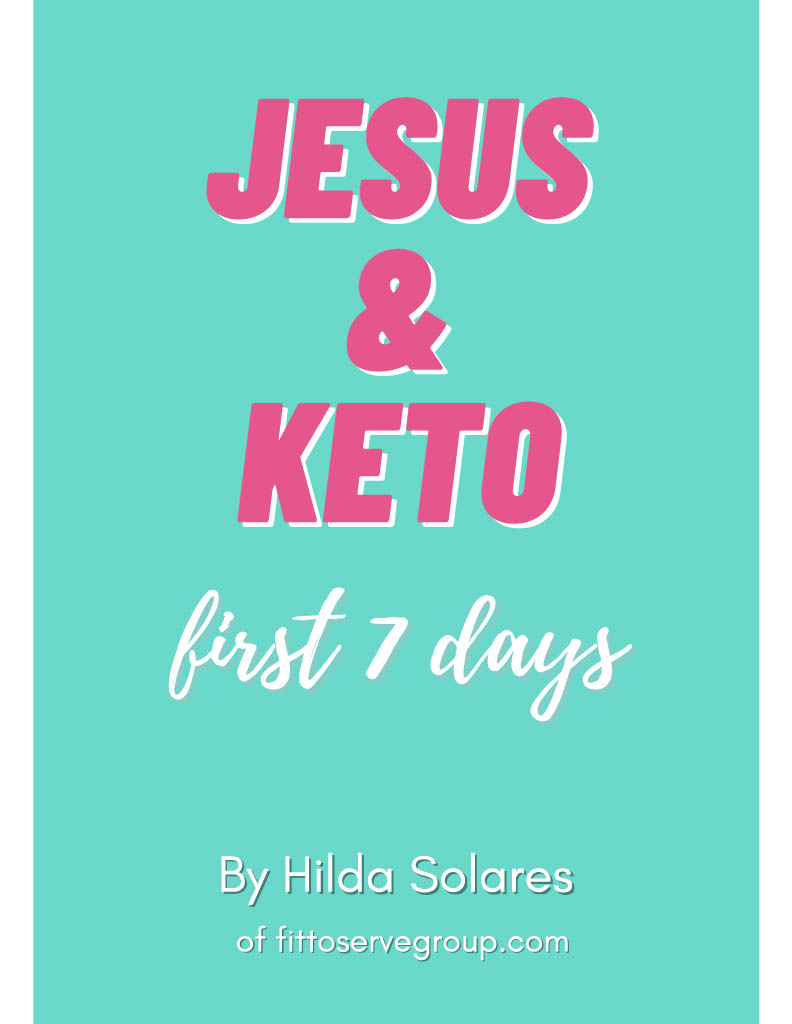 Fittoservegroup Keto App
Looking for a fast way to access our keto recipes? We got you covered. There's an app for that. Yup, there's a Fit To Serve Group App and it's going to make your keto diet a delicious breeze!
Access hundreds of recipes that are all sugar-free, gluten-free, and keto-friendly.
Enjoy early access to recipes before they go live on the website. Plus, bonus recipes that are exclusive to the app. Make your own personal cookbooks that you can use to organize your favorite recipes.
Search recipes by title, ingredients, keywords, and categories, and of course every recipe shows complete nutritional facts. Get the Fit to Serve Group App for easy-to-follow keto recipes made with easy-to-source ingredients.
The app is loaded with hundreds of yummy recipes for breakfast, lunch, dinner, snacks, and even desserts!
Learn more by visiting our Fit To Serve Group App Page.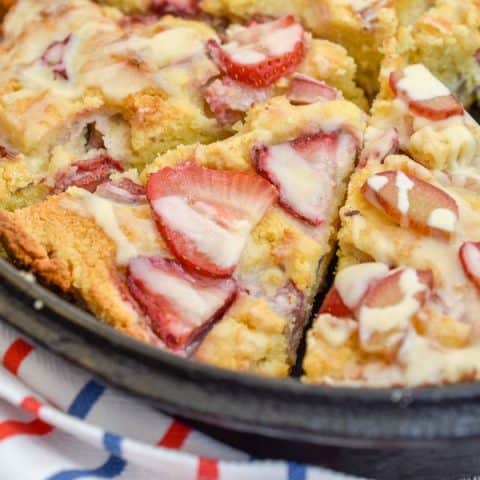 Keto Strawberry Rhubarb Scones
Keto Strawberry Rhubarb Scones- a delicious no need to roll scone recipe that features the bright flavors of strawberries and rhubarb in one easy low carb scone recipe.
Ingredients
Keto Strawberry Rhubarb Scones
¾ cup strawberries sliced thinly
¾ cup of fresh or frozen rhubarb sliced thinly
1/2 cup full-fat sour cream
4 tablespoons of unsalted melted butter
3 eggs
1 ½ teaspoons of baking powder
¼ teaspoon of sea salt
Keto Vanilla Icing
1/2 teaspoon vanilla extract
3-4 tablespoons of heavy whipping cream
Instructions
Keto Strawberry Rhubarb Scones
Pre-heat oven to 375 degrees.

Melt the butter and set aside to cool. Using an electric mixer combine the sugar substitute, cooled melted butter and the eggs.

Add the sour cream and combine well.

Next add almond flour, coconut flour, baking powder, sea salt. Mix until fully combined.

Lastly, fold in the sliced strawberries and rhubarb. Note if using frozen rhubarb there is no need to defrost. However, the rhubarb would have to have been thinly sliced prior to freezing.

Spread the batter (note that it will be thick) into fully greased 9-inch cast-iron skillet or round cake pan.

Bake for 25-35 minutes or until an inserted toothpick comes out clean.

Allow your scones to fully cool and then drizzle with keto vanilla icing.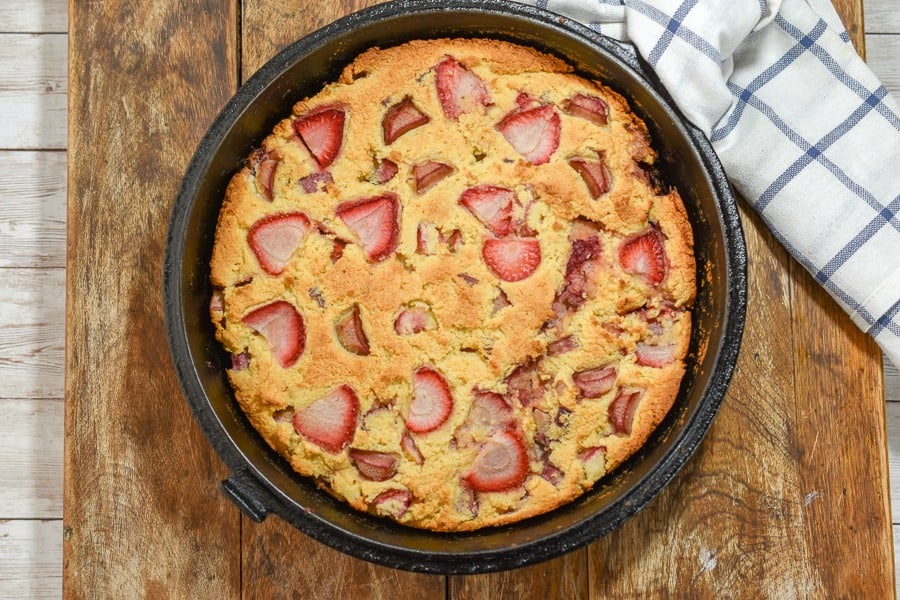 Keto Vanilla Icing
Combine the confectioners' sugar substitute, vanilla extract and heavy whipping cream.
Start by adding three tablespoons of heavy cream and add an additional tablespoon of cream if too think and needs to be thinned.
Notes
You can use either fresh or frozen rhubarb. But to do so you will need slice the rhubarb thinly prior to freezing.
Store your keto strawberry rhubarb scones in the refrigerator for up to 5 days or freeze for up to three weeks without the icing.
Recommended Products
As an Amazon Associate and member of other affiliate programs, I earn from qualifying purchases.
Nutrition Information:
Yield:

10
Serving Size:

1
Amount Per Serving:
Calories:

214
Total Fat:

18.7g
Saturated Fat:

6.9g
Trans Fat:

0g
Unsaturated Fat:

0g
Cholesterol:

75mg
Sodium:

68mg
Carbohydrates:

6g
Net Carbohydrates:

4.4g
Fiber:

2.4g
Sugar:

0.8g
Protein:

6g