This keto strawberry rhubarb cake makes the perfect seasonal cake. It features a vanilla cake that is infused with the flavors of strawberries and rhubarb and drizzled with vanilla icing that takes it over the top.
It's an easy way to enjoy a keto strawberry rhubarb coffee cake. Unlike most of our keto coffee cakes, this cake doesn't have a crumb topping, which keeps things lighter.
It's fair to say that I simply can't get enough of rhubarb and when it's combined with strawberries, well it has my heart.
Need proof of my love of rhubarb? Just check out my large collection of keto rhubarb recipes. I'm sure you are sure to find some new favorites.
Keto Strawberry Rhubarb Cake
What's especially nice about this low-carb strawberry rhubarb cake is that is so simple to make. Unlike my keto strawberry rhubarb pie, that although so worth the extra work, requires you to make time to make the crust first. This cake however is fuss-free.
It's perfect when you have a bounty of rhubarb and looking for a delicious, quick treat.
How Long Is Rhubarb In Season?
If you want to use fresh rhubarb keep in mind that rhubarb is in its peak season mid-spring to mid-summer. There are some varieties of rhubarb such as hothouse that can lengthen the season as late as winter and early spring.
Depending on where you live it will be easy to source or hard to come by. Here in South Florida, there are years that make it quite hard to get your hands on fresh rhubarb. That being said there are some places you can get it shipped.
The good news is that this recipe can use both fresh or frozen rhubarb which is much easier to find. Or when I do get my hands on some fresh rhubarb I freeze what I can't use within a couple of weeks max.
Ingredients Needed For This Keto Strawberry Rhubarb Coffee Cake
Disclosure: Some of the links below are affiliate links, meaning at no additional cost to you, I will earn a commission if you click through and make a purchase.
The following are the ingredients you'll need for this recipe. Note that the full printable recipe card is at the bottom of the page.
Keto Strawberry Rhubarb Coffee Cake
Baking powder
Sea salt
Melted butter cooled
Sour cream, room temperature
Vanilla extract
Fresh or frozen rhubarb
Strawberries
Eggs, room temperature
Keto Vanilla Icing
Vanilla extract
Pinch of salt
Heavy cream
How To Make A Keto Strawberry Rhubarb Cake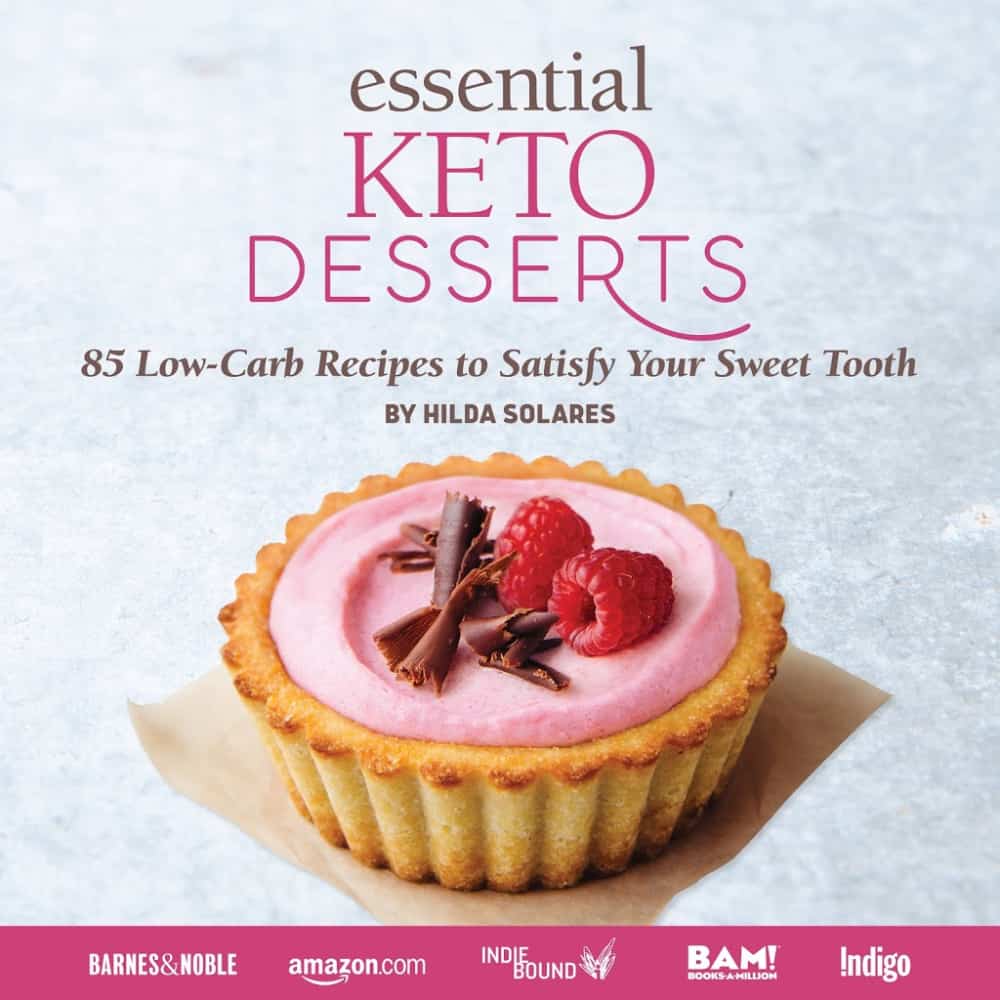 I have a few tips you will want to keep in mind when making this keto-friendly strawberry rhubarb cake. After all, you want your coffee cake to be amazing enough for everyone in your family to enjoy including those who are not doing keto.
When making this strawberry rhubarb gluten-free cake I recommend that all your ingredients be at room temperature. Doing so will allow your batter to blend easily and ensure that your coffee cake is moist.
I made my coffee cake in an 11 x 7.1 -inch baking pan but you can also make it in a 10-inch springform pan
or even a 10X10 inch square pan.
Best Sugar Substitute For Keto-Friendly Strawberry Rhubarb Coffee Cake
When it comes to choosing which sugar substitute to use for this sugar-free strawberry rhubarb cake, I have several for you to choose from.
My go-to choice is Lakanto Monk Fruit because the texture is spot on and since there is barely any aftertaste. It is a monk fruit and erythritol blend.
Lakanto Monk Fruit gets its sweetness from antioxidants called mogrosides, instead of fructose or sucrose. It's why it's a great all-natural sugar substitute and has zero calories and zero glycemic index.
I'm also partial to Swerve an erythritol blend. Unlike other natural sweeteners like stevia, it has no bitter aftertaste and measures just like sugar.
Swerve is the name brand of Erythritol it's unlike other sugar alcohols that have a 0 % impact on blood sugar.
You could also use the stevia and erythritol-based brand Pyure for most of my baked goods.
But if using Pyure you will want to use 1/2 the amount called for in this recipe since it's much sweeter.
If you can easily find a more natural sugar substitute you can also use Splenda with great success.
You will need a confectioner's sugar substitute for keto vanilla icing. Thankfully, both Lakanto and Swerve have great ones.
Tag Us
I sure hope you will give this keto strawberry rhubarb cake recipe a try. Once you do, make sure you remember to tag us on Instagram and Facebook. It's what keeps this girl encouraged to keep sharing and perfecting her recipes.
Also, check out our Amazon Store for our recommendations. You might be surprised by how many great keto options are at your disposal.
Grab Our Books!
In case you don't know we have authored two books for you, Essential Keto Bread and Essential Keto Desserts both inspired by your requests over the years. It's my prayer these keto cookbooks will help make keto a delicious breeze for you.
Join Our Jesus And Keto Movement
Randy and I came to the keto diet looking at it from a Christian perspective. As believers, we live our lives supported by God's grace.
So when the Holy Spirit led us to combine our Christian faith and the keto diet, we did so in hopes of finding lasting transformation.
To say we needed God's intervention is putting it mildly. When we followed the Holy Spirit's prompting to we got on the path to real transformation.
Knowing firsthand the benefits of this decision we have created a closed Christian group that is using the keto diet to transform their lives. We invite you to join our Private Facebook Group and see if it's not the key you have been missing.
Note that once you click the link you will be prompted to answer a few questions that ensure that you understand what this group stands for.

Favorite Keto Hack To Stay On Track!
Arming yourself with keto recipes is certainly key in doing this diet long enough to see the many benefits. But even with the best low-carb ketogenic recipes sometimes additional help is needed.
This is when we also encourage you to have the right supplements to help you get and stay in ketosis. Because when you have the right tools the keto diet becomes easier.
Perhaps you've struggled to get into ketosis consistently on your low-carb keto diet, or you've hit a plateau that doesn't seem to budge, consider using Perfect KETO's bundle to assist you. It's a great way to see the benefits sooner rather than later.
You'll learn how to elevate your ketones naturally enter into ketosis more quickly. Being at a deeper level of ketosis will help reduce your appetite, carb cravings, and give you lasting energy. These are the things you want to see happen as they make this diet sustainable and it's why we recommend them.
Perfect Keto has offered our readers a 15% discount on their products. Simply use this link for all qualifying products and the code FITTOSERVE at checkout
Keto Strawberry Rhubarb Cake
This delicious keto strawberry rhubarb cake is bursting with the flavor of strawberries and rhubarb. Made with a combination of almond and coconut flour this low-carb strawberry rhubarb cake has the perfect texture. It's a seasonal treat!
Ingredients
Keto Strawberry Rhubarb Cake
2 1/2 teaspoons of baking powder
1/2 teaspoon of sea salt
½ cup melted butter cooled
1 1/4 cup of sour cream, room temperature
1 teaspoon of vanilla extract
1 1/2 cups of fresh strawberries, sliced
3 eggs, room temperature
1 1/2 cups of chopped rhubarb about 4 stalks
½ cup cold unsalted butter sliced thinly
¼ teaspoon of sea salt
Keto Vanilla Icing
1/2 cup of confectioner's sugar substitute
1/4 teaspoon of vanilla extract
Pinch of salt
1/4 cup of heavy cream
Instructions
Grease an 11 x 8 -inch pan with butter.
Wash, dry, and slice the rhubarb and strawberries. Set aside.
Preheat oven to 350 degrees.
In a large bowl combine the sifted almond flour, coconut flour, sugar substitute, baking powder, and salt. Set aside.
Melt the butter and allow it to cool.
In a medium-sized bowl, combine the cooled melted butter, sour cream, vanilla extract, and eggs until they are well combined. Set aside.
Add the wet mixture to the large bowl of dry ingredients. With a spatula mix the batter until well incorporated.
Fold in 1/2 of the sliced strawberries and rhubarb into the batter.
Spread the batter to the prepared pan.
Add the remaining sliced strawberries and rhubarb onto the surface of the cake pressing them gently onto the cake.
Bake the cake for 35-40 or until the cake is lightly browned and an inserted toothpick comes out clean.
Icing: In a small bowl, combine the confectioner's sugar substitute, salt, vanilla extract, and heavy cream. Note the icing should be made once the cake has cooled so that it does not harden.
Allow the cake to cool for 20 minutes on a baking rack before drizzling the icing and serving.
Store leftovers in the refrigerator for up to 5 days or freeze for up to 3 weeks.
Notes
This cake can also be made with sliced frozen strawberries and rhubarb. If you go this route allow them to defrost before folding into the cake batter.4
Nutrition Information:
Yield:

16
Serving Size:

1
Amount Per Serving:
Calories:

250
Total Fat:

21.8g
Saturated Fat:

8.1g
Trans Fat:

0g
Cholesterol:

39mg
Sodium:

71mg
Carbohydrates:

4.9g
Net Carbohydrates:

2.8g
Fiber:

2.1g
Sugar:

.9g
Protein:

3.9g