The tartness of rhubarb combined with the natural sweetness of strawberries makes for the perfect spring & summer dessert. This recipe for keto strawberry rhubarb crumble is not only delicious but it comes together easily.
I can't exactly remember the first time I tried a recipe that combined strawberries and rhubarb but what I do remember is how one bite and I was smitten.
Since then I became an instant fan of the combination of strawberries and rhubarb. So whenever I saw any dessert option that included these two I made sure to have a serving, maybe two.
It should not come as a surprise that strawberries and rhubarb pair well together because they come into season at around the same time. These opposite flavors come together beautifully when cooked and the tartness of rhubarb is allowed to mellow.
This is why once I went keto I had to come up with a low carb strawberry rhubarb crumble recipe ASAP. Or otherwise, risk falling into a food temptation that would certainly kick me out of ketosis.
If you're as much a fan of rhubarb, you should also check out my recipe for Keto Strawberry Rhubarb Pie and Keto Strawberry Rhubarb Scones. It's also a delicious seasonal treat.
Don't forget to also check out my other keto pie recipes that include traditional pies, tarts, and cobblers!
Creating keto versions of my favorite dishes has become a passion of mine. So when I started getting a craving for rhubarb I was determined to make a keto-friendly option.
Keto Strawberry Rhubarb Crumble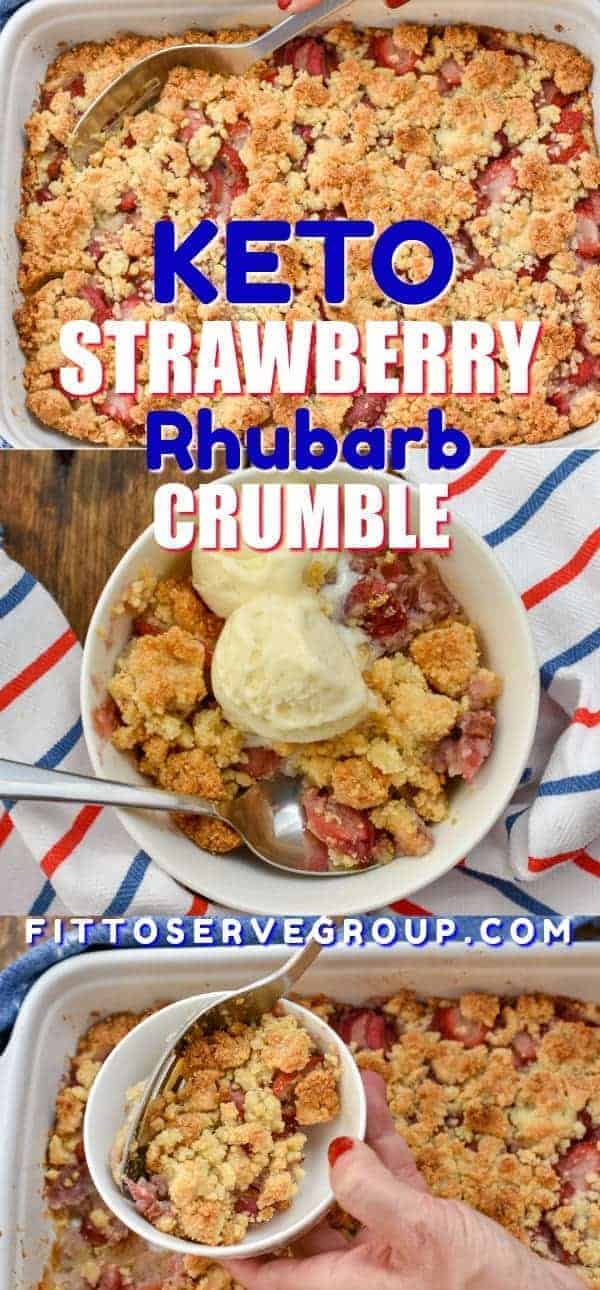 Isn't it incredibly frustrating to be on the hunt for a certain ingredient and keep coming up empty-handed? Well, that was me searching for rhubarb. It seemed that no matter where I checked I couldn't find rhubarb in any of my local supermarkets.
When I mentioned this to my daughter she quickly signed up to start the search with me. Because she too remembered how delicious my traditional cobbler used to be.
You will be happy to know that our determination paid off with an amazing recipe for low-carb strawberry rhubarb crumble dessert that is not only delicious but easy to make.
I used frozen rhubarb in this recipe and I did not have to thaw it prior to use. You can also use frozen sliced strawberries in this recipe but it must be sliced. Here again, there is no need to defrost.
When baked the rhubarb and strawberries bubble in their juices along with the cobbler for one amazing treat. I promise that if you're a fan of this combination doing keto, you won't be disappointed with this recipe.
Is Rhubarb A Fruit Or A Vegetable?
You may be wondering if rhubarb is a fruit or a vegetable because years ago I had no idea how to classify it. Well, rhubarb is actually a vegetable but due to its tartness, it's used often in desserts and combines well with other fruits.
It's actually a perennial plant that has stalks very similar to celery except it has a bright red stalk. Some people even eat it raw but the very tart flavor lends itself well to being cooked and sweetened.
Rhubarb is a great source of antioxidants, fiber, and vitamin K. In fact, it's being called by some as the next "superfood". So finding ways to include it into your keto diet makes delicious sense.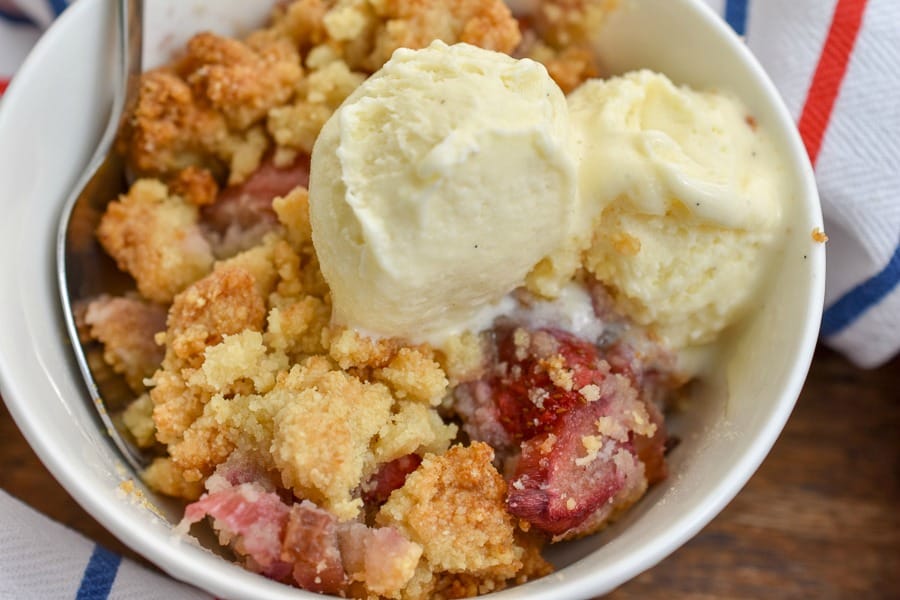 How To Make A Keto Strawberry Rhubarb Cobbler
This cobbler has the perfect combination of tartness and sweetness and reminds us of all the wonderful things warmer weather brings. It can be served warm as a low carb cobbler or once it sets completely in the fridge it can be but into bars.
They can certainly stand alone. However, if you want to take it up one more notch, add a dollop of whip cream. You simply can't go wrong with this yummy treat.
The Sugar-Substitute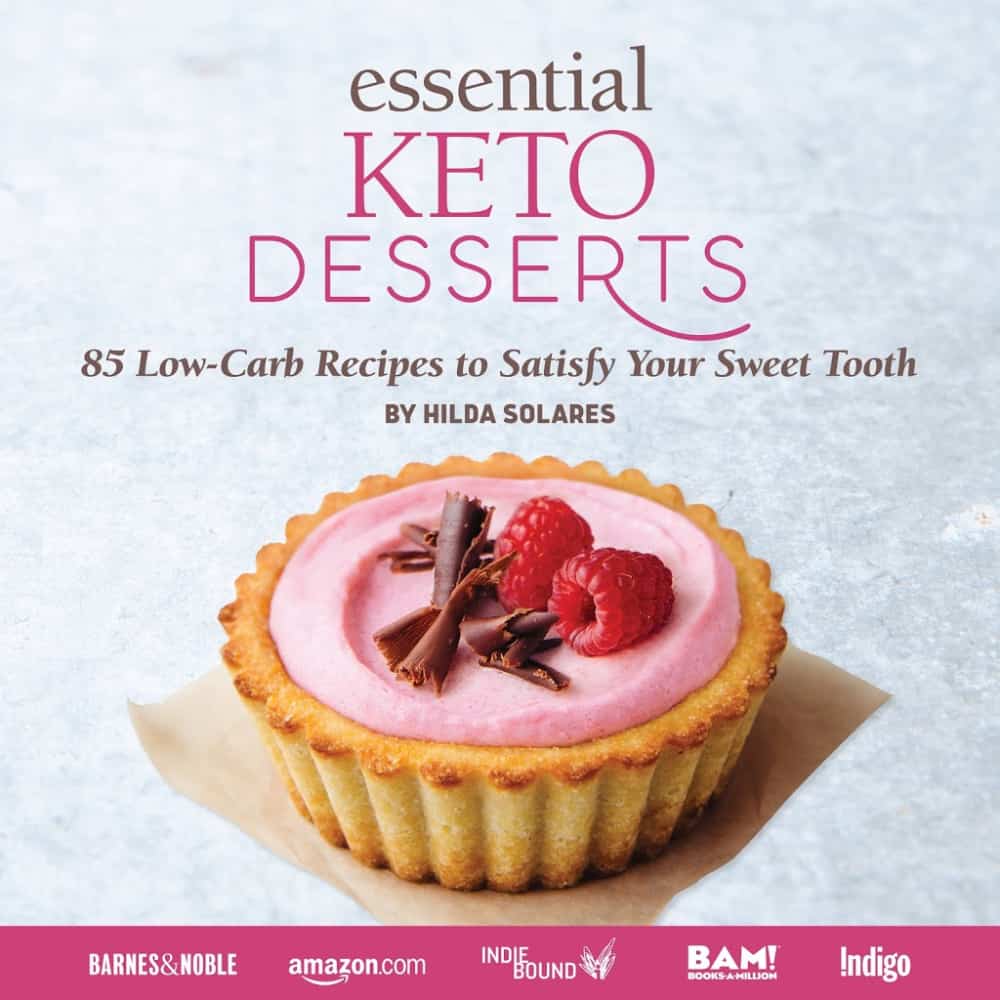 When it comes to choosing which sugar-substitute to use for this keto rhubarb cobbler, I have several for you to choose from. My go-to choice is Lakanto Monk Fruit because the texture is spot on and since there is barely any aftertaste. It is a monk fruit and erythritol blend.
Lakanto Monk Fruit gets its sweetness from antioxidants called mogrosides, instead of fructose or sucrose. It's why it's a great all-natural sugar-substitute and has zero calories and zero glycemic index.
I'm also partial to Swerve an erythritol blend. Unlike other natural sweeteners like stevia, it has no bitter aftertaste and measures just like sugar.
It's also a sugar substitute that browns and caramelizes just like sugar. Swerve is made from ingredients found in select fruits and starchy root vegetables and contains no artificial ingredients, preservatives, or flavors.
Swerve is the name brand of Erythritols, unlike other sugar alcohols that have a 0 % impact on blood sugar.
Although Erythritol can have a cooling aftertaste when used in larger quantities. It's something that some people dislike. Personally, it's not an issue for me and it's why I am a fan.
You could also use the stevia and erythritol-based brand Pyure for most of my baked goods. But if using Pyure you will want to use 1/2 the amount called for in this recipe since it's much sweeter.
Lastly, if you can't easily find a more natural sugar substitute you can also use Splenda with great success. You will want to use the Splenda that has a bulking agent. It's the one that comes in larger bags. I don't recommend Splenda Bake because it's actually half sugar half sucralose product and will be too high in carbs to be considered keto-friendly.
Although Splenda is not an all-natural sugar-substitute, in my opinion, it's still better than real sugar. I recommend it because not everyone has easy access to the more natural substitutes plus it is at a price point that most can afford.
Low Carb Strawberry Rhubarb Crumble
The keto strawberry rhubarb crumble turned out exactly as I had hoped. The tartness of the rhubarb goes so well with the natural sweetness of the strawberries.
I love that it can be eaten warm as a cobbler or allow to chill for several hours and then cut into bars.
Disclosure: Some of the links below are affiliate links, meaning at no additional cost to you, I will earn a commission if you click through and make a purchase
I was finally able to quench my rhubarb craving by getting my hands on some frozen rhubarb. It was Michelle who finally got her hands on some rhubarb and made this momma a happy camper.
She was able to get her hands on some frozen rhubarb and had it delivered to me via Insta Cart. I must say it was super convenient to have the rhubarb we had been hunting for delivered right to our doorstep within 2 hours using Insta Cart.
I can certainly get used to this type of convenience. If you are interested in learning more about this option I suggest you visit their site. By using our link you can have your first delivery for free.
Strawberry Rhubarb Recipe Tips
If you are wondering if you can freeze a strawberry rhubarb crumble, the answer is yes. To do so you need to allow the cobbler to fully cool and transfer into a freezer airtight container.
It's best to cool your crumble in the refrigerator a couple of hours so that the crumble does not fall apart when transferring.
Once placed in the freezer it can remain frozen for up to 3 weeks without any consequences to the flavor or integrity of the recipe.
To defrost your cobbler allow it to defrost overnight in the refrigerator or allow it to come to room temperature on the kitchen counter.
When the strawberry rhubarb crisp is fully thawed it can be eaten cold or reheated in the oven for 15-20 minutes.
Tag Us
I sure hope you will give this keto strawberry rhubarb recipe a try. Once you do, make sure you remember to tag us on Instagram and Facebook. It's what keeps this girl encouraged to keep sharing and perfecting her recipes.
Also, check out our Amazon Store for recommendations. You might be surprised by how many great keto options are at your disposal.
Grab Our Books!
In case you don't know I have authored two books for you, Essential Keto Bread and Essential Keto Desserts both inspired by your requests over the years. It's my prayer these keto cookbooks will help make keto a delicious breeze for you.
Join Our Jesus And Keto Movement!
Randy and I came to the keto diet looking at it from a Christian perspective. As believers, we live our lives supported by God's grace.
So when the Holy Spirit led us to combine our Christian faith and the keto diet, we did so in hopes of finding lasting transformation.
To say we needed God's intervention is putting it mildly. When we followed the Holy Spirit's prompting to we got on the path to real transformation.
Knowing firsthand the benefits of this decision we have created a closed Christian group that is using the keto diet to transform their lives. We invite you to join our Private Facebook Group and see if it's not the key you have been missing.
Note that once you click the link you will be prompted to answer a few questions that ensure that you understand what this group stands for.
Favorite Keto Hack To Stay On Track!
Arming yourself with keto recipes is certainly key in doing this diet long enough to see the many benefits. But even with the best low-carb ketogenic recipes sometimes additional help is needed.
This is when we also encourage you to have the right supplements to help you get and stay in ketosis. Because when you have the right tools the keto diet becomes easier.
Perhaps you've struggled to get into ketosis consistently on your low-carb keto diet, or you've hit a plateau that doesn't seem to budge, consider using Perfect KETO's bundle to assist you. It's a great way to see the benefits sooner rather than later.
You'll learn how to elevate your ketones naturally enter into ketosis more quickly. Being at a deeper level of ketosis will help reduce your appetite, carb cravings, and give you lasting energy. These are the things you want to see happen as they make this diet sustainable and it's why we recommend them.
Perfect Keto has offered our readers a 15% off discount on their products. Simply use this link for all qualifying products and the code FITTOSERVE at checkout.
Delicious Keto Strawberry and Rhubarb Crumble
The tartness of rhubarb combined with the natural sweetness of strawberries makes for the perfect spring & summer dessert. This recipe for keto strawberry rhubarb crumble is not only delicious but it comes together easily.
Ingredients
Keto Crumble base and topping
1 1/2 teaspoons baking powder
1/2 teaspoon sea salt
1 cup (2 sticks) unsalted butter, cold and cubed
1 large egg, lightly beaten
Rhubarb Strawberry Filling
3 cups sliced strawberries
2 cups sliced rhubarb ( use fresh or frozen)
1/2 cup sugar substitute
Instructions
Preheat your oven to 350 degrees. Grease a 9x13 inch baking dish
In a large bowl, combine the almond flour, sugar substitute, baking powder, salt.
Add the butter and use a fork or pastry blender to cut the butter.
Mix until the pieces pea-size.
Add the beaten egg and continue to mix until well combined.
Divide the crumble mixture and press half of it into the bottom of the baking pan.
In another medium-sized bowl, mix together the strawberries, rhubarb, xanthan gum, and sugar substitute. Add this mixture on top of the crumb base, making sure to spread evenly.
Top the bars with the other half of the crumb mixture.
Bake until the low carb strawberry rhubarb bars until the top is golden brown and the fruit for about 40 minutes.
Serve warm as a crumble or allow to cool completely to slice and serve as bars.
Store leftovers in the refrigerator for up to 5 days or freeze for up to 3 weeks.
Notes
This strawberry rhubarb cobbler can be made with fresh or frozen rhubarb. If you are using fresh rhubarb you can leave out the Xanthan gum. If using frozen rhubarb there is no need to defrost before adding it to the recipe.
Recommended Products
As an Amazon Associate and member of other affiliate programs, I earn from qualifying purchases.
Nutrition Information:
Yield:

15
Serving Size:

1
Amount Per Serving:
Calories:

232
Total Fat:

25.8g
Saturated Fat:

8.8g
Cholesterol:

45mg
Sodium:

93mg
Carbohydrates:

8.6g
Net Carbohydrates:

4.9g
Fiber:

3.7g
Sugar:

2.6g
Protein:

5.5g
Save
Save
SaveSave
SaveSave
SaveSave
SaveSave
SaveSave
SaveSave
SaveSave
SaveSave
SaveSave
SaveSave
SaveSave
SaveSave

SaveSave
SaveSave
SaveSave
SaveSave
SaveSave