During the holidays' food temptation is at an all-time high for most. So what can those of us who are doing a low-carb keto diet do? Arm ourselves with Keto Fall Recipes like this Keto Cranberry Coffee Cake that's what.
This coffee cake was inspired by my popular Keto Sour Cream Cinnamon Coffee Cake, except in the case of this cake, it uses a combination of almond and coconut flour in the batter and is bursting with good for you cranberries. Of course, it also features a streusel topping because what's a coffee cake without a streusel topping?
As a huge fan of cranberries, during the holiday season, they are sure to make several appearances for family gatherings. Some favorites are recipes like my Keto Cranberry Cookies and my Keto Orange Cranberry Bread. But this is the first time I attempted a low-carb cranberry coffee cake, and boy am I glad I did. Because berries in coffee cakes just flat-out make sense.
In case you don't know, I have several seasonal coffee cakes as well as an entire collection of keto cakes. Be sure to check them out so you are ready to face your cake cravings safely.
Keto Cranberry Coffee Cake
This coffee cake is sugar-free, grain-free, gluten-free yet somehow also manages to be really delicious. If that's not a win I don't know what is.
I love how fresh cranberries add both color and tartness to this low-carb coffee cake. The recipe uses an orange extract that compliments the cranberries beautifully. As far as I am concerned orange and cranberries are a match made in heaven.
Our family LOVES all things streusel and we can't seem to get enough of it, which is why this coffee cake is one that will grace our table come the holidays.
I especially enjoy waking my family to the aroma of a coffee cake baking. But trust me when I tell you that my family welcomes this cake any time of the day and year for that matter.
Something I suggest if you decide to make this cranberry coffee cake is to bake a second batch to freeze. This way during the busy holidays you can shave some time off your schedule.
How To Make A Keto Cranberry Coffee Cake
Disclosure: Some of the links below are affiliate links, meaning at no additional cost to you, I will earn a commission if you click through and make a purchase.
In order to make this cranberry sour cream cake fool-proof, I am going to walk you through each of the steps and give you a list of ingredients. Note that the printable recipe card is at the bottom of the page but I hope you stick around for my tips.
My keto cranberry coffee cake uses melted butter in the cake batter. You can easily melt the butter in the microwave or in a double boiler. The use of melted butter ensures that the cake is extra moist.
It's important that your eggs and sour cream be at room temperature for the best results. It's something I always recommend and it's part of my keto baking tips.
However, for the streusel topping, you want to make sure that your butter is as cold as possible. It's the key to getting that perfect crumb cake topping.
Another important step in making this cake is to measure and then sift the almond flour that's in the cake batter. Why? Well, I find that sifting your almond flour rids your batter of heavy nuts that could weigh your cake down and add too much fat to the recipe.
You don't need to sift the almond flour for the streusel though. This is because that added texture is welcomed in the topping.
I decided to make this a big batch which is why it's baked in a 9 X13 pan. Trust me when I tell you that you'll be glad I did. Remember that this cake freezes well. So feel free to pack half in your freezer for when you need a quick option.
Tips To Make This Keto Sour Cream Cranberry Coffee Cake
This coffee cake uses both almond and coconut flour I think the combination of both gives this cake the perfect crumb.
The streusel portion of this cake also uses both these flours and cold butter that is cut into small pieces so that it mixes easily. You can use a pastry cutter or two forks to create coarse crumbs easily.
You should know that although I made this cake with fresh cranberries, using frozen cranberries works equally well. Which is a good thing considering the number of frozen ones I have at any given time. If like me you have a stash of frozen cranberries add them to the wet mixture frozen no need to defrost.
The Following Are The Ingredients You'll Need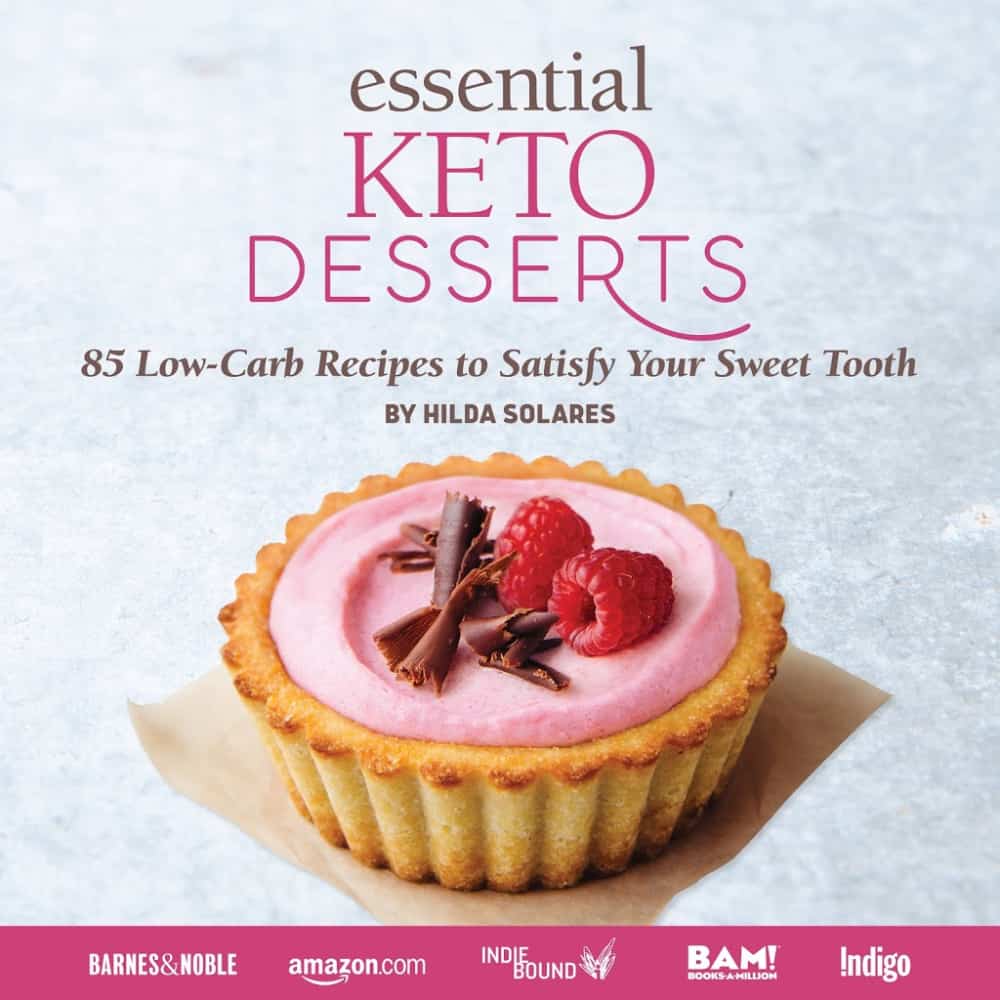 Sour Cream
Eggs
Fresh or frozen cranberries
Walnuts or your favorite keto nuts
Butter
Cinnamon powder
The Sugar- Substitute Options
When it comes to choosing which sugar substitute to use for this cranberry cake I have a few for you to choose from.
Hands down my favorite sweetener of choice is Lakanto Monk Fruit. I truly love both the flavor and texture it has and the fact that it measures 1:1 for sugar which makes it a breeze when converting recipes into keto-friendly options. This brand combines monk fruit and erythritol for a great blend.
In case you don't know, Lakanto gets its sweetness from antioxidants called mogrosides, instead of fructose or sucrose. It's why it's a great all-natural sugar substitute and has zero calories and zero glycemic index.
I'm also partial to the brand Swerve which is also an erythritol blend. Unlike other natural sweeteners like stevia, it has no bitter aftertaste and measures just like sugar.
Swerve is made from ingredients found in select fruits and starchy root vegetables and contains no artificial ingredients, preservatives, or flavors. What's more, it also has a 0 % impact on blood sugar.
You could also use the stevia and erythritol-based brand Pyure for this cranberry coffee cake. But if using Pyure you will want to use 1/2 the amount called for in this recipe since it's a much sweeter option.
Lastly, if you can't easily find a more natural sugar substitute you can also use Splenda with great success. Keep in mind that the Splenda to use is one that has a bulking agent.
It's the one that comes in larger bags. I don't recommend Splenda Bake because it's actually half sugar half sucralose product and will be too high in carbs to be considered keto-friendly.
Tag Us
I sure hope you will give this recipe a try and will help us share it. If you give it a try, make sure you remember to tag us on Instagram, Facebook, and Pinterest. It's what keeps this girl encouraged to keep sharing and perfecting her recipes.
Also, check out our Amazon Store for our recommendations. You might be surprised by how many great keto options are at your disposal.
Join Our Jesus And Keto Movement
If there is one thing I particularly proud of sharing it's how we combined our Christian faith with the keto diet.
In case you don't know, Randy and I came to the keto diet looking at it from a Christian perspective. As believers, we live our entire lives supported by God's grace.
So when the Holy Spirit led us to combine our Christian faith and the keto diet, we did so in hopes of finding lasting transformation.
To say we needed God's intervention is putting it mildly. When we followed the Holy Spirit's prompting to we got on the path to real transformation.
Knowing firsthand the benefits of this decision we have created a closed Christian group that is using the keto diet to transform their lives. I love how supportive and encouraging this group of believers is. It's exciting to see how people are transforming their lives by combining this lifestyle with the Christian faith.
The testimonies coming out of our Fittoservegroup are what motivates us to continue to share what we've learned.
We invite you to join our Private Facebook Group and see if it's not the key you have been missing.
Note that once you click the link you will be prompted to answer a few questions that ensure that you understand what this group stands for.
Favorite Keto Hack To Stay On Track!
Arming yourself with keto recipes is certainly key in doing this diet long enough to see the many benefits. But even with the best low-carb ketogenic recipes sometimes additional help is needed.

This is especially the case during the holidays when food temptation is at the highest.
It's in these seasons that we also encourage you to have the right supplements to help you get and stay in ketosis. Because when you have the right tools the keto diet simply becomes easier.
Perhaps you've struggled to get into ketosis consistently on your low-carb keto diet, or you've hit a plateau that doesn't seem to budge, consider using Perfect KETO's bundle to assist you. It's a great way to see the benefits sooner rather than later.
You'll learn how to elevate your ketones naturally enter into ketosis more quickly. Being at a deeper level of ketosis will help reduce your appetite, carb cravings, and give you lasting energy. These are the things you want to see happen as they make this diet sustainable and it's why we recommend them.
Perfect Keto has offered our readers a 15% discount on their products. Simply use this link for all qualifying products and the code FITTOSERVE at checkout.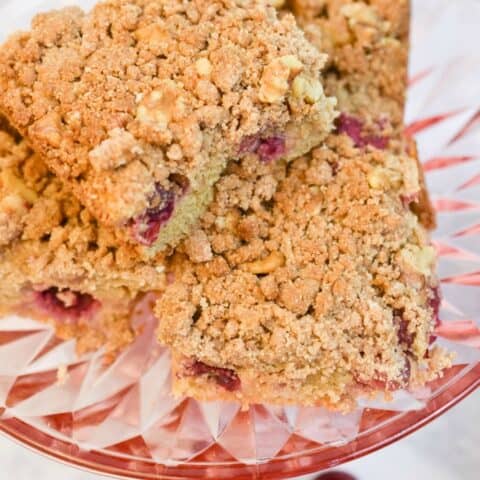 Keto Cranberry Coffee Cake
This delicious keto cranberry coffee cake is bursting with the flavor of fresh cranberries and orange zest. Plus it's grain-free, gluten-free, & sugar-free!
Ingredients
Keto Cranberry Coffee Cake
2 1/2 teaspoons of baking powder
2 1/2 teaspoons of ground cinnamon
1/2 teaspoon of sea salt
½ cup melted butter cooled
1 cup of sour cream
1 teaspoon of orange extract
1 tablespoon of fresh orange zest
2 cups of fresh of frozen cranberries
3 eggs , room temperature
Keto Streusel Topping
½ cup of your favorite low carb nuts (I used walnuts)
½ cup cold unsalted butter sliced thinly
2 teaspoons of ground cinnamon
¼ teaspoon of sea salt
Instructions
Pre-heat oven to 350 degrees. Grease a 13X9-inch baking pan.
Streusel Topping
In a small bowl, combine the granulated sugar substitute, almond flour, coconut flour, nuts, salt and cinnamon.
To the dry ingredients add the thinly sliced cold butter and cut in the butter until the mixture resembles coarse crumbs. Set aside.
Coffee Cake
In a large mixing bowl, combine the sifted almond flour, sugar substitute, spices, baking powder, sea salt. Set aside.
Preheat oven to 350 degrees.
Grease a 13 x 9 inch baking pan.
In a medium sized bowl, combine the cooled melted butter, sour cream, orange extract, orange zest and eggs until they are well combined. Set aside.
Add the wet mixture to the large bowl of dry ingredients. With a spatuala mix the batter until well incorporated.
Next, fold in the cranberries.
Spread the batter into the 13 x 9 inch baking pan.
Sprinkle the streusel crumb topping evenly over the surface of cake.
Gently pat the streusel crumb topping unto the batter of cake.
Bake the cake for 45 minutes to 1 hour, or until the crumbs are lightly browned and until an inserted toothpick comes out clean.
Allow the the coffee cake to cool for 20 minutes on a baking rack before slicing and serving.
Store leftovers in the refrigerator for up to 5 days or freeze for up to 3 weeks.
Nutrition Information:
Yield:

18
Serving Size:

1
Amount Per Serving:
Calories:

250
Total Fat:

26.5g
Saturated Fat:

8.9g
Trans Fat:

0g
Cholesterol:

48mg
Sodium:

85mg
Carbohydrates:

6.9g
Net Carbohydrates:

3.8g
Fiber:

3.1g
Sugar:

1.9g
Protein:

5.9g