In my world cranberry season just begs for more keto cranberry recipes, which is why today I am sharing my Keto Cranberry Orange Bread with you. To me, there is something quite special and festive about the combination of cranberries and orange. These bright and cheery flavors are meant to go together. Don't you agree?
What's especially nice about this low carb cranberry bread is that it bakes, slices, and toasts beautifully. Making it a great option for breakfast, snack, or whenever you want a little treat.
It's why I plan on baking a few loaves to share with the family for Christmas brunch. I think it will make a lovely gift to share during the holidays. And because this keto cranberry bread freezes well, it makes prepping for the holidays a delicious breeze.
If you're a fan of keto quick bread make sure you also check out our recipe for keto blueberry lemon bread it was inspired after this cranberry bread.
Keto Cranberry Orange Bread
If your life is as full as mine, you're going to welcome a recipe that saves you time. So take advantage of this easy recipe and bake and freeze a couple of weeks ahead. Then simply allow your keto cranberry bread to thaw overnight in the refrigerator before adding the orange glaze.
And just like that, you have a keto cranberry bread that can grace any table during the holidays.
In case you missed it, this keto quick bread is glazed with a tangy-sweet orange glaze that takes the loaf over the top. So do yourself and your guests a favor and don't skip this easy keto glaze because it truly makes the bread special.
I intentionally didn't make the cranberry bread too sweet because the glaze adds the perfect amount of sweetness.
My recipe for keto cranberry orange bread is studded with whole fresh cranberries and gains its orange flavor from a combination of orange zest and extract.
You could, of course, use freshly squeezed orange juice instead of extract but it will raise the carbohydrate count. Personally, I would rather skip the o.j. and have another slice of keto bread. But that's me of course. You do you.
How To Add Cranberries To Your Keto Loaf
When it comes to adding cranberries to your keto cranberry quick bread, you can use either fresh or frozen cranberries interchangeably with great results. I find that frozen cranberries do not even need to be defrosted beforehand. And that they bake well without issue.
I know some recipes suggest chopping the cranberries before adding them to the batter, but I didn't bother with that extra step in this recipe. Why? Well, because honestly, it saves time. Plus, the whole cranberries in the bread look just a tad more festive in my opinion.
My recipe for keto orange cranberry bread uses cream cheese in the batter which I feel helps balance the tart flavor of the cranberries. The other reason this girl used cream cheese is that I'm a big fan of keto cream cheese recipes since it's an ingredient that works well in many low carb dishes.
If you're looking for another recipe that combines cranberries and orange, do check out our Keto Cranberry Orange Cookies. It's one cookie recipe I try to share with my non-keto friends during the holidays since it's a favorite with our family.
Perhaps, like me, you have a freezer full of cranberry bags you've hoarded. If that's you, then I encourage you to give this keto cranberry bread a try.
Or if you've never even used cranberries in your baked goods then you should use this easy recipe to make your debut. But be warned you may need to make freezer space after you do, to stock up on cranberries. Just letting you know that hoarding cranberries is a real thing.
Disclosure: Some of the links below are affiliate links, meaning at no additional cost to you, I will earn a commission if you click through and make a purchase.
How To Make Keto Cranberry Orange Bread
• Preheat your oven to 350 degrees and prep your 10-inch loaf pan by greasing it well. You may also want to add parchment paper that's been greased to the bottom of your loaf to make it easy to unmold.
• Make your keto tangy orange glaze according to the recipe below then set aside.
• In a medium-sized bowl, combine the finely ground almond flour that has been measured and sifted with the baking powder and salt. Set aside.
• Next using an electric beater cream your room temperature cream cheese, butter, and sugar substitute in a large mixing bowl. Note that you can use any of your favorite sweeteners as long as you keep the proportions the same. I used Swerve as my sweetener of choice in this recipe.
• Once this is well blended add your eggs one at a time and beat until mixed, making sure to scrape the bowl a few times. Note that the mixture will not completely come together until you add the dry ingredients.
• To this wet batter add the flour mixture and beat until fully incorporated.
• Then fold in your whole fresh or frozen cranberries.
• Add the batter to the prepared pan and bake for 60-70 minutes or until an inserted toothpick comes out clean.
• Let the keto cranberry bread cool completely on a baking rack before adding the glaze to the top of the loaf.
Some Additional Tips When Baking Your Keto Cranberry Orange Bread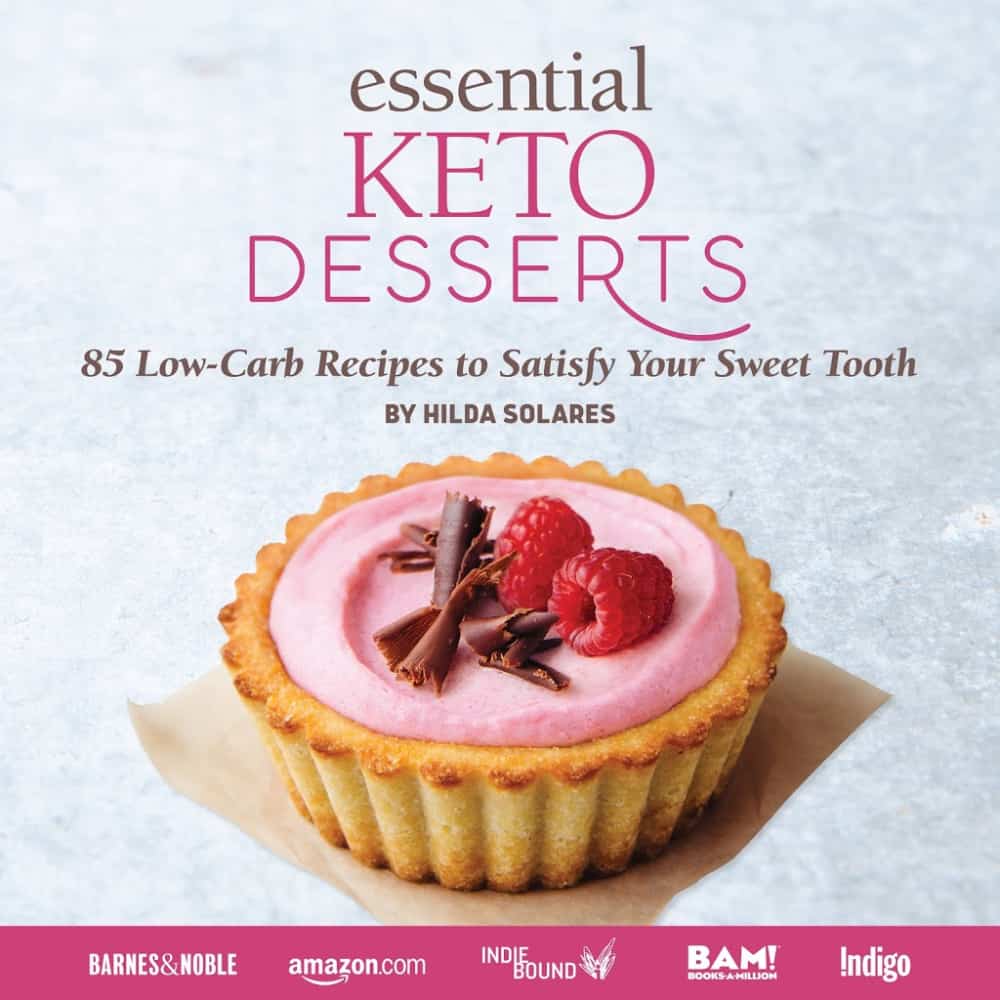 This recipe makes a thick and dense batter which makes it easy to later slice and toast like bread. Because every oven is a little different I encourage you to check if it's done at the 60-minute mark. At that point, if your bread is starting to brown but isn't quite fully cooked, cover with foil and bake for another 10-15 minutes.
You want to store any leftovers in the fridge. This is the case with just about every low carb baked good because they tend to spoil faster since they are not loaded with a bunch of preservatives. Trust me, this is a good thing and a minor inconvenience.
If you've decided to freeze your keto cranberry bread loaf, I suggest you glaze the bread after you allow it to defrost in the refrigerator overnight. This way your glaze stays beautifully intact.
I sure hope you will give this recipe a try during the holidays. Once you do, make sure you remember to tag us on Instagram and Facebook. It's what keeps this girl encouraged to keep sharing and perfecting her recipes.
Also, check out our Amazon Store for recommendations. You might be surprised by how many great keto options are at your disposal.
It is my sincere prayer that during the holidays you spend time being refreshed with loved ones and that you remember the true meaning of the season.

Grab Our Books!
In case you don't know I have authored two books for you, Essential Keto Bread and Essential Keto Desserts both inspired by your requests over the years. It's my prayer these keto cookbooks will help make keto a delicious breeze for you.
Perfect Keto Hack
The holidays can be loaded with all sorts of food temptations. This is why using a tool to help you stay on course can be very beneficial.
Perhaps, you've struggled to get into ketosis consistently on your low carb keto diet, or you've hit a plateau that doesn't seem to budge, consider using Perfect KETO exogenous ketones.
By using exogenous ketones you will naturally elevate your ketones allowing you to enter into ketosis more quickly.
Being at a deeper level of ketosis will help reduce your appetite, carb cravings, and give you lasting energy. It's been our experience that the use of exogenous ketones helps make the low carb keto lifestyle a viable sustainable option.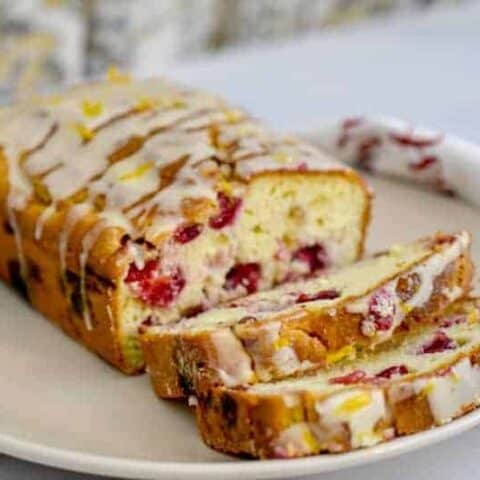 Keto Cranberry Orange Bread
Additional Time:
10 minutes
Total Time:
1 hour
20 minutes
This keto cranberry orange bread makes a moist delicious seasonal treat. It's a low carb quick bread that features the flavors of fresh cranberries and orange zest and extract.
Ingredients
Keto Cranberry Orange Bread Batter
2 teaspoons of baking powder
1/2 teaspoon of sea salt
8 whole eggs
8 ounces of room temperature full-fat cream cheese
1/2 cup of room temperature unsalted butter
2 cups of fresh or frozen whole cranberries
1 tablespoon of orange zest
Keto Orange Glaze
3 tablespoons of freshly squeezed lemon juice
2 tablespoons of heavy whipping cream
2 teaspoons of orange zest
Instructions
Keto Cranberry Orange Bread
Preheat oven to 350 degrees.
Grease and line with parchment paper a 10-inch loaf pan or two 6 inch loaf pans. (note if using two smaller pans check for doneness at 35-minute mark)
In a medium-sized bowl measure then sift the almond flour. To the sifted flour add the baking powder, sea salt, and stir. Set this aside.
In a large bowl using an electric hand-held mixer or stand-up mixer blend the butter, cream cheese, orange extract, orange zest, and sugar-substitute until the mixture is light fluffy.
Next add the eggs one at a time, making sure to scrape the bowl several times.
To the wet batter add the dry ingredients and combine until well-incorporated.
Fold in the cranberries in the bread batter.
Spread the batter into the greased loaf pan.
Bake for 60-70 minutes or until an inserted toothpick comes out clean.
Allow the loaf to cool in the pan for about 30 minutes before taking it out of the pan. Then let the pan cool on a baking rack for another 30 minutes before adding the icing or freezing.

Keto Orange Icing
In a small mixing bowl whisk the confectioners sugar substitute, lemon juice, orange zest, orange extract and heavy cream. Stir until fully combined.
Spread/drizzle the icing over the cooled keto cranberry bread.
Recommended Products
As an Amazon Associate and member of other affiliate programs, I earn from qualifying purchases.
Nutrition Information:
Yield:

12
Serving Size:

1
Amount Per Serving:
Calories:

337
Total Fat:

30.6g
Saturated Fat:

11.4g
Cholesterol:

154mg
Sodium:

157mg
Carbohydrates:

6.9g
Fiber:

3.2g
Sugar:

1.9g
Protein:

10.3g