This recipe for keto strawberry no-bake cheesecake is loaded with flavor and makes the perfect strawberry dessert for spring or summer.
Creamy, dreamy, cheesecake topped with a fresh strawberry topping. It's a fail-proof seasonal treat! The flavors of cream cheese and strawberries pair beautifully for one fabulous keto strawberry dessert.
Not to mention that it's a bit of a showstopper and will be welcomed with open arms by even those not doing a keto diet.
If that's not enough, it's large enough to serve a crowd. It's the perfect ending to a gathering or potluck.
Although this makes enough for a gathering, it can be halved easily so don't let that stop you from enjoying this scrumptious dessert.
As a fan of cheesecakes, I highly recommend you check out our complete keto cheesecake collection. It's jam-packed with loads of options that will help make the ketogenic diet a delicious breeze for you.
No-Bake Keto Strawberry Cheesecake
This no-bake strawberry keto cheesecake recipe was an instant hit with my family and I am confident that it will be one that your loved ones will also enjoy. It's truly fit for any occasion!
Although strawberries are at the prime in the summer, here in the states you can find strawberries all year-round.
So if you're blessed to have access to fresh strawberries, you can and should make this delightful dessert any time throughout the year.
This simple recipe needs to chill for about an hour and therefore can be made ahead of time. But even with a little chilling time, it's still much easier than my traditional keto cheesecake recipe that requires a water bath and many more hours of refrigeration.
Don't get me wrong, if you have the time to make a cheesecake that requires a bain-marie, you should totally do so too. But sometimes you need a much quicker option and that's when this keto dessert makes perfect sense.
In the case of this recipe, it's absolutely effortless and allows you to enjoy a keto strawberry cheesecake without sacrificing the end results. And it's why it's a fantastic treat when your time is more limited.
The recipe is a slab pie, which simply means it's made in a large rectangular pan. I used a 9X13 pan but as I mentioned earlier the recipe can be halved easily, in which case you should use an 8×8 pan.
What's nice about a slab pie is that can be shared and transported without much fuss.
How To Make A Keto No-Bake Strawberry Cheesecake
Disclosure: Some of the links below are affiliate links, meaning at no additional cost to you, I will earn a commission if you click through and make a purchase.
With only a few key ingredients you can enjoy a low-carb strawberry cheesecake rather quickly. And since it doesn't require an oven it's one that will keep your home cool during the hot summer months. You're welcome.
You'll be making the crust first and using almond flour and butter. It's what makes it a grain-free option and low in carbs.
Next is the cheesecake filling which requires you to beat with an electric mixer the softened cream cheese, sugar substitute, sour cream, whipping cream, vanilla extract, and a pinch of salt.
Lastly, you'll make the fresh strawberry topping where you will slice the strawberries and combine them with a little sugar substitute and vanilla extract.
Then it's just a matter of allowing the dessert to chill for about an hour.
Below are the main ingredients you'll need and a few key tips. Note that the full printable recipe card is at the end of the post.
Ingredients & Tools Needed
Cream cheese, room temperature
Full fat sour cream
Heavy whipping cream
Unsalted butter
Fresh strawberries
No-Bake Keto Cheesecake Recipes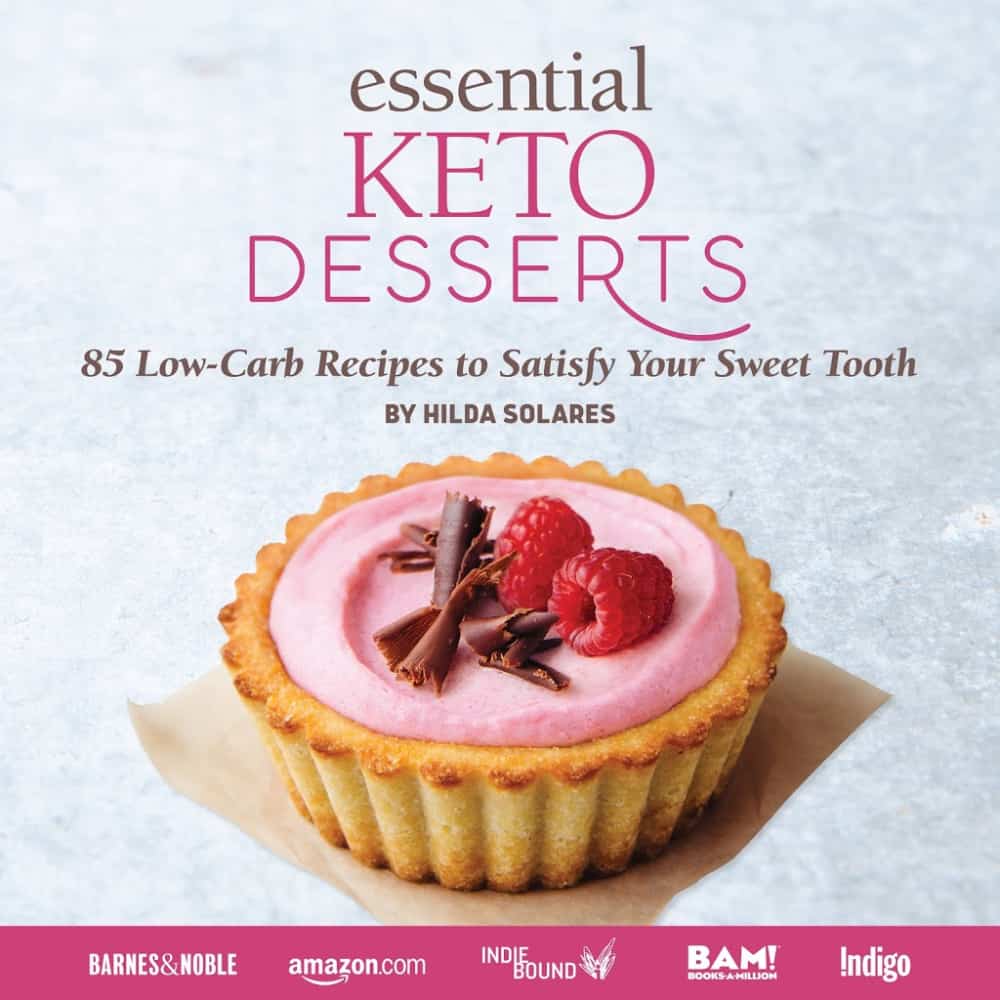 You may have noticed that we are rather busy creating keto cheesecakes this year with several being no-bake, but that's what you do when you are a fan of cream cheese recipes that are keto-friendly. And your niece, looking at you Melanie drops off 10 pounds of cream cheese. Thanks for thinking of your tia Melanie!
The following are some of our growing list no-bake keto cheesecakes:
Tag Us
I sure hope you will give this no-bake strawberry keto cheesecake a try. Once you do, make sure you remember to tag us on Instagram and Facebook. It's what keeps this girl encouraged to keep sharing and perfecting her recipes.
Be sure to also check out our keto no-bake cheesecakes for easy access to all our no-bake cheesecake recipes!
Since this recipe is made with almond flour and it's what you prefer to use, I recommend you visit our keto almond flour recipes for more delicious options.
Also, check out our Amazon Store for our recommendations. You might be surprised by how many great keto options are at your disposal.
Grab Our Books!
In case you don't know we have authored two books for you, Essential Keto Bread and Essential Keto Desserts both inspired by your requests over the years. It's my prayer these keto cookbooks will help make keto a delicious breeze for you.
Join Our Jesus And Keto Movement
If there is one thing I am particularly proud of sharing it's how we combined our Christian faith with the keto diet.
In case you don't know, Randy and I came to the keto diet looking at it from a Christian perspective. As believers, we live our entire lives supported by God's grace.
So when the Holy Spirit led us to combine our Christian faith and the keto diet, we did so in hopes of finding lasting transformation.
To say we needed God's intervention is putting it mildly. When we followed the Holy Spirit's prompting to we got on the path to real transformation.
Knowing firsthand the benefits of this decision we have created a closed Christian group that is using the keto diet to transform their lives. I love how supportive and encouraging this group of believers is. It's exciting to see how people are transforming their lives by combining this lifestyle with the Christian faith.
The testimonies coming out of our Fittoservegroup is what motivates us to continue to share what we've learned.
We invite you to join our Private Facebook Group and see if it's not the key you have been missing.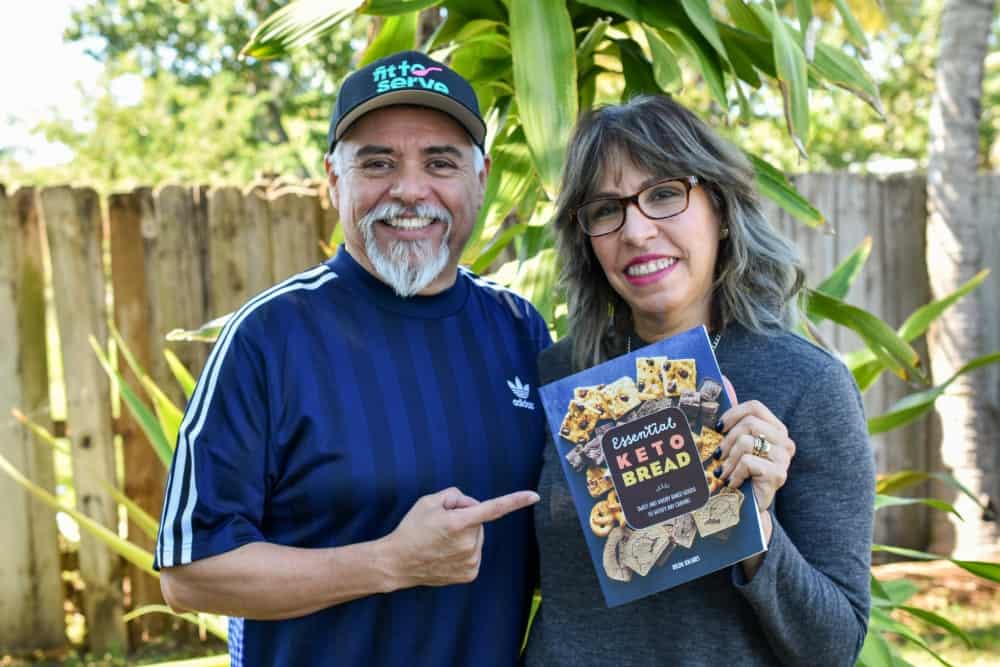 Favorite Keto Hack To Stay On Track!
Of course, arming yourself with keto recipes like this bread is certainly key in doing this diet long enough to see the many benefits.
But even with the best low-carb ketogenic recipes sometimes additional help is needed.
With this in mind, we also encourage you to have the right supplements to help you get and stay in ketosis. Because when you have the right tools the keto diet becomes easier.

Perhaps you've struggled to get into ketosis consistently on your low-carb keto diet, or you've hit a plateau that doesn't seem to budge, consider using Perfect KETO's bundle to assist you.
It's a great way to see the benefits sooner rather than later.
You'll learn how to elevate your ketones naturally enter into ketosis more quickly. Being at a deeper level of ketosis will help reduce your appetite, carb cravings, and give you lasting energy.
These are the things you want to see happen as they make this diet sustainable and it's why we recommend them.
Perfect Keto has offered our readers a 15% discount on their products. Simply use this link for all qualifying products and the code FITTOSERVE at checkout.
No-bake Strawberry Cheesecake (Keto)
Total Time:
1 hour
20 minutes
This no-bake strawberry cheesecake(keto) is a creamy, airy cheesecake that's topped with a fresh strawberry topping. It's a keto slab cheesecake a keto dessert you'll want to make often when the temperature rises.
Ingredients
Keto Cheesecake Filling
32 ounces of cream cheese
2 cups full fat sour cream
2 cups of heavy whipping cream
2 teaspoon of vanilla extract
1/4 teaspoon of sea salt
Keto No-Bake Almond Crust:
1/2 cup of melted unsalted butter
1/4 tsp sea salt
1/2 teaspoon of cinnamon powder (optional)
Fresh Strawberry Topping
1 1/2 pounds of fresh strawberries sliced
1 tablespoon of sugar substitute
1/2 teaspoon of vanilla extract
Instructions
Keto Almond Crust
Mix in a small bowl the almond flour, sugar substitute, cinnamon powder, sea salt.
To this add the melted butter.
Stir until well combined.
Press the almond crust to the bottom of the dish 9 x 13-inch pan.
Place the mason jars with the crust into the refrigerator while you make the filling.
Keto Strawberry Shortcake Cheesecake Filling
In a large bowl beat on high the softened cream cheese, sour cream, sugar substitute, vanilla extract, and sea salt.
Scape the sides of the bowl several times.
Add the cold heavy whipping cream slowly into the cheesecake batter and whip for 3-5 minutes until fully combined and light and airy.
Using a piping bag or small spoon add the cheesecake filling into the individual jars that have the prepared almond crust. If making one large pie add the filling unto the prepared almond crust.
Top the cheesecake with fresh blueberries and raspberries, or leave plain.
Allow the cheesecake to chill in the refrigerator for a minimum of 6 hours so that it can be sliced easily.
Store the cheesecake in the refrigerator for up to 5 days. Freeze for up to 3 weeks.
Notes
This recipe can be halved easily if doing so use an 8x8 pan.
Recommended Products
As an Amazon Associate and member of other affiliate programs, I earn from qualifying purchases.
Nutrition Information:
Yield:

24
Serving Size:

1
Amount Per Serving:
Calories:

355
Total Fat:

33.2g
Saturated Fat:

17.2g
Cholesterol:

81mg
Sodium:

160mg
Carbohydrates:

5.6g
Net Carbohydrates:

4.1g
Fiber:

1.5g
Sugar:

0.1g
Protein:

6.8g