Looking for a delicious and easy-to-make low-carb dessert? Look no further than this keto frozen blackberry cheesecake!
Featuring a creamy cheesecake base with a blackberry swirl, it's the perfect treat for those on a ketogenic diet or anyone who loves cheesecake.
You'll be happy to know that this recipe for keto blackberry no-bake cheesecake is a breeze to make.
The creamy, velvety smooth cheesecake is topped with a fresh blackberry swirl topping, and the frozen cheesecake makes it easier to cut into squares, turning the recipe into keto cheesecake bars.
Plus, it's large enough to serve a crowd but can be halved easily if needed.
As a fan of cheesecakes, I highly recommend you check out our complete keto cheesecake collection. It's jam-packed with loads of options that will help make the keto diet a delicious breeze for you.
Keto Frozen Blackberry Cheesecake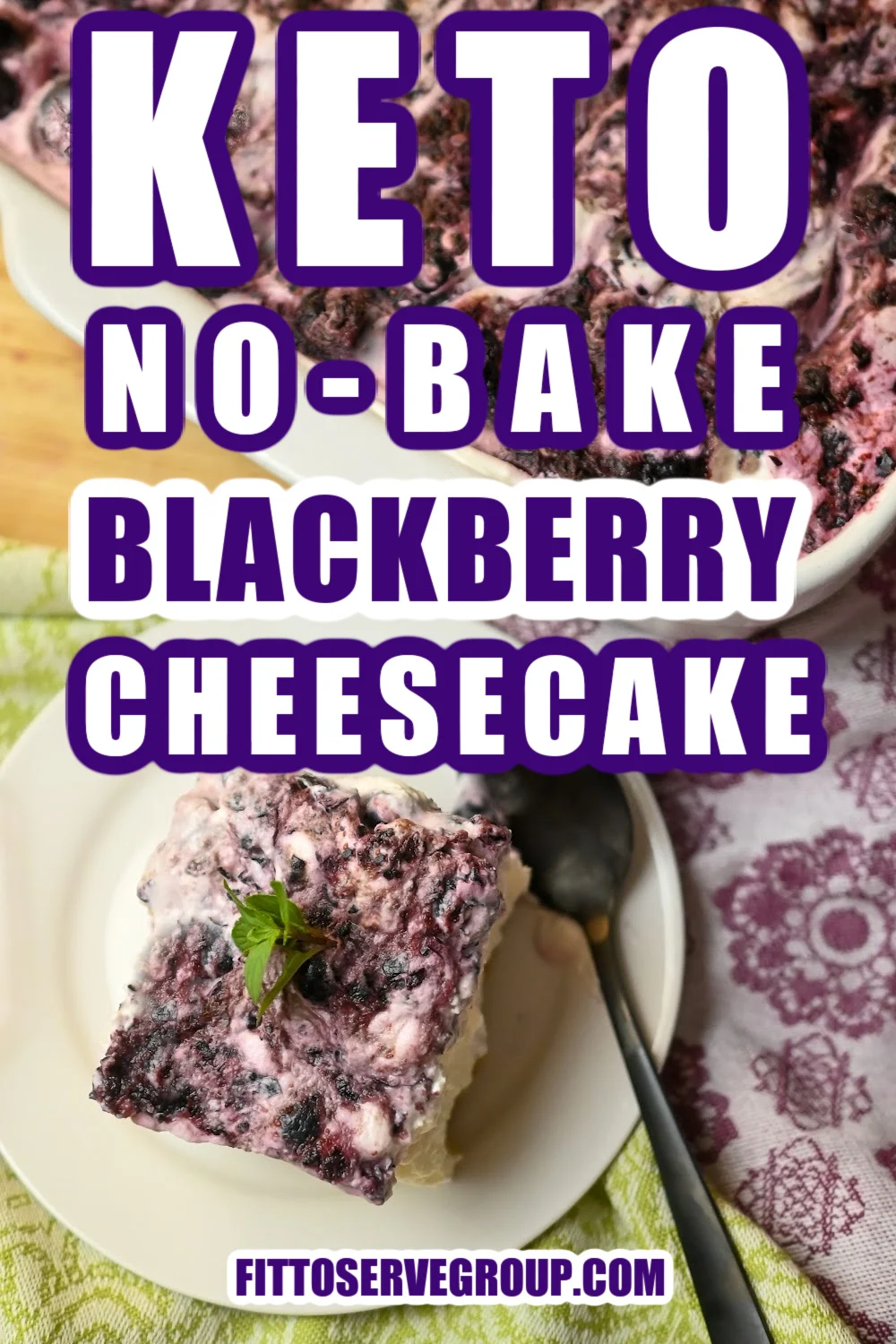 This no-bake blackberry keto cheesecake recipe is perfect for any occasion. Made with fresh blackberries, cream cheese, and almond flour, this recipe is low in carbs and high in flavor.
It's a great recipe for those hot summer days when you want a refreshing and indulgent treat that won't heat up your home.
This simple recipe needs to chill in the freezer for four hours minimum, so it needs to be made ahead of time.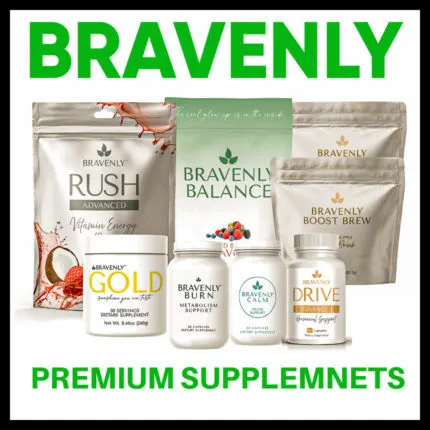 But even with the time spent in the freezer, it's still much more straightforward than my traditional keto cheesecake recipe, which requires a water bath, baking, and hours of refrigeration.
The recipe is considered a slab pie, which simply means it's made in a large rectangular pan.
I used a 9×13 pan, but as I mentioned earlier, the recipe can be easily halved, in which case you should use an 8×8 pan.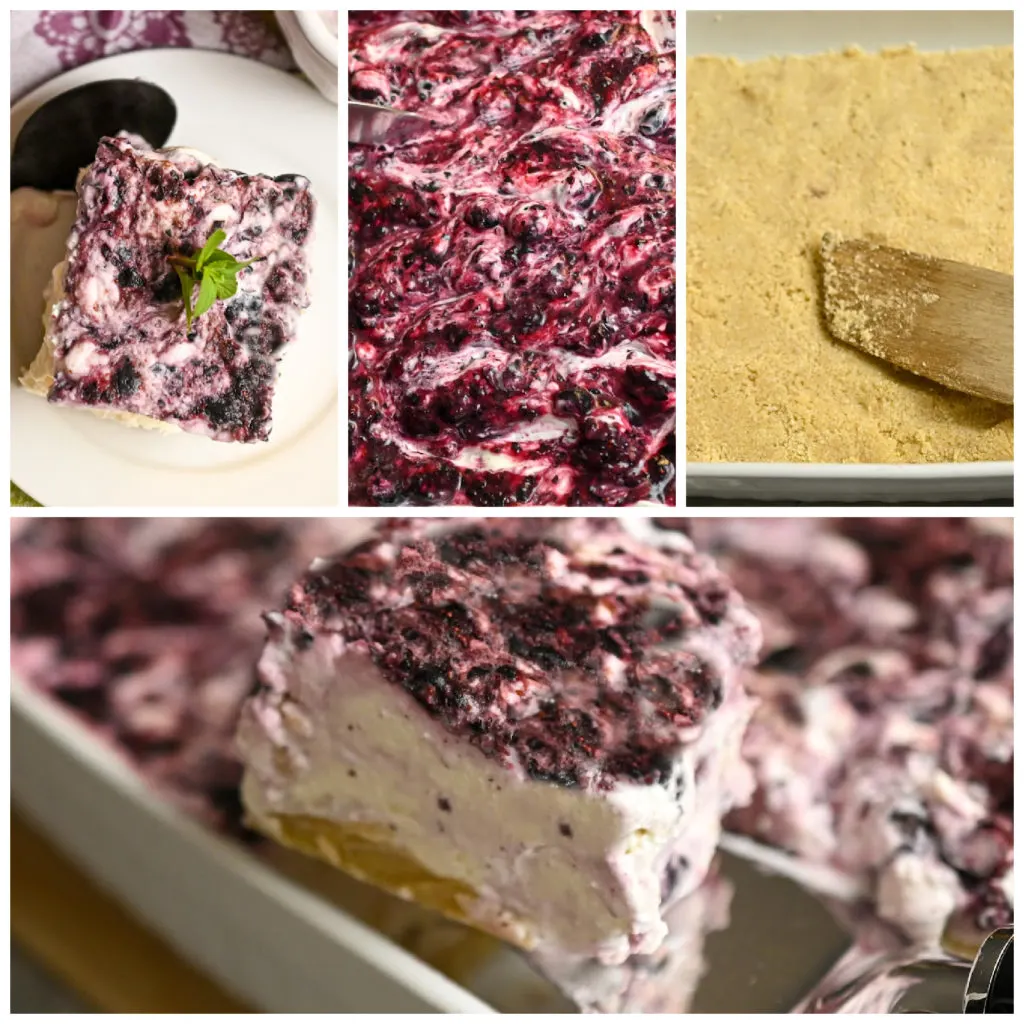 Ingredients & Tools Needed For Low-Carb Frozen Blackberry Cheesecake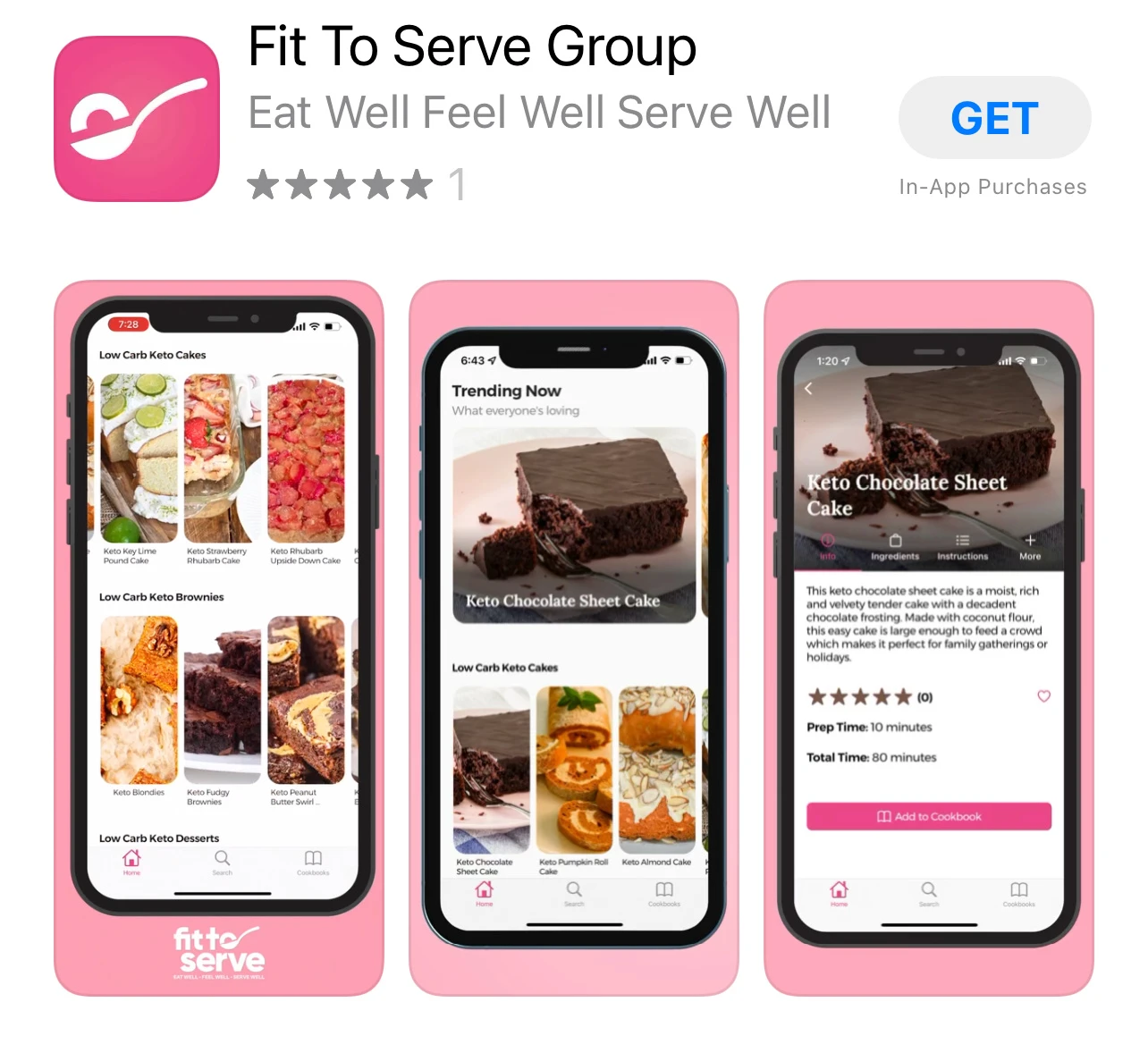 Disclosure: Some of the links below are affiliate links, meaning that at no additional cost to you, I will earn a commission if you click through and make a purchase.
Below are the main ingredients you'll need and a few key tips. Note that the full printable recipe card is at the end of the post.
Full-fat cream cheese, room temperature, for the cheesecake layer.
Granulated sugar substitute, for the frozen cheesecake, the blackberry sauce, and the crust.
Full-fat sour cream for the cheesecake filling
Heavy cream
Almond flour, for the almond flour crust
Unsalted melted butter, also for the crust
Cinnamon powder for the cheesecake crust. It helps mimic the flavor of Graham crackers.
Fresh blackberries for the blackberry swirl topping
Lemon juice is used to enhance the flavor of the blackberries
Lemon extract
How To Make A Keto Frozen Blackberry Cheesecake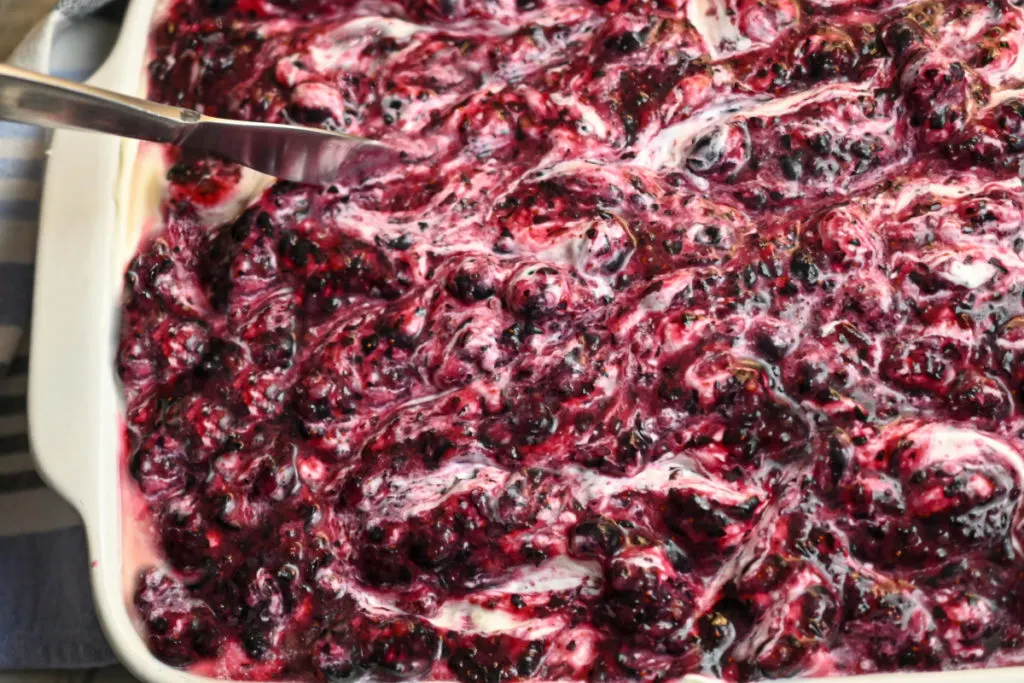 To begin, you'll need to make the crust. Combine almond flour, butter, cinnamon powder, and a small amount of sugar-free sweetener.
Mix these ingredients until they form a crumbly texture. Then, press the mixture into the bottom of a 13×9 freezer-proof dish.
Next, prepare the cheesecake mixture. Using an electric mixer or stand mixer, beat softened cream cheese, sugar substitute, sour cream, whipping cream, vanilla extract, and a pinch of salt until they form a light and fluffy cream cheese mixture.
For the blackberry sauce, combine blackberries, sugar substitute, lemon juice, and lemon extract and puree it in a food processor or blender until it forms a sauce.
Pour the blackberry sauce over the surface of the cheesecake filling, and using a small knife, swirl the top of the cheesecake.
Freeze the cheesecake for a minimum of four hours or overnight before slicing the blackberry cheesecake bars.
How To Serve A Frozen Blackberry Keto Cheesecake
This cheesecake is best served cold, straight from the freezer. Allow it to thaw for 10–15 minutes or longer before serving if you prefer a softer cheesecake.
Best Sugar-Substitutes For Sugar-Free Blackberry Cheesecake Slab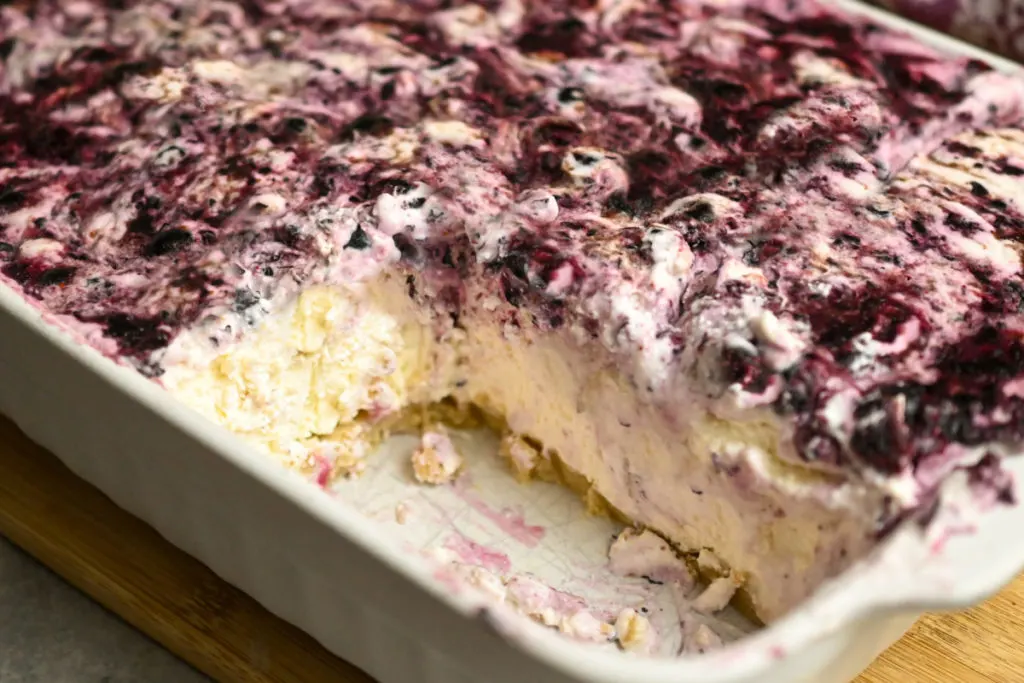 When it comes to choosing your low-carb sweetener for this sugar-free blackberry cheesecake recipe, I have several low-carb options that work well with this keto recipe.
I really like Lakanto Monk Fruit Sweetener because the texture is spot on and because there is barely any aftertaste. Plus, it uses only natural ingredients.
This is a great one, especially if you are new to sugar substitutes, because it mimics sugar the most, in my opinion.
I'm also partial to Swerve an erythritol blend. However, you should keep in mind that it does have a bit more of a cooling aftertaste that some people dislike.
Alternatively, you could also use a stevia and erythritol-based brand like Pyure. This is if you prefer to use stevia in your baked goods. If you go this route, you need to reduce the amount by half since it is twice as sweet.
Lastly, if you can't easily find a more natural sugar substitute, you can also use Splenda with great success.
I know not everyone would agree with me here, and I respect that, but in my book, it's still better than regular sugar.
Other No-Bake Keto Cheesecake Recipes
You may have noticed that we are rather busy creating keto cheesecakes this year, with several being no-bake, but that's what you do when you are a fan of cream cheese recipes that are keto-friendly.
The following are some of our growing list of no-bake keto cheesecakes:
Tag Us
I sure hope you will give these keto blackberry cheesecake squares a try. Once you do, make sure you remember to tag us on Instagram and Facebook. It's what keeps this girl encouraged to keep sharing and perfecting her recipes.
Since this recipe is made with almond flour and it's what you prefer to use, I recommend you visit our keto almond flour recipes for more delicious options.
Also, check out our Amazon Store for our recommendations. You might be surprised by how many great keto options are at your disposal.
Grab Our Books & Recipe APP
In case you don't know, we have authored two books for you, Essential Keto Bread and Essential Keto Desserts, both inspired by your requests over the years.
I pray these keto cookbooks will help make keto a delicious breeze for you.
Gain access to simple and delicious recipes for breakfast, lunch, dinner, snacks, and even desserts with our FITTOSERVEGROUP APP.
Join Our Jesus And Keto Movement
Looking for an online support system to help you stay the course on keto? As a family, we came to the keto diet, looking at it from a Christian perspective. As believers, we live our lives supported by God's grace.
So when the Holy Spirit led us to combine our Christian faith and the keto diet, we did so in hopes of finding lasting transformation.
When we followed the Holy Spirit's prompting, we got on the path to real transformation.
Knowing firsthand the benefits of this decision, we have created a closed Christian group that is using the keto diet to transform their lives.
We invite you to join our Private Facebook Group and see if it's not the key you've been missing.
Be sure to request our FREE Jesus and Keto E-Book (First 7 Days). We hope it blesses you.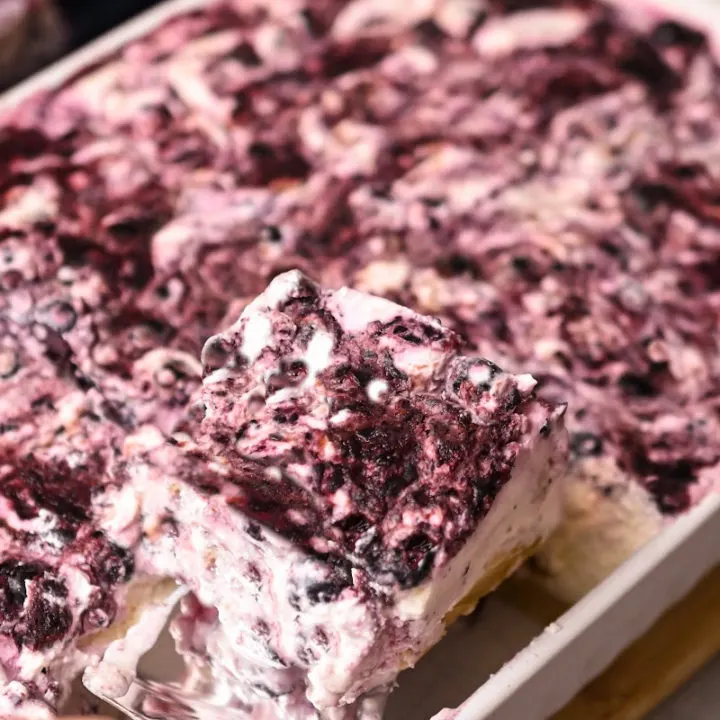 Keto No-Bake Blackberry Cheesecake
Total Time:
1 hour
20 minutes
This keto no-bake blackberry cheesecake features a creamy cheesecake base with a blackberry swirl. It's an easy frozen blackberry keto cheesecake that can be cut into squares!
Ingredients
Keto No-Bake Cheesecake Filling
32 ounces of full-fat cream cheese
2 cups full fat sour cream
2 cups of heavy whipping cream
2 teaspoon of vanilla extract
1/4 teaspoon of sea salt
Keto No-Bake Almond Crust:
1/2 cup of melted unsalted butter
1/4 teaspoon sea salt
1/2 teaspoon of cinnamon powder
Fresh Blackberry Topping
2 pints of fresh blackberries
2 tablespoons of lemon juice
1/2 teaspoon of lemon extract
Instructions
Keto Almond Crust
Mix in a small bowl the almond flour, sugar substitute, cinnamon powder, and sea salt.
To this add the melted butter.
Stir until well combined.
Press the almond crust to the bottom of the dish 9 x 13-inch pan (3.5-quart dish).
Keto Cheesecake Filling
In a large bowl, beat on high the softened cream cheese, sour cream, sugar substitute, vanilla extract, and sea salt.
Scape the sides of the bowl several times.
Add the cold, heavy whipping cream slowly into the cheesecake batter and whip for 3-5 minutes until fully combined and light and airy.
Add the filling to the prepared almond crust.

Fresh Blackberry Topping
In a medium-sized bowl, combine the blackberries with the sugar substitute, lemon juice, and lemon extract. Then in a food processor or blender puree until it forms a sauce.
Assembling The Frozen Keto Blackberry Cheesecake
Spread the blackberry topping over the entire surface of the cheesecake.
Using a small knife, swirl the top of the cheesecake.
Cover the cheesecake well with plastic wrap and foil and place it in the freezer for at least 4 hours or overnight so that the cheesecake can be sliced easily.
Store the cheesecake in the refrigerator for up to 5 days. Freeze for up to 3 weeks.



Notes
This recipe can be halved easily if doing so, use an 8x8 pan.
This cheesecake is best served cold, straight from the freezer. Allow it to thaw for 10-15 minutes before serving or longere if you prefer a softer cheesecake.
Nutrition Information:
Yield:

24
Serving Size:

1
Amount Per Serving:
Calories:

350
Total Fat:

33.2g
Saturated Fat:

17.2g
Cholesterol:

81mg
Sodium:

160mg
Carbohydrates:

4.5g
Net Carbohydrates:

3g
Fiber:

1.5g
Sugar:

0.1g
Protein:

6.8g