This is genuinely the easiest keto no-bake cheesecake! It's rich, smooth, creamy, airy, and flat-out decadent.
It also happens to be a low-carb no-bake cheesecake, so it's also grain-free, gluten-free, and keto-friendly!
Not only is it no-bake, but it also uses only simple-to-source ingredients. This keto cheesecake is so quick and easy, you can whip up a batch lickity-split for a keto dessert everyone will love you for.
I made this no-bake cheesecake in mini jars so that your macros are easier to monitor while doing keto. Although, I can't make any promises that you won't be having seconds with this delish option.
Don't want to make this recipe in mason jars? No problem, you can also make it in a 9-inch pie pan. Instructions are given for both.
I have a couple of other recipes you should try if you're a fan of no-bake cheesecakes, like my keto no-bake chocolate cheesecake or my keto peanut butter chocolate pie.
Check out our Keto Cheesecakes for more delicious flavor and style options.
But also be sure to also check out our keto no-bake cheesecakes for easy access to all our no-bake cheesecake recipes!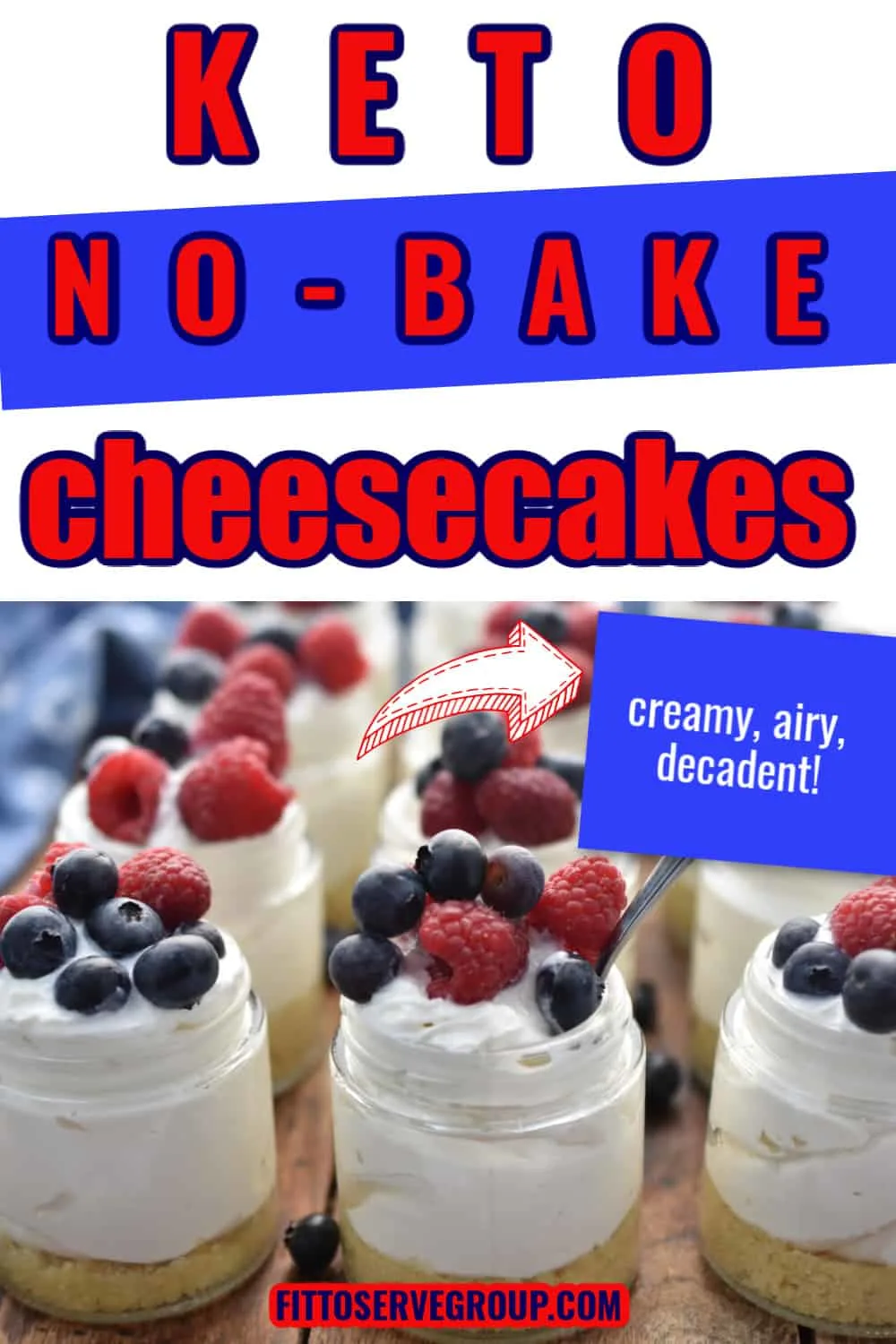 Keto No-Bake Cheesecake
An easy no-bake keto cheesecake had been on my radar for a while. I am well aware that many people can be intimidated about making oven-baked cheesecakes.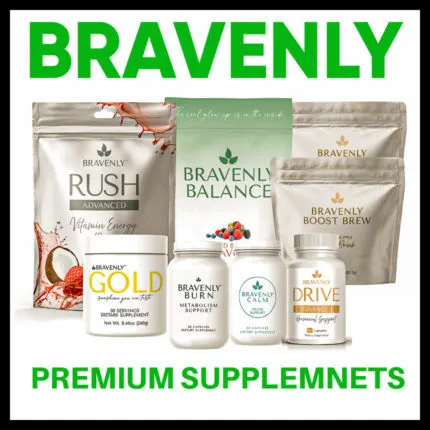 A no-bake cheesecake is, after all, a lot simpler, than a baked one. Since it requires no eggs and no oven, it's virtually foolproof.
You eliminate the risk of overbeating, overbaking, or cheesecake cracks.
I promise if you can measure and use an electric mixer, you can make this low-carb no-bake cheesecake perfectly.
Plus, if you live where it's warm almost year-round, like I do, you'll appreciate that the oven will be turned off for this recipe.
Low Carb No-Bake Cheesecake In A Jar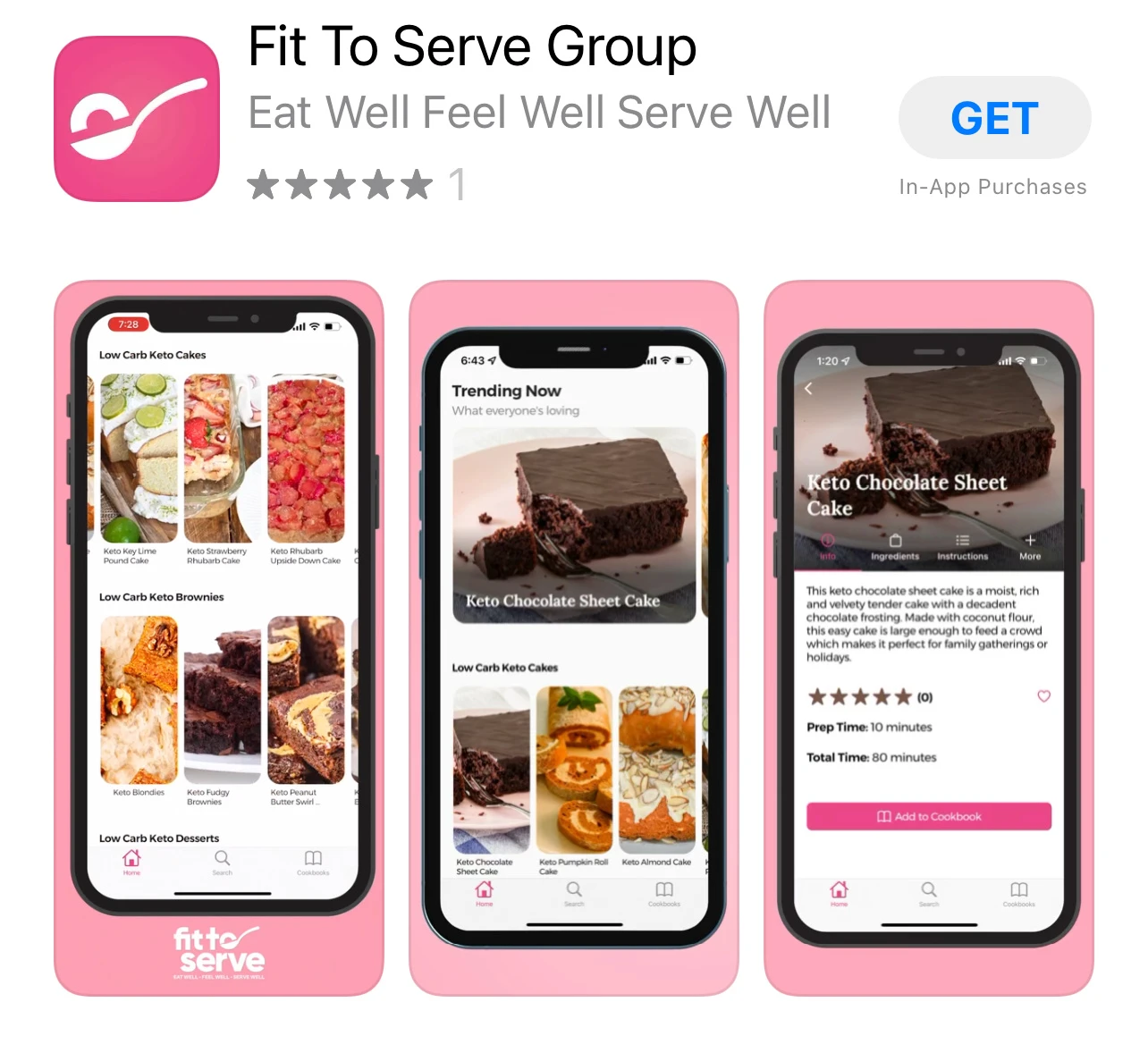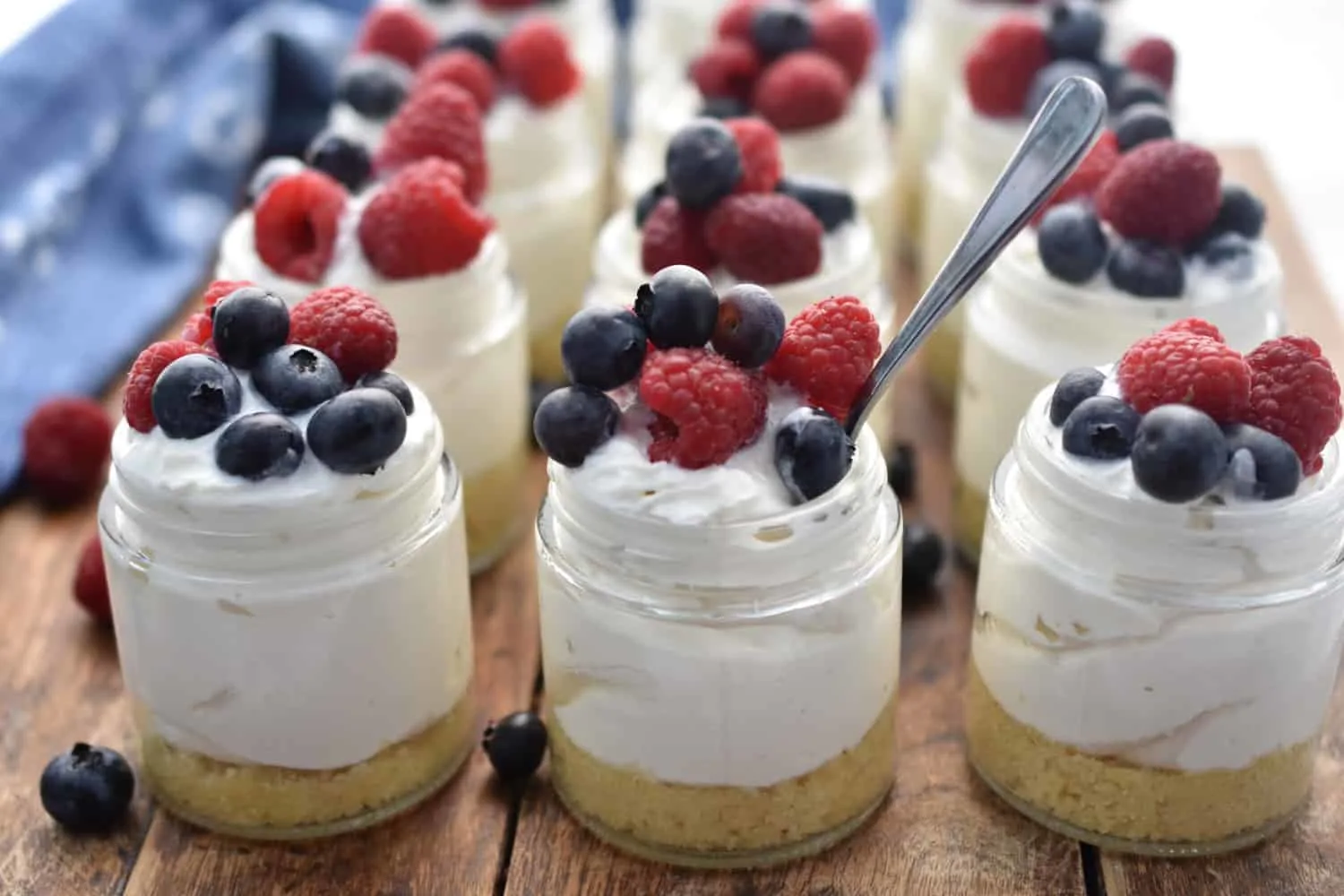 Disclosure: Some of the links below are affiliate links, meaning at no additional cost to you, I will earn a commission if you click through and make a purchase.
This easy, peasy keto cheesecake features an almond flour no-bake crust that is just as yummy as the graham crust versions we all grew up on.
Except that this crust has only three ingredients and is grain and gluten-free. Plus, it's low in carbs. I mean, really what more can you ask for?
The filling tastes like a cheesecake mousse and has a velvety-rich texture that is unmatched.
Making these in 4-ounce mason jars made the presentation more lovely.
You can, however, also make this in a 9-inch pie pan and get fabulous results too. If you make this in a pie pan, you will need to refrigerate the cheesecake for a minimum of 6 hours so that it serves easily.
I decided to top this no-bake cheesecake with berries, but that is optional since these minis taste fabulous plain too.
I will add that adding blueberries and raspberries to the surface of these cheesecakes does make them the perfect patriotic keto treat. Just saying.
How To Make Perfect No-Bake Cheesecake (Keto)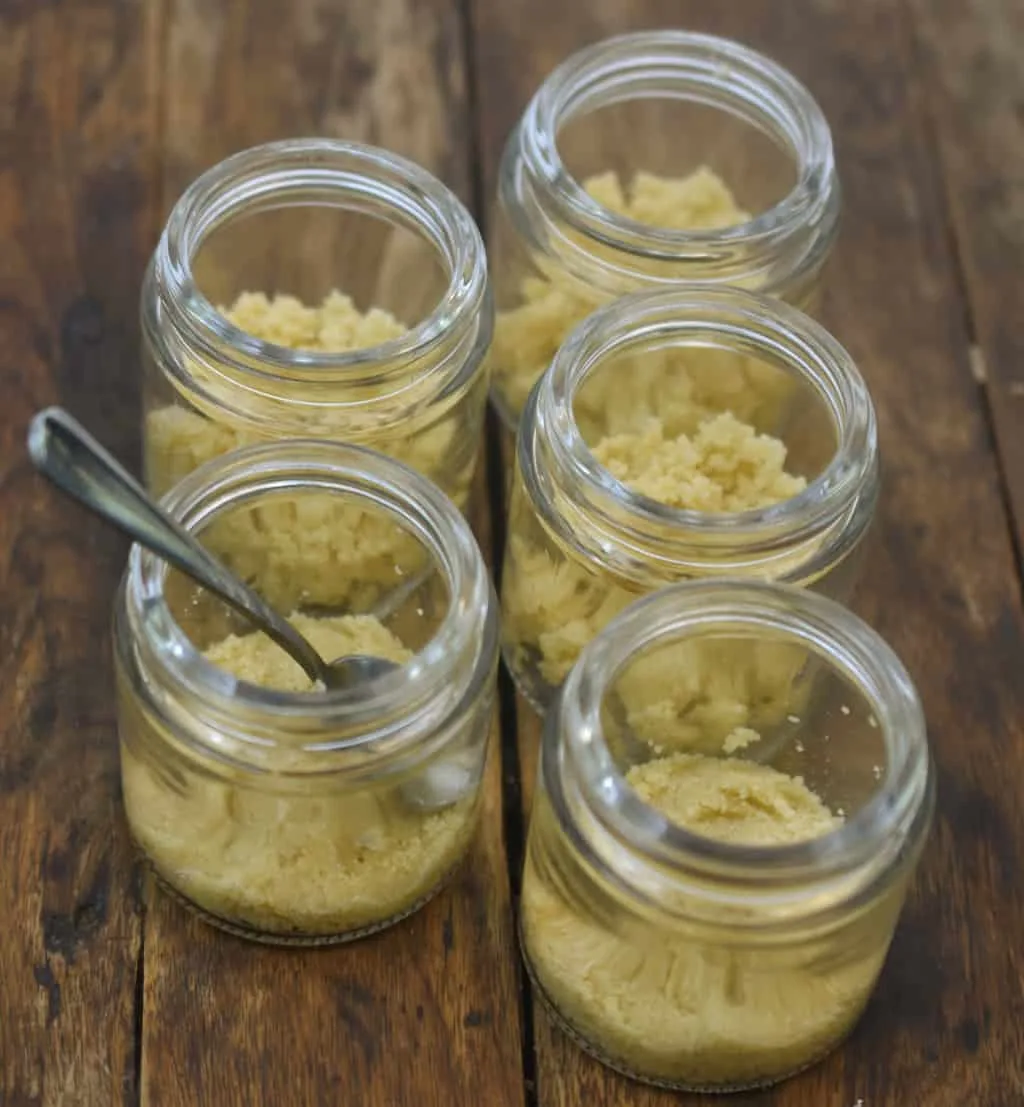 Making this keto dessert is super easy. The main thing to remember is to start with cream cheese that is at room temperature. It needs to be soft; otherwise, you'll miss out on the velvety texture.
Then it's just a matter of using an electric mixer and combining the following ingredients:
Full-fat cream cheese: Use only blocks of real cream cheese NOT cream cheese spread and ensure it's at room temperature.
Sour cream: Full-fat provides the most flavor, plus it's lower in carbs.
Heavy whipping cream: This is necessary for getting a thick cheesecake filling. You'll be whipping it with cream cheese.
Granulated sugar substitute: A must to keep it low in carbs.
Vanilla extract: Heightens the flavor of the cheesecake
Almond flour: Is used for the crust
Melted unsalted butter: For the crust
Mixed berries, optional but recommended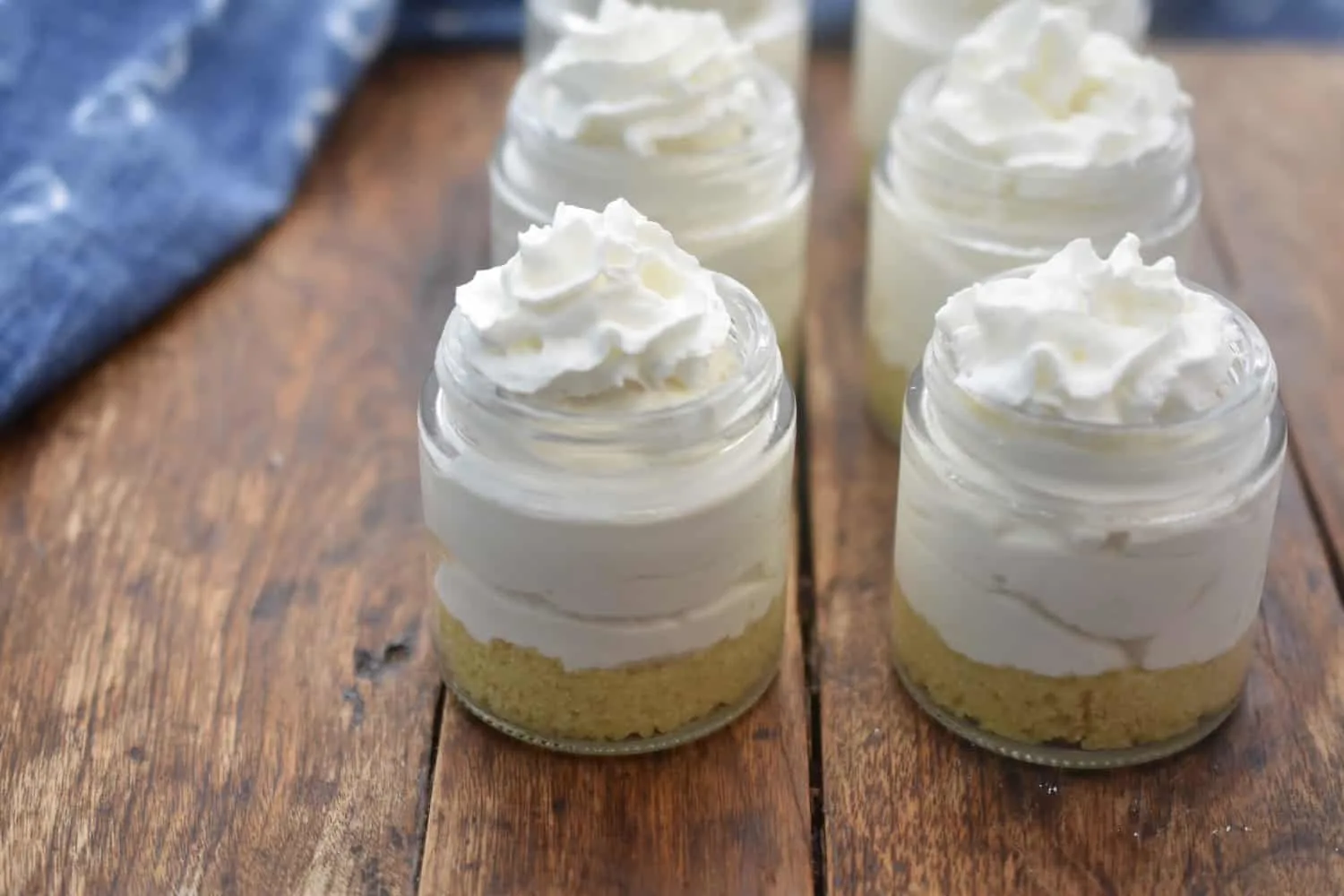 Which Sugar Substitutes Work Best
When it comes to choosing your sugar substitute for this cheesecake, I have several options you can choose from.
My first recommendation is Lakanto Monk Fruit because the texture is spot on, and there is barely any aftertaste. It is a monk fruit and erythritol blend.
I can't keep enough of this stuff stocked in my pantry because it really behaves the most like sugar in my book.
It gets its sweetness from antioxidants called mogrosides, instead of fructose or sucrose. This is why it's a great all-natural sugar substitute. Plus, it has zero calories and zero glycemic index.
With that being said, I'm also partial to Swerve an erythritol blend. Unlike other natural sweeteners like stevia, it has no bitter aftertaste and measures like sugar.
Swerve is made from ingredients found in select fruits and starchy root vegetables and contains no artificial ingredients, preservatives, or flavors. It also has a 0 % impact on blood sugar.
You could also use the stevia and erythritol-based brand Pyure for this no-bake cheesecake if you're a fan of stevia. This is the only stevia brand I would consider because I find all others to have an intense aftertaste that I can't get past.
However, because Pyure is a much sweeter option, you should use half the amount called for.
You can also use Splenda with great success if you have trouble sourcing a more natural alternative.
I don't recommend Splenda Bake because it's a half-sugar, half-sucralose product. Ugh, NOT at all suitable because it will be too high in carbs to be considered keto-friendly.
Tag Us
I sure hope you will give this no-bake keto cheesecake recipe a try and will help us share it. If you try it, remember to tag us on Instagram, Facebook, and Pinterest.
It's what keeps this girl encouraged to keep sharing and perfecting her recipes.
Since this recipe is made with almond flour and it's what you prefer to use, I recommend you visit our keto almond flour recipes for more delicious options.
Also, check out our Amazon Store for our recommendations. You might be surprised by how many great keto options are at your disposal.
Grab Our Books!
In case you don't know, we have authored two books for you, Essential Keto Bread and Essential Keto Desserts, both inspired by your requests over the years.
It's my prayer these keto cookbooks will help make keto a delicious breeze for you.
Join Our Jesus And Keto Movement
Looking for an online support system to help you stay the course on keto? As a family, we came to the keto diet looking at it from a Christian perspective. As believers, we live our lives supported by God's grace.
So when the Holy Spirit led us to combine our Christian faith and the keto diet, we did so in hopes of finding lasting transformation.
When we followed the Holy Spirit's prompting, we got on the path to real transformation.
Knowing firsthand the benefits of this decision, we have created a closed Christian group using the keto diet to transform their lives.
We invite you to join our Private Facebook Group and see if it's not the key you have been missing.
Be sure to request our FREE Jesus and Keto E-Book (First 7 Days) We hope it blesses you.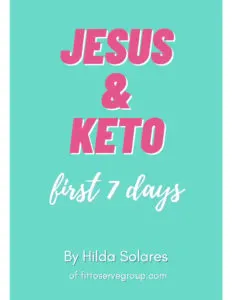 Fittoservegroup Keto App
Looking for a fast way to access our keto recipes? We got you covered. There's an app for that. Yup, there's a Fit To Serve Group App and it's going to make your keto diet a delicious breeze!
Access hundreds of recipes that are all sugar-free, gluten-free, and keto-friendly.
Enjoy early access to recipes before they go live on the website. Plus, bonus recipes that are exclusive to the app. Make your own personal cookbooks that you can use to organize your favorite recipes.
Search recipes by title, ingredients, keywords, and categories, and of course, every recipe shows complete nutritional facts.
Get the Fit to Serve Group App for easy-to-follow keto recipes made with easy-to-source ingredients.
The app is loaded with hundreds of yummy recipes for breakfast, lunch, dinner, snacks, and even desserts!
Learn more by visiting our Fit To Serve Group App Page.
Keto No-Bake Cheesecake
Refrigerate Time:
15 minutes
This recipe makes the easiest keto no-bake cheesecake! It's rich, smooth, creamy, airy, and flat-out decadent. Plus it's also grain-free, gluten-free, and keto-friendly.
Ingredients
Keto Cheesecake Mousse Filling
16 ounces of cream cheese, softened
1 cup full fat sour cream
1 1/2 cups of heavy whipping cream
1 teaspoon of vanilla extract
1/4 teaspoon of sea salt
Keto No-Bake Almond Crust:
¼ cup of melted butter
1/4 tsp sea salt
Mixed Berry Topping (optional )
1/2 cup of fresh blueberries
1/2 cup of fresh raspberries
Instructions
Keto Almond Crust
Mix in a small bowl the almond flour, sugar substitute, and sea salt.
To this, add the melted butter.
Stir until well combined.
Press the almond crust to the bottom of 4-ounce mason jars or 9-inch pie dish
Place the mason jars with the crust into the refrigerator while you make the filling.
Keto Cheesecake Filling
In a large bowl, beat the softened cream cheese, sour cream, sugar substitute, vanilla extract, and 1/4 tsp sea salt on high with an electric mixer.
Scape the sides of the bowl several times.
Add the cold heavy whipping cream slowly into the cheesecake batter and whip for 3-5 minutes until fully combined and light and airy.
Using a piping bag or small spoon, add the cheesecake filling into the individual jars that have the prepared almond crust. If making one large pie add the filling to the prepared almond crust.
Top the cheesecake with fresh blueberries and raspberries, or leave it plain.
Allow the cheesecakes to chill in the refrigerator for 15-20 minutes for the best flavor. If making one large pie, make sure you chill the cheesecake for a minimum of 8 hours so it can be served easily. See notes for details.
Store the cheesecake in the refrigerator for up to 5 days.
Notes
You can also make this no-bake keto cheesecake in a 9-inch pie pan. To do so simply press the almond four crust into the pie pan and then add the cheesecake filling.
If you opt to make this in a pie pan you will need to refrigerate the cheesecake for a minimum of 6-8 hours. So that it slices easily. Otherwise the filling will not slice properly.
Nutrition Information:
Yield:

12
Serving Size:

1
Amount Per Serving:
Calories:

343
Total Fat:

33.2g
Saturated Fat:

17.2g
Cholesterol:

81mg
Sodium:

160mg
Carbohydrates:

5.3g
Net Carbohydrates:

3.8g
Fiber:

1.5g
Sugar:

0.1g
Protein:

6.8g