This keto no-bake chocolate strawberry cheesecake is not only delicious, but it's also an easy, no-bake, gluten-free, sugar-free keto dessert!
If you're a fan of the combo of chocolate and strawberry, this keto no-bake chocolate cheesecake you're in for a real treat. It's not only a decadent-tasting dessert, but it also happens to be S-U-P-E-R easy to make.
Do you know what makes a traditional high-carb cheesecake a great candidate for a keto transformation? Cream cheese!
Since cream cheese is naturally low in carbs, it makes for an easy recipe to convert to keto. And it's why I have an entire collection of keto cheesecake recipes.
Keto No-Bake Chocolate Strawberry Cheesecake
The flavor profile of this chocolate cheesecake pie reminds me of Burger King's HERSHEY'S® Sundae Pie, except that this a healthy, good-for-you recipe.
For one, this recipe is homemade, and guess what? Homemade is ALWAYS better in my book. Plus, it uses only REAL ingredients.
OHHHH, and let me remind you that my recipe is also low in carb, and keto-friendly! Betcha can't say that about the other one now, can you?
No-Bake Keto Chocolate Pie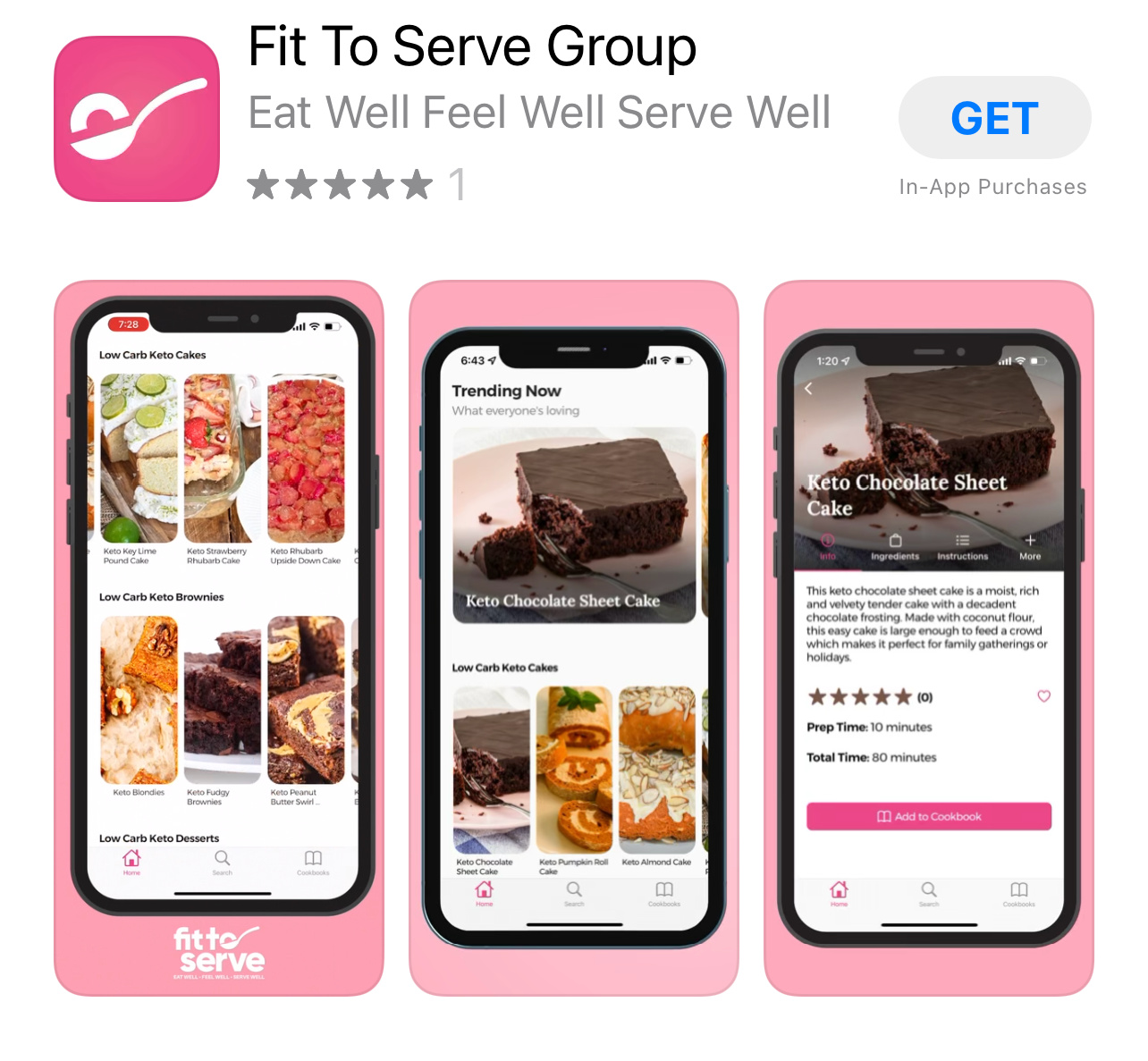 Did you catch that this low-carb cheesecake is NO BAKE? This leaves no excuses for my no-baking friends not to give it a try. Non-baker this recipe has your name written all over it.
I promise that if you can use a mixer, you can make this low-carb no-bake chocolate strawberry cheesecake recipe.
Besides it being super easy to make, you can opt to leave the strawberries out if they are not in season. Trust me, this keto cheesecake is rich enough to stand all by itself.
Don't get me wrong, strawberries add a great dimension to this keto no-bake chocolate strawberry cheesecake, but if you can't get your hands on some fresh strawberries it's not a deal-breaker.
An added bonus of omitting the strawberries is that it makes the dessert even lower in carbs. So yeah, go ahead and make this keto no-bake cheesecake year-round.
With that being said, you certainly need to try the recipe exactly as written at least once. Because let's face it, nothing beats the combo of chocolate and strawberries. These besties were meant to go hand in hand.
How To Make A Keto No-Bake Cheesecake
Disclosure: Some of the links below are affiliate links, meaning at no additional cost to you, I will earn a commission if you click through and make a purchase.
Note that the full printable recipe card is at the bottom of the post.
This no-bake cheesecake features four layers, a keto oreo chocolate crust, a rich chocolate cheesecake, fresh strawberry topping, and a drizzle of chocolate ganache.
I used both sugar-free cocoa powder and baking chocolate. I went with two forms of chocolate in a recipe because it really amplifies the flavor.
I went with Hershey's Dark Cocoa Powder because it really does a great job, and you can't beat the price. But of course, you can also use Ghirardelli's cocoa powder if you want to splurge on richer tasting chocolate.
What You'll Need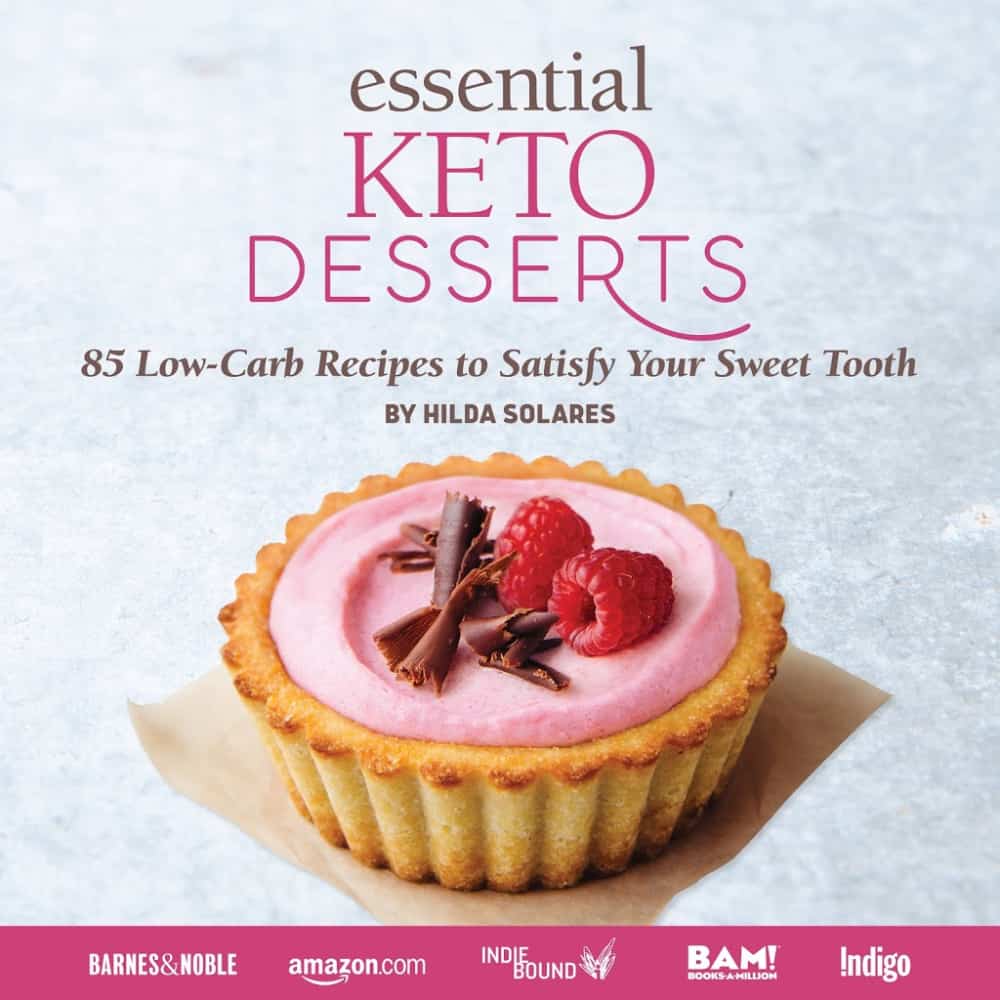 Keto Oreo Chocolate No-Bake Crust:
Melted unsalted butter
Unsweetened baking chocolate
Almond flour
Salt
Chocolate No-Bake Cheesecake:
Cream cheese (room temperature)
Full-fat sour cream
Cocoa powder
Baking chocolate
Unsalted melted butter
Strawberry Top Layer
Fresh sliced strawberries
Chocolate Ganache
85% chocolate
1 tablespoon of coconut oil
Health Benefits Of Chocolate
Chocolate is processed from the seed of the cocoa tree and it's actually one of the best sources of antioxidants. Isn't it fabulous that it also happens to be delicious?
Because of the high concentration of antioxidants in chocolate, studies are showing that it can improve our health and even lower the risk of heart disease.
Maybe that's why chocolate is so loved during Valentine's? It's a heart thing! Consuming chocolate can even improve your mood and memory.
BUT of course, this is only referring to chocolate that is not loaded with sugar. AND….keep in mind that the darker the better when it comes to chocolate's health properties.
Sugar-Substitute Options
As far as the best sweeteners for this no-bake sugar-free chocolate strawberry cheesecake, I recommend the use of Lakanto's granulated sugar substitute it's their erythritol and monk fruit sweetener that is as close to sugar as it gets.
Having said that, you can also use the brand Swerve which is an erythritol blend. Similar to Lakanto it uses sugar alcohols and has a 0 % impact on blood sugar.
You could also use the stevia and erythritol-based brand Pyure if you prefer to use a stevia-based sweetener. I will however add that we are not sure why but chocolate and stevia do not always place nice and can intensify the aftertaste of stevia.
It's not my preference to ever use stevia in chocolate recipes for this reason. Due note, that if this is your pick make sure you reduce the amount called for in the recipe by half since it's a much sweeter option.
If you can't easily find a more natural sugar substitute you can also use Splenda with good success. I know not everyone would agree with me here and I respect that but in my book, it's still better than regular sugar.
Tag Us
Make sure you remember to tag us on Instagram and Facebook with your pictures. I just LOVE seeing my little recipes recreated.
Be sure to also check out our keto no-bake cheesecakes for easy access to all our no-bake cheesecake recipes!
It's what keeps me encouraged to keep sharing and perfecting my recipes for you. For more support and recipes make sure to join our Private Facebook Group.
It's a growing community of like-minded, highly supportive people who eagerly want to share what's worked for them.
Grab Our Books!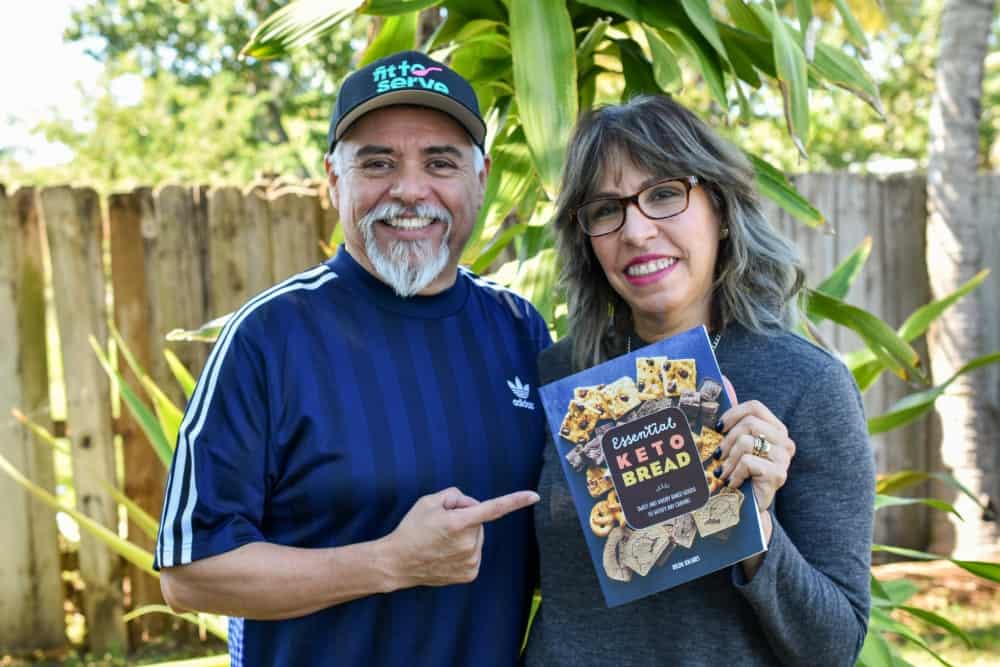 In case you don't know we have authored two books for you, Essential Keto Bread and Essential Keto Desserts both inspired by your requests over the years. It's my prayer these keto cookbooks will help make keto a delicious breeze for you.
Join Our Jesus And Keto Movement
Looking for an online support system to help you stay the course on keto? As a family, we came to the keto diet looking at it from a Christian perspective. As believers, we live our lives supported by God's grace.
So when the Holy Spirit led us to combine our Christian faith and the keto diet, we did so in hopes of finding lasting transformation. When we followed the Holy Spirit's prompting to we got on the path to real transformation.
Knowing firsthand the benefits of this decision we have created a closed Christian group that is using the keto diet to transform their lives. We invite you to join our Private Facebook Group and see if it's not the key you have been missing.
Be sure to request our FREE Jesus and Keto E-Book (First 7 Days) We hope it blesses you.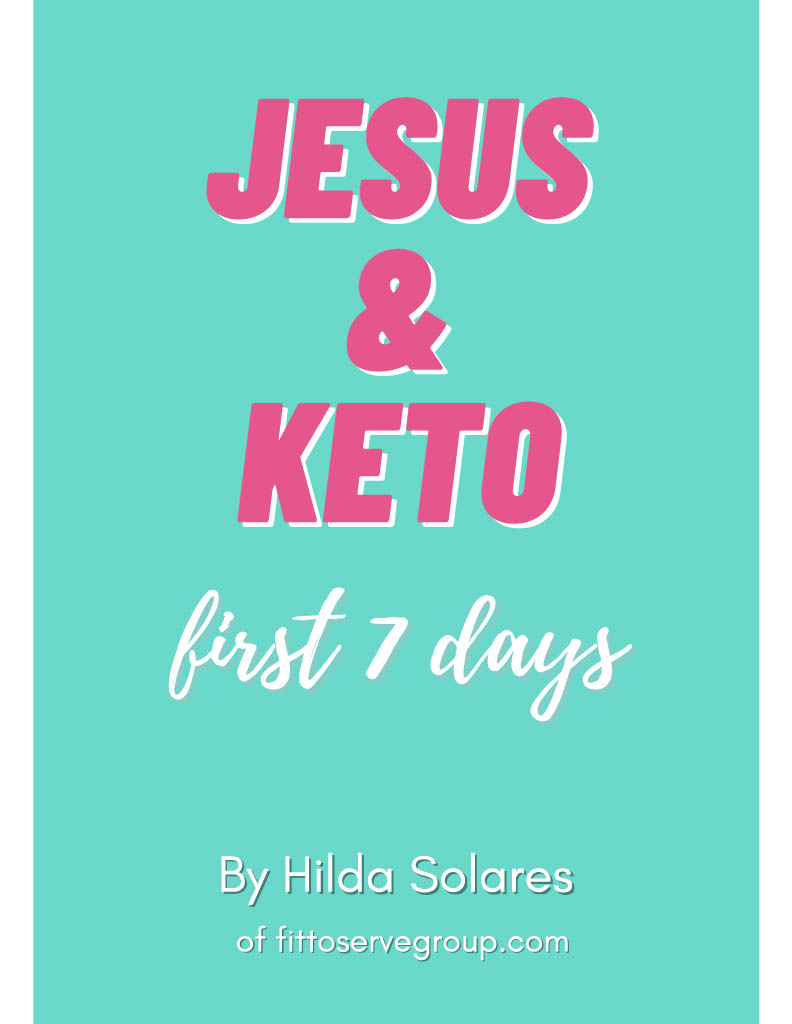 Fittoservegroup Keto App
Looking for a fast way to access our keto recipes? We got you covered. There's an app for that. Yup, there's a Fit To Serve Group App and it's going to make your keto diet a delicious breeze!
Access hundreds of recipes that are all sugar-free, gluten-free, and keto-friendly.
Enjoy early access to recipes before they go live on the website. Plus, bonus recipes that are exclusive to the app. Make your own personal cookbooks that you can use to organize your favorite recipes.
Search recipes by title, ingredients, keywords, and categories, and of course every recipe shows complete nutritional facts. Get the Fit to Serve Group App for easy-to-follow keto recipes made with easy-to-source ingredients.
The app is loaded with hundreds of yummy recipes for breakfast, lunch, dinner, snacks, and even desserts!
Learn more by visiting our Fit To Serve Group App Page.
Keto No-Bake Chocolate Strawberry Cheesecake
Total Time:
4 hours
20 minutes
This keto no-bake chocolate strawberry cheesecake features a chocolate "oreo" crust and a rich chocolate cheesecake filling. It's topped with fresh strawberries and a chocolate ganache sauce for the ultimate keto dessert.
Ingredients
Keto Chocolate No Bake Crust:
1/4 cup of melted unsalted butter
2 ounces of unsweetened baking chocolate
2 cups of almond flour
1/4 teaspoon of sea-salt
Keto No Bake Chocolate Strawberry Cheesecake:
20 ounces of cream cheese (room temperature)
2 cups of full-fat sour cream
1/4 cup of cocoa powder ( I used dark cocoa powder)
2 ounces of unsweetened baking chocolate
1/4 cup of unsalted melted butter
Strawberry Layer
16 ounces of sliced strawberries (use less for a lower in carb option)
Chocolate Ganache
1 ounce of 85% chocolate
1 tablespoon of coconut oil
Instructions
Keto Chocolate Crust
Melt the butter with the baking chocolate ( I used a microwave for 40-45 seconds)
To this add the almond flour, sugar-substitute, sea-salt, and combine well.
Press the crust into a 9-inch pie crust and place in the fridge until ready to fill.
Keto No-Bake Chocolate Cheesecake
Melt the butter and unsweetened baking chocolate and combine well.
Using a mixer combine well the cream cheese, sour cream, cocoa powder, and sugar substitute.
Then add the chocolate/butter mixture gradually to the cheesecake batter and mix till fully combined.
Fill the chocolate crust with the chocolate cheesecake batter. Making sure to spread the mixture evenly.
Fresh Strawberry Topping
Add thinly sliced strawberries to the top of the cheesecake.
Chocolate Ganache
Melt the coconut oil with one ounce of 85% chocolate.
Top the keto chocolate strawberry cheesecake by drizzling the chocolate ganache sauce over the top of the strawberries.
Allow pie to chill for a minimum of 4 hours or overnight before slicing.
Store leftovers in the refrigerator for up to 5 days.
Notes
If making the chocolate ganache with baking chocolate add 2 tablespoons of powdered sugar-free sugar.
Nutrition Information:
Yield:

14
Serving Size:

1
Amount Per Serving:
Calories:

355
Total Fat:

35g
Saturated Fat:

21.1g
Cholesterol:

76mg
Sodium:

188mg
Carbohydrates:

9.1g
Net Carbohydrates:

6.2g
Fiber:

2.9g
Sugar:

2g
Protein:

6.6g