This collection of keto cream cheese fat bomb recipes has something for anyone looking to add more fat to their diet. Whether you prefer chocolate, cheesecake, or fresh citrus desserts, you are sure to find a cream cheese fat bomb that satisfies your cravings while also helping you get into ketosis!
All of my recipes below for fat bombs are low carb, sugar-free, and delicious. And best of all they're a breeze to make and no-bake! That's what makes any of these keto fat bombs a perfect treat and pick me up for anyone doing keto.
These keto fat bombs are made with a base of cream cheese, coconut oil, butter, and sugar alternatives such as monk fruit and erythritol so that they have zero glucose impact. So you can stop craving sweets while enjoying a keto diet and start burning fat for fuel!
Cream Cheese Fat Bombs
Making fat bombs with cream cheese just makes sense in my book. For one, cream cheese has lots of fat but more importantly, it's delicious! Using cream cheese in these fat bombs results in a delicious bite-sized fat bombs cheesecake.
The possibilities are truly endless and as you'll find below, I've made tons of options for you to try out. This collection includes flavor options for every sweet tooth. It won't disappoint, I promise!
The great thing about cream cheese fat bombs is that even though they are oh so tasty they are actually a tool to help get you into ketosis! It doesn't get better than that!
Making Keto Fat Bombs With Coconut Oil
Coconut oil macros are excellent for making fat bombs and it's why you'll find it in most keto diets. Coconut oil is almost 100% fat which in the case of creating fat bombs for a keto diet is a great thing.
The structure of the fat found in coconut oil is different from the fat of most animal products, which consists of long-chain fatty acids.
Coconut oil though is high in MCTs (medium-chain triglycerides). MCTs are harder for your body to convert into stored fat which makes it easier to burn off than long-chain triglycerides (LCTs).
However, when making fat bombs using coconut oil there are a few things to consider beforehand.
The first to consider is that coconut oil has a low melting point (78 degrees Fahrenheit) which means that it can soften and even melt at room temperature. Especially if you live somewhere extra warm like sunny South Florida.
For this reason, fat bombs using coconut oil have to be kept in the freezer or refrigerator to prevent melting. This makes them a tasty frozen treat!
The second thing to consider is the kind of coconut oil you decide to use. Refined or unrefined. Unrefined coconut oil contains a lot of the flavor of the coconut. This can sometimes compete or conflict with other flavors in a recipe.
Refined coconut oil has a faint flavor of coconut and can be used in most recipes without the flavor of the coconut being detected. This is why I choose to use refined coconut oil when making my cream cheese fat bombs.
I will say that sometimes the flavor of the coconut can be welcomed and I have used unrefined coconut oil to make the key lime cheesecake fat bombs as well as the blueberry cheesecake fat bombs and it's delicious!
Ultimately the decision is yours and both will work great, it's a matter of preference and flavor.
Why Even Eat Fat Bombs?
You might be wondering why you should even be adding fat bombs to your diet. Especially when you've been told all your life that fat makes you fat!
If you're already following a low-carb keto diet (as I suspect you might be if you've found this page) you probably already know and understand this concept.
The idea is when enjoying a ketogenic diet your main source of energy should come from fat. But if you are new to a low carb high-fat lifestyle, adding fat to your diet, especially in the form of fat bombs may seem bizarre to you.
In a keto diet, the main goal is to reduce your carbs and raise healthy fat intake so that you can enter ketosis and burn fat for fuel.
A true Ketogenic diet's macros are usually, 75% fat 20% protein, and 5% carbs. Lots of people choose to track all of their meals to be sure they stay within their macros while others simply let their hunger guide them. I recommend that you test what macros work best for you and see how your body reacts because every person is different.
By adding more healthy fats into your diet you can keep your appetite and cravings in check, have more energy, keep sugar cravings to a minimum, and much more! This is why keto fat bombs could be your answer to how to stop craving sugar. Fat bombs provide healthy fats to satisfy your sweet tooth without carbs and no sugar!
Don't Mix High-Fat Foods With High Carbs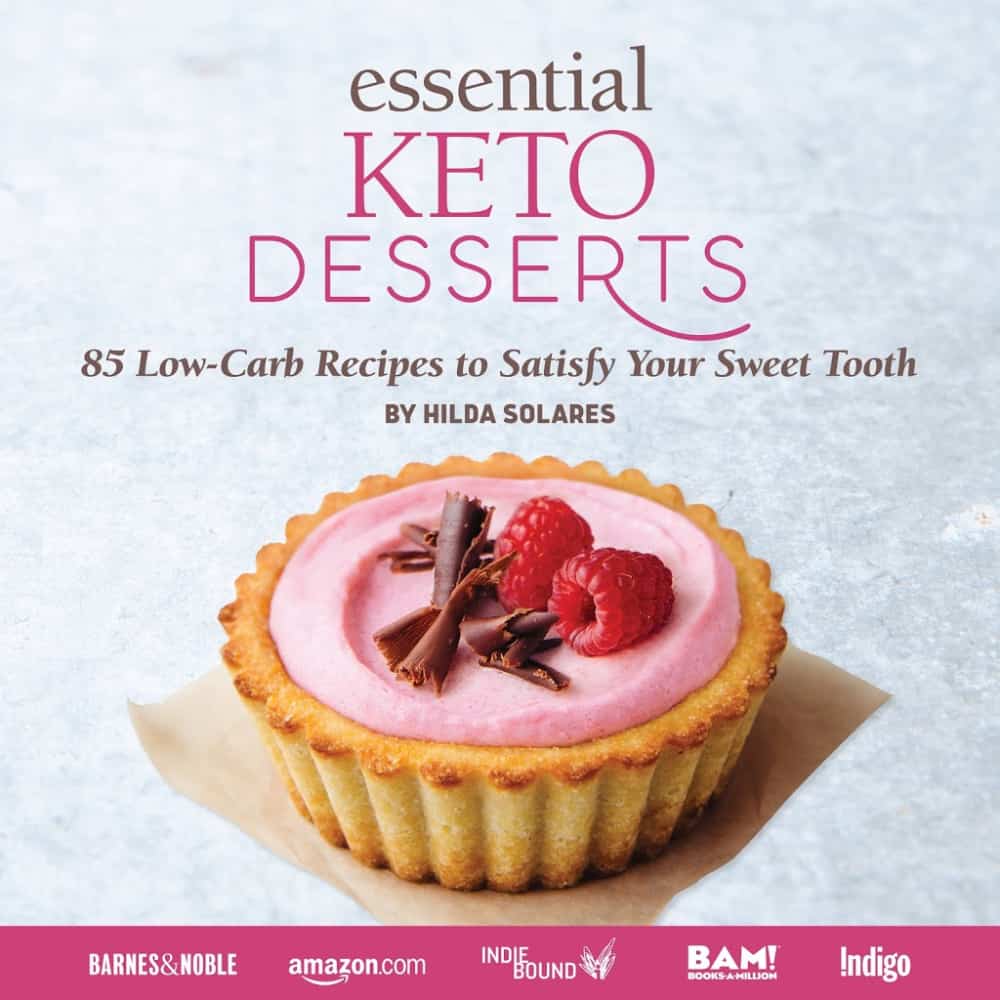 If you want to start adding fat bombs to your diet, it's important to understand you also have to reduce your carbohydrate intake. I can't stress this enough. Adding extra fat, such as fat bombs to a traditional diet that is high in carbs can set you back.
Why you might ask? High fat and high carbs should never co-exist. It's a recipe for disaster. This is why junk food is so bad for you!
You see, it's the carbs that make your body store the fat. Dietary fat alone is not the issue. When carbs and fat are combined you will not gain the benefits of burning fat for fuel. Instead, you will find yourself packing on some extra unwanted pounds.
So do yourself a favor and be sure you are following a keto low carb diet before adding fat bombs to your diet.
What You'll Need
The following is a list of tools, equipment, and ingredients you will need to make the cream cheese fat bombs.
Cream Cheese

Butter

Coconut oil

Sugar substitute of your choice, I prefer

Lakanto
Best Sugar-Substitutes For Cheesecake Fat Bombs
I have several sugar substitutes you can use when making these keto cheesecake fat bombs. If you're looking for a sweetener that reminds you of real sugar I'd recommend you try Lakanto Monk Fruit. It's hands down my favorite sugar substitute.
The texture of this all-natural sweetener is spot on plus it barely has an aftertaste. I'm also partial to Swerve which is an erythritol blend.
You could also use the stevia and erythritol-based brand Pyure here with good results. Lastly, if you can't easily find a more natural sugar substitute you can also use Splenda with great success.
I just don't recommend any liquid sweeteners because I find they tend to crystallize when frozen.
Tag Us
I sure hope you will give these cream cheese fat bombs a try. Once you do, make sure you remember to tag us on Instagram and Facebook.
Also, check out our Amazon Store for our recommendations. You might be surprised by how many great keto options are at your disposal.
Grab Our Books!
In case you don't know we have two books for you, Essential Keto Bread and Essential Keto Desserts both inspired by your requests over the years. It's our prayer these keto cookbooks will help make keto a delicious breeze for you.

Favorite Keto Hack To Stay On Track!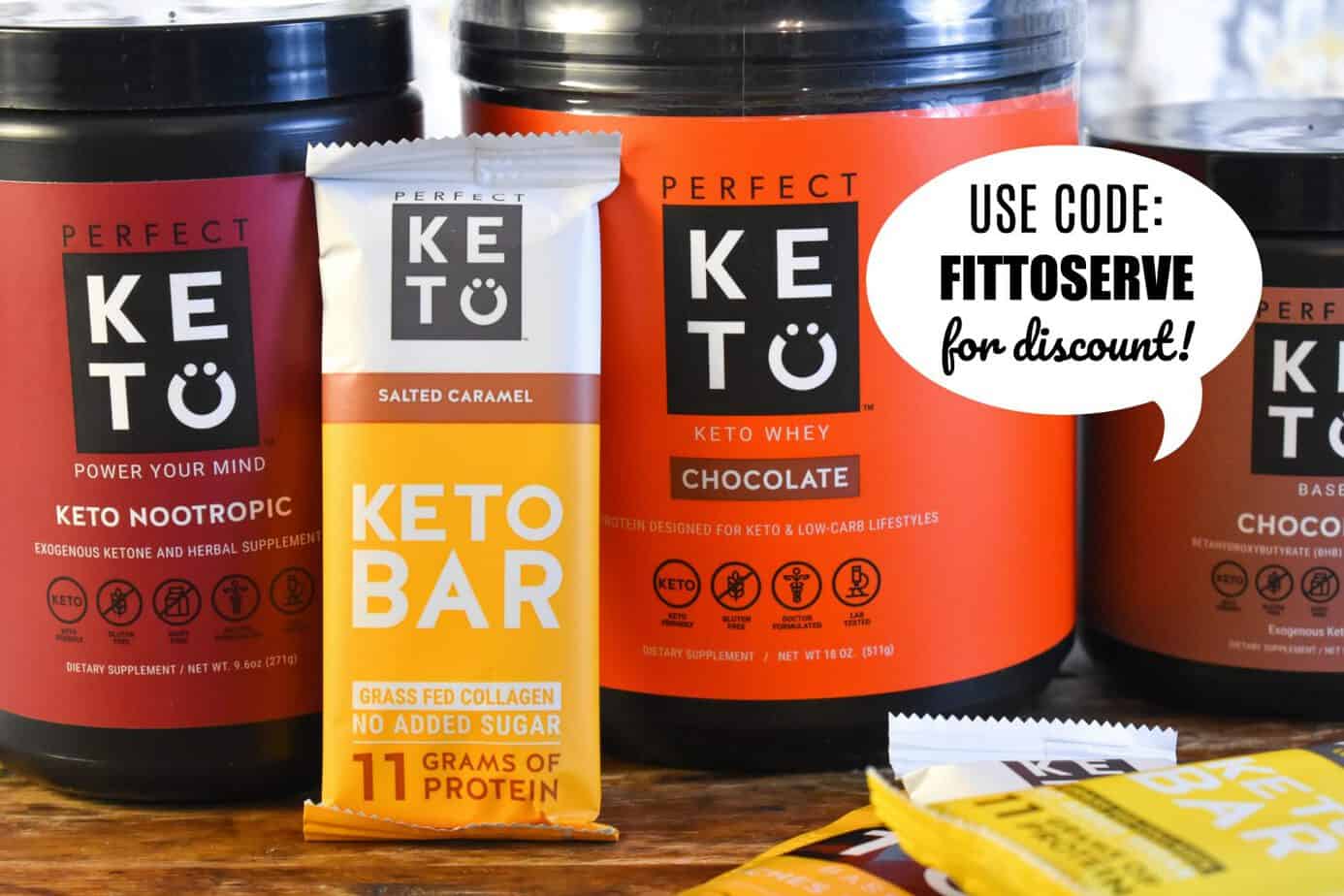 Arming yourself with keto recipes is certainly key in doing this diet long enough to see the many benefits. But even with the best low-carb ketogenic recipes sometimes additional help is needed.
This is when we also encourage you to have the right supplements to help you get and stay in ketosis. Because when you have the right tools the keto diet becomes easier.
Perhaps you've struggled to get into ketosis consistently on your low-carb keto diet, or you've hit a plateau that doesn't seem to budge, consider using Perfect KETO's bundle to assist you. It's a great way to see the benefits sooner rather than later.
You'll learn how to elevate your ketones naturally enter into ketosis more quickly. Being at a deeper level of ketosis will help reduce your appetite, carb cravings, and give you lasting energy. These are the things you want to see happen as they make this diet sustainable and it's why we recommend them.
Perfect Keto has offered our readers a 15% discount on their products. Simply use this link for all qualifying products and the code FITTOSERVE at checkout.
Cream Cheese Fat Bombs
This collection of keto cream cheese fat bomb recipes has something for anyone looking to add more fat to their diet. Whether you prefer chocolate, cheesecake, or fresh citrus desserts, you are sure to find a cream cheese fat bomb that satisfies your cravings while also helping you get into in ketosis!