Keto pumpkin streusel coffee cake, the delicious result of combining a low carb streusel coffee cake with pumpkin puree. It's the perfect keto brunch recipe.
Have I got a treat for you today! It's a recipe for keto-friendly pumpkin streusel coffee cake. It's the keto coffee cake you will be making all pumpkin season long. Are you looking for the perfect brunch treat to enjoy during the fall? Look no further, because this keto pumpkin streusel coffee cake is sure to be the star of your morning gatherings.
This keto pumpkin spiced coffee cake is moist, tender, rich, and easy to make. A true keto coffee cake masterpiece.
Both the keto cake layer and streusel topping are jammed packed with the spices of fall. Making every bite a delectable treat.
Do check out our Keto Pumpkin Coconut Flour Coffee Cake if you are needing a nut-free version. You can also check out my complete list of Keto Cakes that any cake lover doing keto would enjoy exploring. And as a pumpkin spice lover don't forget to also visit our Keto Pumpkin Recipes.
Keto Pumpkin Streusel Coffee Cake
This keto pumpkin streusel coffee cake features a generous amount of streusel topping and a moist melt in your mouth pumpkin spice cake. If there ever was a way to showcase the deliciousness of keto foods, this keto coffee cake would be at the top of the list.
My recipe for keto pumpkin coffee cake was inspired by my favorite keto sour cream streusel coffee cake. A little tweaking of that recipe, allowed me to create what is sure to become a pumpkin season favorite.
Keto Pumpkin Coffee Cake For Brunch
Brunch has always been my favorite meal for a get-together. Something about guests showing up after they've had a restful night's sleep to a gathering seems to set the tone beautifully.
And you know what else will make everyone smile? This recipe for keto pumpkin streusel coffee cake. Even your non-keto guests will gobble this coffee cake right up. Yup, that's how confident I am that you too will fall in love with it.
When I tested this recipe on my family during an impromptu Saturday brunch, this pumpkin spiced coffee cake became the highlight of the day.
As good as the steak and eggs were, they didn't hold a candle to the keto pumpkin coffee cake.
When I get an overwhelming response like this from my family, I know it's a winning recipe and an answer to prayer.
Because this girl always prays for the download before attempting to create a recipe. I've said it numerous times and I will continue to say it, the Lord gets all the glory for these keto creations.
Almond Flour Low Carb Pumpkin Coffee Cake
Can you imagine greeting your guests during the holidays with a keto pumpkin coffee cake? I'm telling you, your brunch gathering will be the talk for years.
Made with almond flour it's the perfect low carb coffee cake when pumpkin season rolls around. It's one I hope you will make it during the holidays.
What a delight for your guests to be arrested by the aroma of pumpkin spice when they enter your home. And how neat to be able to tell them that it's NOT a fall candle they are smelling. But that it's a healthy, sugar-free pumpkin streusel coffee cake you've made just for them.
How To Make A Great Keto Pumpkin Streusel Coffee Cake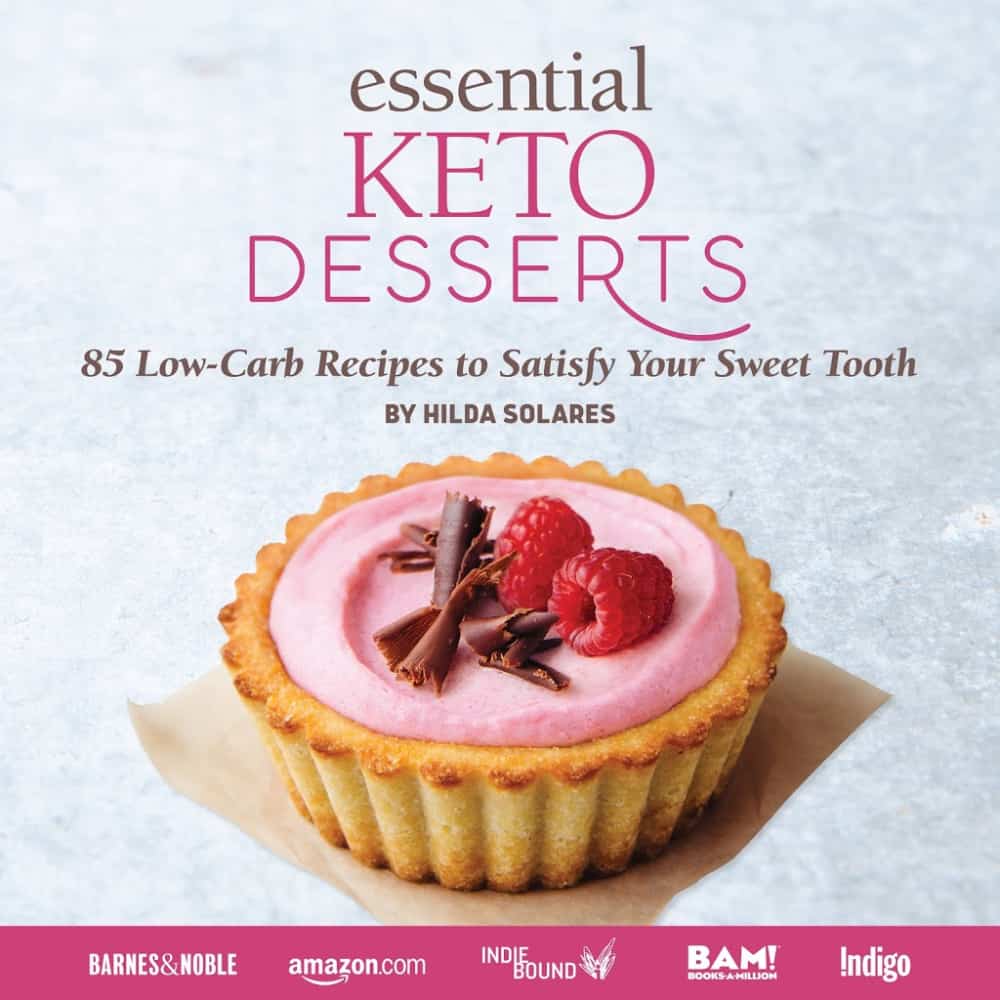 Disclosure: Some of the links below are affiliate links, meaning at no additional cost to you, I will earn a commission if you click through and make a purchase.
This easy keto brunch recipe uses a few staple ingredients found in low carb keto baking. And with my guidance, I hope to help you execute it perfectly.
The following are the ingredients you'll need. Note that the full printable recipe card is at the bottom of the post.
Gluten-Free Pumpkin Coffee Cake
Streusel Topping
Vanilla Icing
Tips For Making The Perfect Keto Pumpkin Streusel Coffee Cake
Making The Perfect Keto Streusel Topping
It only takes a few basic steps to create an amazing streusel topping that is low in carbs and keto-friendly. And the reason you want a great keto streusel is that you can add this to some of our other keto cakes to further enhance them.
Trust me, once you embrace this keto streusel topping, you'll be wanting to add it to just about any treat. I recommend you try it on our keto cream cheese pound cake for a nice little twist. Do let me know if you do because I love getting your feedback.
Keto Streusel Topping Tips
Once you have baked and allowed your keto pumpkin coffee cake to cool completely about 20 minutes. You can drizzle the top of the cake with the keto vanilla icing.
Store any leftovers in the fridge after 24 hours. Although I highly doubt you'll end up with too many leftovers. This recipe also freezes well, making it perfect for the holidays. Freeze the entire cake in the container and allow the cake to defrost in the fridge overnight or on the kitchen counter for several hours.
Tag Us
I can't wait for you to add this keto pumpkin streusel coffee cake to your collection of healthy treats. If you decide to please remember to tag us on Instagram and Facebook with your pictures. It's what keeps this girl encouraged to keep sharing and perfecting her recipes for you.
Be sure to also check our collection of keto coffee cakes for more delicious options!
Join Our Jesus and Keto Movement!
Before you think we've gone too far with the keto lifestyle, let me explain why we think you should consider combining it with the Christian faith.
As Christians Randy and discovered that in order to find true transformation in all areas of our lives, we needed to align our walk with our talk. And this included the foods we would use to nourish our bodies.
We could no longer believe God for healing but ignore our responsibility in taking care of the very place the Holy Spirit chooses to abide. To do so went against the integrity of our character.
In a bold and maybe even a bit controversial move in January of 2014, we decided to make our keto lifestyle a fast unto the Lord. What we learned has transformed our lives in ways we could have never imagined.
Today we are not only experiencing greater health, but our walk with Christ has also grown by leaps and bounds.
I encourage you to open your hearts and minds to the same possibility. Perhaps being in a state of ketosis isn't just beneficial to your health goals, maybe when our bodies are running optimally we can hear his promptings more clearly.
You can read more here about our Jesus and Ketones lifestyle. Visit our about page to understand our personal journey and why we've made the decision to follow Jesus and combine it with the Keto lifestyle for greater transformation.
Knowing firsthand the benefits of this decision we have created a closed Christian group that is using the keto diet to transform their lives. We invite you to join our Private Facebook Group and see if it's not the key you have been missing.
Note that once you click the link you will be prompted to answer a few questions that ensure that you understand what this group stands for.
It has become our life mission to share what we have learned. It's our prayer that our testimony will help others find victory in their spirit, mind, and body.

Favorite Keto Hack To Stay On Track!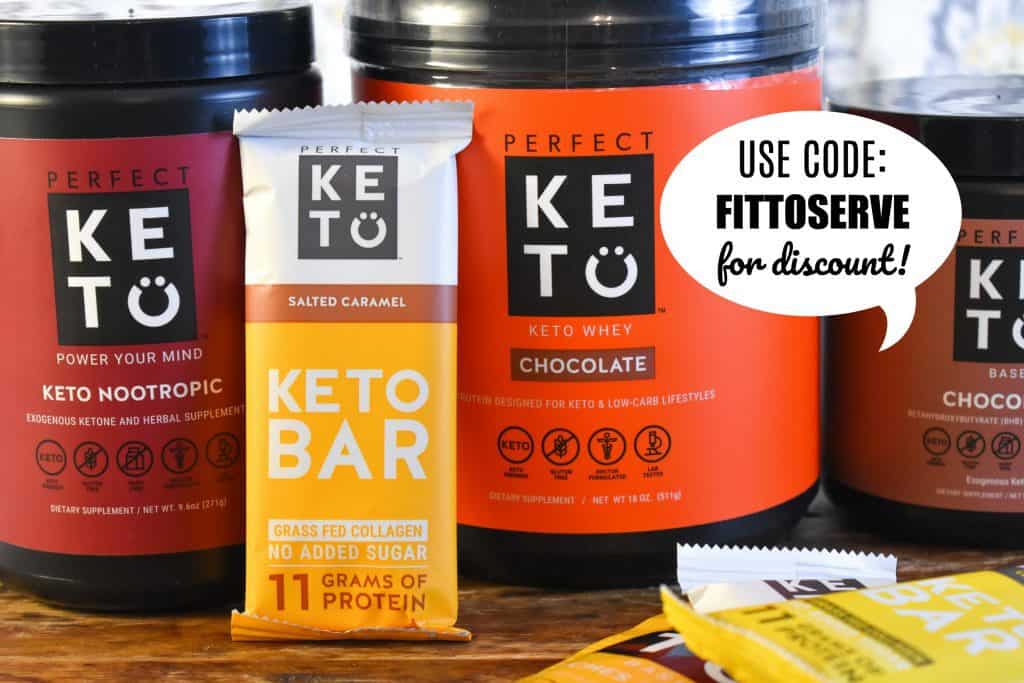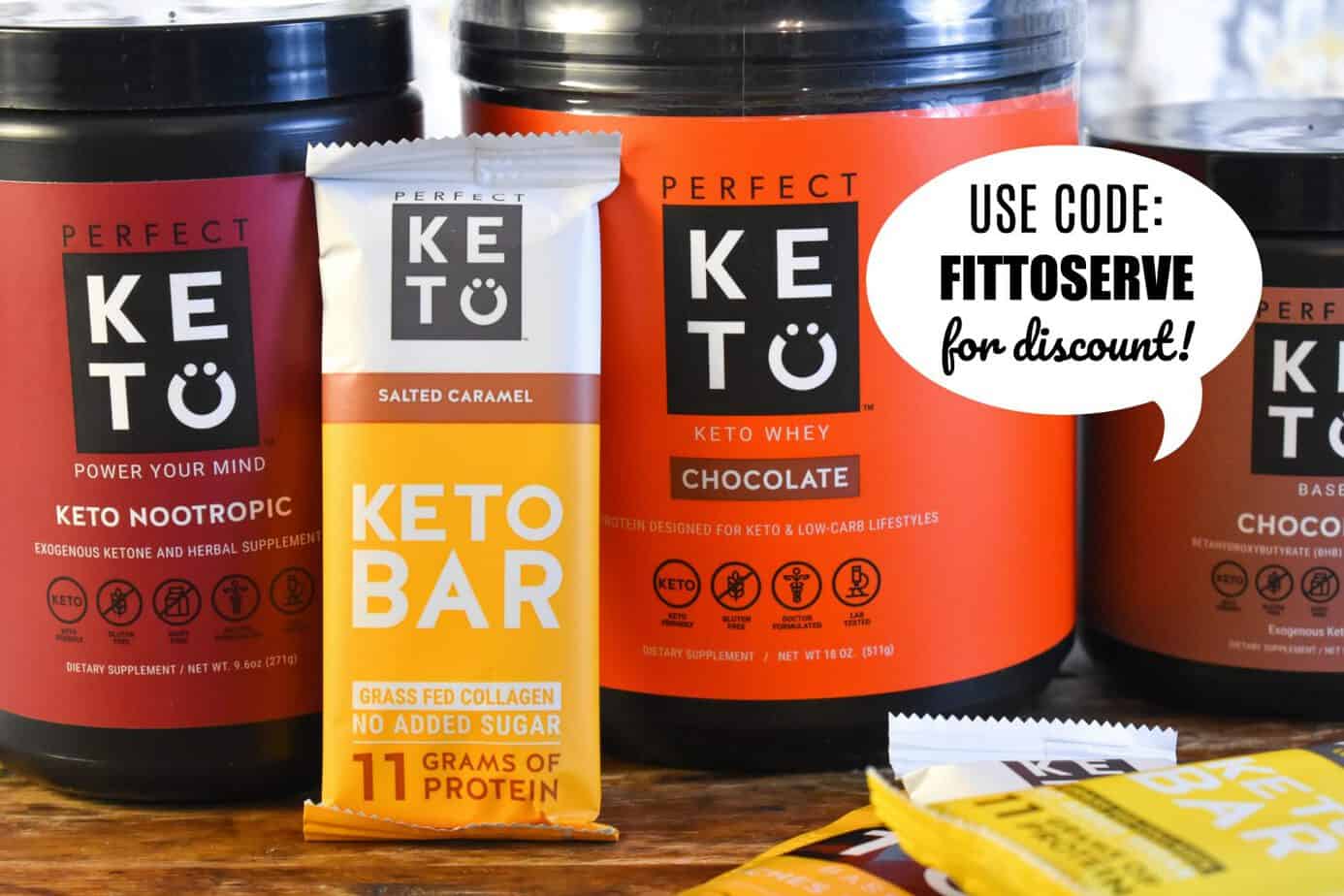 Arming yourself with keto recipes is certainly key in doing this diet long enough to see the many benefits. But even with the best low carb ketogenic recipes sometimes additional help is needed.
This is when we also encourage you to have the right supplements to help you get and stay in ketosis. Because when you have the right tools the keto diet becomes easier.
Perhaps you've struggled to get into ketosis consistently on your low carb keto diet, or you've hit a plateau that doesn't seem to budge, consider using Perfect KETO's bundle to assist you. It's a great way to see the benefits sooner rather than later.
You'll learn how to elevate your ketones naturally enter into ketosis more quickly. Being at a deeper level of ketosis will help reduce your appetite, carb cravings, and give you lasting energy. These are the things you want to see happen as they make this diet sustainable and it's why we recommend them.
Perfect Keto has offered our readers a 15% off discount on their products. Simply use this link for all qualifying products and the code FITTOSERVE at checkout.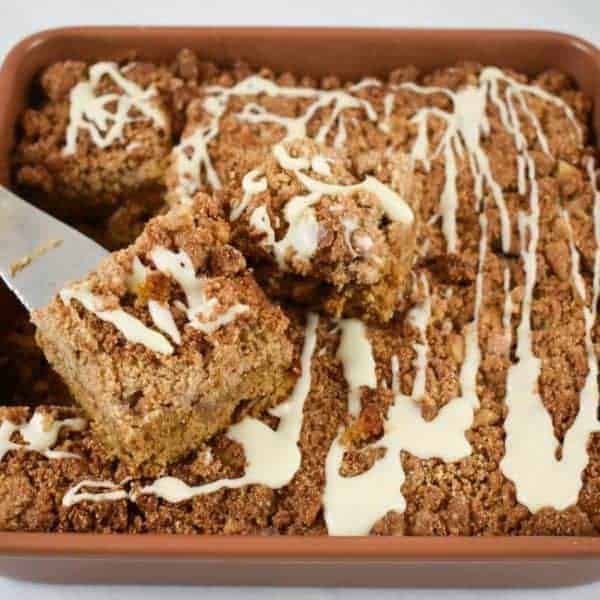 Keto Pumpkin Streusel Coffee Cake
This recipe for keto pumpkin streusel coffee cake is the delicious result of combining a low-carb streusel coffee cake made with almond flour with pumpkin puree and the spices of fall. It's the perfect pumpkin treat to have all pumpkin season long!
Ingredients
Keto Pumpkin Coffee Cake
2 teaspoons of baking powder
3 teaspoons of ground cinnamon
1 teaspoon of ground ginger
½ teaspoon of ground nutmeg
1/8 of teaspoon of clove powder
1/2 teaspoon of sea salt
¼ teaspoon of baking soda
½ cup melted unsalted butter cooled
4 tablespoons of sour cream
2 eggs
Streusel Topping
1 cup of finely almond flour
½ cup of your favorite low carb nuts (I used walnuts)
½ cup (1 stick) cold butter sliced thinly
2 teaspoons of ground cinnamon
½ tsp of ground ginger
¼ teaspoon of sea salt
Vanilla Icing
½ cup confectioners sugar substitute
4-5 tablespoons of heavy whipping cream
1/2 teaspoon of vanilla
1/8 of teaspoon of sea salt
Instructions
Pre-heat oven to 350 degrees.
Butter a 9-inch square pan or 9-inch spring-form cake pan.
Streusel Topping
In a small bowl, combine the sugar substitute, almond flour, coconut flour, walnuts, salt and cinnamon, ginger, nutmeg.
To the dry ingredients add the cold thinly sliced butter and cut in the butter with a pastry cutter or two forks until the mixture resembles coarse crumbs. Set aside.
Cake Batter
In a large mixing bowl, combine the almond flour, sugar substitute, spices, baking powder, baking soda, sea salt and set aside.
In a medium-sized bowl, stir the cooled melted butter, sour cream, and eggs until they are well combined.
Add the pumpkin puree to the wet mixture and combine until well incorporated.
Then fold the wet mixture into the dry ingredients. Mix until fully combined.
Spread the batter into the pan.
Add the streusel topping over the cake and pat gently into the batter.
Bake the cake for 30-35 minutes or until the crumbs are lightly browned and an inserted toothpick comes out clean.
Cool the cake for 20 minutes before adding the icing and serving.
Store leftovers in the refrigerator for up to 5 days or freeze for up to 3 weeks.
Recommended Products
As an Amazon Associate and member of other affiliate programs, I earn from qualifying purchases.
Nutrition Information:
Yield:

12
Serving Size:

1
Amount Per Serving:
Calories:

315
Total Fat:

27.2g
Saturated Fat:

9.6g
Cholesterol:

61mg
Sodium:

95mg
Carbohydrates:

6.9g
Net Carbohydrates:

3.4g
Fiber:

3.5g
Sugar:

1.9g
Protein:

7.2g