Easy Keto Blueberry Pie (Double Crust)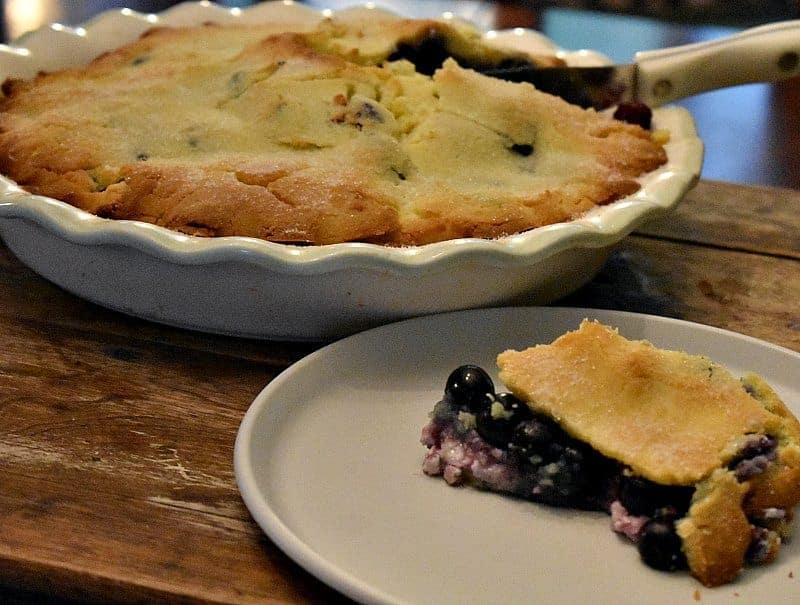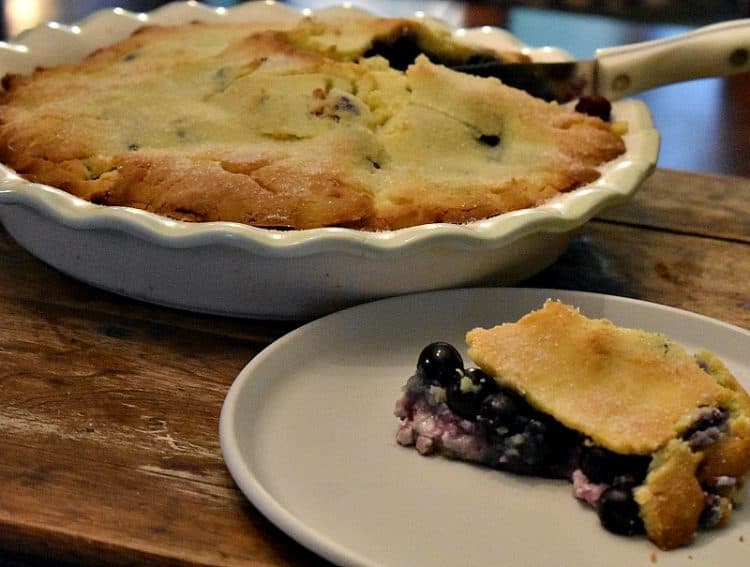 This recipe for Keto Blueberry Pie features fresh blueberry filling and has a double crust the perfect fresh berry pie for anyone watching their carbs. Because this recipe is sugar-free, gluten-free it's also keto-friendly.
Blueberry season means it's time to create another blueberry recipe for you all to enjoy. And what better way to celebrate blueberries than with an easy keto blueberry pie.
Wondering if a keto fruit pie can safely fit into a low carb keto diet? Well, let me show you that it can as long as you choose your fruits wisely.
Keto Blueberry Pie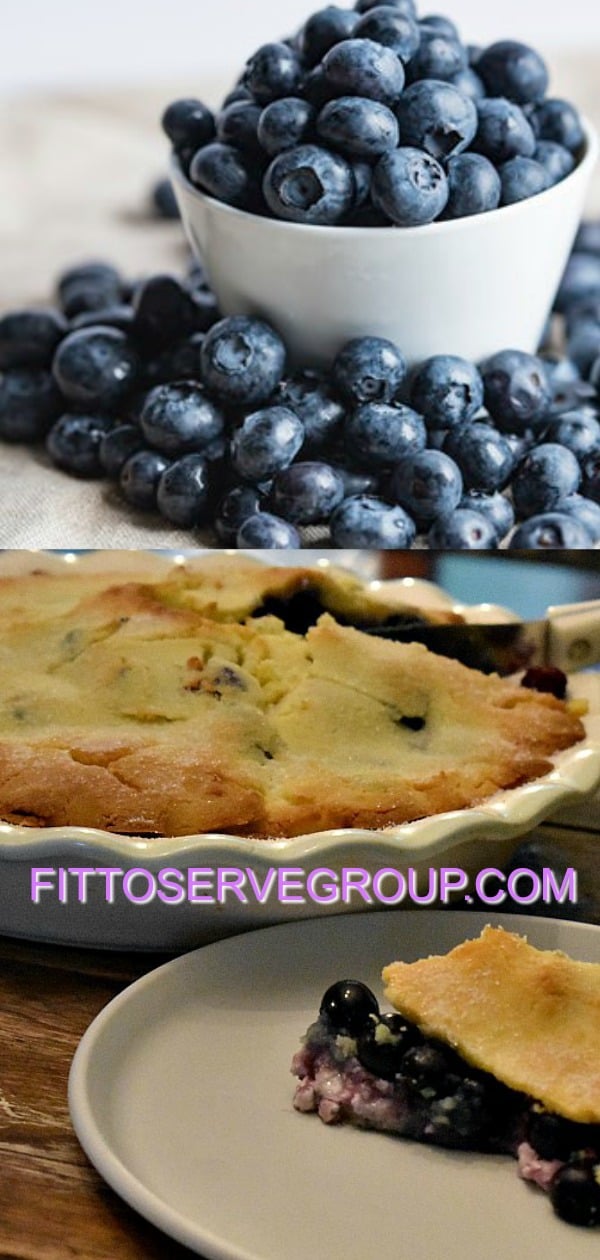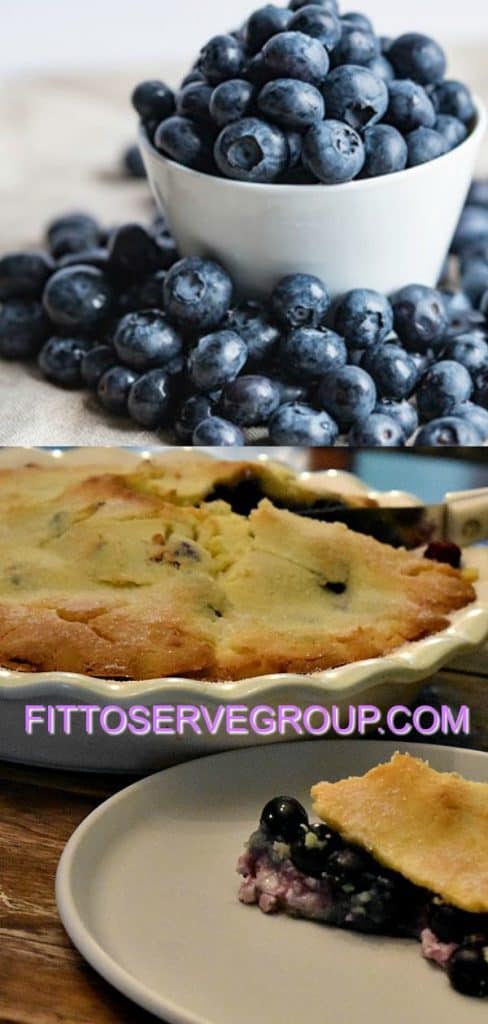 Blueberries are a favorite among the ketogenic community, mainly because they are packed with antioxidants, vitamins and minerals and are lower in carbs than most fruits. So a recipe that includes a keto blueberry pie filling just makes sense in my book.
And why is that important to know what fruits to choose when doing keto?
Well, mainly because although we've been taught for years that fruits are healthy, they can prove to be problematic when doing a low carb keto diet.
This is because of their tendency to be high carbs. What's the solution? Moderation. Which is why a keto blueberry pie can fit into your daily macros as long as you plan well for it.
Low Carb Blueberry Pie
When it comes to a ketogenic lifestyle, the fruit choices are pretty limited. The natural sugar in fruits tends to also make them high in carbs. And when you have foods that are too high in carbohydrates you can be kicked out of ketosis. 
If the goal is to be in ketosis then being kicked out of ketosis is no bueno on keto. But this doesn't mean you can't enjoy a blueberry pie as long as it's a low carb blueberry pie option.
The Problem With Fructose
Fruit has been called nature's candy and for good reason, because most fruits are as high in sugar as the candy that comes in a wrapper. Here's the thing, just because fruits contain natural sugar, it doesn't mean this form of sugar can be consumed liberally.
Unfortunately, most people give fruit high marks because they don't really understand fructose (the natural sugar in fruits).
But I can give you several reasons why a diet that is high in fructose is not good for you. In order to keep this post about my recipe for keto blueberry pie, I will resist the urge and only give you my top three reasons why you need to limit fructose in your diet.
Too much fructose in the diet damages the liver and leads to insulin resistance, as well as fatty liver disease.
The fructose sugar found in fruit has a similar effect on the body than that of alcohol. In fact, it has the same toxic effect of alcohol.
Fructose consumption can lead to leptin resistance. Why is it important for leptin to be working properly? Because it's the hormone that controls our appetite and metabolism. And when we become leptin resistant we gain fat a lot faster.
And since fruits are made up of fructose, this can spell disaster for someone who needs to limit their dietary sugar.
This is especially the case if you are pre-diabetic, diabetic, insulin resistant, and/or are dealing with metabolic syndrome.
Carb Counting On Keto
On a ketogenic diet, the goal is to stay below 30 grams of net carbs per day. That's drastically lower than most people on a western diet consume.
In the majority of cases, one piece of fruit could take you over the limits of your daily carbohydrate intake alone. This is especially the case of tropical fruits.
But why is this? The reason being that any form of sugar will spike blood sugar levels, and when this happens insulin is released.
AND do you know what happens when your insulin levels rise? Your body clings tight to fat. If you are trying to lose or maintain weight, it makes sense to keep an eye on your insulin levels. This is the case even if you are NOT a diabetic.
On a keto diet, your body breaks down fat and uses it for energy. So, the goal is to not block the process of ketosis with an insulin spike. Thankfully, a slice of my easy keto blueberry pie can keep you safely in the ketosis zone. Of course, this is as long as you resist the urge to have them more than one slice.
If we are consuming foods that are high in carbs (including fruit), we drastically reduce our ability to burn fat as fuel.
Which is why, when people ask us what types of fruit are permitted on keto, we always steer them in the direction of berries. Of course, even berries should be eaten in moderation.
A dessert like my recipe for keto blueberry pie should be treated as an occasional indulgence. Even though the pie features a keto blueberry filling, it's still not reason alone to go overboard.
Why Are Berries Ok On Keto?
Berries are part of the limited list of keto allowed fruits since they are among the lowest in sugar. And because blueberries are rich antioxidant gems, we personally give a nod in their direction.
Something else to take into consideration is to aim to have your berries when they are in season. This way you maximize their nutritional value.
During the summer I make it a point to enjoy fresh blueberries. Since I treat them as something to have occasionally, when I do indulge, I enjoy them even further by creating a keto blueberry recipe.
Here are a few more recipes I've created for you that feature berries:
The Ultimate Keto Blueberry Coconut Skillet Cake
Decadent Keto Raspberry Curd Sauce
Keto Cranberry Coconut Muffins
Keto Pumpkin Cranberry Skillet Cake
Keto Raspberry Lemonade Mousse
Keto Strawberry Rhubarb Crumble 
Keto Chocolate Raspberry Fat Bombs 
A Keto Berry Ice Cream (5 minute recipe)
Keto Berries And Cream Popsicles 
Can you see why a keto blueberry pie then becomes a real treat? I may make this pie maybe twice during the summer.
I say all this to say, that although I'm a fan of blueberries I advocate you don't go overboard with them or any fruit for that matter.  You can enjoy fresh blueberries, with a recipe like my keto blueberry pie, by simply planning for it.
What Are Net Carbs Anyway?
If you are going to indulge with a few extra carbs, blueberries are worth the splurge because they carry so many health benefits.
How exactly can you plan for a keto blueberry pie? By keeping an eye on your carbs for the day, and not going over 25-30 grams of net carbs.
When you subtract the fiber from the total amount of carbs what remains are your net carbs.
Most people who do keto do not count the dietary fiber because it does not impact blood glucose levels. It's considered non-digestible, which means it won't raise your sugar levels or kick you out of ketosis.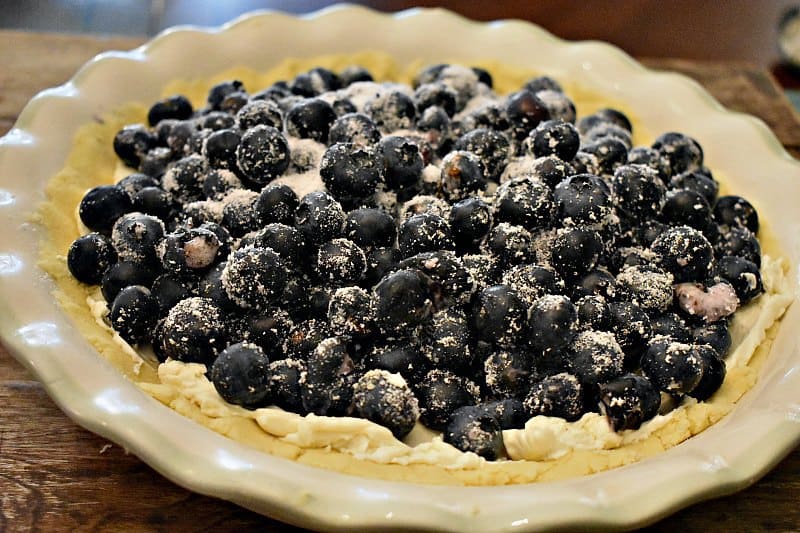 Blueberry Benefits
They are high in fiber, potassium, vitamins C, folate, vitamin B6
Blueberries contain a plant compound called anthocyanin a flavonoid. Anthocyanin is what gives blueberries their bright blue color making them rich in antioxidants.
Blueberries are also rich in iron, phosphorus, magnesium, calcium, manganese, zinc, and vitamin K. All of which strengthen our bones.
Testing Your Ketone Levels
Something to keep in mind anytime you're adding higher in carbs foods to your diet is the need to test your ketone levels. 
This way you can track easily if the foods you are adding are affecting your ketone levels. Doing so will allow you to tweak your diet to make sure you get back on track in the event your ketones drop.
Ketosis Hack
One of the ways we enjoy berries on our ketogenic diet is by incorporating the use of exogenous ketones.
In the case of exogenous ketones, you are taken them externally rather than your body creating them in the liver. This is a fairly new way to get ketones into our body, but it's becoming more popular as people are becoming aware of the powerful benefits.
But why should we even consider taking exogenous ketones if our body can make it? The answer is mainly to be able to get into ketosis and to remain in a ketosis state.
It's a great tool especially when you are first embarking on a keto diet. Or if you eat something that kicks you out of ketosis.
For example, Randy and I will have a serving of exogenous ketones after consuming foods that are higher in carbs. We also take them for a boost of energy.
For me, the anti-inflammatory benefits help in controlling my fibromyalgia symptoms.
When we indulge in some extra berries or say sweet potatoes we will blunt the carb load by supplementing.
However, this does not mean that we advocate eating a diet full of junk and just to just take ketones exogenously. In our book, that is not being responsible with our temple and in the end, can lead to poor eating habits.
I sure hope you will give this recipe a try. Once you do, make sure you remember to tag us on Instagram and Facebook. It's what keeps this girl encouraged to keep sharing and perfecting her recipes.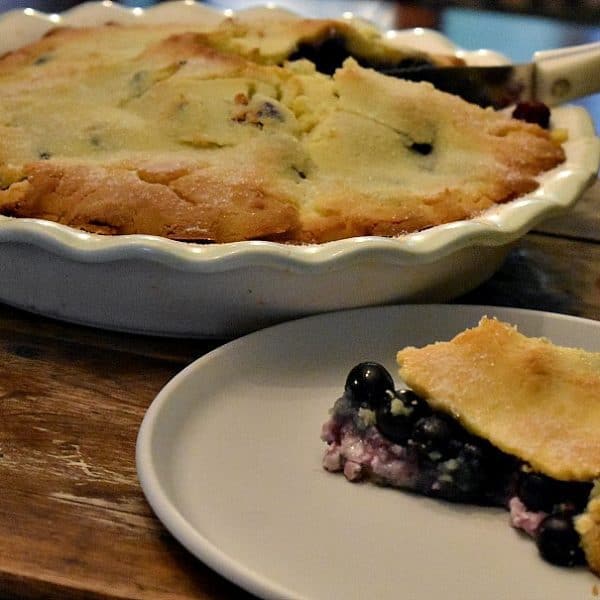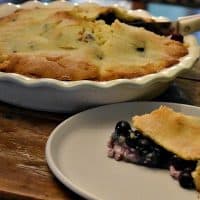 Easy Keto Blueberry Pie (Double Crust)
A deliciously easy recipe for Keto Blueberry Pie, that features fresh blueberries and a double crust.
Ingredients
Keto Pie Crust
1 cup of unsalted butter melted and cooled
4 large eggs
½ teaspoon sea salt
¼ teaspoon of baking powder
1 tablespoon of water
Keto Blueberry Pie Filling Ingredients
1 ½ cups of fresh blueberries
1 8 ounce package of room temperature neufchâtel cream cheese or regular cream cheese
Instructions
Crust Instructions
Mix all the ingredients just until dough forms.
Divide dough in half to make the top and bottom of the pie crust.
Roll out with between two sheets of parchment paper. Set aside.
Transfer one crust into a 9-inch pie pan. Being careful to smooth out any cracks.
Once you add the filling to the pie and the top crust
Pie Instructions
Pre-heat oven to 350
Place half the rolled low carb dough into a 9-inch pie pan.
Spread the cream cheese to the bottom of the crust.
Add the blueberries that have been mixed with the 2 tablespoons of sugar substitute over the cream cheese layer.
Top the pie with the other half of the rolled-out dough. Make sure to add vents to the top of the crust.
Bake for 25 minutes until the topping is lightly brown.
Allow to cool before slicing.
Store in the refrigerator
Notes
The pie crust is fragile but comes together easily when pressed together.
Recommended Products
As an Amazon Associate and member of other affiliate programs, I earn from qualifying purchases.
Nutrition Information:
Yield:

8
Serving Size:

1
Amount Per Serving:
Calories:

324
Total Fat:

36g
Saturated Fat:

21.7g
Cholesterol:

184mg
Sodium:

294mg
Carbohydrates:

5.7g
Fiber:

1.6g
Sugar:

3.1g
Protein:

6g