My keto blueberry lemon bread is an easy low carb quick bread recipe. It's moist, tasty and bursting with good for you, blueberries. It features a fresh lemon glaze that takes this low carb quick bread to the next level.
This recipe for keto blueberry bread is grain-free, gluten-free, sugar-free, low carb and it's diabetic and keto-friendly. If that's not enough it also happens to be easy to make.
After my keto cranberry orange bread was so well received, I was ready to create other keto quick bread recipes for you all.
This recipe for low carb blueberry bread uses cream cheese in the batter which I feel compliments the flavor of the blueberries and lemon perfectly.
The other reason this girl used cream cheese is that I'm a big fan of keto cream cheese recipes and I wanted to give you another to enjoy.
Keto Blueberry Lemon Bread
As far as I am concerned, nothing reminds me of spring like the flavor combination of blueberries and lemon. So let's celebrate the arrival of spring with this antioxidant-rich keto quick bread recipe!
But even if you are still experiencing winter weather you can enjoy a low carb blueberry lemon bread that is sure to bring you some sunshine.
One of the main reasons I make it a point to create baked treats on my site is because it's the number one thing people request from me.
I think this is the case because giving up sweet treats can be the most challenging part of the ketogenic diet. Thankfully, you don't have to feel deprived if you have a few basic keto baked goods in your arsenal like this keto blueberry lemon bread.
Keto Blueberry Bread
I like serving my low carb blueberry bread for breakfast, brunch or anytime a little snack is in order. It pairs well with coffee and tea. Since it's packed with plenty of protein from the eggs, and cream cheese, it could even stand as a complete meal.
Disclosure: Some of the links below are affiliate links, meaning at no additional cost to you, I will earn a commission if you click through and make a purchase.
How To Make Keto Blueberry Lemon Bread
The full recipe is at the bottom of this post, but I thought I would share a few tips with you that will ensure your keto blueberry bread turns out perfectly each and every time.
You'll need to pre-heat your oven to 350 degrees and prep your 10X5-inch loaf pan by greasing it well. I also add parchment paper that's been greased to the bottom of my loaf to make it easy to unmold. Adding parchment ensures that your blueberries do not get stuck to the bottom of the pan.
If you prefer you can also divide the batter into two 6-inch pans, in which case you will still bake at 350 degrees but the loaves will only need to bake for 35-40 minutes. Check for doneness at the 35-minute mark. If you notice your bread is already browning when you first check for doneness, add aluminum foil to the top of the bread and then proceed to bake for the additional time.
I've included an easy keto tangy lemon glaze that compliments this low carb quick bread perfectly. You can, however, choose not to add the glaze.
In a medium-sized bowl, combine the finely milled almond flour that has been measured and sifted with the baking powder and salt. Then set aside. I still sift my almond flour in this recipe even if it's finely milled. This extra step ensures the best texture and even cooking.
Next using an electric beater cream your room temperature cream cheese, butter, and sugar substitute in a large mixing bowl.
Once this is well blended add your large eggs one at a time and beat until mixed. Make sure you scrape the sides of the bowl several times in the process. Note that the mixture will not completely come together until you add the dry ingredients.
To this wet batter add the almond flour mixture and beat until fully incorporated.
Then using a spatula fold in your whole fresh or frozen blueberries. You do not want to use the electric mixer so that the berries can remain mostly intact in the bread.
Allow your keto blueberry bread to cool completely on a baking rack before adding the lemon glaze to the top of the loaf.
Materials And Ingredients Needed For Low Carb Blueberry Bread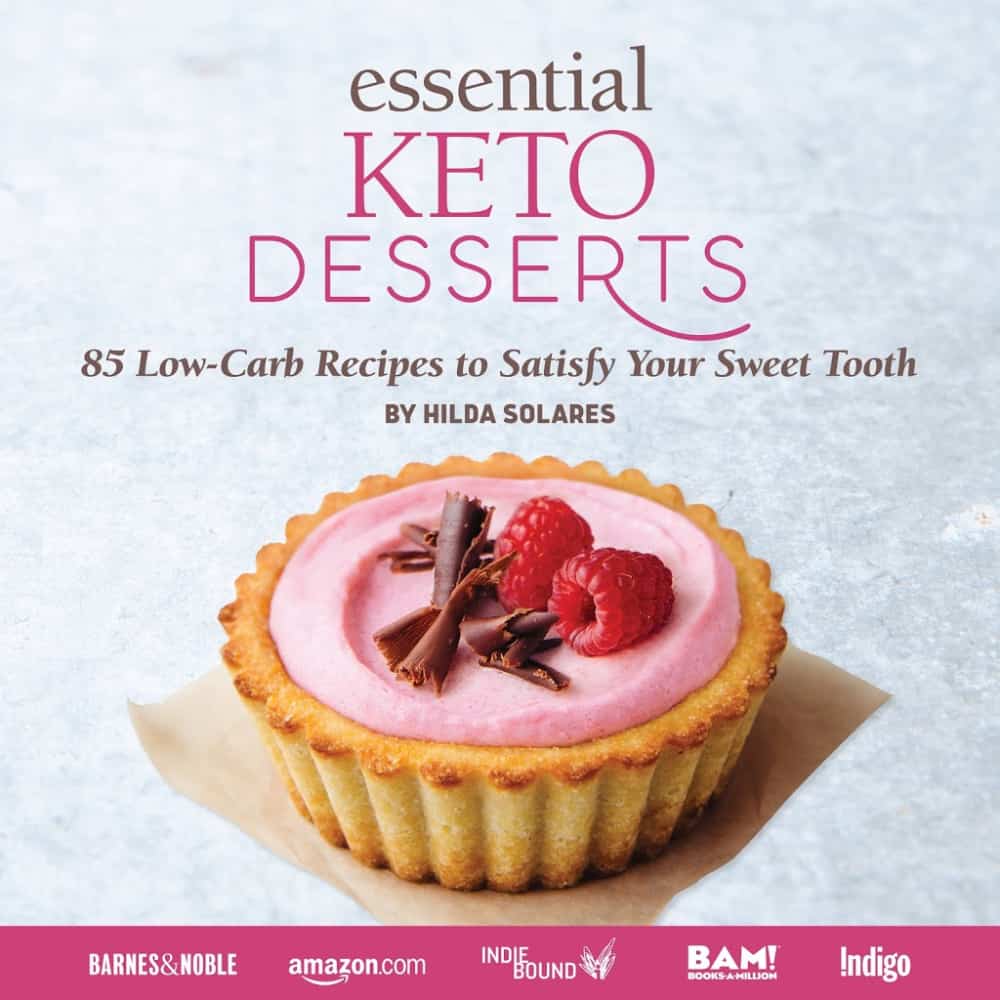 The following is the list of materials and ingredients you will need to properly bake you keto blueberry bread:
Electric Handheld Mixer or Stand-up Mixer
Unsalted Butter
Fresh Or Frozen Blueberries
Lemon Extract
Fresh Lemon Juice
Fresh Lemon Zest
Large Eggs
Can You Use Both Frozen Or Fresh Blueberries Equally?
I try to use fresh blueberries any time I can when keto baking. However, I am fully aware that not everyone can have access to fresh blueberries. This is why I am happy to tell you that you can also use frozen blueberries without issue.
In fact, I notice that most recipes that allow you to use frozen berries do not call for them to be thawed beforehand. So if you decide to use frozen blueberries go ahead and do so without thawing them.
The only thing you should keep in mind is that frozen blueberries tend to bleed. This is because the added moisture tends to cause them to burst a tad more.
And if you are using frozen blueberries, I suggest you add them between layers of cake batter rather than stirring them into the batter. This way the weight of the frozen berries won't cause them to completely sink to the bottom of your pan.
Although, you should know that for the most part, your blueberries will tend to sink. This is why I want you to line your pan(s) with greased parchment paper.
Best Sugar Substitute Options
I intentionally didn't make this keto blueberry lemon quick bread too sweet because the glaze adds the perfect amount of sweetness.
But you can further reduce the sweetener to 3/4 of a cup or even 1/2 a cup and it will not affect the structure of the bread.
When it comes to choosing your sweetener, I have several low carb options that work well with this keto quick bread recipe. I really like Lakanto Monk Fruit Sweetener because the texture is spot on and because there is barely any aftertaste.
This is a great one especially if you are new to sugar substitutes because it mimics sugar the most in my book.
I'm also partial to Swerve an erythritol blend. Although you should keep in mind that it does have a bit more of a cooling aftertaste that some people dislike.
Alternatively, you could also use a stevia and erythritol-based brand like Pyure. This is if you prefer to use stevia in your baked goods.
Lastly, if you can't easily find a more natural sugar substitute you can also use Splenda with great success. I know not everyone would agree with me here and I respect that but in my book, it's still better than regular sugar.
However, when it comes to the keto lemon icing you will have to use a confectioner's sugar substitute. Both Lakanto and Swerve have great ones.
Tips When Baking Your Keto Blueberry Lemon Bread
You'll notice that this recipe makes a thick and dense batter which makes it easy to later slice and toast this keto quick bread. If this is something you want to do.
Since every oven is a little different, I encourage you to check if it's done at the 60-minute mark for the 10X5 inch loaf pan. And at the 35-minute mark for the 6-inch pans.
At that point, if your blueberry bread is starting to brown but isn't quite fully cooked, cover with foil and bake for another 10-15 minutes.
To make sure your bread remains fresh once baked, store your leftovers in the fridge. This is the case with just about every low carb baked good because they tend to spoil faster since they are not loaded with a bunch of preservatives. Trust me, this is a good thing.
If you've decided to freeze your keto blueberry bread loaf, you need to allow the bread to fully cool before wrapping it in cling wrap and placing it into a freezer bag. This could be up to an hour. You don't want to wrap your bread when it's still warm as it will cause condensation to form and make your bread soggy.
I also suggest you glaze the bread after you allow it to defrost in the refrigerator overnight. This way your glaze stays beautifully intact.
I sure hope you will give this recipe a try during the holidays. Once you do, make sure you remember to tag us on Instagram and Facebook. It's what keeps this girl encouraged to keep sharing and perfecting her recipes.
Also, check out our Amazon Store for recommendations. You might be surprised by how many great keto options are at your disposal.

Grab Our Books!
In case you don't know we have authored two books for you, Essential Keto Bread and Essential Keto Desserts both inspired by your requests over the years. It's my prayer these keto cookbooks will help make keto a delicious breeze for you.
How We Combined The Christian Faith With The Keto Diet
Do you know that it wasn't until Randy and I began to combine the promises of God's word about healing and changed our diet to a ketogenic one, that we finally began to see our health improve?
By cutting out the junk and focussing on real foods we gave our bodies the nutrition it needed. Then our bodies did what God designed it to do, to heal itself. This is what we believe it means to live in divine health.
This act of obedience is what birthed the ministry of Fittoserve Group. Today, we are seeing thousands of lives impacted and the ripple effect of our decision to combine our Christian faith with the keto diet is making a difference in ways we may never know this side of eternity.
Consider joining our Private Facebook Group where others are combining their Christian Faith with that of a ketogenic lifestyle.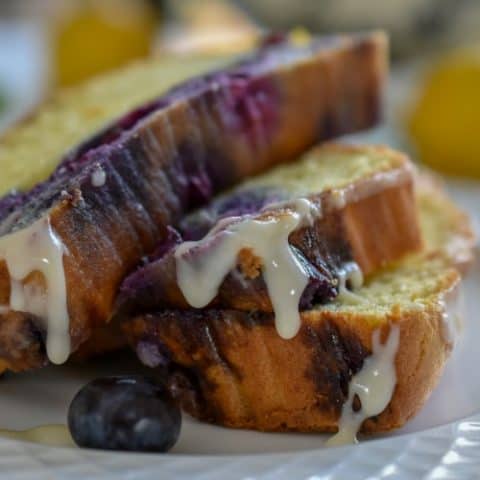 Keto Blueberry Lemon Bread
Additional Time:
15 minutes
Total Time:
1 hour
25 minutes
This recipe for keto blueberry bread is grain-free, gluten-free, sugar-free, low carb and it's diabetic and keto-friendly. If that's not enough it also happens to be easy to make.
Ingredients
Keto Blueberry Lemon Bread Batter
2 teaspoons of baking powder
1/2 teaspoon of sea salt
8 whole eggs
8 ounces of room temperature full-fat cream cheese
2 teaspoons of lemon extract
1/2 cup of room temperature unsalted butter
2 cups of fresh or frozen whole blueberries
1 tablespoon of lemon zest
Keto Lemon Glaze
3 tablespoons of freshly squeezed lemon juice
2 tablespoons of heavy whipping cream
1 teaspoon of lemon extract
2 teaspoons of lemon zest
Instructions
Keto Blueberry Lemon Bread
Preheat oven to 350 degrees.

Grease and line with parchment paper a 10X5 inch loaf pan or two 6 inch loaf pans. (note if using two smaller pans check for doneness at 35 minute mark)

In a medium-sized bowl measure then sift the almond flour. To the sifted flour add the baking powder, sea salt and stir. Set this aside.

In a large bowl using an electric hand-held mixer or stand-up mixer blend the butter, cream cheese, and sugar-substitute until mixture is light fluffy.

Next add the 8 eggs one at a time, making sure to scrape the bowl several times.

To the wet batter add the dry ingredients and combine until well-incorporated.

Fold in the blueberries into the bread batter.

Spread the batter into the greased loaf pan.

Bake for 60-70 minutes or until an inserted toothpick comes out clean.

Allow the loaf to cool in the pan for about 30 minutes before taking it out of the pan. Then let the pan cool on a baking rack for at least 60 minutes before adding the icing, refrigerating or freezing.
Keto Lemon Glaze
To make the lemon glaze imply combine the confectioners sugar substitute, lemon juice, lemon extract, lemon zest and heavy whipping cream. Stir until fully incorporated.
Notes
Baking times: For a 10X5 inch loaf pan 60-75 minutes. Check for doneness at the 60 minute mark and add foil and bake up to 15 minutes more if necessary.
For two 6 inch loaf pans check for doneness at 35 minute mark and bake up to 45 minutes if necessary.
Recommended Products
As an Amazon Associate and member of other affiliate programs, I earn from qualifying purchases.
Nutrition Information:
Yield:

12
Serving Size:

1
Amount Per Serving:
Calories:

350
Total Fat:

30.6g
Saturated Fat:

11.4g
Cholesterol:

154mg
Sodium:

157mg
Carbohydrates:

7.2g
Fiber:

3.5g
Sugar:

2.3g
Protein:

10.3g