This keto blueberry galette is a delicious way to enjoy a dessert pie while on a low-carb keto diet. You can have all the flavor minus the high carbs of traditional galettes and it's also gluten-free!
Made with our own version of fat-head dough, this low carb blueberry galette has a flaky, slightly sweet crust with a blueberry filling that's bursting with flavor.
It's also easy to make but looks so impressive! Perfect to share with family and friends!
If you love flaky crust but don't want the carbs you should also check out our recipe for keto baked brie. Also check out our keto blueberry pie, for a more traditional double-crust option.
Keto Blueberry Galette
The beauty of this keto-friendly blueberry galette is that no matter your pie skills, it's always beautiful and delicious! Because a galette is meant to be a freeform, rustic style pie with the filling being the star, once baked your low carb galette will always be stunning.
The deep, dark blueberry filling is a sight to behold and smells phenomenal in your kitchen.
It's perfect to serve warm with a scoop of your favorite low-carb vanilla ice cream, be warned everyone will be asking for seconds. This sugar-free blueberry galette also makes a great addition to your keto brunch spread!
It's also truly simple and easy to make. The dough comes together very quickly and is easy to work with. You'll have to chill the dough in the fridge for about 30 minutes which is what will take the most time in this recipe.
The filling is also super easy to make, just combine all the ingredients in a bowl!
How To Make Keto Blueberry Galette
If you're familiar with the famous fat-head dough recipe you'll know that it uses melted mozzarella cheese to mimic the gluten that is missing in keto-friendly flours.
Using that knowledge, we played around in the kitchen and came up with our adaptation of the popular fat-head dough. The gluten-free dough comes together easily by mixing the almond and coconut flours, melted butter, eggs, and melted mozzarella cheese.
Then you'll simply knead the dough (I like to sandwich the dough between 2 sheets of parchment paper to avoid any sticking) well to incorporate all the ingredients.
Once the dough is well combined, you'll wrap it in parchment or cling wrap and chill in the refrigerator for 30 minutes. This step is key to the success of this keto crust and closer to how traditional pie crust is made.
Keto Blueberry Pie Filling
While the dough is chilling you can quickly mix up your filling. In a small bowl, combine the fresh blueberries, lemon juice, sugar substitute, and xanthan gum. The addition of a tiny amount of xanthan gum is also crucial to the success of this low-carb blueberry galette.
Xanthan gum is a thickener that helps take the juice from the blueberries from runny to a nice thick jam-like texture. This gives you the classic berry pie filling without the use of cornstarch!
After the dough is chilled, then it can be rolled easily between two sheets of parchment paper into an 8" circle. Then you'll just add the blueberry mixture into the center and fold the edges up and over forming a crust.
The dough is very forgiving in that it's easy to fix any cracks or holes in your galette. Bake on a parchment-lined baking sheet for 30 to 40 minutes. When the crust is golden and the blueberries have burst the galette is ready.
You may find your crust browning before the blueberries are ready, you avoid your crust burning by covering it with aluminum foil once it's ready.
What You'll Need To Make A Low Carb Blueberry Galette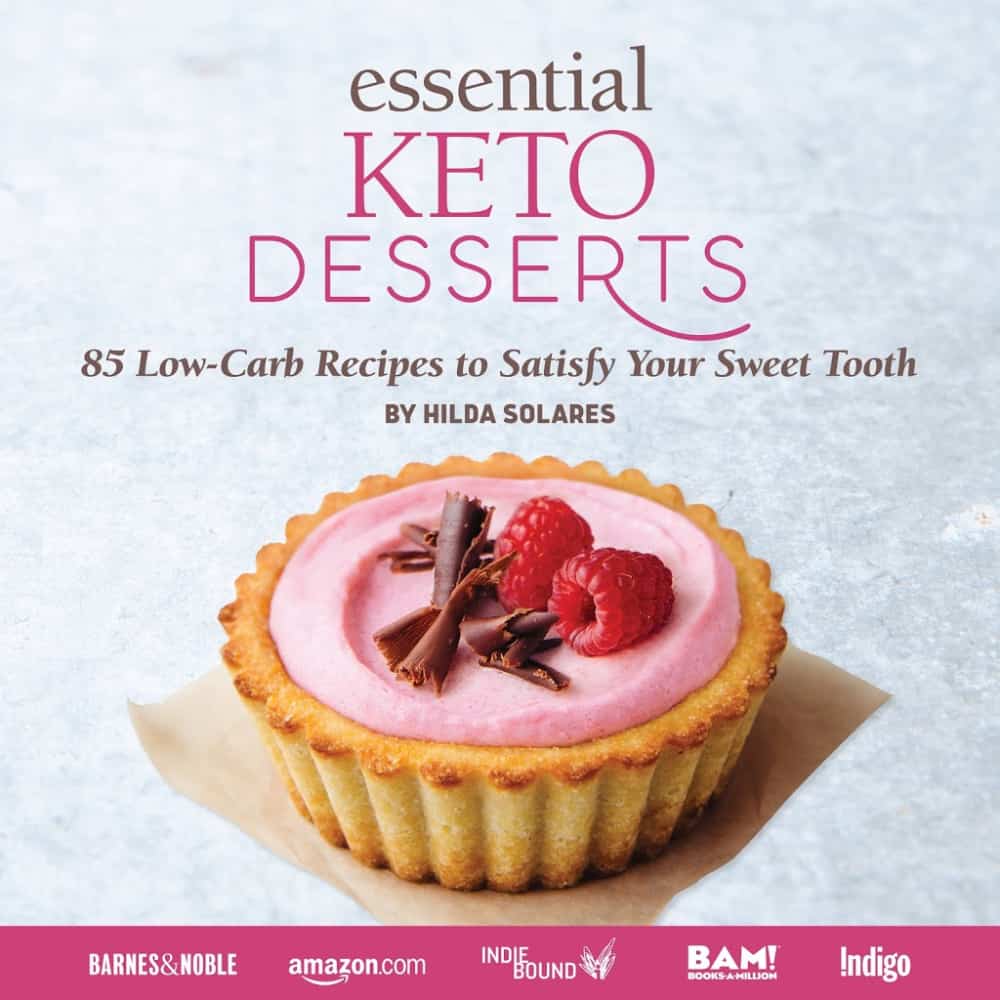 Disclosure: Some of the links below are affiliate links, meaning at no additional cost to you, I will earn a commission if you click through and make a purchase.
The following is a list of ingredients and tools you'll need to make this keto blueberry galette recipe. Note that the full recipe card is below.
Fresh blueberries

Lemon juice

Lemon zest, optional

Shredded mozzarella cheese, melted
Best Sugar Substitutes For Sugar-Free Blueberry Galette
As far as choosing your sweetener to make your low-carb blueberry galette, my top choice is a monk fruit/erythritol blend. My personal favorite is Lakanto's brand. But you can also use Swerve an erythritol sugar substitute.
You could also use the stevia and erythritol-based brand Pyure for most of my baked goods. However, if using Pyure you will want to use half the amount called for in this recipe since it's a much sweeter choice.
Lastly, if you can't easily find a more natural sugar substitute you can also use Splenda for baking or a generic brand of the same. It will work with great success.
I know not everyone would agree with me here and I respect that but in my book, it's still better than regular sugar.
Tag Us
I sure hope you will give this recipe for keto-friendly blueberry galette a try and will help us share it. If you give it a try, make sure you remember to tag us on Instagram, Facebook, and Pinterest. It's what keeps this girl encouraged to keep sharing and perfecting her recipes.
As a fan of blueberries, we invite you to also visit our collection of keto blueberry recipes for other delicious options.
Also, check out our Amazon Store for our recommendations. You might be surprised by how many great keto options are at your disposal.
Don't forget to subscribe to our email list so that we can stay connected.
Grab Our Books!
In case you don't know we have authored two books for you, Essential Keto Bread and Essential Keto Desserts both inspired by your requests over the years. It's my prayer these keto cookbooks will help make keto a delicious breeze for you.
Join Our Jesus And Keto Movement
In case you don't know, our family came to the keto diet looking at it from a Christian perspective. As believers, we live our entire lives supported by God's grace.
So when the Holy Spirit led us to combine our Christian faith and the keto diet, we did so in hopes of finding lasting transformation.
When we followed the Holy Spirit's prompting to we got on the path to real transformation. Knowing firsthand the benefits of this decision we have created a closed Christian group that is using the keto diet to transform their lives.

We invite you to join our Private Facebook Group and see if it's not the key you have been missing. Note that once you click the link you will be prompted to answer a few questions that ensure that you understand what this group stands for.
Favorite Keto Meal Planner
If you've been looking for an easy way to meal plan, consider checking out my review on Real Plans.
By using a keto meal planner you will free up your time by streamlining the process. I hope you agree with me that the last thing anyone needs, is to spend hours attempting to put a meal plan together.
Real Plans will finally put an end to frustrating hours of trying to create healthy meals. After all, we all know how challenging it can be to meet the demands of our full lives.
I love how Real Plans understands that the average busy person has no clue how to meal plan successfully, let alone consistently. Plus you can even use our Keto Recipes to form to create your weekly meal plans.
Keto Blueberry Galette
Additional Time:
15 minutes
This recipe for keto blueberry galette is a deliciously easy way to enjoy a fruit dessert while on a low-carb keto diet. You can have all the flavor minus the high carbs of traditional galettes and it's also gluten-free!
Ingredients
Keto Crust:
1/2 cup unsalted butter
1 cup mozzarella cheese
1 egg
1 teaspoon salt
1/2 tablespoon granulated sugar substitute
Sugar-Free Blueberry Filling:
1 cup fresh blueberries
1 tablespoon granulated sugar substitute
2 tablespoons lemon juice
1 teaspoon lemon zest for garnish (optional)
Instructions
In a medium-sized bowl combine the coconut flour and the almond flour, sugar substitute, and salt.
Melt the unsalted butter and set aside.
To the dry ingredients add the melted butter and combine quickly.
Next, add the whole egg and combine.
Melt the mozzarella cheese in the microwave for a total of 90 seconds stirring halfway through. Once it comes out of the microwave mix well until fully incorporated. You can also melt the mozzarella cheese in a double boiler.
Add the melted mozzarella cheese to the mixture and knead the dough with your hands until all the cheese is blended well into the dough. I recommend you do so between two sheets of parchment paper so that the dough doesn't stick to your hands.
Wrap the dough in parchment paper and place in the freezer for 15 minutes to chill.
While the dough chills, prepare your filling by combining the blueberries, sugar substitute, xanthan gum, and lemon juice in a small bowl.
Preheat oven to 375 degrees.
Once the dough has chilled, roll out into a large circle about 8" in diameter. In the center of the dough, leaving a 3" border add your blueberry filling.
Fold the edges of the dough up and over the blueberries, pleating as needed. The dough is very forgiving and can be pressed together if any "cracks" occur.
Once folded, gently cup the sides with both your hands to reinforce the shape of your keto blueberry galette and bake for 30 to 40 minutes until the blueberries "juice" and begin to burst. Garnish with lemon zest and serve with low-carb vanilla ice cream or on it's own.
Store leftovers in the refrigerator for up to 3 days.
Notes
If the crust begins to brown before the blueberries are ready you can cover the crust with aluminum foil while the blueberries continue to bake.
Nutrition Information:
Yield:

4
Serving Size:

1
Amount Per Serving:
Calories:

374
Total Fat:

32.9g
Saturated Fat:

16.7g
Cholesterol:

106mg
Sodium:

227mg
Carbohydrates:

12.1g
Net Carbohydrates:

6.6g
Fiber:

5.5g
Sugar:

3g
Protein:

7.9g