My recipe for Keto Peanut Butter Cake Bars is full of peanut butter goodness. It's thick, soft, and chewy in one perfect little keto-friendly treat.
Years ago I would make a recipe similar to this for my family. Of course, back then it was one very high carb-loaded dessert. That high carb option needed a keto makeover and these easy keto peanut butter bars are the result of wanting that craving satisfied.
This girl has always enjoyed the flavor of peanut butter and if it's slipped inside a cookie, bar, or cake then I am for sure all in. If you're anything like me, you will appreciate the bold peanut flavor in this dessert.
I love how this makes enough for a large crowd. But fear not, because this recipe freezes beautifully so you can certainly tuck them away in your freezer for when you want to satisfy your peanut butter cravings safely.
This is one of those recipes you can serve your entire family. Since these low carb cake bars are so good that even those not on a keto diet will enjoy them. Don't you just love giving your family healthy treats that they will actually ask for?
I would describe these as a cross between bars and cake. They are not exactly bars but not exactly cake either, these are more what you would call cake bars.
If what you are wanting is a true cake, then my keto peanut butter bundt cake is one you should check out.
For a true bar experience, you might try my Keto Peanut Butter Chocolate Chip Bars and my cookies for a Keto Peanut butter cookie recipe that is unmatched. I also have a complete list of Keto Cookies that any cookie lover doing keto would enjoy exploring.
Do check out our keto peanut butter recipes for more delicious keto-friendly peanut butter recipes!
Keto Peanut Butter Cake Bars
Recently, I made a batch of these to have as a dessert option when I had some family drop-in wanting to test our new ping-pong table. After a few rounds of ping pong, my niece Melissa asked if I had anything sweet to eat.
To which I quickly responded by pulling out my large pan of keto-friendly peanut butter bars.
Seeing so many non-keto folks around that pan was a tad intimidating but I thought what better way to test a recipe than with a group of people who rarely if ever have anything ketogenic.
All I can say is that their ohhhs and awwws proved that it was a winning recipe. And that vote of confidence made my day.
How To Make Keto Peanut Butter Bars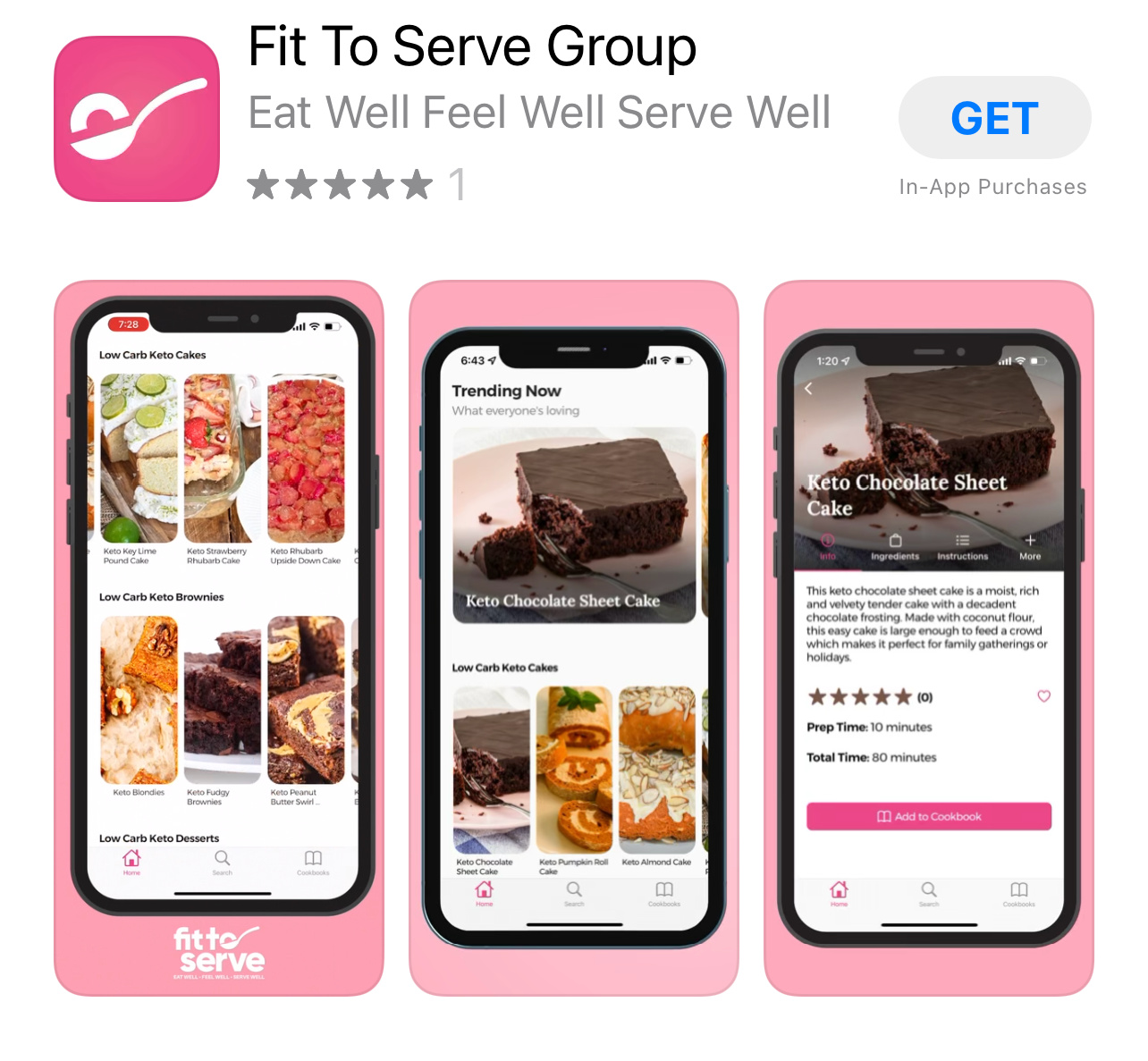 Disclosure: Some of the links below are affiliate links, meaning at no additional cost to you, I will earn a commission if you click through and make a purchase.
To make these keto peanut butter cake bars you'll need a few basic keto baking ingredients. My recipe includes creamy peanut butter, eggs, butter, almond flour, and a little whey protein.
If you do not have any whey protein available, that's not a problem. Just substitute it for more almond flour. I told you this was a simple recipe.
You can, of course, substitute the peanut butter for your favorite nut butter and still have an amazing keto treat. See there I just gave you more options!
These keto peanut butter cake bars have a rich peanutty flavor profile thanks to the generous amount of peanut butter. But do make sure that when choosing your peanut butter, it's one that only has peanuts in the ingredients.
I wanted these bars to be moist and I accomplished this by using both butter and cream cheese in the batter. And as far as what flour to use to keep it low in carbs, I went with almond flour. I also added some zero-carb protein powder for stability.
The Sugar-Substitute
When it comes to choosing which sugar substitute to use for this recipe, I have a few options for you to choose from.
My go-to choice is Lakanto Monk Fruit because it truly is the closest thing to sugar in my book. Not only does it behave like sugar but there is barely any aftertaste. It is a monk fruit and erythritol blend. In this recipe, you can choose to use their granulated or gold option with equally great results.
Lakanto Monk Fruit gets its sweetness from antioxidants called mogrosides, instead of fructose or sucrose. It's why it's a great all-natural sugar substitute and has zero calories and zero glycemic index.
I'm also partial to Swerve an erythritol blend. Unlike other natural sweeteners like stevia, it has no bitter aftertaste and measures just like sugar.
It's also a sugar substitute that browns and caramelizes just like sugar. Swerve is made from ingredients found in select fruits and starchy root vegetables and contains no artificial ingredients, preservatives or flavors.
Swerve is the name brand of Erythritol it's unlike other sugar alcohols has a 0 % impact on blood sugar.
You could also use the stevia and erythritol-based brand Pyure for these cake bars. But if using Pyure you will want to use 1/2 the amount called for in this recipe since it's much sweeter.
Lastly, if you can easily find a more natural sugar substitute you can also use Splenda with great success.
You will want to use the Splenda that has a bulking agent. It's the one that comes in larger bags. I don't recommend Splenda Bake because it's actually half sugar half sucralose product and will be too high in carbs to be considered keto-friendly.
Keto Peanut Butter Recipes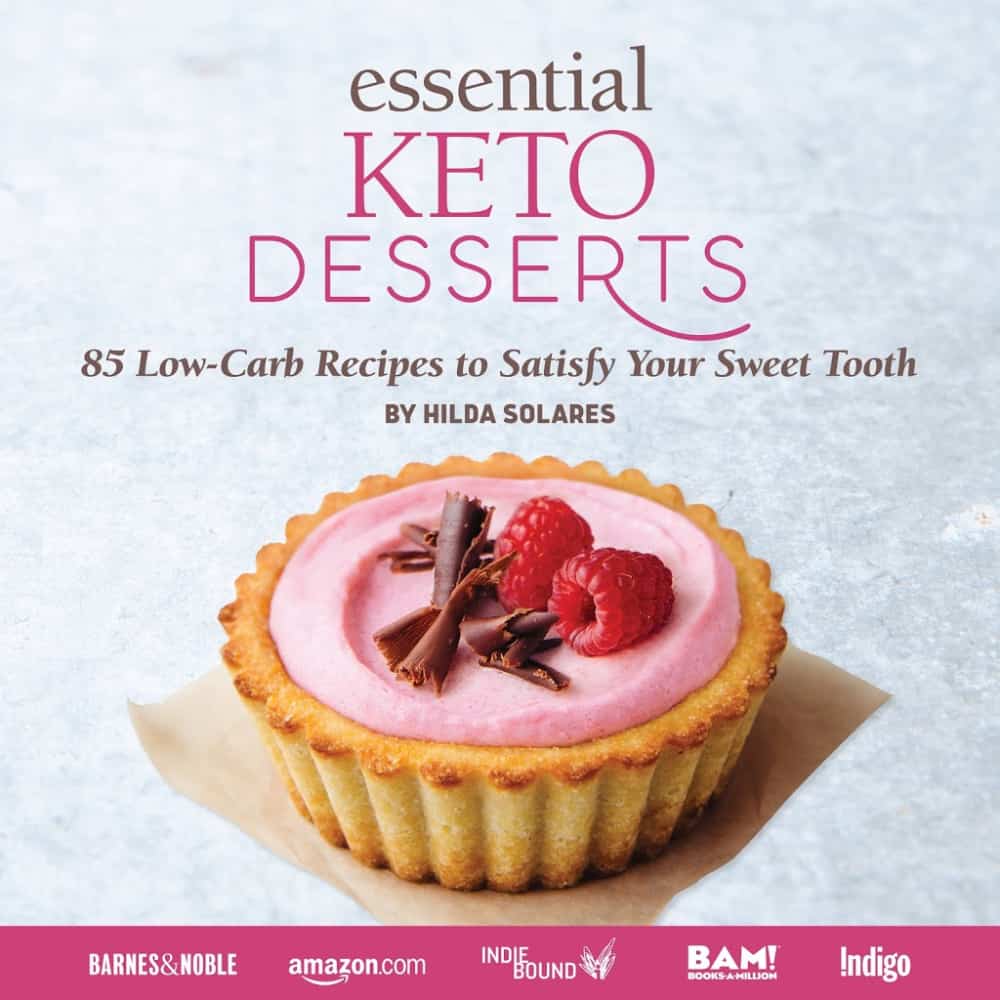 If you love peanut butter then you also need to check out these other keto-friendly recipes.
I'm not completely sure why fall is my favorite season, especially since it's really non-existent here in South Florida where I have lived most of my life.
Despite this, I still love everything about what the fall season represents. You know the start of a new school year, pumpkin latte, coming up with a keto peanut butter bar recipe and even the cheesy fake fall leaves in the department stores.
I did warn you that I LOVED everything about this season.
For some reason, I associate peanut butter also with the fall season. Again, maybe it has something to do with all those peanut butter and jelly sandwiches I had as a kid.
Tag Us
I sure hope you will give this recipe a try and will help us share it. If you give it a try, make sure you remember to tag us on Instagram, Facebook, and Pinterest. It's what keeps this girl encouraged to keep sharing and perfecting her recipes.
Also, check out our Amazon Store for our recommendations. You might be surprised by how many great keto options are at your disposal.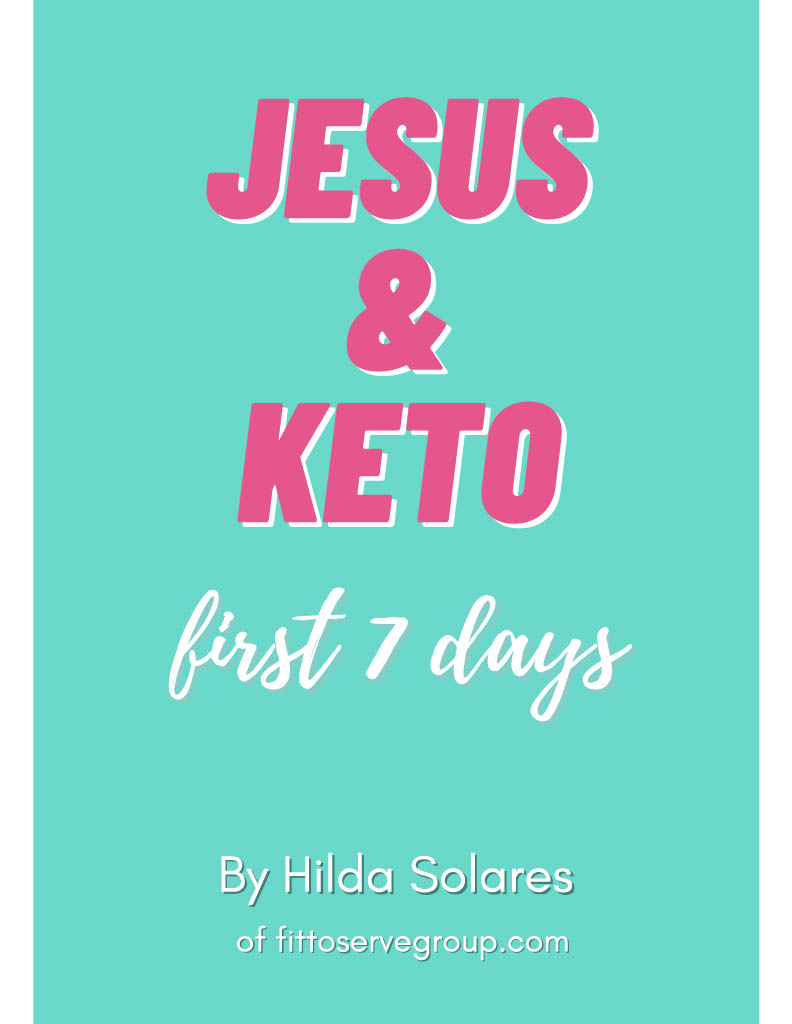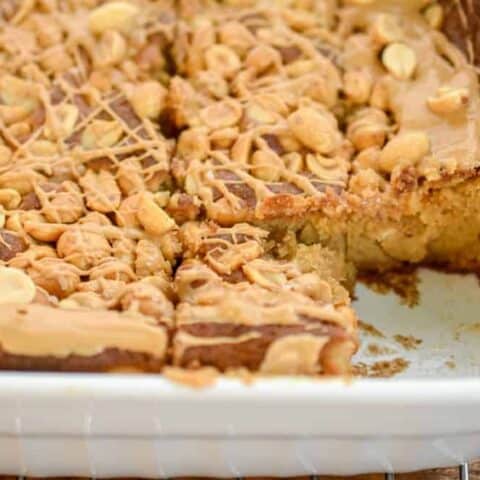 Keto Peanut Butter Cake Bars
A simple and delicious low carb keto peanut butter bar recipe.
Ingredients
3/4 cup of unsalted butter (room temperature)
8 ounces of softened full-fat cream cheese
5 eggs , room temperature
1/2 cup sour cream
2 teaspoons of baking powder
¼ teaspoon of salt
1 teaspoon of vanilla extract
½ cup of peanuts to sprinkle on top
Sea salt flakes, to sprinkle on the top
1/4 cup of melted peanut butter to drizzle on top, optional
Instructions
Preheat oven to 350 degrees
Grease a 9X13 inch pan.
In a large bowl using an electric mixer combine the softened butter, sugar substitute, vanilla extract, and cream cheese.
Once well combined and light and fluffy add the sour cream and peanut butter.
Next, add the eggs one at a time until fully incorporated.
To this batter add the almond flour, whey protein, baking powder, and salt.
Lastly, sprinkle the 1/2 cup of peanuts over the batter and sea salt flakes.
Bake at 350 degrees for 40-45 minutes or until an inserted toothpick comes out clean.
Allow the bars to cool on a baking rack for 20 minutes.
While the bars are cooling melt the 1/4 cup of peanut butter to drizzle on the top of the bars. I do so in the microwave in 20-second intervals.
Drizzle the top of the bars with the melted peanut butter and allow the bars to set another 10 minutes before slicing.
Store leftovers in the refrigerator for up to 5 days or freeze for up to 3 weeks.
Notes
For more of a bar, option place these in the refrigerator for 30 minutes to firm up before slicing.
Nutrition Information:
Yield:

24
Serving Size:

1
Amount Per Serving:
Calories:

250
Total Fat:

23.3g
Saturated Fat:

9.9g
Cholesterol:

71mg
Sodium:

165mg
Carbohydrates:

5.5g
Net Carbohydrates:

5.1g
Fiber:

1.4g
Sugar:

1.4g
Protein:

7.9g