Bursting with peanut butter flavor this keto peanut butter swirl cheesecake is the kind of recipe that makes peanut butter and peanut butter alone the star.
It's a low-carb peanut butter cheesecake for those peanut butter lovers doing keto, of which I am one. This cheesecake has a decadent vanilla cheesecake base with a ribbon of peanut butter marbling throughout the entire cheesecake for one dreamy recipe.
And because I cannot leave good enough alone, it also features a thin shell coating of peanut butter making it the perfect foil for chopped salted peanuts.
I am telling you it's straight-up delicious.
If you're looking for peanut butter and chocolate cheesecake, then for sure try this keto peanut butter chocolate pie. It's a no-bake recipe and a delicious breeze.
However, this low-carb peanut butter swirl cheesecake has no chocolate in the recipe. It's for those who can't get enough of the salty-sweet taste of peanut butter and want it in every bite of their dessert without having to compete with chocolate.
Thankfully, that's exactly what this keto peanut butter cheesecake delivers.
If you're here I am assuming you're a cheesecake fan and so I also invite you to check out our entire keto cheesecake collection.
And while you're here you should also visit our ever-growing keto peanut butter recipes you won't be disappointed, I promise.
Keto Peanut Butter Swirl Cheesecake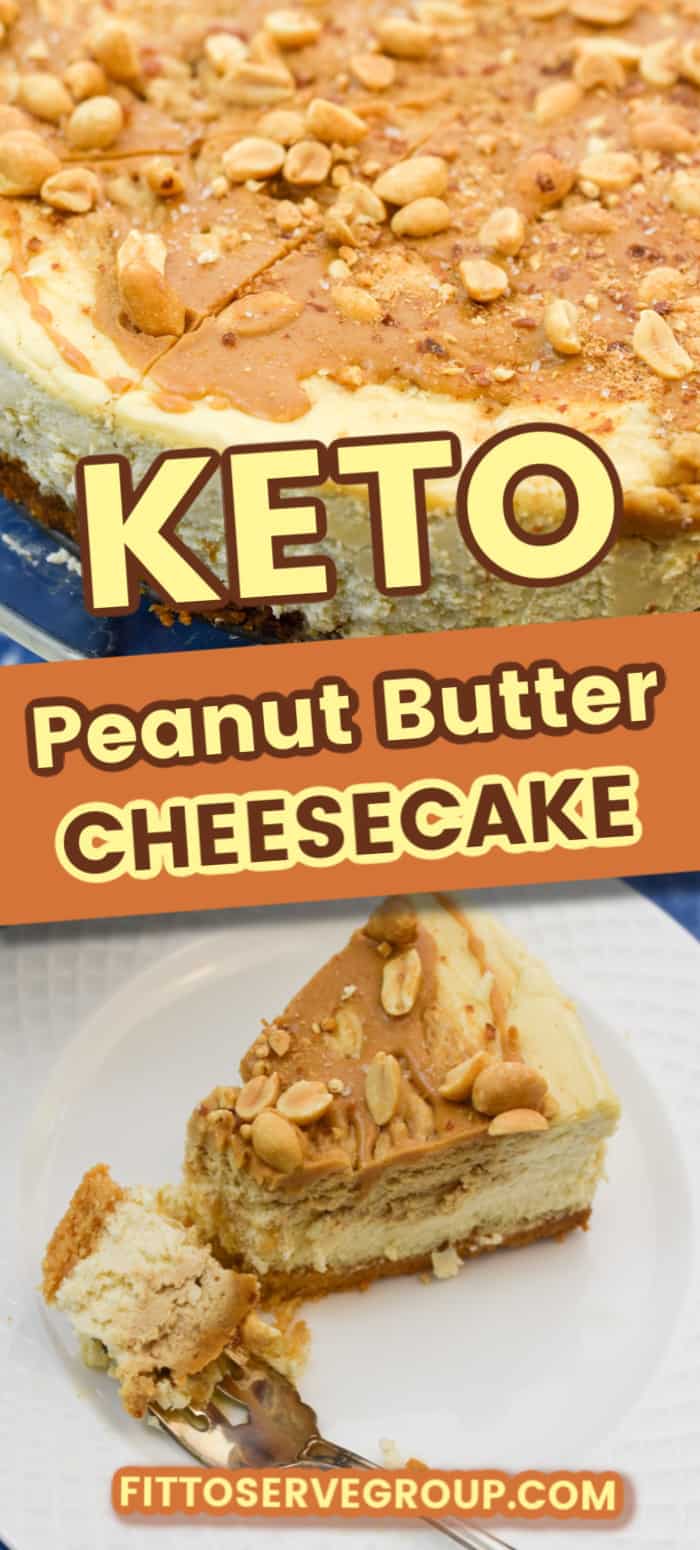 Be sure to carve out some time to make this recipe, since cheesecakes are a little more time-consuming to make and you will have to wait for them to age before slicing.
But don't let that deter you because cheesecakes are great make-ahead desserts and this sugar-free cheesecake will be worth planning for.
This recipe is exactly what you want when you want a dense, velvety smooth, melt-in-your-mouth cheesecake, that also needs to be keto-friendly.
Is that too much to ask? Not if you're in my world. I was determined to make a stunning, showstopper of cheesecake that even my non-keto family members would love.
I knew I had a winner when my picky son, Matthew kept raving about it. And the boy not only does not do keto but he's not even a fan of cheesecakes! So yeah this momma was proud.
How To Make Keto Peanut Butter Swirl Cheesecake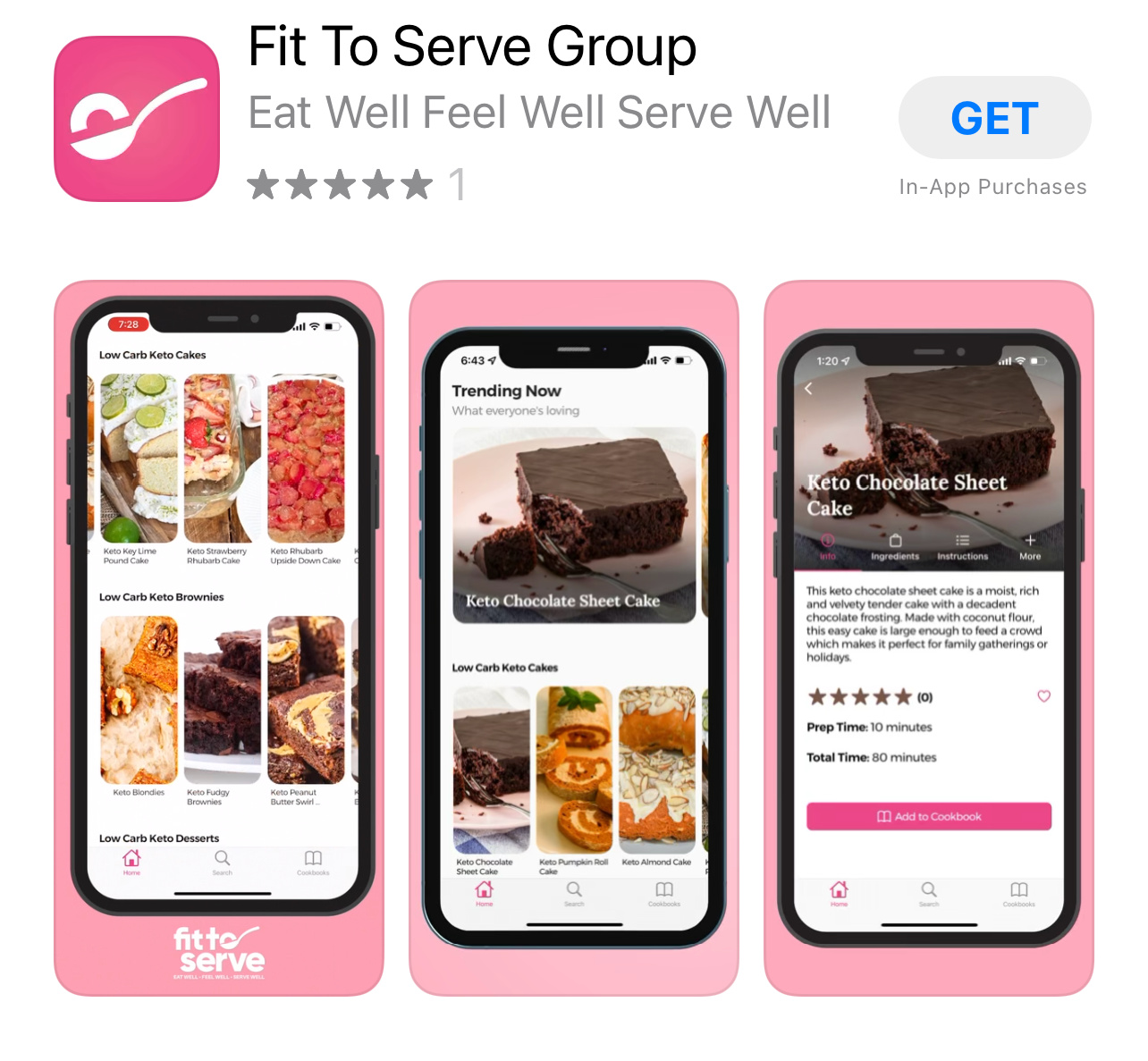 Disclosure: Some of the links below are affiliate links, meaning at no additional cost to you, I will earn a commission if you click through and make a purchase.
This sugar-free peanut butter cheesecake features an almond flour crust that mimics a graham crust beautifully. It's the perfect base for a creamy cream cheese base.
However, If you are not able to consume nuts no problem. Just substitute the almond flour 1:1 for sunflower seed flour, it works equally well.
Although this peanut butter marble swirl cheesecake may appear complicated it's really not. A few basic steps and soon you will be enjoying this dessert.
You should know that I prefer to bake my cheesecakes in a water bath to ensure no surface cracks. It's the only way to guarantee consistent results. This is probably what will make you the most effort as far as this recipe goes.
When mixing your cheesecake batter you'll want to beat the cream cheese and sugar substitute until it's velvety smooth.
But, when it comes time to add the eggs you want to be sure NOT to overbeat. Add the eggs and mix on low until just incorporated. Over mixing is a sure way to get cracks on the surface of your cheesecake.
Choosing Your Peanut Butter
As far as which peanut butter to use for this recipe you there are some careful considerations you need to take to ensure success. For one it should be a sugar-free option.
I know that's not easy to source but my favorite is from the brand Spread The Love peanut butter. It has zero sugar, salt, palm oil and it's creamy. The consistency is as close to the stuff we grew up on minus all the extras.
With that being said if you can't easily order that brand you could use all-natural peanut butter that needs to be stirred. Just keep in mind that you really want to mix it well before making the peanut butter swirl layer of this cheesecake.
Ingredients Needed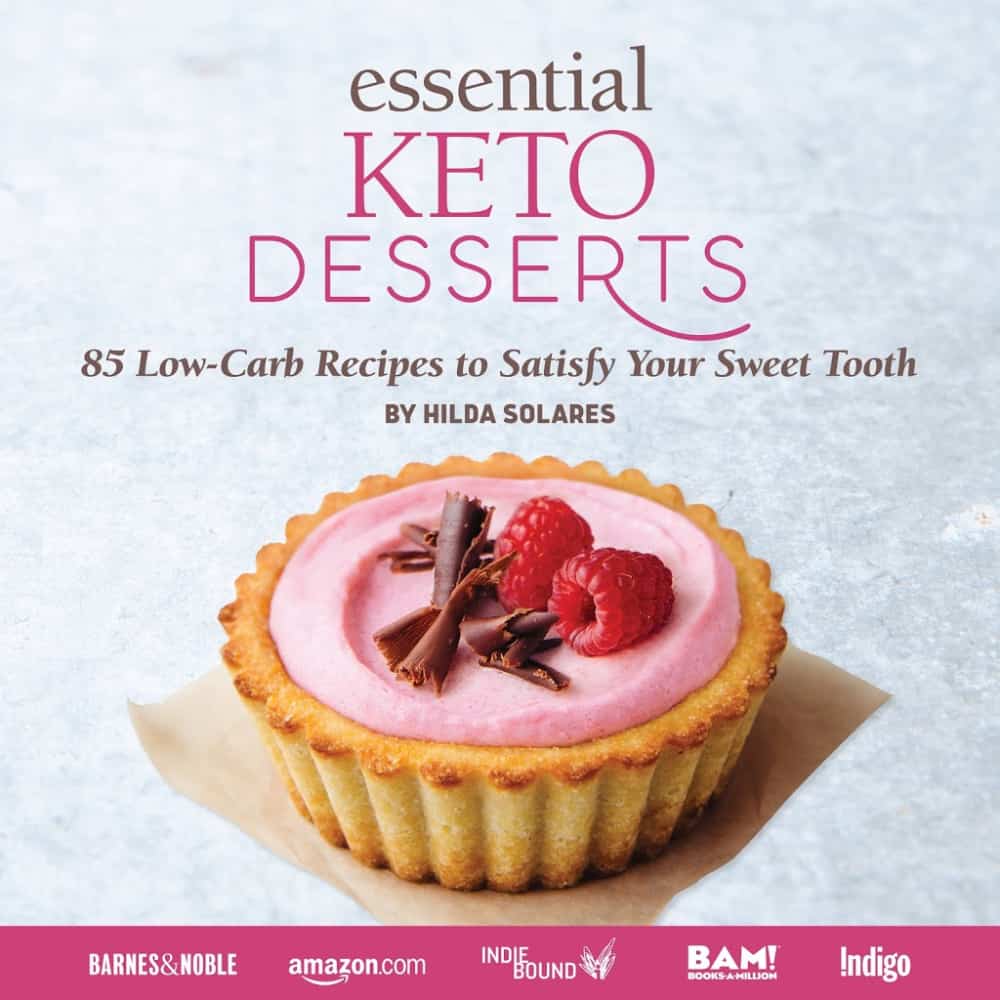 Below are the ingredients and items you'll need to make this recipe. Note that the entire printable recipe card is at the bottom of the page.
The Crust
Low Carb Cheesecake
Eggs, room temperature
Vanilla extract
Salt
Peanut Butter Swirl
Peanut Butter Choose a brand that has no salt or sugar but is smooth.
Coconut Oil, refined so that the flavor is neutral.
Crushed Peanut Topping
Salted Peanuts
Coarse sea salt (optional)for sprinkling on top
Tools Needed
In order to make a successful low-carb cheesecake, you will need a few items. Thankfully, these materials are also pretty standard kitchen tools. Perhaps the only thing you may not have from this list is the 12-inch springform pan.
Large roasting pan for the bain-marie or for placing at the bottom shelf of your oven with water to steam.
Mixing bowls
As far as I am concerned, making recipes like this keto peanut butter swirl cheesecake should be a staple in your keto baking kitchen. Since there is absolutely no need to be intimidated by the process of making this classic favorite.
I sure hope you will give this recipe a try. Once you do, make sure you remember to tag us on Instagram and Facebook. It's what keeps this girl encouraged to keep sharing and perfecting her recipes.
Also, check out our Amazon Store for our recommendations. You might be surprised by how many great keto options are at your disposal.
Since this recipe is made with almond flour and it's what you prefer to use, I recommend you visit our keto almond flour recipes for more delicious options.
Grab Our Books!
In case you don't know I have authored two books for you, Essential Keto Bread and Essential Keto Desserts both inspired by your requests over the years. It's my prayer these keto cookbooks will help make keto a delicious breeze for you.
Join Our Jesus And Keto Movement
Looking for an online support system to help you stay the course on keto? As a family, we came to the keto diet looking at it from a Christian perspective. As believers, we live our lives supported by God's grace.
So when the Holy Spirit led us to combine our Christian faith and the keto diet, we did so in hopes of finding lasting transformation. When we followed the Holy Spirit's prompting to we got on the path to real transformation.
Knowing firsthand the benefits of this decision we have created a closed Christian group that is using the keto diet to transform their lives. We invite you to join our Private Facebook Group and see if it's not the key you have been missing.
Be sure to request our FREE Jesus and Keto E-Book (First 7 Days) We hope it blesses you.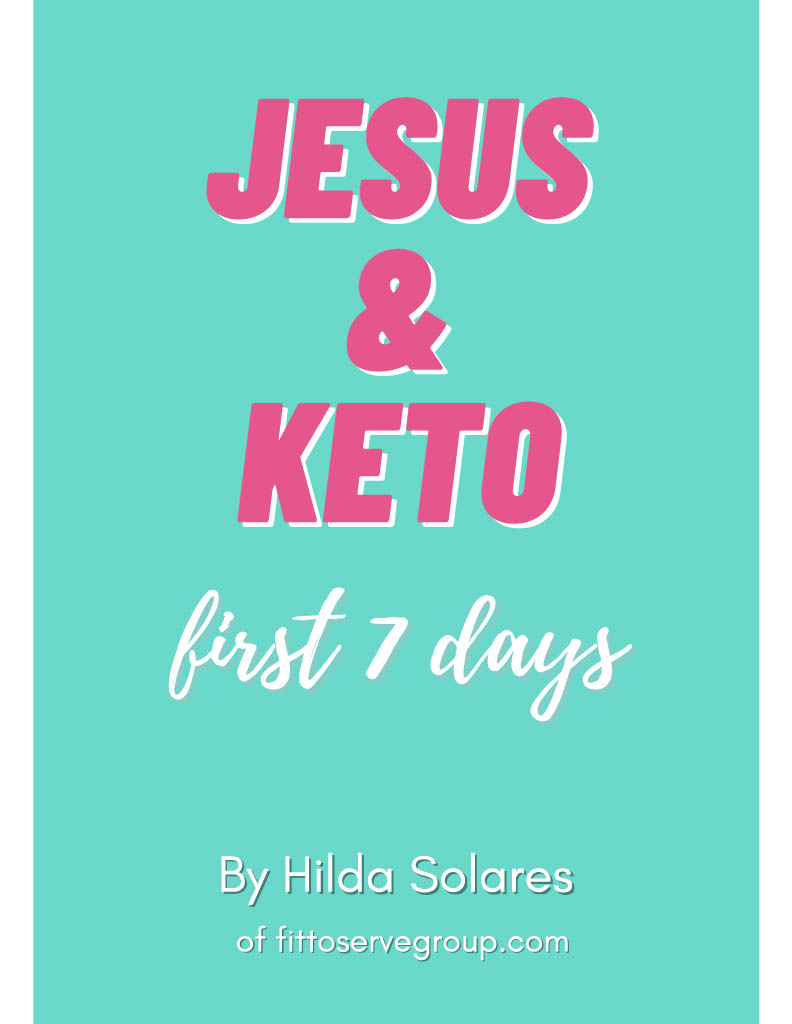 Fittoservegroup Keto App
Looking for a fast way to access our keto recipes? We got you covered. There's an app for that. Yup, there's a Fit To Serve Group App and it's going to make your keto diet a delicious breeze!
Access hundreds of recipes that are all sugar-free, gluten-free, and keto-friendly.
Enjoy early access to recipes before they go live on the website. Plus, bonus recipes that are exclusive to the app. Make your own personal cookbooks that you can use to organize your favorite recipes.
Search recipes by title, ingredients, keywords, and categories, and of course every recipe shows complete nutritional facts. Get the Fit to Serve Group App for easy-to-follow keto recipes made with easy-to-source ingredients.
The app is loaded with hundreds of yummy recipes for breakfast, lunch, dinner, snacks, and even desserts!
Learn more by visiting our Fit To Serve Group App Page.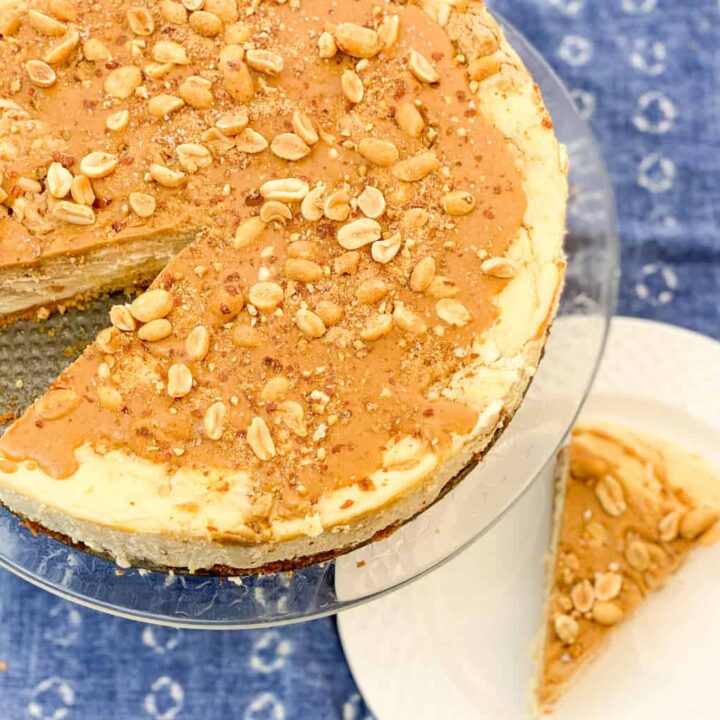 Keto Peanut Butter Swirl Cheesecake
Prep Time:
1 hour
30 minutes
Cook Time:
1 hour
10 minutes
Total Time:
1 day
2 hours
40 minutes
Bursting with peanut butter flavor this keto peanut butter swirl cheesecake is the kind of recipe that makes peanut butter and peanut butter alone the star. It's a low carb peanut butter cheesecake for those peanut butter lovers doing keto.
Ingredients
Keto Almond Flour Crust
Keto Peanut Butter Swirled Cheesecake
3 large eggs, room temperature
2 egg yolks, room temperature
1 teaspoon of vanilla extract
1/4 teaspoon of sea salt
Keto Peanut Butter Swirl
2 cups of cheesecake batter
3/4 cup of all natural peanut butter
Keto Peanut Butter Topping
1/4 cup of roughly chopped peanuts for garnish (optional)
Instructions
Keto Almond Crust
Pre-heat oven to 350 degrees.
Lightly grease the bottom of a 12-inch springform pan.
Melt the 1/2 cup of butter.
In a medium-sized bowl add 2 cups of almond flour, sugar-substitute, sea salt, and combine the dry ingredients well.
Add the melted butter and combine mixture until fully incorporated. Mix with a wooden spoon or spatula.
Once combined add the almond mixture to the bottom of the springform pan. Use the bottom of a glass cup to press the mixture evenly to the pan.
Bake the crust in the preheated oven for 20-25 minutes until the crust is lightly browned.
Allow the keto almond crust to cool completely before adding the cheesecake batter.
Turn the oven off and proceed to make the cheesecake batter.
Keto Cheesecake
Allow the 3 pounds of cream cheese and eggs to come to room temperature for a minimum of two hours.
Pre-heat oven to 300 degrees.
In a large stand-up mixer or a large mixing bowl using an electric handheld mixer beat softened cream cheese and sugar substitute at a high setting. Combine until well incorporated.
Next, reduce the speed of the mixer to low speed and add the whole eggs and egg yolks one at a time. Stop and scrape the bowl at least two times to make sure the batter is mixed properly.
Then add vanilla extract, sea salt. Combine the mixture until the batter is fully incorporated and velvety smooth. Being careful not to over mix. Make sure you stop and scrape the bowl a couple of times during this process.
Lightly grease the sides of the springform pan with the baked almond crust.
Reserve 2 cups of the vanilla cheesecake batter to be used for the peanut butter swirl.
Proceed to make the peanut butter swirl. Melt peanut butter and coconut oil together in the microwave for 30 seconds. Set aside.
Pour the vanilla cheesecake batter into the cooled almond crust. Using an offset spatula evenly spread the top of the cheesecake batter.
Next, add spoonfuls of the peanut butter batter on top of the cheesecake.
Gently swirl the vanilla and peanut butter marble together using a skewer or a thin knife.
Bain-Marie
Securely wrap the cheesecake pan with two large pieces of heavy-duty aluminum foil. To do so I lay one piece of aluminum foil vertically and then stack another piece of foil horizontally. I then bring up the foil up the sides of the pan making sure the bottom and sides are tightly wrapped in foil. This is in preparation for the bain-marie.
Place your springform pan in a large roasting pan that is large enough to accommodate the pan without touching the sides.
Next, carefully pour boiling water into the roasting pan until the water reaches half-way up the sides of the springform pan.
Bake your cheesecake for 65-70 minutes until cheesecake is set around the edges yet the center diameter (about 2 inches) of your cheesecake is still able to jiggle when you slightly move your pan.
Do not over bake your cheesecake. It will continue to set as it cools.
Turn the oven off and allow the marble cheesecake to cool in the oven for one hour with the oven door slightly ajar.
Then place your cheesecake on a cooling rack and allow the cheesecake to further cool on the kitchen counter for at least another 60 minutes. It's key that the cheesecake is completely cool before storing in the refrigerator.
Once your cheesecake has been allowed to cool on the kitchen counter, Run a knife around the springform pan and release the cheesecake.
Next, carefully wrap the cheesecake with plastic cling wrap and allow the cheesecake to sit in the refrigerator for at least 12 hours and up to 36 hours before serving.
Peanut Butter Hardshell Topping And Crushed Peanuts
In a small microwavable bowl melt the tablespoon of coconut oil and combine with creamy peanut butter for about 30-45 seconds. Set aside.
Drizzle the peanut butter topping on top of the cheesecake.
When ready to serve, garnish the top of the cheesecake with salted peanuts.
Store leftovers in the refrigerator for up to 5 days or freeze for up to 3 weeks.
Notes
Sugar Substitutes

When it comes to choosing which sugar-substitute to use for this keto marble cheesecake I have several for you to choose from.

My go-to choice is Lakanto Monk Fruit because the texture is spot on and since there is barely any aftertaste.

It is a monk fruit and erythritol blend. Lakanto Monk Fruit gets its sweetness from antioxidants called mogrosides, instead of fructose or sucrose.

It's why it's a great all-natural sugar-substitute and has zero calories and zero glycemic index.

I'm also partial to Swerve an erythritol blend.

Swerve is the name brand of Erythritol it's unlike other sugar alcohols has a 0 % impact on blood sugar.

You could also use the stevia and erythritol-based brand Pyure for this recipe.

But keep in mind, if using Pyure you will want to use 1/2 the amount called for in this recipe since it's much sweeter.

Lastly, if you can easily find a more natural sugar substitute you can also use Splenda with great success.
Nutrition Information:
Yield:

20
Serving Size:

1
Amount Per Serving:
Calories:

403
Total Fat:

36.1g
Saturated Fat:

18.2g
Cholesterol:

90mg
Sodium:

375mg
Carbohydrates:

9.1g
Net Carbohydrates:

5.9g
Fiber:

3.2g
Sugar:

3.7g
Protein:

14.9g