Decadent Keto Raspberry Curd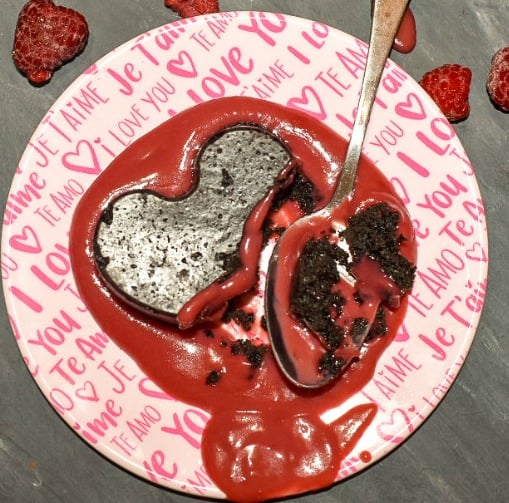 This decadent recipe for keto raspberry curd should be on your short list of recipes to try. It's a rich yet tart raspberry curd that will go well with just about any of our keto treats or even all by itself.
Yes, I've been known to have a jar of keto curd in the fridge just to have a little something sweet after dinner.
Ever since I made a keto lemon curd pie I have been dreaming of making more curd that is keto friendly. So I starting thinking if I could make a raspberry curd that was also low in carbs.
Well, I'm thrilled to tell you I was able to crush that goal. Because this low carb raspberry curd is flat-out yummy.
keto raspberry curd can be enjoyed with so many things but I can't' think of a better pairing than raspberry and chocolate. I mean really, is there anything more decadent than chocolate and raspberries? These two seem to have been created for each other.
It seemed only fitting that I would share this recipe with you right be Valentines Day, cuz who wouldn't want a decadent keto dessert to celebrate this lovely holiday?
Keto Raspberry Curd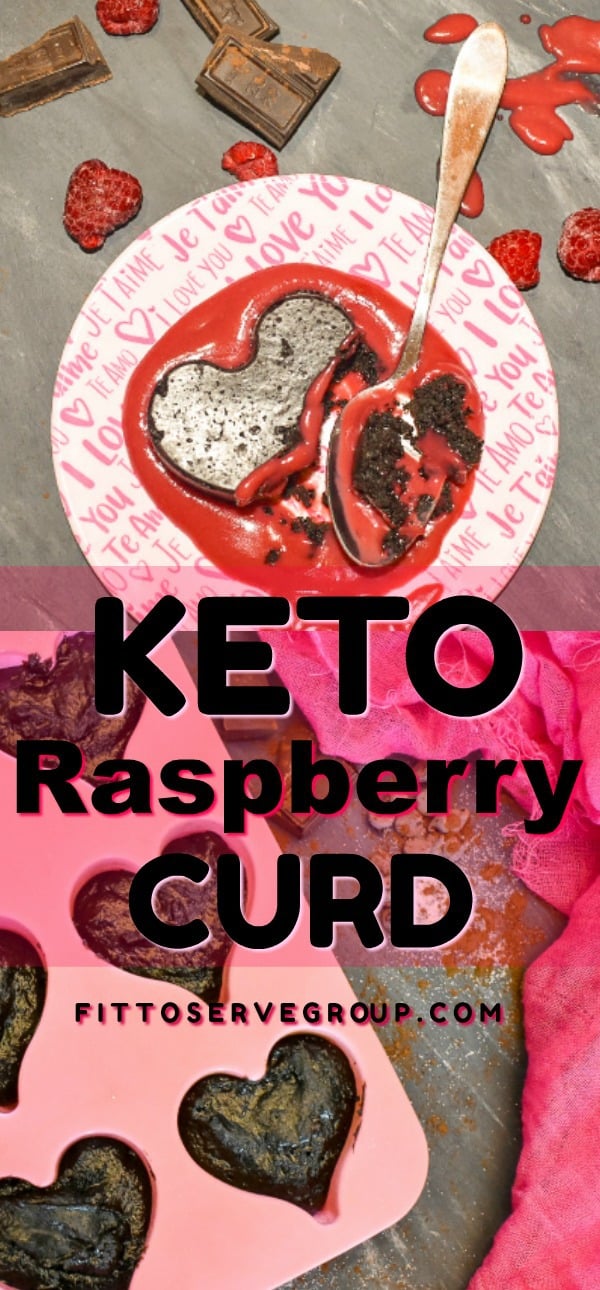 What's great about this keto raspberry curd is that it's a very simple recipe. You can make this sugar-free raspberry curd in as little as 20 minutes from start to finish.
If you've never had curd before, it's got the consistency of custard but it does not use any milk products. In fact, to make this low carb raspberry curd you only need a few basic ingredients.
Disclosure: Some of the links below are affiliate links, meaning at no additional cost to you, I will earn a commission if you click through and make a purchase.
How To Make Keto Raspberry Curd
In order to make a sugar-free raspberry curd, you'll need either fresh or frozen raspberries.
Personally, I try to use fresh whenever possible but I know that using fresh raspberries when out of season can get very pricy. So I want to reassure you that you can also use frozen berries here.
If you opt to go that route, simply allow the raspberries to completely defrost before you use them in the recipe. It just makes the consistency of the curd more stable.
This recipe for raspberry curd calls for six egg yolks and it's what gives it that custard-like consistency. It's important to allow your eggs to come to room temperature before so that they mix seamlessly into curd.
I have several options when it comes to which sweetener you can use in this keto curd. I am partial to Lakanto Monk Fruit because the texture is spot on and because there is barely any aftertaste.
You can also use Swerve an erythritol blend. Although it does have a cooling aftertaste that some people rather dislike. Personally, it's not an issue for me and I recommend it as a choice. You could also use the stevia and erythritol-based brand Pyure if you prefer to use a stevia-based sweetener.
Lastly, if you can't easily find a more natural sugar substitute you can also use Splenda with great success. I know not everyone would agree with me here and I respect that but in my book, it's still better than regular sugar.
The recipe calls for the use of double-boiler. This is to ensure that the raspberry curd doesn't scorch. However, you don't have to use anything fancy. I simply use a glass bowl that is large enough to fit over a pot of boiling water.
Keto Chocolate Raspberry Dessert
I have always loved the combination of chocolate and raspberries. There is something very special when you put these flavors together. Which is why I needed to create a recipe that would allow me to safely enjoy them.
Now that I think about it, as much as I love these flavors together, there was a season when I just couldn't enjoy them.
What stopped me from enjoying the flavors of raspberry and chocolate? It was a bad case of morning sickness. Despite feeling nauseous I decided to make a raspberry chocolate treat.
That decision ruined the combination for me. In fact, it took several years before I could have it again without feeling like yuck.
Oh, the brain and how it remembers!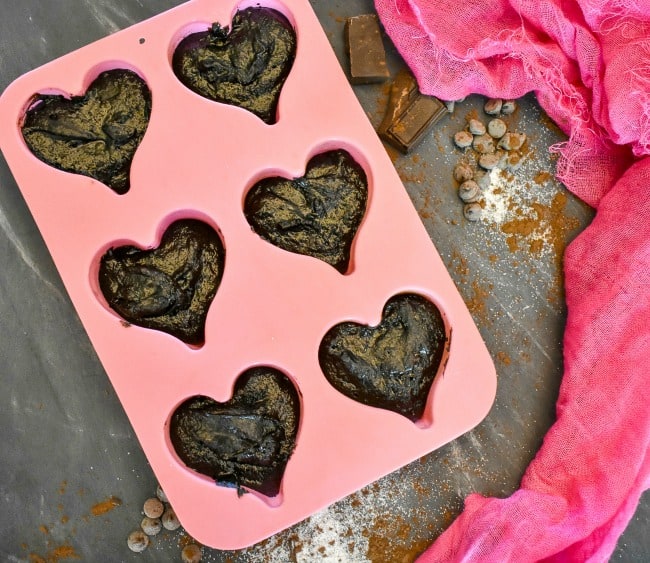 Let's just say I L O V E my children, but I was not one of those women who loved being pregnant. Morning sickness was not something that affected me only in the morning.
No, it lasted beyond the first trimester of my pregnancies all the way to the day I would give birth. Yeah, not fun.
Anyhow, my pregnancies where a long time ago, my youngest is now an adult. Where did the time go? So, thankfully the combination of chocolate and raspberries are safely in my life again.
Because I wanted to combine this keto raspberry curd with chocolate, I decided to pair it with My Michelle's Brownies. If you haven't tried them yet, you really need to give them a go. These keto brownies are rich and dark, making them perfect for my keto raspberry curd recipe.
I added both recipe cards at the bottom of this post plus of other great pairings.
I sure hope you will give this recipe a try. Once you do, make sure you remember to tag us on Instagram and Facebook. It's what keeps this girl encouraged to keep sharing and perfecting her recipes.
Do also check out our Amazon Store for recommendations. You might be surprised by how many great keto options are at your disposal.
Favorite Keto Hack To Stay On Track
Have you've struggled to get into ketosis consistently on keto, or maybe you've hit a plateau that doesn't seem to want to move, consider using Perfect KETO exogenous ketones.
By using exogenous ketones you will naturally elevate your ketones allowing you to enter into ketosis more quickly.
When you're at a deeper level of ketosis you will notice that it really helps reduce your appetite, carb cravings, and give you long-lasting energy. It's been our experience that the use of exogenous ketones helps make the low carb keto lifestyle a viable sustainable option.
Honestly, I like to call it willpower in a cup. I invite you to learn more about the science behind both exogenous and endogenous ketones and have your questions answered from a doctor's perspective.
Make sure you also pick up your free and complete guide to understanding ketosis. Then begin the ketosis diet easily with this Start-up Guide to the Ketosis Diet.
Wondering which foods you should avoid when doing Keto? This Keto Food Guide will assist you in doing the Keto Diet correctly.
Use this link and get a 20% off discount when you place your order for any of Perfect Keto's products. Then add the code FITTOSERVE at checkout.

Get Our Keto Diet Starter Guide FREE!
When you sign up our newsletter, we will send you our 5 Easy Steps to Start a Keto Diet Guide for FREE! No worries, I promise not to bombard you with emails, and I will not share your email address with anyone else. Signing up is also a convenient way to get our latest recipes, tips, and offers. You may unsubscribe easily at any time.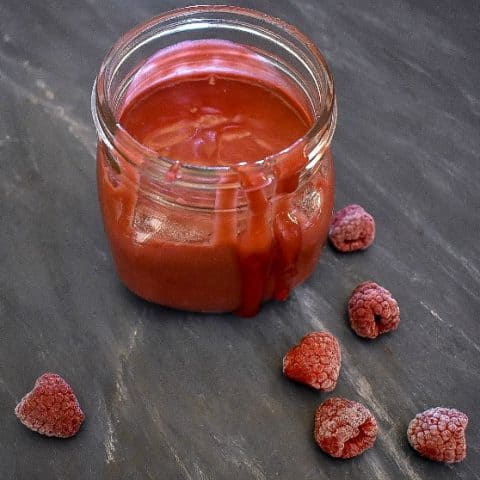 Decadent Keto Raspberry Curd!
Yield: 32

Prep Time: 10 minutes

Cook Time: 15 minutes

Total Time: 25 minutes

It's a recipe for keto raspberry curd recipe. This low carb raspberry curd is sugar-free and keto-friendly. It's a rich yet tart rasberry curd that can be enjoyed with several other treats or by the spoonful all by itself.
Ingredients
Keto Raspberry Curd
16 ounces of fresh or frozen raspberries
1/2 cup unsalted butter
6 egg yolks
1/4 cup of lemon juice
1/4 teaspoon of sea salt
Instructions
In a double boiler melt the butter at medium heat.
To the butter add the fresh or thawed raspberries, lemon juice, sugar substitute and salt.
Stir the mixture frequently making sure to mash the raspberries as it cooks down.
Reduce the heat to low.
Separate the eggs and add the egg yolks one at a time. Using a small whisk cook the mixture until it thickens about seven to ten minutes.
Once the raspberry curd has thickened, strain the curd through a large sieve by mashing the berries with a spoon.
Discard the seeds and any solids that stay behind.
Allow the curd to fully cool.
Store the curd in a covered glass container.
The curd will last up to one month refrigerated.
Recommended Products
As an Amazon Associate and member of other affiliate programs, I earn from qualifying purchases.
Nutrition Information:
Yield: 32 Serving Size: 1 tablespoon
Amount Per Serving: Calories: 43Total Fat: 3.8gSaturated Fat: 2.1gCholesterol: 47mgCarbohydrates: 1.8gFiber: 0.9gSugar: 0.7gProtein: 0.9g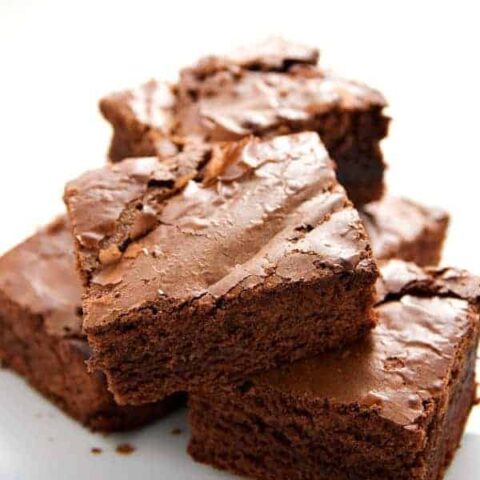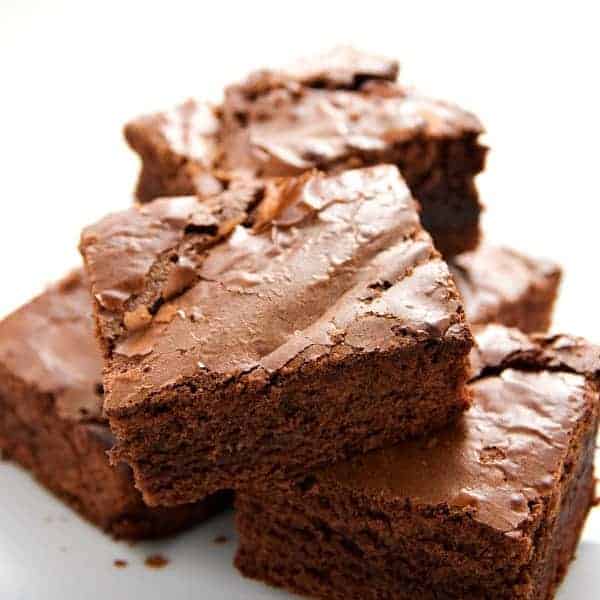 Michelle's Rich Keto Brownies
Yield: 16

Prep Time: 7 minutes

Cook Time: 20 minutes

Additional Time: 5 minutes

Total Time: 32 minutes

Keto Brownies are made with rich dark chocolate cocoa powder and baking chocolate. It's a delicious low carb brownie that it grain-free, sugar-free and Keto-friendly.
Ingredients
1/2 cup and two tablespoons of unsalted butter
¾ cup of chopped walnuts (optional)
3 large eggs
2 tsp vanilla
¼ tsp sea salt
1 tsp baking powder
1 tsp instant coffee (optional)
Instructions
Pre-heat oven to 325 degrees and lightly grease an 8X8 baking pan.
Using a double boiler, melt the butter, sugar substitute, cocoa powder, unsweetened baking chocolate, instant coffee and salt.
Stir occasionally until fully combined. Allow mixture to cool slightly.
Add the eggs one at a time and the vanilla extract.
Once the mixture is fully combined add the sifted almond flour, baking powder and gently stir.
Lastly, fold in the walnuts.
The addition of the walnuts is totally optional but delicious decision.
Pour the low carb keto brownie mixture into the prepared pan.
Bake the brownies for 20-25 minutes.
Allow to fully cool before slicing and serving.
Recommended Products
As an Amazon Associate and member of other affiliate programs, I earn from qualifying purchases.
Nutrition Information:
Yield: 16 Serving Size: 1
Amount Per Serving: Calories: 129Total Fat: 11.8gSaturated Fat: 5.3gCholesterol: 54mgSodium: 65mgCarbohydrates: 3.5gNet Carbohydrates: 2gFiber: 1.5gSugar: 0.3gProtein: 3.3g
Keto Raspberry Curd Pairings
The following desserts would pair well with our keto raspberry curd recipe.