Looking for an easy way to enjoy scones while doing a keto diet? Well, you've come to the right place because my recipe for Keto Raspberry Scones not only allows you to safely enjoy the tradition of afternoon tea and scones but to do so easily.
My recipe for Keto-friendly Raspberry Scones makes the perfect low carb treat. Since these low carb scones have all the flavor we love in traditional scones minus all the carbs. Be sure you check out our entire collection of keto scones where you are sure to find a few new favorites.
These keto scones have a great biscuit-like texture with just the right amount of sweetness. And because this recipe for keto scones does not require you to roll out the dough, it's super easy to make. I also made a keto lemon icing for the top of these scones because the flavor of lemon really pairs well with the raspberries.
You can, of course, leave the icing out if you prefer. But between us, you should at least once try these scones with the lemon icing.
Typically scones have a biscuit-like dough that is lightly sweetened but the majority of scone recipes call for rolling and then cutting the dough prior to baking.
But I am all about making keto baking easier. This simply means that if I can reduce some time from creating a recipe, you better believe I will. Am I the only one who appreciates easy, delicious keto recipes? I didn't think so.
Plus if there is something I've noticed is that many who come to the keto diet don't have years of baking skills under their belt. This means keeping things on the simple side just makes sense. My tears of frustration when I first started keto baking is what pushed me to learn how to master ketogenic baking.
I was determined to make it work since I was not about to hang up my baking apron just because I went keto.
Keto Raspberry Scones
An added bonus, about these keto scones, is that they are bursting with antioxidant-packed raspberries. On a keto diet, we are limited to the kinds of fruits we can consume but for the most part, most can enjoy a handful of berries as a treat. The great thing about this raspberry scone recipe is that each serving provides an equivalent of about five raspberries.
And since raspberries are packed with a lot of flavors, just a few raspberries go a long way in making this a delicious option. This also means it's a much healthier option than a traditional sugar-laden raspberry scone could ever be.
All that sugar in a typical scone just blocks the nutrition that raspberries can provide. Having them in a baked good like these scones also ensures you're not going over your macros. What's particularly nice about trying to make a low-carb scone recipe, is that scones are already not a very sweet treat.
If you're not familiar with scones, they are part of the quick bread family and they're a cross between a biscuit and a lightly sweetened cake. What I wanted was a recipe for keto raspberry scones that featured a nice crust yet be tender and moist on the inside.
BUT…..I wasn't willing to achieve this if it required too many steps. Was that too much to ask? In case you don't know when you are making traditional scones you approach it the same way you would if you were making biscuits.
How To Make Keto Raspberry Scones
This means you would have to cut the cold butter into the flour mixture with a pastry cutter until the dough forms pea-sized pieces. Then to this mixture, you would have to add your wet ingredients. After you form the dough you then have to let it rest AND then roll out the dough so you can cut them into scones.
Can I tell you I got tired just writing about the typical scone-making process? If that's me, can you imagine how intimidating that many steps would be for an inexperienced baker? It would especially feel like too many steps if you're new to keto baking where alternative flours are even trickier to work with.
That's why this is a keto raspberry lemon scone recipe that would just require you to mix, spread, and bake. I knew for certain that if I didn't get the texture right that these keto scones would just end up being a dry crumbly mess. Something absolutely no one wants.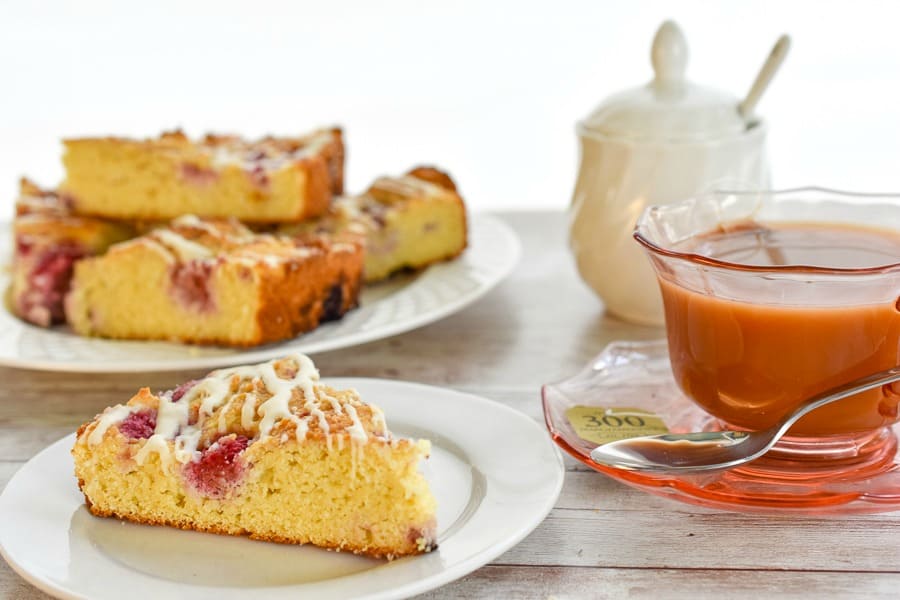 Thankfully my keto scone recipes worked beautifully. Giving me the ability to share it with you with confidence.
Disclosure: Some of the links below are affiliate links, meaning at no additional cost to you, I will earn a commission if you click through and make a purchase.
The Sugar-Substitute
When it comes to choosing which sugar substitute to use for these keto scones, I have several for you to choose from. My go-to choice is Lakanto Monk Fruit because the texture is spot on and since there is barely any aftertaste.
It is a monk fruit and erythritol blend. Lakanto Monk Fruit gets its sweetness from antioxidants called mogrosides, instead of fructose or sucrose. It's why it's a great all-natural sugar substitute and has zero calories and zero glycemic index.
I'm also partial to Swerve an erythritol blend. Unlike other natural sweeteners like stevia, it has no bitter aftertaste and measures just like sugar. It's made from ingredients found in select fruits and starchy root vegetables and contains no artificial ingredients, preservatives, or flavors.
Swerve is the name brand of Erythritol and it's unlike other sugar alcohols because it has a 0 % impact on blood sugar. You could also use the stevia and erythritol-based brand Pyure for most of my baked goods. But if using Pyure you will want to use 1/2 the amount called for in this recipe since it's much sweeter. 1/4 cup is enough if using this sweetener.
Lastly, if you can't easily find a more natural sugar substitute you can also use Splenda with great success. You will want to use the Splenda that has a bulking agent. It's the one that comes in larger bags.
I don't recommend Splenda Bake because it's actually half sugar half sucralose product and will be too high in carbs to be considered keto-friendly. Although Splenda is not an all-natural sugar substitute, in my opinion, it's still better than real sugar.
I recommend it because not everyone has easy access to the more natural substitutes plus it is at a price point that most can afford. However, when it comes to keto lemon icing for these raspberry scones you will have to use a confectioner's sugar substitute. Both Lakanto and Swerve have great ones.
The Alternative Flours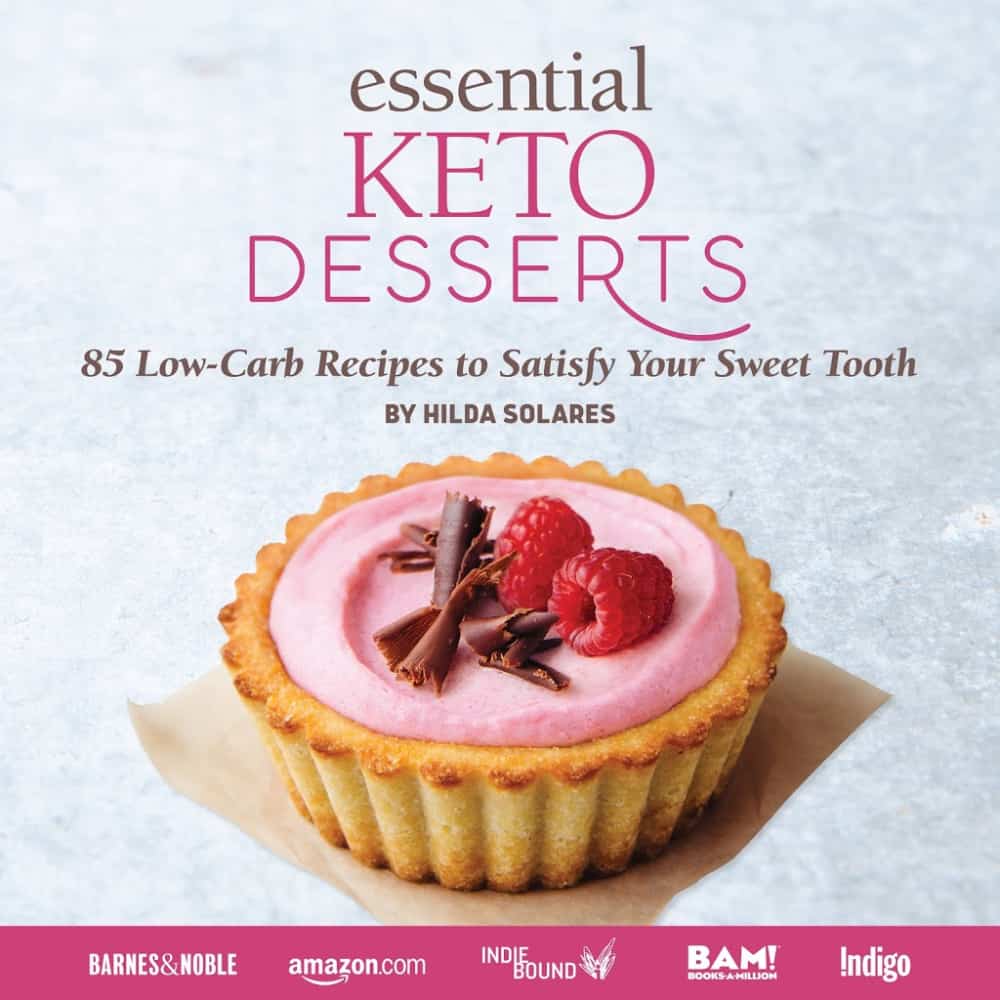 These keto-friendly scones use a combination of almond and coconut flour. I use them both because each of these flours plays a role in getting the texture as close to real scones as possible.
Tag Us
After I successfully created a recipe for Keto Strawberry Scones I knew the next step would be to create other low-carb scone recipes. Since that first recipe, I have created a Keto Chocolate Chip Scones, Keto Blueberry Lemon Scones, and now this raspberry one too.
In fact, why not check our entire collection of keto raspberry recipes, where you are sure to find new favorites.

I sure hope you will give this recipe a try. Once you do, make sure you remember to tag us on Instagram and Facebook. It's what keeps this girl encouraged to keep sharing and perfecting her recipes. Also, check out our Amazon Store for our recommendations. You might be surprised by how many great keto options are at your disposal.
Grab Our Books
In case you didn't know we have authored two books for you, Essential Keto Bread and Essential Keto Desserts both inspired by your requests over the years. It's my prayer these keto cookbooks will help make keto a delicious breeze for you.
Join Our Jesus And Keto Movement
Looking for an online support system to help you stay the course on keto?
As a family, we came to the keto diet looking at it from a Christian perspective. As believers, we live our lives supported by God's grace.
So when the Holy Spirit led us to combine our
Christian faith and the keto diet
, we did so in hopes of finding lasting transformation.
When we followed the Holy Spirit's prompting to we got on the path to real transformation.
Knowing firsthand the benefits of this decision we have created a closed Christian group that is
using the keto diet to transform their lives.
We invite you to join our
Private Facebook Group
and see if it's not the key you have been missing.
Favorite Keto Hack To Stay On Track!
Perhaps, you've struggled to get into ketosis consistently on your low-carb keto diet, or you've hit a plateau that doesn't seem to budge, consider using Perfect KETO exogenous ketones. By using exogenous ketones you will naturally elevate your ketones allowing you to enter into ketosis more quickly.
Being at a deeper level of ketosis will help reduce your appetite, carb cravings, and give you lasting energy. It's been our experience that the use of exogenous ketones helps make the low-carb keto lifestyle a viable sustainable option.
Perfect Keto has offered our readers a 15 % discount on their products. Simply use this link and the code FITTOSERVE at checkout. Feel free to reach out to us with any of your questions we would be happy to assist you.
Keto Raspberry Scones
Keto-friendly Raspberry Scones has all flavor of traditional raspberry scones minus all the carbs. And since this recipe for keto scones does not require you to roll out the dough, it's super easy to make. They are grain-free, gluten-free, sugar-free, and keto-friendly.
Ingredients
Keto Raspberry Scones
6 ounces frozen or raspberries
½ cup of full-fat sour cream
4 tablespoons of unsalted melted butter
3 eggs
1 ½ teaspoons of baking powder
¼ teaspoon of sea salt
1/2 teaspoon of lemon extract
Keto Lemon Icing
2 tablespoons of fresh lemon juice
1/2 teaspoon of lemon extract
1-2 tablespoons of heavy whipping cream
Instructions
Keto Raspberry Scones
Pre-heat oven to 375 degrees

Grease with butter a 9-inch cast-iron skillet.

Melt the butter and set aside to cool.

Using an electric mixer combine the sugar substitute, cooled melted butter, lemon extract, and the eggs.

Add the sour cream and combine well.

Next add the dry ingredients (the almond flour, coconut flour, baking powder, and sea salt) then stir until fully combined.

Lastly, fold in the fresh or frozen raspberries. Note that if using frozen raspberries there is no need to defrost.

Spread the batter into a fully greased 9-inch cast-iron skillet. If you do not own a cast-iron skillet, use a greased round 9-inch cake pan.
Bake for 25-30 minutes or until an inserted toothpick comes out clean.
Allow your Keto Scones to cool completely before you drizzle the icing on top of the scones.
Keto Lemon Icing
Combine the confectioners' sugar substitute, lemon juice, lemon extract, and the heavy whipping cream.
Notes
Store your Keto Raspberry Scones in the refrigerator for up to 5 days or freeze without the icing for up to 3 weeks.
Recommended Products
As an Amazon Associate and member of other affiliate programs, I earn from qualifying purchases.
Nutrition Information:
Yield:

10
Serving Size:

1
Amount Per Serving:
Calories:

203
Total Fat:

17.1g
Saturated Fat:

5.9g
Cholesterol:

68mg
Sodium:

66mg
Carbohydrates:

6.7g
Fiber:

3.2g
Sugar:

1g
Protein:

6g