Today I thought I would share my delicious recipe for keto strawberry scones. These low carb scones have a great biscuit texture with just the right amount of sweetness. What's more this recipe doesn't require you to roll out the dough, allowing you to make them quickly.
Can you imagine being able to enjoy everything you love about traditional scones, without worrying about the carbs? That's what I wanted to accomplish when I set out to make these keto strawberry scones.
As I contemplated on what keto recipe to create next, I thought about how much I missed having traditional scones. And I wondered if I could create a keto strawberry scone recipe similar to the one I used to enjoy before I went keto.
But I not only wanted my low carb strawberry scones to be delicious, but they also had to be easy to make. Because this girl is all about creating simple yet tasty keto recipes.
If you're anything like me, after you wipe the drool off your face after viewing a gorgeous recipe picture, you're asking yourself if it's something you can easily duplicate. In the back of your mind you're thinking oh it's pretty and all, but can I actually make it?
And if the recipe requires too many steps or ingredients that are not easily found, chances are you are moving on to find something simpler.
Am I the only one who approaches new recipes like this??? If you're a fan of scones, check out my entire collection of keto scones where you are sure to find a recipe that can satisfy a craving without kicking you out of ketosis.
Keto Strawberry Scones
What's particularly nice about trying to make a low carb scone recipe, is that scones are already not a very sweet treat.
If you're not familiar with scones, they are part of the quick bread family and they're a cross between a biscuit and a lightly sweetened cake.
I knew that if the goal was to find a way to add scones back into this ketogenic girl's life, it not only had to be a delicious low carb alternative, but it also needed to be easy to make.
What I wanted was a recipe for keto strawberry scones that featured a nice crust yet be tender and moist on the inside.
BUT…..I wasn't willing to achieve this if it required too many steps. Was that too much to ask?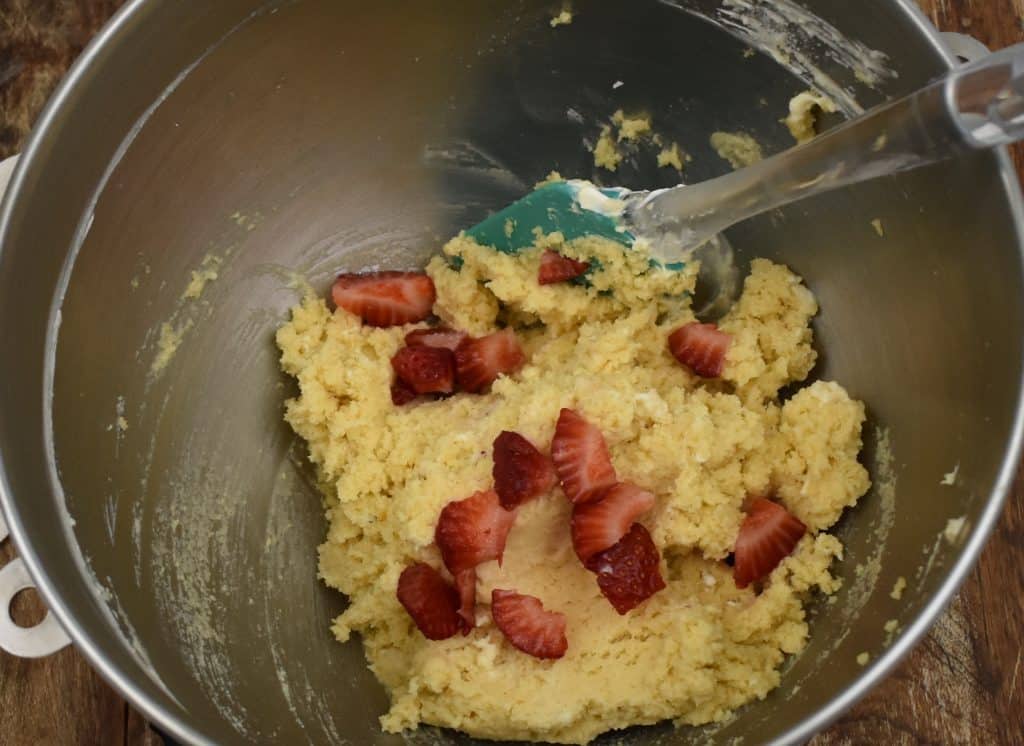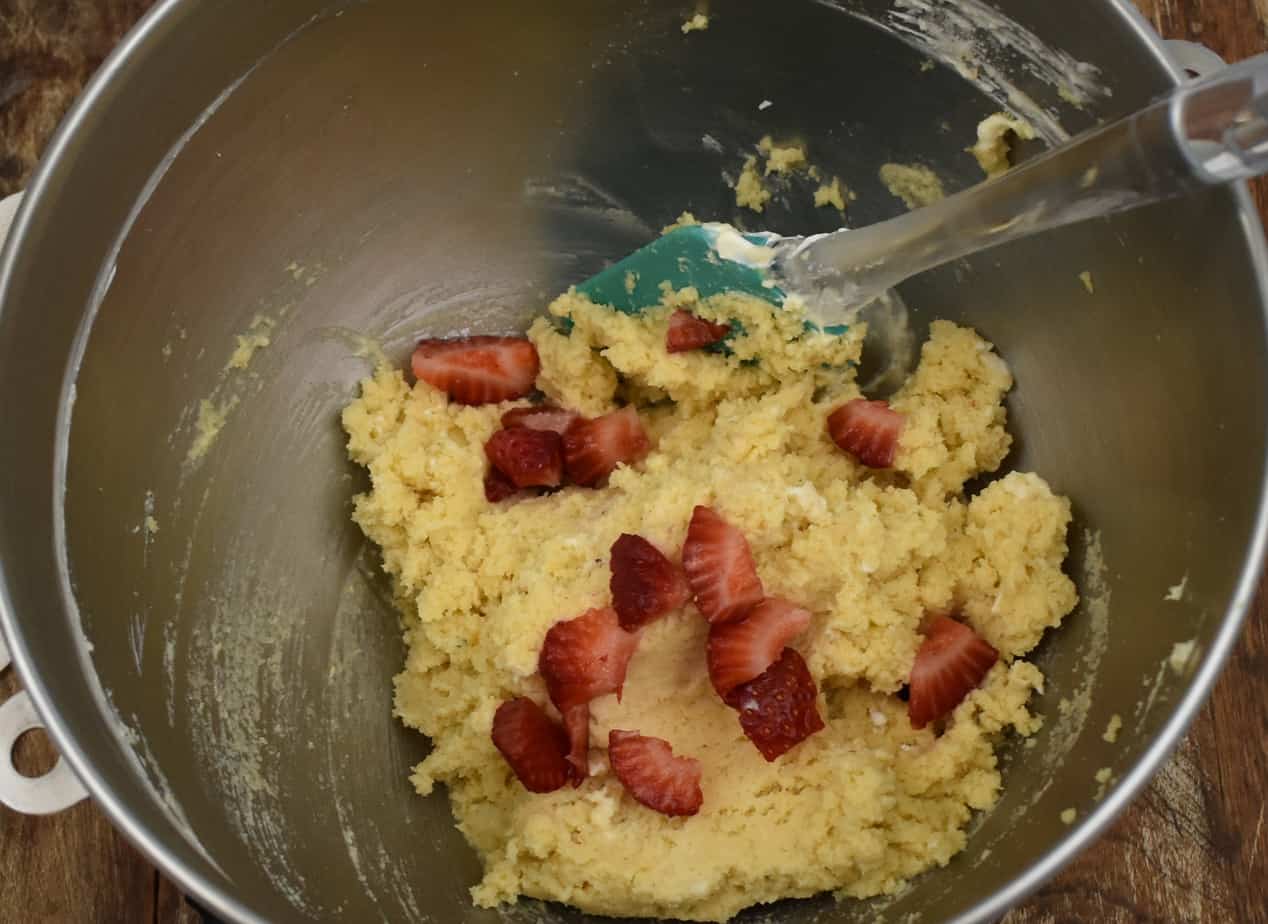 So here's the thing, when you are making traditional scones you approach it the same way you would if you were making biscuits.
This means you would have to cut in the cold butter into the flour mixture with either a pastry cutter or two knives until pea-sized pieces are formed. To this mix you would have to add the wet ingredients, then form the dough, then roll out the dough, then shape the scones before f-i-n-a-l-l-y being able to bake and enjoy them.
That's enough steps for an inexperienced baker to be intimidated and run away from a recipe. It would especially feel like too many hoops to jump through if you're new to low carb baking.
This is why I was determined to create a keto strawberry scone recipe that would just require you to mix, spread, and bake.
Was skipping those extra steps really too much to ask?
I decided to give it my best attempt and see if it would be possible to create a low carb scone with as little steps as possible. Because if it's going to be a winning recipe in my book, it should be simple enough to enjoy without a lot of fanfare.
How To Make Low Carb Strawberry Scones
With the sheer number of hours I've have spent honing my keto baking skills, I felt that a dessert that already didn't require a lot of sweeteners would be pretty straightforward for this girl.
So, I focused more on making sure these keto strawberry scones had that biscuit like quality that stands out in traditional scones.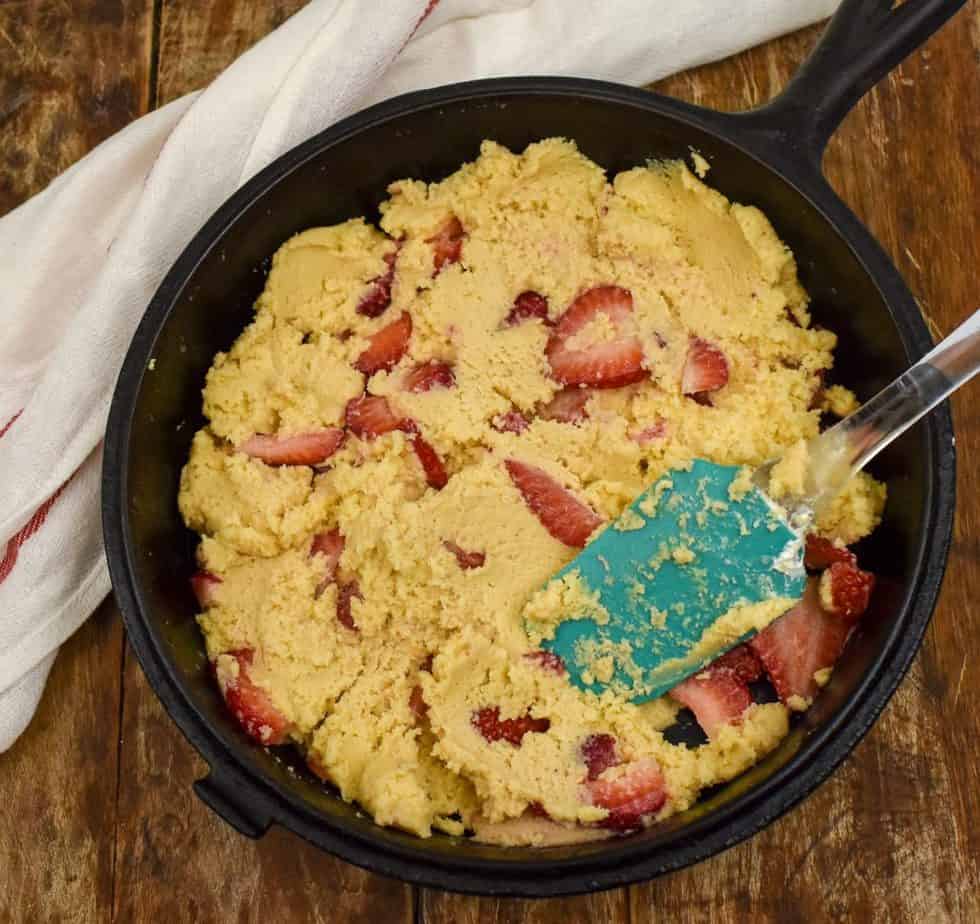 But would that be possible given the fact that I am working with low carb gluten-free flours?
I knew for certain that if I didn't get the texture right that these keto scones would just end up being a dry crumbly mess. AND absolutely no one wants dry scones.
Confidently Converting Traditional Recipes To Be Keto Friendly
I must confess that despite the many hours I've had practicing how to use these alternative flours, there's still a part of me that gets a little insecure right before creating a new recipe.
This is because there is a definite art to keto baking, and you simply can't substitute your ingredients cup for cup.
Thankfully, creating a low carb strawberry scone that only required a few steps was achievable.
Berries On A Ketogenic Diet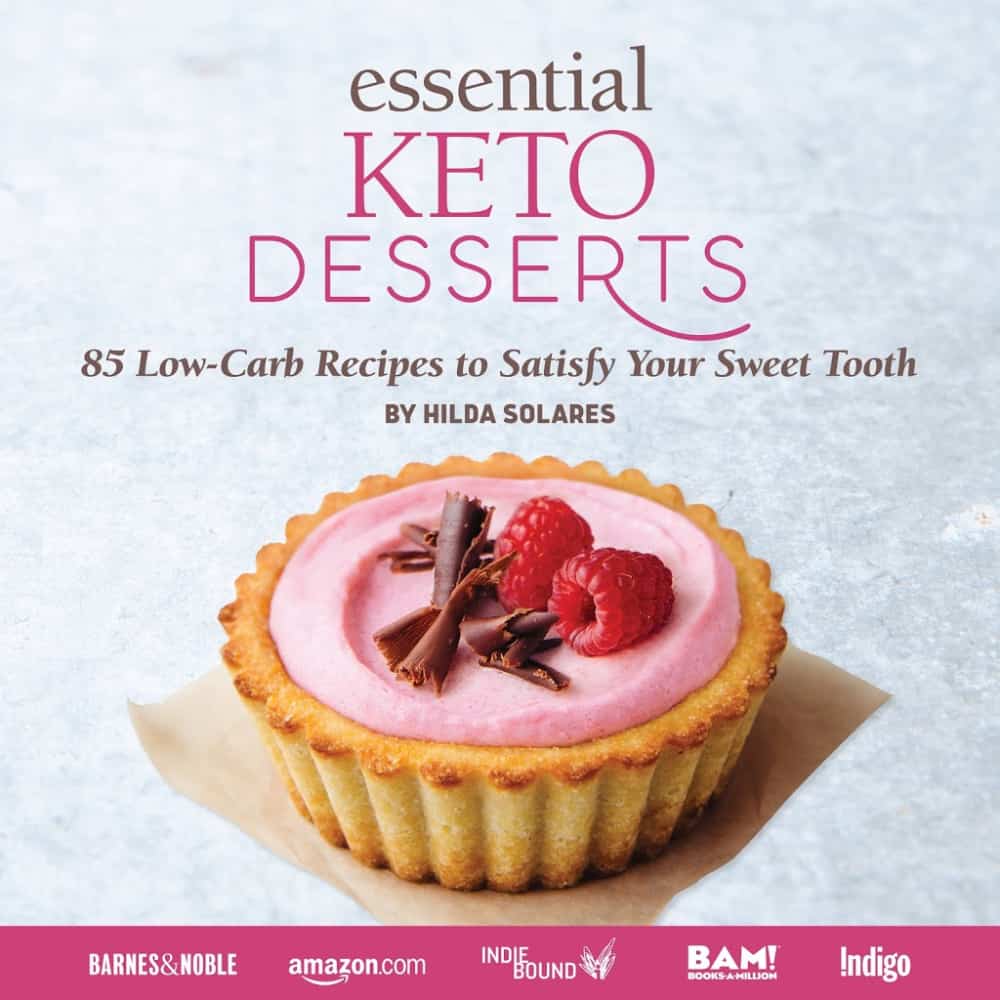 On a low carb ketogenic diet, we don't eat a lot of fruit. This is because too much fructose is just as bad and sometimes causes an even higher insulin response in our bodies than regular sugar.
With that in mind, on a keto diet, the fruit we do indulge comes in the form of berries. Why? Because they are much lower in sugar and they also deliver a lot of flavor and nutrition.
This recipe for keto strawberry scones keeps you compliant because it only uses a small number of strawberries. What's more when strawberries are baked their flavor intensifies. So, a few strawberries go a long way in this recipe.
Once you cut back on sweets consistently, you'll find that you only need a tiny amount of sweetness to satisfy a craving.
This is why a recipe like my low carb strawberry scones makes for a perfect keto snack. It allows you to enjoy a nice treat without having to worry about having too many carbs.
Eating a low carb keto diet will certainly help in quieting your need for sweets. But if you are needing more assistance in this area, I invite you to read my post, How To Say No To Sugar Once And For All. It's where I share how I deal consistently with sugar cravings.
I sure hope you will give my recipe for keto strawberry scones a try. Once you do, make sure you remember to tag us on Instagram and Facebook with your pictures. It's what keeps this girl encouraged to keep sharing and perfecting her recipes.
If you enjoyed this recipe for low carb strawberry scones you may also love my recipe for Keto Chocolate Chip Scones. So, be sure to check that one out too.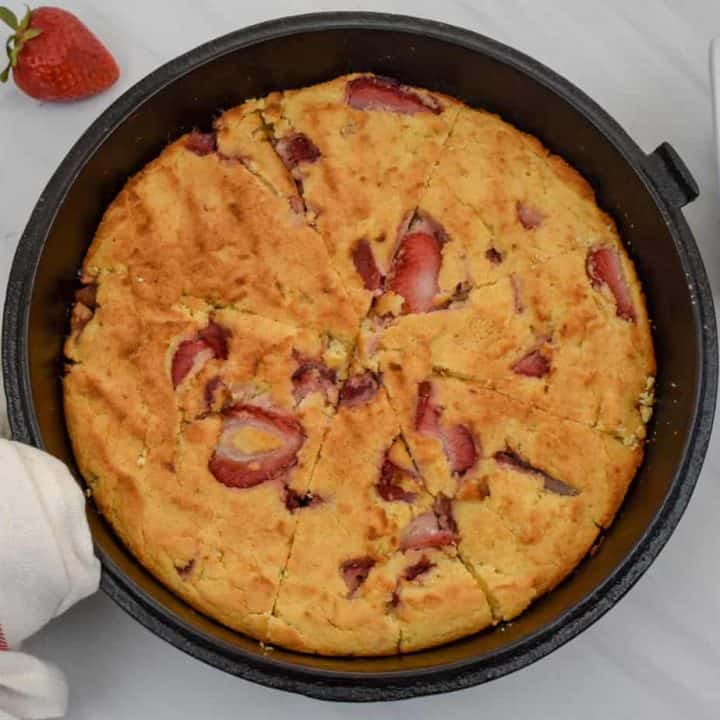 Keto Strawberry Scones
A low carb keto strawberry scone recipe. It's features a biscuit like texture with just enough sweetness. It's not only delicious but very easy to make.
Ingredients
Keto Strawberry Scones
5 large strawberries sliced thinly
1/2 cup sour cream
4 tablespoons of melted butter
3 eggs
1 ½ teaspoons of baking powder
¼ teaspoon of sea salt
Instructions
Pre-heat oven to 375 degrees
Melt the butter and set aside to cool. In a large stand-up mixer combine the sugar substitute, melted butter and the eggs.
Add the sour cream and combine well.
Next add all the dry ingredients and stir until fully combined.
Lastly, stir in the sliced strawberries.
Pour batter (note that it will be thick) into fully greased round cake pan or cast-iron skillet.
Bake for 25-30 minutes or until an inserted toothpick comes out clean.
Store your keto strawberry scones in the refrigerator for up to 5 days or freeze for up to three weeks.
Recommended Products
As an Amazon Associate and member of other affiliate programs, I earn from qualifying purchases.
Nutrition Information:
Yield:

12
Serving Size:

1
Amount Per Serving:
Calories:

95
Total Fat:

8.8g
Saturated Fat:

4.2g
Cholesterol:

55mg
Sodium:

91mg
Carbohydrates:

3g
Fiber:

0.8g
Sugar:

0.6g
Protein:

2.2g
SaveSave
SaveSave
SaveSave
SaveSave
SaveSave