This decadent keto no-bake pumpkin cheesecake is rich creamy and flat-out delicious. And since it's also grain-free and low in carbs it's a perfect keto-friendly seasonal treat.
Our recipe for keto no-bake mini pumpkin cheesecakes is quick and easy. It features a velvety pumpkin cheesecake filling made with a combination of pumpkin puree, cream cheese, sour cream, heavy cream, sugar substitute, and of course all the traditional pumpkin spices we all crave during pumpkin season.
I don't know about you but every year it seems I look forward to pumpkin season with more zeal. I just can't seem to stop myself from creating new pumpkin spice recipes.
Who else LOVES pumpkin spice everything?
In fact, I have a collection of keto pumpkin recipes that keeps growing and shows no sign of slowing down.
This girl is also loving all the no-bake recipes because it makes things super-easy.
I have a couple of other recipes you should certainly try if you're a fan of no-bake cheesecakes, like my keto no-bake chocolate cheesecake, no-bake strawberry cheesecake my keto peanut butter chocolate pie, and my keto no-bake tiramisu cheesecake to name just a few.
Keto No-Bake Pumpkin Cheesecake
This year I wanted to announce pumpkin season with an easy no-bake pumpkin keto cheesecake. Why? Well for one it's still sweltering hot here in South Florida and I know that's the case for many of you too.
And like me, you probably still want to enjoy a keto pumpkin spice recipe.
Secondly, although we have a popular keto pumpkin cheesecake recipe this recipe doesn't require the use of an oven, making it a great option during the holidays when the oven is working overtime.
This low-carb no-bake pumpkin cheesecake also happens to be super, super easy. I mean a no-bake cheesecake is, after all, a lot simpler, than a baked one. Since it requires no eggs and no oven, is virtually fool-proof.
No need to be intimidated about making a cheesecake with this recipe because you basically eliminate the risk of overbeating, overbaking, and cheesecake cracks.
I promise if you can measure and use an electric mixer you can make this no-bake keto pumpkin cheesecake perfectly.
Low Carb No-Bake Pumpkin Minis
Disclosure: Some of the links below are affiliate links, meaning at no additional cost to you, I will earn a commission if you click through and make a purchase.
This delicious pumpkin keto-friendly cheesecake features an almond flour no-bake crust that is just as yummy as the graham crust versions we are all accustomed to.
Except that this crust has only 3 ingredients and is grain and gluten-free. Plus, it's low in carbs.
The pumpkin filling tastes like a cheesecake mousse and has a velvety-rich texture that will have your taste buds singing.
I decided to make these minis by making them in 4-ounce mason jars since makes it for a stunning presentation. Can you imagine how thrilled your loved ones will be to be served these? These mini no-bake keto pumpkin cheesecakes are sure to steal the show. It may just make the turkey get a backseat this year.
Not wanting to make these in small containers? That's ok you can also make this in a 9-inch pie pan and get fabulous results too. If you opt to make this in a pie pan you will need to refrigerate the cheesecake for a minimum of 6 hours. So that it's easier to serve.
How To Make No-Bake Keto Pumpkin Cheesecake Minis
Making this keto cheesecake dessert is quite easy. The main thing to remember is to start off with cream cheese that is at room temperature. It really needs to be soft otherwise you'll miss out on the velvety texture.
Then it's just a matter of using an electric mixer and combining the following ingredients:
Full-fat cream cheese: Use only blocks of real cream cheese NOT cream cheese spread and make sure it's at room temperature.
Sour cream: Full-fat provides the most flavor plus it's lower in carbs.
Pumpkin puree: It's key that you choose pumpkin puree and not pumpkin pie filling which is loaded with sugar.
Heavy whipping cream: To keep the cheesecake filling light. You'll be whipping it with the cream cheese.
Sugar-substitute: A must in order to keep it low in carbs.
Vanilla extract: Heightens the flavor of the cheesecake.
Spices: cinnamon powder, ginger powder, nutmeg powder, clove powder, or favorite pumpkin spice.
Almond flour: Is used for the crust
Melted unsalted butter: For the crust
Sugar-Substitute Options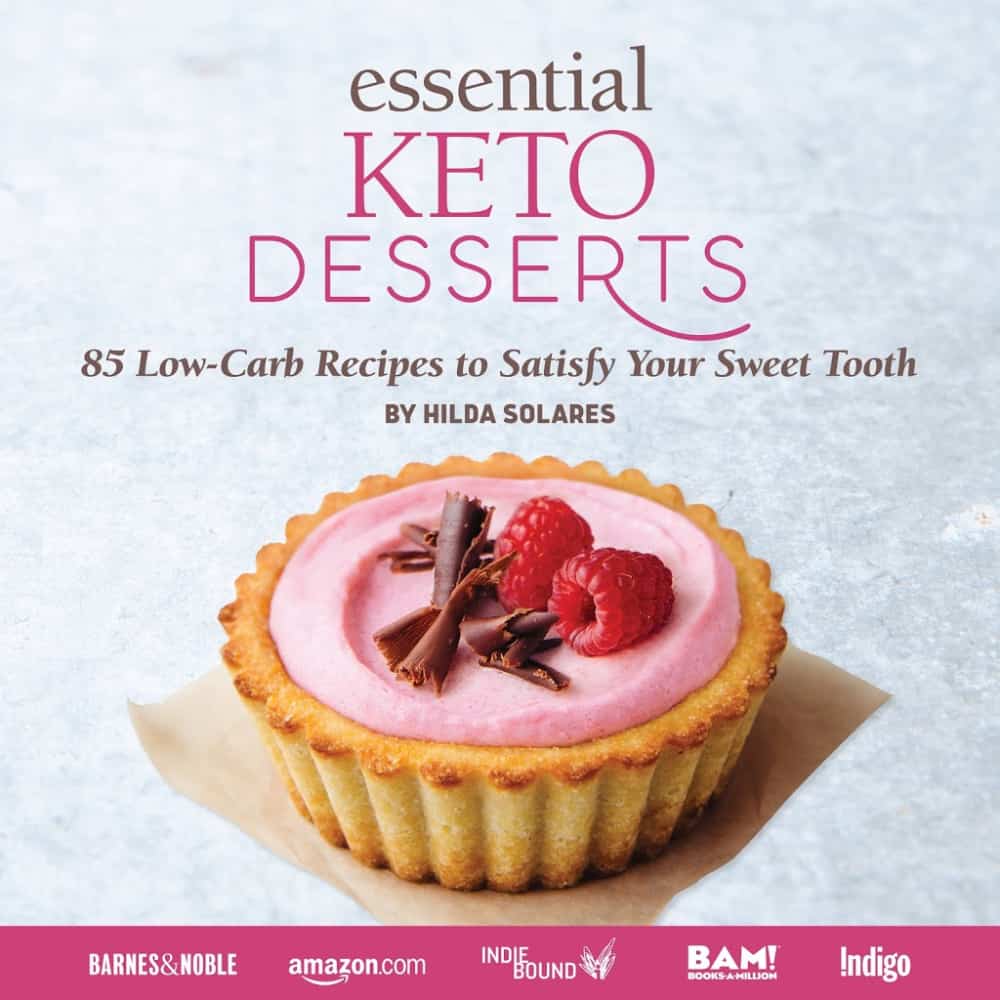 I have several options when it comes to which sweetener you can use in this sugar-free no-bake pumpkin cheesecake. I am quite partial to Lakanto Monk Fruit.
Lakanto Monk Fruit is my favorite since the texture and flavor are what I have found to be the closest to real sugar and because the flavor fools your taste buds like nothing else I've found in the market.
Having said that, I'm also partial to the brand Swerve which is an erythritol blend. Similar to Lakanto it uses sugar alcohols and has a 0 % impact on blood sugar.
You could also use the stevia and erythritol-based brand Pyure if you prefer to use a stevia-based sweetener.
Due note, that if this is your pick make sure you reduce the amount called for in the recipe by half since it's a much sweeter option.
Lastly, if you can't easily find a more natural sugar substitute you can also use Splenda with good success. I know not everyone would agree with me here and I respect that but in my book, it's still better than regular sugar.
Tag Us
I sure hope you give this recipe a try and that once you do you will take a moment to tag us on Instagram and Facebook. It's what keeps us encouraged to keep sharing and perfecting our recipes.
Oh and make sure you also check out our Keto Cheesecakes for more delicious flavor and style options. Be sure to also check out our keto no-bake cheesecakes for easy access to all our no-bake cheesecake recipes!
Grab Our Books!
In case you don't know I have authored two books for you, Essential Keto Bread and Essential Keto Desserts both inspired by your requests over the years. It's my prayer these keto cookbooks will help make keto a delicious breeze for you.
Also, check out our Amazon Store for our recommendations. You might be surprised by how many great keto options are at your disposal.
Oh and make sure you also check out our Keto Cheesecakes for more delicious flavor and style options.

Join Our Jesus And Keto Movement
Randy and I came to the keto diet looking at it from a Christian perspective. As believers, we live our lives supported by God's grace.
So when the Holy Spirit led us to combine our Christian faith and the keto diet, we did so in hopes of finding lasting transformation.
To say we needed God's intervention is putting it mildly. When we followed the Holy Spirit's prompting to we got on the path to real transformation.
Knowing firsthand the benefits of this decision we have created a closed Christian group that is using the keto diet to transform their lives. We invite you to join our Private Facebook Group and see if it's not the key you have been missing.
Note that once you click the link you will be prompted to answer a few questions that ensure that you understand what this group stands for.
Keto No-Bake Pumpkin Cheesecake
Refrigerate Time:
15 minutes
This recipe makes the easiest keto no-bake pumpkin cheesecake minis! It's rich, smooth, creamy, airy, and flat-out decadent. This pumpkin season enjoy a easy no-bake dessert.
Ingredients
Keto No Bake Pumpkin Cheesecake Filling
16 ounces of cream cheese
1/2 cup full fat sour cream
1/4 cup of heavy whipping cream
1 teaspoon of vanilla extract
1/4 teaspoon of sea salt
2 teaspoons of cinnamon powder
1 1/2 teaspoons of ginger powder
1/2 teaspoon of nutmeg powder
1/8 teaspoon clove powder
Keto No-Bake Almond Crust:
¼ cup of melted butter
1 teaspoon of cinnamon powder
1/4 tsp sea salt
Instructions
Keto Almond Crust
Mix in a small bowl the almond flour, sugar substitute, cinnamon powder and sea salt.
To this add the melted butter.
Stir until well combined.
Press the almond crust to the bottom of 4-ounce mason jars or 9-inch pie dish
Proceed to make the pumpkin filling.
Keto Pumpkin Cheesecake Filling
In a large bowl beat on high the softened cream cheese, sour cream, heavy cream, pumpkin puree, sugar substitute, vanilla extract, dry spices, salt.
Scape the sides of the bowl several times.
Add the cold heavy whipping cream slowly into the cheesecake batter and whip for 3-5 minutes until fully combined and light and airy.
Using a piping bag or small spoon add the cheesecake filling into the individual jars that have the prepared almond crust. If making one large pie add the filling unto the prepared almond crust.
Top the cheesecake with whipped cream leave plain.
Allow the cheesecakes to chill in the refrigerator for 15-20 minutes for best flavor. If making one large pie make sure you chill the cheesecake for a minimum of 8 hours so that it can be sliced easily. See notes for details.
Store the pumpkin cheesecake in the refrigerator for up to 5 days.
Notes
You can also make this no-bake pumpkin keto cheesecake in a 9-inch pie pan. To do so simply press the almond four crust into the pie pan and then add the cheesecake filling.
If you opt to make this in a pie pan you will need to refrigerate the cheesecake for a minimum of 6-8 hours. So that it slices easily. Otherwise the filling will not serve properly.
Recommended Products
As an Amazon Associate and member of other affiliate programs, I earn from qualifying purchases.
Nutrition Information:
Yield:

12
Serving Size:

1
Amount Per Serving:
Calories:

355
Total Fat:

33.2g
Saturated Fat:

17.2g
Cholesterol:

81mg
Sodium:

160mg
Carbohydrates:

5.9g
Net Carbohydrates:

4g
Fiber:

1.9g
Sugar:

0.1g
Protein:

6.8g