This velvety smooth keto pumpkin cheesecake pie is the one pie you want to make sure makes it to your holiday table. It's sugar-free, low in carbs, keto-friendly, and flat-out delicious!
With that being said, this rich and creamy pie is simple enough to serve year-round. Who says we can't have pumpkin pie any time we are in the mood for this traditional favorite?
What I love most about this low-carb pumpkin cheesecake is that it's one your entire family will enjoy. Trust me when I tell you that they won't even know it's a sugar-free pumpkin pie unless you decide to brag about it. The fact that it can be served to everyone is something that in my world, is a major win.
Packed with pumpkin spice flavors this keto cheesecake will make it easy to stay on track during the holidays.No need to feel like you're missing out on pumpkin season just because you went keto with this satisfying option.
Looking for a more traditional keto pumpkin pie be sure to try this recipe and my keto pumpkin pecan pie for a delicious twist to a classic pie and even a keto no-bake pumpkin cheesecake!
Keto Pumpkin Cheesecake
If you're a fan of both pumpkin pie and pumpkin cheesecake, then this low-carb pumpkin cheesecake pie is exactly what you need.
Both a keto version of pumpkin pie and cheesecake is pretty amazing. But when you combine these into one dessert, well now you've stepped into glorious dessert territory.
Do check out our Keto Cream Cheese Recipes for easier delicious recipes that feature cream cheese.
Make sure you also visit our Keto Cheesecakes for more delicious flavor and style options and of course all our Keto Pumpkin Recipes!
Low-Carb Pumpkin Cheesecake
Because most people tend to overindulge during the holidays, giving your loved ones the ability to enjoy a keto treat that's guilt-free, will be a treat they will
During pumpkin season there are so many tempting high carb options and if not careful you'll find yourself falling for the temptation.
It's easy to rationalize why it's ok to indulge in traditional fare. But staying the course throughout the holidays is a must if you're hoping for long-term results. Be prepared and stay on track during the holidays otherwise you could completely derail your progress.
Lisa Pantoja who was a member of the Fittoserve Group when she was a local shared her recipe for sugar-free pumpkin pie with the group. She knew that her family's favorite recipe would need a low-carb makeover now that she went keto.
Thankfully, her keto pumpkin cheesecake pie is EXACTLY what she was hoping for and she was generous enough to share it here for us all to enjoy.
How To Make A Keto Pumpkin Cheesecake
This keto pumpkin pie with cream cheese has the velvety smooth texture of pumpkin pie, with the richness of the cheesecake. What's not to love???
What's especially nice is how her recipe is super easy to put together. Easy keto is vital at any time of year but during the holidays? Well, it's kind of a requirement.
Because who doesn't need easy keto holiday desserts? If a recipe calls for super complicated steps and ingredients, chances are you won't make it and then not have an option that will help you stay the course.
I'm confident her pie will help you navigate the holidays when the temptation to cheat is at an all-time high.
Having recipes like this low-carb pumpkin cheesecake pie will make you feel like you're in control of your cravings and not the other way around.
Tips To Making a Keto Pumpkin Cheesecake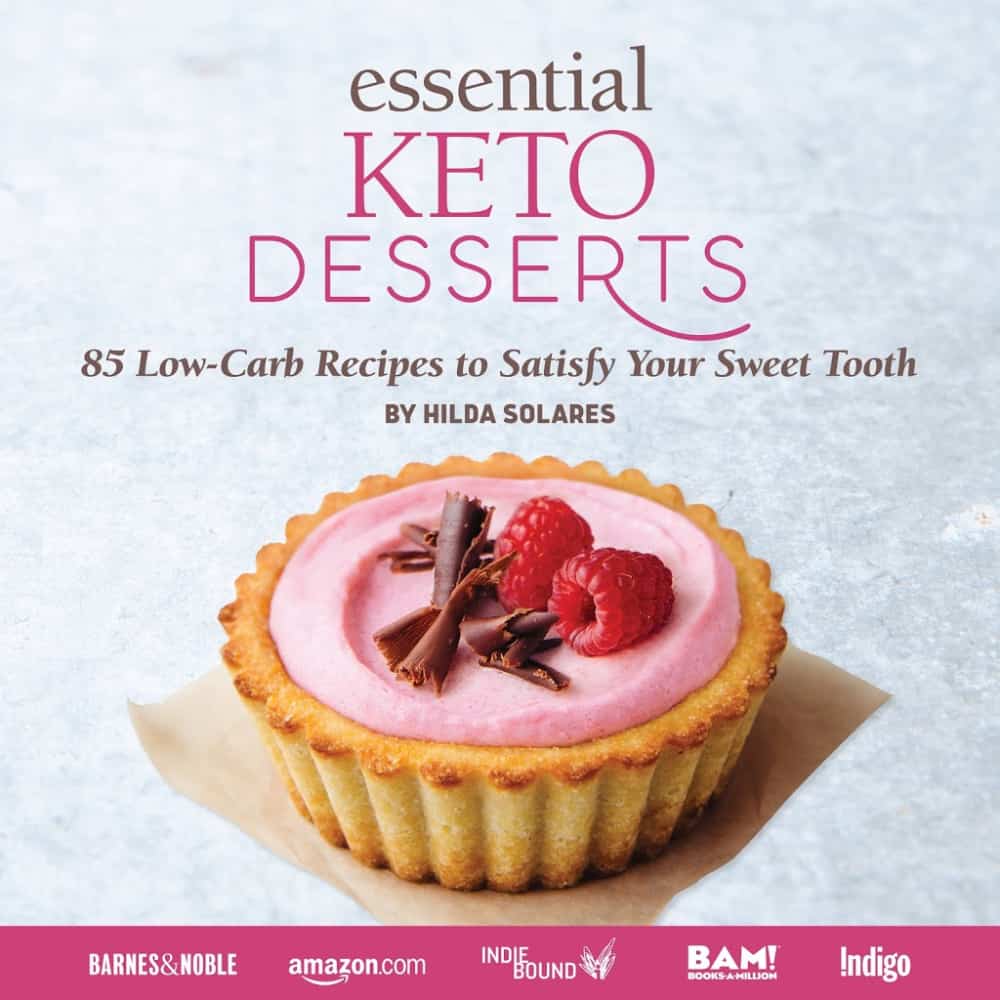 Disclosure: Some of the links below are affiliate links, meaning at no additional cost to you, I will earn a commission if you click through and make a purchase.
When it comes to making this crust you have a couple of options. You can use a combination of pecan meal and almond flour the way the recipe is written or use all pecan or almond flour instead. In either case, you are getting a buttery richly flavored crust.
It's vital you make certain that you are using pumpkin puree and not pumpkin filling in the recipe. You want the canned puree that has no sweetener and not the filling that is loaded with sugar.
Although not the original recipe, I Iike adding the orange extract to pumpkin pies. It's something my daughter Michelle taught me. The hint of orange flavor really brings out the pumpkin flavor.
This recipe calls for pumpkin pie spice for ease but if you prefer you can make your own pumpkin pie spice blend. Just add 1 teaspoon of cinnamon powder, 1/2 teaspoon of ground nutmeg, 1/2 a teaspoon of ground ginger, 1/8 of a teaspoon of clove powder, and 1/8 of a teaspoon of allspice.
Lisa and I share a love for baking and when she realized that it was not too difficult to transform her favorite recipes into low-carb keto options, she rolled up her sleeves and began to work. Baking with keto ingredients has a bit of a learning curve but once you master it, the sky is the limit.
Her pumpkin cheesecake was revamped easily with minimal fuss. Today she is able to serve her family a healthy keto version.
Thank you Lisa for inspiring, and showing us that it is possible to make this way of eating a way of life.
Do also check out our other pumpkin recipes below so you are covered all pumpkin season long:
Tag Us
My failed attempts when I first went keto are what caused me to be very intentional with my Keto Baking recipes. I threw away so many ingredients in the beginning and I never want anyone to be so frustrated that they give up on the diet before they can see long-lasting results.
Even though those early days were not fun, the fact that I stayed the course has made this journey very rewarding. Besides, if I had quit at the first sign of struggle, I would not have had the opportunity to engage with you all.
Grab Our Books
In case you don't know I have authored two books for you, Essential Keto Bread and Essential Keto Desserts both inspired by your requests over the years. It's my prayer these keto cookbooks will help make keto a delicious breeze for you.
I sure hope you will give this pumpkin keto cheesecake a try. Once you do, make sure you remember to tag us on Instagram and Facebook. It's what keeps this girl encouraged to keep sharing and perfecting her recipes.
Also, check out our Amazon Store for our recommendations. You might be surprised by how many great keto options are at your disposal.
Don't forget to also check out my other keto pie recipes that include traditional pies, tarts, and cobblers!
Join Our Jesus Keto Movement
As Christians Randy and discovered that in order to find true transformation in all areas of our lives, we needed to align our walk with our talk. And this included the foods we would use to nourish our bodies.
In a bold and maybe even a bit controversial move in January of 2014, we decided to make our keto lifestyle a fast unto the Lord. It's was after we were led by the Holy Spirit to combine our Christian faith and the keto diet that our lives transformed in ways we could have never imagined.
Today we are not only experiencing greater health, but our walk with Christ has also grown by leaps and bounds. It's our belief that being in ketosis has heightened our awareness of God's presence and can explain why we saw spiritual growth along with physical benefits.
I encourage you to open your hearts and minds to the same possibility. Perhaps being in a state of ketosis isn't just beneficial to your health goals, maybe when our bodies are running optimally we can hear his promptings more clearly.
To say we needed God's intervention is putting it mildly. Knowing firsthand the benefits of this decision we have created a closed Christian group that is using the keto diet to transform their lives.
We invite you to join our Private Facebook Group and see if it's not the key you have been missing.
Note that once you click the link you will be prompted to answer a few questions that ensure that you understand what this group stands for.
Perfect Keto Hack
Of course, arming yourself with keto recipes like this bread is certainly key in doing this diet long enough to see the many benefits.
But even with the best low-carb ketogenic recipes sometimes additional help is needed.
With this in mind, we also encourage you to have the right supplements to help you get and stay in ketosis. Because when you have the right tools the keto diet becomes easier.
Perhaps you've struggled to get into ketosis consistently on your low-carb keto diet, or you've hit a plateau that doesn't seem to budge, consider using Perfect KETO's bundle to assist you.
It's a great way to see the benefits sooner rather than later.
You'll learn how to elevate your ketones naturally enter into ketosis more quickly. Being at a deeper level of ketosis will help reduce your appetite, carb cravings, and give you lasting energy.
These are the things you want to see happen as they make this diet sustainable and it's why we recommend them.

Perfect Keto has offered our readers a 15% discount on their products. Simply use this link for all qualifying products and the code FITTOSERVE at checkout.
DON'T FORGET TO SAVE ME FOR LATER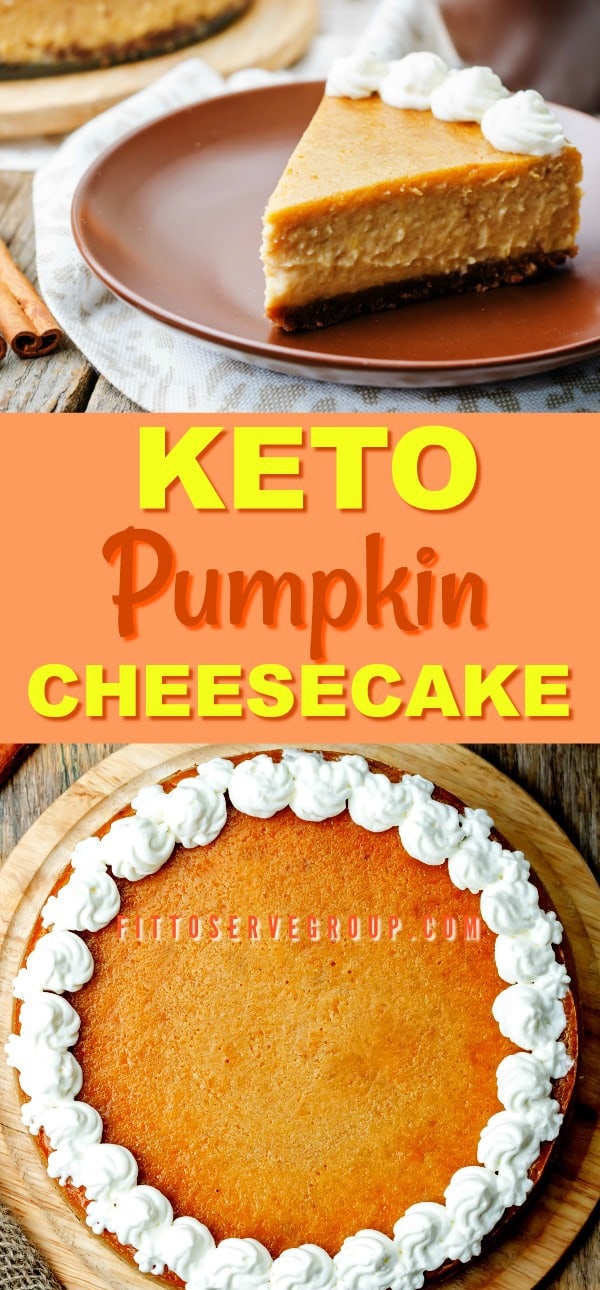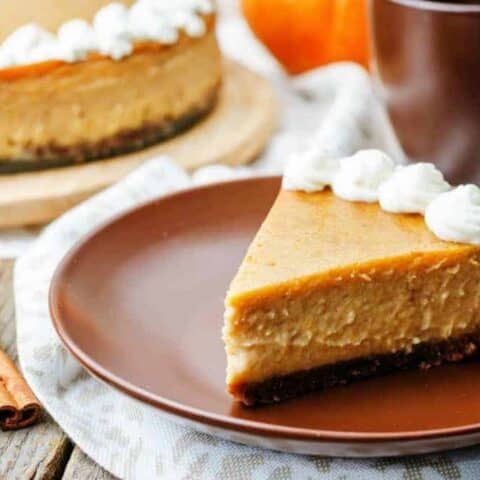 Keto Pumpkin Cheesecake Pie
Keto Pumpkin Cheesecake Pie, a delicious recipe that gives you the best of pumpkin pie and cheesecake in one low carb keto-friendly treat.
Ingredients
Keto Pecan Crust
Filling
½ can of pumpkin puree (7.5 ounces)
8 oz. package of softened cream cheese
1 egg
3 teaspoons of pumpkin pie spice
1/4 tsp of orange extract (optional)
Instructions
Crust
In a large mixing bowl blend the butter, pecan meal and almond flour until combined.
Press into an 8 inch pie pan. Bake crust for 10-15 minutes in a 350 degree oven, until lightly brown. Set aside.
Filling
In a large mixing bowl combine the pumpkin puree and cream cheese with an electric mixer until well blended.
Next add the egg and spices.
Mix everything until well incorporated and pour batter into the pie crust.
Bake in a pre-heated 350 degree oven for about 20 minutes or until set.
Allow to cool in the refrigerator for at least one hour before eating.
Store your pie in the refrigerator for up to 5 days.
Notes
If you cannot easily source pecan meal, feel free to substitute almond meal or almond flour.
Recommended Products
As an Amazon Associate and member of other affiliate programs, I earn from qualifying purchases.
Nutrition Information:
Yield:

10
Serving Size:

1
Amount Per Serving:
Calories:

247
Total Fat:

25g
Saturated Fat:

10g
Cholesterol:

95mg
Sodium:

150mg
Carbohydrates:

6g
Net Carbohydrates:

5.5g
Fiber:

1.5g
Protein:

6g
Save
Save
SaveSave
SaveSave
SaveSave