This velvety smooth keto pumpkin cheesecake pie is the one recipe you want to be certain makes it to your holiday table. It's a sugar-free pumpkin cheesecake recipe that is low in carbs, keto-friendly, and flat-out delicious!
A slice clocks in at 5.5 net carbs per serving, making it a fraction compared to regular pumpkin cheesecake, which has a whopping 40 net carbs per slice.
With that being said, this rich and creamy pie is simple enough to serve year-round. Unlike other cheesecake recipes, this one doesn't require a water bath, making it super easy to make.
Who says we can't have pumpkin pie any time we are in the mood for this traditional favorite?
What I love most about this low-carb pumpkin cheesecake is that it's one your entire family will enjoy. Trust me when I tell you that they won't even know it's a sugar-free pumpkin pie unless you decide to brag about it.
The fact that it can be served to everyone is something that, in my world, is a major win.
Packed with pumpkin spice flavors, this keto dessert will make it easy to stay on track during the holidays. Following a low-carb diet shouldn't be extra tricky during the holiday season with a little planning.
There's no need to feel like you're missing out on pumpkin season just because you went keto with this satisfying option.
Make sure you also visit our Keto Cheesecakes for more delicious flavor and style options and, of course, all our Keto Pumpkin Recipes!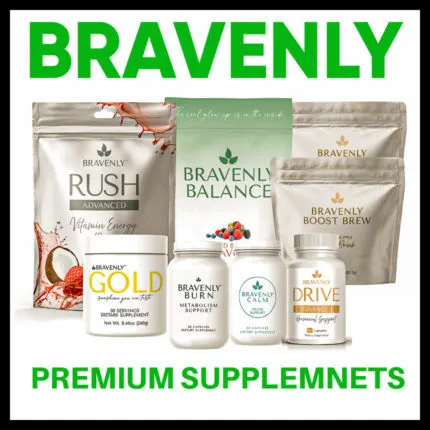 Keto Pumpkin Cheesecake
If you're a fan of both pumpkin pie and pumpkin cheesecake, then this low-carb pumpkin cheesecake pie is exactly what you need. Both the keto versions of pumpkin pie and cheesecake are pretty amazing.
But when you combine these into one dessert, well, now you've stepped into glorious dessert territory.
Do check out our Keto Cream Cheese Recipes for easier, delicious recipes that feature cream cheese.
Looking for a more traditional keto pumpkin pie? Be sure to try this recipe and my keto pumpkin pecan pie for a delicious twist on a classic pie and even a keto no-bake pumpkin cheesecake!
Low-Carb Pumpkin Cheesecake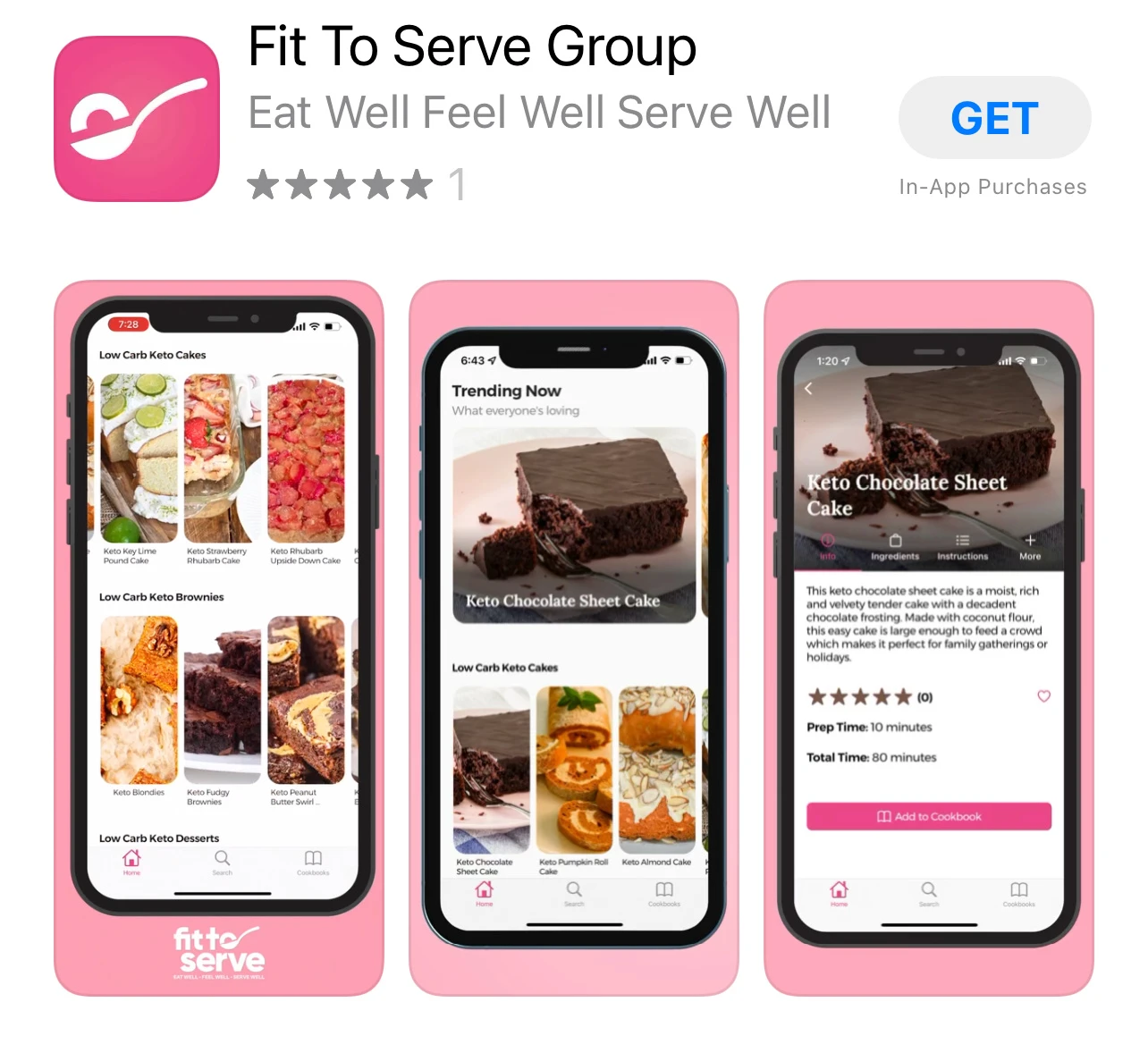 Because most people tend to overindulge during the holidays, giving your loved ones the ability to enjoy a keto treat that's guilt-free will be a treat they will embrace.
During pumpkin season, there are so many tempting high-carb options, and if you're not careful, you'll fall for the temptation.
It's easy to rationalize why it's okay to indulge in traditional fare.
But staying on course throughout the holidays is a must if you're hoping for long-term results.
Be prepared and stay on track during the holidays; otherwise, you could completely derail your progress.
Lisa Pantoja, who was a member of the Fittoserve Group that used to meet monthly at our church, shared her recipe for sugar-free pumpkin pie with the group.
She knew her family's favorite recipe would need a low-carb makeover now that she had gone keto.
Thankfully, her pumpkin keto cheesecake pie is EXACTLY what she was hoping for, and she was generous enough to share it here for us all to enjoy.
Ingredients Needed
Disclosure: Some of the links below are affiliate links, meaning that at no additional cost to you, I will earn a commission if you click through and make a purchase.
The following is the list of ingredients needed. Note that the full printable recipe card is at the bottom of the page, including the nutritional information.
Keto Cheesecake Crust
Pumpkin Cheesecake Filling
Softened cream cheese
Egg, room temperature
How To Make A Keto Pumpkin Cheesecake
This keto pumpkin pie with cream cheese has the velvety smooth texture of pumpkin pie, with the richness of the cheesecake. What's not to love?
What's especially nice is how her recipe is super simple to put together. Easy keto is vital at any time of year but during the holidays? Well, it's a requirement.
Because who doesn't need easy keto holiday desserts? If a recipe calls for super complicated steps and ingredients, chances are you won't make it and then not have an option that will help you stay the course.
I'm confident her pie will help you navigate the holidays when the temptation to cheat is at an all-time high with all the sweet treats around.
Having recipes like this low-carb pumpkin cheesecake pie will make you feel like you're in control of your cravings and not the other way around.
Tips For Making a Keto Pumpkin Cheesecake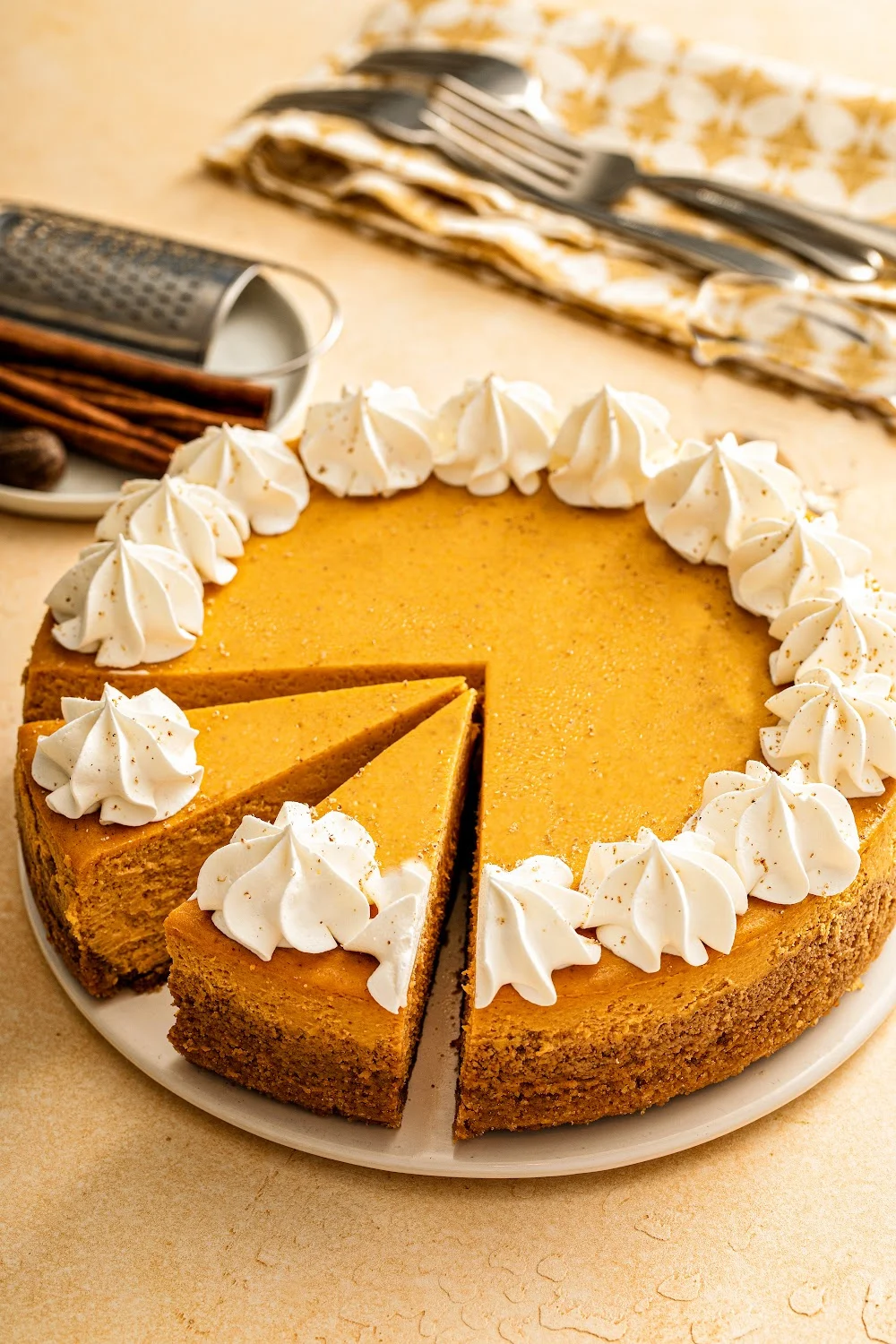 When it comes to making this pie crust, it's also super easy, and there is no need to use a food processor.
As far as ingredients for the crust go, you have a couple of options. You can use a combination of pecan meal and almond flour the way the recipe is written, or use all pecan or make an entirely almond flour crust instead.
You'll mix the flour of choice with melted butter, and then the crust mixture is simply pressed into the bottom of the pan—it could be an 8-inch pie pan or springform pan—and then gets baked with the cheesecake mixture, just like regular cheesecake.
In either case, you are getting a buttery, richly flavored crust. It's vital you make certain that you are using pumpkin puree and not pumpkin filling in the recipe.
You want the canned puree that has no sweetener and not the filling that is loaded with sugar. Although not the original recipe, I like adding the orange extract to pumpkin pies.
It's something my daughter, Michelle taught me. The hint of orange flavor really brings out the pumpkin flavor.
This recipe calls for pumpkin pie spice for ease, but if you prefer, you can make your own pumpkin pie spice blend.
Just add one teaspoon of cinnamon powder, 1/2 teaspoon of ground nutmeg, 1/2 a teaspoon of ground ginger, 1/8 of a teaspoon of clove powder, and 1/8 of a teaspoon of allspice.
As for the pumpkin cheesecake filling, it's important all the ingredients are at room temperature so that when you use an electric mixer (hand mixer) it all blends perfectly for you.
Feel free to add dollops of whipped cream around the edges of the cheesecake for a more festive presentation.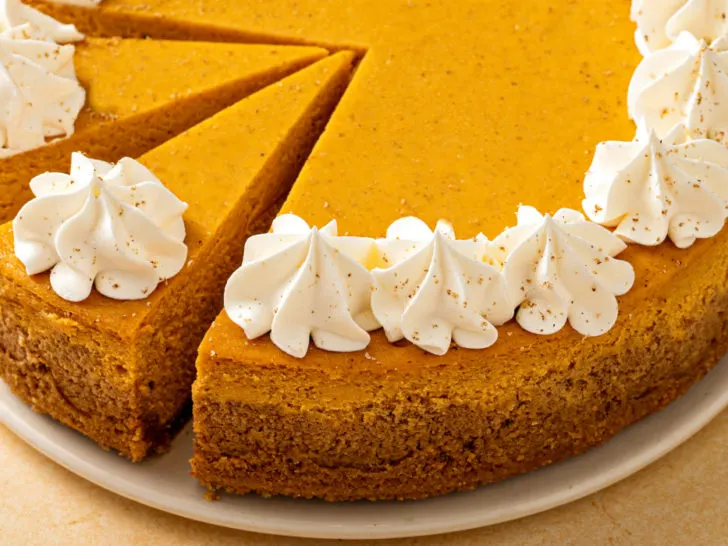 Sugar-Free Sweetener Options
As far as which sugar substitute to use for this sugar-free pumpkin cheesecake, I have a few recommendations.
Lakanto Monk Fruit Classic is their white version, and it's my go-to option whenever a recipe calls for granulated white.
It's my favorite since the texture and flavor are what I have found to be the closest to real sugar. The brand Swerve, which is an erythritol blend, also makes a great white granulated sugar substitute.
You could also use the stevia and erythritol-based brand Pyure if you prefer to use a granulated white stevia-based sweetener.
Note that if this is your choice, make sure you reduce the amount called for in the recipe by half since it's a much sweeter option.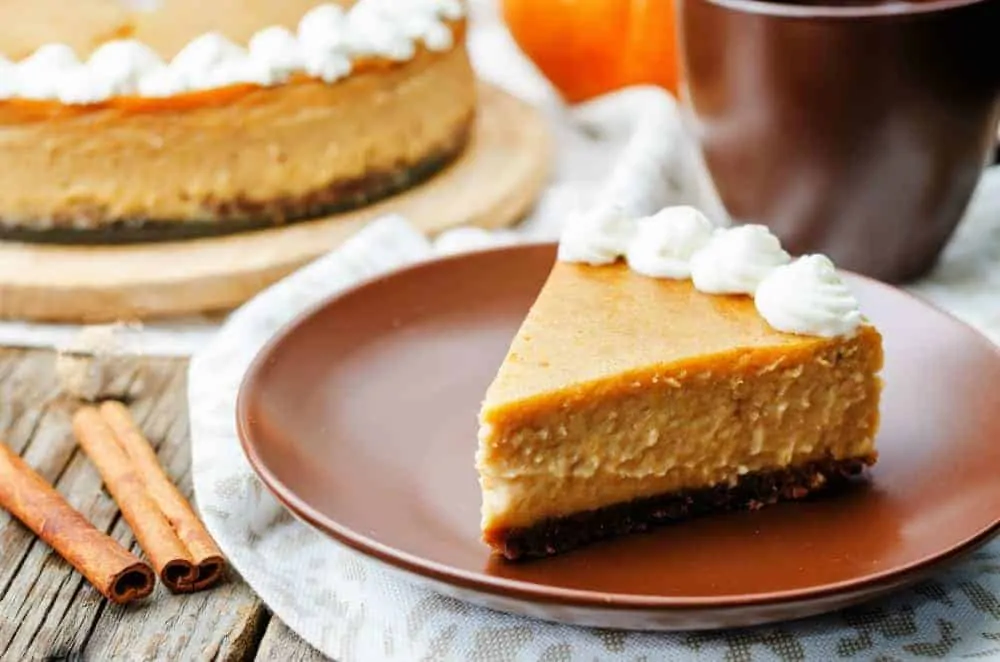 Tag Us
I sure hope you will give this pumpkin keto cheesecake a try.
Once you do, make sure you remember to tag us on Instagram and Facebook. It's what keeps this girl encouraged to keep sharing and perfecting her recipes.
Grab Our Books & APP
In case you don't know, we have authored two books for you, Essential Keto Bread and Essential Keto Desserts, both inspired by your requests over the years.
I pray these keto cookbooks will help make keto a delicious breeze for you.
Gain access to simple and delicious recipes for breakfast, lunch, dinner, snacks, and even desserts with our FITTOSERVEGROUP APP.
Join Our Jesus And Keto Movement
Looking for an online support system to help you stay the course on keto? As a family, we came to the keto diet, looking at it from a Christian perspective. As believers, we live our lives supported by God's grace.
Knowing firsthand the benefits of this decision, we have created a closed Christian group that is using the keto diet to transform their lives. We invite you to join our Private Facebook Group and see if it's not the key you've been missing.
Be sure to request our FREE Jesus and Keto E-Book (First 7 Days). We hope it blesses you.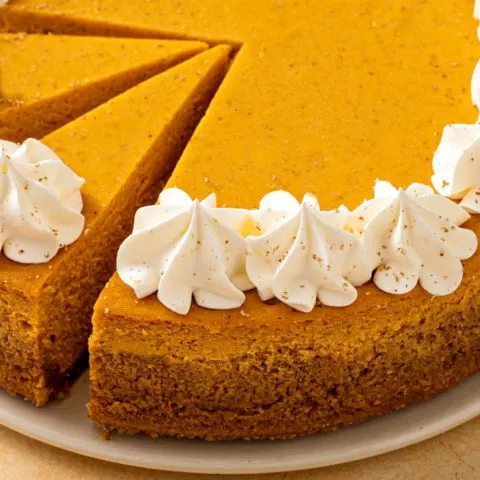 Keto Pumpkin Cheesecake Pie
This Keto Pumpkin Cheesecake Pie, is a delicious recipe that gives you the best of pumpkin pie and cheesecake in one low-carb keto-friendly treat.
Ingredients
Keto Pecan Crust
Keto Pumpkin Cheesecake Filling
½ can of pumpkin puree (7.5 ounces)
8 oz. package of softened cream cheese
1 egg, room temperature
Instructions
Crust
In a large mixing bowl, blend the butter, pecan meal, and almond flour or pecan meal until combined.
Press into an 8-inch pie pan or springform pan. Bake crust 10-15 minutes in a 350-degree oven until lightly brown. Set aside.
Pumpkin Cheesecake Filling
In a large mixing bowl, combine the pumpkin puree and cream cheese, and sugar substitute with an electric mixer until well blended.
Next, add the egg and spices.
Mix everything until well incorporated and pour batter into the pie crust.
Bake in a preheated 350-degree oven for about 25-30 minutes or until set.
Allow the pumpkin cheesecake to cool in the refrigerator for at least one hour before eating.
Store your pie in the refrigerator for up to 5 days. Freeze for up to 3 weeks.
Notes
If you cannot easily source pecan meal, feel free to substitute almond meal or almond flour.
Nutrition Information:
Yield:

10
Serving Size:

1
Amount Per Serving:
Calories:

247
Total Fat:

25g
Saturated Fat:

10g
Cholesterol:

95mg
Sodium:

150mg
Carbohydrates:

6g
Net Carbohydrates:

5.5g
Fiber:

1.5g
Protein:

6g