I've always been a fan of cornbread, but once I went keto I knew I would have to say goodbye to this classic. Sadly all the carbs in traditional cornbread would make it impossible to fit into my plan. That's right any bread that uses cornmeal is a no-no on a low carb keto diet.
Then one day I began to experiment in my kitchen like I enjoy doing, and came up with a recipe for keto cornbread that blew my family away. I knew I had a great recipe when even my picky son Matthew thought it was real cornbread.
So don't worry because this recipe for keto jalapeno cheddar bacon cornbread will also fool your taste buds even if it uses zero corn or cornmeal. That's right no nasty GMO loaded corn is used here. Yet somehow this bread manages to taste so close to the real deal and even the texture is spot on.
After that first mock cornbread recipe took off, I proceeded to create more Keto Cornbread Recipes and this low carb jalapeno bacon cheese cornbread became a delicious addition to that collection.
Keto Jalapeño Cheddar Bacon Cornbread
This bread is not only delicious but it's easy to make. I took what was already a great low carb cornbread and made it even tastier with the addition of jalapeños, bacon, cheddar. I mean, who doesn't love the combination of those three ingredients?
Spread some butter to the top of this keto bread or enjoy as is. It's one recipe you will be proud to share. Imagine how delighted your family and friends will be if you surprise them with a cheesy keto cornbread during the holidays? This easy low carb bread will be perfect for a casual picnic or a formal sit down dinner, trust me it's that good.
How To Make A Keto Jalapeño Cheddar Bacon Cornbread
Disclosure: Some of the links below are affiliate links, meaning at no additional cost to you, I will earn a commission if you click through and make a purchase.
Probably the best part of any of my keto cornbread recipes is that they don't use a bunch of strange or difficult to source ingredients. If you do any form of keto baking I'm pretty certain you already have everything you need in your pantry. If not a quick trip to your local supermarket will have you ready to tackle this yummy treat.
This recipe is based off my basic easy keto cornbread that uses almond meal but you can also use almond flour and get great results. However, if you need a nut-free option you can use my keto cornbread (coconut-flour). Then just add the jalapeños, cheddar cheese, and crumbled bacon. You simply can't go with whichever you choose.
NOTE: The full printable recipe card is at the bottom of this page. But I recommend you read the entire post to get all the details that will help you execute the recipe perfectly.
To make this recipe you'll need:
Baking powder
Eggs
Heavy whipping cream
Sour cream
Butter
Raw and pickled jalapeños
Shredded cheddar cheese
Cooked bacon
Keto Cornbread Tips And Tricks
You'll notice that I use both fresh and pickled jalapeños in this keto-friendly cornbread. I feel the tangy flavor of pickled peppers really pairs well with the cheese and bacon plus the fresh jalapeños and another level of flavor. It's not the first time I add both types in a recipe, in fact, you might also want to try my Keto Jalapeno Bacon Cheese Bread which is a loaf of bread that can be easily sliced and toasted.
I recommend you use a cast-iron skillet to make any of my cornbread recipes. Mainly because it produces a crust that no other pan can. You'll notice that in this recipe I recommend you not only pre-heat your oven but pre-heat the pan for 10 minutes before adding the batter. It's a method that many traditional cornbread recipes employ and that works equally well with this recipe too. It's what causes the bread to produce a nice crust every single time.
With that being said, if you don't yet own a cast-iron skillet, then you can use a 9-inch cake pan or an 8X8 baking pan. But get yourself a pre-seasoned skillet as soon as you can it's so worth the small investment. Plus, did you know that cooking in cast-iron boosts your iron consumption? Well, it does. So that's yet another reason to go old school when making this recipe.
Best Keto Cornbread Extract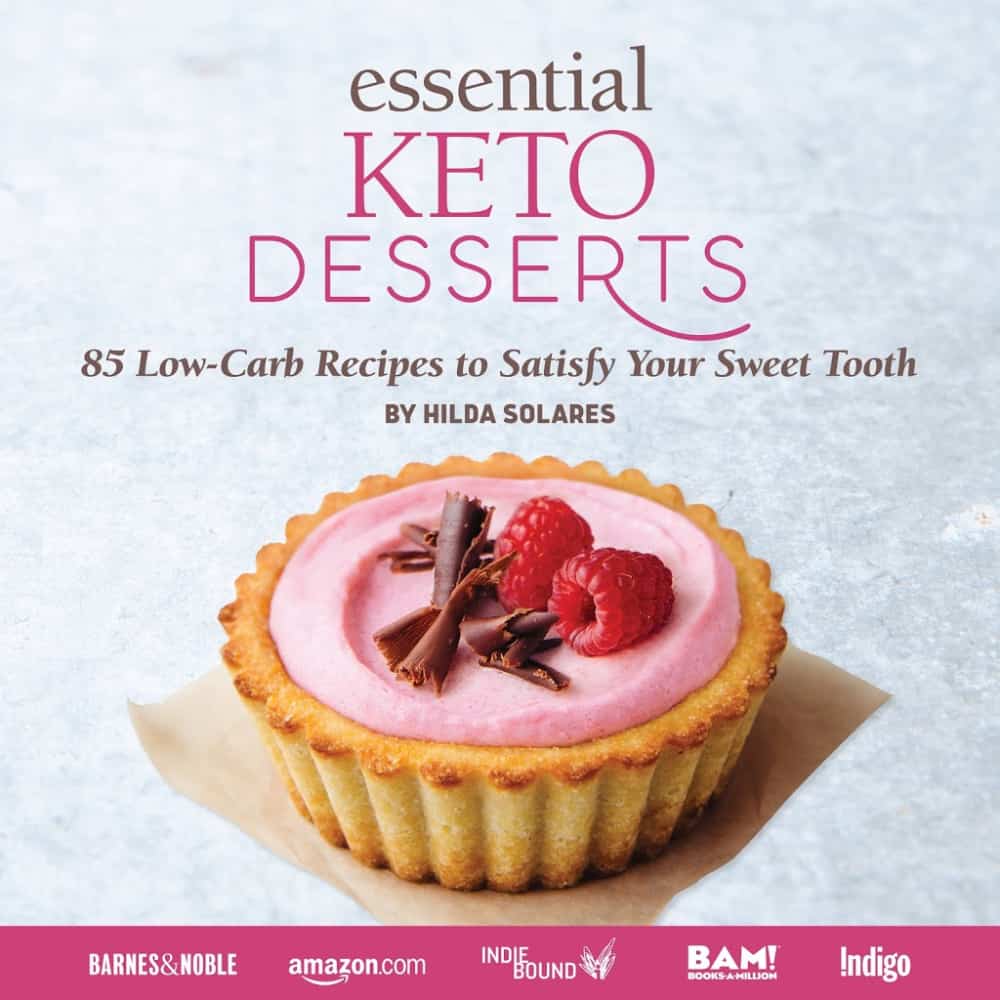 Using a keto cornbread extract simply amplifies the flavor of "corn" in this almond flour "cornbread". It's a way to further fool your tastebuds.
The use of a corn extract is really effective in getting the flavor of cornbread without the use of any corn.
OOOflavors cornbread flavored concentrate has managed to create a cornbread extract that has zero calories, zero sugar, and zero carbs.
Since it's a highly concentrated extract a tiny amount is all you need to get the flavor of corn.
I recommend using 3-4 drops in this recipe and see if it elevates the flavor further.
Although totally optional, if you can get your hands on some OOOFlavors cornbread flavor extract, I highly recommend you add few drops to the batter. This flavor concentrate is AMAZING and totally keto-friendly. It's a fabulous way to further enhance the flavor of the bread.
Tag Us
I sure hope you will give this keto-friendly cornbread recipe a try. Once you do, make sure you remember to tag us on Instagram and Facebook. It's what keeps this girl encouraged to keep sharing and perfecting her recipes.
Also, check out our Amazon Store for our recommendations. You might be surprised by how many great keto options are at your disposal.
Since this recipe is made with almond flour and it's what you prefer to use, I recommend you visit our keto almond flour recipes or more delicious options.
Grab Our Books!
In case you don't know I have authored two books for you, Essential Keto Bread and Essential Keto Desserts both inspired by your requests over the years. It's my prayer these keto cookbooks will help make keto a delicious breeze for you.
Join Our Jesus And Keto Movement
You may not be aware but Randy and I came to the keto diet looking at it from a Christian perspective, as believers we live our lives dependant on God's grace to support us.
When the Holy Spirit led us to combine our Christian faith and the keto diet, we did so in hopes of finding lasting transformation.
We were in need of divine intervention. Randy had been a diabetic for over 15 years and he was dealing with the consequences of this disease. I was a survivor of the Guillan Barre Syndrome and was fighting fibromyalgia and chronic sciatica.
To say we were surprised by the path He was leading us is putting it mildly. But when we followed the Holy Spirit's prompting to we got on the path to real transformation. Not only did our health improve but being in ketosis made us more aware of God's presence and so our faith walk also grew.
Knowing firsthand the benefits of this decision we have created a closed Christian group that is using the keto diet to transform their lives. We invite you to join our Private Facebook Group and see if it's not the key you have been missing. Note that once you click the link you will be prompted to answer a few questions that ensure that you understand what this group stands for and to keep the community strong.

Favorite Keto Hack To Stay On Track!
Arming yourself with keto recipes is certainly key in doing this diet long enough to see the many benefits. But even with the best low carb ketogenic recipes sometimes additional help is needed.
This is when we also encourage you to have the right supplements to help you get into and stay in ketosis. Because when you have the right tools the keto diet just becomes easier.
Perhaps you've struggled to get into ketosis consistently on your low carb keto diet, or you've hit a plateau that doesn't seem to budge, consider using Perfect KETO's bundle to assist you. It's a great way to see the benefits sooner rather than later. This kit has everything you need to get on the road to lasting results.
You'll learn how to elevate your ketones naturally enter into ketosis more quickly. Being at a deeper level of ketosis is key because it will help reduce your appetite, carb cravings, and give you lasting energy. These are the things you want to see happen as they make this diet sustainable and it's why we recommend them.
Perfect Keto has offered our readers a 15% discount on their products. Simply use this link .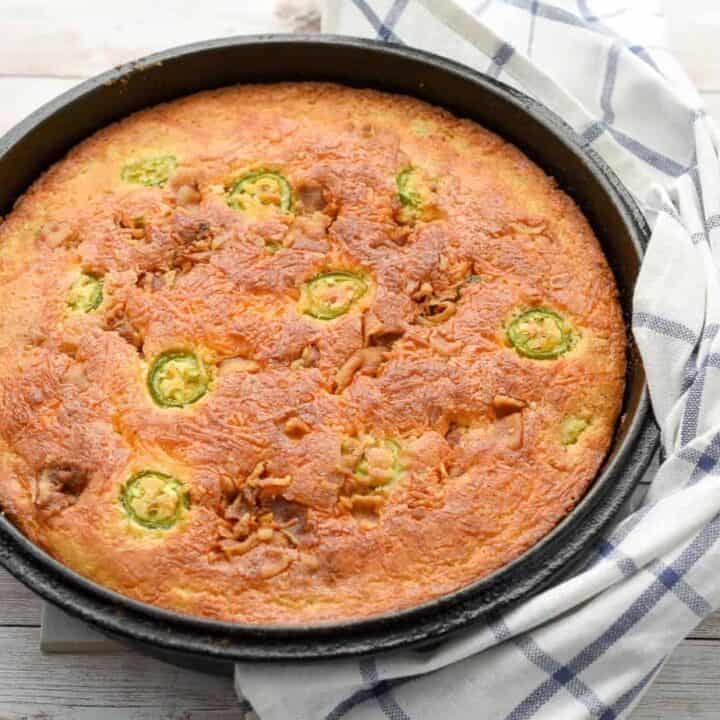 Keto Jalapeño Cheddar Bacon Cornbread
An easy keto jalapeño cheddar bacon cornbread recipe that will fool your taste buds. It uses almond flour instead of cornmeal which keeps it low in carbs and keto friendly and packed with the flavors of cheese, bacon and jalapenos. It's a keto Tex-Mex cornbread!
Ingredients
2 teaspoons of baking powder
4 eggs, room temperature beaten
4 tablespoons heavy whipping cream
1 cup of full-fat sour cream
1/2 cup unsalted butter, melted
1 teaspoon of sea salt
1/4 teaspoon of black ground pepper
6 slices of bacon cooked, crumbled
One tablespoon of reserved bacon grease to grease the cast iron skillet.
1 cup of sharp cheddar cheese (1/2 cup goes into the batter 1/2 cup reserved for the top of the bread before baking.
1/4 cup pickled jalapeños roughly chopped.
1/2 fresh jalapeño thinly sliced to add to the top of the jalapeño bread before baking.
Instructions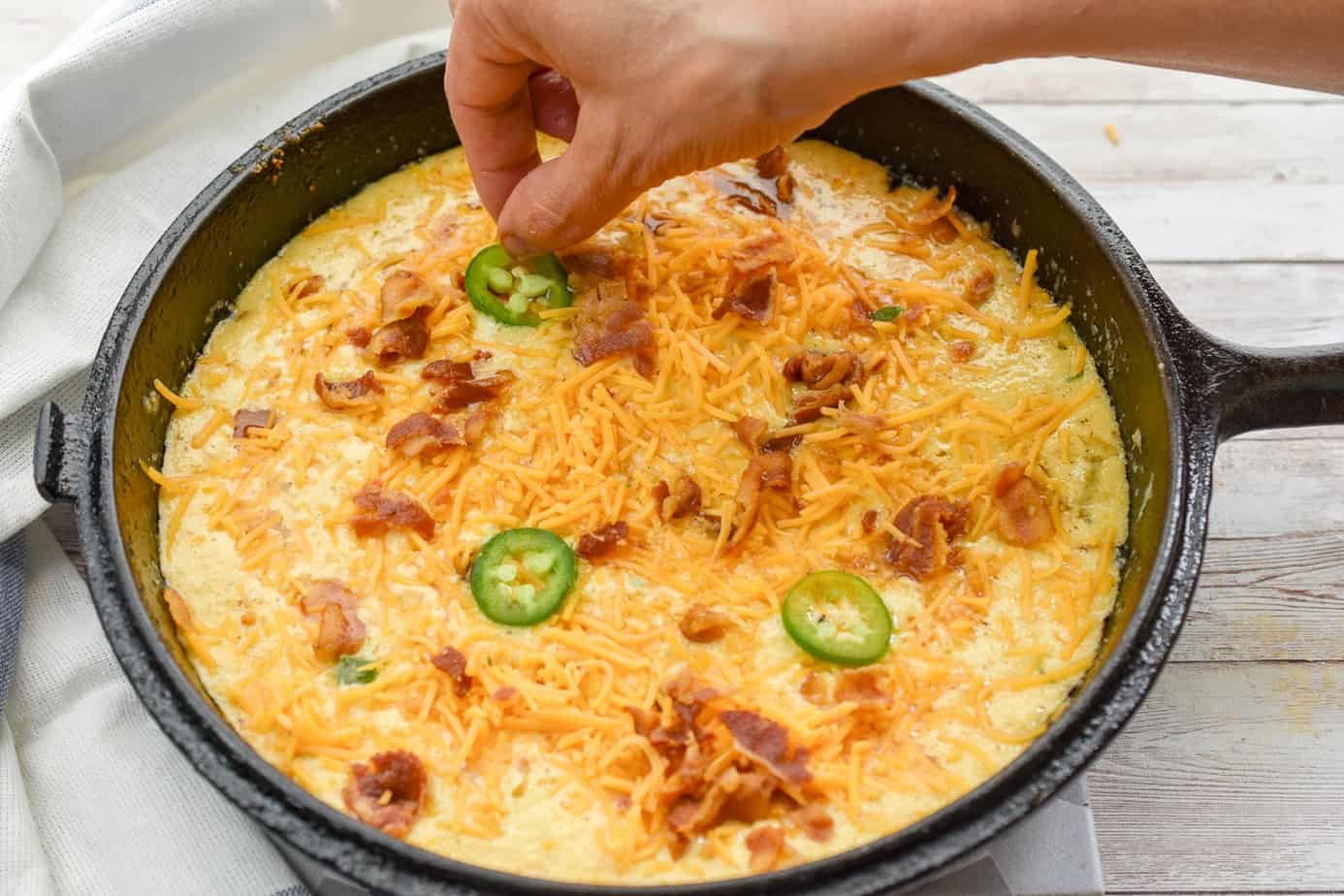 Pre-heat oven to 375 degrees.
Cook the bacon till crip. Once cooked crumble the bacon and set aside. Reserve a tablespoon of the bacon fat to grease the cast-iron skillet.
Finely chop 1/2 fresh jalapeño that has been deveined.
Using the other half of the fresh jalapeno slice into thin ring slices to add to the top of the cornbread before baking.
In a medium bowl combine the almond meal, salt, ground black pepper, baking powder and sweetener if you opt to use. Set aside.
In a medium bowl combine the heavy cream, sour cream, and eggs. Mix until fully combined. If you will be adding the cornbread OOOFlavors extract do so here.
Add the wet ingredients to the dry ones and gently stir till fully incorporated.
Next add the melted butter, and stir till mixed well.
Fold in half of the shredded cheddar cheese, chopped bacon, finely chopped jalapeños, chopped pickled jalapeños.
Place your empty cast-iron skillet into the pre-heated oven for 10 minutes.
Carefully take out the hot cast-iron skillet and then add one tablespoon of reserved bacon fat to the pre-heated skillet.
To the hot skillet then add the cornbread batter.
Sprinkle the cornbread with the remaining shredded cheddar cheese and slices of jalapeños.
Bake for 30 to 35 minutes.
Serve hot, warm or at room temperature.
Refrigerate any leftovers for up to 5 days.
Recommended Products
As an Amazon Associate and member of other affiliate programs, I earn from qualifying purchases.
Nutrition Information:
Yield:

10
Serving Size:

1
Amount Per Serving:
Calories:

405
Total Fat:

39.,6g
Saturated Fat:

19.5g
Cholesterol:

145mg
Sodium:

180mg
Carbohydrates:

5.9g
Fiber:

2.4g
Sugar:

1g
Protein:

8.6g