This keto cranberry sauce is the best sugar-free, low-carb, fresh, homemade cranberry sauce you'll try! It's packed with rich antioxidant cranberries and has an extra kick of flavor by using a little orange extract.
Did I mention it's also super easy and fast to make?! You can be enjoying this sweet and tangy, sugar-free cranberry sauce in under 20 minutes! I am telling you it basically makes itself.
The best part is that you can make this low-carb cranberry sauce using fresh or frozen cranberries so you have options.
If you're a big fan of cranberries like we are here then you'll love our collection of Keto Cranberry Recipes, it's full of sugar-free, low in carbs desserts, and treats galore!
Keto Cranberry Sauce
In our family, we REALLY love cranberries and we REALLY can't get enough of them! Because of our minor obsession with cranberries, this recipe was one of my highest priorities when we switched to a keto lifestyle. I'm not even kidding.
Our homemade cranberry sauce on Thanksgiving has always been sacred and an all-around favorite every year. We even make jars of it for friends and family who have come to look forward to it during the holidays.
Believe it or not, most people here in South Florida have never really had cranberry sauce, much less homemade cranberry sauce with their turkey until we introduce them.
But guess what? Once they do they become raving fans and wonder how on earth they've lived without this tradition must.
We've even been known to add our sauce as a topping to our keto pumpkin pies and cheesecakes like our keto cranberry cheesecake!
Is Cranberry Keto-friendly?
Since we love cranberries so much, I've been the girl who hoards bags of fresh cranberries and stashes them in the freezer to have all year round. Honestly, there's almost always a bag of cranberries in my freezer.
Now, you might be wondering if cranberries are even allowed on a keto diet. I'm happy to tell you that they can definitely fit into your daily keto macros.
You might be surprised to hear that cranberries are actually pretty low in carbohydrates. They're also high in fiber and vitamin C making them a great superfood for a keto low carb lifestyle.
And since they are so flavorful, just a few berries go a long way making it even easier to fit into your diet.
One cup of cranberries has only 12 grams of carbohydrates and almost 5 grams of fiber. Making them perfectly safe for keto because as I mentioned, you typically wouldn't eat an entire cup of cranberries.
You must of course use only fresh or frozen unsweetened raw berries. Or else they'll be packed with sugar. Thankfully they are readily available at most grocery stores in the Fall!
How To Make Keto Cranberry Sauce
Disclosure: Some of the links below are affiliate links, meaning at no additional cost to you, I will earn a commission if you click through and make a purchase.
Making this sugar-free cranberry sauce is just as easy as making any other homemade cranberry sauce. The main difference is that you will be swapping out regular sugar for a sugar-free alternative.
In addition to this sauce being very easy to make, it can be made several days prior saving you time, a plus during the busy holidays.
Now when I say this recipe is easy, I mean it's ridiculously easy! You'll add the cranberries, water, orange extract, lemon juice, and sugar substitute and bring to a boil.
Then it's just a matter of letting the sauce cook for about 10 to 15 minutes until more than half of the cranberries have popped. And that's really all there is to it!
Since raw cranberries are naturally high in pectin, it thickens the sauce naturally once the berries are cooked down. It's why they make such a great jam.
We always double this recipe so that we have plenty for everyone to enjoy on Turkey day and have some leftovers.
What You'll Need
The following is a list of ingredients and tools you'll need to make this very easy keto cranberry sauce recipe. Note that the full recipe card is below.
Sugar Substitute Options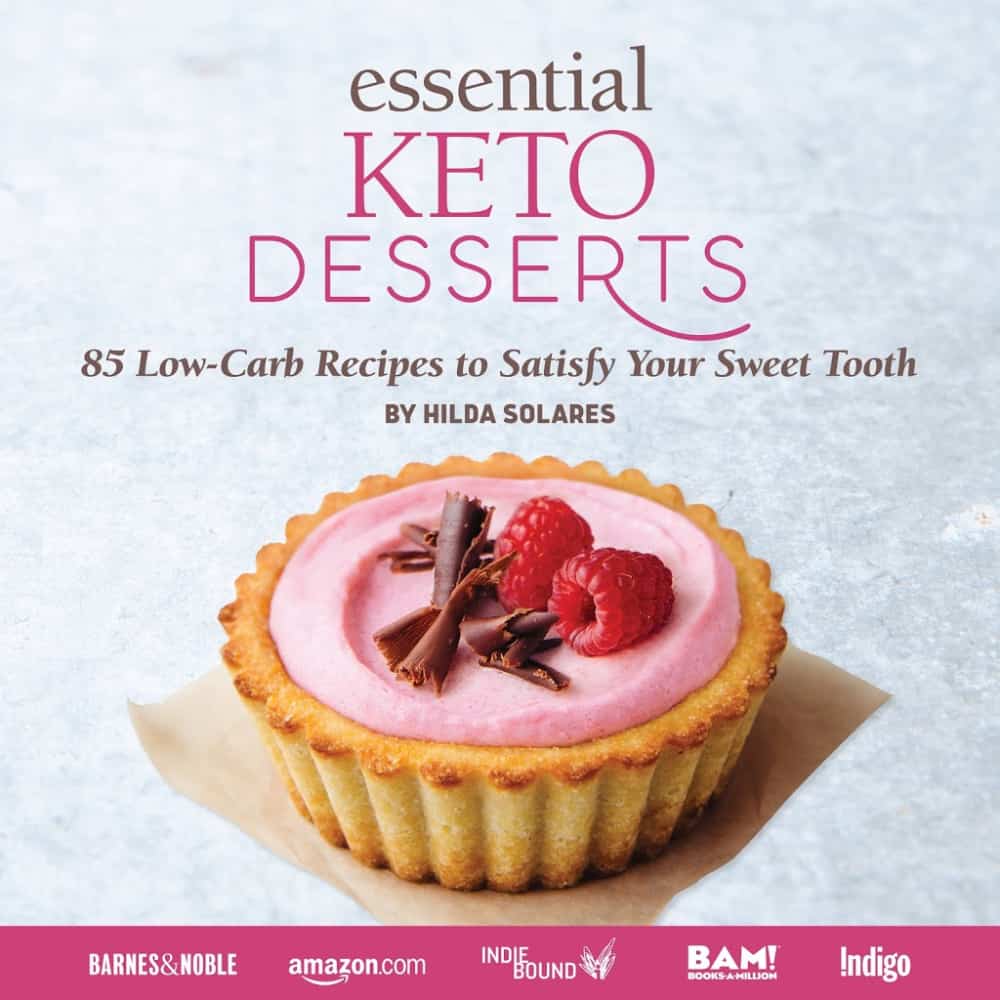 When it comes to choosing which sugar substitute to use for this sugar-free cranberry sauce, I have several options for you.
My number one choice is Lakanto Monk Fruit because the texture and flavor are what I have found to be the closest tor real sugar and because the flavor fools your taste buds like nothing else I've found in the market.
Having said that, I'm also partial to the brand Swerve granulated sugar substitute, which is an erythritol blend. Similar to Lakanto it uses sugar alcohols and has a 0 % impact on blood sugar. This is a major plus when doing a keto diet.
Personally, I don't like using stevia because I am sensitive to the aftertaste. But if that's not the case for you, you could certainly use the stevia and erythritol-based brand Pyure for this recipe.
However, if you go this route, you will want to use 1/2 the amount called for in this recipe since it's much sweeter.
Lastly, if you can't easily find a more natural sugar substitute you can also use Splenda with great success.
You will want to use the Splenda that has a bulking agent. It's the one that comes in larger bags. I don't recommend Splenda Bake because it's actually half sugar half sucralose product and will be too high in carbs to be considered keto-friendly.
Tag Us
I sure hope you give this keto cranberry sauce recipe a try and help us share it. If you give it a try, make sure you remember to tag us on Instagram, Facebook, and Pinterest. It's what keeps this girl encouraged to keep sharing and perfecting her recipes.
Also, check out our Amazon Store for our recommendations. You might be surprised by how many great keto options are at your disposal.
Grab Our Books!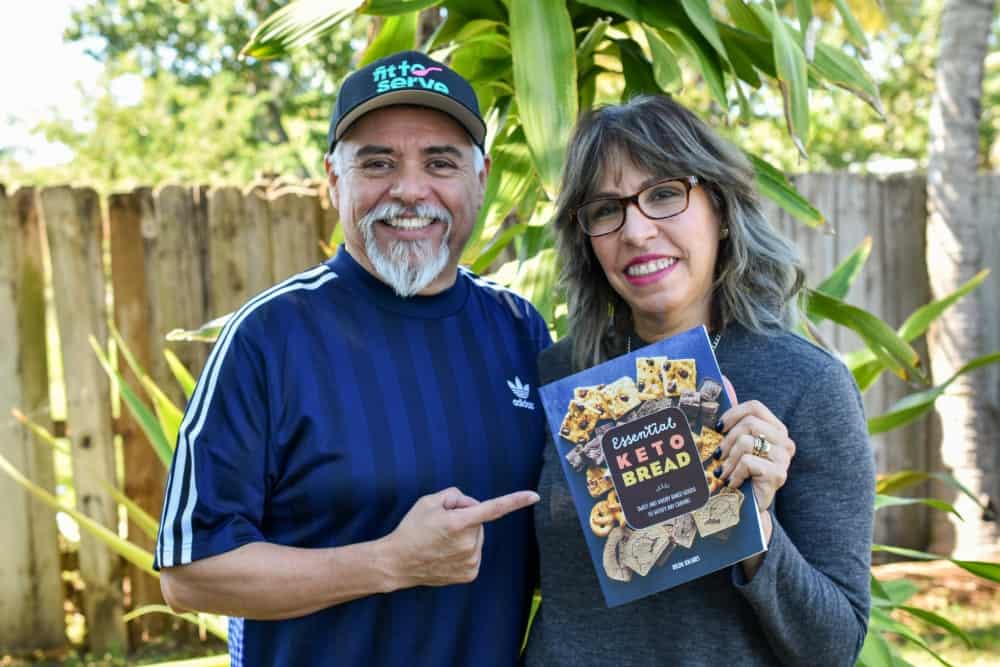 In case you don't know we created two books for you, Essential Keto Bread and Essential Keto Desserts both inspired by your requests over the years. It's my prayer these keto cookbooks will help make keto a delicious breeze for you.
Join Our Jesus And Keto Movement
If there is one thing I particularly proud of sharing it's how we combined our Christian faith with the keto diet.
In case you don't know, Randy and I came to the keto diet looking at it from a Christian perspective. As believers, we live our entire lives supported by God's grace.
So when the Holy Spirit led us to combine our Christian faith and the keto diet, we did so in hopes of finding lasting transformation.
To say we needed God's intervention is putting it mildly. When we followed the Holy Spirit's prompting to we got on the path to real transformation.
Knowing firsthand the benefits of this decision we have created a closed Christian group that is using the keto diet to transform their lives. I love how supportive and encouraging this group of believers is. It's exciting to see how people are transforming their lives by combining this lifestyle with the Christian faith.
The testimonies coming out of our Fittoservegroup are what motivates us to continue to share what we've learned.
We invite you to join our Private Facebook Group and see if it's not the key you have been missing.
Note that once you click the link you will be prompted to answer a few questions that ensure that you understand what this group stands for.

Favorite Keto Hack To Stay On Track!
Arming yourself with seasonal keto recipes like these is certainly key in doing this diet long enough to see the many benefits. But even with the best low-carb ketogenic recipes sometimes additional help is needed.
This is when we also encourage you to have the right supplements to help you get and stay in ketosis. Because when you have the right tools the keto diet becomes easier.
Perhaps you've struggled to get into ketosis consistently on your low-carb keto diet, or you've hit a plateau that doesn't seem to budge, consider using Perfect KETO's bundle to assist you. It's a great way to see the benefits sooner rather than later.
You'll learn how to elevate your ketones naturally enter into ketosis more quickly. Being at a deeper level of ketosis will help reduce your appetite, carb cravings, and give you lasting energy. These are the things you want to see happen as they make this diet sustainable and it's why we recommend them.
Perfect Keto has offered our readers a 15% discount on their products. Simply use this link for all qualifying products and the code FITTOSERVE at checkout.
Keto Cranberry Sauce
This keto cranberry sauce is the best sugar-free, low carb, fresh, and homemade cranberry sauce you'll try! It's packed with cranberries and an extra kick of flavor using an orange extract. The best part is that you can make this low carb cranberry sauce using fresh or frozen cranberries so you have options.
Ingredients
12 oz package of fresh or frozen raw cranberries
1 cup of water
1 tablespoons of fresh lemon juice
1 teaspoon of orange extract
Fresh orange zest (3 teaspoons)
Instructions
To a medium-sized pot, add the cranberries, water, lemon juice, orange zest, orange extract, sugar-substitute and bring to boil over medium-high heat.
Cook the cranberry sauce for 10-15 minutes. Stir the sauce periodically as it cooks.
You'll know the sauce is ready when the cranberries pop and the sauce thickens. The sauce will thicken more as it cools.
Serve warm or cold. Store the leftovers in the refrigerator for up to 5 days.
Notes
Note the serving size is 1/4 cup.
The sauce is thick but can be made thinner by adding a little water.
You can even blend the sauce if you prefer a more jelly texture.
This recipe easily doubles and it's what's featured in the images provided.
Nutrition Information:
Yield:

6
Serving Size:

1
Amount Per Serving:
Calories:

35
Total Fat:

0g
Carbohydrates:

6g
Net Carbohydrates:

4g
Fiber:

2g
Sugar:

2g
Protein:

0g