Easy Low Carb Keto Holiday Cheesecake!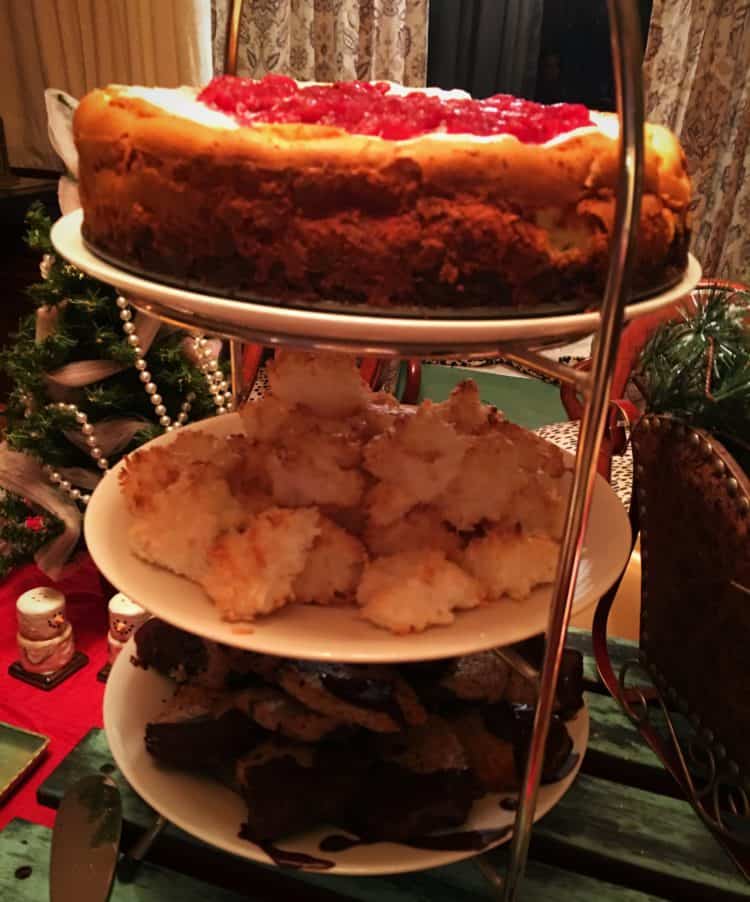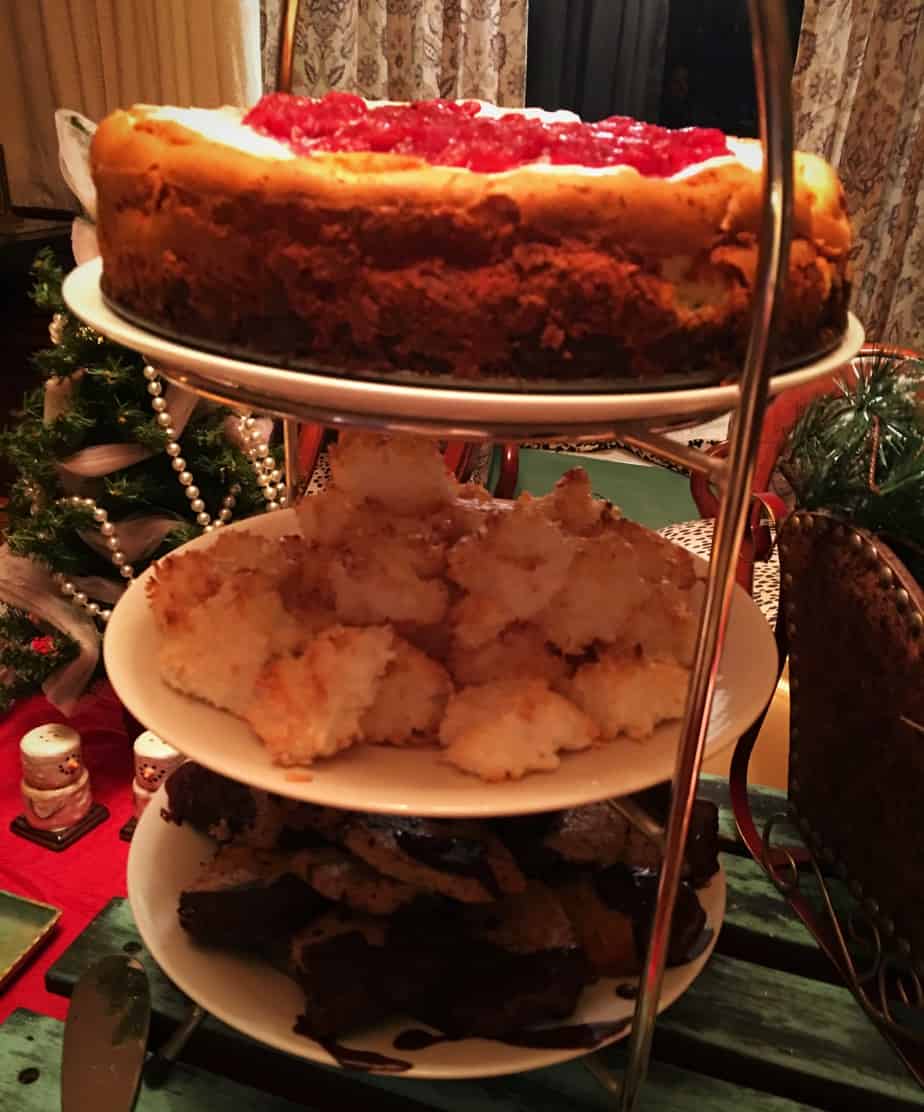 If like us you have made a low carb diet a way of eating, then you might want to stick around for my favorite ketosis tip.
Are you looking for the perfect low carb keto friendly dessert for your Holiday table? If that's the case you're are going to low how easy and delicious the low carb keto cheesecake is.
During the holidays, it's common to want to enjoy traditional holiday fare. The challenge is to create something that is delicious, without it being loaded with unnecessary sugars and carbs. That's where a recipe like my low carb keto cheesecake has the opportunity to shine.
For our FITTOSERVE Christmas party I served my low carb keto cheesecake, which I elevated by making a low carb chocolate cookie crust and topped with my homemade low carb cranberry sauce.
Not only did my low carb keto cheesecake look beautiful, but more importantly our FITTOSERVE Group loved it.
You know you have a winner when it's the first dessert to disappear from your low carb buffet table.
My mission was accomplished! I wanted the ladies to understand that it's possible to enjoy the holidays and not fall for the food temptation. With recipes like my low carb keto cheesecake, you can safely enjoy a delicious treat during the holidays.
This recipe makes a large cheesecake and can easily feed twenty, depending on how thin you slice it.
This Holiday season why not serve something healthy you will be proud to serve your family and friends.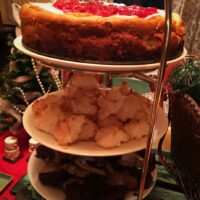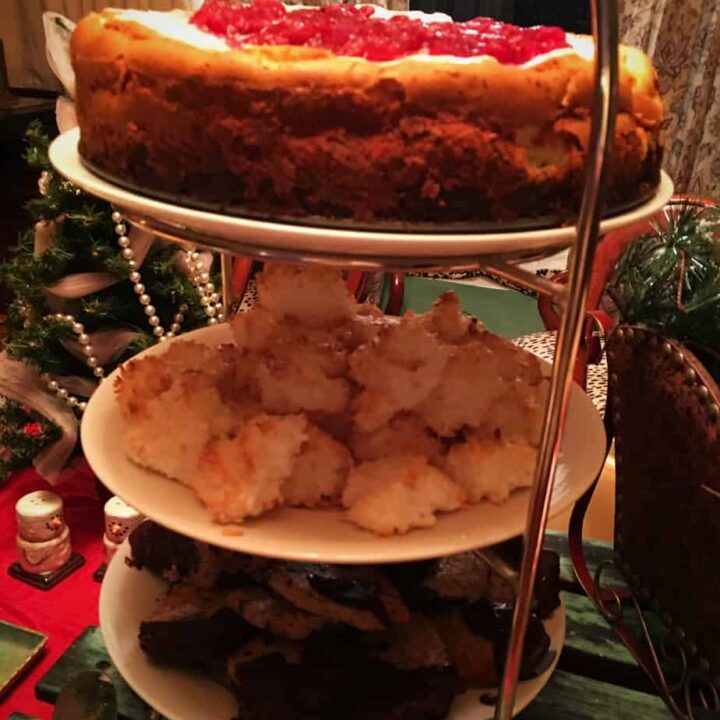 Low Carb Festive Holiday Cheesecake
Cook Time:
1 hour
20 minutes
Total Time:
1 hour
40 minutes
A recipe for festive holiday keto cheesecake topped with sour cream and cranberry sauce
Ingredients
Low Carb Holiday Cheesecake Filling
24 oz softened full fat cream cheese (three 8 ounce boxes)
5  eggs
2  cups of sugar substitute
1 tsp of vanilla extract
1/4 tsp of salt
Chocolate low carb cookie crust
1 stick of butter
1 egg
1 cup almond flour
½ cup of sugar substitute
¼ cup of unsweetened cocoa powder
¼ teaspoon of salt
Sour Cream Topping
1 cup of full fat sour cream
2 tablespoons of sugar substitute
Low Carb Cranberry Topping
12 oz. bag of fresh raw cranberries
3/4 cup of sugar substitute
1 1/4 cup of water
1 whole stick of cinnamon
1 inch piece of raw ginger root sliced thinly
½ small green apple (omit for lower carbs)
Instructions
Directions for cheesecake filling
In a large stand up mixer add the cream cheese and beat till fully blended. Next add the sugar substitute of your choice and mix until to fully incorporated. Once it is well combined add the eggs one at a time, the vanilla and salt. Set aside until crust is made and baked.
Directions for low carb chocolate cookie crust
In a large stand up mixer add the butter, sugar substitute and egg until fully incorporated.
Next add the almond four, cocoa powder and salt.
Spread the low carb cookie crust in a cheesecake spring pan.
Bake in a 350 degree oven for 20 to 25 minutes until crust is fully cooked.
Allow to cool.
Once the crust is ready add the cheesecake filling.
Bake at 350 for 1 hour and 20 minutes or until a tooth pick inserted comes out clean.
This next step is vital.
Allow the cheesecake to cool overnight in the refrigerator.
Allowing the cheesecake to age will ensure the perfect consistency and develop the flavors.
The next day add the sour cream and cranberry toppings over the cheesecake.
low carb cranberry topping
Place all the ingredients into a medium saucepan.
Bring everything to a boil for about 5 minutes and then lower to a simmer.
You will know the sauce is ready when all the berries have popped and thickens.
Allow to cool.
Nutrition Information:
Serving Size:

1 slice
Amount Per Serving:
Calories:

550
Total Fat:

50.5g
Saturated Fat:

26.8g
Cholesterol:

168mg
Sodium:

289mg
Carbohydrates:

8.1g
Net Carbohydrates:

6g
Fiber:

2.1g
Sugar:

10g
Protein:

12.5g
SaveSave
SaveSave
SaveSave
SaveSave
SaveSave