Keto Blueberry Buckle is a tender, moist cake that features fresh blueberries and is topped with the perfect amount of rich buttery streusel.
It's a classic recipe gone keto and it's perfect as an afternoon snack with coffee, tea, or for dessert. I also highly recommend you serve this as a keto brunch option since it's both delicious and filling.
There is no denying that I am a huge fan of baking with blueberries, not only are they loaded with flavor and are high in antioxidants but they also hold up quite well in baked goods like our keto blueberry pie, and keto blueberry muffins.
In fact, I have an entire collection of keto blueberry recipes because apparently, I can't get enough of them.
Keto Blueberry Buckle Cake
This keto blueberry coffee cake is sure to delight your tastebuds. It's one that I am confident even your loved ones not doing a ketogenic diet will love.
Serving your family a healthy buckle recipe that they will enjoy is crucial in getting them to understand the importance of what goes into our food.
Made with only wholesome ingredients like fresh blueberries, almond flour, a tiny amount of coconut flour, eggs, sour cream, and butter, and of course a keto-approved sugar substitute.
It's not only a yummy low-carb dessert, it's dare I say a good-for-you treat!
What Is A Buckle?
A traditional buckle has a similar texture to a cake that has fruit. Once the cake begins to rise it buckles around the fruit, hence the name buckle.
Most buckle recipes also feature a streusel topping and it's why many consider it a coffee cake.
So I guess you can say this is a keto blueberry coffee cake of sorts. What it is, is delicious!
In the case of this keto blueberry buckle, it has all the flavors we love about this classic recipe minus the high carbs that are sure to kick you out of ketosis.
That, my friend, is a winning option and it's why I can't wait for you to give it a try.
How Do You Make Blueberry Buckle Keto?
The best part about this recipe is that it's a pretty straightforward and easy low-carb buckle.
I have a few tips I do want you to keep in mind when doing this recipe or any keto baking for that matter. For one, the use of fresh blueberries is my first recommendation. The good news, however, is that you can use frozen blueberries and there is no need to defrost prior.
The only difference is that you may have to cook the buckle slightly longer is all.
For the batter, you want to make sure you use eggs that are at room temperature since this ensures the cake rises well. And for the streusel topping, I recommend you use only cold butter that has been sliced evenly so that has the best crispy texture.
I've added fresh lemon zest to the batter of this buckle because in my book the flavor of blueberries is further enhanced with just the right amount of lemon.
Just be sure you are only zesting the outer area of the lemon peel and not getting any of the white pith since it's bitter.
Below are the ingredients you'll need. Note that the full printable recipe card is at the bottom of the page.
Ingredients Needed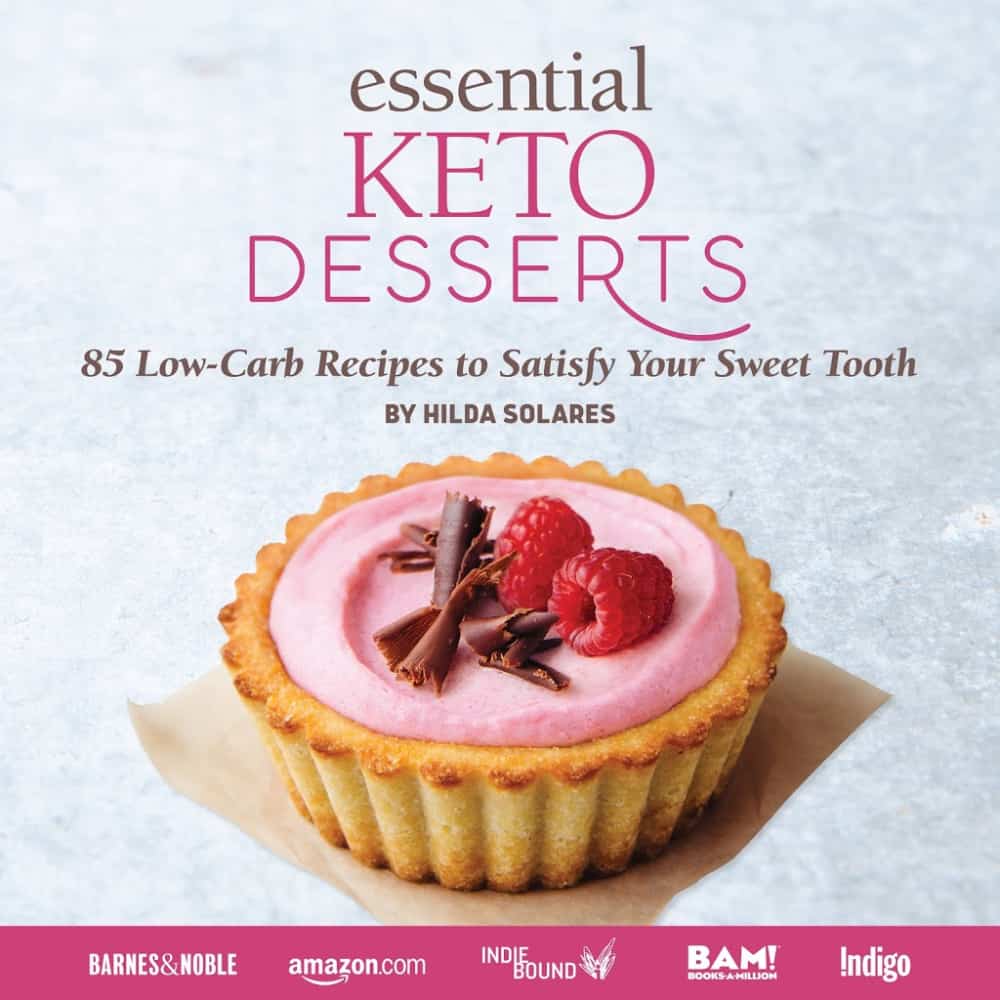 Disclosure: Some of the links below are affiliate links, meaning at no additional cost to you, I will earn a commission if you click through and make a purchase.
Keto Blueberry Buckle Recipe
Baking powder
Salt
Melted butter
Sour cream
Eggs, room temperature
Fresh lemon zest
Fresh or frozen blueberries
Keto Streusel Topping
Best Sugar-Substitutes For Sugar-Free Blueberry Buckle Cake
My top choice is a monk fruit/erythritol blend. My personal favorite is Lakanto's brand. But you can also use Swerve an erythritol sugar substitute.
You could also use the stevia and erythritol-based brand Pyure for most of my baked goods. However, if using Pyure you will want to use half the amount called for in this recipe since it's a much sweeter choice.
Tag Us
My failed attempts when I first went keto are what caused me to be very intentional with my Keto Baking recipes like these brownies.
I threw away so many ingredients in the beginning and I never want anyone to be so frustrated that they give up on the diet before they can see long-lasting results.
Even though those early days were not fun, the fact that I stayed the course has made this journey very rewarding. Besides, if I had quit at the first sign of struggle, I would not have had the opportunity to engage with you all.

I sure hope you give this recipe a try and that once you do you will take a moment to tag us on Instagram and Facebook. It's what keeps us encouraged to keep sharing and perfecting our recipes.
Be sure to also check our collection of keto coffee cakes for more delicious options!
Grab Our Books!
In case you don't know I have authored two books for you, Essential Keto Bread and Essential Keto Desserts both inspired by your requests over the years. It's my prayer these keto cookbooks will help make keto a delicious breeze for you.
Also, check out our Amazon Store for our recommendations. You might be surprised by how many great keto options are at your disposal.
Don't forget to subscribe to our email list so that we can stay connected.
Keto Blueberry Buckle
This Keto blueberry buckle is a deliciously tender coffee cake. It's studded with fresh blueberries and lemon zest and topped with a buttery streusel topping.
Ingredients
Keto Blueberry Buckle
2 teaspoons of baking powder
1/2 teaspoon of salt
1/4 cup, melted butter allowed to cool
3/4 cup of sour cream
2 eggs , room temperature
2 teaspoons of fresh lemon zest
1 1/2 cups of fresh or frozen blueberries (see notes if using frozen)
Keto Streusel Topping
3 tablespoons cold butter sliced thinly
1/2 teaspoon of ground cinnamon
¼ teaspoon of sea salt
Instructions
Pre-heat oven to 350 degrees. Butter a 10x10 baking pan.
Make the Streusel Topping: In a small bowl, combine the sugar substitute, almond flour, coconut flour, salt, and cinnamon. To the dry ingredients add the thinly sliced cold butter and cut in the butter until the mixture resembles coarse crumbs. Set aside.
Cake Batter: In a large mixing bowl, combine the almond flour, sugar substitute, baking powder, salt. Set aside.
In a small bowl, stir the cooled melted butter, sour cream, and eggs until they are well combined.
Fold the butter and sour cream mixture into the dry ingredients. Mix until well incorporated.
Fold in the blueberries.
Spread the batter into greased 10x10 and sprinkle the crumb topping over the cake.
Gently tap the streusel crumb topping into the batter of the buckle cake.
Bake the cake for 35-40 minutes or until the crumbs are lightly browned and until an inserted toothpick comes out clean.
Cool the cake for 20 minutes before slicing and serving.
Store leftovers in the refrigerator for up to 5 days or freeze for up to 3 weeks.
Notes
You can use frozen blueberries in this recipe, if you chose to do so, do not defrost prior to mixing it into your batter. You may also need to bake the buckle for up to 10 minutes longer when using frozen blueberries.
Optional: add a dusting of keto confectioner's sugar-substitute
Nutrition Information:
Yield:

12
Serving Size:

1
Amount Per Serving:
Calories:

285
Total Fat:

28.5g
Saturated Fat:

9.9g
Trans Fat:

0g
Cholesterol:

55mg
Sodium:

95mg
Carbohydrates:

6.8g
Net Carbohydrates:

3.7g
Fiber:

3.1g
Sugar:

1.9g
Protein:

5.9g