These keto raspberry white chocolate scones are made with a combination of almond and coconut flour making them low in carbs and keto-friendly.
Featuring a combination of tart raspberries and sugar-free white chocolate chips, these keto raspberry white chocolate scones are simply irresistible!
Once you bite into these keto-friendly, grain-free, sugar-free, and gluten-free scones you'll be adding them to your list of favorite keto desserts and start meal planning when you'll be making them again!
While in traditional baking, scones have a biscuit-like dough that calls for rolling out and lots of preparation, these keto-friendly raspberry white chocolate scones are ready to eat in about 25 minutes with no rest time!
Inspired by our keto raspberry lemon scones, these white chocolate counterparts are for the serious sweet tooths out there!
We have an ever-growing collection of keto scones that utilize this scone recipe base with tons of flavor variations. If you're looking for more raspberry recipes you should give our keto raspberry cheesecake a try!
In fact, why not check our entire collection of keto raspberry recipes, where you are sure to find new favorites.
Keto Raspberry White Chocolate Scones
The beauty of these keto scones is that unlike traditional scones they're not only free of sugar but also hassle-free! They're really so easy to make, no rolling out dough, cold butter, chilling, or anything extra involved!
Plus, you can also use fresh or frozen raspberries (and you don't have to thaw them first!). So you can make these delicious, gluten-free raspberry and white chocolate scones all year round!
And let's not forget the most important part, the flavor! If you're a fan of the raspberry and white chocolate combination you're going to love these keto scones!
It's all the flavor pay off of the tart yet sweet combo without the tons of sugar and carbs. It doesn't get much better than that if you ask this girl!
I especially enjoy having these with my morning coffee for a breakfast that feels indulgent without pushing me out of ketosis.
But don't limit these low-carb raspberry white chocolate scones to just breakfast! They're also great as an after-school treat, post-workout snack, or try serving them with a scoop of your favorite keto-friendly ice cream for a mouth-watering dessert.
How To Make Keto White Chocolate Raspberry Scones
Making these sugar-free white chocolate raspberry scones is so quick and easy! You'll start by combining your melted butter, eggs, vanilla extract, and sugar substitute in a large bowl.
Then to this mixture, you'll add the sour cream and combine well. Then, you'll add all of the remaining dry ingredients (almond flour, coconut flour, baking powder, salt) and combine.
Then all that's left is to fold in your raspberries and half of your sugar-free white chocolate chips and spread the batter in your cast iron skillet, and bake!
While your keto scones bake you can prepare the keto vanilla glaze by simply combining the confectioner's sugar substitute, heavy cream, and vanilla extract in a small bowl.
You might find that these scones are sweet enough because of the sugar-free white chocolate chips and not even add the vanilla icing. That's totally up to you.
The scones are baked until slightly golden and an inserted toothpick comes out clean, about 25 minutes. After removing your scones from the oven sprinkle the remaining sugar-free white chocolate chips on top. Allow them to cool before drizzling the keto glaze all over.
What You'll Need To Make Low Carb Raspberry White Chocolate Scones
The following is a list of ingredients and tools you'll need to make these delicious keto scones. Please note the full printable recipe card is at the bottom of the page.
Disclosure: Some of the links below are affiliate links, meaning at no additional cost to you, I will earn a commission if you click through and make a purchase.
Raspberries, fresh or frozen

Eggs

Butter

Sour cream

Vanilla extract

Heavy cream

Baking powder

Salt
Best Sugar- Free White Chocolate Chips For These Raspberry Scones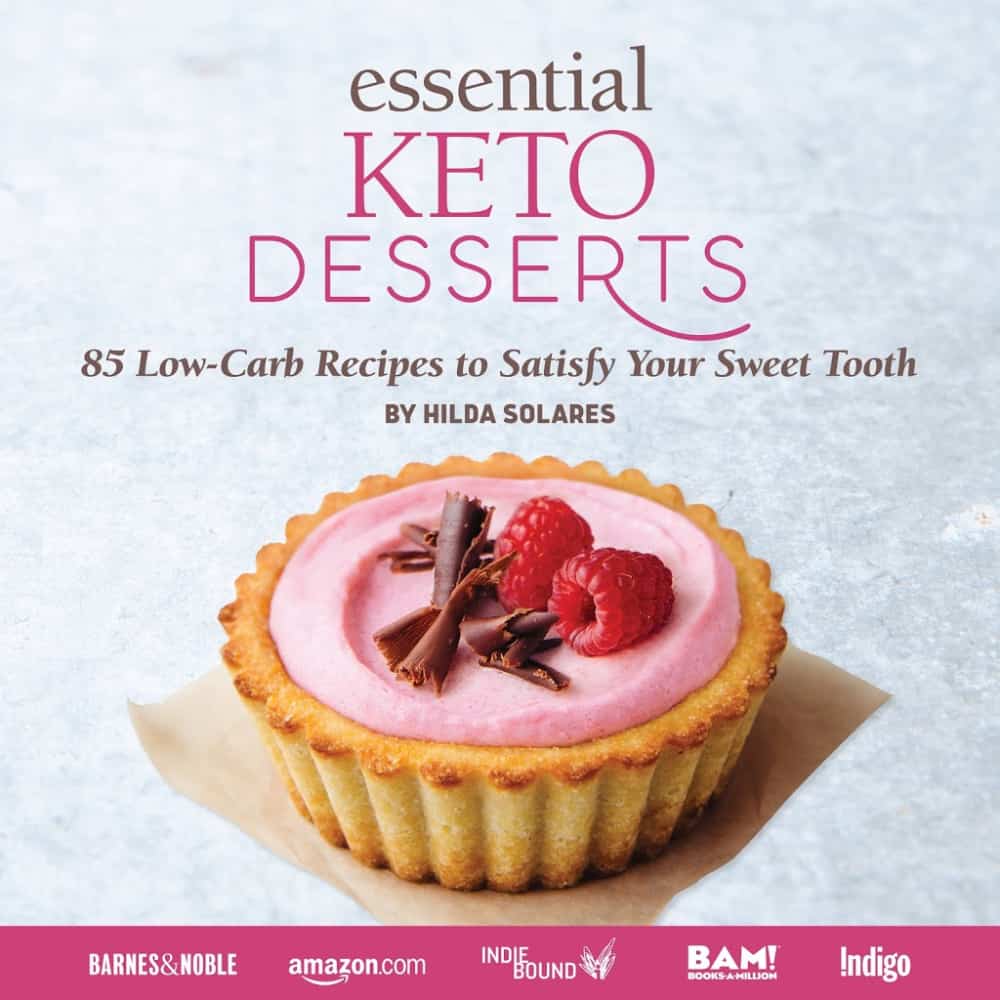 I remember when sourcing sugar-free white chocolate was not possible. Thankfully, more and more brands are making it easier by creating great substitutes for their high-carb counterparts.
Personally, I used Lily's white chocolate style baking chips. However, ChocZero's white chocolate chips are another delightful option.
Of course, if you can't get your hands on any keto-friendly white chocolate chips you could substitute for your favorite keto-friendly chocolate chips.
The Best Sugar Substitute For Baking
When it comes to choosing which sugar substitute to use for these keto scones, I have several for you to choose from. My go-to choice is Lakanto Monk Fruit because the texture is spot on and since there is barely any aftertaste.
It is a monk fruit and erythritol blend. Lakanto Monk Fruit gets its sweetness from antioxidants called mogrosides, instead of fructose or sucrose. It's why it's a great all-natural sugar substitute and has zero calories and zero glycemic index.
I'm also partial to Swerve an erythritol blend. Unlike other natural sweeteners like stevia, it has no bitter aftertaste and measures just like sugar. It's made from ingredients found in select fruits and starchy root vegetables and contains no artificial ingredients, preservatives, or flavors.
Swerve is the name brand of Erythritol and it's unlike other sugar alcohols because it has a 0 % impact on blood sugar. You could also use the stevia and erythritol-based brand Pyure for most of my baked goods.
But if using Pyure you will want to use 1/2 the amount called for in this recipe since it's much sweeter. 1/4 cup is enough if using this sweetener.
Lastly, if you can't easily find a more natural sugar substitute you can also use Splenda with great success.
These sugar-free raspberry white chocolate scones are topped with vanilla icing, you will have to use a confectioner's sugar substitute. Both Lakanto and Swerve have great ones.
Tag Us
I sure hope you will give this recipe a try. Once you do, make sure you remember to tag us on Instagram and Facebook.
And don't forget to check out our entire collection of keto scones for more delicious options!
Also, check out our Amazon Store for our recommendations. You might be surprised by how many great keto options are at your disposal.
Grab Our Books
In case you didn't know we have authored two books for you, Essential Keto Bread and Essential Keto Desserts both inspired by your requests over the years. It's my prayer these keto cookbooks will help make keto a delicious breeze for you.
Join Our Jesus And Keto Movement
Looking for an online support system to help you stay the course on keto? As a family, we came to the keto diet looking at it from a Christian perspective. As believers, we live our lives supported by God's grace.

So when the Holy Spirit led us to combine our Christian faith and the keto diet, we did so in hopes of finding lasting transformation. When we followed the Holy Spirit's prompting to we got on the path to real transformation.
Knowing firsthand the benefits of this decision we have created a closed Christian group that is using the keto diet to transform their lives. We invite you to join our Private Facebook Group and see if it's not the key you have been missing.
Favorite Keto Hack To Stay On Track!
Perhaps, you've struggled to get into ketosis consistently on your low-carb keto diet, or you've hit a plateau that doesn't seem to budge, consider using Perfect KETO exogenous ketones. By using exogenous ketones you will naturally elevate your ketones allowing you to enter into ketosis more quickly.
Being at a deeper level of ketosis will help reduce your appetite, carb cravings, and give you lasting energy. It's been our experience that the use of exogenous ketones helps make the low-carb keto lifestyle a viable sustainable option.
Perfect Keto has offered our readers a 15 % discount on their products. Simply use this link and the code FITTOSERVE at checkout. Feel free to reach out to us with any of your questions we would be happy to assist you.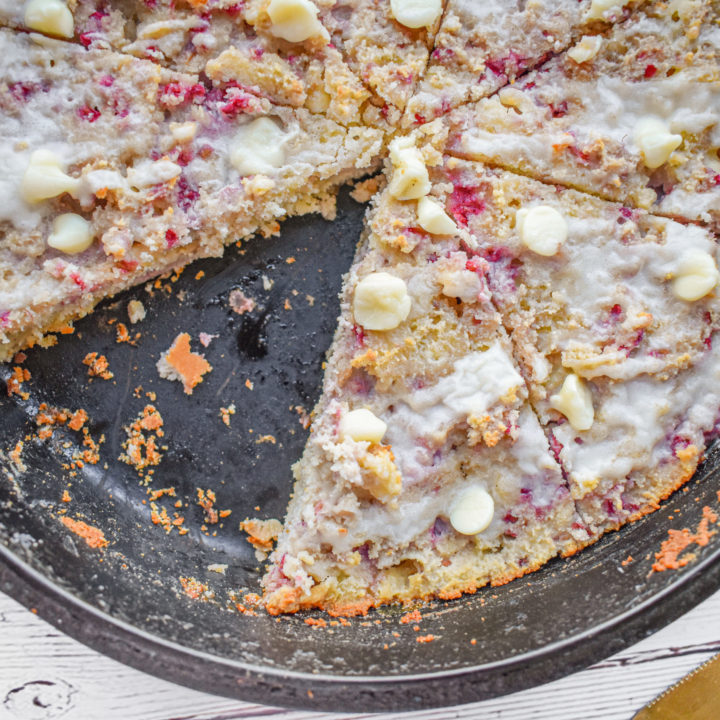 Keto Raspberry White Chocolate Scones
These keto raspberry white chocolate scones are made with a combination of almond and coconut flour making them low in carbs and keto-friendly.
Ingredients
Keto Raspberry White Chocolate Scones
6 ounces frozen or raspberries
½ cup of full-fat sour cream
4 tablespoons of unsalted melted butter
3 eggs
¼ teaspoon of sea salt
1 ½ teaspoons of baking powder
1 teaspoon of vanilla extract
Keto Icing
1 teaspoon of vanilla extract
2 to 4 tablespoons of heavy whipping cream
Instructions
Keto Raspberry Scones
Pre-heat oven to 375 degrees
Grease with butter a 9-inch cast-iron skillet.
Melt the butter and set it aside to cool.
Using an electric mixer combine the sugar substitute, cooled melted butter, vanilla extract, and the eggs.
Add the sour cream and combine well.
Next add the dry ingredients (the almond flour, coconut flour, baking powder, and sea salt) then stir until fully combined.
Fold in half the sugar-free white chocolate chips, reserve the other half to top the scones once they come out of the oven.
Fold in and fresh or frozen raspberries. Note that if using frozen raspberries there is no need to defrost.
Spread the batter into a fully greased 9-inch cast-iron skillet. If you do not own a cast-iron skillet, use a greased round 9-inch cake pan.
Bake for 25-30 minutes or until an inserted toothpick comes out clean.
Sprinkle the remaining sugar-free white chocolate chips to the surface of the hot scones.
Allow your Keto Scones to cool completely before you drizzle the icing on top of the scones.
Keto Icing
Combine the confectioners' sugar substitute, vanilla extract, and the heavy whipping cream.
Notes
Store your keto raspberry white chocolate scones in the refrigerator for up to 5 days or freeze without the icing for up to 3 weeks.
Recommended Products
As an Amazon Associate and member of other affiliate programs, I earn from qualifying purchases.
Nutrition Information:
Yield:

10
Serving Size:

1
Amount Per Serving:
Calories:

275
Total Fat:

17.9g
Saturated Fat:

5.9g
Cholesterol:

68mg
Sodium:

79mg
Carbohydrates:

6.7g
Net Carbohydrates:

3.5g
Fiber:

3.2g
Sugar:

1g
Protein:

6g