These keto carrot cake cupcakes are moist, grain-free, gluten-free, and flat-out delicious.
This all-time American favorite is not only low in carbs but its flavorful cupcake topped with the classic cream cheese frosting!
Not only are they low in carbs but they are keto-friendly clocking in at just 3.1 net carbs. And if you are wondering, yes carrots are ok to have on keto, just not in large amounts.
Carrots on keto are a viable choice since carrots are loaded with nutrition, it's why I aim to find creative, delicious ways to incorporate them into my diet.
What's great about carrots is that they pack a lot of flavors, so a small amount of carrots goes a long way in a ketogenic recipe like these cupcakes.
Look, as far as I am concerned although carrots are a little higher in carbs, they can be enjoyed while doing a keto diet. Just be mindful of the amounts you are consuming and plan your macros accordingly.
In fact, I am such a believer in having carrots while doing keto that I have an entire collection of keto carrot recipes.
I invite you to read our article are carrots keto to learn more about why we choose to include carrots in our keto diet.
These cupcakes were inspired by my popular keto carrot cake recipe. By making them cupcakes, they have built-in portion control.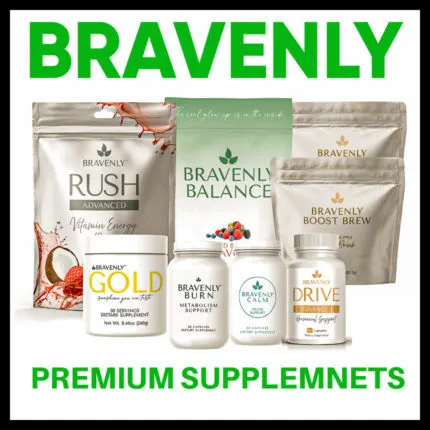 I also have a recipe for keto carrot muffins that are just as tasty but dairy-free.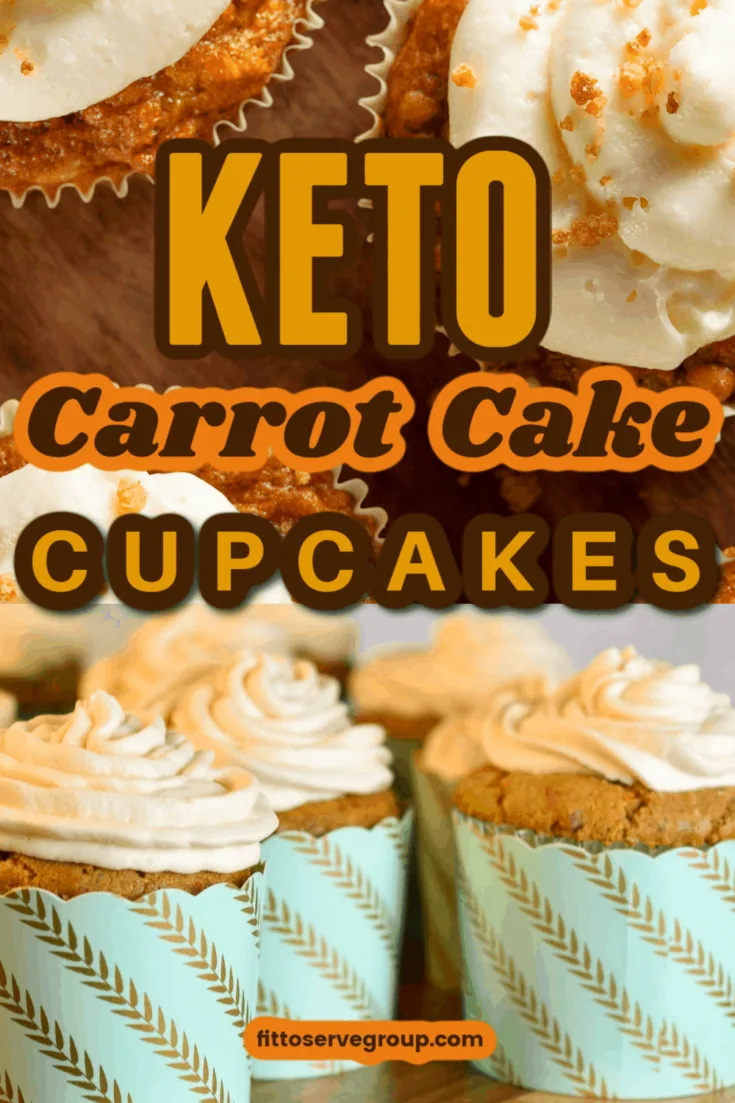 Keto Carrot Cake Cupcakes
These healthy carrot cake cupcakes are sure to please even the pickiest of palates. It's a recipe that the whole family can enjoy.
Full of great spice flavor, and topped with silky, creamy, keto-friendly cream cheese frosting, what's not to love?!
It's a yummy, healthy cupcake you be proud to serve. Plus, it's one you don't have to feel guilty about eating. Winning!
A low-carb carrot cake cupcake recipe is welcomed any time of the year as far as I am concerned. But it's especially nice for Easter. What better way to celebrate Resurrection Day, than with a healthy dessert
How To Make Keto-Friendly Carrot Cake Cupcakes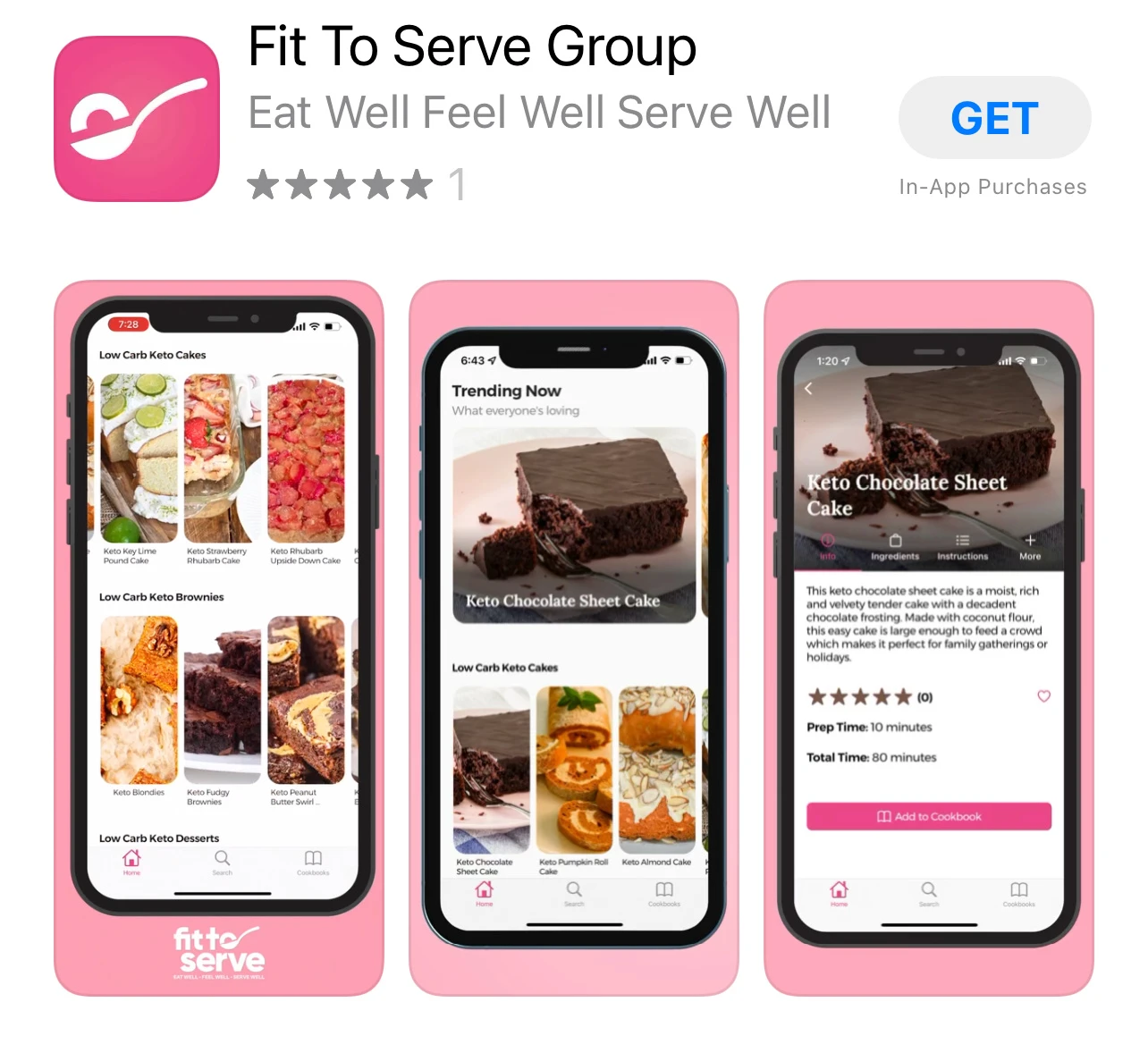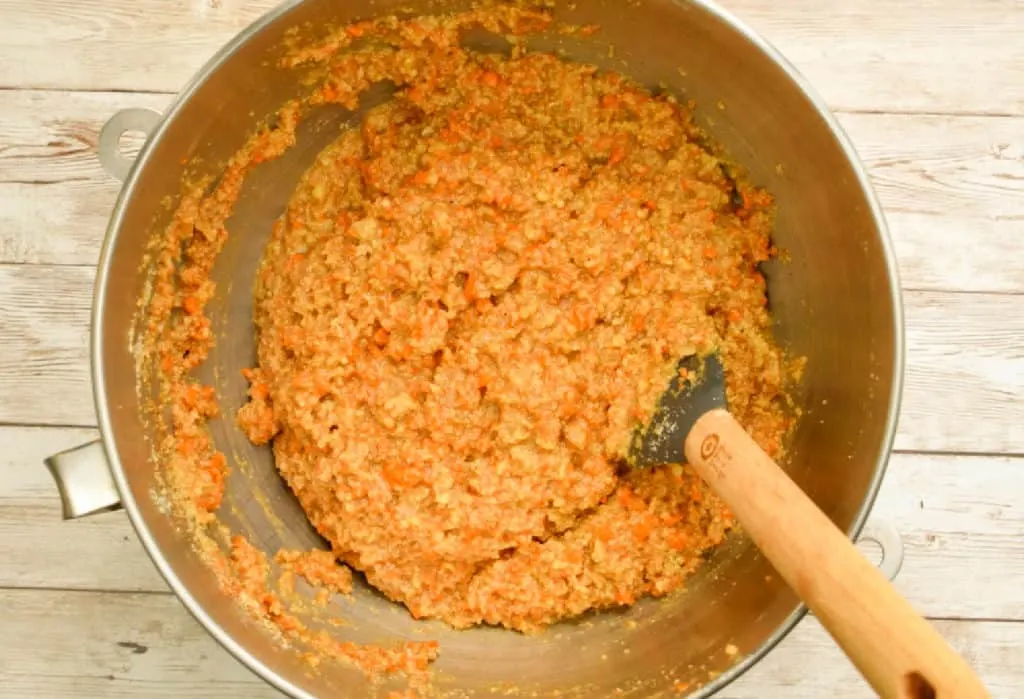 Disclosure: Some of the links below are affiliate links, meaning at no additional cost to you, I will earn a commission if you click through and make a purchase.
The only thing you need to keep in mind is that although tempting do not use pre-shredded carrots because they are often dry and hard and will not produce the tender crumb you want.
Using pre-shredded carrots may seem like a way to save time, but I assure you that taking the few minutes to freshly grate your carrots is so worth the tiny effort.
So don't skip this step, I promise you, your taste buds will thank you.
You can use a food processor to quickly grate your carrots, just be sure not to over-process them. You can also use a box grater if you prefer.
Then you'll cream the butter with the sugar substitutes along with the eggs beating well after each addition. Once that's well combined you'll add the heavy whipping cream and the grated carrots.
In another bowl, you'll measure and then sift the almond flour. Yes, sifting is an important step, so don't skip this either.
Then it's simply a matter of adding the dry ingredients to the wet ones and then stirring in the pecans.
At this point, the cupcake batter is ready and just needs to be transferred evenly between the prepared muffin pans.
You'll then bake the cupcakes for about 20-25 minutes and prepare the cream cheese frosting as they cool.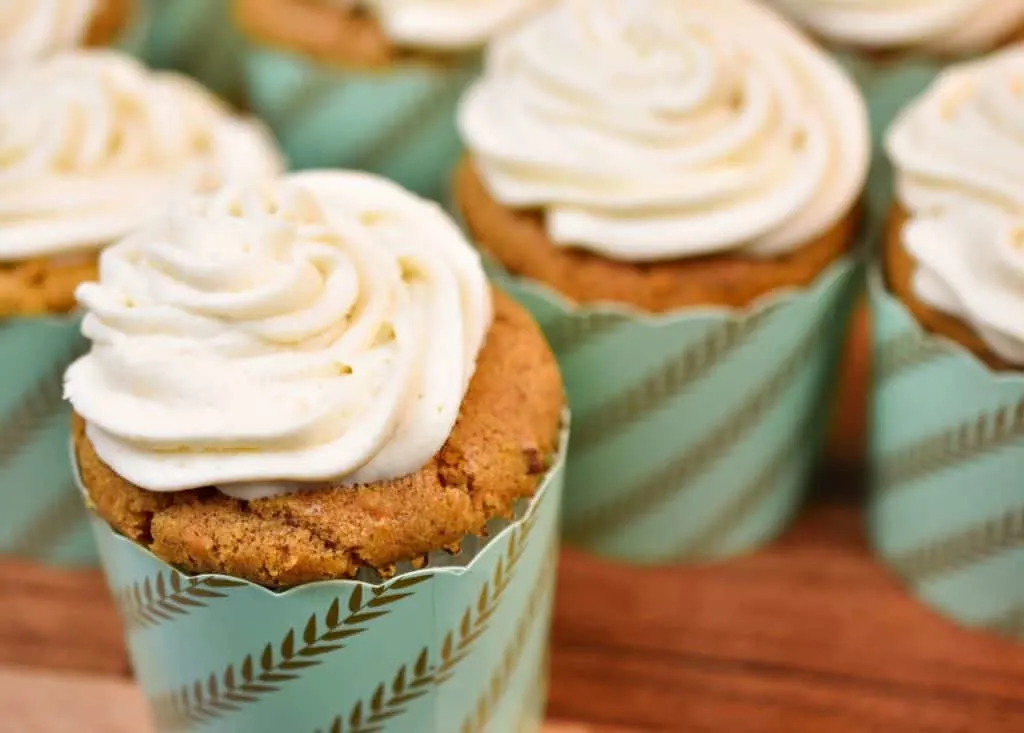 Ingredients And Tools Needed To Make
Unsalted butter softened
Eggs, room temperature
Finely milled almond flour, measured and sifted
Baking powder
Salt
Cinnamon powder
Ground ginger
Ground nutmeg
Loosely packed freshly grated carrots
Chopped pecans
Heavy whipping cream
Keto Cream Cheese Frosting
Full-fat cream cheese, room temperature
Unsalted butter softened
Heavy whipping cream
Tools You'll Need: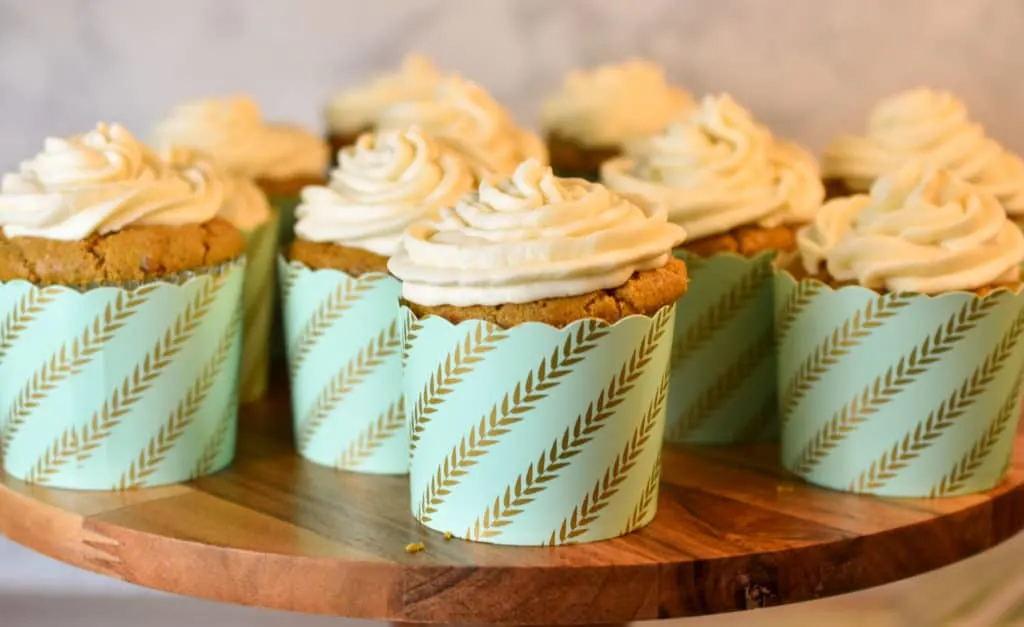 Best Sugar-Substitutes For Sugar-Free Carrot Cake Cupcakes
This recipe uses a combination of sugar substitutes both a white granulated and a brown sugar substitute. My top choice when it comes to a white granulated sweetener is a monk fruit/erythritol blend.
My personal favorite is Lakanto's brand. But you can also use Swerve an erythritol sugar substitute.
You could also use the stevia and erythritol-based brand Pyure for most of my baked goods. However, if using Pyure you will want to use half the amount called for in this recipe since it's a much sweeter choice.
As far as what brown sugar substitute I can recommend for this recipe, I used Sukrin Gold.
The use of brown sugar substitute gives a depth of flavor that you would otherwise miss, so I wouldn't omit it if you want to ensure the same results.
Alternatively, you can use Lakanto Golden and Swerve's Brown Sugar.
This recipe also calls for the use of a powdered sugar substitute for the cream cheese frosting. It must be a confectioner's sugar substitute sweetener and it's why I defer to the only two I use regularly.
My favorite brands are Lankanto's monk fruit blend or Swerve which is another erythritol blend.
Tag Us
I really hope you will give this sugar-free carrot cake cupcake recipe a try and If you do, be sure you remember to tag us on Instagram, Facebook, and Pinterest.
It's what keeps us encouraged to keep sharing and perfecting our recipes.
Also, check out our Amazon Store for our recommendations. You might be surprised by how many great keto options are at your disposal.
Check Out Our Products
We have authored two books for you, Essential Keto Bread and Essential Keto Desserts both inspired by your requests over the years.
It's my prayer these keto cookbooks will help make keto a delicious breeze for you.
In addition, we have a Keto Recipe App that makes keto an easy, delicious breeze!
Join Our Jesus And Keto Movement
Looking for an online support system to help you stay the course on keto? As a family, we came to the keto diet looking at it from a Christian perspective. As believers, we live our lives supported by God's grace.
So when the Holy Spirit led us to combine our Christian faith and the keto diet, we did so in hopes of finding lasting transformation. When we followed the Holy Spirit's prompting we got on the path to real transformation.
Knowing firsthand the benefits of this decision we have created a closed Christian group that is using the keto diet to transform their lives.
We invite you to join our Private Facebook Group and see if it's not the key you have been missing.
Be sure to request our FREE Jesus and Keto E-Book (First 7 Days) We hope it blesses you.
Keto Carrot Cake Cupcakes
The ultimate recipe for keto carrot cake. It's the perfect balance between spices and sweetness. This recipe produces a moist delicious keto cake.
Ingredients
Keto Carrot Cake Cupcakes
1 cup unsalted butter (softened)
5 eggs , room temperature
2 teaspoons of baking powder
½ teaspoon of salt
2 tablespoon of cinnamon powder
2 teaspoons of ground ginger
½ teaspoon of ground nutmeg
2 cups of loosely packed freshly grated carrots
1 cup of roughly chopped pecans
½ cup of heavy whipping cream
Keto Cream Cheese Frosting
12 ounces of full fat cream cheese (room temperature)
3/4 cup of unsalted butter (softened)
¾ cup of heavy whipping cream
1/2 cup of chopped pecans (optional)
Instructions
Carrot Cake Cupcakes
Grate your carrots using a food processor or a box grater. Set aside.
Preheat the oven to 350 degrees.
Line the two muffin pans with cupcake liners.
In a large bowl, using an electric mixer cream the butter and both sugar substitutes until light and fluffy.
Beat in the eggs one at a time.
Add the ½ cup of heavy whipping cream and combine well.
Next, add freshly grated carrots and mix well till fully combined.
In another bowl combine the almond flour, baking powder, and spices.
Add the dry ingredients to the wet ingredients and mix well.
Lastly, stir in the chopped pecans.
Transfer the batter evenly between the two prepared muffin pans.
Bake for 20-25-minutes or until done.
Allow the cupcakes to cool in the pan for about 5 minutes and then transfer to a baking rack to cool thoroughly.
While the cupcakes cool, proceed to make the cream cheese frosting.
Cream Cheese Frosting
Using an electric beater set to high, beat the softened cream cheese and butter until light and fluffy. Make sure to scrape the bowl several times.
Beat this mixture on high between 2-3 minutes. Note: you want to use your whipping attachment to get the best results. Or use your egg beaters if you do not own this attachment.
Next, add the sugar-free confectioner's sugar a little at a time.
To the blended cream cheese frosting batter add the heavy whipping cream a couple of tablespoons at a time on high until light and airy. About 2 minutes.
Frosting Your Carrot Cake Cupcakes
When the cupcakes have cooled completely you can frost your cupcakes.
Add about 2 tablespoons of frosting to the top of each cupcake. You can spread the frosting or use a piping bag.
Notes
Make sure you grate your own carrots. Do not use pre-grated carrots as they will be too dry.
Store leftovers in the refrigerator for up to 5 days. If you freeze do so without the frosting for up to 3 weeks.
Nutrition Information:
Yield:

24
Serving Size:

1
Amount Per Serving:
Calories:

240
Total Fat:

25g
Saturated Fat:

25g
Cholesterol:

94mg
Sodium:

150mg
Carbohydrates:

4.1g
Net Carbohydrates:

3.1g
Fiber:

1g
Sugar:

.90g
Protein:

3.4g