This recipe for keto fajita seasoning is so incredibly easy to make, adds tons of flavor to any dish, and saves you time in the kitchen! It can be used as a marinade, dry rub, or seasoning when making chicken, beef, pork, shrimp, and even vegetable fajitas!
This sugar-free fajita seasoning is sure to be your new favorite for spicing up Taco Tuesday or any day of the week really! The best part about this easy recipe for homemade fajita spice blend is that it's not full of any unnecessary additives such as sugar or wheat like the store-bought mixes.
I'm a great fan of making my own homemade spice blends and if you are too, you should also check out our keto Tex Mex Seasoning
And if you're looking for more Mexican and Tex-Mex family favorites, then I highly recommend you also check out our collection of easy keto Tex-Mex recipes. It's packed with tons of great recipes that are simply delicious!
Be sure to visit our keto fajitas recipes where all our delicious keto-friendly fajitas recipes live!
Keto Fajita Seasoning
One great thing about making your own keto-friendly fajita spice mix is that you can customize it to your and your family's taste! If you're a lover of spicy food you can add more of the chipotle powder and cayenne pepper.
If you're more sensitive to spicy foods or you're cooking for others who you're unsure of their tolerance you can add less. You really can customize this blend as much as you'd like by simplifying tasting a little as you go.
Another thing you can control easily when creating your own fajita mix is how much salt if any, you use. You can choose to add more or less of the salt or even leave out the salt completely so that you have control of salt content when cooking with it later.
Easily my favorite benefit of making this low carb fajita seasoning is how much time it saves me when cooking! I was truly surprised! It's the perfect solution for busy weeknights when you want to bring dinner to the table quickly.
Or when you want to make Mexican food on the weekend and avoid going to a Mexican restaurant where you risk getting kicked out of ketosis from all the weird ingredients that could be hiding in their own seasonings.
Instead of pulling out all of my spices from the cabinet, I can just reach for one jar!
Combining your own seasoning mixes with some lime juice and olive oil and instantly you have the beginning of a great meal in the works. Delicious fajitas are moments away once you have a handy jar ready to season.
It makes for easier, faster, and makes for cleaner cooking! Those are all things we can use more of every day in the kitchen if you ask me.
Sugar-Free Fajita Seasoning
Now, you might be thinking, "why do I need to make a keto fajita seasoning?" since spices don't have carbs. Well, when you purchase the pre-made seasoning blends at the store many times contain things like whole wheat flour and corn syrup!
Those pesky hidden carbs we don't even realize we're consuming can add up rather quickly. It's why making your own blends, seasonings, rubs, and marinades at home are a great way to know exactly what's in your food.
Making your own homemade keto fajita seasoning and keeping it stored in an air-tight container for easy access is just what you need for quick meal planning.
Yup, you should totally make this seasoning mix part of your meal prep Sunday routine.
I use this mix to make our keto chicken fajitas, keto steak fajitas, and keto shrimp fajitas but frankly, that's just scratching the surface of all the recipes you can create simply once you have your own premade mix that you have customized to fit your family's needs.
What You'll Need To Make Your Own Homemade Fajita Seasoning Mix
Disclosure: Some of the links below are affiliate links, meaning at no additional cost to you, I will earn a commission if you click through and make a purchase.
The following is a list of the ingredients and materials you'll need to add this low-carb fajita spice blend to your spice cupboard. Note that the full printable recipe card is at the bottom of the page.
Onion powder

Garlic powder

Sea salt, optional

Pepper
Tag Us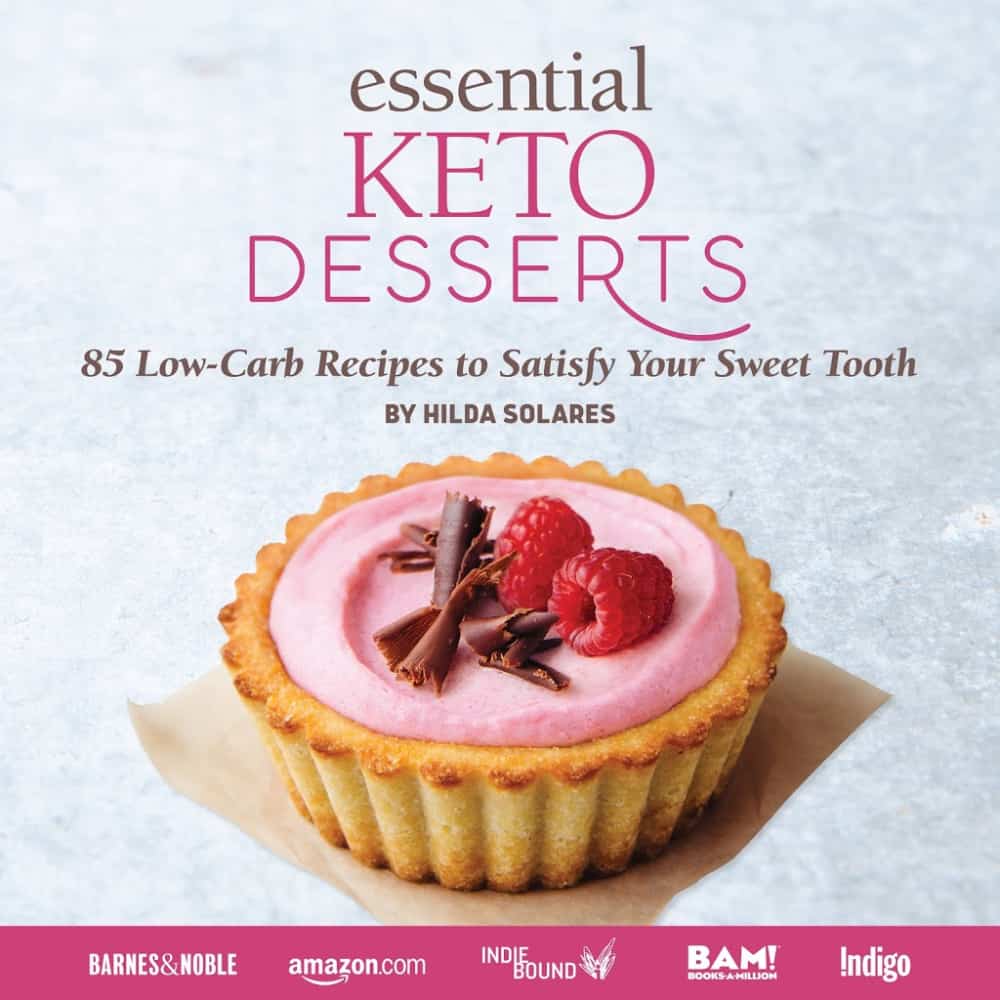 I sure hope you will try out this keto-friendly fajita seasoning! Once you do make sure you remember to tag us on Instagram, Facebook, and Pinterest. It's what keeps us encouraged to keep sharing and perfecting our recipes.
Also, check out our Amazon Store for our recommendations. You might be surprised by how many great keto options are at your disposal.
Don't forget to subscribe to our email list so that we can stay connected.
Grab Our Books!
In case you didn't know we have authored two books for you, Essential Keto Bread and Essential Keto Desserts both inspired by your requests over the years. It's my prayer these keto cookbooks will help make keto a delicious breeze for you.

Join Our Jesus And Keto Movement
Looking for an online support system to help you stay the course on keto?
As a family, we came to the keto diet looking at it from a Christian perspective. As believers, we live our lives supported by God's grace.
So when the Holy Spirit led us to combine our Christian faith and the keto diet, we did so in hopes of finding lasting transformation.
When we followed the Holy Spirit's prompting to we got on the path to real transformation. Knowing firsthand the benefits of this decision we have created a closed Christian group that is using the keto diet to transform their lives.
We invite you to join our Private Facebook Group and see if it's not the key you have been missing.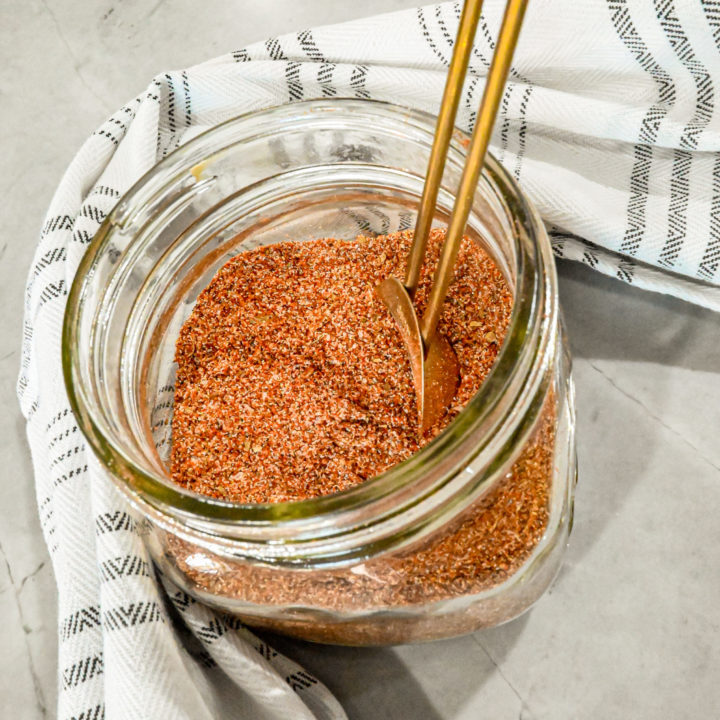 Keto Fajita Seasoning
This sugar-free fajita seasoning is sure to be your new favorite for when you want to quickly make keto-friendly fajitas without the worry of hidden carbs in your seasoning.
Ingredients
1 tablespoon of oregano
2 teaspoons of cumin powder
2 teaspoons of smoked paprika
2 teaspoons of chipotle powder
2 teaspoons of chili powder
2 teaspoons of ground coriander
1/4 teaspoon of cayenne pepper
1 tablespoon of garlic powder
1 tablespoon of onion powder
1 tablespoon sea salt
1 teaspoon black pepper
Instructions
In a small bowl, add in all the ingredients and combine.
Use a funnel to transfer your keto fajita blend into a spice jar or your choice of an airtight container.
Notes
The recipe makes about 1/2 cup of sugar-free fajita seasoning. Nutrition is calculated for the entire recipe
Store in a cool, dry place for up to one year but use within 6 months for best flavor. Spices do not go bad but will begin to lose their flavor with time.
Nutrition Information:
Yield:

1/2 cup
Serving Size:

1/2 cup
Amount Per Serving:
Calories:

45
Carbohydrates:

1g
Fiber:

1g