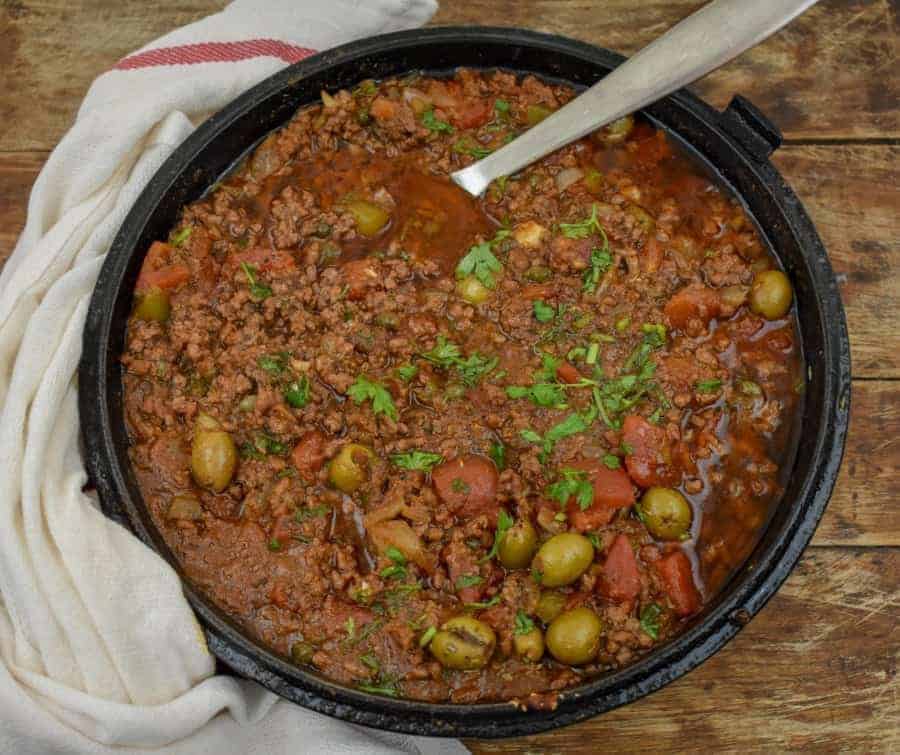 Keto Cuban Picadillo, because this girl grew up on picadillo and it was time a low carb keto-friendly version made an appearance.
When it comes to foods I associate with comfort, a Cuban picadillo is at the top of my list. It was a dish my mom made frequently and for good reason since it was a tasty, fast and budget-friendly meal.
However, this childhood favorite needed a low carb makeover if it was going to be enjoyed in our home.
My Keto Cuban Picadillo was made keto by omitting the typical raisins and diced potatoes. By doing so I now had a low carb Cuban picadillo that had all the flavor I loved minus the high carbs.
Although my recipe for keto picadillo is a Cuban version, there are variations of picadillo in many parts of the world that with a little tweaking could also be made keto-friendly.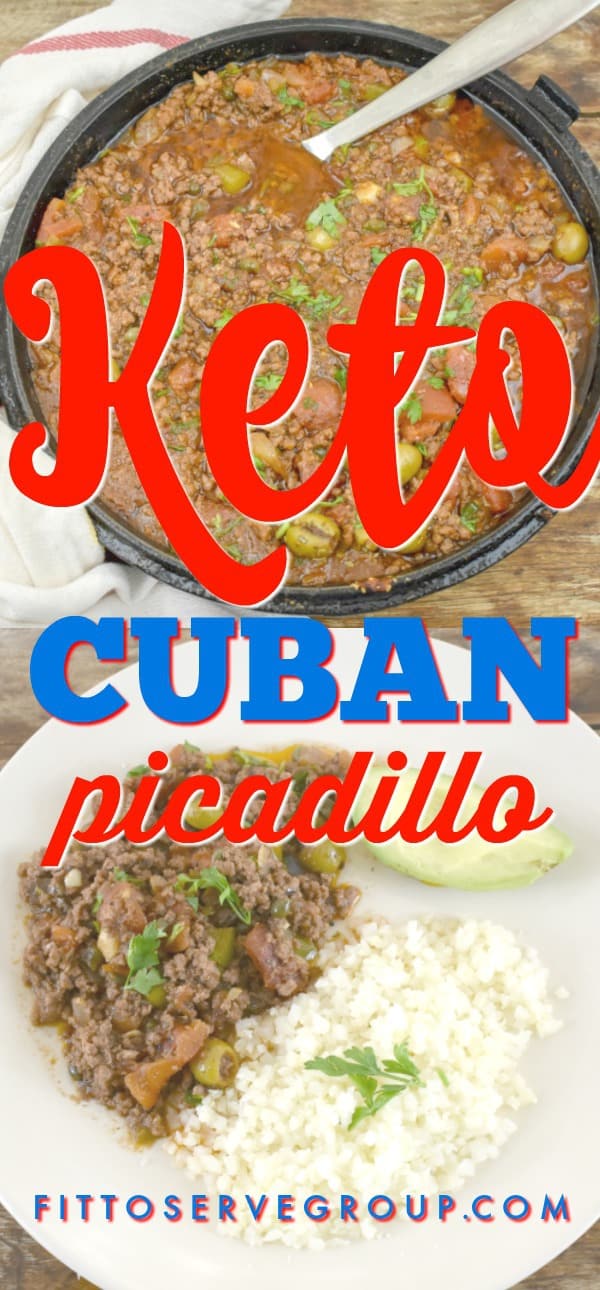 Keto Cuban Picadillo
This recipe for Keto Cuban picadillo is a simple dish that gets its flavor by cooking ground beef in a sauce of tomatoes, onions, garlic, peppers, oregano, cumin, green olives, capers, and a little dry white wine.
You should note that the dry white cooking wine is optional but it does add lots of flavor. In the case of picadillo, the cheap salted kind is best.
In both Cuban and Dominican picadillo raisins and potatoes are added. But both these are no-no's when making a keto picadillo. So for obvious reasons they were not added to the recipe.
Although I couldn't come up with a substitute for raisins in my Keto Cuban picadillo, I do have a suggestion for replacing the potatoes that are customary in this dish. That's the use of finely cubed turnips.
For simplicity sake, I left the turnips out of this recipe but you can add 1/4 cup of raw turnips during the sautéing step and it would only increase your carbs by .5 grams per serving.
Whenever I have turnips on hand, I will use them in a recipe to substitute potatoes. Because it really mimics the texture wonderfully. And since it absorbs the flavor of what you are cooking it just works well.
Traditionally, picadillo is served over a bed of white rice, but rice, of course, has way too many carbs. So I serve my Keto Cuban picadillo with cauliflower rice instead.
Cauliflower rice makes a fantastic substitute for white rice since it's texture is very similar and the flavor is quite bland.
These days you can pick up a bag of frozen cauliflower rice in most supermarkets, which is a huge win for the keto world.
Keto Picadillo Recipes
A form of picadillo can be found on several continents around the world. This minced meat dish also serves as a filling for recipes such as empanadas, and hand-pies.
For those who don't know my dad is Cuban and my mom is from the Dominican Republic, and so my keto picadillo has influences from them both.
But if I had to choose which of the two countries have influenced this recipe more, I would have to say Cuba.
My mom would be the first to tell you that her cooking has become more Cuban and that she kinda lost a lot of her D.R. cooking roots after she married my dad. Which is a shame because I would have loved to have learned more of her traditional recipes.
However, I can't help to think that at play here is the fact that she has lived for over 40 years in Miami, where a large community of Cubans live.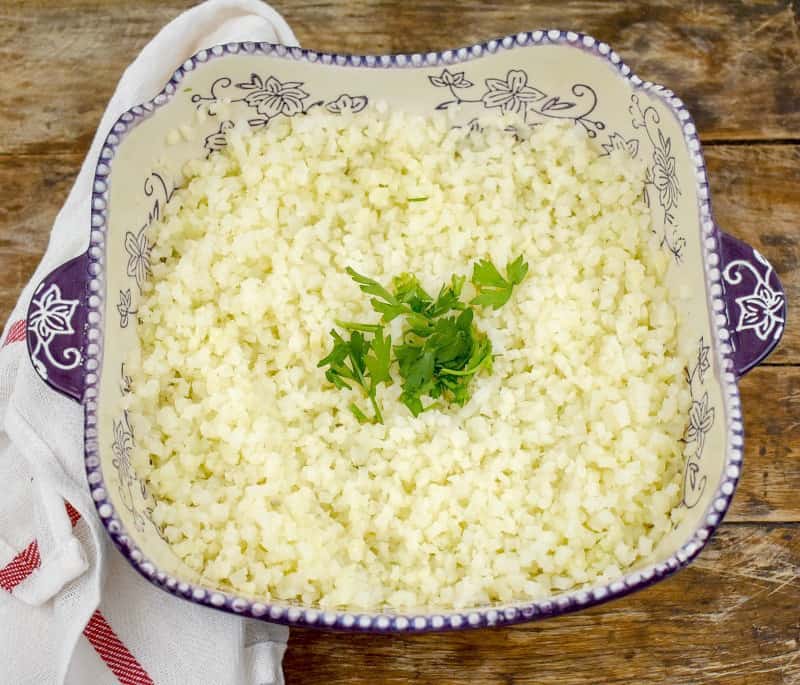 In the Dominican Republic picadillo includes a few slices of boiled eggs and a little beef bullion. And although this recipe doesn't include these, I highly encourage you to also try to make your keto picadillo this way.
If you add a tablespoon of dry bullion powder make sure to reduce the salt called for in this recipe by half.
In both a Cuban and Dominican picadillo raisins and potatoes are added. But both these are no-no's while doing a ketogenic diet so they have been intentionally left out of this recipe.
Also for a Dominican Keto Picadillo add two sliced boiled eggs to the entire dish as a garnish before serving. I must admit that the boiled egg adds both a nice taste and texture to a keto picadillo.
For a Mexican Keto Picadillo, you can add some chilies and serve with sliced lime. So as you can see I have given you several keto picadillo recipes that will allow you to customize it to your liking.
I sure hope you will give this recipe a try. Once you do, make sure you remember to tag us on Instagram and Facebook. It's what keeps this girl encouraged to keep sharing and perfecting her recipes.
Perfect Keto Hack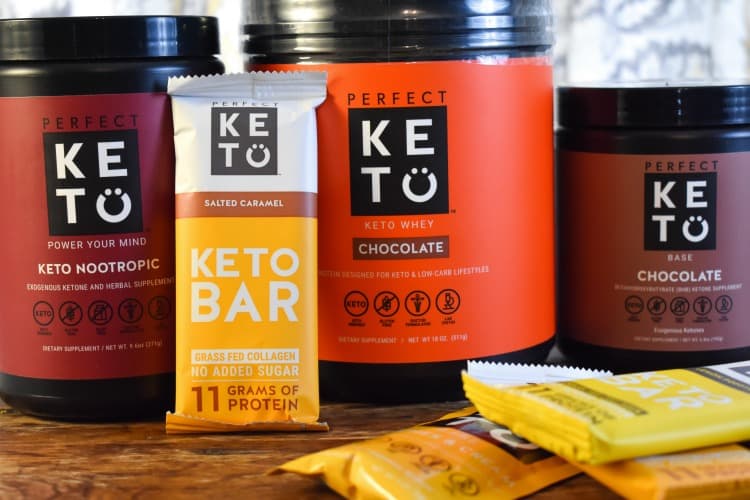 The holidays can be loaded with all sorts of food temptation. Which is why using a tool to help you stay on course can be very beneficial.
Perhaps, you've struggled to get into ketosis consistently on your low carb keto diet, or you've hit a plateau that doesn't seem to budge, consider using Perfect KETO exogenous ketones.
By using exogenous ketones you will naturally elevate your ketones allowing you to enter into ketosis more quickly.
Being in a deeper level of ketosis will help reduce your appetite, carb cravings, and give you lasting energy. It's been our experience that the use of exogenous ketones helps make the low carb keto lifestyle a viable sustainable option.
Honestly, it's like having willpower in a cup. Learn more about the science behind both exogenous and endogenous ketones and have your questions answered from a doctor's perspective.
Make sure you also pick up your free and complete guide to understanding ketosis. Then begin the ketosis diet easily with this Start-Up Guide to the Ketosis Diet.
Wondering which foods you should avoid when doing Keto? This Keto Food Guide will assist you in doing the Keto Diet correctly.
Don't start the Keto Diet until you calculate your Keto Macros easily Using this calculator will customize the diet according to your goals and help you do the Keto Diet properly.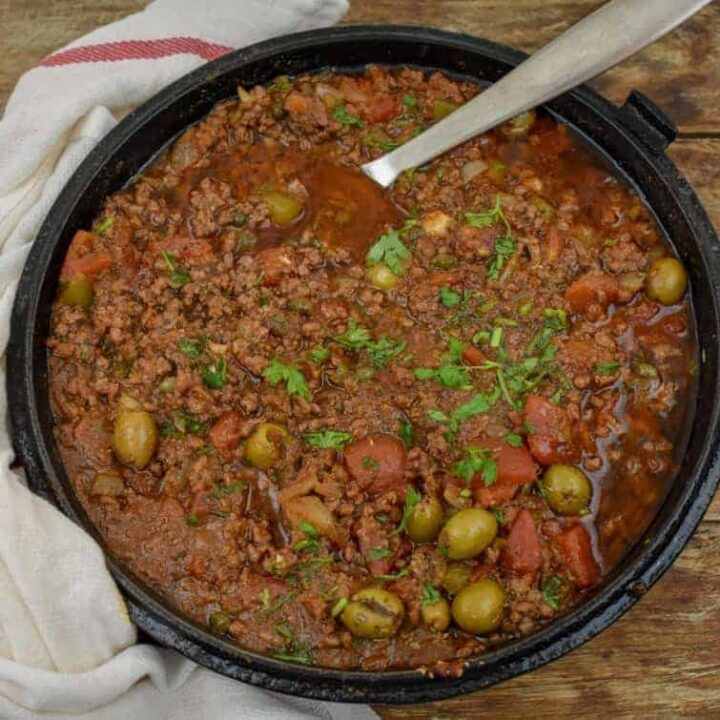 Keto Cuban Picadillo
Additional Time:
5 minutes
Keto Cuban Picadillo is a low carb version of the classic Cuban Picadillo. It's dish where ground beef is cooked in a tomato sauce that is flavored with peppers, onions, oregano, cumin and green olives.
Ingredients
Keto Cuban Picadillo
3 pounds of lean ground beef
¼ cup extra virgin olive oil
1 1/2 large green bell pepper diced
5 large garlic cloves, peeled and minced
3 teaspoons of sea salt
3 teaspoons of dried oregano
2 ½ teaspoons of ground cumin
½ teaspoon fresh ground black pepper
5 tablespoons tomato paste
2 cups of diced tomatoes fresh or canned
1 medium yellow onion, diced
Instructions
Heat the oil in a large skillet over medium heat.
Sauté the onions, garlic, green peppers, salt dried oregano, cumin, black pepper, and salt until the onion is translucent, around 10 minutes.
Add the tomato paste and stir until well combined and cook for about 3 minutes.
Raise the heat to high and brown the ground beef making sure to break up the pieces.
Add the tomatoes, wine, olives, capers.
Reduce the heat to simmer and cook covered for about 20 minutes.
Lastly, stir in the apple cider vinegar and check the seasonings. Garnish with fresh cilantro or parsley.
Notes
You can omit the 1/4 cup of white wine. If you do increase the apple cider vinegar to 3 tablespoons and stir in at the end of the cooking.
You can add 1/4 cup of raw small cubed turnips in step two if you are wanting a potato substitute. The turnips will add .5 more carbs per serving.
Recommended Products
As an Amazon Associate and member of other affiliate programs, I earn from qualifying purchases.
Nutrition Information:
Yield:

12
Serving Size:

1
Amount Per Serving:
Calories:

270
Total Fat:

11.5g
Saturated Fat:

3.3g
Cholesterol:

101mg
Sodium:

140mg
Carbohydrates:

4.3g
Fiber:

1g
Sugar:

2.6g
Protein:

35.2g
This Infographic is designed by Jack Thompson from BroBBQ