Keto Bacon Fudge? Before you think I've eaten one too many slices of bacon, please stay with me. Although my keto bacon fudge is not your grandma's fudge, one bite will make any skeptic a believer.
By now you may have figured out that creating new keto flavor profiles excite me.
Have I piqued your curiosity? Great! Before I share my low-carb bacon fudge with you, I have a couple of qualifiers to see if this recipe will suit you.
One, do you love bacon? Two, do you love fudge? If you answered yes to both these questions, be prepared to be impressed.
Because you can make a delicious chocolate fudge recipe that includes bacon. What's more, it can be low in carbs and keto-friendly.
Not only does keto bacon fudge make a great little treat it's also a fat bomb. You see this isn't just a creative spin on fudge it's actually a recipe that will keep your hunger at bay.
Making this low-carb bacon fudge also a fat bomb means that it's packed with good for your healthy fats and the bacon adds a little protein. What's not to love?
Keto Bacon Fudge
Keto bacon fudge is packed with good for you nutrition such as protein, good fats.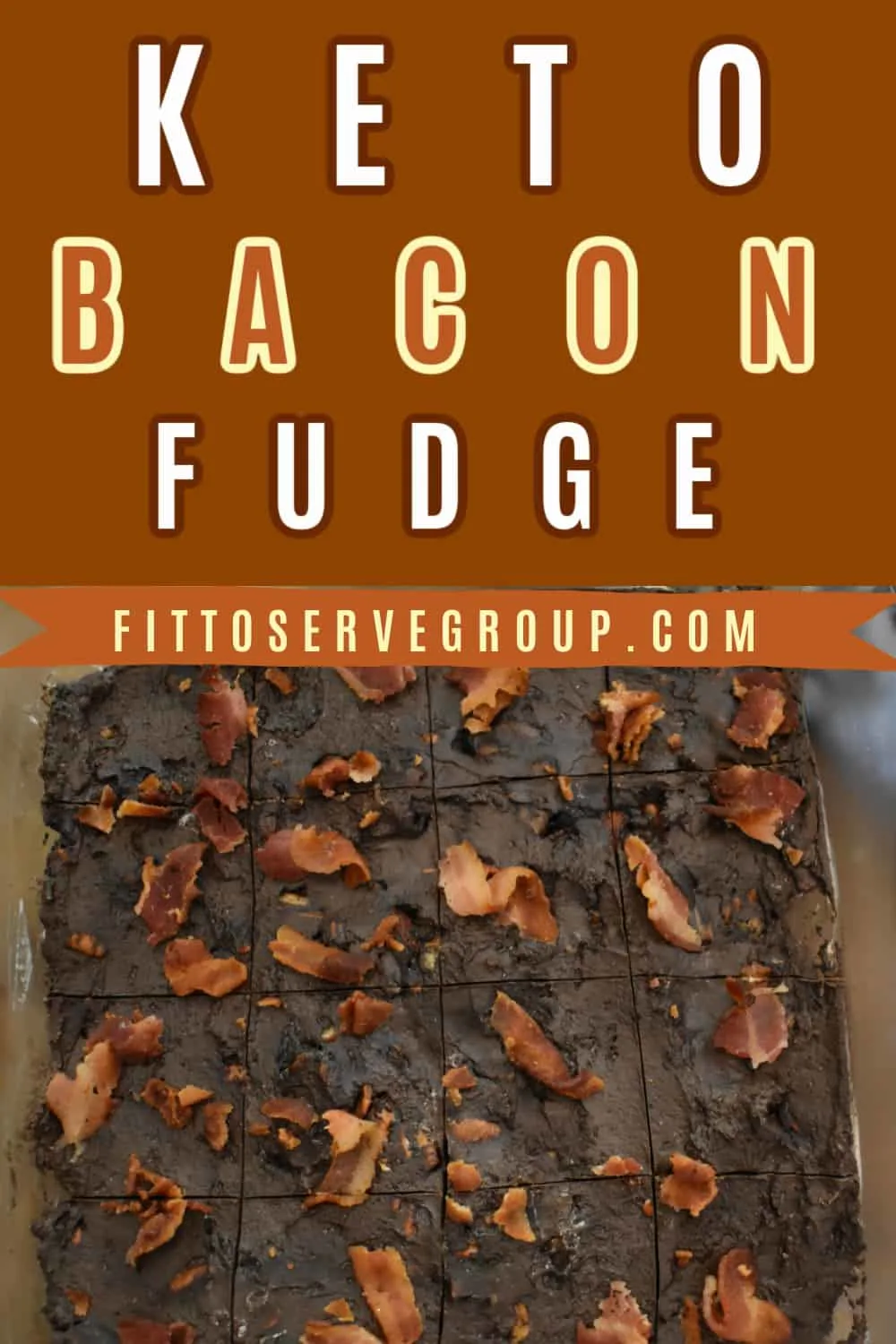 Coming up with a recipe with this combination of flavors may seem odd, but not for this girl. You see I've always loved to combine foods that are sweet with those that are salty.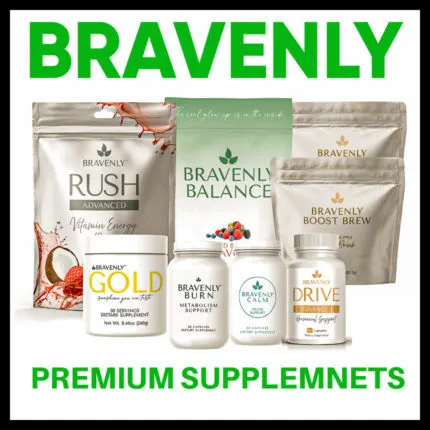 Back in my high-carb former life, I would dip my fries in ice cream like it was as popular as combining peanut butter and jelly. Dunking my fries in ice cream always garnered a glare or two but that never stopped me.
Those days are safely in my past now. But what hasn't changed is my salty-sweet taste preference. Something about this combo always seems to satisfy a craving.
The addition of reserved bacon grease takes this keto fudge to the next level. It just adds so much flavor and makes it super creamy.
I was missing those days when I came up with this low-carb keto bacon fudge. It appears it was a good thing because my little experiment of combining bacon with chocolate received high marks from those who tasted it.
My non-bakers will love this treat because no oven is required. That's right so stop saying you can't make keto treats because you can't back. Because this girl has you covered.
Not only is this low-carb keto bacon fudge delicious, but you can create a batch in under 15 minutes. Even less than this if you have your bacon already pre-cooked.
If you don't already cook your bacon ahead of time you should really consider doing so. It will make prepping for your keto meals that much easier.
Personally, I love cooking my bacon in large batches in the oven because it makes cleaning up a breeze. But if you're short on time you can also use a pre-cooked bacon option.
Keto Bacon Fudge Fat Bombs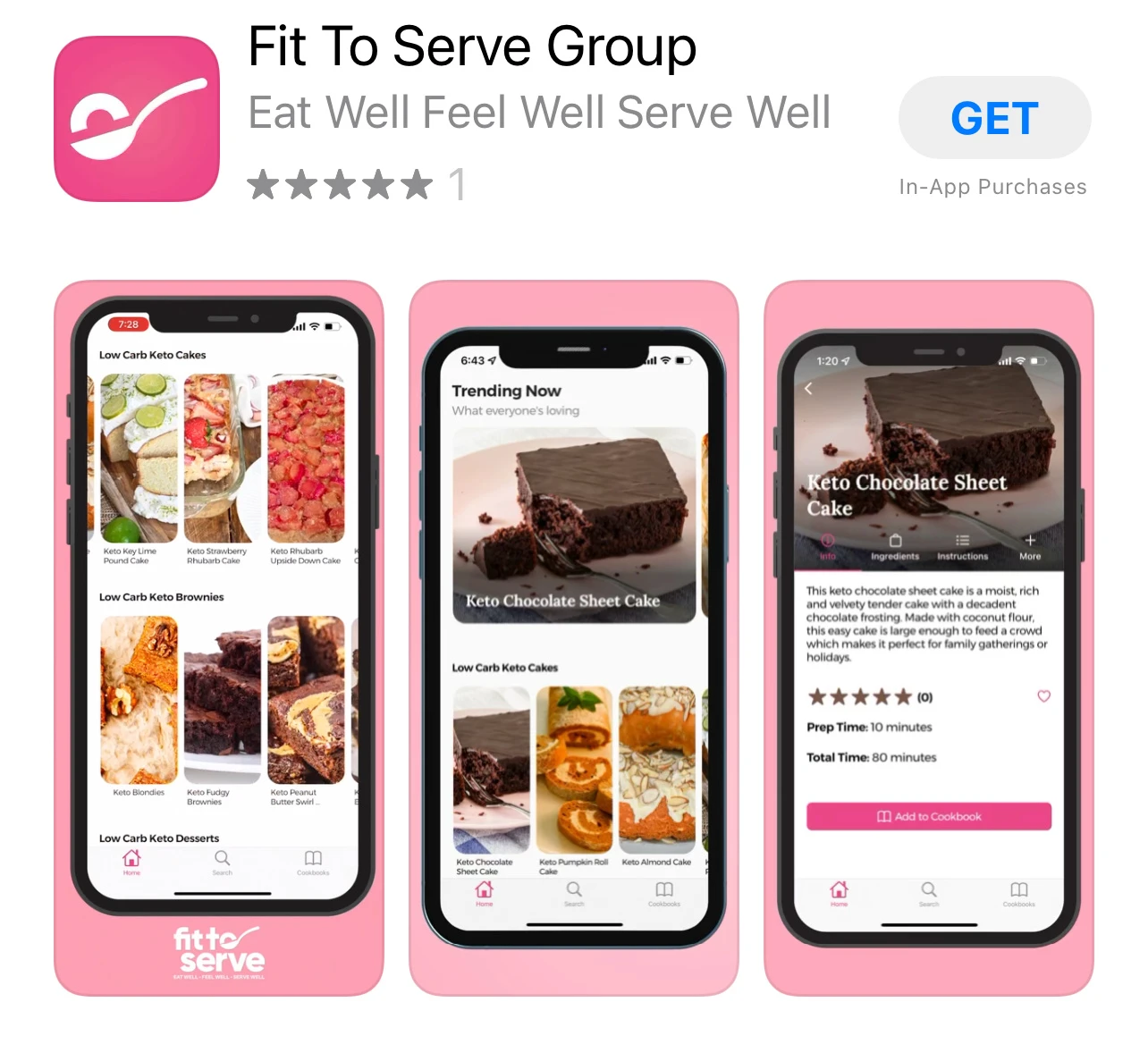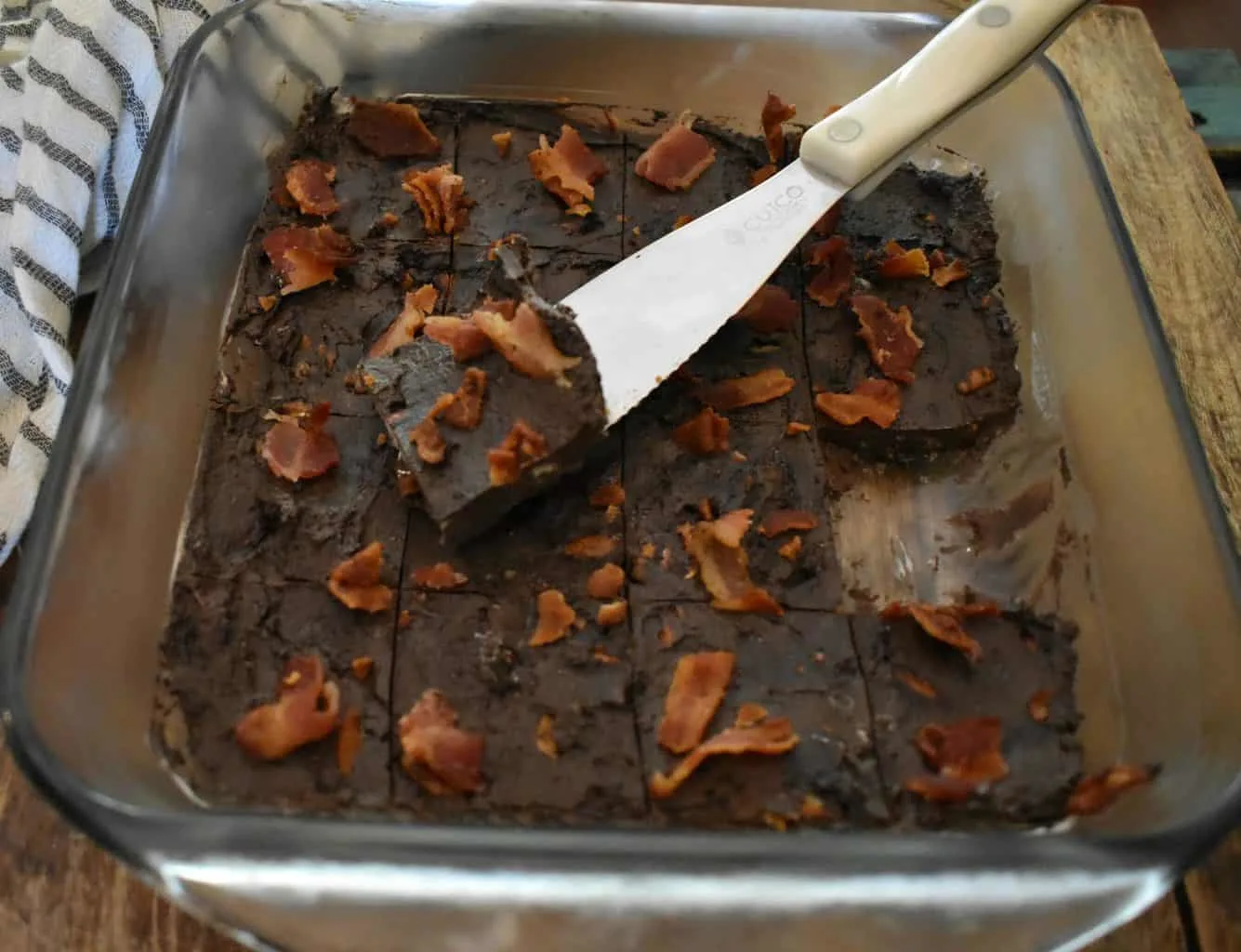 If you are doing a ketogenic diet and still have considered adding fat bombs to your diet for fear of fat, rest assured.
You see when doing a keto diet you use fat as fuel instead of glucose, sugar. It also means that your diet is up to 75% fat for this same reason.
By adding more healthy fats into your diet and reducing your carbs you naturally raise your ketone levels. A treat like this keto bacon fudge acts as a fat bomb and can assist you on your keto diet.
Making sure your healthy fat ratio is higher, helps you be satiated longer. Fat bombs can also give you a boost of energy and give your brain the healthy fats it craves. Who doesn't want more energy?
Your Brain Needs Fat
Most people don't realize that a ketogenic diet can offer more than just weight management benefits. In fact, being in ketosis has neuroprotective properties.
This is why you shouldn't ignore essential fatty acids like omega-3 and omega-6, both of which are crucial for brain health and function.
Do you know that most of our brain tissue is made up of fatty acids? This is why it only makes sense to include more recipes that embrace fat.
More Fat Bomb Recipes
I am such a fan of fat bombs Here are a few other recipes that the keto community are loving my Keto Cheesecake Fat Bombs and my Keto Peanut Butter Fat Bombs
I sure hope you will give this recipe a try. Once you do, make sure you remember to tag us on Instagram and Facebook. It's what keeps this girl encouraged to keep sharing and perfecting her recipes.
Do check out our Amazon Store for recommendations. You might be surprised by how many great keto options are at your disposal.
Grab Our Books!
In case you don't know I have authored two books for you, Essential Keto Bread and Essential Keto Desserts both inspired by your requests over the years. It's my prayer these keto cookbooks will help make keto a delicious breeze for you.
Join Our Jesus And Keto Movement
Looking for an online support system to help you stay the course on keto? As a family, we came to the keto diet looking at it from a Christian perspective. As believers, we live our lives supported by God's grace.
So when the Holy Spirit led us to combine our Christian faith and the keto diet, we did so in hopes of finding lasting transformation. When we followed the Holy Spirit's prompting we got on the path to real transformation.
Knowing firsthand the benefits of this decision we have created a closed Christian group that is using the keto diet to transform their lives. We invite you to join our Private Facebook Group and see if it's not the key you have been missing.
Be sure to request our FREE Jesus and Keto E-Book (First 7 Days) We hope it blesses you.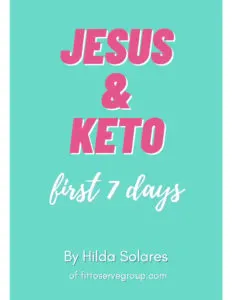 Fittoservegroup Keto App
Looking for a fast way to access our keto recipes? We got you covered. There's an app for that. Yup, there's a Fit To Serve Group App and it's going to make your keto diet a delicious breeze!
Access hundreds of recipes that are all sugar-free, gluten-free, and keto-friendly.
Enjoy early access to recipes before they go live on the website. Plus, bonus recipes that are exclusive to the app. Make your own personal cookbooks that you can use to organize your favorite recipes.
Search recipes by title, ingredients, keywords, and categories, and of course every recipe shows complete nutritional facts. Get the Fit to Serve Group App for easy-to-follow keto recipes made with easy-to-source ingredients.
The app is loaded with hundreds of yummy recipes for breakfast, lunch, dinner, snacks, and even desserts!
Learn more by visiting our Fit To Serve Group App Page.
Keto Bacon Fudge
Total Time:
1 hour
10 minutes
Keto Bacon Fudge? Is that even a thing? Well, yes it is. You can make a delicious low carb fudge recipe that combines the flavor of chocolate and bacon for one delicious unexpected treat.
Ingredients
8 oz butter softened
8 oz cream cheese softened
½ cup extra dark cocoa powder
2 tsp vanilla
8 oz pecan pieces
¼ teaspoon sea salt
¼ pound of fully cooked crispy bacon about (6 slices) (reserve one slice to use as topping)
Instructions
Cook the bacon until crisp, set aside. Reserve 2 tablespoons of bacon grease to add the butter and cream cheese.
Using an electric mixer combine the softened butter, reserved bacon grease, and cream cheese until smooth.
Add the cocoa, sugar substitute, salt, vanilla extract, and combine well.
Next, add the pecans and bacon and fold gently. (Remember to reserve one slice of diced bacon to place as a topping)
Spread the fudge on a parchment or foil-lined pan or cookie sheet. I used an 8X11 pan.
Place the fudge to set in the refrigerator for an hour.
Store for up to 5 days in the refrigerator or in the freezer for up to 3 weeks.
Notes
Note these will melt if left at room temperature
Nutrition Information:
Yield:

30
Serving Size:

1
Amount Per Serving:
Calories:

140
Total Fat:

14.4g
Saturated Fat:

6.1g
Cholesterol:

24mg
Sodium:

68mg
Carbohydrates:

1.9g
Net Carbohydrates:

.7g
Fiber:

1.2g
Sugar:

0.3g
Protein:

1.7g