Looking for an easy keto fudge recipe? Well, look no further because this delicious low carb fudge recipe can be made in under 10 minutes.
That's right it's not only a tasty keto treat, but it's also fast and easy to make. This no-bake keto chocolate fudge uses only a few staple ingredients.
The only heat required is for melting the butter and baking chocolate. Which can be done on the stovetop or microwave oven. This means you can even invite your young children to help you whip up this fudge recipe.
My recipe for sugar-free fudge has a secret ingredient that makes it velvety smooth. Any guesses? It's cream cheese! The use of cream cheese not only gives them a perfect consistency but it adds a little more protein and fat.
In fact, my cream cheese ketogenic fudge can also be considered a fat bomb. So not only are you getting a yummy treat but it's a great way to increase your fat macros while doing a ketogenic diet.
If you're a fan of cream cheese, I encourage you to check out all our other keto cream cheese recipes.
And I also highly recommend my keto fudge pie for yet another rich, fudgy recipe.
Keto Fudge Cream Cheese – Easiest Recipe You Can Make
The boy has this girl come a long way when it comes to embracing fat. It's hard to believe that for years I shunned fat to the point that my body was starving for real food.
Raised during an era where fat was greatly feared, we were urged to banish it from our diets at all costs. So we stocked our pantries full of low-fat items that turned out to be sugar-laden.
We truly believed we were making a healthy choice. Unfortunately, our country's health actually declined when we made the decision to go low-fat, mine included.
How did this happen? Well, when as a nation we went low fat, we started eating more sugar because if you remove the fat from food, you also remove lots of flavors. This put us on a path of wanting more and more refined carbs and processed foods.
Sadly, when we went low-fat we also drastically reduced the healthy fats from our diet, leaving us deprived of its benefits.
With that being said, I believe I am doing the world a favor by making an easy, delicious keto fudge recipe. Ok, maybe not the world but my family is certainly happier.
Keto Fudge Recipe – It just requires basic baking skills!
If you can melt butter and baking chocolate you can make this easy keto cream cheese fudge.
Although it's a super easy fudge recipe I do have several tips that are key to ensure it comes out perfect each and every time.
You should know that I opted to add pecans to my best keto diet fudge but you can add any chopped nuts of your choice. The recipe's nutritional facts reflect a cup of pecans.
Alternatively, you could leave the nuts completely out for a keto nut-free fudge option.
Keto Cream Cheese Fudge – Making the best cream cheese!
Disclosure: Some of the links below are affiliate links, meaning at no additional cost to you, I will earn a commission if you click through and make a purchase.
For starters, you want to make sure you use only full-fat cream cheese and that it's not the kind that is whipped. You want the kind of cream cheese that comes in a brick. My preference is Philidelphia Cream Cheese.
I also use a confectioner's sugar substitute to ensure that the texture is smooth. A granulated sweetener will cause your keto cream cheese fudge to be grainy.
My favorite brands are either Lakanto Confectioners or Swerve Confectioners. Either one of these brands works perfectly. If you do not have a powdered sweetener you could run your granulated sugar substitute through a clean, dry coffee grinder.
I will, however, advise you not to use a stevia-based sweetener with this fudge recipe because chocolate and stevia do not play well together and produces a very bitter aftertaste.
This recipe for ketogenic fudge uses a combination of both baking chocolate that's unsweetened and dark cocoa powder. I use Hershey's Special Dark Cocoa. But since this is not baked you could also use your favorite cacao powder.
How To Make An Easy Keto Fudge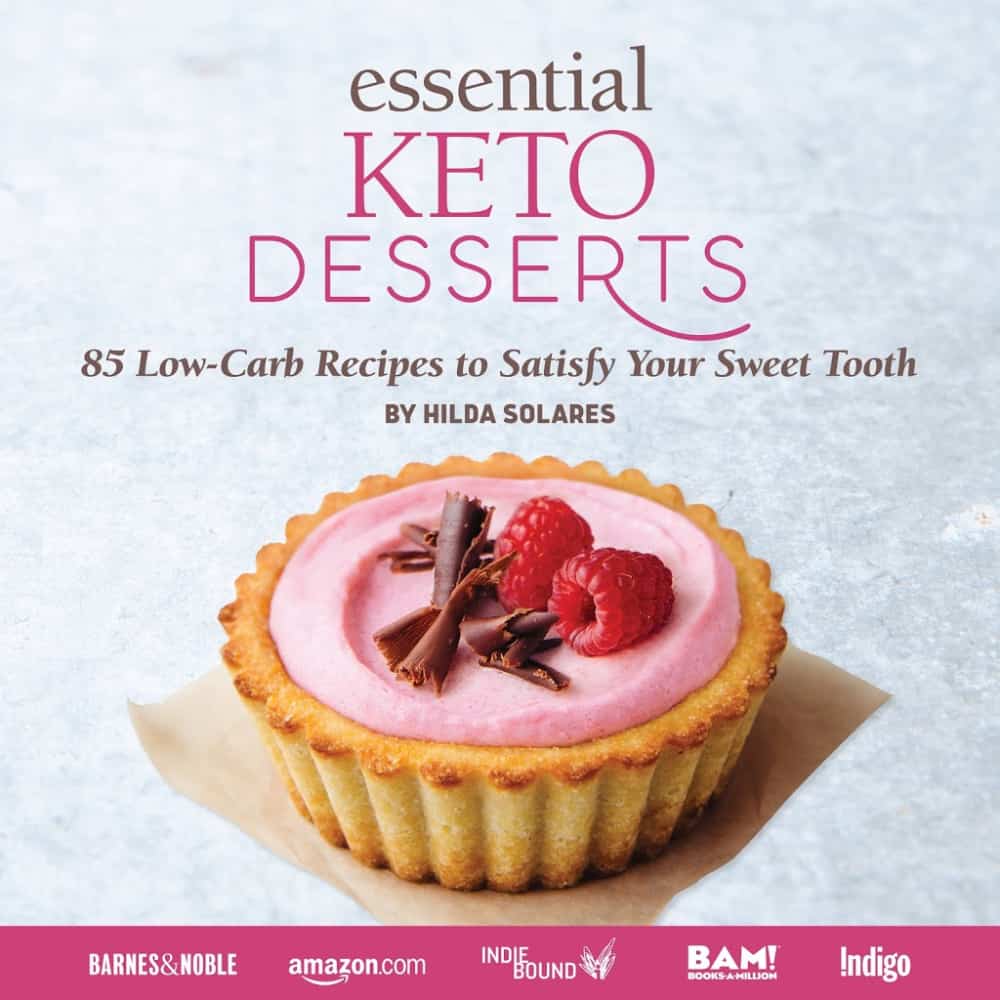 To make this easy keto-friendly fudge you will need a couple of items that make the process go smoother.
For one the use of parchment paper is kinda a must. Reason being that once the fudge sets it will be difficult to unmold otherwise.
If you notice I lined an 8X8 baking pan with two pieces of parchment and allowed the sides to hang so that it's easy to lift out once it's set.
You can allow your ketogenic cream cheese fudge to set either in the fridge for about an hour or in the freezer for 20-30 minutes.
I like setting my fudge in the freezer because it makes for cleaner slices. I use a large chef knife and cut in a straight down motion.
To avoid the fudge from sticking, just run your knife under water between cuts and wipe with a paper towel before each cut.
How To Store Keto Fudge – Different Ways You To Store
The best way to store this keto fudge is in the refrigerator for up to 5 days or in the freezer for three weeks. Although it can keep longer I feel the flavors will start to break down if frozen longer.
Personally, I like to store my keto cream cheese fudge already sliced. But that doesn't mean you can't just store the whole slab of fudge and slice just before consuming.
What you absolutely can't do is store it at room temperature. Remember this recipe uses cream cheese and therefore needs to refrigerate at all times.
Don't Forget To Tag Us
I sure hope you will give this easy low carb cream cheese fudge recipe a try. Once you do, make sure you remember to tag us on Instagram and Facebook. It's what keeps this girl encouraged to keep sharing and perfecting her recipes for you.
Grab Our Books!
In case you don't know we have authored two books for you, Essential Keto Bread and Essential Keto Desserts both inspired by your requests over the years. It's my prayer these keto cookbooks will help make keto a delicious breeze for you.
How We Combined The Christian Faith With The Keto Diet
Do you know that it wasn't until Randy and I began to combine the promises of God's word about healing and changed our diet to a ketogenic one, that we finally began to see our health improve?
By cutting out the junk and focussing on real foods we gave our bodies the nutrition it needed. Then our bodies did what God designed them to do, to begin to heal themselves. This is what we believe it means to live in divine health.
This act of obedience is what birthed the ministry of Fittoserve Group. Today, we are seeing thousands of lives impacted and the ripple effect of our decision to combine our Christian faith with the keto diet is making a difference in ways we may never know this side of eternity.

For more information on how we made have come up with the flavorful keto fudge and how we are doing this, visit our Keto And Jesus For Transformation page. Where you can read in detail about our story and hopefully be inspired.
If you are a Christian looking for a Private Facebook Group that can help you stay encouraged while doing keto, we invite you to join our supportive group of believers.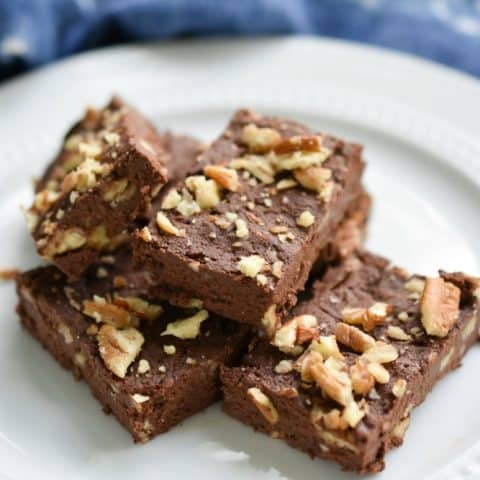 Easy Keto Fudge
It's a recipe for easy keto fudge. It's made with a combination of baking chocolate, cocoa powder, sugar-free confectioner's sugar, butter and cream cheese.
Ingredients
1/2 cup of unsalted butter
1/4 cup of dark cocoa powder
1 teaspoon of vanilla extract
1 cup of crushed pecans or walnuts (optional)
Instructions
Melt the butter and baking chocolate either over a double boiler on in the microwave. (set aside)
Using an electric mixer combine the sugar substitute, softened cream cheese and vanilla extract until well combined.
Next, add melted chocolate-butter mixture and combine until fully incorporated.
Add the cocoa powder in combine until well mixed.
Lastly, stir in the 1 cup of chopped nuts and spread the batter unto a parchment-lined 8x8 pan.
Place in the freezer for about 30 minutes until the fudge firms up.
Cut fudge into squares.
Store the fudge in the refrigerator for up to 5 days or freeze for up to 3 weeks.
Nutrition Information:
Yield:

24
Serving Size:

1
Amount Per Serving:
Calories:

140
Total Fat:

12.7g
Saturated Fat:

5.8g
Cholesterol:

23mg
Sodium:

60mg
Carbohydrates:

3.8g
Net Carbohydrates:

2.1g
Fiber:

0.7g
Sugar:

2.7g
Protein:

1.9g
Save
Save
SaveSave
SaveSave
SaveSave