This keto trifle is filled with layers of pound cake, custard, whipped cream, and fresh berries. Served in a glass dish, it's as beautiful as it is delicious and extra festive!
It's a healthy sugar-free trifle that the whole family will love!
The layers can be made ahead of time which makes it's a breeze when creating for holidays or parties where your oven is usually maxed out.
Plus, a proper trifle actually tastes better when it has had time to sit in the refrigerator so that the layers absorb into the cake.
It's easy to see why it's a favorite, classic option.
If you're a fan of pound cake you'll love my collection of Keto Pound Cakes where you can find all of my different pound cake recipes in one place!
Plus make sure you also check out our keto red velvet trifle for a fun, festive flavor twist!
Keto Trifle Dessert
You'll be happy to know that this berry trifle recipe is not only low in carbs but also grain-free and gluten-free.
It starts by using our recipe for keto almond flour cream cheese pound cake but you can also use our keto coconut flour pound cake with the same great results.
The next layer is a perfect combination of blueberries, strawberries, sweeteners, and a splash of lemon juice!
It adds the perfect amount of tang to the fruit layer that compliments the cake, custard, and whipped layer perfectly!
The custard cream layer is simply divine and made with only wholesome ingredients like cream, egg yolks, and some sugar-free sweetener.
The whipped layer is my favorite trick for making a stable whipped topping which involves whipping heavy cream and a little cream cheese together. It's easy and will hold for a couple of days in the fridge.
The cream cheese stabilizes the whipped cream so well which is another reason why preparing this ahead of time works great!
Many, many years ago in my pre-keto life, I used to make a carb and gluten-filled version every year for Christmas so I had to make a keto version for this year after my daughter kept bringing it up!
I always loved not only the oohs and ahhs I would get from my family but that it was the make-ahead dessert and saved me time.
How To Make A Keto Trifle
When making the keto berry trifle the first thing you'll want to make is the pound cake. You'll cream the butter and sugar substitute together and then add in cream cheese and vanilla extract. Once it's smooth, you'll add in the eggs one at a time. Lastly, you'll add in all your dry ingredients and combine them thoroughly.
While your cake bakes you can prepare the fruit layer. You'll need to wash and slice them if you're using fresh fruits ( which I highly recommend) and combine them with lemon juice and sugar substitute.
Once your cake is done being baked and is cooling you'll make the decadent custard and place it in the fridge to allow it to set.
Next, you'll make my easy whipped cream topping in a large bowl using an electric mixer. Simply beat the cream cheese and sugar substitute and then add the heavy whipping cream until peaks form.
The last step is my favorite part of making any trifle, assembling the layers! You'll alternate layering the cake, berries, custard, and then top with the whipped cream.
I also like adding some whole berries to the top of the trifle. A keto-friendly trifle is so festive, I think you'll find that it's a true winner.
What You'll Need To Make A Low Carb Trifle
Disclosure: Some of the links below are affiliate links, meaning at no additional cost to you, I will earn a commission if you click through and make a purchase.
The following is a list of ingredients and tools you will need to make the keto-friendly trifle.
Almond flour, finely milled for the cake layer
Favorite low in carb berries, I used a combination of blueberries and strawberries
Unsalted butter
Room temperature eggs & egg yolks for the cake and custard layer.
Heavy whipping cream, for the custard and whipped topping
Sugar-Substitute Options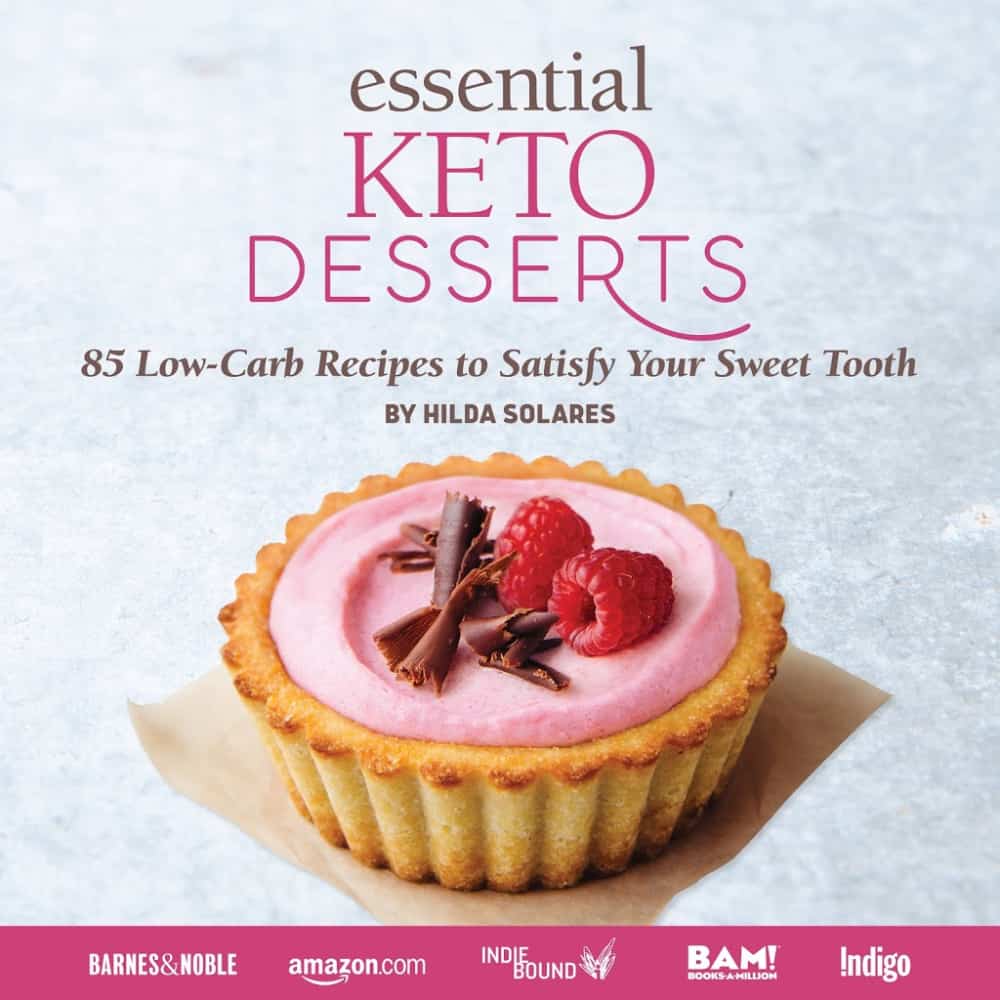 As far as the best sweeteners to use for this keto trifle I recommend the use of Lakanto's granulated sugar substitute it's their erythritol and monk fruit sweetener that is as close to sugar as it gets.
Having said that, you can also use the brand Swerve which is an erythritol blend. Similar to Lakanto it uses sugar alcohols and has a 0 % impact on blood sugar.
You could also use the stevia and erythritol-based brand Pyure if you prefer to use a stevia-based sweetener.
It's not my preference to ever use stevia in my recipes because I find the aftertaste to be too pronounced. Due note, that if this is your pick make sure you reduce the amount called for in the recipe by half since it's a much sweeter option.
Lastly, if you can't easily find a more natural sugar substitute you can also use Splenda with good success. I know not everyone would agree with me here and I respect that but in my book, it's still better than regular sugar.
Keto Pound Cakes
Since any cake that is dense enough could work in this keto trifle, I am including some of our other pound cake recipes. This will give you a few variations of keto trifles to enjoy.
Alternatively, you can skip the fresh fruit and use a batch of sugar-free cranberry sauce that will make it perfect for the fall-winter holidays.
Ohhh and if you love a layered recipe, be sure to also check out our keto "banana" pudding.
Tag us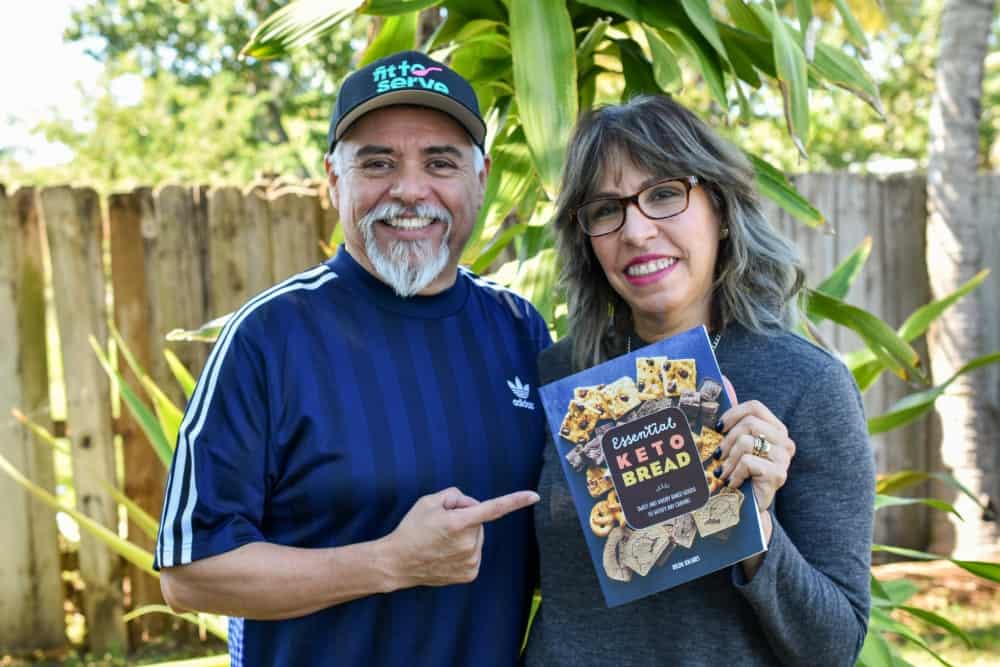 I sure hope you will give this keto trifle recipe a try. Once you do, make sure you remember to tag us on Instagram and Facebook. Doing so is what keeps this girl encouraged to keep sharing and perfecting her recipes.
Consider visiting also visiting our Amazon Store for recommendations. You might be surprised by how many great keto options are at your disposal.
In case you don't know I have authored two books for you, Essential Keto Bread and Essential Keto Desserts both inspired by your requests over the years. It's my prayer these keto cookbooks will help make keto a delicious breeze for you.

Favorite Meal Planner
Real Plans will finally put an end to being frustrated with creating healthy meals for you and your family.
Using Real Plans as your keto meal planner will free up your time by streamlining the process. I hope you agree with me that the last thing anyone needs, is to spend hours attempting to put a meal plan together.
This isn't just any meal plan though. It's one that populates a shopping list tailored to how much time you have and the ingredients you prefer to cook with.
Furthermore, you can customize the meal plan to fit the diet of everyone in your family. One of my favorite features is that you can add any recipe from the web to be part of your plan.
So yes you can even use my recipes to meal plan with. Cool huh?
Keto Trifle
Additional Cooling Time:
30 minutes
Total Time:
1 hour
50 minutes
This keto trifle is filled with layers of pound cake, custard, whipped cream, and fresh berries. This berry trifle recipe is not only low in carbs but also grain-free and gluten-free.
Ingredients
Pound Cake Layer
4 tablespoons unsalted butter
1 teaspoon baking powder
1/4 teaspoon salt
4 ounces cream cheese, room temperature
1 teaspoon vanilla extract
4 large eggs, room temperature
Mixed Berry Layer
1 cup blueberries, fresh or frozen, reserve 1/4 cup for top layer garnish.
16 ounces thinly sliced fresh strawberries, reserve half the strawberries unsliced for top layer garnish.
1/2 tablespoon lemon juice
Keto Custard Layer
2 cups of heavy whipping cream
4 egg yolks
1/4 cup and two tablespoons of granulated sugar substitute
1 teaspoon of vanilla extract
1/8 teaspoon of salt
1 tablespoon of room temperature unsalted butter
1/8 of teaspoon of xanthum gum, to help thicken the custard
Whipped Cream Topping
2 cups heavy whipping cream
2 ounces cream cheese, room temperature
1 teaspoon vanilla extract
Instructions
Preheat oven to 350 degrees and grease and line the loaf pan with parchment paper.
In a medium-sized bowl combine the almond flour, baking powder, salt. Set aside.
In a large bowl using an electric mixer, cream the butter with the erythritol/monk fruit blend until the mixture is light and fluffy and well incorporated.
Add the cream cheese and vanilla extract and mix well. Add the eggs one at a time making sure to mix well after each addition. Add the dry ingredients to the wet ingredients and mix well until the batter is fully combined.
Pour the batter into the prepared loaf pan. Bake for 30 to 40 minutes until golden brown on top. The pound cake will be done once an inserted toothpick comes out clean.
While the cake is baking prepare the berries layer. In a large bowl, add the berries, lemon juice, and granulated erythritol/monk fruit blend. Toss until fully coated.
To make the keto custard, heat the heavy cream over low heat until hot using a medium-sized saucepan.
Stir in the vanilla and then set aside to cool.
In a medium-sized bowl, whisk the egg yolks, sugar-substitute using an electric mixer until the mixture is pale yellow.
After the heavy cream has cooled to the touch, pour one 1/4 of the heavy cream mixture into the egg mixture, xanthan gum, salt and whisk until well combined. This is to temper the egg yolks.
Once the mixture has tempered add the remaining heavy cream and then pour the cream and egg mixture back into the saucepan and cook over low heat stirring continuously with a wooden spoon for about 5-7 minutes, or until the mixture begins to thicken. You'll know it's ready when the pudding is thick enough to coat the back of a wooden spoon without dripping.
Then turn off the heat and stir in the softened butter and stir until well combined.
Pour the custard through a fine-mesh sieve into another medium-sized bowl. Place a sheet of cling wrap directly over the surface of the custard to prevent a skin from forming.
Move the custard to the refrigerator and allow it to cool for at least 30-45 minutes.
Unmold the pound cake and allow it to cool while the custard has time to set.
To make the whipped cream, in a large bowl beat the softened cream cheese and the sugar substitute until smooth and creamy.
Add the heavy cream, vanilla extract, and whip until soft peaks form.
Lastly, assemble the trifle by breaking the slices of the cake into pieces that fit into the bottom of the trifle dish.
Then add 1/3 of the berry mixture, followed by 1/3 custard. Alternate these layers ending with the cream cheese mixture on top. Garnish with reserved whole berries.
Serve the trifle the same day or the next.
Store any leftovers covered in an airtight container for up to 3 days in the refrigerator.
Notes
If making ahead you can use frozen sliced strawberries. Otherwise use only fresh.
Store any leftovers covered in an airtight container for up to 3 days in the refrigerator.
Nutrition Information:
Yield:

15
Serving Size:

1
Amount Per Serving:
Calories:

287
Total Fat:

26.6g
Saturated Fat:

13.4g
Cholesterol:

166mg
Sodium:

95mg
Carbohydrates:

7.2g
Net Carbohydrates:

5.4g
Fiber:

1.8g
Sugar:

2.7g
Protein:

6g