This keto red velvet trifle is beautiful, festive, and flat-out delicious. It features rich layers of low carb red velvet cake, homemade whipped cream, fresh strawberries, and blueberries.
Inspired by my keto red velvet cake that was an instant hit with my family. In fact, I have an entire collection of keto red velvet recipes because it's a flavor profile that my loved ones and I cannot get enough of.
Making a keto trifle recipe is perfect for the holidays since they look extra fancy and can serve a crowd. I promise you that even your non-keto guest will love this recipe and is sure to fool their tastebuds.
Be sure to also check out our vanilla keto trifle recipe for another tasty variation.
Keto Red Velvet Trifle
Using a keto-friendly red velvet cake in a trifle recipe elevates dessert by highlighting the layers of cake, mixed berries, and whipped cream.
The bright colors and flavors make this a go-to dessert when you are wanting to serve something a little extra special. The red white and blue colors also lend themselves to when you are wanting a patriotic keto dessert.
What Is The Flavor Of Red Velvet?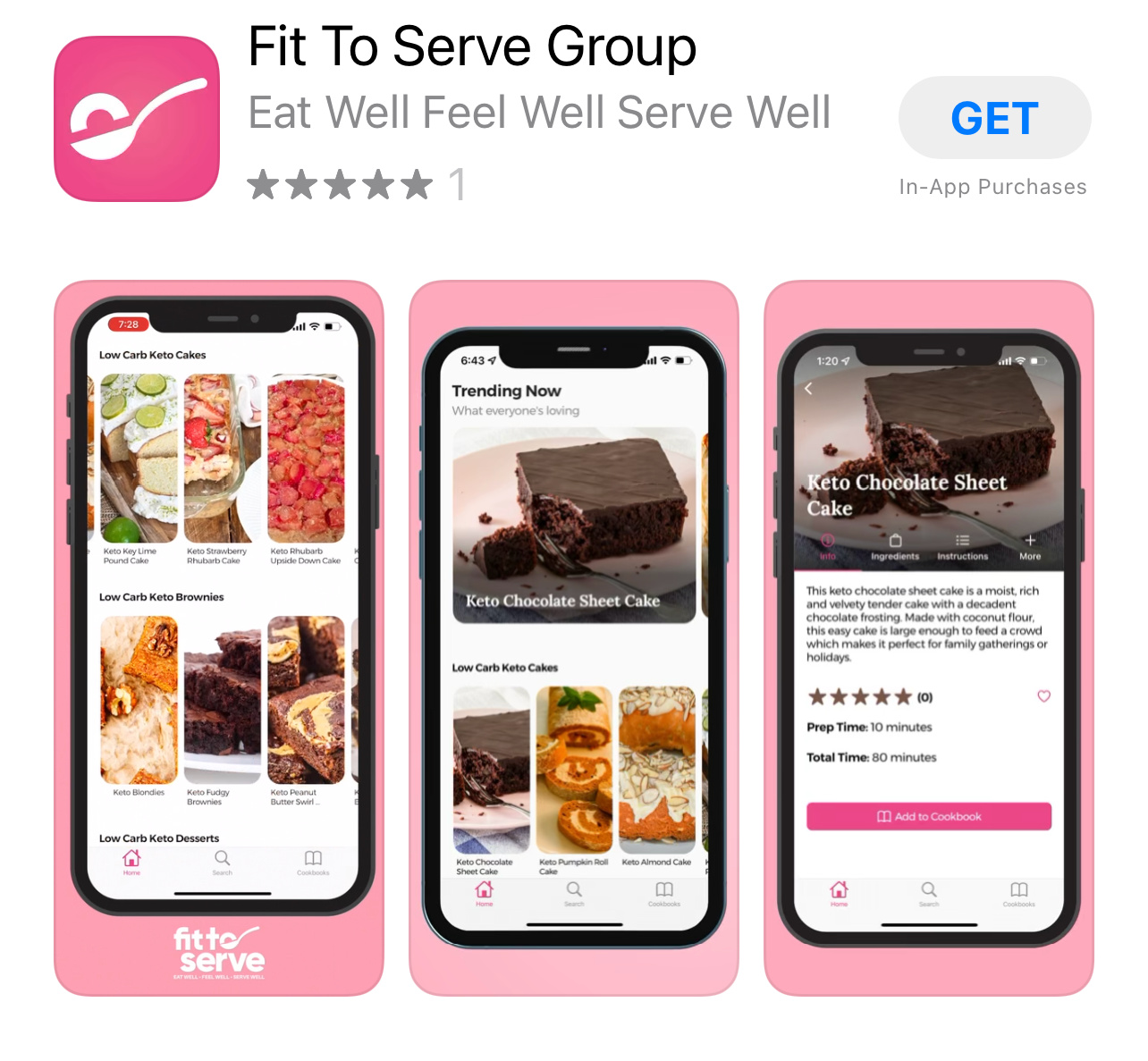 Ever wonder what exactly is the flavor of red velvet? It's a recipe that uses a combination of mild cocoa powder, vinegar, vanilla, and buttermilk to get its flavor.
The addition of red food coloring ensures the cake gets its recognizable red color.
Red velvet recipes have been enjoyed since the 1800s. The name refers to the velvety smooth texture of the use of cocoa powder in the recipe.
Adding cocoa powder was a way to soften the flour and help produce a finer textured cake.
However, during World War II the shortage of food made baking items very challenging to acquire. Finding basic baking ingredients was nearly impossible, making cocoa powder very scarce.
The lack of cocoa powder made the bakers very creative and instead of using cocoa powder, they added beet juice to mimic the color of chocolate and to keep their baked goods moist.
This explains why red velvet desserts do not generally have a strong chocolate flavor.
Today, cocoa powder is added but not in the same quantity of say, a traditional chocolate cake recipe would have.
Most recipes for red velvet include buttermilk. The tanginess of buttermilk is a key flavor component in getting the tang of red velvet correctly.
My solution was to make my own keto-friendly buttermilk, by combining some heavy cream with water and adding a little white vinegar to allow for a slight curdle.
I also added a little cream of tarter to dry ingredients to achieve the classic red velvet flavor we have come to love and enjoy.
Trust me it works. So don't skip the vinegar and cream of tartar addition because it's key in getting the flavor of red velvet perfect.
How To Make Keto Red Velvet Trifle
Disclosure: Some of the links below are affiliate links, meaning at no additional cost to you, I will earn a commission if you click through and make a purchase.
Making a gluten-free red velvet cake for the trifle requires the use of almond and coconut flour for the perfect crumb.
The whipped cream layer uses a little bit of cream cheese to give the whipped topping more stability and pairs well with the red velvet flavor.
The following are the ingredients and materials needed for this recipe. Note that the full printable recipe card is at the bottom of the page.
Ingredients Needed To Make Keto-Friendly Red Velvet Trifle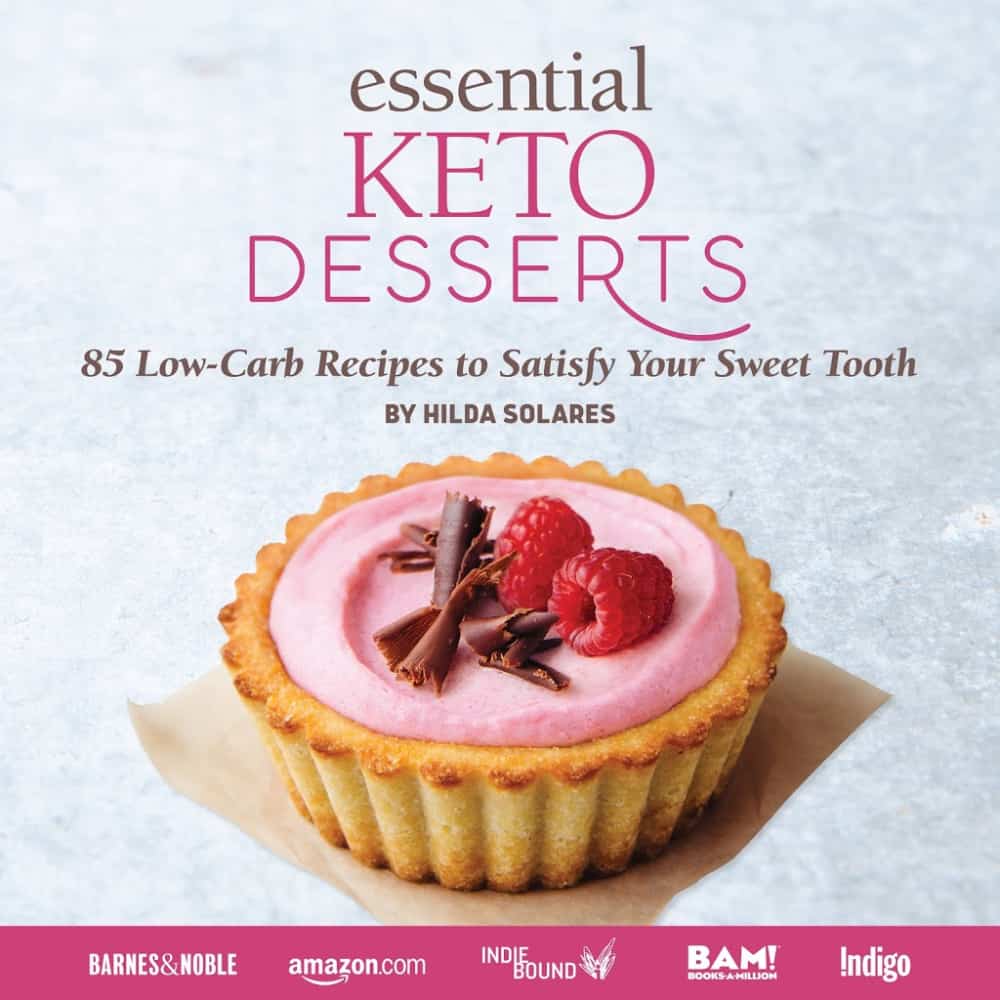 Baking powder
Baking soda
Sea salt
eggs
Heavy whipping cream
Water
White vinegar
Melted unsalted butter
Vanilla extract
Water
Whipped Cream Topping
Heavy whipping cream
Cream cheese, room temperature
Vanilla extract
Sea salt
Berry Topping
Fresh strawberries
Fresh blueberries
Tools You'll Need:
Best Sugar-Substitutes For Sugar-Free Red Velvet Trifle
My top choice is a monk fruit/erythritol blend. My personal favorite is Lakanto's brand. But you can also use Swerve an erythritol sugar substitute.
You could also use the stevia and erythritol-based brand Pyure for most of my baked goods. However, if using Pyure you will want to use half the amount called for in this recipe since it's a much sweeter choice.
I will also add that I am not a fan of using stevia in chocolate-based recipes, in my opinion, it intensifies the aftertaste of stevia.
But if stevia is your preferred choice then feel free to use the Pyure brand.
This recipe uses a powdered sugar substitute for cream cheese icing. It must be a confectioner's sugar substitute sweetener and it's why I defer to the only two I use regularly.
My favorite brands are Lankanto's monk fruit blend or Swerve that is another erythritol blend.
Tag Us
I sure hope you give this recipe a try and that once you do you will take a moment to tag us on Instagram and Facebook. It's what keeps us encouraged to keep sharing and perfecting our recipes.
Be sure you check out all our keto cakes for more delicious low-in-carb options!
Grab Our Keto Cookbooks!
In case you don't know I have authored two books for you, Essential Keto Bread and Essential Keto Desserts both inspired by your requests over the years. It's my prayer these keto cookbooks will help make keto a delicious breeze for you.
Also, check out our Amazon Store for our recommendations. You might be surprised by how many great keto options are at your disposal.
Join Our Jesus And Keto Movement
Randy and I came to the keto diet looking at it from a Christian perspective. As believers, we live our lives supported by God's grace.
So when the Holy Spirit led us to combine our Christian faith and the keto diet, we did so in hopes of finding lasting transformation.
To say we needed God's intervention is putting it mildly. When we followed the Holy Spirit's prompting to we got on the path to real transformation.
Knowing firsthand the benefits of this decision we have created a closed Christian group that is using the keto diet to transform their lives. We invite you to join our Private Facebook Group and see if it's not the key you have been missing.
Be sure to request our FREE Jesus and Keto E-Book (First 7 Days) We hope it blesses you.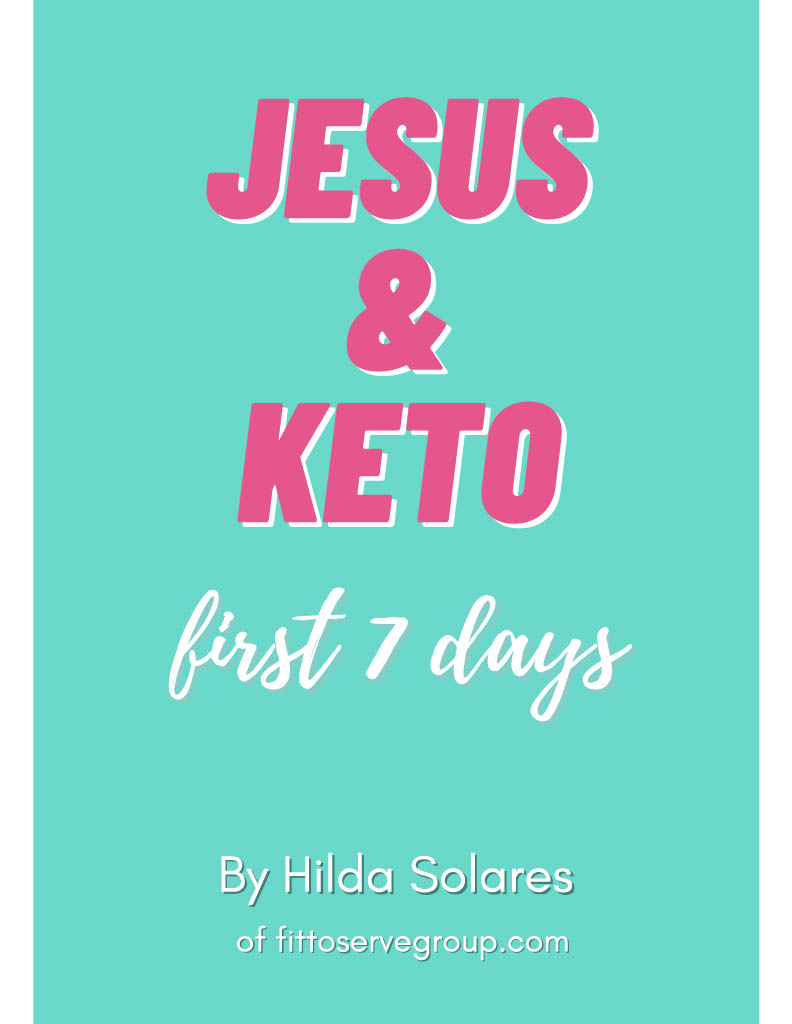 Fittoservegroup Keto App
Looking for a fast way to access our keto recipes? We got you covered. There's an app for that. Yup, there's a Fit To Serve Group App and it's going to make your keto diet a delicious breeze!
Access hundreds of recipes that are all sugar-free, gluten-free, and keto-friendly.
Enjoy early access to recipes before they go live on the website. Plus, bonus recipes that are exclusive to the app. Make your own personal cookbooks that you can use to organize your favorite recipes.
Search recipes by title, ingredients, keywords, and categories, and of course every recipe shows complete nutritional facts. Get the Fit to Serve Group App for easy-to-follow keto recipes made with easy-to-source ingredients.
The app is loaded with hundreds of yummy recipes for breakfast, lunch, dinner, snacks, and even desserts!
Learn more by visiting our Fit To Serve Group App Page.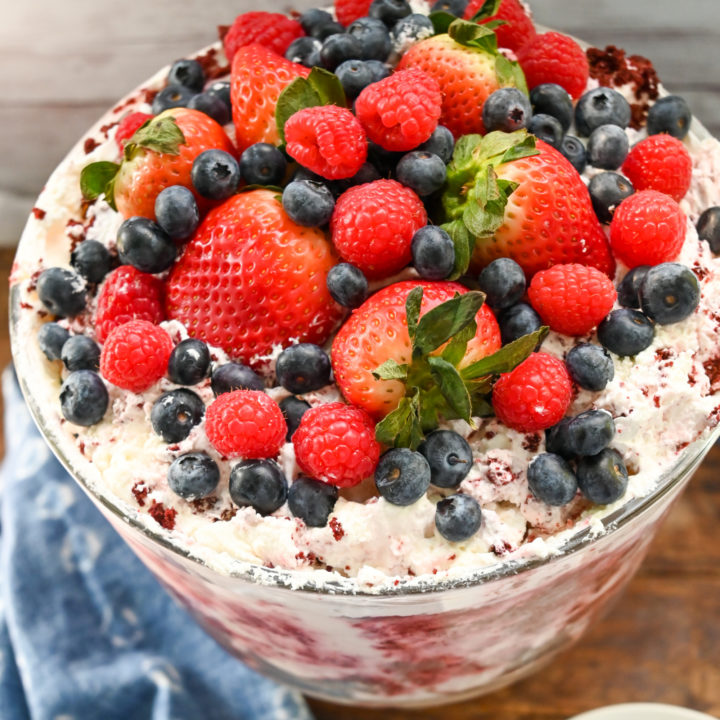 Keto Red Velvet Trifle
Additional Cooling Time:
15 minutes
This keto red velvet trifle is filled with layers of moist red velvet cake, homemade whipped cream, strawberries, blueberries, and raspberries. This trifle recipe is not only low in carbs but also grain-free and gluten-free.
Ingredients
1 teaspoon of baking powder
1/2 teaspoon of baking soda
1/4 teaspoon of sea salt
3 eggs
1/2 cup of heavy whipping cream & 1/2 cup of water, 1 teaspoon of white vinegar. This will serve as a substitute for buttermilk
1/4 cup plus of melted unsalted butter
3 teaspoons of vanilla extract
1 cup of boiling water
Whipped Cream Topping
2 1/2 cups cold heavy whipping cream
3 ounces cream cheese, room temperature
1 teaspoon of vanilla extract
1/4 teaspoon of salt
Mixed Berry Topping
1/2 pound of fresh whole strawberries for topping, reserve 1/4 pound to slice and use as a fruit layer.
1 pint of fresh blueberries, reserve 1/2 cup for topping
1/2 pint of fresh red raspberries for topping
Instructions
Pre-heat oven to 350 degrees.
Grease one 9x13 inch baking pan.
Boil one cup of water and set aside.
Melt 1/4 cup of butter and set aside.
Combine the heavy whipping cream, vinegar, with the water that will serve as your buttermilk substitue. Note this is not boiling water. That will be added at the end of the recipe.
In a large bowl, using an electric mixer add the eggs, heavy cream & water combo "buttermilk" substitue, melted butter, vanilla extract, red food coloring, and mix until combined.
In a large mixing bowl combine the almond flour, coconut flour, cocoa powder, baking powder, baking soda, cream of tartar, and the granulated sugar substitute and stir to combine.
To the dry ingredients wet mixture and combine well with an electric mixer.
Once everything is combined add the one cup of boiling water and stir until well blended. Note that the batter will be runny.
Pour the batter into the prepared pan.
Bake for 35-40 minutes, or until a toothpick inserted comes out clean.
Allow the red velvet cake to cool completely before cutting into 3 inch slices.
Keto Whipped Topping
To make the whipped cream, in a large bowl beat the softened cream cheese and the sugar substitute until smooth and creamy.
Add the cold heavy cream, vanilla extract, and whip until medium peaks form. Set aside.
Assemble The Trifle
Cut the cooled cake into small 2-inch cubes. Place a layer of cake in the bottom of a large trifle bowl.
Next add the sliced strawberries and blueberries.
Add half the whipped cream topping.
Add the remainder of cubed cake and top with the rest of the whipped cream topping.
Garnish with several fresh whole strawberries, blueberries, and the raspberries.


Recommended Products
As an Amazon Associate and member of other affiliate programs, I earn from qualifying purchases.
Nutrition Information:
Yield:

15
Serving Size:

1
Amount Per Serving:
Calories:

270
Total Fat:

26g
Saturated Fat:

12.5g
Cholesterol:

95.5mg
Sodium:

120mg
Carbohydrates:

8.2g
Net Carbohydrates:

4.3g
Fiber:

3.9g
Sugar:

1g
Protein:

6.2g