This Keto Red Velvet Ice Cream Cake recipe has all the delicious flavors we love about this classic dessert minus all the carbs. It's sugar-free, grain-free, gluten-free and low in carbs. Celebrate your next birthday or holiday with this cheerful dessert that all will enjoy, even if they're not doing a ketogenic diet.
After my recipe for Keto Ice Cream Cake was well received, I knew I wanted to create other flavors. I landed on a low carb red velvet ice cream cake for a couple of reasons. For one I was looking for something that would work well with the churn-free ice cream in the original recipe. I also wanted something that would be festive so that it could be used for special occasions. That's not to say you couldn't enjoy this simple recipe year long.
I have a recipe for Keto Red Velvet Brownies that's kind of a hidden gem. It features a cheesecake swirl that takes the place of cream cheese frosting and it's pretty fab. Knowing that that recipe was a success gave me the confidence to make an ice cream cake that could use what I learned from those red velvet brownies to create this showstopper.
Keto Red Velvet Ice Cream Cake
The best part about this red velvet ice cream cake besides that fact that it's delicious, is that it's a breeze to make. The recipe features two layers of keto red velvet cake that's baked then crumbled and then sandwiched between a cream cheese churn-free ice cream layer.
Did you know that red velvet cake originated during the World War II food rations? It was during an era that sugar, butter, and cocoa were in short supply. In an attempt to disguise this fact, creative bakers added beet juice to mimic the color of chocolate and to keep their cakes moist.
It's why red velvet cake doesn't have a strong chocolate flavor and has a red color. The majority of red velvet cakes include buttermilk because it provides a little tanginess to the cake batter.
Rather than fuss with trying to make my own low carb buttermilk, I added a little vinegar to the red velvet batter to reproduce the flavor and it worked like a charm. The addition of vinegar is an important step to achieving the buttermilk flavor. It also helps draw out the red hue allowing you to use less red food coloring.
How To Make A Keto Red Velvet Ice Cream Cake
Note that the full printable recipe card is at the bottom of this page. But I recommend you stick around to get all the details before attempting this recipe to ensure the same results. Disclosure: Some of the links below are affiliate links, meaning at no additional cost to you, I will earn a commission if you click through and make a purchase.
The first step in making this keto red velvet ice cream cake is the baking of the cake. While the cake is baking you can make the easy keto churn-free ice cream.
To make this red velvet low carb ice cream cake you will need the following ingredients:
Red Velvet Cake
Unsalted butter, room temperature
Eggs
White vinegar
Baking powder
Ice Cream Layer
Cream cheese, room temperature
Heavy whipping cream
Vanilla extract
Keto Magic Shell
I've been making my own version of a magic shell sauce for years. It's a keto version that is super easy to make and doesn't require any special ingredients.
In the case of this recipe, I created two different chocolate sauces that form a hard shell. One is the same as the first ice cream cake and the other is red vanilla sauce to keep with the red velvet theme.
My chocolate magic shell recipe uses just three ingredients, coconut oil, confectioner's sugar substitute, and Hershey's cocoa powder. It's actually four ingredients if you count the dash of salt.
My homemade recipe is much lower in carbs that that of Magic Shell that contains 16 grams of carbohydrates for a two-tablespoon serving. And it would certainly not be an option for anyone doing keto. Thankfully, this recipe makes a delicious, healthier alternative.
The red vanilla topping uses coconut oil, heavy whipping cream, vanilla, and red dye.
Tag Us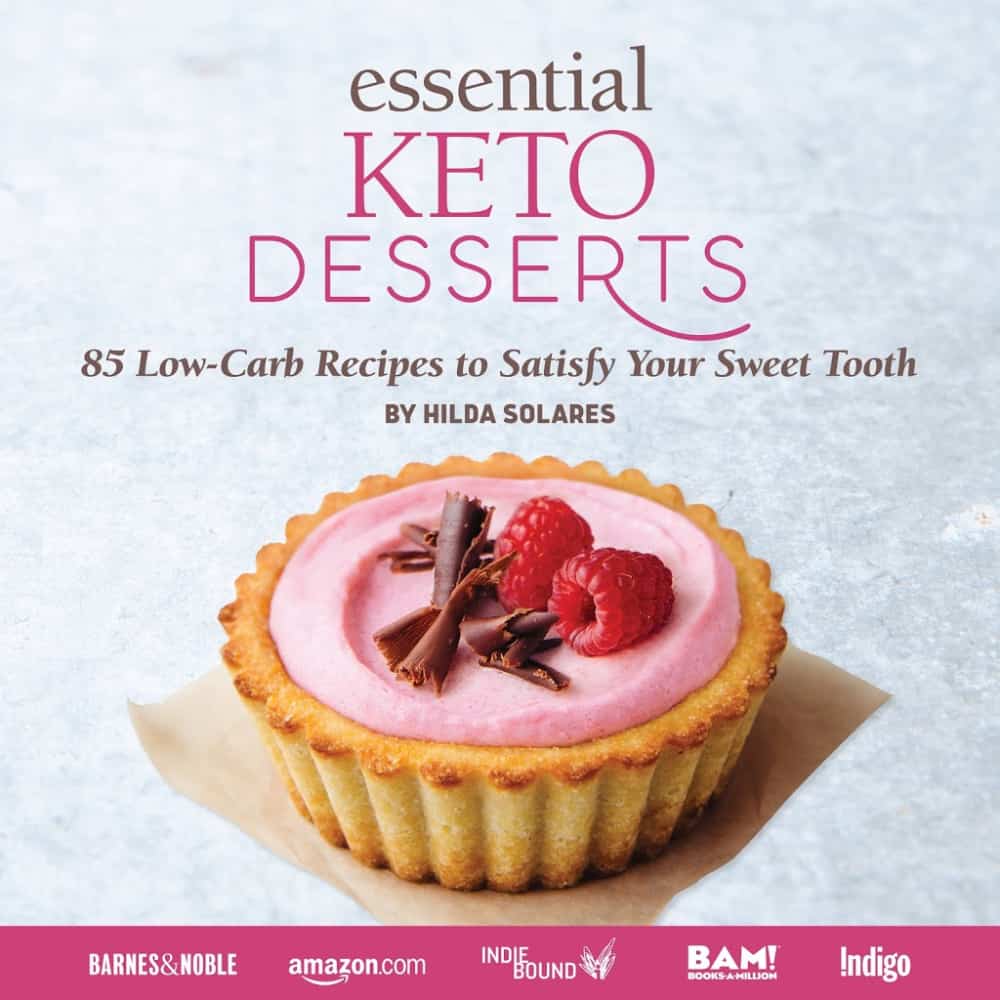 I sure hope you will give this recipe a try. Once you do, make sure you remember to tag us on Instagram and Facebook. It's what keeps this girl encouraged to keep sharing and perfecting her recipes.
Also, check out our Amazon Store for our recommendations. You might be surprised by how many great keto options are at your disposal.
Grab Our Books!
In case you don't know I have authored two books for you, Essential Keto Bread and Essential Keto Desserts both inspired by your requests over the years. It's my prayer these keto cookbooks will help make keto a delicious breeze for you.

Join Our Jesus and Keto Movement
My husband Randy and I came to the keto diet looking at it from a Christian perspective. As believers, we live our lives supported by God's grace and this includes His guidance to take care of physical bodies.
The Holy Spirit led us to combine our Christian faith and the keto diet and so we did so in hopes of finding lasting transformation.
Randy had been a diabetic for over 15 years and he was dealing with the consequences of this disease. I was a survivor of the Guillan Barre Syndrome and was fighting fibromyalgia and chronic sciatica.
To say we needed God's intervention is putting it mildly. When we followed the Holy Spirit's prompting we got on the path to real transformation.
Knowing firsthand the benefits of this decision we have created a closed Christian group that is using the keto diet to transform their lives. We invite you to join our Private Facebook Group and see if it's not the key you have been missing. Note that once you click the link you will be prompted to answer a few questions that ensure that you understand what this group stands for.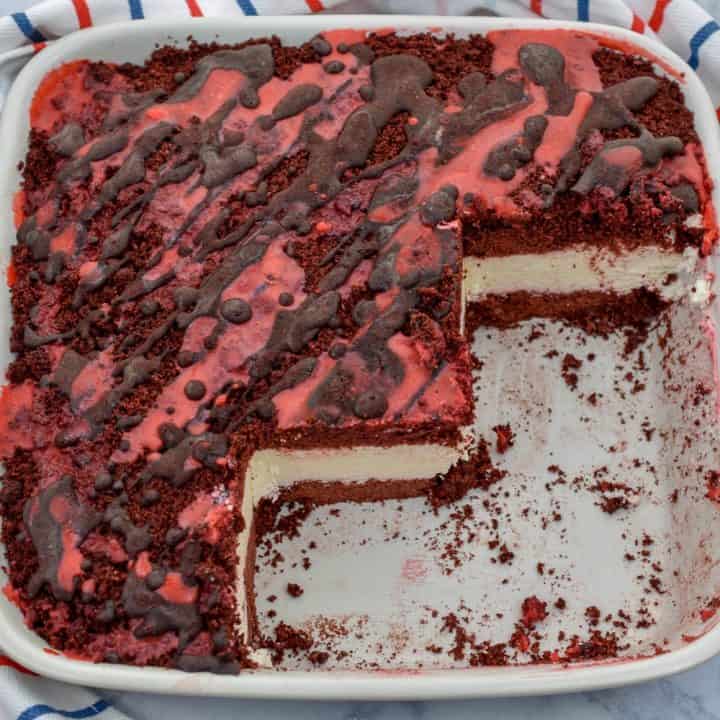 Keto Red Velvet Ice Cream Cake
Total Time:
4 hours
50 minutes
Keto red velvet ice cream cake all the flavor we love about this classic dessert minus all the carbs. It's grain-free, gluten-free, sugar-free and deliciously easy.
Ingredients
Keto Red Velvet Cake Layer
1 1/4 cup of unsalted butter room temperature
5 eggs
2 teaspoons white vinegar
2 teaspoons baking powder
1/2 teaspoon of sea salt
Keto Ice Cream Layer
8 ounces of cream cheese (room temperature)
16 ounces of heavy whipping cream (one pint)
¾ cup of confectioner's sugar substitute
1/4 teaspoon of sea salt
Keto Chocolate Magic Shell
3 tablespoons of coconut oil (melted)
2 teaspoons of cocoa powder (Hershey's Special Dark)
3 tablespoons of confectioner's sugar substitute
Keto Red Vanilla Topping
3 tablespoons of coconut oil (melted)
1 tablespoon of heavy whipping cream
1 teaspoon of vanilla extract
1 teaspoon of red dye
Instructions
Keto Red Velvet Ice Cream Cake
Pre-heat oven to 350 degrees.
Grease two 9 inch round pans.
Melt the baking chocolate in a double boiler and set aside to slightly cool.
In an a large bowl measure and sift almond flour.
add the coconut flour, baking powder, salt. Set aside
In another large bowl using an electric mixer combine the granulated sugar substitue, butter, red food coloring, and melted baking chocolate.
To the butter and sweetener mixture add the eggs one at a time making sure they are well incorporated after each addition. Then stir in the white vinegar.
To the wet batter add measured almond, coconut flour, baking powder, salt. Combine well with the electric mixer making sure to scrape the bowl several times.
Add the batter to the prepared greased pans and bake for 25-30 minutes until the cakes are done and an inserted toothpick comes out clean.
Allow the baked cakes to cool completely and then crumble cakes and divide the crumbs into two parts. One part will be the bottom layer of the ice cream cake the other will serve as the topping.
In a 10x10 pan that can be frozen, press half of the cake crumbs into the bottom pan.
Next using an electric mixer in a large bowl combine the softened cream cheese, confectioner's sugar substitute, vanilla extract and sea salt. Mix at high speed, scraping the sides of the bowl a few times.
Then to this mixture add the cold heavy whipping cream a little at a time allowing the cream to be fully incorporated into the cream cheese mixture.
Next pour the ice cream on top of the bottlom layer of cake crumbs.
Then spread the remaining cake crumbs directly over the ice cream and gently press the crumbs into the surface of the ice cream.
Cover the cake with saran wrap and aluminum foil Place the pan in the freezer and allow to chill for at least 4 hours or until frozen solid.
While the ice cream cake sets make the two hard shell sauces. To make the chocolate magic shell sauce in a small bowl combine the melted coconut oil, cocoa powder, confectioner's sugar substitute. To make the red vanilla magic shell sauce in a microwave safe cup heat the coconut oil, heavy whipping cream for 30-60 seconds. Once it's heated through add the vanilla extract and red dye. Combine well. Note that the sauce must be heated otherwise the cold heavy whipping cream will cause the coconut oil to seize. You want to make sure the ingredients are fully liquified before adding the sauce to the ice cream cake.
Once the ice cream cake is fully chilled drizzle both keto magic shell toppings. The toppings will quickly harden at that point you can serve the ice cream cake or place back into the freezer.
Notes
Allow your frozen ice cream cake to slightly defrost about 15-20 minutes before attempting to slice.
Nutrition Information:
Serving Size:

16
Amount Per Serving:
Calories:

350
Total Fat:

31.9g
Saturated Fat:

16.5g
Cholesterol:

140mg
Sodium:

125mg
Carbohydrates:

5.9g
Net Carbohydrates:

4.4g
Fiber:

1.5g
Sugar:

.6g
Protein:

7.1g