Decadent Keto Red Velvet Cheesecake Swirled Brownies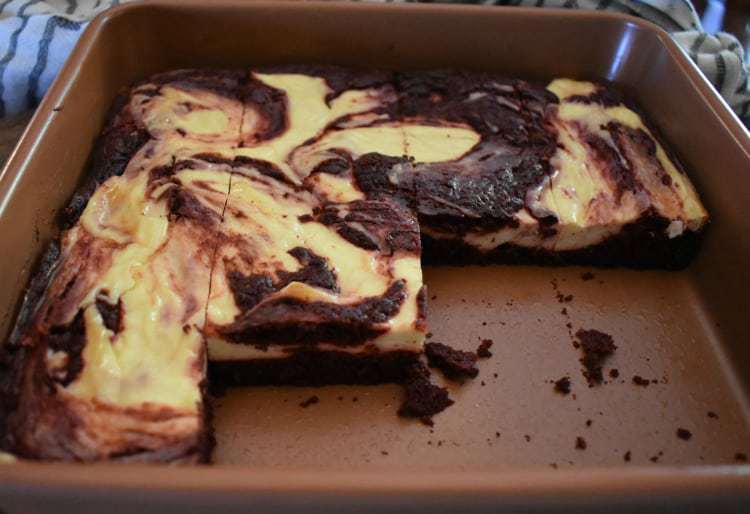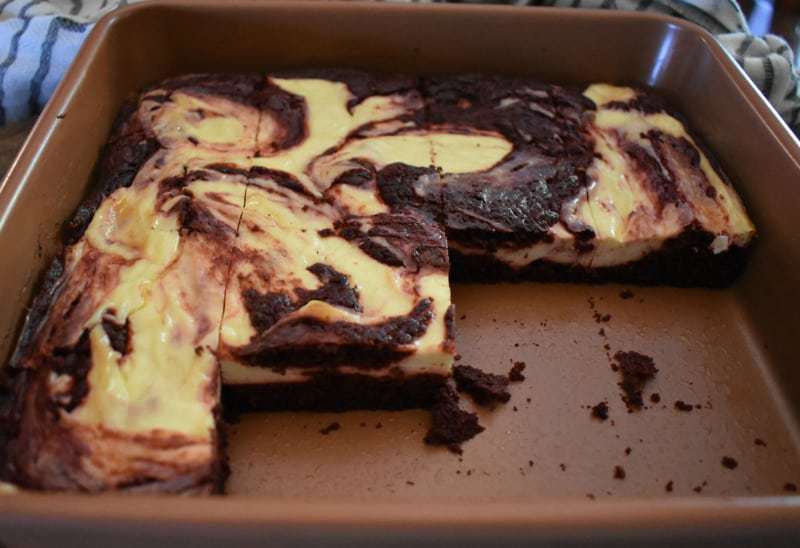 This girl wanted a recipe for keto red velvet brownies. And I wanted it to feature a cheesecake swirl to mimic the flavor of cream cheese frosting.
Well, I'm happy to say that this recipe meets that desire and then some. These keto red velvet cheesecake swirled brownies are not only delicious but low in carbs and keto-friendly.
It was high time that I stopped avoiding the creation of a keto red velvet cake of sorts. This recipe idea was chasing me for months. I don't know why I kept running from it? I guess I was afraid to fail.
But like anything that has the potential to change your life, it's just a matter of time till it finds you. Get ready for these sugar-free red velvet brownies to rock your world.
Can you tell how excited I am about sharing my keto red velvet cake recipe with you?
BTW if you love these keto cream cheese brownies make sure you also check out our Keto Cream Cheese Recipes for some other delicious recipes that feature cream cheese. And if that's not enough I have a complete list of Keto Cookies that as a fan of cookies I encourage you to also visit.
Honestly, it just warms my heart to know that my little recipes can play some sort of role in keeping you compliant on keto.

Keto Red Velvet Brownies
So here's the thing, I've always been a fan of red velvet cake. But a red velvet cake isn't easy to master.
Which is why the idea of a keto red velvet cake had me pretty intimidated. Once I finally decided to attempt making a low carb red velvet option, I then had to determine if it was going to be a keto red velvet cake, or if a keto red velvet cheesecake would be better.
Oh, the struggle of a keto baker!
In the end, instead of keto red velvet cake, I opted for a keto red velvet cheesecake swirled brownie.
It's ok you can lick your lips now.
Probably one of the reasons I always loved a good slice of red velvet cake, is because it's such a moist cake. Unfortunately, creating a keto red velvet cake that would be low in carbs and moist, had the potential to fail miserably.
To begin with, baking with low carb keto flours doesn't automatically produce a moist option. In fact, it can be tricky to get the perfect balance between being moist and it falling apart. Remember we are working with flours that have no gluten (no glue to bind).
Disclosure: Some of the links below are affiliate links, meaning at no additional cost to you, I will earn a commission if you click through and make a purchase.
How To Make Sugar-Free Red Velvet Brownies
In order to make this a sugar-free red velvet recipe, I had to swap out the sugar in the traditional recipe with a sugar substitute.
I have a few options for you to choose from in order to keep these also low in carbs.
My top choice is a monk fruit/erythritol blend. My personal favorite is Lakanto's brand.
But you can also use Swerve an erythritol sugar substitute. Alternatively, you can also use Splenda a sucralose brand.
How To Make Gluten-Free Red Velvet Brownies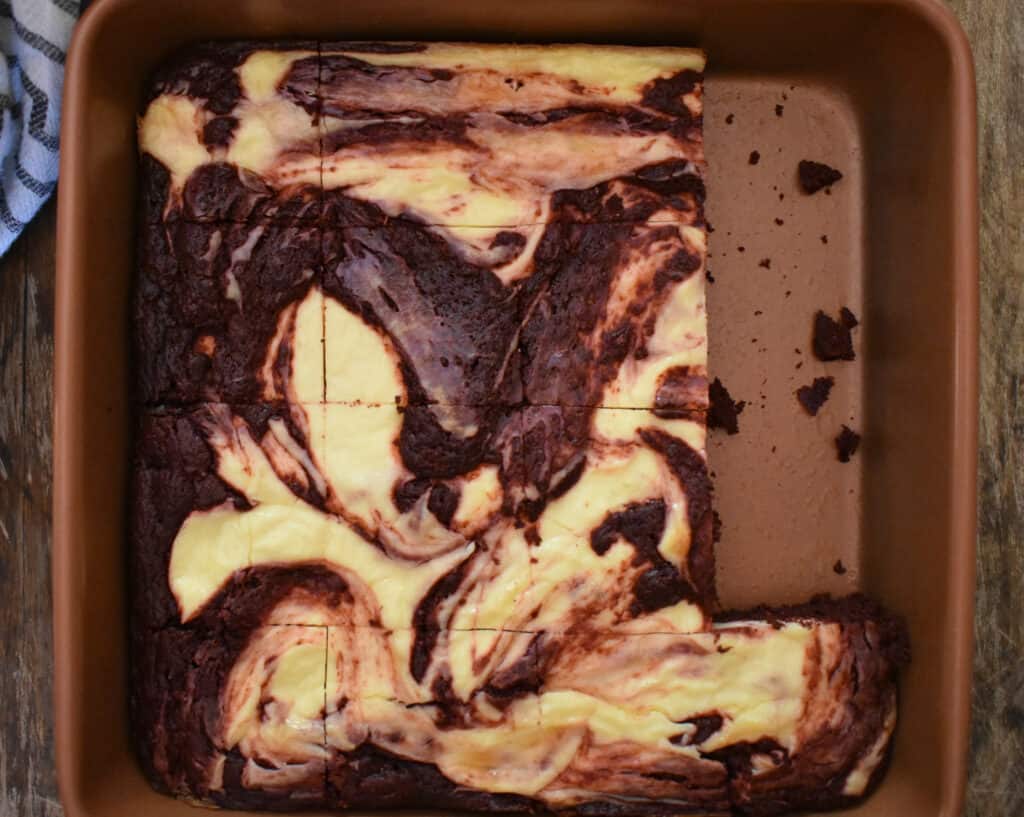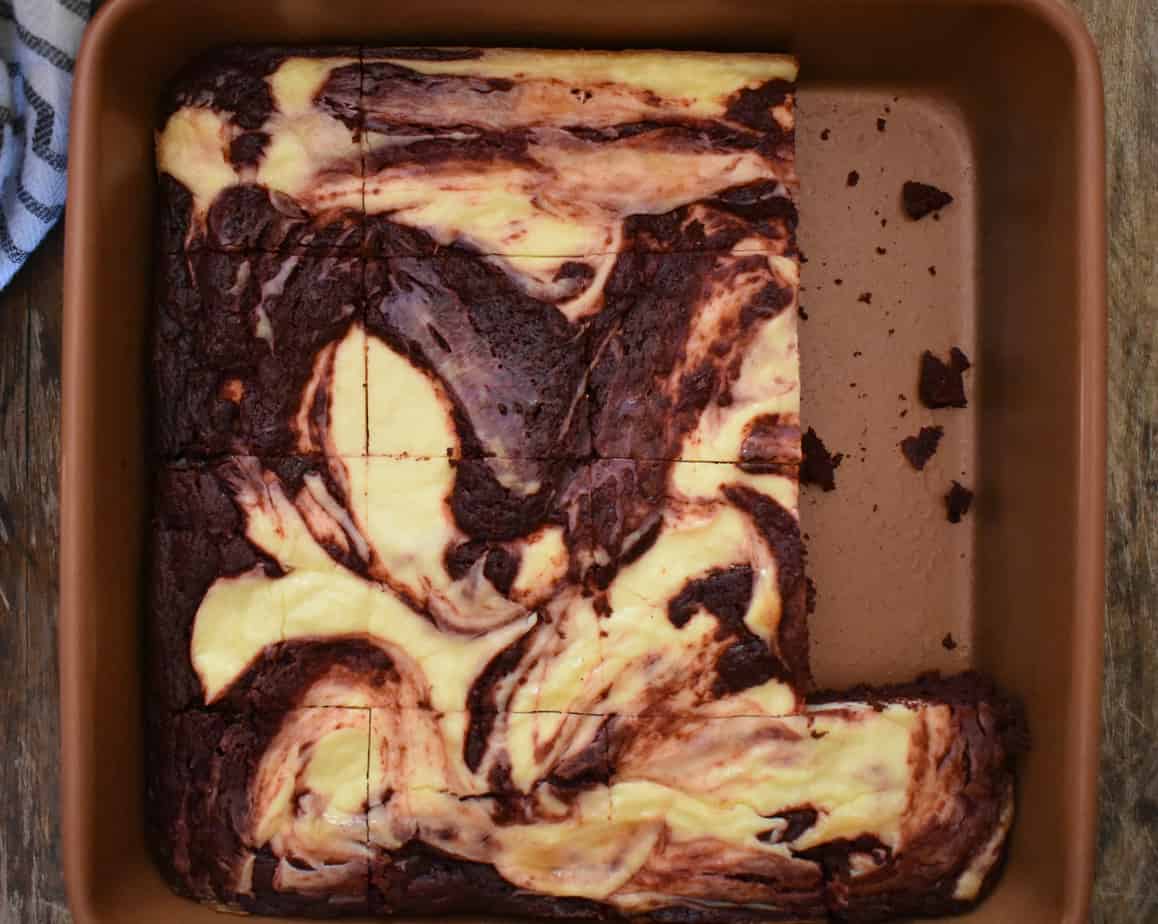 When it comes to making gluten-free red velvet brownies, I made it a point to also make them low in carbs and keto-friendly. This way more people can enjoy this recipe.
The best way to accomplish this was to use finely milled almond flour. Using almond flour is a great way to keep this recipe gluten-free but still low in carbs.
Facing The Keto Red Velvet Cake Challenge
Because failing is never fun. I kind of avoided the idea of a keto red velvet cake for longer than I am proud to admit.
Am I the only one who hates tossing ingredients in failed keto experiments? That is just not cool with this girl.
Which is why many of you know I always say a prayer before I embark on a new recipe. You know I need that heavenly download or this girl is not going to create something worth sharing.
Something tells me you don't like tossing perfectly good keto items either. Good, you've come to the right place then.
After what felt like an eternity. I finally decided it was time I just rolled up my sleeves and faced down the challenge and created a delicious keto red velvet brownie recipe for us both to enjoy.
If you're a fanatic of red velvet cake, then you know the appeal isn't just about a moist cake. There is also the deliciousness of the cream cheese frosting that is slathered on top of this thing.
I mean really, what's red velvet cake without cream cheese frosting? Exactly.
Easy Keto Brownies
I am passionate about making simple easy to duplicate low carb keto recipes. Which is why I wanted to skip the whole having to frost the keto red velvet brownies.
So instead, I thought I'd give you the flavor of red velvet and the rich cream cheese frosting in one scrumptious treat.
Going back to the necessary moistness factor that is a classic in a red velvet cake, I decided a keto could achieve this best.
This is because I know firsthand that it is possible to create a rich moist keto brownie that rivals a traditional one.
Rather than reinvent the wheel. I decided to go check on my other keto brownie recipes:
Do you know what I found when I searched for my brownie recipes? A recipe for keto swirled brownies.
Well, with the confidence of having already created a keto swirled brownie recipe that was a winner, I sat down and finally created these keto red velvet cheesecake swirled brownies.
The Start Of Something Great
Have a minute for a quick history lesson? Trust me, it will be worth your while to learn how red velvet cake came into existence.
I'm a firm believer in the importance of understanding the backstory in order to further appreciate something.
Do you know that red velvet cakes have been enjoyed since the 1800's? And here I thought it was a 1950's thing.
The name velvet referred to the smooth texture the cocoa powder provided. The use of cocoa powder was a way to soften the flour and help produce a finer textured cake. Genius huh?
Food Rations During World War II = Creativity
During World War II baking items became very rare. So much so that finding basic ingredients where nearly impossible to find.
Which meant that cocoa powder was not readily available. You couldn't just pick it up at your local grocery store.
In an attempt to disguise this fact, creative bakers added beet juice to mimic the color of chocolate and to keep the cakes moist.
This would explain why red velvet cake doesn't have a strong chocolate taste and its red color.
Growing up I couldn't really figure out what made red velvet cake taste so good. That is until I found out its roots.
The Tanginess Factor
Most recipes for red velvet include buttermilk. The tanginess of buttermilk is a key component in getting the flavor just right.
Because I opted for a rich keto red velvet swirled brownie, buttermilk would not work. All that liquid would cause it to fall apart.
One tablespoon or two was not going to produce a rich buttermilk flavor. It would just get lost in the batter.
Not to mention that buttermilk isn't allowed on a low carb diet. It's way too high in carbs. So yeah buttermilk would not be an option.
One day if I decide to make a more traditional keto red velvet cake, especially after conquering this red velvet brownie, I'll just make my own low carb buttermilk.
How? By adding some vinegar to heaving whipping cream and letting it curdle. Stay tuned for a future recipe using this hack.
Let's get back to the tanginess factor of red velvet cake.
In order to achieve that buttermilk tanginess with my keto red velvet cream cheese brownies, I added a little vinegar to the batter.
Trust me it works.
So don't skip the vinegar because it sounds strange.
It's a vital step in getting the flavor of red velvet perfect.
Wrapping things up. I hope you give my recipe for keto red velvet brownies a try. It was created from a place of genuine love. A tool to steer you from temptation and keep you on the keto journey.
Make sure you remember to tag us on Instagram and Facebook, once you create one of my recipes. It's what keeps this girl encouraged to keep sharing and perfecting her recipes for you.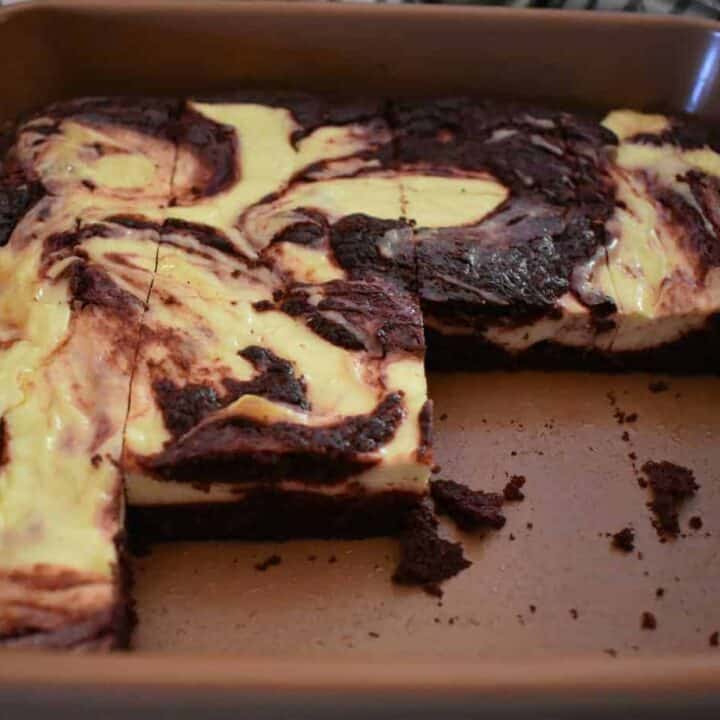 Keto Red Velvet Cheesecake Swirled Brownies
A delicious recipe for keto red velvet cheesecake swirled brownies. It's a keto red velvet brownies recipe.
Ingredients
Keto Red Velvet Brownie Portion
3/4 cup of butter (12 tablespoons)
3 eggs , room temperature
1 ¼ tablespoons of red food coloring
1 ¼ teaspoon of white vingear
1 teaspoon of baking powder
¼ teaspoon of sea salt
Keto Cream Cheese Swirl
8 ounces of cream cheese (room temperature)
1 teaspoon of white vinegar
1 egg
½ teaspoon of vanilla extract
Instructions
Keto Red Velvet Cheesecake Swirled Brownies
Pre-heat oven to 350 degrees and lightly grease an 8 x 8 square inch pan.
Melt the baking chocolate and butter either in a double boiler. Or in a microwave in increments of 30 seconds until fully melted. Stir well and allow to cool for 5 minutes.
Add the chocolate butter mixer to the sugar substitute and mix well, until well blended.
Stir in the vanilla, and white vinegar
Mix in the eggs one at a time and combine well.
Add the sifted almond flour, baking powder and salt and stir.
Next add the brownie batter to an 8x8 baking and spread batter evenly.
Cream Cheese Swirl
Mix the cream cheese, sugar substitute, egg, vanilla extract, vinegar until fully combined.
Add spoonfuls of the cream cheese swirl to the top of the keto brownie base.
With a thin knife swirl cream cheese topping into the brownie mixture.
Bake in a pre-heated oven for about 25-30 minutes, or until a toothpick inserted comes out clean.
Allow to fully cool before slicing and eating. Store leftovers in the refrigerator.
Recommended Products
As an Amazon Associate and member of other affiliate programs, I earn from qualifying purchases.
Nutrition Information:
Yield:

16
Serving Size:

1
Amount Per Serving:
Calories:

183
Total Fat:

18.8g
Saturated Fat:

11g
Cholesterol:

79mg
Sodium:

121mg
Carbohydrates:

3.7g
Net Carbohydrates:

2.5g
Fiber:

1.2g
Sugar:

0.2g
Protein:

3.7g