This easy recipe for raw cauliflower salad is crunchy, flavorful, and just flat-out delicious! It's a keto cauliflower salad that uses raw cauliflower making it packed with nutrition.
The creamy dressing combination of mayo, sour cream, apple cider vinegar, and spices compliments the crispy crunch of the raw cauliflower beautifully.
In our home, this great recipe basically takes the place of traditional macaroni salad or even potato salad. Although the texture isn't exactly the same, the flavor is just right.
Enjoy a classic-tasting salad that fits your low-carb diet macros and keeps you in ketosis.
I love how this cauliflower salad recipe is a great way to introduce more fresh raw veggies to our diet. Gain all the nutrition without worrying about sacrificing taste with a salad that even the pickiest eaters will embrace.
That's right, even the kiddos will want this refreshing, healthy salad!
I already have keto broccoli and cauliflower salad that also uses raw vegetables and is a favorite on our site but I wanted to share a cauliflower recipe that made this cruciferous vegetable the star.
Not having to turn the stove on is what makes it a great summer salad for when you want an easy side to take to a family gathering, summer BBQ, or summertime potluck.
Some in the keto community would consider this a faux potato salad recipe, so there is that too!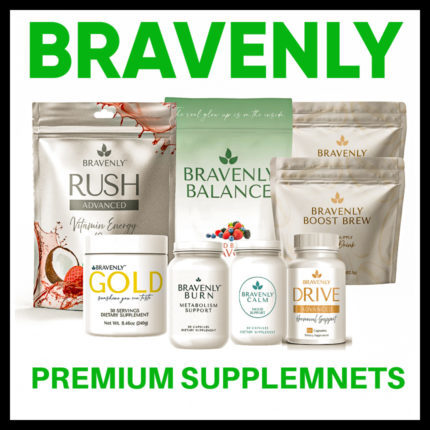 Be sure to check out our keto salad recipes for more tasty options.
Do you know that cauliflower is high in fiber? It is.
if you are a fan of adding fiber to your keto diet, we have a whole collection of keto high-fiber recipes that you should check out!
Keto Raw Cauliflower Salad With All The Fixins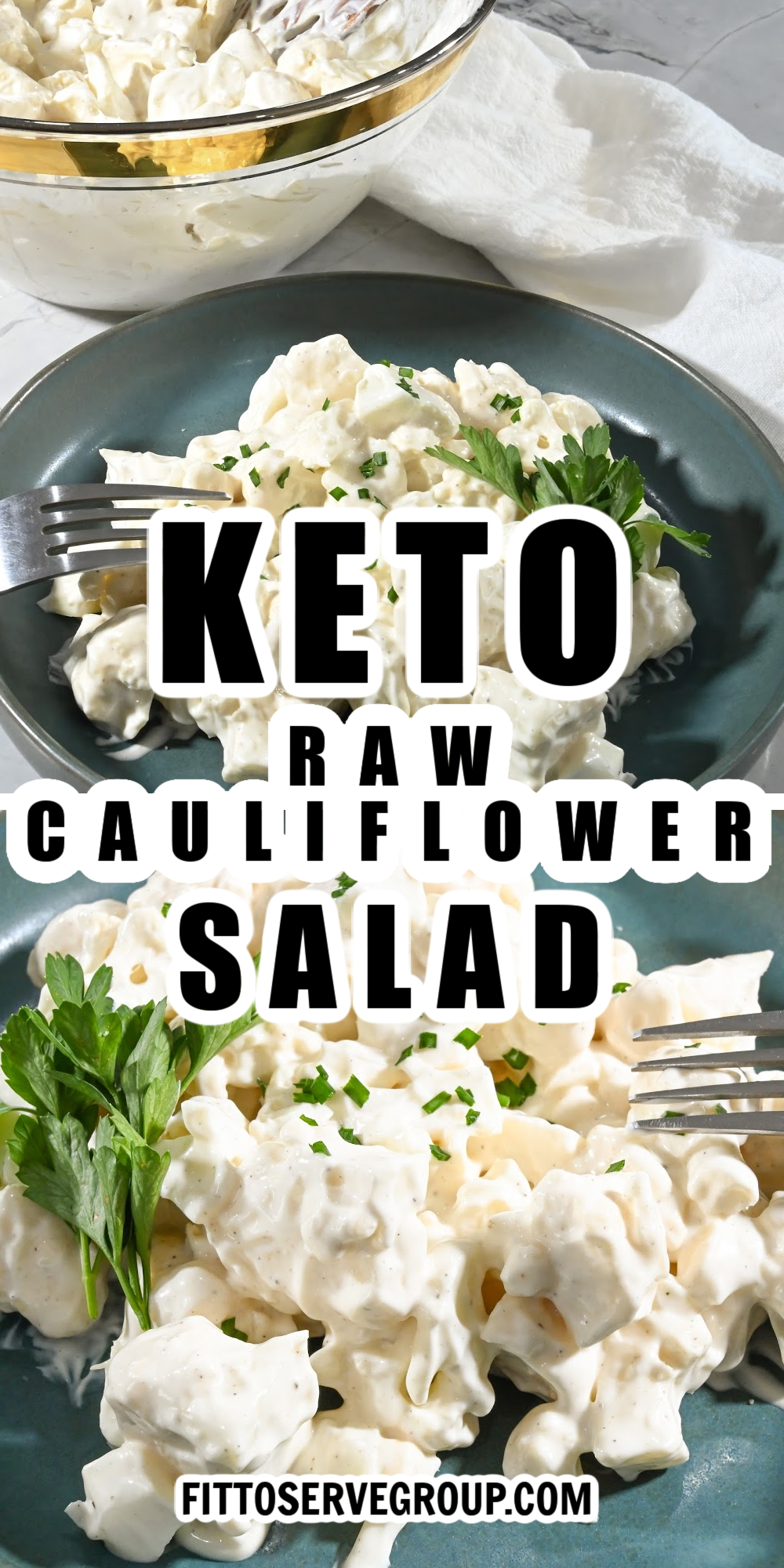 Cauliflower is not only a super versatile vegetable, it's packed with just about every vitamin and mineral you need and is also a great source of fiber, all added benefits for anyone doing a keto diet.
Besides it being a low-carb cauliflower salad, it's a salad that keeps well in the refrigerator for several days. It's perfect for when you want to save time by making it ahead of time since the salad just gets better with time.
It's a simple keto raw salad that is also very easy to customize. Frankly, the hardest part of this salad is cutting the cauliflower into small florets.
If you want to give the salad extra crunch and flavor toss in nuts like sunflower, pecans, and walnut, all of which make a nice addition.
The salad dressing uses a small amount of granulated sugar substitute and apple cider vinegar for a tangy and sweet keto dressing. However, you can leave out the sweetener entirely if you prefer.
Try using red onion or green onions instead of the white onion the recipe calls for, for another taste variation.
How To Make A Keto Cauliflower Salad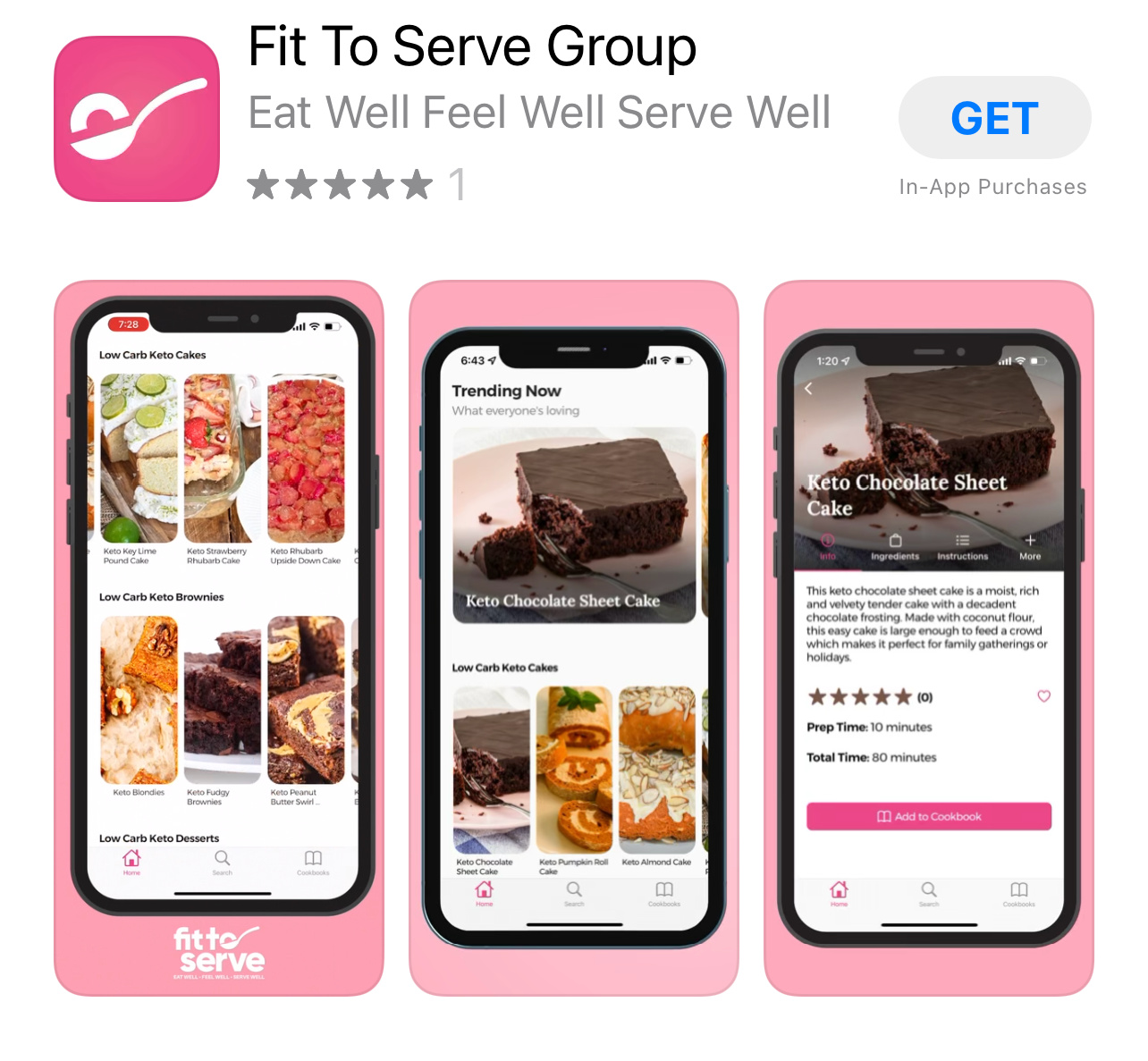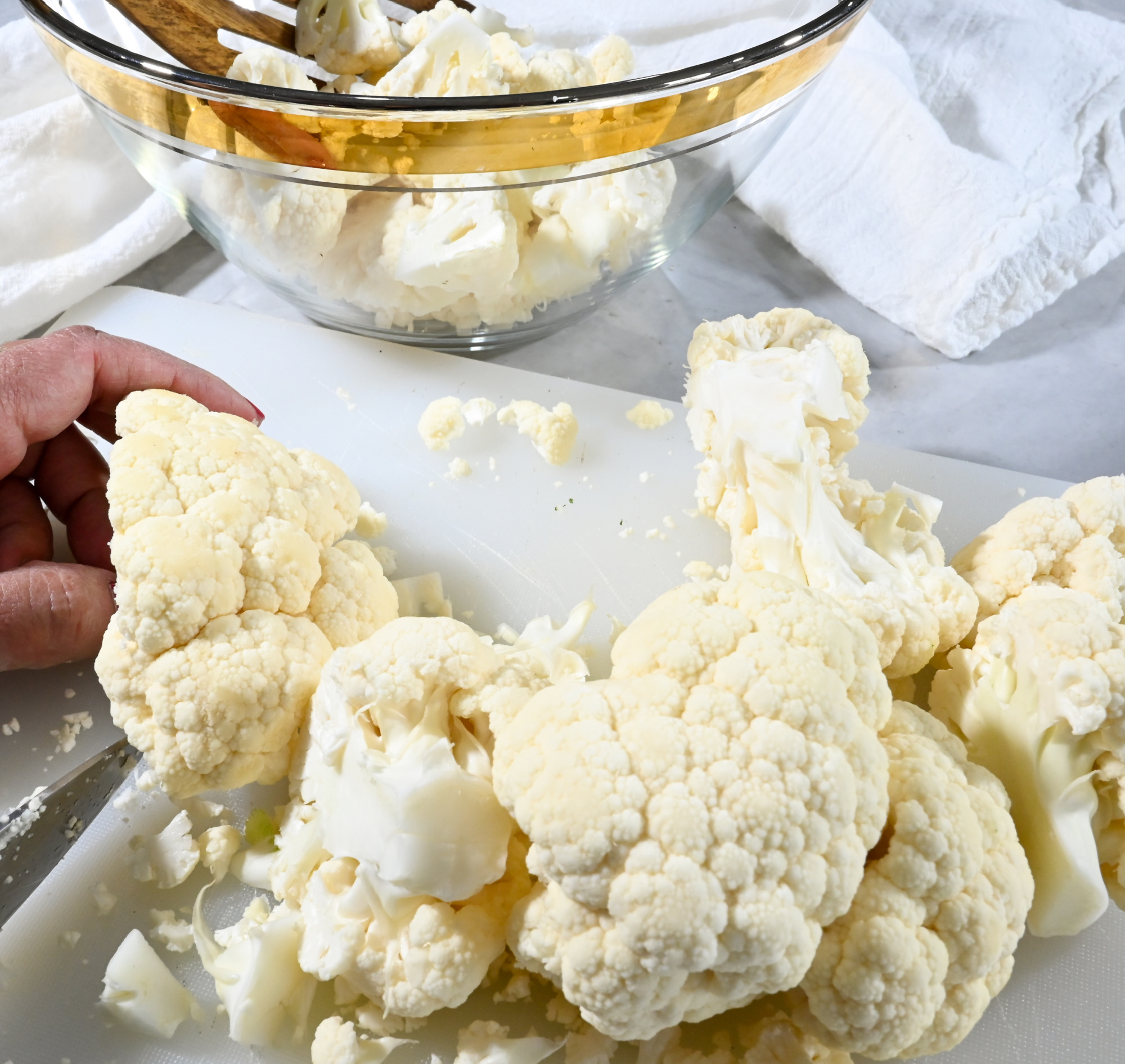 Disclosure: Some of the links below are affiliate links, meaning at no additional cost to you, I will earn a commission if you click through and make a purchase.
Making this hearty salad is pretty straightforward and uses easy-to-source ingredients.
You'll start by cutting the raw cauliflower into even bite-sized pieces and then proceed to make the keto-friendly dressing.
To make the creamy keto dressing just whisk together the mayonnaise, sour cream, apple cider vinegar, a little sweetener, salt, and pepper.
Then simply gently toss the raw cauliflower with the dressing making sure all the pieces are well coated.
The following are the basic ingredients you'll need for the salad. Note the full printable recipe card is at the bottom of the page.
Keto Cauliflower Salad Ingredients
Head of cauliflower, cut into smaller cauliflower pieces
Finely chopped white or red onion
Keto-Friendly Dressing
Full-fat sour cream or full-fat Greek yogurt
Apple cider vinegar or red wine vinegar
Sea salt
Black pepper
Mix-ins
Customize your salad by adding some mix-ins such as:
1/2 cup of crispy bacon cut into small pieces
1/2 cup of shredded cheddar cheese
1/4 cup of your favorite keto-friendly nuts such as sunflower seeds, pecans, or walnuts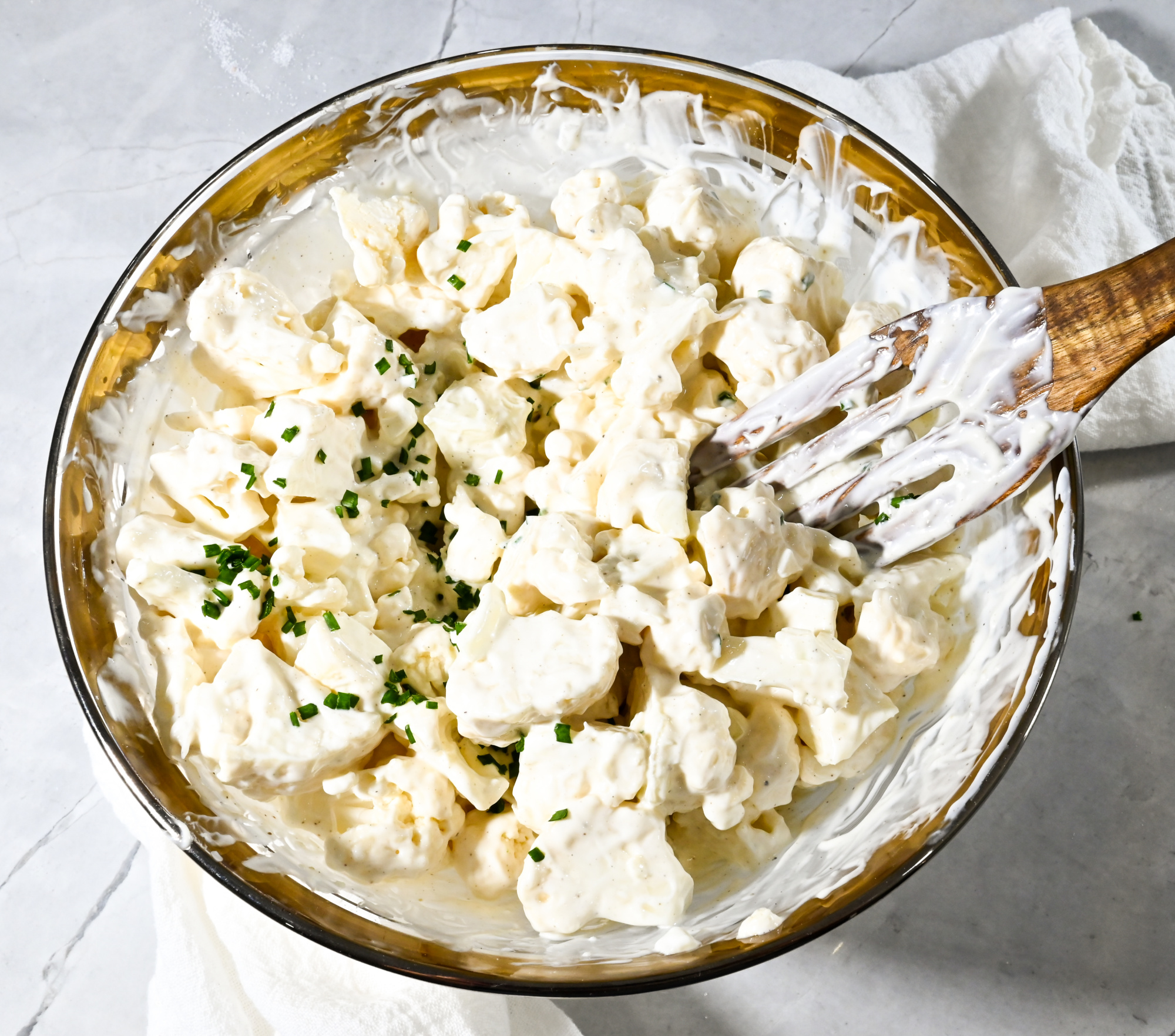 Tag Us
I sure hope you will give this keto-friendly cauliflower salad a try. It's the perfect salad that can go with just about any meal and can replace traditional potato salad.
Once you do, make sure you remember to tag us on Instagram and Facebook.
Also, check out our Amazon Store for our recommendations. You might be surprised by how many great keto options are at your disposal.
Grab Our Books & APP
In case you don't know, we have authored two books for you, Essential Keto Bread and Essential Keto Desserts both inspired by your requests over the years.
I pray these keto cookbooks will help make keto a delicious breeze for you.
Gain access to simple and delicious recipes for breakfast, lunch, dinner, snacks, and even desserts with our FITTOSERVEGROUP APP.
Join Our Jesus And Keto Movement!
Randy and I came to the keto diet looking at it from a Christian perspective, it's the filter we choose to see from. When we decided to combine our Christian faith and the keto diet, we did so in hopes of finding lasting transformation.
To say we needed God's intervention is putting it mildly. When we followed the Holy Spirit's lead to embrace the ketogenic diet and combine it with our faith, we got on the path to real transformation.
If you are looking for a Christian group that is using the keto diet to transform their lives, we invite you to join our Private Facebook Group and see if it's not the key you have been missing.
Be sure to request our FREE Jesus and Keto E-Book (First 7 Days) We hope it blesses you.
Keto Raw Cauliflower Salad
This easy keto cauliflower salad uses raw cauliflower and is loaded with flavor and nutrition. The salad features a creamy mayo and sour cream dressing that compliments the crunch of the cauliflower perfectly.
Ingredients
Keto Cauliflower Salad
8 cups of chopped cauliflower florets and the tender parts of the stem about one head of cauliflower
½ cup of finely chopped white onion
Dressing
1 cup of full-fat sour cream or full-fat Greek yogurt
1 teaspoon of sea salt
½ teaspoon of cracked black pepper
Instructions
Dressing:
In a medium bowl mix together the mayonnaise, sour cream, vinegar, chopped onion, sugar substitute, salt, pepper making sure it is well combined. Set aside.
Salad:
Remove the outer lower leaves of the cauliflower and chop the cauliflower into bite-size uniform pieces using mainly the florets and only the tender part of the stems.
In a large mixing bowl add the bite-sized cauliflower. Set aside.
Pour the dressing over the cauliflower and stir to fully coat.
Garnish with chopped fresh chives and parsley, optional.
Store in the refrigerator for up to three days.
Notes
Customize your salad by adding some mix-ins
1/2 cup of crispy bacon cut into small pieces
1/2 cup of shredded cheddar cheese
1/4 cup of your favorite keto-friendly nuts such as sunflower seeds, pecans or walnuts
Nutrition Information:
Yield:

10
Serving Size:

1
Amount Per Serving:
Calories:

95
Total Fat:

7.1g
Saturated Fat:

2.1g
Cholesterol:

20mg
Sodium:

250mg
Carbohydrates:

3.9g
Net Carbohydrates:

2.7g
Fiber:

1.2g
Sugar:

1.4g
Protein:

4.2g